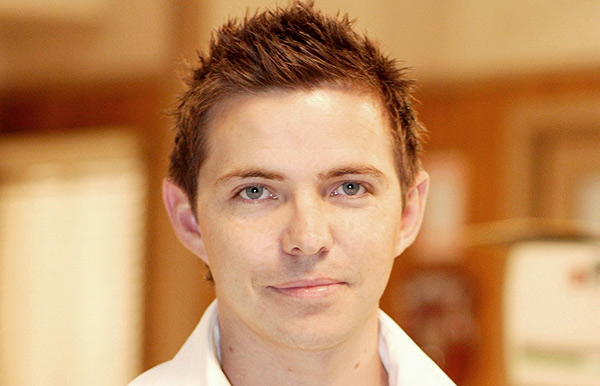 Series Producer: 2007-2012
---
Cameron Welsh was born 9th March 1977 in Australia. Growing up, he always had an interesting in acting, and performed in theatre productions, short films and television commercials. He also wrote several plays and was a talented young music artist, with his own band.
At 17, Cameron left home and set his eyes on the big lights and big city of Sydney. As he tried to find an agent, he worked as an apprentice chef in a restaurant.
Four years later, in 1998, he got a guest role on the ABC drama, Wildside. Cameron joined the main cast of Home and Away as Mitch McColl, a role that earned him a nomination for Most Popular New Talent. Of his casting and Logie nomination, Cameron told the Newcastle Herald, "I auditioned for the part thinking it would be a guest role. Mitch was a good guy with an interest in helping people out. It was a bit surreal to be nominated and a huge honour." He left the series in 2001.
After leaving onscreen, Cameron moved behind the scenes and directed more than 100 episodes for the series, before moving over to All Saints, in 2005, as a regular director. He made a cameo appearance in the 4000th episode of Home and Away in May 2005.
In late 2006, Cameron returned to Home and Away this time in the capacity of series producer, taking over from his partner Julie McGauran. Three months after Cameron's first episode as series producer went to air, he and Julie married. They now have two children.
After his appointment, Cameron wrote more than 30 episodes, and was responsible for the production of more than 1000 episodes. He was awarded the prestigious AWGIE Award in 2011 for Television Writing (Serial) for his writing of the 2010 season finale, Episode 5215.
During his time on the series, he signed off on many controversial storylines including the Charlie/Joey kiss, the people smuggling storyline and the deaths of Jack Holden and Belle Taylor.
Cameron's point of view as a director also helped him to oversee a complete overhaul of the Home and Away's production values throughout 2009-2010, which also coincided with Seven's move to a newly built studio complex in Eveleigh. The introduction of a Director of Photography, as well as revamped studio sets and more natural lighting, brought about a high quality cinematic feel to the show which has been highly praised by fans.
In January 2012, Cameron announced that he had left the series. He tweeted to fans to break the news: "Good luck to my #homeandaway mates back to work today. All the best for another great year, especially new producer Lucy and @Louise_Bowes. Missing you guys already. BTW – water temp in Coogee is around the 22 mark."
He then went onto tweet, "Yep, I have left Home and Away. The brilliant Lucy Addario is the new producer and Louise Bowes continues as script producer. Thanks for all the support and well wishes. Working on HAA was a privilege – best 12 yrs of my life! Thanks all. As for future…We'll see!"
Although he didn't comment on future plans at the time, it had been announced the previous September that he was in the process of developing a US drama. Cameron then went on to become the supervising producer on the first season of the American post-apocalyptic drama series, The Last Ship and an executive producer on the short-lived drama series, based on DC Comics character, John Constantine, Constantine.
Most recently, Cameron was a co-executive producer on the American comedy-horror series, Ash vs Evil Dead and the writer of the second episode of the second season.
---
---
Directed:
Written: