Back to the Bay is one of the largest television websites on the internet, with a main focus on Australian soaps Home and Away & Neighbours.
We've been running since 2004, originally focussing on Home and Away, and now writing about Neighbours, Married at First Sight Australia, and the UK soaps under our sub-brand EverySoap. Publishing hundreds of articles a year, we bring news and spoilers to hundreds of thousands of fans worldwide every month.
Started by Chris Jenkins in 2004, Back to the Bay began as fansite for Australian soap Home and Away. It quickly grew into the largest H&A website on the web, with contributors from across the world helping put together detailed character profiles, episode guides and features.
We now have episode summaries for almost every single episode of Home and Away, from 1988 to the present day. We have in-depth character profiles for close to 1000 characters past and present, and our Locations section has information on 150 real-life locations used to bring Summer Bay to life.
We've also been lucky enough to interview a number of Home and Away cast and crew over the years, the most recent being Lynne McGranger who plays Irene Roberts. Over in Erinsborough, we recently chatted to Alan Fletcher, Ryan Moloney, Stefan Dennis and Annie Jones about Neighbours' return on Amazon Freevee.
We're a trusted resource for Australian soap information and have even been featured as questions on the UK's Tipping Point and the Australian version of The Chase.
In our 19 years on the internet, our team of soap fans and journalists have helped a number of magazines and television shows fact-check their Home and Away content, and our features have gained coverage across the web.
We've run the Home and Away Most Popular Character award every two years since 2004, with the most recent award in 2022 seeing Alf Stewart voted fans' favourite character.
We ran our inaugural Neighbours Most Popular Character poll in 2021, with fans voting Jarrod 'Toadie' Rebecchi as their favourite character, 25 years after he first appeared on Ramsay Street.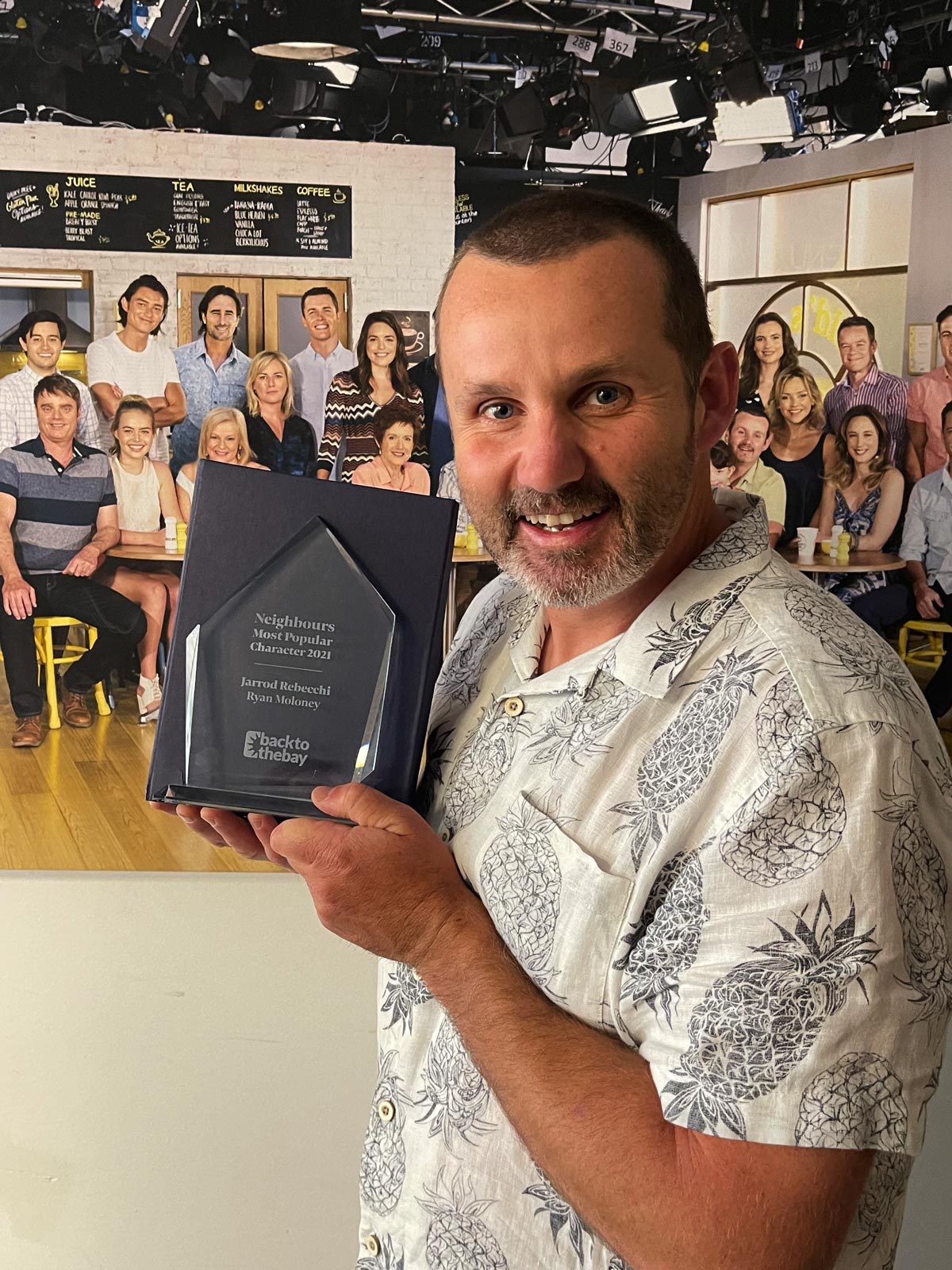 That award was featured in the Daily Mail, The Mirror and TV Tonight.
Since 2020, we've expanded to cover a growing range of television shows. We began covering Neighbours in early 2020, and hundreds of thousands of fans read our Neighbours spoilers each week until the show's cancellation in July 2022.
Now, with Neighbours returning later this year, we're excited to bring fans all the latest from Erinsborough once again.
In 2022, we expanded again, and now cover UK soaps Coronation Street and Emmerdale, alongside Australian reality TV show Married at First Sight.
Who works on Back to the Bay?
Back to the Bay is owned by Rust Publishing Ltd.
We have a large team of staff, freelance journalists and volunteers, working hard to bring you the very best Australian soap news, spoilers and information. The team consists of:
Managing Editor
Chris Jenkins
Senior Staff and Writers
Dan Foster
Matthew Williams
Forum Moderators
Dean
Jen
John
Contributors
Jeremai
Red Ranger 1
Forum Librarians
Quiet Achiever
And a huge thanks to former BTTB staff members Anaya, Andy, Barbara, Bttb-rox!, Cal, Cat, Cerise, Claire, Edward Skylover, Eli, Emmasi, Foxy, Frankie, Jackieleanne, JameyMaria, JosieTash, -Karen-, -Kirst-, Lisa P, Liz, MarMar, Matt, Melmarshall858, Mez83, Nicom, NuttyNeighbour, Ryan, Scandal-01, Si-Co, Skykat, Theresa and Valli.
Also thanks to Martin Cash for the 1988-2005 short Episode Summaries, Guest Cast and Trivia in the Episodes section, and previous site-owners Jeremai Smith (H&A Source/BTTB) and Stephen Gilligan (Home and Away.org).
Not forgetting Emily Redman, Eduardo Bearo, Rachel Smith and Matt for helping out with BTTB; and to Anne Hoban, Michael Bertol, Tim De Kock, Raymond Meiksa, Ola Carlsson, Sean Stumpf, Matthew Gilligan, Georgia Madsen, Ric Forster, Kroopa Thanki, Marianne Gilligan, Jenny Gray, Trent Wursthorn, Melissa Cleng, Melanie Foster, Demona, Erin Flannery, Trent Wursthorn, Sarah Lang and Avril Harrison, who all helped Home and Away.org over time.
Are you connected to the Home and Away Cast or Crew?
Back to the Bay is 100% unofficial with no affiliation to Home and Away, Neighbours, Seven Network, Channel 5, Fremantle or Amazon Studios.
Consequently, we can't pass on fan mail, send you autographs or get you a part on the show, so please don't request this over email.
May I use your downloads / features / images on my own website?
Sorry, no. The team have put a lot of time into creating all our content and we would like it to remain on our website only.
Please do not copy them for your own website or social media channels without permission.
You are of course free to link to anything on our site, or quote us with credit.
How can I get in contact with you?
Please remember that we are an unofficial site with no affiliation to the Seven Network or Channel 5.
As such we CANNOT provide you with autographs and/or memorabilia, get you a part on the show, or put you in touch with the cast or crew.
For any other enquiries, you can email us on the addresses below:
Chris Jenkins
chris@backtothebay.net
Dan Foster
dan@backtothebay.net
We recommend you copy both Chris and Dan into the email, and one of us will strive to get back to you as quickly as possible.
Disclaimer
Back to the Bay is a participant in the Amazon EU Associates Programme, an affiliate advertising programme designed to provide a means for sites to earn advertising fees by advertising and linking to Amazon.co.uk.