Home and Away Spoilers – Heart attack, courtroom drama and showdown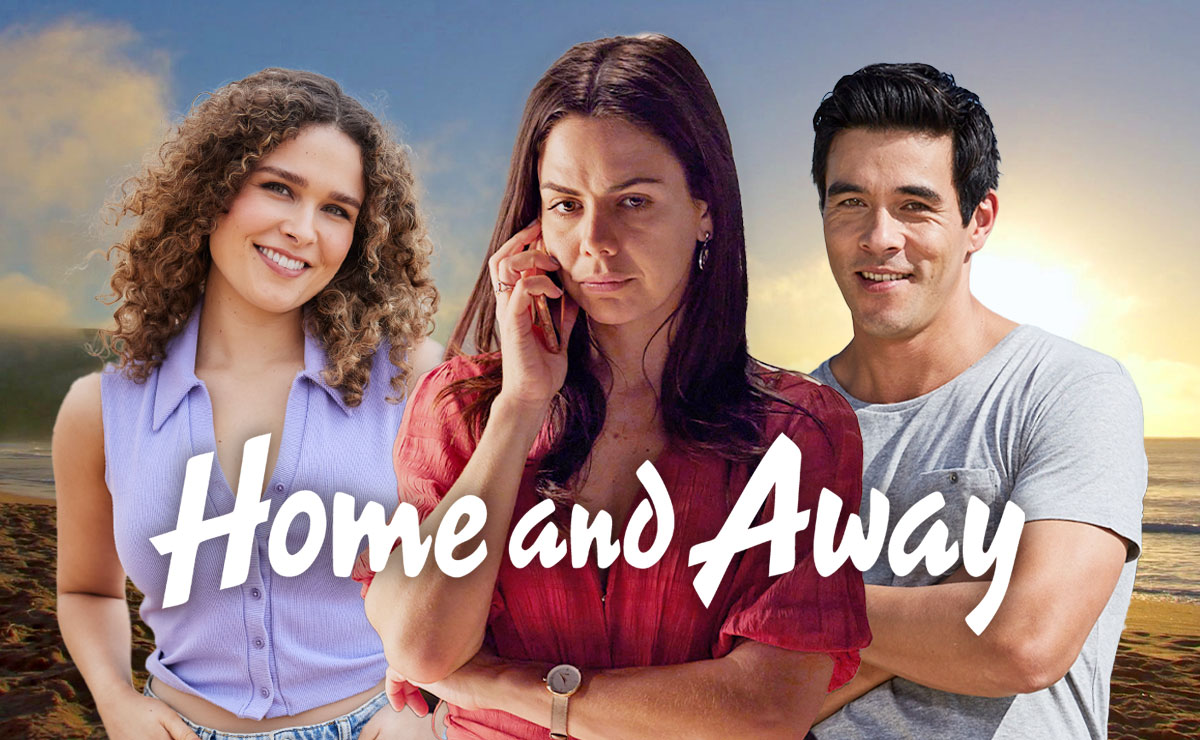 We take a look at what's coming up on Home and Away over the rest of 2023, with a medical emergency for Mackenzie, the return of Vita Nova, a court case, and a big event for the season finale.
It's already been a busy 2023, with Ziggy and Dean's sad goodbye, Mali's arrival, Nikau's departure for New York and the recent arrival of Harper and Dana.
We've also seen Kahu's deception, Mackenzie's bittersweet reunion with ex-fiancé Gabe, Andrew's indoctrination storyline, a major explosion, and Roo's temporary departure.
With less than four months until Home and Away's 2023 season finale, and thanks to eagle-eyed fans and some sneak peeks from the cast and crew, we've already got a few hints of what's in store in the final months of the year.
As we take a look at all the latest titbits and speculate, it appears we can expect the return of a now-infamous gang, a special event, yet another tragedy for Mackenzie, and a court case involving the show's two newest arrivals. Plus, in 2024 we'll hopefully return to a famous on-screen location after a nearly two-year break.
---
Vita Nova to return for UK finale?
The 'away' part of Home and Away has come back into play in recent months, as cast and crew made their way to the Mid-North Coast town of Taree, around 250km north of Sydney.
The special shoot, filmed in May, saw scenes filmed at an abandoned ice cream factory, with both Ada Nicodemou (Leah) and James Stewart (Justin) spotted by local residents.
One such resident, Rebecca, was lucky enough to grab photos with both Ada and Jimmy, and told us that the scenes involved a heavy police presence.
Another fan, Debbie, was also pleased to get a photo with Ada, and apparently heard that the scenes were 'cult related'. With Ada having little to no make-up on for the scenes, there was speculation that Leah could have been involved in a hostage situation.
Justin and Leah have of course come into contact with the notorious Vita Nova cult this year, after saving 17-year-old Andrew (Joshua Hewson) from their clutches.
Leader Margot (Mandy McElhinney) was last seen being carted off for a mental assessment at the hospital after being arrested, and when Justin later attended her trial off-screen, we heard that she had been found guilty of all charges and Vita Nova were no more.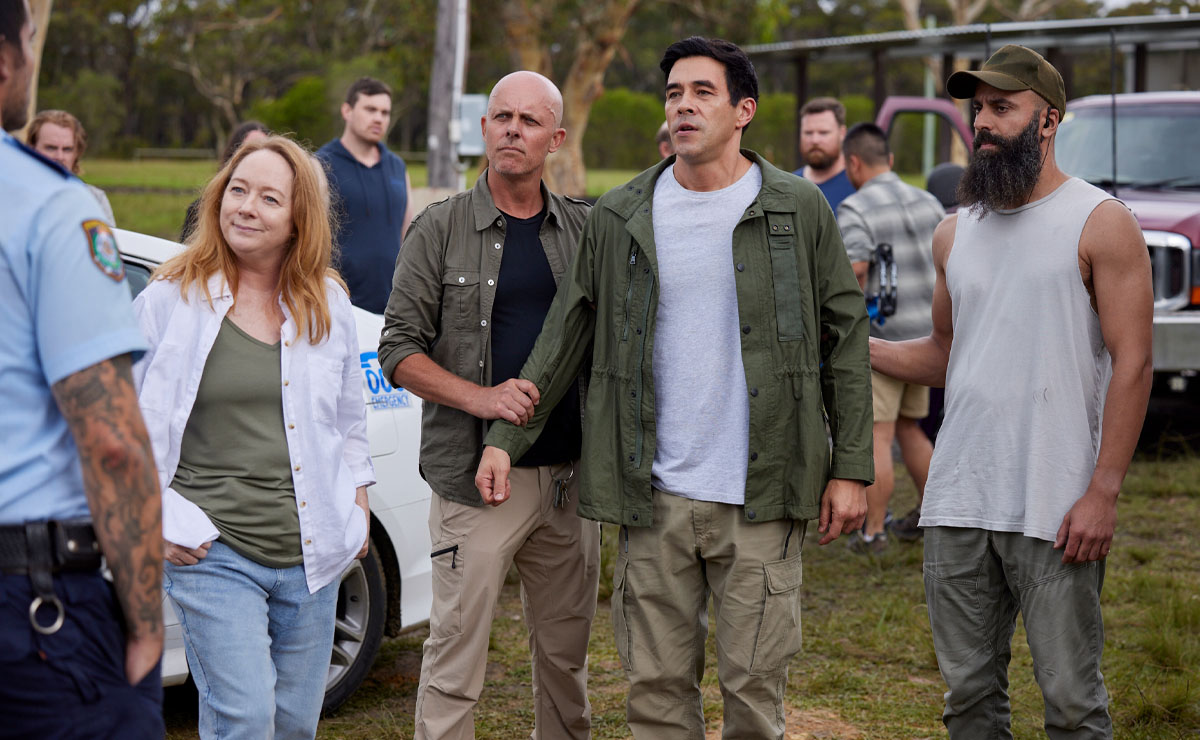 Naturally, given that the enemies of Summer Bay residents will always manage to rear their heads again somewhere down the line, we were dubious of this claim. We also know how the show likes an abandoned building for a good old dramatic showdown, so the whisper of these scenes being cult related seem to fit.
Furthermore, the timing of the shoot indicates that whilst the episodes in question would air in Australia around early October, they would be likely to later air on Channel 5 as part of the UK's 2023 season finale in November (as with last year's Heather cliffhanger).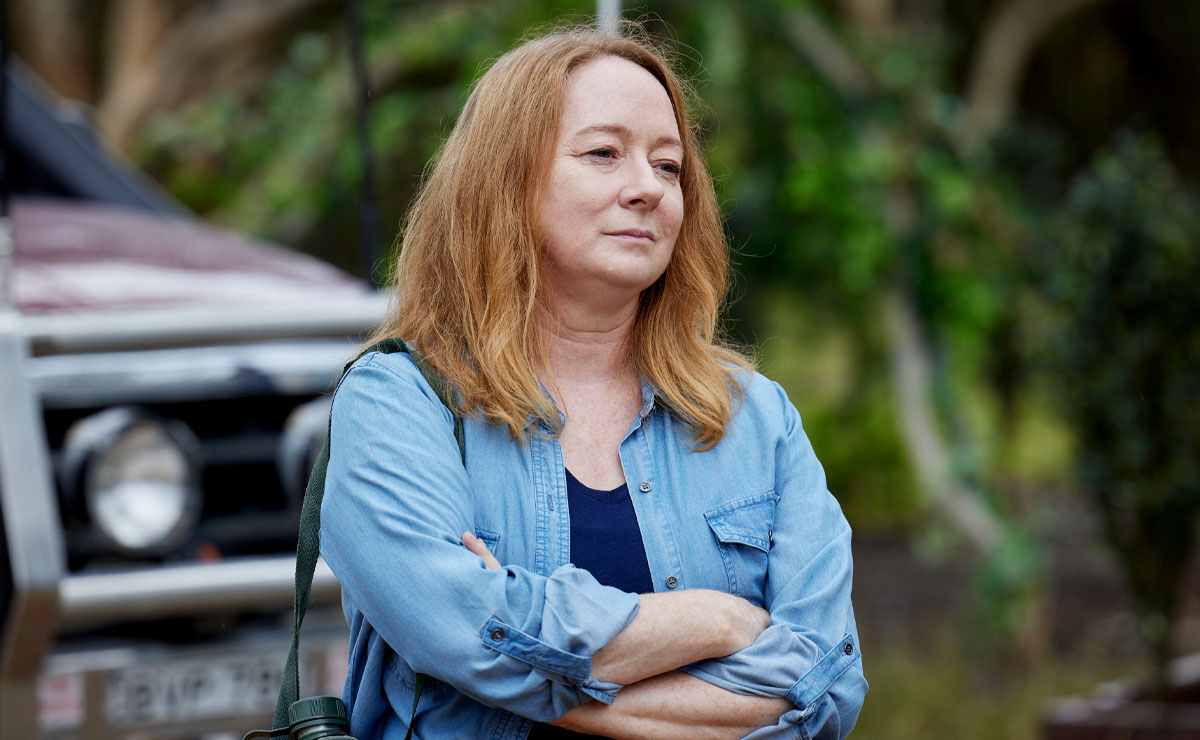 Whilst Andrew is now safely living in the city with half-sister Tegan (Sophia Forrest), are Vita Nova currently biding their time before attempting to get revenge on Justin?
Two weeks later, crew posts on social media indicated that the show had headed north again for a shoot in the old mining town of Glen Davis, 120km NW of Sydney in the picturesque Capertee Valley.
The shoot appeared to centre around, you guessed it, a large abandoned factory in the form of the former Glen Davis Shale Oil works.
Although crew members posted photos of the stunning surroundings, no cast members were visible in the posts.
---
Courtroom scenes with Harper and Dana
After we first mentioned their impending arrivals in our last Arrivals and Departures article in May, Aussie viewers have finally seen the debut of sisters Harper and Dana Matheson (Jessica Redmayne and Ally Harris).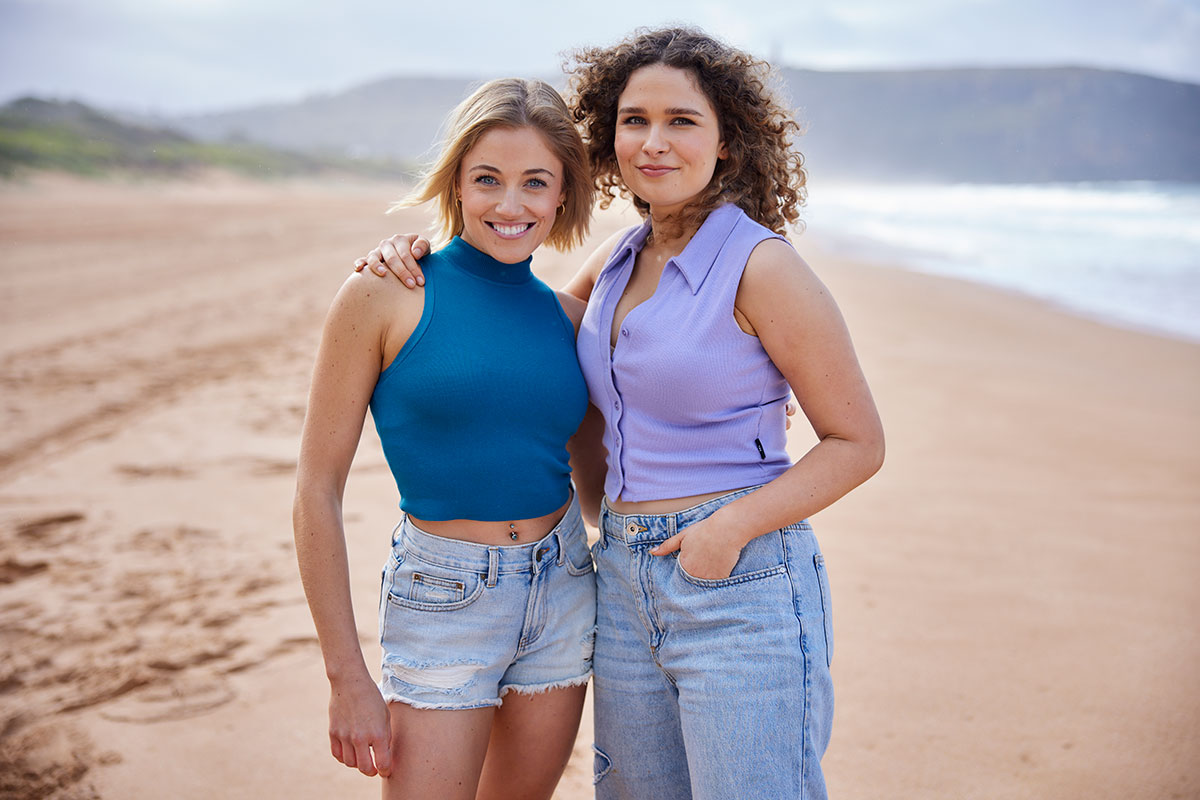 We mentioned at the time that the pair had been spotted filming various scenes with Irene (Lynne McGranger) and Cash (Nicholas Cartwright). It's since been revealed that Harper in in fact an old friend of Cash, and she has moved into one of the spare rooms at the Beach House following Irene's advertisement for a lodger.
Unbeknownst to Irene though, Dana has also moved in, via the infamous downstairs bedroom window used as 'secret' entrypoint by much-loved characters of the past.
Their arrival has revealed that Dana is actually a fugitive who has a warrant out for her arrest, after her boyfriend Olly apparently fitted her up when drugs were found in their apartment. Harper has brought Dana to Summer Bay in the hope that old friend Cash will be able to help them out.
A call sheet spotted in a crew member's Instagram story shows that Harper will be sharing scenes with Cash and Irene in the police station, alongside a new character that looks to be named 'Detective Madden' (or something similar). Detectives generally aren't based at Yabbie Creek and have to be called in from the city for major cases.
The same week, Lynne McGranger teased a picture from the police station set alongside Nick Cartwright and an obscured Jessica Redmayne, describing her as an 'exciting new character'.
Spoilers for next week hint that the siblings' past won't stay secret for long, with a synopsis for next Thursday's episode revealing: "Harper and Dana's secret is sprung!"
Whether Dana's story checks out or not, it appears that she or Olly could be set to face the music, with a video posted by Shane Withington on X (Twitter) in mid-June showing that both Dana and her sister will be involved in some courtroom scenes alongside John and Irene.
In the short video showing the cast and crew on set at an unknown location, a blink and miss it moment saw an actor wearing magistrate robes whilst chatting with Shane, Lynne, Jessica and Ally.
---
Mackenzie has a heart attack?

The past couple of years seems to have seen tragedy and/or crisis alternate between the long-suffering Mackenzie (Emily Weir) and Felicity (Jacqui Purvis), and with Flick having recently suffered through the trauma of an assault, it seems as though the focus could be back on Mac later this year with a serious health crisis.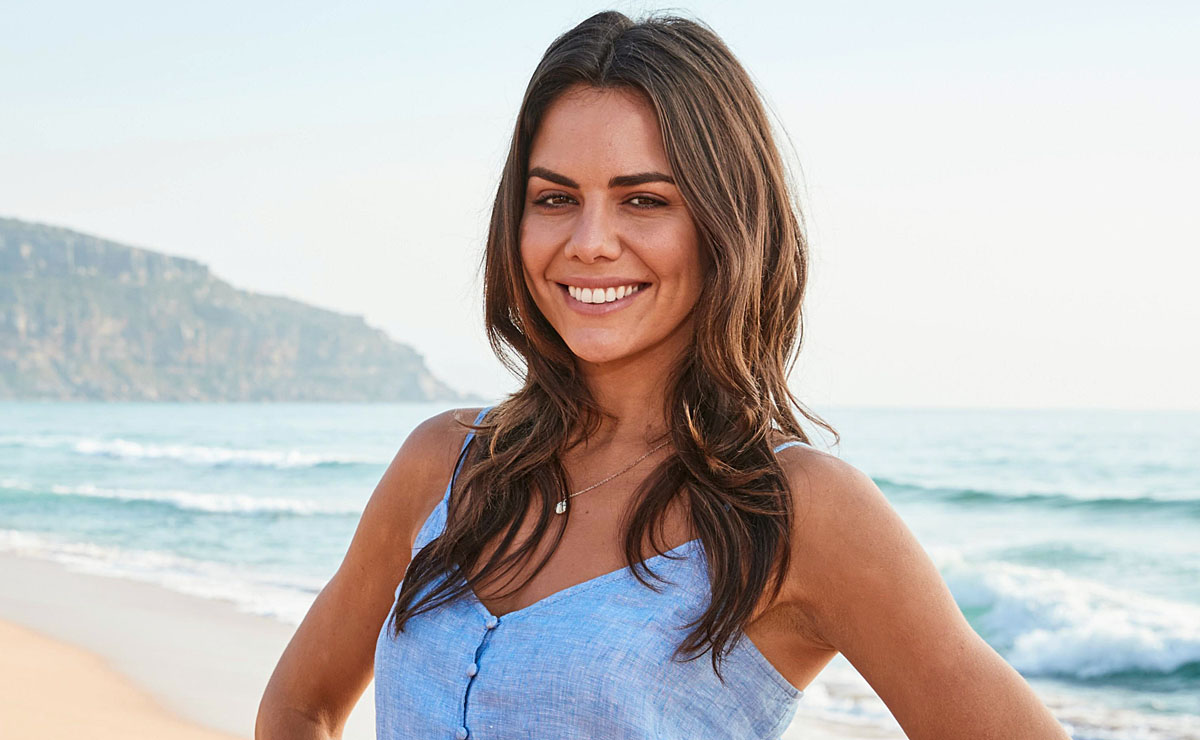 An audition piece for a new doctor, posted publicly online and seen by Back to the Bay, reveals that the Salt owner could potentially be about to suffer a heart attack!
Whilst we must stress that there's no guarantee that the storyline will play out, it would be unusual for a fake scene to be written especially for an audition, with the casting process usually utilising actual upcoming scripts for the character, or old scenes from years gone by.
The scene in question sees Mackenzie at the hospital where the male doctor—presumably a cardiac specialist—pays a visit to explain the circumstances of her shock collapse, which we've included a transcript of below.
DOCTOR
So, has anyone told you what has happened to you yet?

MACKENZIE
I had a heart attack.

DOCTOR
Technically yes, but there's a little bit more to it than that. You had what's called a spontaneous coronary artery dissection. Basically, that means there was a tear in one of the blood vessels in your heart.

MACKENZIE
Right…

DOCTOR
And when that happens, the heart muscle starts to die. Which is why you collapsed.

MACKENZIE
But why… I mean, why did it happen?

DOCTOR
We don't know why, it's extremely rare. So, I guess that means you're part of a very exclusive club now.

MACKENZIE
I'd rather frequent flyer points…
The scene then goes on with the doctor explaining to Mac that she will have a long road to recovery, as she immediately starts to get herself worked up about having a business to run.
The doctor tries to calm Mac down and points to the heart monitor, explaining that she's over-exerting herself, and it seems that Mac will have no choice but to take a step back from Salt if she's got any chance of recuperating…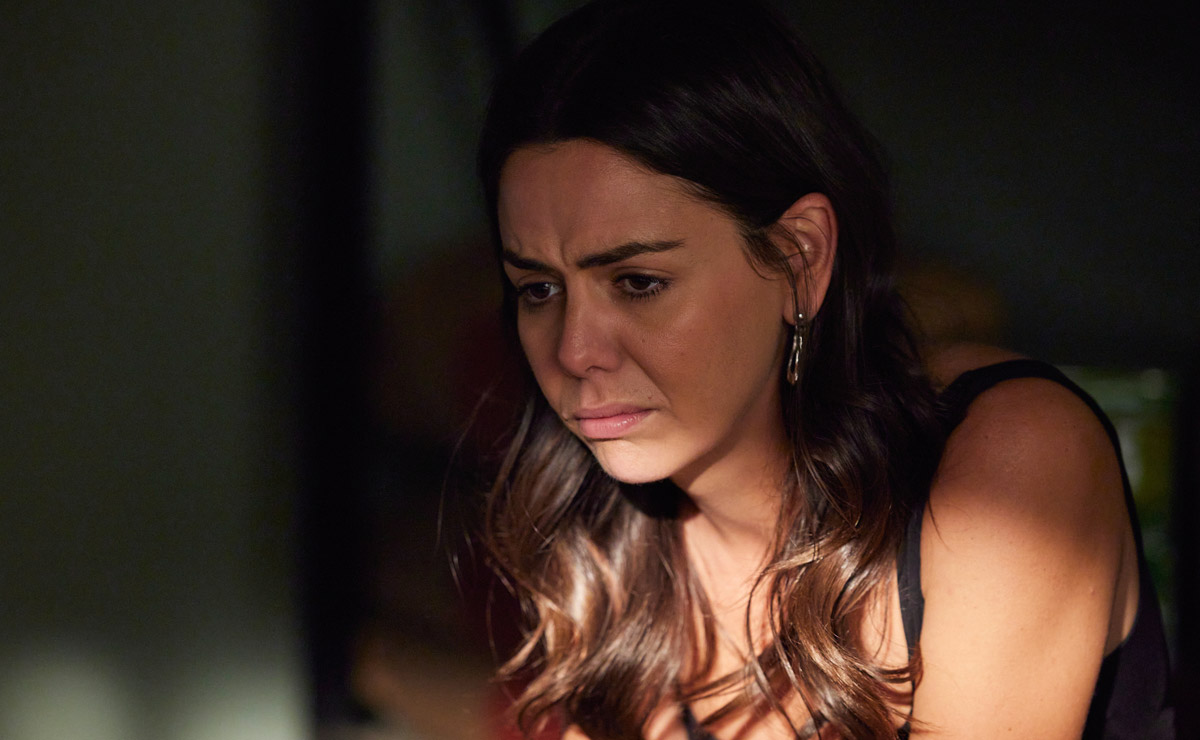 ---
Formal event for the 2023 Season Finale
In happier news, the cast have recently put on their gladrags for filming of a very special Summer Bay event.
Pictures posted from filming in the last week of July show a formal occasion set up on the grass adjacent to the surf club, with cast members including Emily Symons, James Stewart, Ray Meagher, Ethan Browne, Kyle Shilling and Shane Withington present (Marilyn, Justin, Alf, Tane, Mali and John).
A series of photos posted by Emily show that red is very much the theme of the occasion, with Marilyn sporting a red jacket, Justin wearing a red shirt and flower in his lapel, Tane suaving it up in a crimson jacket, and even Alf sporting a red bow tie.
Kyle's photo from the day shows Mali wearing a white jacket with a red and black bow tie and pocket square.
The timing would indicate that the filming is for episodes surrounding the season finale, with this apparently being confirmed to visitors on the Home and Away Tour.
Although a wedding has been the obvious conclusion drawn by many for the formal event, both those on the tour and actor Shane Withington have denied this to be the case, with Shane opting to keep us in suspense at JP's choice of attire by instead showing off some of the set pieces.
A picture posted by a passing bike enthusiast has also given a better sense of the scale of the occasion.
---
New Era for the Pier Diner
We first reported on the work going on at Palm Beach's Barrenjoey Boathouse, aka Summer Bay's Pier Diner, in May 2022, at which point the building had already been demolished in preparation for a complete rebuild. The past couple of months have seen the outer shell of the building finally completed and painted, reinstating the landmark which had sat on Station Beach for 75 years.
As well as being the location of popular eatery and wedding venue 'The Boathouse', which had opened in 2008 replacing an existing cafe, the building was home to Barrenjoey Boat Hire (which doubled as Alf's bait shop) and Sydney by Seaplane.
Built in 1947, and with several renovations and additions over the decades since it first opened as a boat and seaplane shed, the building was deemed no longer fit for purpose.
First reported to have a predicted cost of $4million, but now stated to be $7million, the rebuild has seen an almost identical building constructed with a few key differences.
The whole structure has had to be raised to comply with required flood level regulations, and a 1.7m increase to the height of the building itself will allow better utilisation of the upper storey for office space. As well as the noticeable visual change to the upper storey, an additional exterior staircase has also been added on the southern side of the building.
Although it was expected that the Boathouse restaurant would reopen in the new build, it has now been confirmed that the lease has been taken over by business partners Rob Domjen and Ben May, who are opening a cafe under the building's original name from the 1940s, 'Barrenjoey Boatshed'. It is hoped that the new premises will open in December.
"The owners wanted to rebuild it and still keep that boatshed charm that suits Pittwater and the surrounding areas," Rob Domjen told the Daily Telegraph.
"The look and feel of it is not too different, but it's a little bit bigger here and there and slightly higher than the original building. The opportunity presented itself so we couldn't say 'no'. It's such an iconic and beautiful spot. Everyone's been there at some stage.
"It will have a slightly elevated feel than it had before with the picnic tables and the umbrellas on the jetty," he added. "The jetty is now bigger than it was before."
The pair have also confirmed that they are in talks with Seven to have Home and Away continue filming there, with the show having utilised the building as the Pier Diner since 2008, as well as Alf's bait shop and the exterior of the Pier apartment (currently home to Xander, Rose and Bree).
As expected, whilst the building has been out of action, the show has used existing stock shots and carefully framed any scenes shot on Station Beach to hide the building work. Whilst interior scenes at the diner are filmed in the studio, the show introduced the coffee cart to to make up for a lack of exterior scenes outside the diner.
With the shell of the building now largely complete, we expect it won't be too long before the show starts shooting scenes where we can see it in the background once again. Presuming negotiations for the use of the location are successful, we will hopefully begin seeing episodes utilising the building fully once again in mid-2024.
We're sure that those on the show are looking forward to that day, with the cart seemingly not too popular with the cast who have to man it! Commenting on Georgie Parker's Instagram when production resumed after Christmas, Emily Symons joked: "So happy to see beautiful you and lovely Lynne today darling. Unfortunately no one torched the coffee cart over the holidays so here we are 🥳".
---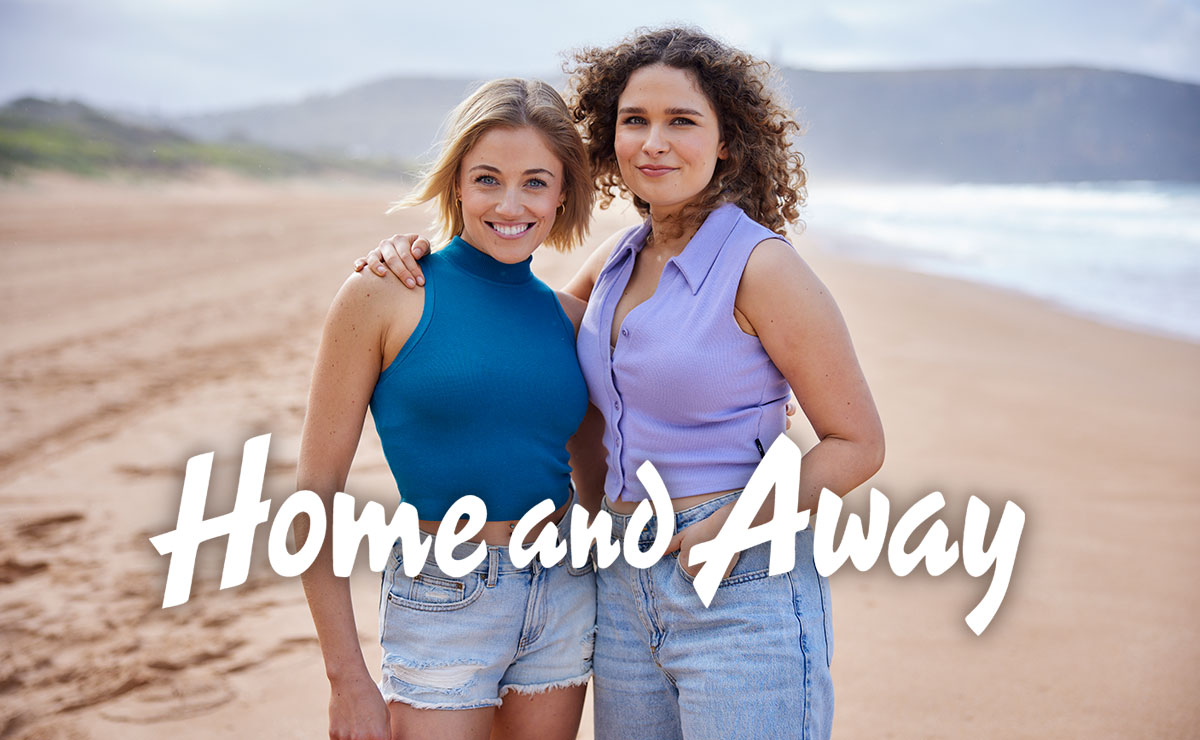 Home and Away is about to get two new characters, as siblings Harper and Dana make their Summer Bay debut in Australia this week.
Spoilers in your inbox every weekend!