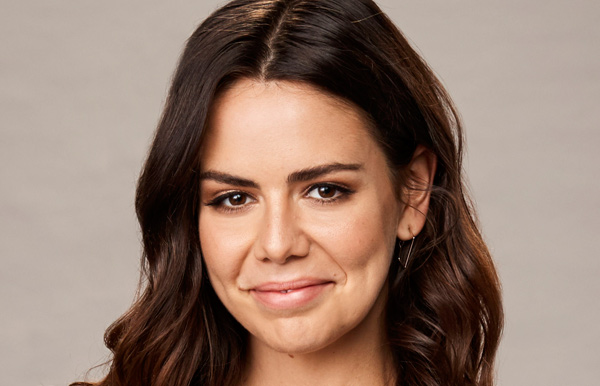 Mackenzie Booth (2019-present)
Emily Weir
Episodes: 7130-present
Parents: Rick & Tanya Booth
Siblings: Dean Thompson; Kayla & Shaun Booth (all half-siblings)
Occupation: Restaurant Owner
---
Mackenzie arrived in town as the new owner of Salt, having bought it unseen from Brody Morgan. While she tried to make a good first impression on the locals, she clashed with Colby, who gave her a ticket for parking in a restricted area. However, on being introduced to Dean Thompson she began spending time with him, Colby, Willow and Ziggy. After asking Colby and Dean about teaching her to surf and decoying John while Dean and Ben stored boards at the surf club, Dean quizzed her about her interest and she explained she was his half-sister, the daughter of his father Rick from his first marriage. Rick was running for parliament and she wanted to ruin his chances but Dean wanted no part in it. She offered Ryder a job and also spent time with Colby. He kissed her but she backed off, pointing out he was wearing a wedding ring. After he removed the ring, they met for a drink but she still felt he hadn't moved on. Colby convinced her to open up Salt while it was being refurbished for a pre-wedding party for Robbo and Jasmine, during which she sneaked off with him to spend the night together.
Mackenzie rang Rick, demanding $100,000 or she would tell the press about Dean, ruining his family man image: She was bitter that he had cut her and her mother off when he remarried. Rick made an attempt to win Dean over but Dean ended up telling Mackenzie to do whatever she wanted so she contacted the press. The article about Dean and Karen appeared in the paper but nothing went to plan: Dean was left besieged by reporters, as was Mackenzie's mother, while Rick painted Mackenzie as bitter and gave a distorted version of events to make it look as though he had supported Dean and Karen financially. Dean agreed to stay away from Mackenzie to avoid going to jail for assault and Rick reported Mackenzie to the police for transferring $80,000 from his account without permission in order to buy Salt. Mackenzie was arrested and charged but Colby convinced Rick to talk to her. Although there was no real rapprochement between them, Rick agreed to drop the charges if Mackenzie agreed to repay the money in instalments.
Having abandoned her plan for revenge against Rick, Mackenzie set about trying to rebuild her relationship with Dean. This hit a stumbling block when he came to her house and found Colby in her bedroom, at which Colby abruptly ended the relationship. Aware that Dean needed a job for his parole conditions, Mackenzie tried to convince him to take a serving job at Salt but he refused, saying he didn't trust her. She was initially set to give up on him but, after a chat with Willow, ended up attempting to surf to prove a point. Even though she was a complete disaster, it resulted in her and Dean bonding and he agreed to take the job. However, she was left dispirited when he rebuffed her attempts to make small talk while happily chatting with the likes of Ben, Ziggy and Bella. After trying to find something she liked for them to do, Dean ended up taking her surfing with him and Ziggy, saying it was the best way to get to know him.
She learned that Colby breaking up with her had been down to Dean threatening to end their friendship if he didn't and eventually told Dean she didn't need protecting and Colby to take a chance, resulting in them getting back together, spending time together in between his responsibilities to Bella. When Dean was an hour late for a shift, Mackenzie called someone else to cover and sent him home. He initially quit but later admitted he liked working with her even if he didn't love the job. She took him back on and also gave him the money to start up a surf school. When she learned Bella was having trouble with having to testify at Irene's trial, after Irene assaulted Tommy O'Reilly while saving Bella from him, Mackenzie told Bella how she found out her best friend was abusing his girlfriend and testified against him despite everyone begging her not to. Mackenzie was present when it was revealed Teresa, a woman from Irene's support group, had killed Tommy and tried in vain to convince Bella she was wrong to do so.
Dean's mother Karen came to town, throwing him into a panic since she didn't know about Mackenzie. He initially had Colby try and keep Mackenzie away, but when Mackenzie found out she told him he should have let her know so she could help. She was left at a loss however when Karen turned up at Salt looking for work, prompting Dean to tell Karen the truth. Mackenzie took Karen for a drive and explained about her own difficult relationship with Rick, winning her over. She gave Karen a job at Salt but Karen struggled with the pressure so soon after being discharged from hospital, quickly resigning and leaving town.
Mackenzie was uncomfortable when Colby began getting involved in the federal case that saw Robbo kidnapped, feeling out of place while he supported Jasmine, and admitted to Bella she wasn't sure if she could cope with him always being in danger. Bella was furious with her and, although Dean was more understanding, both agreed she should break up with him sooner rather than later if she was going to. The last straw came when she arrived for a date to witness Colby being punched by Robbo. However, despite breaking up, she continued to spend time with Colby. This infuriated Bella, and Colby told Mackenzie he needed to focus on her. However, he then met Mackenzie on the wharf and told her he wanted to get back together, to which she agreed. She was asked by Ziggy to cancel Dean's shifts so he could concentrate on his surf lessons. Discovering Dean was struggling with fitting in his shifts at Salt around surf lessons and working at the board shop again, she fired him and gave him a loan for his business. Ryder convinced her to employ Jade, a young woman staying at the caravan park.
Mackenzie was meant to be spending time with Colby while Bella was away on a school trip but Bella announced she was too ill to go. Mackenzie accused her of faking it only for Bella to collapse and be diagnosed with tetanus, leaving Mackenzie feeling bad. However, Bella refused to forgive her and ordered her out of the hospital, which Colby went along with, spending all his time with Bella and leaving Mackenzie frozen out. Mackenzie concluded that he would only have time for her if nothing was wrong with Bella and decided to end things, although she was left disappointed when Colby agreed.
When Willow had celebratory drinks at Salt after getting a promotion at work, Mackenzie had a hard time coping with Colby being there, drunkenly telling Ziggy that Dean hadn't wanted her to get a job away from the Bay and sniping at Colby and Bella. Mackenzie ended up drinking after hours in Salt and was found by John and Willow the next morning. She asked Dean to keep Colby away from her and returned the favour when Dean began to fall apart after Ziggy's departure, smoothing things over with a refund and free pizza when he rudely cancelled a surf class and taking him with her to the city to try and clear his head. Instead, he disappeared on a two day bender and Mackenzie ended up calling the police on him when he started a fight in Salt.
She realised Bella was faking being sick after noticing she had a funny turn every time Colby tried to talk to her but failed to convince Colby of the fact. When Ryder told her Jade had been stealing from Salt, Mackenzie reported her to Colby and had her arrested. However, Jade claimed Ryder was the one stealing and Colby reported that Ryder had been charged with allegedly posting a sex tape of him and Jade without her knowledge. As a result, Mackenzie felt she had no choice but to keep Jade on and fire Ryder. She ended up arguing with Bella, resulting in Colby overhearing and realising Mackenzie had been right about Bella.
The next day, Mackenzie heard Bella telling Willow to tell Colby she was ill and disbelieved her, but ended up taking her to hospital when she found her in pain. The two of them were in the bathroom when gunmen stormed the emergency department and took everyone else hostage and managed to hide in the treatment room, with Mackenzie calling Colby to tell him what was going on. Bella admitted she had taken an overdose in order to appear ill and Mackenzie realised she could die. She allowed herself to be taken hostage and tried to help Alex slip away to treat Bella, but it resulted in Bella being captured as well. After failing to convince the gunmen to let medical staff treat her and seeing Mason killed, Mackenzie continued to look after Bella.
She ran into Dean, who had got into the hospital and told her to get everyone down on the floor when she got the signal. She complied when the fire alarm went off and was freed with the others when the police rushed in and apprehended the hostage takers. She cleared the air with Bella in the aftermath and kept her company at the hospital while most people were at Robbo's funeral. When Bella was discharged, she brought pizza to the flat. Finally accepting things weren't going to happen with Colby, she signed up to a dating site. However, when her first date turned up, he turned out to be her ex Jason, who had helped her steal the money from Rick and demanded a cut. Colby and Dean saw him off but that resulted in Colby finding out about her using the dating app. Despite this, when Colby was hospitalised, she spent a night by his bedside and contemplated getting back with him, bringing him home while Dean was busy with Bella. However, she was left disappointed again when Colby hid his divorce papers from her and instead shared a drink with Ari Parata. She headed to the caravan park when Ari started avoiding her; he told her he'd been in jail but she didn't let it put her off and spent the night with him.
When Colby found out they were together, he confronted them at Salt but Mackenzie told him to leave. However, when she heard about Bella being sent to a therapy centre after self-harming, she went round to see Colby, upsetting Ari who she was meant to be meeting at Salt. She gave Gemma a job and helped Colby out with a hangover cure after his divorce came through. When Ari's brother Tane moved to town, Mackenzie found herself routinely rebuffing his attempts to flirt. Tane admitted he was mostly doing it to wind Ari up but also suggested they'd be good together. She agreed to Ryder having his dad Evan perform in Salt and let him have indefinite time off to spend with Evan when she learned he was dying. She told Colby she had paid off her debt to Rick but brushed off his attempts to warn her off Ari. When she learned Ari was suspected of the Diner robbery, she gave him a false alibi, but Colby quickly saw through it and returned her statement unfiled.
She dealt with Jasmine's ranting about Grace being in danger and inadvertently upset Ryder by celebrating being rid of Rick. Ari accused her of paying his rent only for it to turn out Tane had got the money by illicit means. In order to help the family, Mackenzie offered Tane a job at Salt. However, she admitted to Dean that she found Tane attractive and was uncomfortable when he took Amber Simmons home after his first shift. After going out clubbing and seeing Tane get into a fight defending Amber, Mackenzie picked an argument which resulted in Amber accidentally punching Ziggy and then realising Mackenzie was jealous. She tried to send Tane home from work and admitted her feelings to Ari before convincing him they should have a serious relationship.
She challenged Ari to take her out on a date and he ended up taking her fishing, which she revealed she had learned in order to accompany Rick on his boat. She proceeded to catch a large fish and have it cooked as an elaborate meal for them at Salt. She accompanied Ari and Tane when they went to Mount Currawong to look for Bella and Nikau. They first found Nikau and, when he managed to get Bella to meet them, Mackenzie took her back to the police station. She discovered she had missed an e-mail giving her a month's notice to leave her rental and had to be out in 24 hours, and was convinced to moved in with the Paratas temporarily even though both she and Tane were uncomfortable with the idea. Ari arranged a candlelit bath for her for her first night but Tane accidentally walked in on her. She confronted him about his discomfort and he asked her to put them on different shifts. She witnessed him being slashed by an old associate, Leon Caruthers, and took him to hospital, ending up stuck in a lift with him and covering for him with Ari.
Although Ari tried to get her to stay permanently, she realised the situation with Tane made things awkward and decided to move in with Ziggy at the farm house. However, things were strained between her and Ari, who didn't understand her decision. She managed to convince him it gave them privacy, while Tane quit his job. She was the one who found Tane after he was beaten up and was bothered when a stranger, Paul, turned up at Salt looking for him. She insisted on throwing a farewell for Bella and Nikau, who were planning to go to New Zealand, and invited Colby, who hadn't known about the move. She overheard Tane and Ziggy discussing the fact that Tane owed money to Paul and Leon after losing some drugs they'd hidden in a van he'd been looking after, and let Ari know. She was present when Colby was arrested for the murder of Ross Nixon and let Bella and Nikau stay with her and Ziggy. Ziggy blurted out to her that Colby was guilty and Dean had helped cover it up. She was concerned with the way Ari and Tane were keeping guard at the house and was forced to tell Nikau that they were doing a job for Paul and Leon to pay off the debt. When the crooks insisted on more jobs, Mackenzie decided to sell her car to pay off the debt. She met Paul and Leon without telling Ari and Tane, handing the car over.
She refused to serve Dean at Salt then learnt that he'd disappeared, inviting Bella to stay with her. She was relieved when Dean returned and thanked Ari, who had tracked him down.