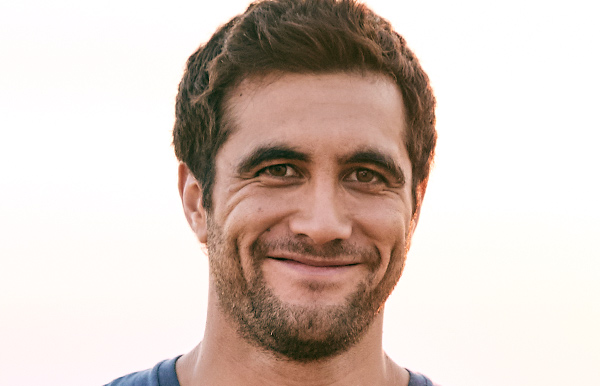 Tane Parata (2020-present)
Ethan Browne
Episodes: 7281; 7286; 7302–7303; 7324-present
Parents: Rawiri & Tui Parata
Siblings: Mikaere (deceased) & Ari Parata
Occupation: Waiter; Garage Assistant; Labourer; Bait Shop assistant; Gym Worker and later Owner
---
The youngest Parata brother, Tane stayed behind in the city when his family relocated to Summer Bay. Despite the death of eldest brother Mikaere, he had refused Ari's instructions to turn straight and continued earning money by doing shady jobs, although he remained in contact with his nephew Nikau and also called sister-in-law Gemma. A few weeks later, Nikau turned up at his place with his friend Bella, saying he didn't want to go back to Summer Bay. However, after staying the night, he hurried back to Summer Bay before they were missed.
Tane refused to let Nikau live with him and was told by Ari not to contact Nikau. Tane ignored Nikau's calls but Nikau turned up with Ryder, insisting he wasn't going back to Ari even if Tane didn't let him stay. Ryder confirmed to Tane that the family had been sleeping in the car and were relying on a local, Marilyn, letting them stay with her. Tane let Nikau stay the night, then took him back to Summer Bay to confront Ari. Gemma played peacemaker, getting them all to spend time together. He spent a night on Marilyn's sofa and then arranged to lease a house across the road, with Gemma, Nikau and a reluctant Ari moving in with him. He and Ari worked together to make preparation for a hangi although they ended up clashing when Tane chatted up Ari's girlfriend Mackenzie. He admitted to her that, while he'd been winding up Ari, he also thought they'd be good together, but quickly agreed to back off. He and Ari both tried to calm Nikau during Gemma's brief flirtation with Ben, with Tane stopping him from running away.
With Colby suspecting the Paratas were responsible for a break-in at the Diner, Tane was contacted by Nikau, who had stolen Tori's car to skip town only to find her baby daughter Grace inside. Tane left Grace on the Morgans' doorstep. He then shut down Colby's investigation after a lawyer told him they were under no obligation to be questioned, fingerprinted or part of a line-up. The family planned to take Mikaere's ashes back to New Zealand but only Gemma was able to go, since Colby had put a block on the others' passports. Although he and Ari clashed when he admitted he didn't have the money for the rent, they joined with Nikau to perform a haka on the beach as a memorial to Mikaere.
He seemed to agree to Ari getting him a job on the building site where he worked, but then disappeared during the night. He returned with a wad of cash, earned by doing more illegal jobs. Mackenzie offered him a job at Salt despite him having no experience and he decided to accept. However, he left in the middle of his first shift to sleep with Amber Simmons. The fact he found Mackenzie attractive, and she him, made things awkward between them. He ran into the women at a club where he ended up in a fight with a man who tried to take things further with Amber than she wanted to. He then endured a tense shift with Mackenzie. Although he hooked up with Amber again, he had trouble dealing with Mackenzie, and Nikau had to talk him out of fleeing town to avoid her and Ari.
He then discovered Nikau had taken the rest of the money from his job and run off with Bella, who was wanted by the police for questioning over her father's death. He, Ari and Mackenzie went after the pair and quickly found Nikau, who managed to get Bella to join them, with them all making it back to Summer Bay in time. He was uncomfortable when Mackenzie moved in temporarily after having to leave her rental, which only increased when he walked in on her in the bath. He asked her to make sure they worked different shifts and avoided her at home. He was approached by an old associate, Leon Caruthers, who wanted him to do work. Tane refused and Leon ended up slashing Tane's stomach with a broken bottle. Mackenzie took him to hospital, where they got stuck in a lift for a short time and he convinced her not to tell Ari he knew the men. He ended up on Ari's bad side again when Mackenzie moved out but urged him not to throw the relationship away. After Mackenzie blamed him for their difficulties, he quit his job.
He took a job as Ziggy's assistant at the garage but, when Ari turned up with pizza, felt he was checking up on him. Trying to prove a point, he ended up agreeing to hide a van full of stolen goods at the garage but the person who was meant to pick it up was arrested and he was found out by Ziggy. He ended up hiding the van at the farm while he went to the city to sort something out but returned badly beaten up and desperately looking for Ziggy; instead, he was found by Mackenzie who got him to hospital. He convinced Ari he'd been beaten up by a jealous husband but confessed to Nikau that the van had had drugs hidden in it and the dealers were threatening his family. He found Ziggy and Willow had got rid of the van, meaning he now owed $25,000. Leon and his boss Paul turned up at the house with some thugs, resulting in the Paratas getting into a brawl with them which was broken up by the police.
Tane contacted Paul and Leon asking what he needed to do to pay off the debt and they asked him and Ari to do one last job. However, when the job was finished, the crooks continued to expect the brothers to do more work. Ziggy came to him and Mackenzie for help when Dean drove off drunk, and Tane tracked Dean down and got him home, while lecturing him to leave Ziggy alone. Paul and Leon demanded he and Ari do an armed robbery at the Reefton Lakes Leagues Club, sending photos of them doing the last job as leverage. Tane and Ari convinced Nikau to go to New Zealand and Tane was prepared to do the job, although Ari was more reluctant. When he learned the police had gone looking for the stolen van at the garage, he confessed to Justin what had been going on. Although Ziggy was initially unhappy that Justin knew she'd covered for him, she and Tane ended up sleeping together, only for Tane to find Ziggy gone when he awoke the next morning and later see her with Dean.
He and Ari were ordered to do the robbery within 24 hours. Dean told them to make sure Paul and Leon were there then turned up with Heath Braxton and a group of River Boys to take the pair to task for messing with their territory. Ziggy told him nothing could happen between them and Tane responded by kissing her. He challenged Ziggy to join him at the gym, then she summoned him to her place where they slept together again. They were soon openly dating.
He was reunited with Ari's de facto stepdaughter Chloe when she came to stay with the Paratas, shortly Nikau, Ryder, Chloe and Bella were all kidnapped by Paul and Leon, who offered to trade them for Ari and Tane. Tane hid the situation from Ziggy as he went to meet them, where he and Ari overpowered all the crooks except Paul, handing them over to the police. After Paul injured Ari in a hit and run, Tane captured him, giving him a beating before taking him to hospital. Mackenzie admitted to him that she was pregnant with Ari's child and he was initially in favour of her telling Ari until he learned she wasn't sure if she'd keep the baby, at which point he explained that Ari and Mia had tried for a baby, having several miscarriages and losing a son born premature. He begged Mia to give Ari another chance. After Mackenzie had a miscarriage and Mia saw her at the hospital, Tane reluctantly told her what was going on, then helped take Mackenzie back to hospital when she developed an infection. He began looking for a job, applying to the gym with a post-it note which prompted Ziggy to convince him to put a proper CV together. Mia ended up getting the gym job so Tane arranged to cover Ari's labouring job until he was fit again.
When Ziggy and Dean both triumphed in the surf carnival, Amber made pointed remarks about how well they got on. Tane asked Ziggy why they broke up and guessed Dean and Bella had been involved in something illegal. Still uncomfortable with the pair's closeness, he took a drunk Mackenzie home only for her to make a pass at him. He quickly filled Ziggy in and also told her he loved her. He discouraged Ari and Mia from trying for a baby but learned they were doing it anyway. He moved in with Ziggy and briefly helped Alf at the bait shop before taking a job at the gym from Mia and going to TAFE but was nervous about letting her down. He had Nikau asking him about shortcuts to bulk up and told him there weren't any. He was uncomfortable about Ziggy working at the garage after Justin beat up Stephen, insisting on accompanying her to work. He learned Nikau had cheated on Bella with Sienna and advised him to confess. He sent a pregnant Mia home when she was tired but decided against hiring Kieran Baldivis on learning of his history.
After Nikau and Bella broke up, Tane was forced to admit to Ziggy what had been going on, leaving her annoyed with him for keeping quiet. He cleared the air with Mackenzie and they agreed to try being friends. He tried to stop Nikau pestering Bella, having to go and help when Nikau turned up at her place on the morning of her photography exhibition and trying without success to get Nikau to take it out on a punchbag. Nikau then mentioned he had seen Ziggy kissing Dean, which Ziggy also confessed to, prompting Tane to ask for space. Ziggy assured him things were over with Dean and they went to the hospital when both Dean and Nikau were badly injured in a car accident that also resulted in Mia miscarrying. When Tane saw Ziggy by Dean's bedside when she'd said she was going to work, he broke up with her and moved back in with his family.
He made a pass at Mackenzie but she turned him down. After finding out Ziggy was still spending most of her time with Dean, he took it out on Bella when she visited Nikau and was thrown out by Ari, his mood not improving when he saw Ziggy and Dean kissing. He slept with Felicity Newman after running into her in a club, not finding out until later that she was the sister of new local police officer Cash. He initially tried to avoid her but then kissed her in front of Ziggy and slept with her again. He went away with Nikau, only to come back almost straightaway after getting a flat tyre, then heard that Ziggy and Dean were living together again. He continued having casual hook-ups with Felicity and ended up hiding in her caravan when Cash turned up outside. He told Felicity about his history with the police and she decoyed Cash while he slipped away. Tane told her there was no chance of anythng serious between them.
He felt Felicity was following him around when he found her on his towel at the beach and at the gym, and also suspected she was the one sending him roses. She denied it when he confronted her and he complained to Cash, who said he couldn't act without evidence. Tane searched the caravan park bins, finding the roses he'd dumped there were gone. He learned Ari was using the money from the armed robbery to buy the gym and, after some initial reluctance, accompanied him meeting dodgy contacts to make the cash look legitimate. He had to put up with Felicity trying to tell Mackenzie he was trouble and ended up in a shouting match with her at the surf club which earned him a telling off from Alf. He was summoned by Nikau to collect a drunk Ryder from a club, leading to words with Felicity and her colleague Anne. Felicity asked him to stay away from her work but when Mackenzie intervened on his behalf, it ended up as another argument. He was infuriated when Cash served him an AVO telling him to stay away from Felicity, but that night, someone drugged his drink and left him in the gym with a sprinkler spraying organophosphate. He only survived because much of the gas went up the air vent and was left in a critical condition in hospital. He eventually recovered after Logan used an experimental drug on him but could only remember seeing a woman with a rose. However, he was convinced it wasn't Felicity, who was the prime suspect with everyone else.
Tane found another rose right after Felicity had supposedly skipped town to avoid arrest. When Anne told him she knew where Felicity was, Tane went along to talk to her but found out Anne was actually holding Felicity prisoner. She knocked Tane out and kept him tied up too, intending to gas them both with more organophosphate. They were rescued by Ari and Cash. He told Felicity he was there for her but was thrown when she kissed him. After spending some time with Ari at a trade show, he met up with Felicity and they kissed again, going on a date to Salt. He restrained Ari when he attacked Chloe's father Matthew. Felicity told him that her father had been murdered but Cash and all their old neighbours insisted it was suicide. Tane kept an eye on her after Cash went to a memorial but she gave him the slip while he was trying to work. He convinced her to stay and talk to Cash, then helped Ari propose to Mia. He agreed to go away with Felicity, who explained Cash had shown her the police report confirming her father's suicide. He convinced her to go home and talk to Cash.
He went along with Ari's claim to have killed Matthew, in order to protect Chloe who was really responsible. He stopped Chloe talking to the police and insisted they stick together, telling Nikau to keep his distance from Bella and distancing himself from Felicity. He learned Ari was signing his share of Salt over to him. With Nikau struggling, Tane took him away and told him it was time for him to earn Mikaere's old taiaha, teaching him the rituals that went with it. He relaxed his closed rank policies a bit, encouraging Nikau to spend time with Bella while he began getting closer to Felicity, inviting her as his date to Ari and Mia's wedding. He went to see Ari in hospital and learned he had terminal cancer, helping organise for Mia to marry him before he died. He and Nikau accompanied Ari's body back to New Zealand.
He was eager to see Felicity again when he returned to town and freaked her out when he said he saw her in his future. She told him she wasn't sure she'd ever be ready to settle down. He tried to talk to Chloe about her grief but she insisted Nikau was the one having problems. Tane discovered Mia sleepwalking and kept it to himself, staying awake to guide her back to her room if it happened again, until he fell asleep and only just woke up in time to stop Mia walking in front of a car. Felicity invited him along to an illegal poker night at Salt where he won big, although he ended up in a row with Dean after no-one else turned up to a family meal that Mia had excused him frm. He had to deal with an upset Mia who at first denied there was a problem and then announced she was leaving town, signing her share of the gym over to him. He accompanied Felicity to another poker night, where he lost to another player, Jack. Afterwards, he and Felicity had a romantic picnic on the rocks and admitted they loved each other. Seeing how stressed Mia was after staying in town for Chloe's sake, he suggested she could leave without Chloe, arranging for her to stay with Gemma.
He tried to keep an eye on a private poker night Mackenzie had arranged for PK King but was distracted when Felicity was held prisoner by PK's associate Nathan Silva, allowing PK to scam Mackenzie out of the evening's takings and leave her thinking she was in debt to him. He intervened when two thugs vandalised Salt but was stabbed in the process. He agreed with Dean and Mackenzie's assertion that they couldn't call an ambulance, instead having to be operated on by Logan on the quiet and experiencing blood loss, needing a transfusion. Not long after however, Felicity was arrested for the poker nights anyway and Tane talked Mackenzie into taking responsibility. He helped Cash and Felicity make up and joined Nikau in winding Theo up at his first family event as Chloe's boyfriend.
He decided he was well enough to return to work so Felicity decided she didn't need to stay at the house anymore. Tane promptly invited her to move in and she accepted. He hired Chloe to do the accounts at the gym only to be faced with awkward questions about how Ari and Mia could have afforded it, eventually having to tell the truth. He encouraged Felicity over buying Salt.