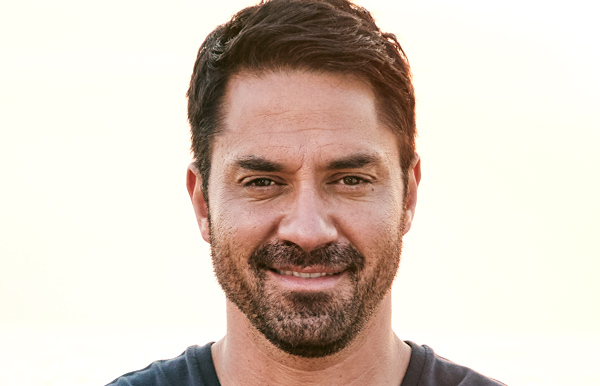 Ariki Wiremu Parata (2019-present)
Rob Kipa-Williams
Episodes: 7269-present
Siblings: Mikaere (deceased) & Tane Parata
Children: Kauri Parata (deceased)
Occupation: Construction labourer
---
Ari first came to attention when he was caught up in the armed siege at the Northern District Hospital at the end of 2019. He had been getting a work injury seen to and was among those taken hostage. He befriended Marilyn Chambers and made plans with Mason and Alex to get some of the hostages to safety. Mason and some others caused a distraction while Ari led a few of the hostages out through a fire exit, although Mason was killed in the process. Ari left the scene with his sister-in-law Gemma after a brief chat with John, hoping to avoid press attention.
Ari had taken on a fatherly role with his nephew Nikau since his brother's death but things were tense between them, as became obvious when the family had lunch with Marilyn, after Ari had retrieved the memory book she had gone to the hospital for. The family were staying at a motel but struggling with Ari off work because of his injury. He was recognised by Dean, who had been in prison with him, and warned Dean to keep quiet about it. He was horrified when Marilyn told the newspaper about his heroism, resulting in a front page story, but both he and Nikau decided they should stay in town. He was quick to accuse Nikau of causing trouble on seeing him in a police car, only for it to turn out he had been helping them.
He was unable to convince John to help him find work and the family were evicted from the motel, having to spend the night in the car. Marilyn found out and invited them to stay with her. Since John didn't like him there, Ari decided Gemma and Nikau should stay, while he and Nikau convinced Roo to let him stay at the caravan park and pay when he was able to. Ironically, he quickly gained John as a neighbour when John learned Ari had spent time in jail for armed robbery and his brother Mikaere had been killed carrying out another robbery, only for Marilyn to refuse his ultimatum to throw Gemma and Nikau out. Ari wrongly accused Dean of spreading the news. John said Gemma and Nikau could stay if Ari left town. Ari was willing to go but Marilyn refused to let him.
Ari got to know the locals at Ben's birthday party but still clashed with Nikau over him keeping Marilyn's place tidy. He started having regular out of work drinks at Salt and getting to know Mackenzie. Dean asked him to stay away from her but Mackenzie turned up at the caravan park looking for him. He told her about his past but, when she didn't mind, he spent the night with her. He refused to stop seeing her despite Gemma and Nikau being worried her being the ex of local police officer Colby would cause problems, and ended up in a confrontation with Colby at Salt.
When he learned Nikau was in contact with his other brother Tane, who had refused to give up doing illegal jobs, Ari visited Tane and told him to stay away from Nikau. He was put out at Mackenzie supporting Colby while Bella was in therapy and clashed with Nikau when he tried to get him to find a permanent job so they could afford their own place. He was furious when Nikau turned up with Tane, and Gemma had to break up a fight between the two brothers, insisting they all go to Salt together. He tried to build bridges with Nikau, but when Gemma and Nikau both chose to move into the new house Tane had provided across the road from the Palmers', Ari had no choice but to join them. Gemma told him to try and get on with Tane, so Ari got Tane to join him in preparing a hangi. He was convinced to invite John but clashed with Tane over the latter chatting up Mackenzie, although they worked together to help John when he had a stroke. He tried to calm Nikau over Gemma spending time with Ben.
He heard the Diner had been broken into and accused Tane, then found himself Colby's main suspect and was also accused of being behind the theft of Tori's car despite being with Colby at the time. He learned Nikau was responsible for taking the car and Tane had covered for him, deciding to keep it from Gemma. He agreed to Gemma's plan to take Mikaere's ashes home but he, Nikau and Tane were turned back by airport security after Colby put a block on their passports, having to let Gemma go alone. Ari let the trio in a haka on the beach as a memorial. On learning Tane didn't have the rent money, Ari tried to get him a job on his site only for him to skip town. When the rent was paid, Ari initially accused Mackenzie of doing it against his wishes and wasn't any happier to learn Tane had paid it with dodgy earnings.
He was appreciative when Mackenzie gave Tane a job so they could afford the rent but less happy to discover Mackenzie and Tane were attracted to each other, although he accepted Mackenzie's request for a serious relationship. She challenged him to take her on a proper date and eventually settled for taking her fishing only to learn that she often went with her father, as she caught a large fish and had it served to them at Salt. He was forced to work with Colby when Nikau and Bella both ran away during the investigation into Bella's father's murder and flew out after them with Mackenzie and Tane. They quickly found Nikau, who managed to get Bella to join them, and headed back to Summer Bay.
When Mackenzie was abruptly evicted from her rental, Ari convinced her to come and stay with his family temporarily, arranging a candlelit bath to welcome her. He also reluctantly agreed to Bella moving in but she ultimately decided against it. He tried to convince Mackenzie to move in permanently and was hurt when she instead moved in with Ziggy, suspecting it was to do with Tane. Mackenzie admitted things had been uncomfortable between them but Tane urged him not to throw the relationship away. He took a job in the city for a few days and, after his return, made peace with both of them. However, Tane was frustrated and took Ari turning up for his first day working at the garage with pizza the wrong way. Ari was suspicious when Tane immediately left for the city, especially when Ziggy and Willow disappeared too. Tane reappeared badly beaten but claimed it was a jealous husband. In the middle of throwing a farewell for Nikau, who was planning to move to New Zealand, Ari learned Tane had actually been involved in handling stolen goods with Leon Caruthers and his boss Paul and ended up accidentally losing thousands of dollars of drugs. He ended up fighting the crooks alongside Tane when they turned up at the house and, when Colby broke up the fight, claimed it was because Leon caught Tane with his girlfriend.
Ari refused to let Tane deal with things alone and agreed to do a job with him for Paul and Leon to pay off the debt, moving stolen goods. However, after completion, they continued to be told to do further jobs. He refused to let Mackenzie sell her car to pay off the debt but accepted when she handed it over to Paul and Leon. However, Paul and Leon ignored the deal and demanded the brothers carry out an armed robbery in Reefton Lakes, sending them photos of them doing the last job as leverage. They convinced Nikau to go to New Zealand and, when he learned Dean had disappeared, leaving Bella on her own with Colby in jail, he tracked him down to Mangrove River and convinced him to return. With a week until they were meant to do the robbery, Ari was prepared to let Paul go to the police and go back to jail rather than put Tane in danger.