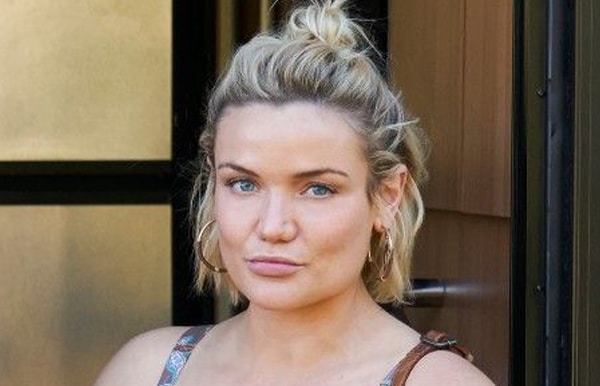 Mia Anderson (2021-present)
Anna Samson
Episodes: 7485–7782

Parents: Sophia Anderson
Marital Status: Ari Parata (2022, deceased)
Children: Chloe Anderson; Kauri Parata (deceased)
Occupation: Personal Trainer/Nutritionist; Gym Co-Owner/Manager
---
An ex-girlfriend of Ari's, Mia came to town looking for her daughter Chloe, who had ended up staying with the Paratas after running into Nikau while travelling: Mia had cut all ties with Ari when he went to jail. Chloe was angry that Mia had lied that Ari wanted nothing to do with them and refused to go home with her. Mia thus decided to stay in town as well and found herself spending time with Ari, who helped her look for a job in the area and arranged for her to stay at the caravan park. Ari's girlfriend Mackenzie, sensing he still had feelings for Mia, begged her not to break them up, and Mia felt awkward when Ari invited her along to a family barbecue while excluding Mackenzie. Chloe set her and Ari up with a romantic meal, which Ari was happy to go along with while Mia was more uncomfortable. However, the next day she learned Ari had broken up with Mackenzie. She went round to see Ari and they slept together, but their reunion was halted by the realisation that Chloe and several other youngsters were missing: They had been kidnapped by Paul and Leon, old enemies of the Paratas. Although Chloe and the others were quickly freed and most of the kidnappers arrested, Mia was furious with Ari and took Chloe away from him.
However, when she heard Ari was in hospital after being run over by Paul, she rushed to his side and maintained a bedside vigil as he lay in a coma, unknowingly saving his life when she interrupted unstable nurse Lewis Hayes as he was about to give Ari a lethal injection. However, she slipped away once Ari regained consciousness, unconvinced he had changed. Tane convinced her to talk to Ari and they got back together, with Ari inviting her to move in. Mia saw Mackenzie at the hospital and learned she had miscarried Ari's child, which brought back memories of their own attempts to have a baby, which culminated in their son Kauri dying after being born premature. She initially kept Mackenzie's miscarriage from Ari, but told him when they saw her being taken back into hospital with an infection. She was surprised to learn Chloe was dating Ryder, who she had once despised, but accepted him.
She applied for the manager's job at the gym and was hired after Irene and John interviewed her on Jasmine's behalf. She learned Mackenzie had sacked Chloe from Salt and gave her a warning about taking things out on her, and advised Ziggy over her relationship with Tane. Ari suggested they try for a baby again which made things awkward between them for a while. Ari stumbled across Mia's momentos of Kauri, prompting them to talk things over and agree to try, before going on a road trip on Ari's new motorbike. Mia invited Dean over for dinner to try and get to know him as Ari's friend, but instead ended up letting slip that Tane had moved in with Ziggy, Dean's ex-girlfriend. She gave Tane a job at the gym after learning he had made a haphazard attempt to apply for the manager's job. After she took a pregnancy test which came back negative, she managed to convince Chloe to support them as they kept trying. She and Ari went away for a while and returned to find Nikau throwing a party for his modelling colleagues, with Mia failing to get a drunken Mackenzie to leave. After going home from work sick, she told Ari she was pregnant. They worried when they were fast-tracked to an appointment with the obstetrician, but it turned out Mia was just further along than they'd thought, after which they shared their news with Chloe.
When Chloe was injured in the food truck explosion and needed surgery, Mia took it out on Ryder, who had escaped without any real injury, but later invited him to join them at Chloe's bedside when it became clear she was going to be all right. She helped Chloe settle back in at home but was bothered by Ari being without work for a few days. She got caught up in the fallout of Nikau cheating on Bella, pleading Tane's case to Ziggy when she was angry about him keeping quiet about it. She and Ari attended their 12-week scan and considered naming the baby Sophia after her mother. She tried to talk reasonably to Nikau after he caused a scene at Bella's exhibition but an argument with Ari saw Nikau walk out. Mia accepted a lift from Dean to go and collect him but on the way back they crashed, with the car being left poised on a cliff edge. Mia managed to get out and, with Dean trapped inside, stabilised the car by tying seat belts to a rock. However, as a result of the incident, she suffered a miscarriage. Afterwards, she told Ari she couldn't face trying again. She was cold towards Ari when she came home from hospital, suspecting he would try and change her mind, but he assured her she was enough for him.
She assured Nikau she didn't blame him when he was discharged from hospital, then began looking into adoption, sharing her thoughts with Ari. They invited John over to discuss his experience: He had to explain he adopted Jett as a teenager, not a baby as they were hoping, but told them it was worth it. They made plans to buy the gym to prove they could financially provide for a child, with Mia retrieving the money from Ari's armed robbery which he had left with when whe he went to prison, using it to pay the deposit. She convinced Ari to go along with it and to arrange to turn the money into a back cheque, although she was shocked to learn it was dangerous. In the end, the sale went through without any trouble. She tried to involve Ari and Tane in the management but Ari felt out of his depth. She dealt with Chloe supposedly going out with Ryder and instead spending all night out with Theo. She and Ari were rejected by the adoption agency because of Ari's record and Ari was soon distracted by Tane being in hospital with organophosphate poisoning. He suggested she adopt on her own but Mia told him she only wanted a child with him.
She then received a call from Chloe's father, Matthew Montgomery, who had finally tracked her down after twenty years. She told Ari that he had sex with her at a party when she was too drunk to consent and that when she found out she was pregnant, she went to his family and his mother gave her money for an abortion: Instead, she fled town. She ignored Matthew call's but this resulted in him turning up in town. She met him at Salt where he told her he wanted to see Chloe. Mia refused and threatened to report him for sexual assault if he persisted. However, Matthew told Chloe who he was and Mia was forced to confirm it. She refused to tell Chloe the full story so her attempts to tell her to stay away from Matthew fell on deaf ears. She and Ari found Matthew at the house to pick her up and Ari hit him. As a result, Matthew threatened to report him for assault unless Mia let Chloe spend time with him.
Chloe insisted on bringing Matthew over for dinner and Mia left the table upset when he referred to them briefly seeing each other. On learning that Chloe was planning to go and live with Matthew in the city to attend college, Mia tried to force him to back off by threatening to reveal to Chloe what had really happened between them. When he called her bluff, she told Chloe the truth and assured her she'd never held it against her. With the family back on track, Ari proposed to her and she accepted. However, she then found Chloe arguing with Matthew and, as things got heated and Matthew stopped Mia walking away, Chloe struck Matthew with a brick and killed him. Mia decided to hide his body and drove off in his car with him in the boot, only for her to come to the attention of the police as she sped away from town.
Mia was eventually stopped by a police road block and Matthew's body was found. When she refused to give an explanation, she was arrested. Ari arranged for her to be released by confessing to killing Matthew. After Ari assured her he was certain, Mia went along with the story. She offered to make a statement about Matthew but Ari insisted they couldn't change their story. Desperate to find a positive, she encouraged the rest of the family to visit Ari and made plans to marry him in prison. However, a family meal to discuss it failed to get much support from Chloe or Nikau, and when she read Chloe's journal, she realised just how guilty Chloe felt. She offered her support but also got Chloe to burn it so it couldn't be used as evidence. Since Chloe refused to talk to her, she asked Bella, one of the few other people that knew the truth, to talk to her. She received a serve from Bella when pressuring Chloe to try on her bridesmaid's dress, then was summoned to the hospital when Ari was rushed in with abdominal pains. Initially believing he had appendicitis, she tried to arrange bail, only to learn he actually had an aggressive form of cancer. She was upset when he refused surgery that could have given him longer but, when he said he wished he'd married her years ago, managed to arrange a last minute marriage service before he died.
Although relieved that the Matthew case had been officially dropped, Mia reacted badly when she saw a video Ryder and Theo had made of people's memories of Ari, accusing them of making things worse. She initially refused a crowdfunding page from Dean and Ziggy until she had a dream of Ari telling her to accept help, after which she thanked them and reopened the gym. However, receiving her marriage certificate and Ari's death certificate left her depressed again: She got drunk at Salt and was found sleepwalking by Tane. She was initially unaware of this until Tane had to knock her to the ground when she sleepwalked in front of a car.
She tried to organise a family meal but no-one turned up, with her learning Nikau and Chloe had gone to the movies. She started sleepwalking again, then threw everyone out of the gym and locked herself away in the office. She refused to see a professional and, after talking with Jasmine about seeing Ari everywhere, decided she and Chloe needed to leave town. She signed over her half of the gym to Tane but Chloe refused to go along with the plan so Mia agreed to stay. She tried to spend her time with Chloe, ignoring both the gym and the rest of the family, but just caused Chloe to become more stressed. Tane suggested she could go without Chloe and, after initial resistance, she accepted the wisdom. Tane and Chloe arranged for her to stay with Gemma in New Zealand and she left after a farewell meal.