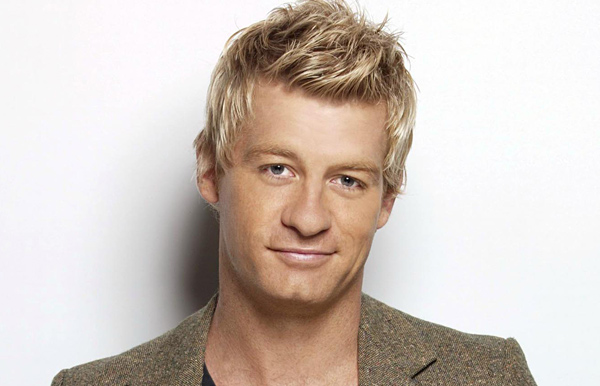 Detective Peter Kevin Baker (2004-2005; 2006-2007)
Nicholas Bishop
Episodes: 3762–3809; 3829; 3833; 3861–4018; 4104–4212; 4295–4422
Date of Birth: 7th July 1969
Parents: Kevin & Noelene Baker
Siblings: Dan Baker
Marital Status: Clare Brody (2005, engaged); Amanda Vale (2007-present)
Children: Drew Curtis;
Step Children: Belle Taylor & Ryan Baker
Occupation: Police Detective
---
Peter Baker arrived in Summer Bay in mid-2004, becoming the shows token police officer.
Leah, at first recognised him from somewhere else, spinning some story that they must have went to the same school, but when Leah checked with her mum, a teacher at the school, she said the story to match up. Leah confronted Peter about this and he revealed to her that he had actually been in the court room when Vinnie was prosecuted.
Peter's first major case was Sarah Lewis versus Summer Bay. Numerous times it was clear that she had been behind events happening in the bay such as powder in the surf club air vents, soap burning Dani's hands. It was not till Sarah had held Jesse hostage in the surf club that they were finally able to arrest Sarah and she was sent away to pychiatric hospital. Unfortunatly Sarah escaped and headed back towards Summer Bay. Pete gathered everyone that had came into contact to Leah's house as a safe place, but whilst he was out scouring the area Sarah arrived at Leah's with Scott, holding half the cast hostage. When he returned Sarah hit him with the gun, sending him into a coma, but not before he dropped the bombshell to Leah that Vinnie was actually alive.
For the next few months Peter was in a coma, and his brother, Dan, had came to the bay, and was now Leah's boyfriend. Peter had been falling for Leah before the cliffhanger.
When Peter awoke from his coma, he arranged for Vinnie to come to see Leah. However Vinnie had to come dressed as a bear to protect his identity. Peter slowly regained health and early in 2005 he came to Leah's rescue after she had crashed her car.
Peter's second major case in a year occured when mysterious events such a plane crash, break-ins etc. started happening around the bay, in a case that became known as the "Summer Bay Stalker". After what had happened with Sarah this case became personal for Peter and it dominated his life for months as he became convinced that Sarah had somehow survived after putting a gun to her head in the Siege. Help was drafted in for Peter in the form of Clare Brody, who just happened to be Peter's ex and although they initially clashed over everything, the sparks continued to fly and after Peter was taken by the stalker and subsequently dumped they began to fall for each other again.
Eventually the Police came to the realisation that the stalker was Eve Jacobson, posing as 'nice' nurse Zoe McAllister but Eve had already faked her own abduction and taken Sally Fletcher hostage so it was a race against time to save Sally. After a cat and mouse chase around an old abattoir Peter managed to rescue Sally and they escaped together as the building exploded, seemingly with Eve inside.
With the stalker now seemingly in the past Peter stood as best man at Dan's wedding and apart from minor police incidents did not have another storyline Dan became convinced that Peter was up to no good when he lied about being out of town. Turning up at a drugs house it was revealed that Peter had been undercover and when Dan blew his cover for him, Peter was shot. He survived though and made the decision to move to the City with Clare who had been offered promotion there.
Peter's third stint in the Bay came some four months later when he returned with the explanation that Clare had cheated on him. That turned out to be a lie however as Peter made a play for Leah, his brother's wife and they shared a kiss. Their secret was eventually spilled to a devastated Dan and Peter made a mysterious phone call insisting he wanted 'off the case'. His contact however refused to let him leave and over the next few weeks his behaviour became increasingly suspicious, snapping at Officers, receiving mystery phone calls and eventually knocking Jack out. When Jack eventually went to the Sergeant with his suspicions the truth was revealed to Jack and the other Police officers, Eve Jacobson had somehow survived the explosion at the abattoir. Peter asked Jack to keep his secret and help him catch her. Peter's mysterious contact was also revealed to be Detective Tracy Thompson from the City and she moved to the Bay to help Peter locate Eve.
What followed was a series of mind games on Eve's part. A red light bulb with 'tick, tock' printed on it caused Sally to hear the truth and then a video tape threatening Peter's death arrived at Jack and Martha's engagement party and the truth was out. After that it was notes leading to wild goose chases, real and fake bombs planted everywhere until Eve was eventually caught by Peter, Jack and Tracy and was arrested.
Contented that Eve was safely on her way to Prison, Peter headed to Jack and Martha's wedding only for Eve to turn up midway through with Tracy as her hostage. Unable to comprehend how she had escaped, Tracy then admitted that she had been working with Eve all along and at the same point Sally pointed out that she could smell gas and a seemingly innocent girl wandered out with a cake and candles. The explosion that followed saw Peter badly injured and raced to hospital where he was pronounced dead at the scene and his liver donated to a seriously injured Jack.
Whist going through Peter's belongings Dan found evidence that Peter had a son and when Drew came to the Bay he was initially believed to be starting fires until it became clear that he was being set up. Peter's DNA was found on the evidence and Jack was seriously beaten when he began to get too close to finding out what was going on. When Drew decided to leave home though and was being approached by a car, another car pulled up and dragged him in. Taking him to an abandoned house, Drew's captor was revealed to be Peter.
Put in witness protection by people determined to protect him, Peter explained to Drew how his death had been faked to help him evade gangsters who were after him. The plot against Drew was revealed to be an attempt on the part of the gangsters to get Peter out in the open and it had worked as Peter was willing to sacrifice his life for his son. Somehow though, in the scenes that followed, Peter managed to get the better of the gangsters and shooting them dead, returned to the Station very much alive.
Relations between father and son and also between Peter and Dan were strained, especially with Peter snapping and acting strangely. Whilst confronting Amanda over her seducing Drew, the house was robbed and Peter and Amanda were imprisoned together in the pantry. Peter admitted to Amanda that he was addicted to prescription drugs and she offered to help wean him off them with them eventually getting close and becoming an item, much to the disgust of those closest to them.
What followed were months of seeming happiness for Peter. He continued to rebuild his relationship with Drew and despite a few arguments and trust issues his relationship with Amanda continued to flourish eventually announcing their engagement. Things have recently been rocked though by mind games from her twisted sister Kelli who has been determined to make Amanda's life hell but Peter and Amanda have come through and what our forum members name 'Panda' seems to be going well.
That was until Amanda's sister Kelli turned up hell bent on revenge. After drugging Amanda and having pictures taken of her in bed with Kelli's secret boyfriend and partner in crime, Ethan, Amanda sought desperately to keep things from Peter only for Ethan to show up at their wedding and announce to Peter and all present that Amanda had cheated.
Unaware that Amanda had been set up a devastated Peter broke things off with Amanda but when Belle finally revealed the truth about Kelli, Peter managed to save Amanda from almost being killed by her evil sister. Although now knowing she had done nothing wrong and still loving her Peter wasn't willing to risk heartache again by resuming things with Amanda. Devastated, Amanda decided to leave the Bay only for a last minute pep talk from Drew and Dan to convince Peter where his heart truly lay. Heading to the City, he surprised Amanda and the two began a new life together away friom Summer Bay.