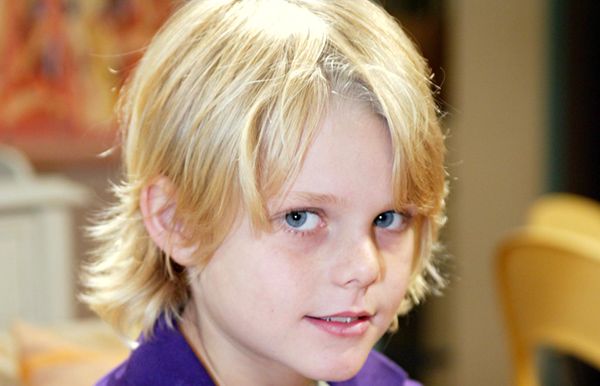 Ryan Baker (2005–2007; 2008; 2009)
Issac Gorman
Episodes: 3918–3927, 3994–4550, 4582–4585, 4906–4907, 4916–4917
Parents: Dan Baker (deceased) & Amanda Vale
Step Parents: Leah Patterson (former stepmother); Peter Baker (stepfather)
Siblings: Belle Taylor (half-sister)
Step Siblings: VJ Patterson (former stepbrother); Drew Curtis (step-brother/cousin)
---
Ryan Baker was first seen, arriving in the run up to his father Dan's wedding with Leah Patterson. He instantly set about trying to cause trouble by charming Dan and causing trouble for Leah. He destroyed her wedding dress but went too far when he caused VJ to get hurt and when Dan turned on him, he packed his bag and ran away. Peter found him and convinced him to come home and when he did he made amends with both Dan and Leah before returning to his mother Amanda in The States.
When Amanda arrived in the Bay it quickly became clear where his trouble causing tendencies came from. Luckily Leah managed to breach things with her new step son in time for the wedding and he was able to play a vital part in the service by holding onto the rings. He moved with Amanda to The Bay and enjoyed spending time with his step brother VJ and cousin Drew. After Amanda set her sights on Graham Walters, Dan decided she was a disturbing influence for his son and Ryan moved into his household but after a fight with Dan, Amanda kidnapped Ryan and drove away with him, threatening Dan that he'd never see Ryan again.
She returned a few months later with Ryan and he soon gained a half sister in Belle Taylor and the three of them moved into a mansion together. Amanda hooked up with Ryan's Uncle Peter and he was delighted to be present at their wedding but his Aunty Kellli's manipulations saw Peter leave Amanda and with Amanda at rock bottom, Dan took full custody. After the truth about Kelli was revealed, Amanda and Dan agreed to share custody but it was Dan who won out when Amanda left the bay and Ryan stayed behind with Dan.
When Dan was offered a job opportunity in America, Ryan made it clear he didn't want to go and was rude to Dan and Leah. He eventually broke down and admitted that he missed his mum. Dan let him return to Amanda in the city but a few months later information filtered through that Dan had died. Ryan returned to the bay with Amanda for his memorial service and got upset whilst in bed with Leah and VJ, thinking that he wasn't their family any more. Leah assure him that he would always be part of her family. He returned to the city with Amanda.
The following year, Ryan returned to town again with Amanda for half-sister Belle's wedding to Aden, being reunited with her when they arrived at the house in the middle of a tense moment between her and Nicole. Two weeks later, Ryan and Amanda again returned to Summer Bay when Belle decided to let them know she had terminal cancer. While Amanda and Aden argued over Belle's decision not to have treatment, Ryan spent time with Belle using her computer. He later attended Belle's funeral.