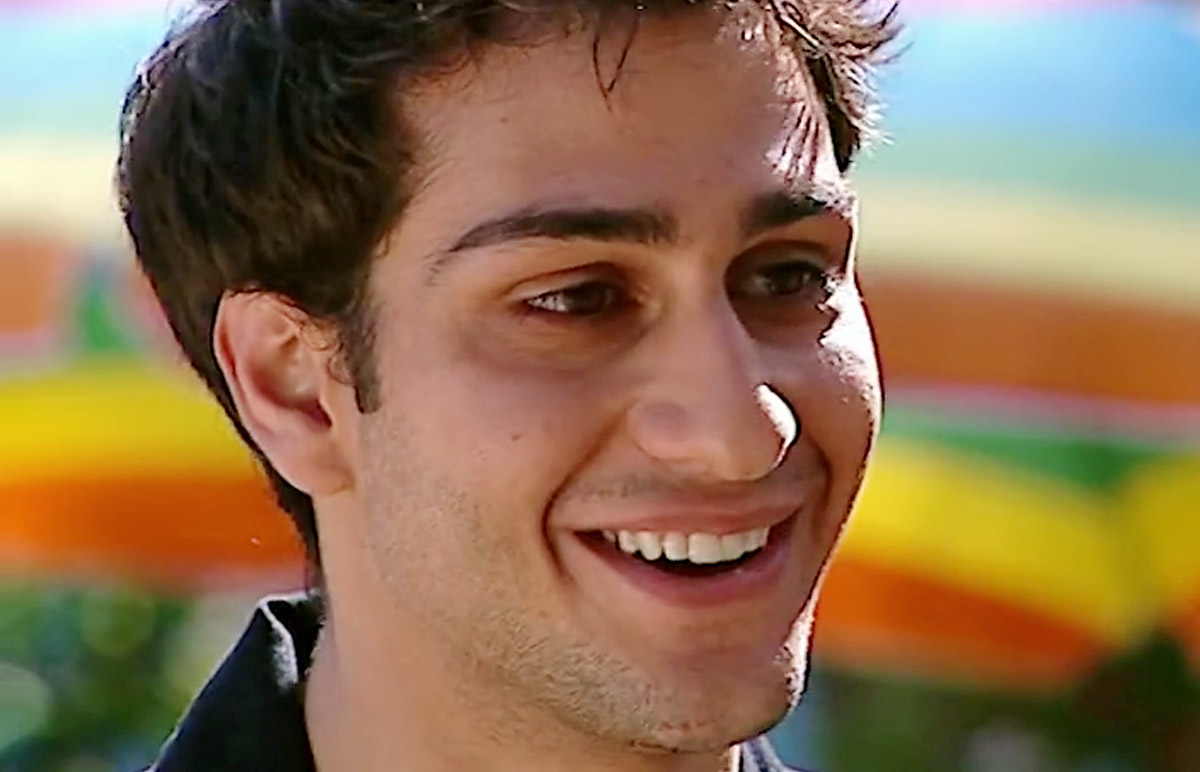 Chris Poulos (2000; 2001; 2002; 2003; 2004; 2005; 2009)
Alex Blias
Episodes: 2846–2848; 2997–2999; 3121–3123; 3186–3190; 3322–3332; 3509–3513; 3589; 3641; 3672–3675; 3996–3997; 4792–4799
Parents: Theo & Helen Poulos
Siblings: Dimitri Poulos, Leah Patterson and Alex Poulos
---
Chris is Leah and Alex's older brother, and younger brother to Dimitri. He first came to Summer Bay not long after she arrived in town, greeting her at the Diner and being shown back to the house she was sharing with Sally and Shauna. He found the shirt of Leah's new boyfriend Vinnie, discarded when they had done an aerobics workout together, and then met Vinnie for the first time. He and Vinnie spent time watching football together, where he seemed unconvinced by Vinnie's assertion that he and Leah hadn't slept together. Chris admitted he had expected to dislike Vinnie, since he had been friends with Leah's ex-fiancé Ted, but he had his approval. Vinnie admitted he had only pretended to be into sports to impress Chris and cancelled plans to meet him in the city to watch drag racing.
Chris returned the following year for Leah and Vinnie's wedding. He met Holly Loader and invited her along as his date, unaware she was Jude's ex and had been causing trouble for him and Shauna. When Holly got upset at the reception, Jude decided to take her home. Chris protested that she was there with him but Noah backed Jude up and Chris was convinced to back down rather than make a scene.
He returned twice more that year. The first time, he came to give his old car to Leah and Vinnie. Recalling Gypsy from his previous visit, he asked Alex if she was single. Alex confirmed she was but neglected to mention she was pregnant, giving Chris a shock when he tracked her down at the drop-in centre. Afterwards, however, he told her that a girlfriend had had an abortion without telling him and he wished he'd been involved. He also expressed disappointment that Alex had broken up with Brodie, who he had brought home to meet the family, and told Vinnie he'd taken the pressure off him by giving his parents their first grandson. He returned at the end of the year when Leah was about to give birth, counselling Alex over the death of his friend Miles Alcott in an accident where Alex was driving and unsuccessfully trying to convince Brodie to forgive Alex. He met nephew VJ shortly after he was born and was present when Vinnie was arrested for fraud.
The following year, he was in town for VJ's christening and the revelation that he was deaf. At the christening party, he was reunited with Brodie and Dani and made an unsuccessful attempt to matchmake between Alex and Brodie. He shared a kiss with Dani as he helped her revise, and the two went on a date to Wonderland Sydney, but Dani was torn between her feelings for Chris and her ex-boyfriend Josh West. When Dani ultimately decided she wanted to get back with Josh, Chris asked her to let him know if things didn't work out. He visited again the following year for Alex's 21st birthday party, and met Leah at the airport with father Theo and older brother Dimitri to see her and VJ off to have his cochlear implant fitted. He visited again with Theo and Helen near the end of the year when Leah was in a car accident, leading to them learning she was being a surrogate for Sally and Flynn.
He came to visit again when Hayley was in a car accident. The reveal that Alex and Hayley had broken up and Alex was back with Brodie, coupled with Leah still going ahead with the surrogacy plans, left things so tense that Chris asked to stay with Scott, Dani and Noah in order to avoid his family. Eventually, with Hayley recovered physically, Chris joined his family for a meal where Helen was convinced to accept Alex and Brodie together.
He returned in 2005 for Leah's wedding to Dan, along with Theo, Helen and Dimitri. They became caught in the chaos of losing both the arrangements and the priest, which led to Leah wanting to postpone the wedding. Chris was the one that spotted her after she ran away to the beach, and later helped organise a new wedding under Peter's direction. He sat with his family and bridesmaid Sally at the wedding reception.
Chris' last visit to Summer Bay was in 2009. He accompanied Theo and Helen to Leah's 30th birthday party, where Leah picked up on the tension between her parents. Chris admitted they were about to split up, despite his best efforts, after the business went bust. Theo decided to stay behind in Summer Bay but Chris and Helen returned the following week just in time to stop him leaving for Cyprus. They attended the discussion at Summer Bay High about using Dan's life insurance money to set up a memorial, after which Theo agreed to go back to the city with Helen and Chris to work on things.