Home and Away Spoilers – John and Irene's romance leaves Maz hurt
Next week on Home and Away in the UK, John and Irene's romance prank leaves Marilyn upset, while Bree overhears Mercedes confess to kissing Remi.
John (Shane Withington) and Irene (Lynne McGranger) set tongues wagging last week as Summer Bay speculated on a romance between the pair.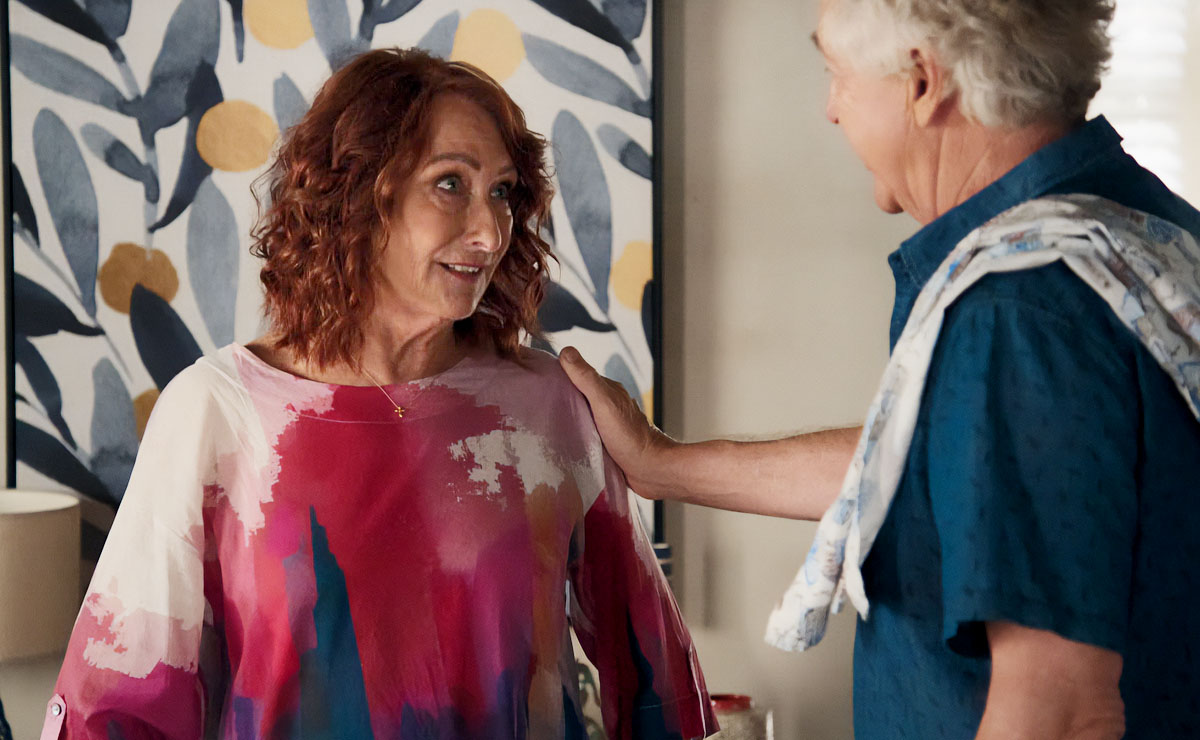 Since Irene offered to have John stay with her, as he recuperates from his recent surgery, the two have been enjoying having some company around. Irene has lived alone in the Beach House since Cash moved out last October, whilst John has been rattling around his Saxon Avenue abode since his split from ex-wife Marilyn (Emily Symons) back in 2020.
John's horrific experience in hospital, which Irene was there to witness, undeniably brought the pals closer together, but it's clear that the relationship is purely platonic… or at least that's what they thought!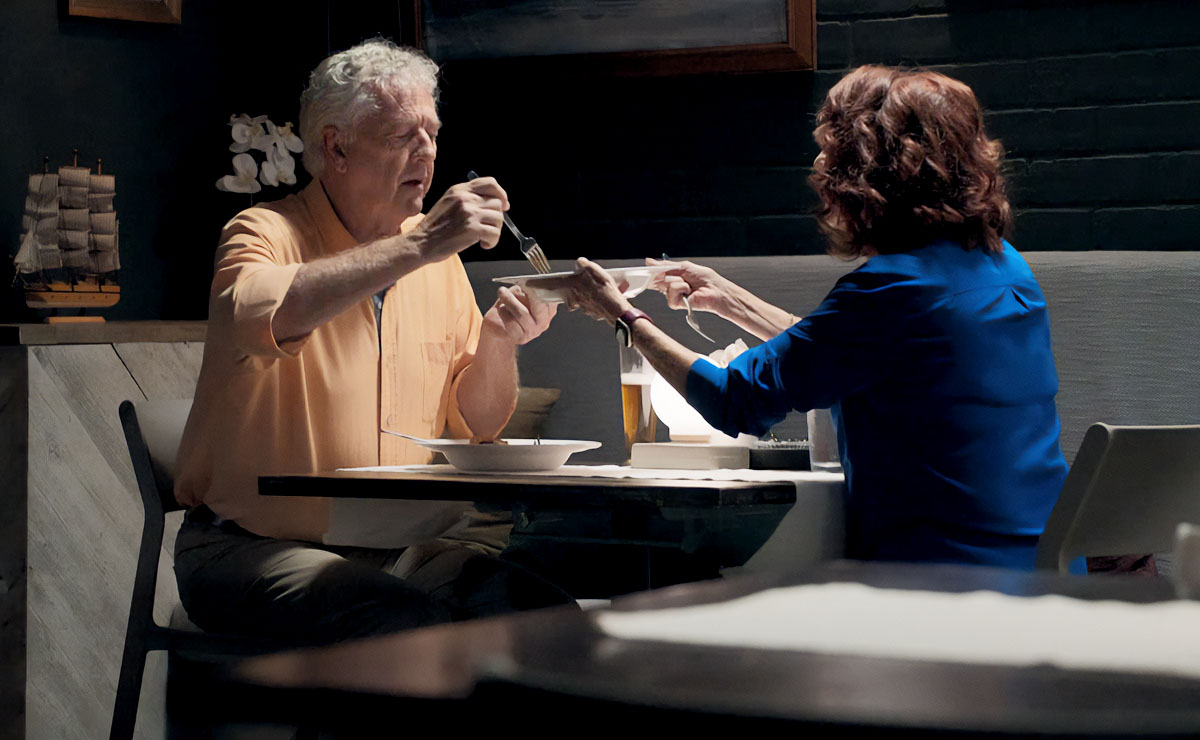 First it was Theo (Matt Evans), who squirmed after overhearing the two joking about, before Alf (Ray Meagher) and Marilyn spotted John and Irene enjoying a meal together in Salt.
Marilyn thought that they looked rather cosy, and became more and more uncomfortable around the pair as she began to believe there could be something going on.
With Xander (Luke Van Os) and Mackenzie (Emily Weir) also drawing the same conclusion after making their own enquiries, it wasn't until Mali (Kyle Shilling) revealed the gossip to John and Irene that they realised why people had been so interested in their living arrangements lately.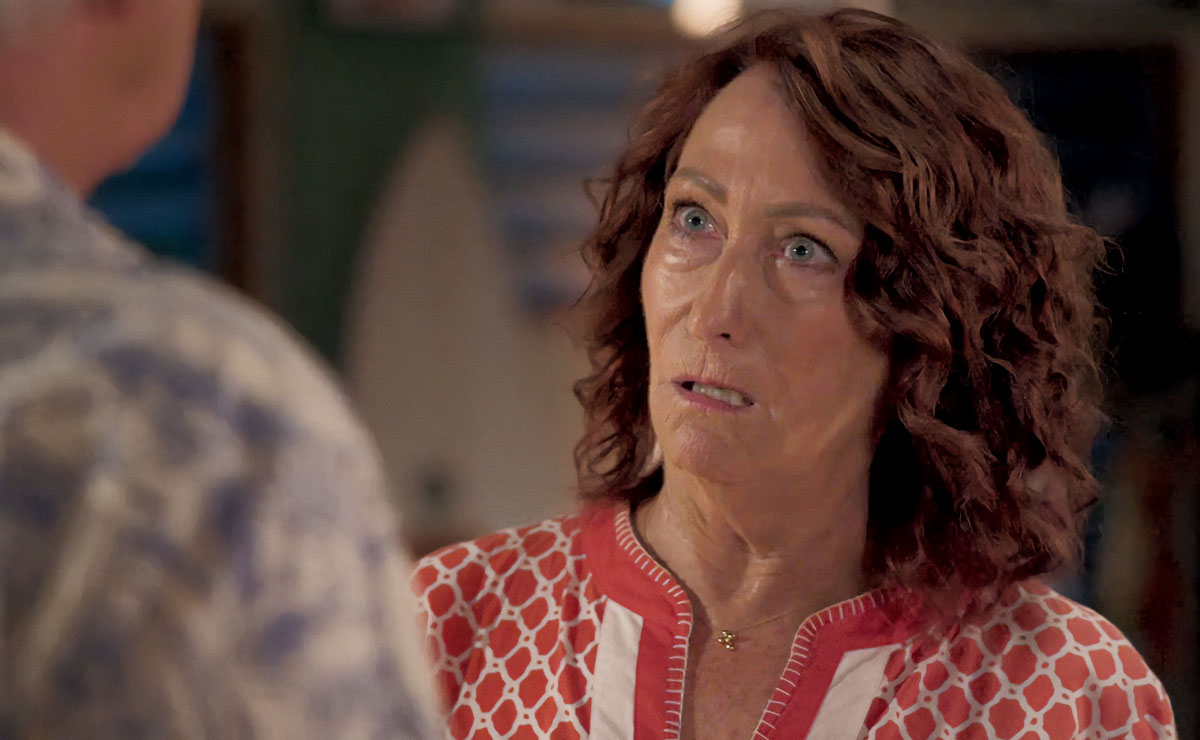 As Marilyn subtly dug for information the next morning, John was all ready to tell her the truth when Irene stopped him.
Irene figured that if Maz was that interested, she should just ask outright, and suggested they instead teach their friends a lesson by really giving them something to talk about…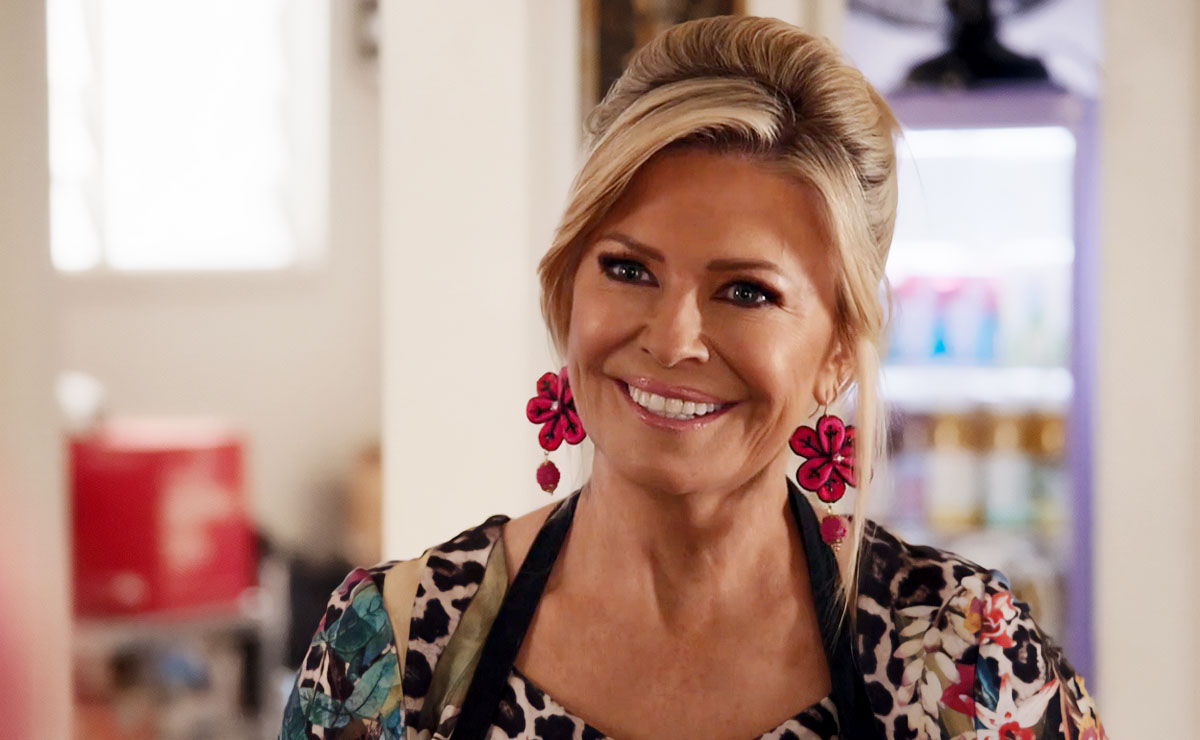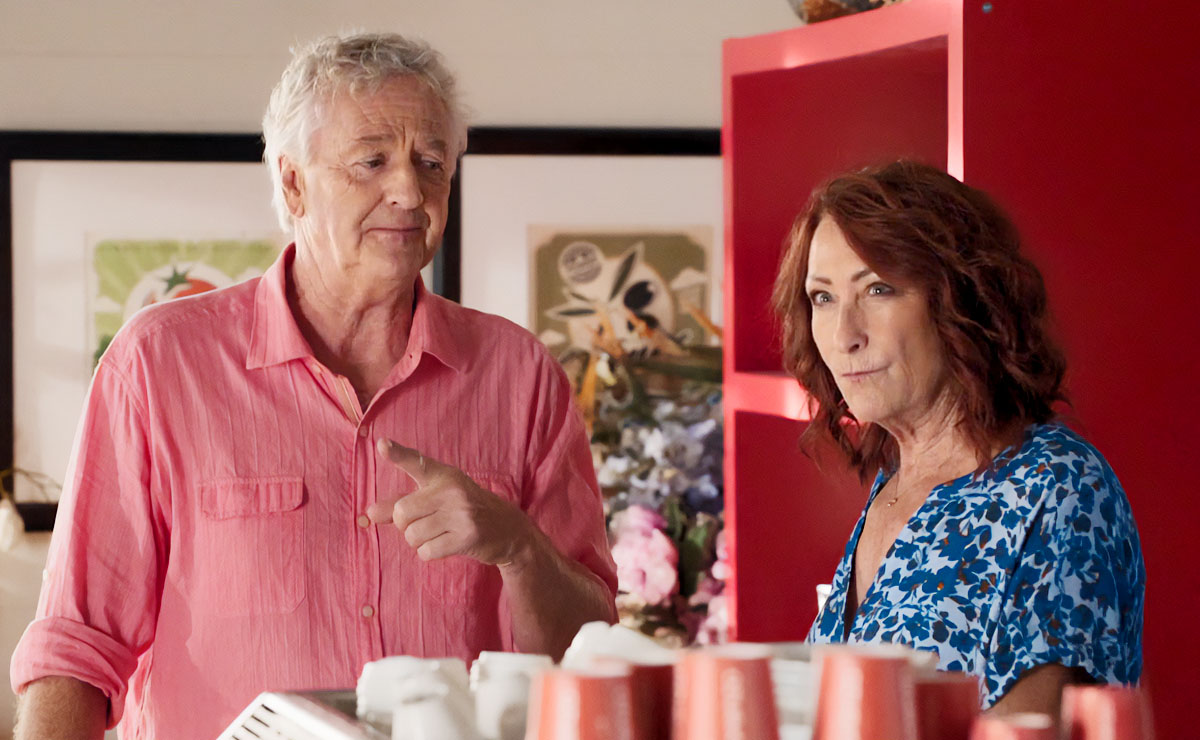 Next week, 'Jirene' (as named by Seven, we'd have gone with 'Jorene' ourselves) ramp things up by doing everything they can to convince the bay that they're a couple… without explicitly saying so.
John isn't quite as sure on the idea, so Irene tells him to just follow her lead. Making sure Marilyn is in earshot, Irene presents John his coffee and announces that she's drawn a love heart on top for him.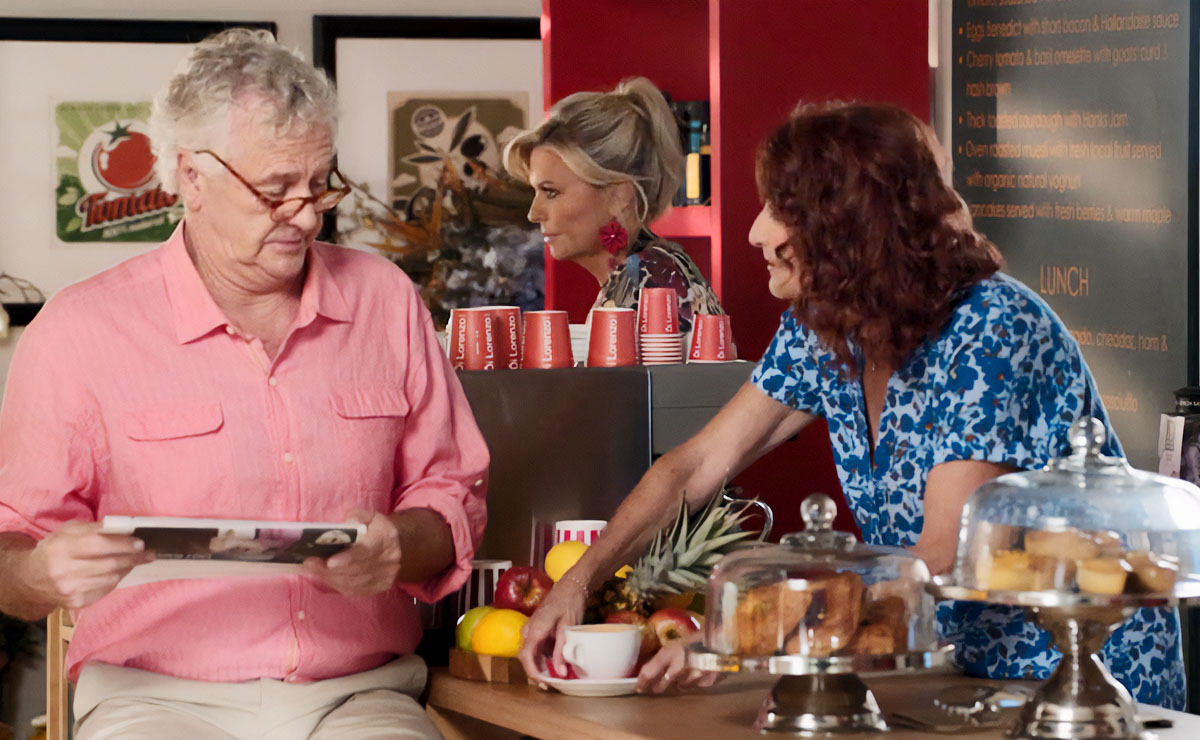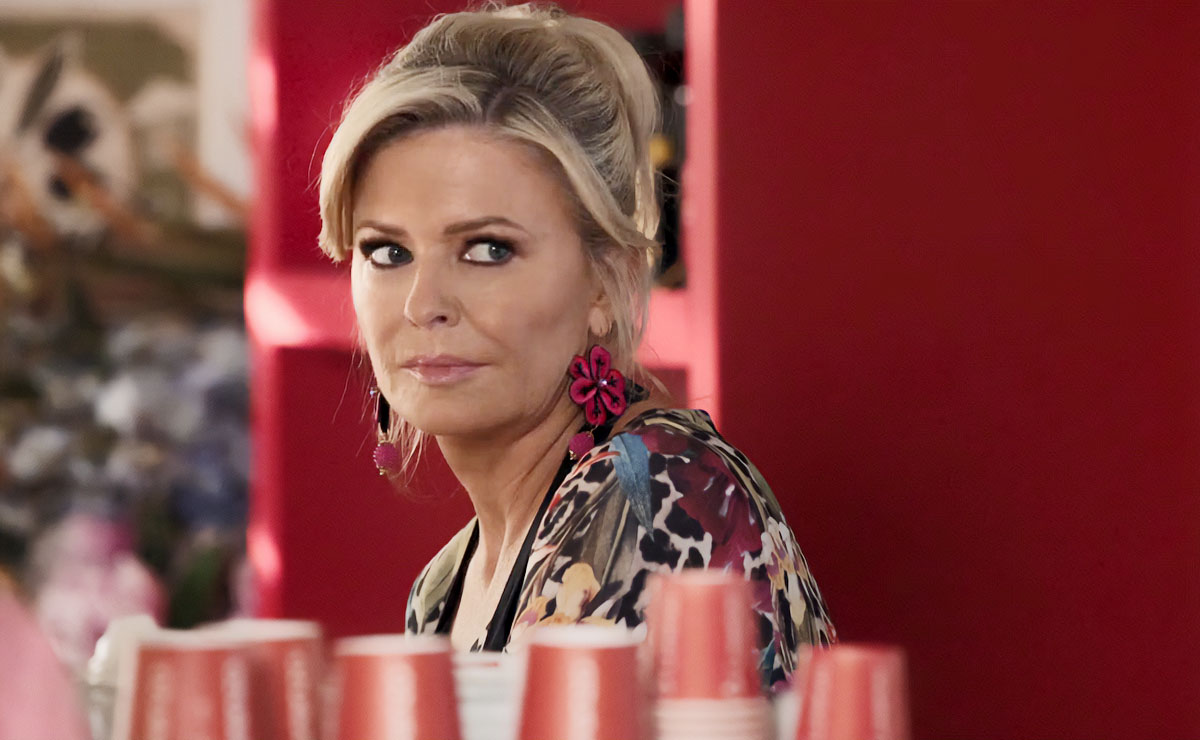 Marilyn is taken aback when she then hears how much Irene is looking forward to attending Jett's (Will McDonald) wedding as John's plus one.
As she excuses herself, John can see that Marilyn is tense and wonders if they're taking things too far. Irene points out that all Marilyn has to do is ask outright if they're dating, it's that simple!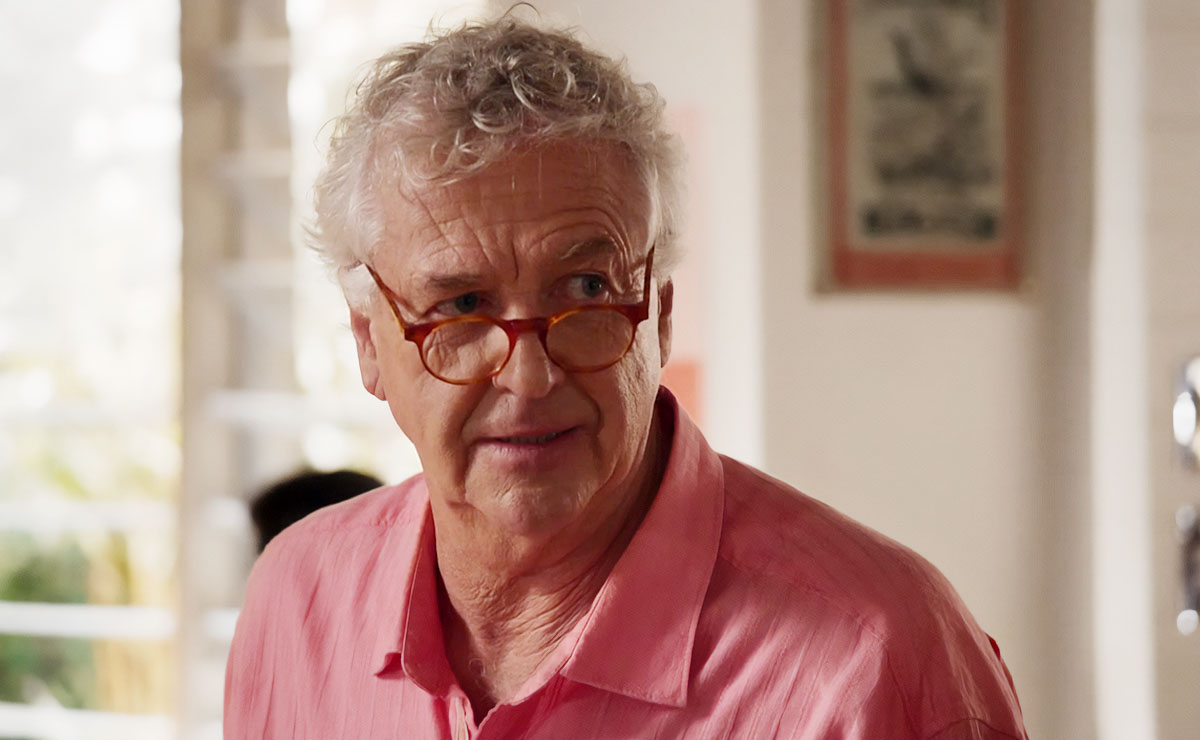 John doesn't quite get the memo about 'pretending', when he later comes back to inform Irene that he's told Jett about her attending the ceremony.
Marilyn is a bit put out given that she'd assumed, as Jett's parents, that she and John would be attending together.
To save face, Marilyn ends up making out that she's got another date in the sidelines anyway, telling Irene about a 'former boyfriend' who lives in Yabbie Creek.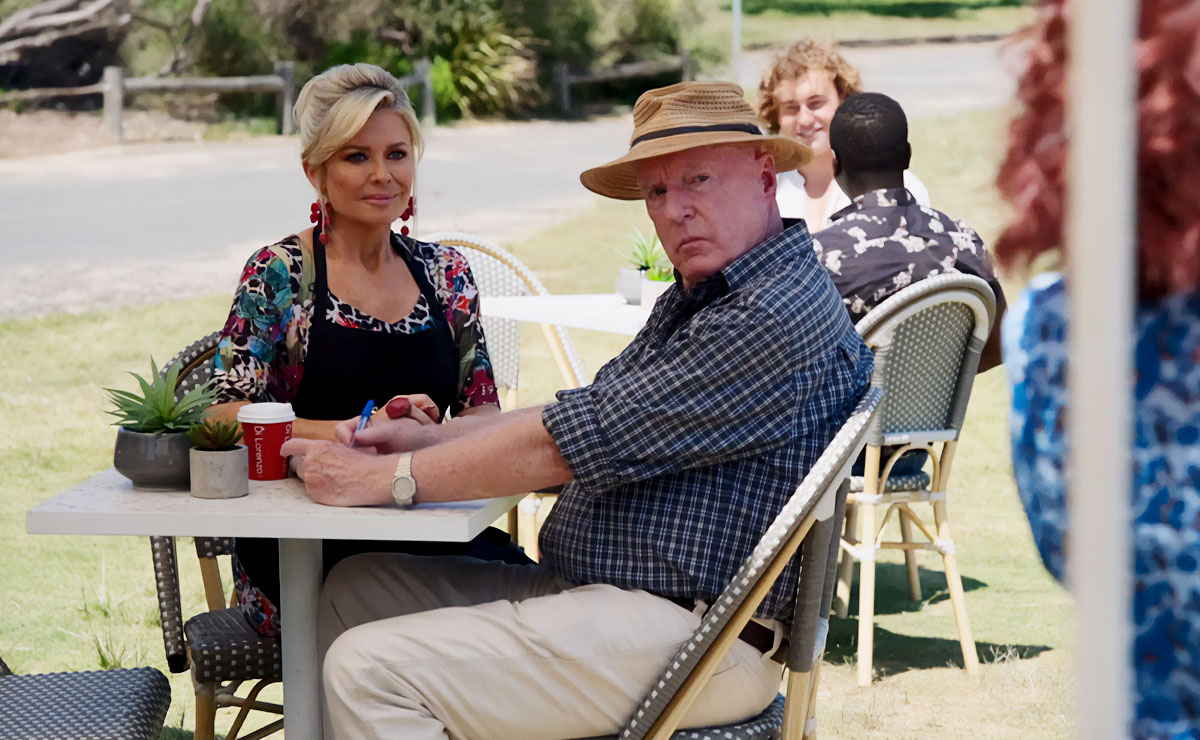 Alf thinks Marilyn's off with the fairies when she bemoans the situation to him, but when Irene then makes a grand gesture of kissing John on the cheek right in front of them, the evidence appears to speak for itself.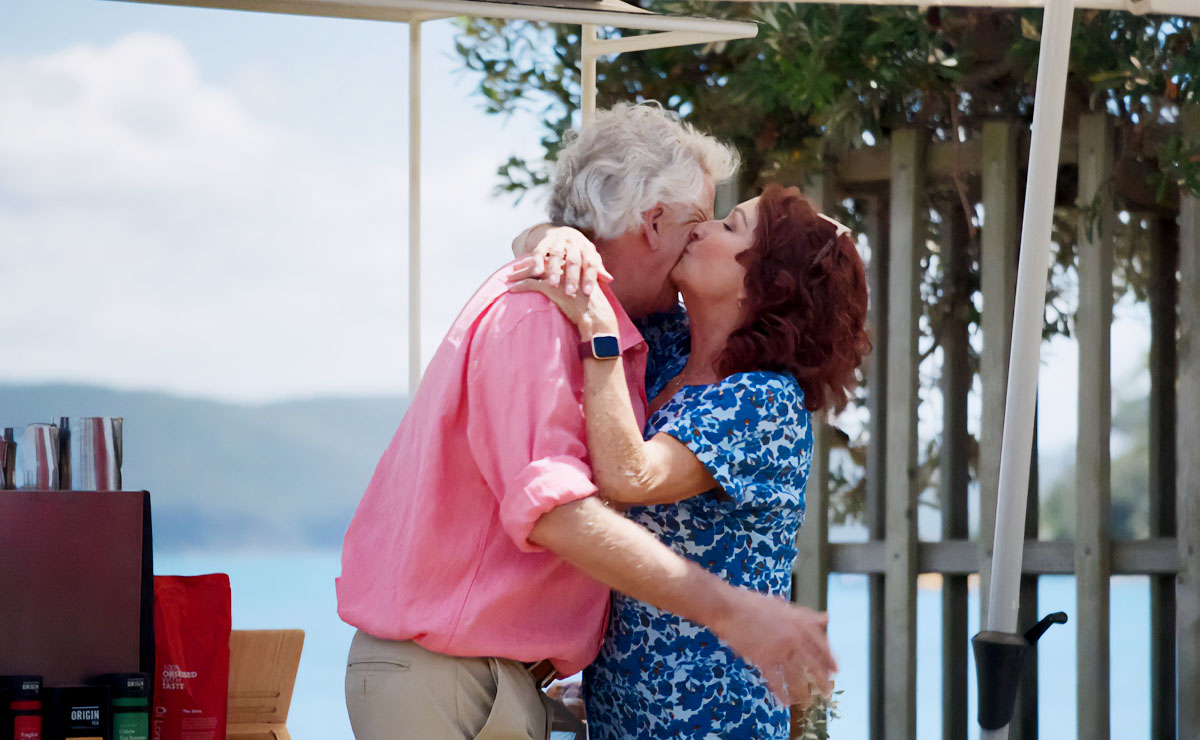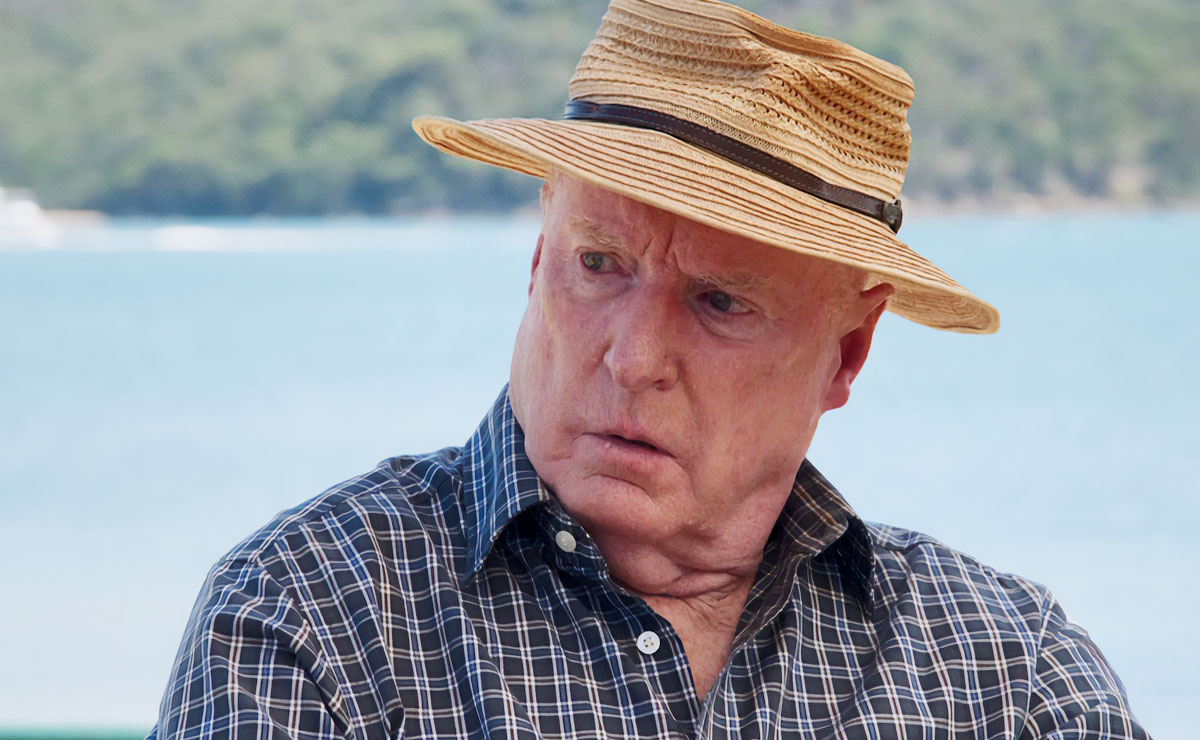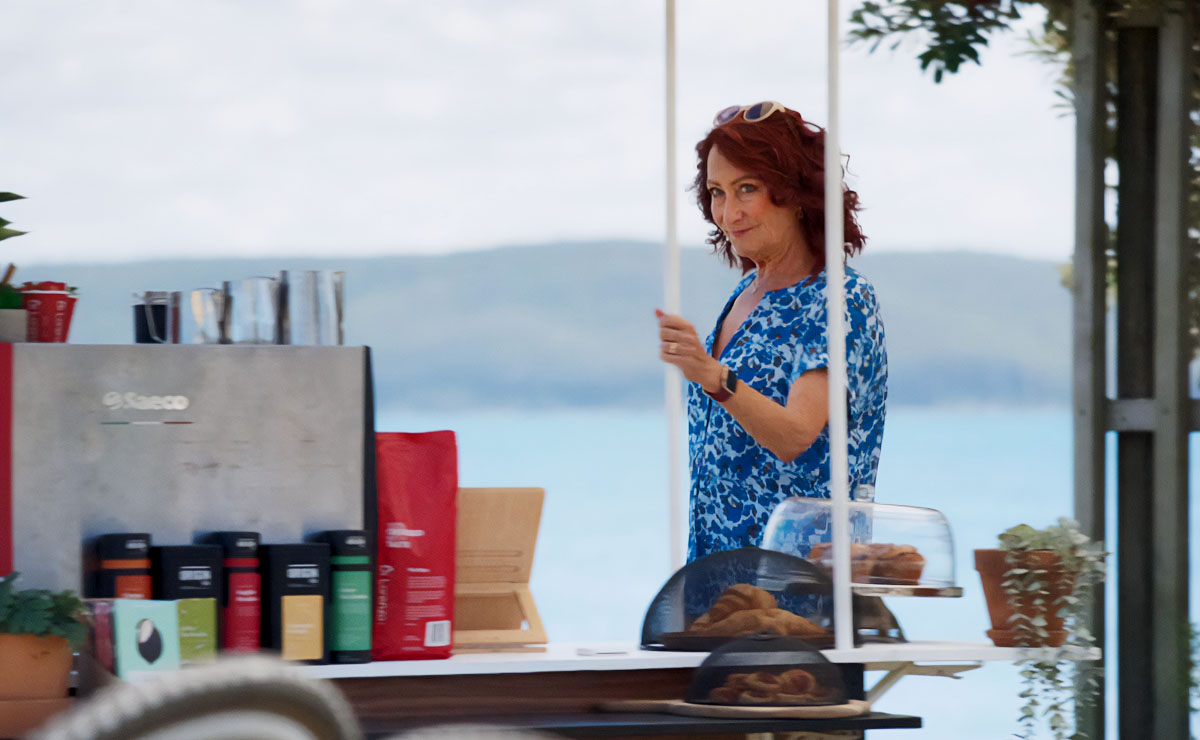 Alf can barely believe his eyes as he wonders what on earth Irene is thinking, but when he later quizzes her on the kiss she reveals that she and John are getting on a lot better than they ever imagined.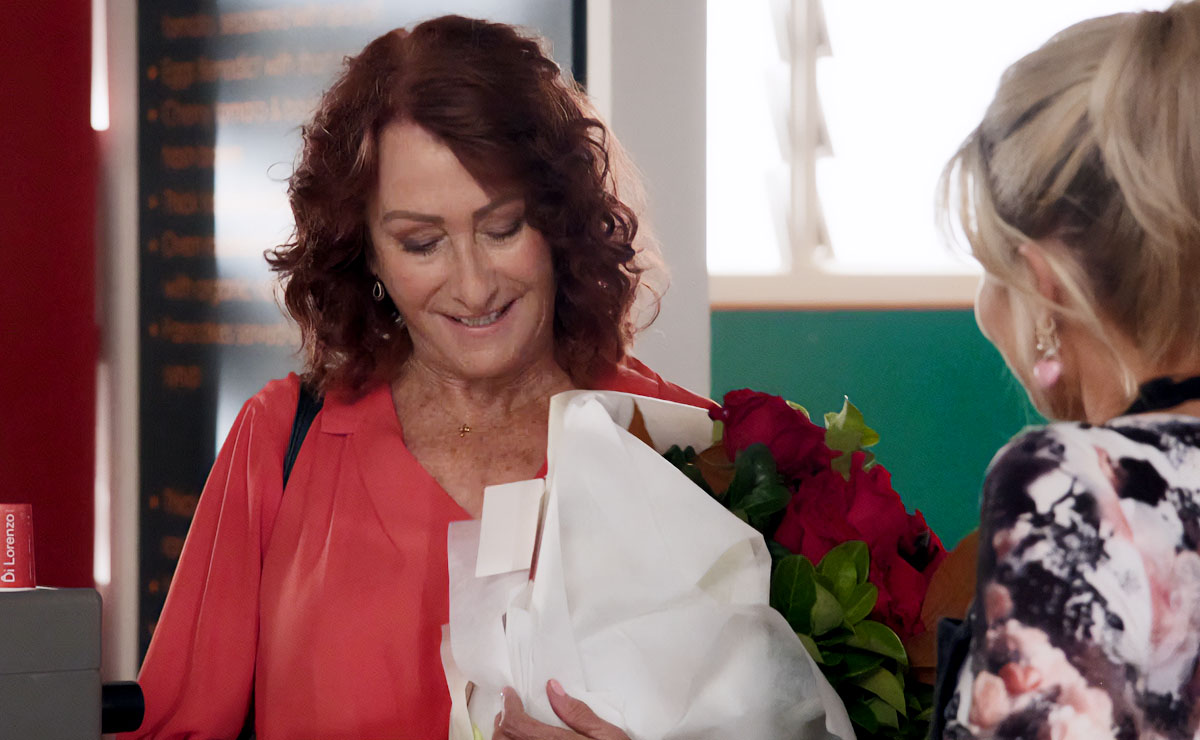 The next day Irene brings some flowers into work, telling Marilyn and Alf they're from John, and Marilyn excuses herself to step outside.
Alf follows and whilst Marilyn claims that she isn't jealous of John romancing Irene, she's hurt that neither of them could be upfront about it to her. She thought they were better friends than that.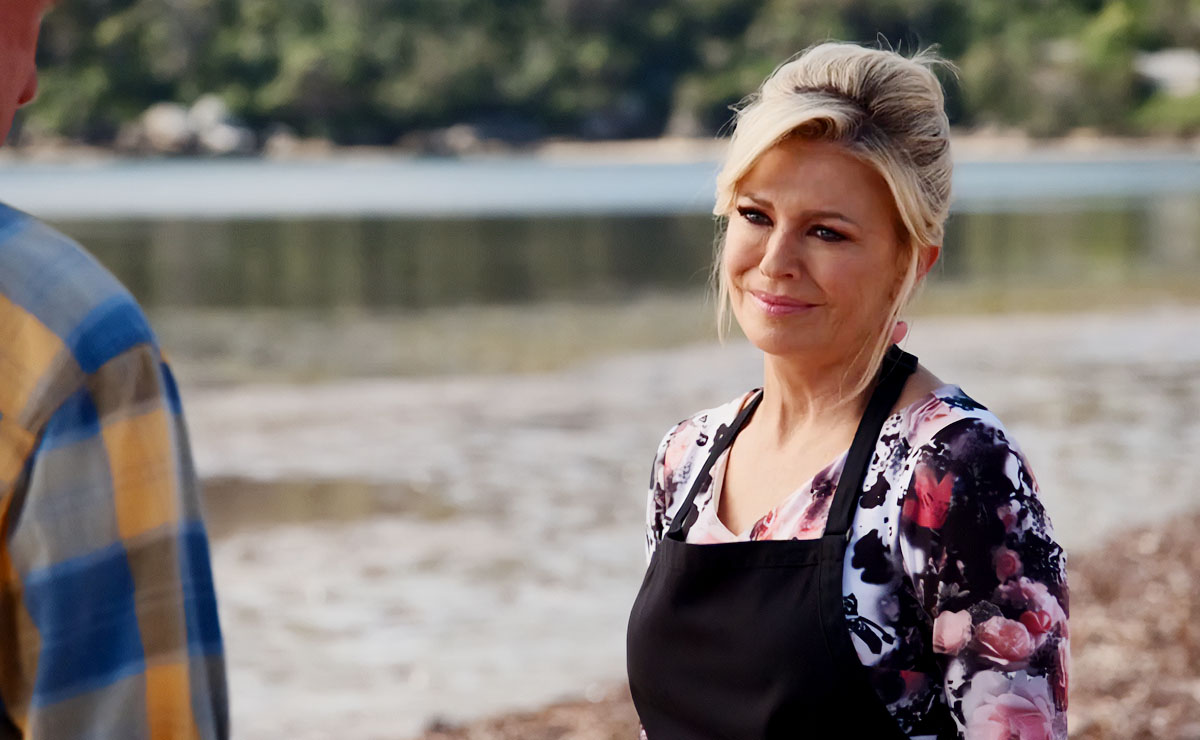 Is John and Irene's revenge prank going to end up backfiring on them?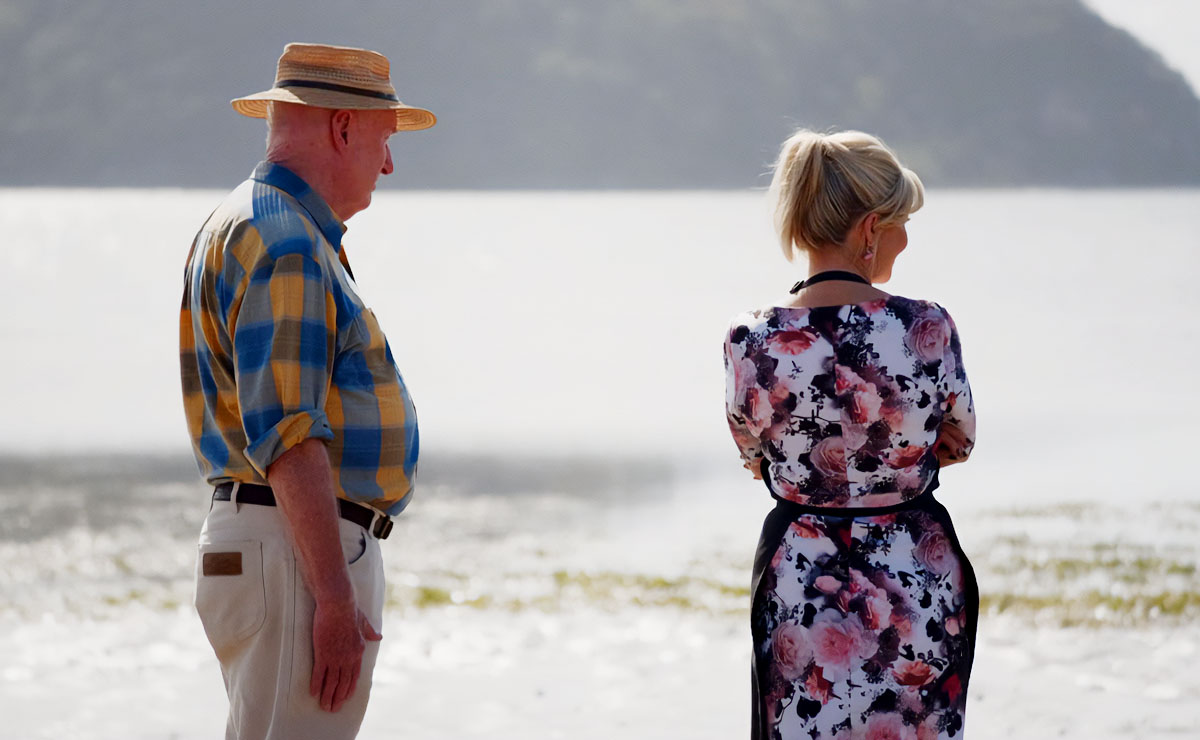 ---
Elsewhere in Summer Bay, Mercedes' (Amali Golden) attempt to kiss Remi (Adam Rowland) threatens to have massive repercussions for both Remi and Lyrik as a whole.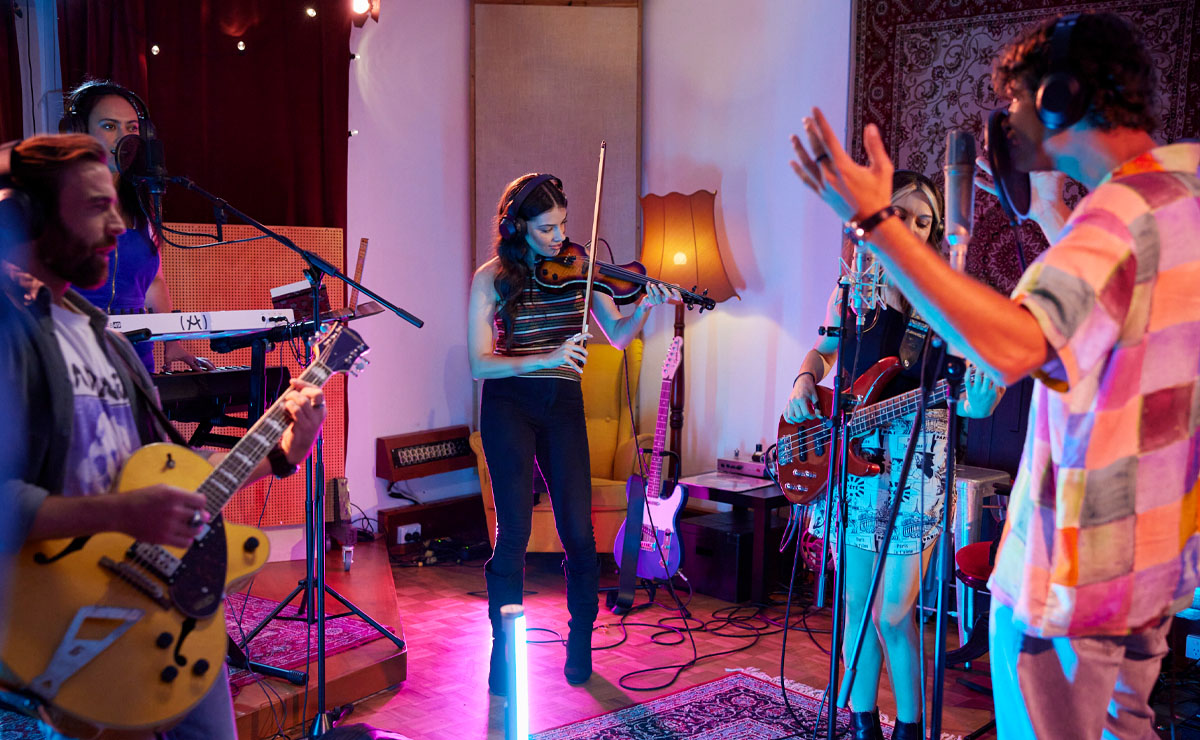 With Mercedes having joined Lyrik as a guest violinist on their first album, Remi's girlfriend Bree (Juliet Godwin) could see that Mercedes clearly had feelings for her old boarding school buddy, but Remi dismissed Bree's concerns and asked her to trust him that nothing would happen.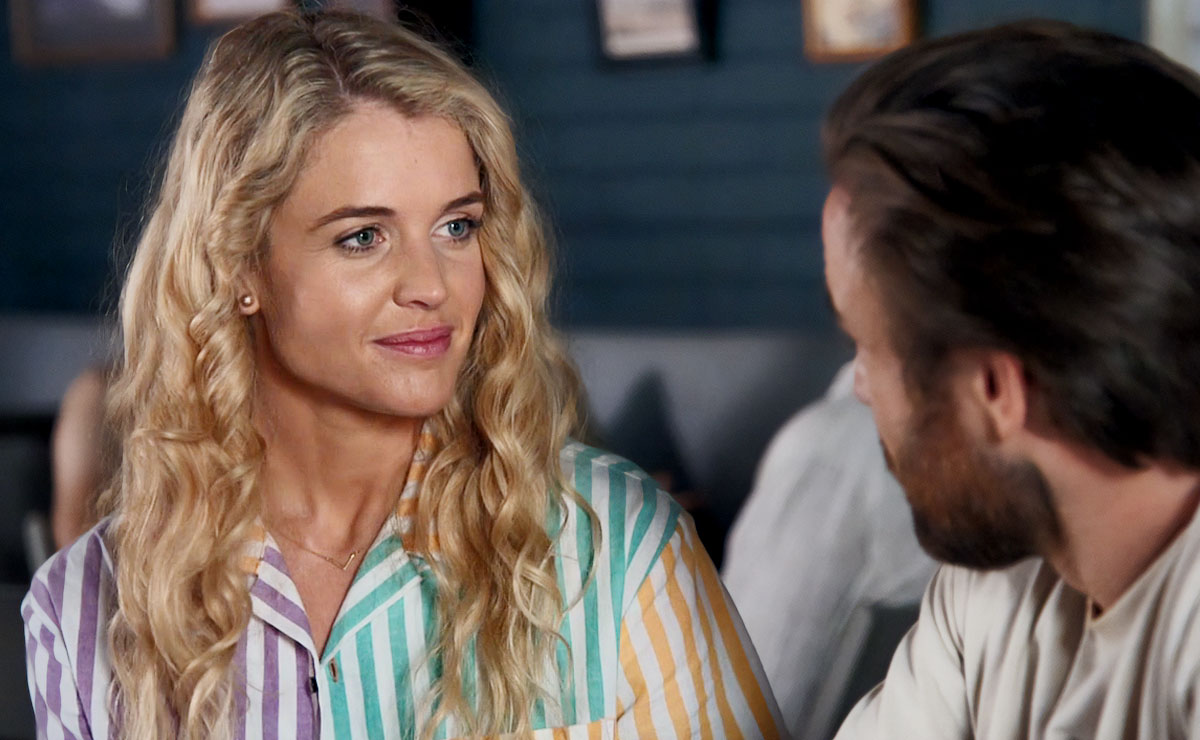 With Mercedes telling Bree that she had nothing in common with Remi—not knowing why they were even in a relationship—Bree was reluctant to allow Mercedes the opportunity to have any alone time with Remi, and came up with the idea of accompanying the band to their first recording session on the city.
When the issue of trust came up with Remi again however, Bree relented and remained in Summer Bay.
Bree's concerns were not unfounded though as Mercedes manufactured a way to get Remi alone, by staying to record another take of her part of the song whilst the rest of the band returned home.
When Mercedes planted a kiss on Remi, he told her in no uncertain terms that she had read the situation wrong, and Mercedes made a quick exit.
Remi came clean to frustrated bandmate Eden (Stephanie Panozzo) about what had happened—she had warned him from the off that Mercedes would be trouble—and she implored Remi to tell Bree the truth, whilst they awaited news of whether Mercedes would return to record the rest of the album.
Next week, no-one has heard from Mercedes as the second studio session looms, with fellow bandmates Kirby (Angelina Thomson) and Theo (Matt Evans) confused as to what is going on when Remi admits she might not show.
With the band having put too much effort into the album for Remi to ruin it, Eden announces that she's heading to the motel to have it out with Mercedes.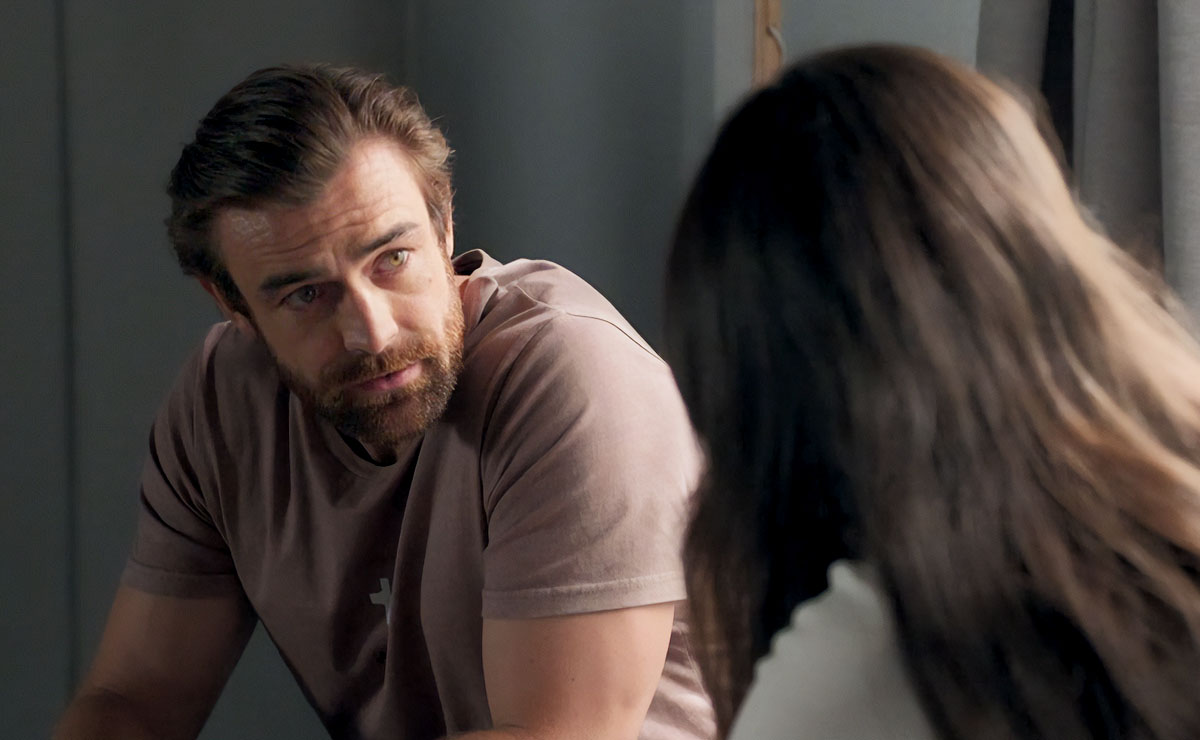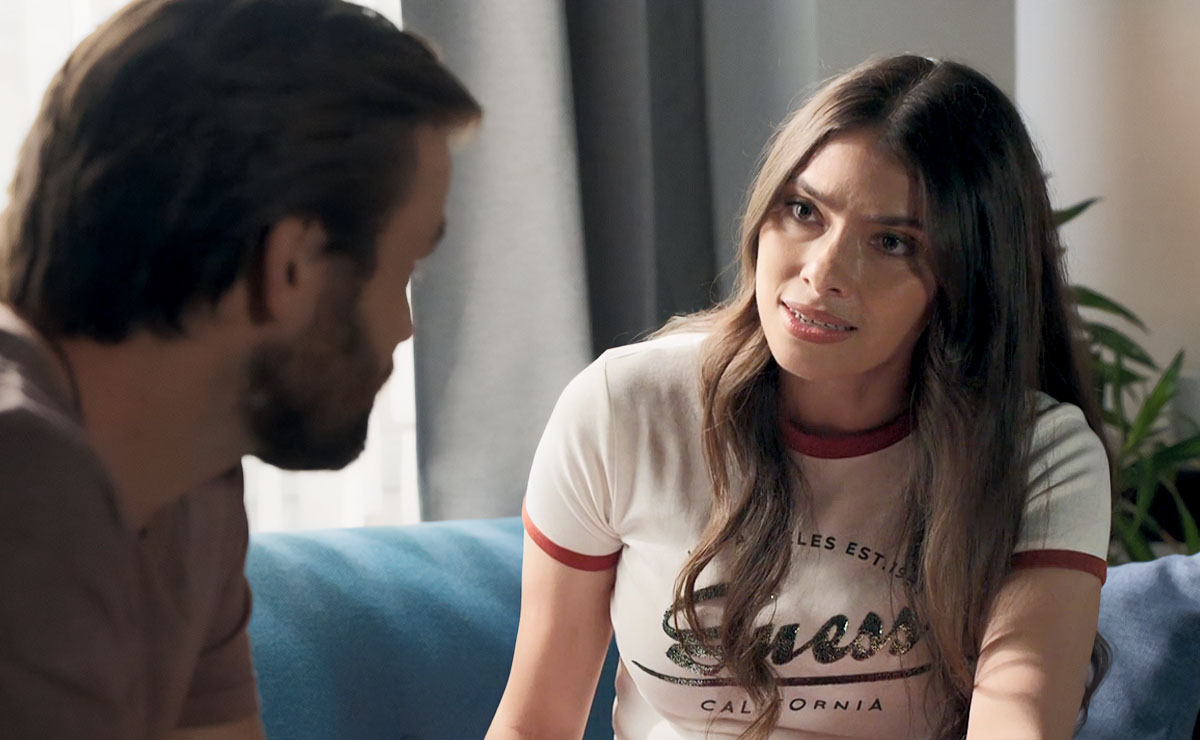 Remi reluctantly tells Eden that he will go himself, but when he gets there, Mercedes only wants to talk about what happened between them. Remi would prefer to forget it ever happened and concentrate on the upcoming studio session, but Mercedes refuses.
After a long talk, it's still up in the air as to whether Mercedes will show up as the band make their way to the city, but the day is saved when she finally arrives and they're able to continue with the session.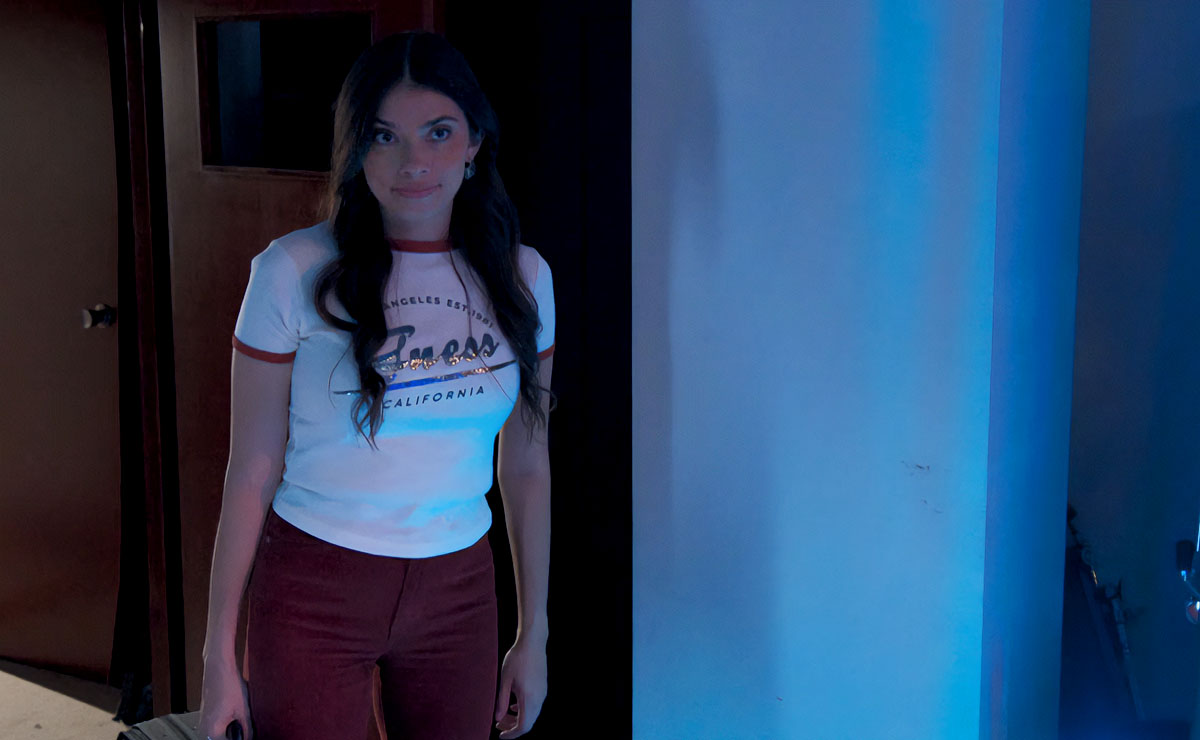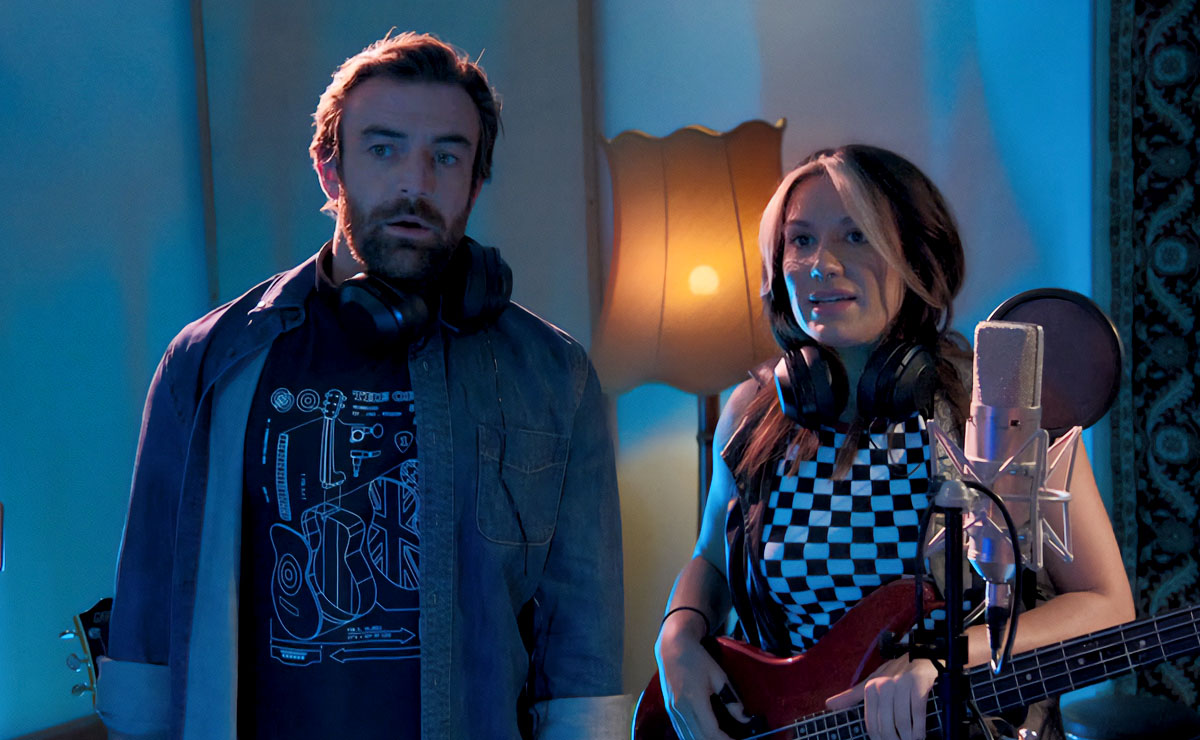 Meanwhile, suspicious after hearing about Mercedes and unable to sleep, Bree decides to pay a visit to the studio, arriving just as the band are taking a break.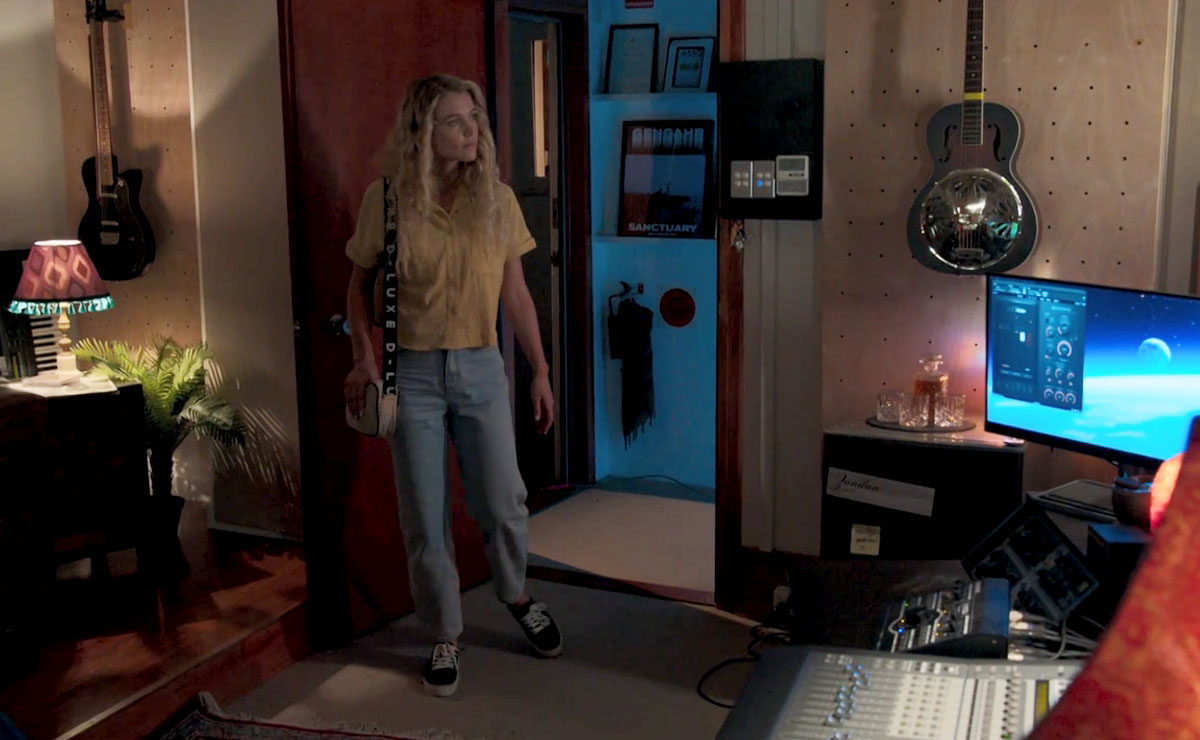 Left alone in the studio, Remi and Mercedes talk again about the kiss… unaware that Bree can hear everything in the control room!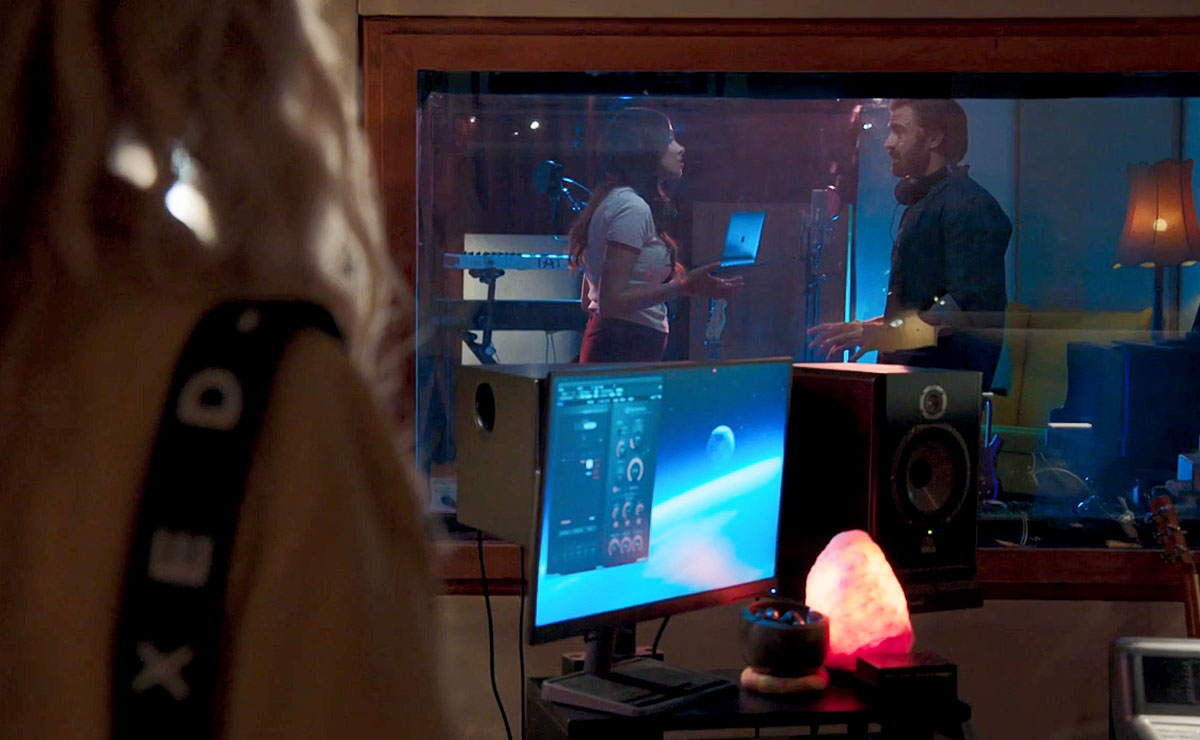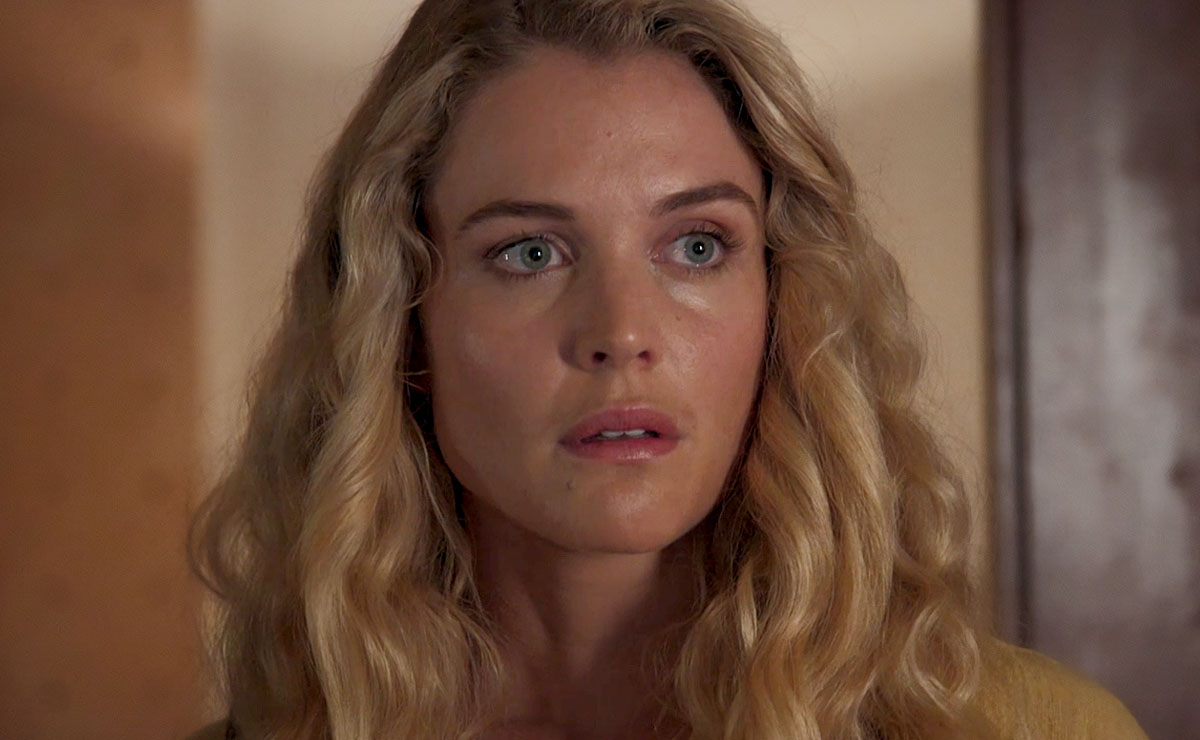 Shocked by what she's heard, Bree quietly exits without being seen and makes her way back to Summer Bay. When Remi later joins her in bed, he tells her that the session was uneventful, as she lies there wondering what exactly what she should do next…
Bree is frosty with Remi the next day, and after giving him ample opportunity to come clean, she eventually confronts him, revealing that she was at the studio last night.
Remi explains, but figuring Remi would have told her if it really was as innocent on his part as he makes out, Bree packs her things up and leaves.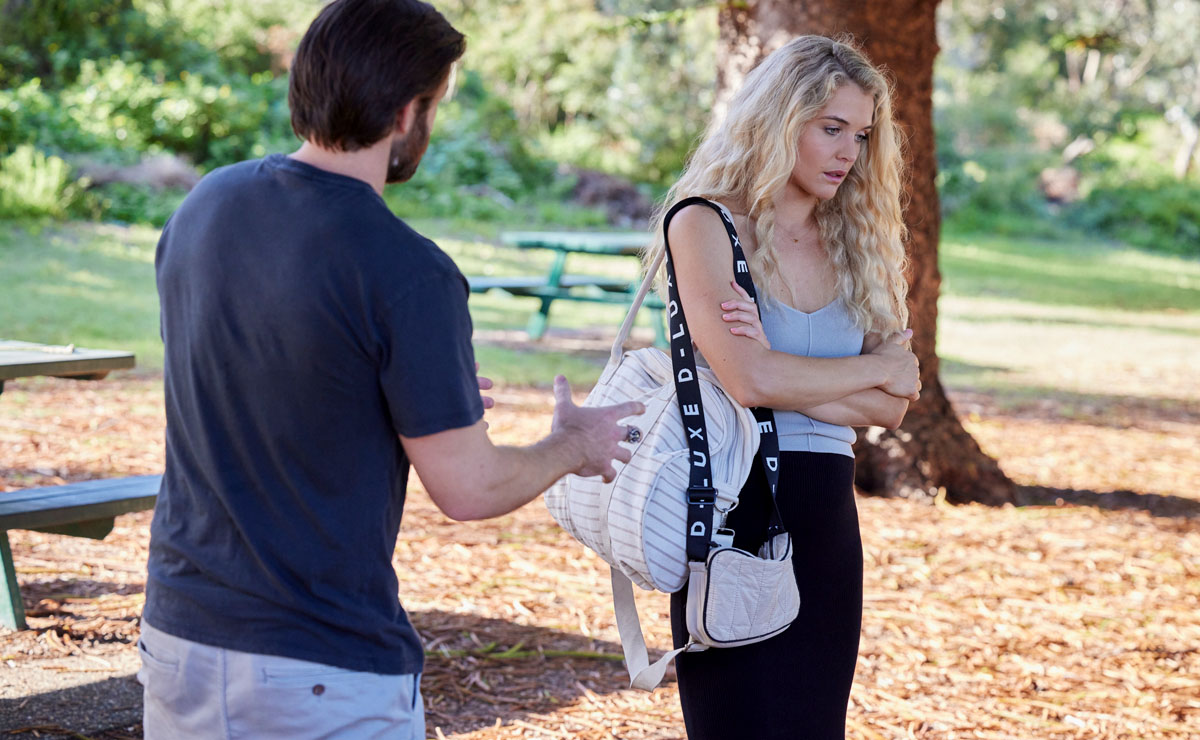 Remi chases after her trying to apologise, but Bree reminds him that she spent years in an abusive marriage where Jacob (Alex Williams) kept saying sorry over and over…
Remi not being honest with her from the start has taken her power away from her, after she's worked to move on from her traumatic past.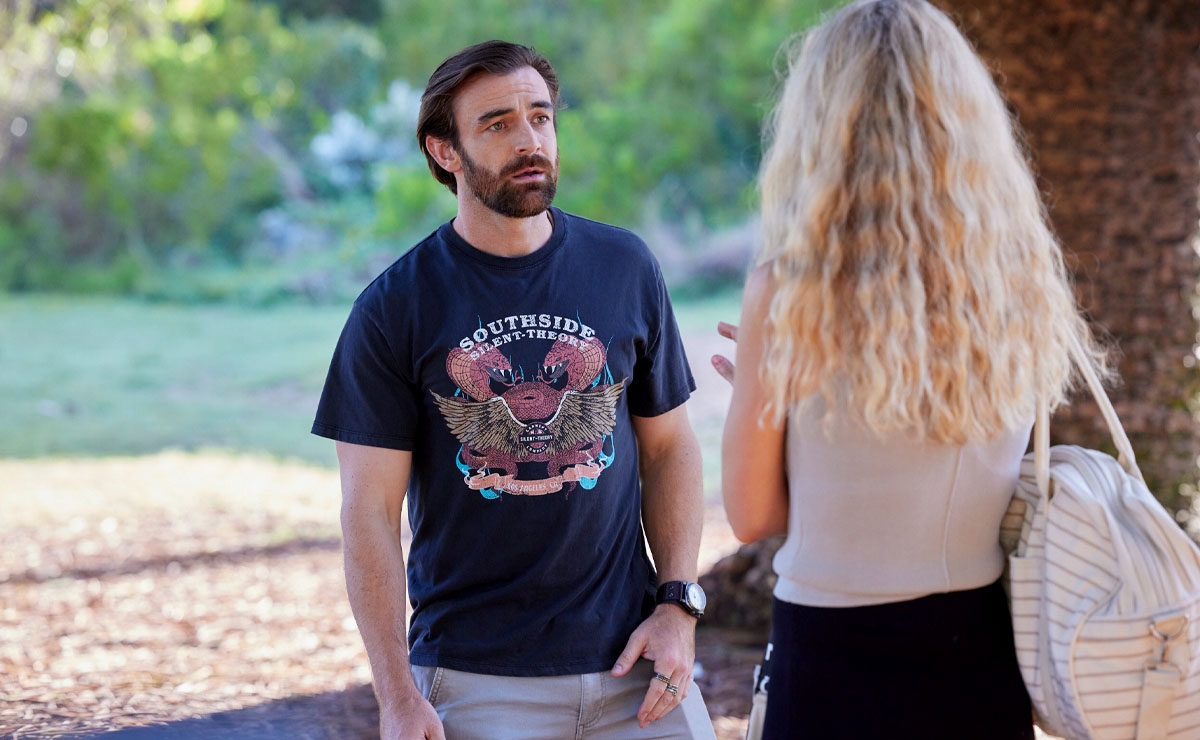 Remi opens up about everything that went on, admitting that he visited Mercedes at the motel the previous day to try and convince her to rejoin the band.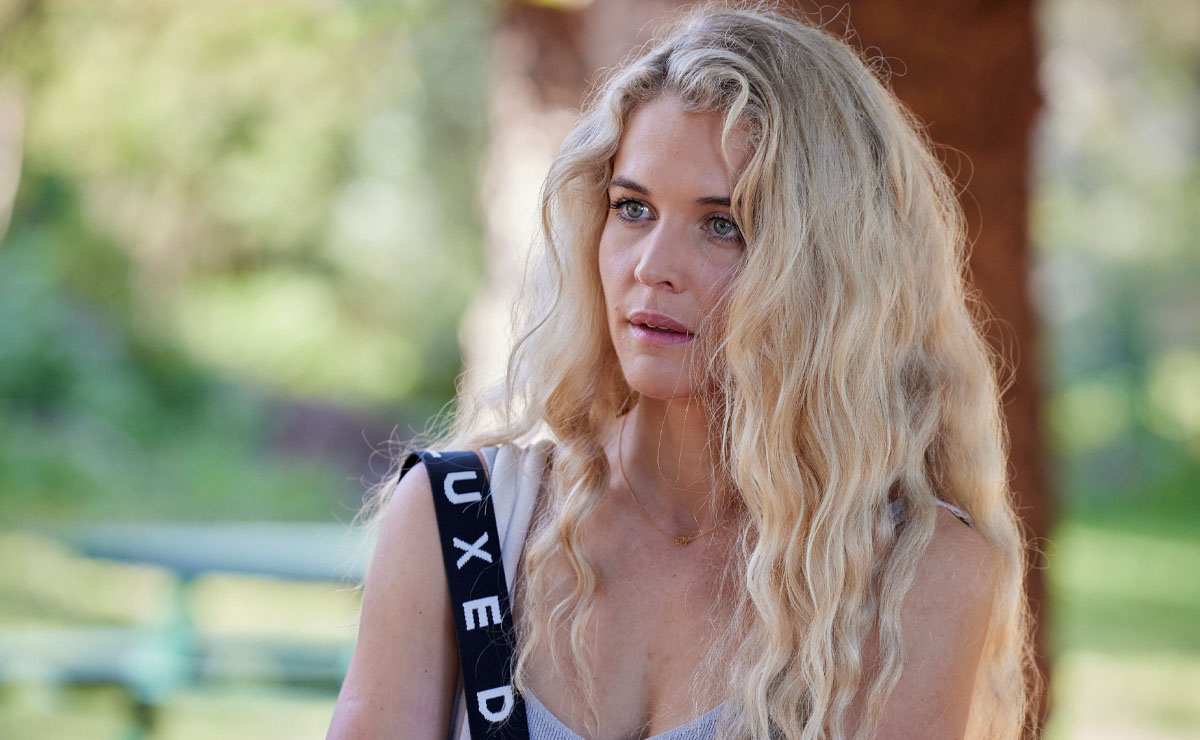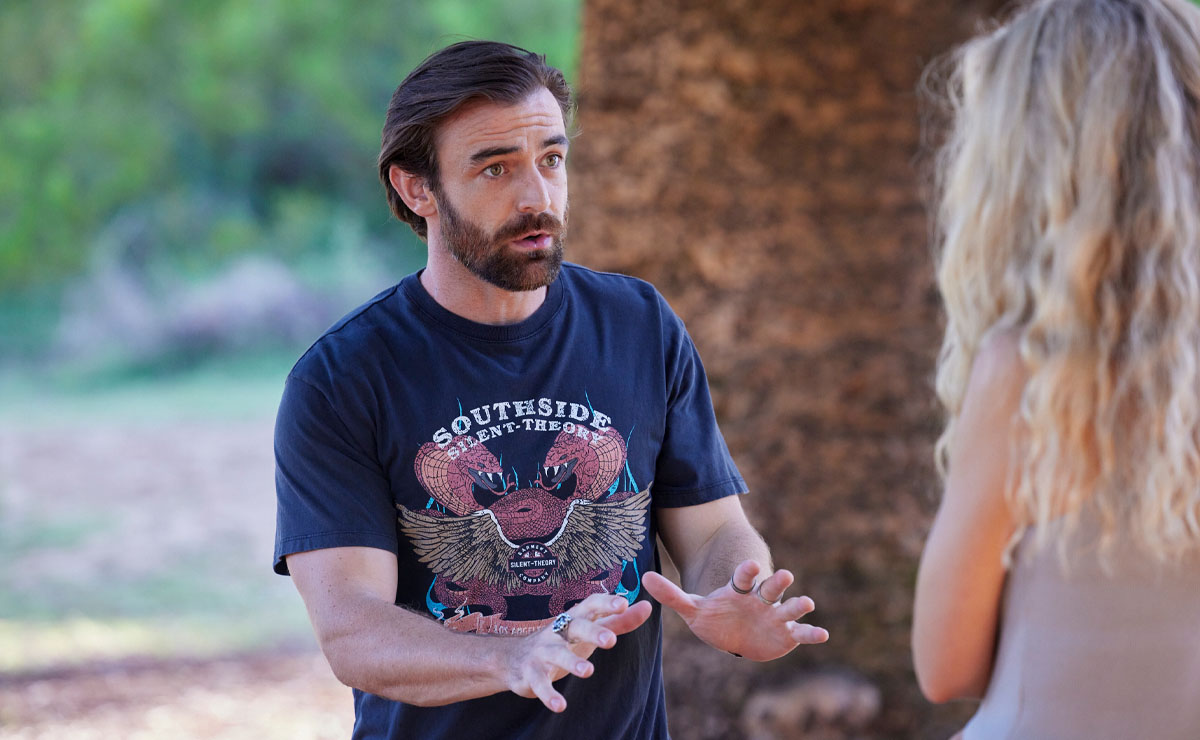 After assuring Bree that he didn't sleep with Mercedes, she eventually gives him the benefit of the doubt.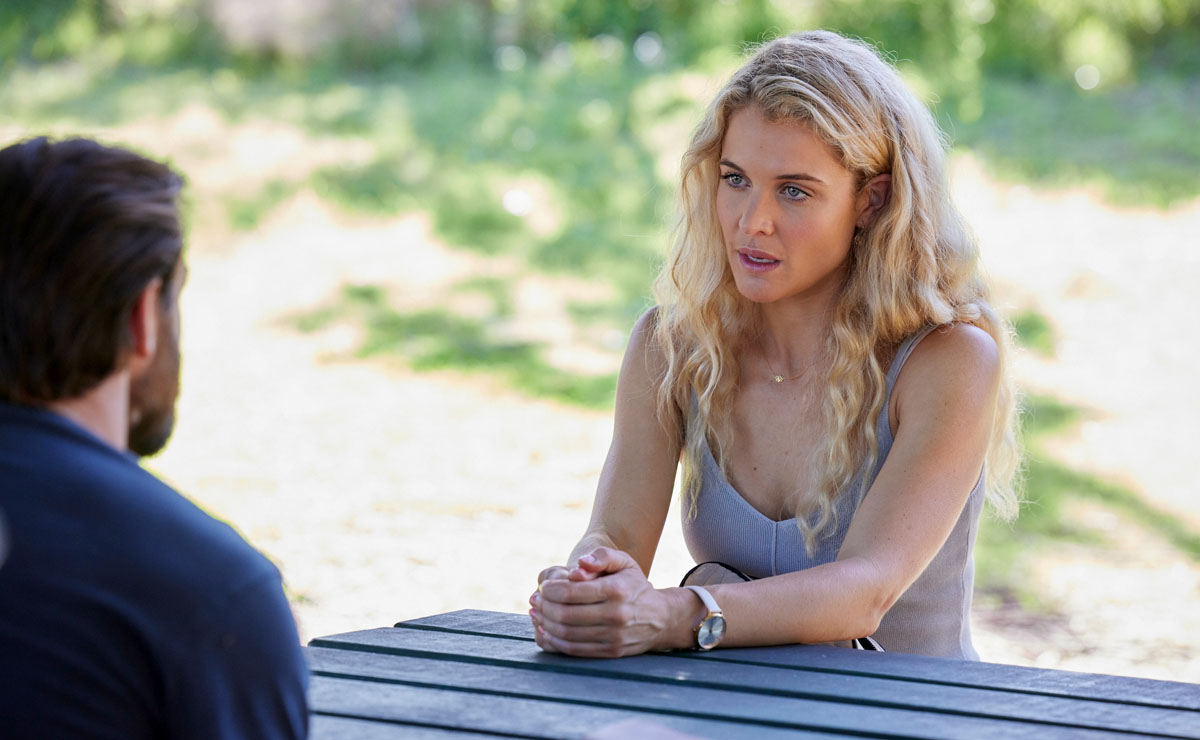 Remi promises that he won't lie to Bree again, and it seems that the crisis is now over.
When Remi then heads off to get some coffees, Bree sees a text come in from Mercedes on his phone.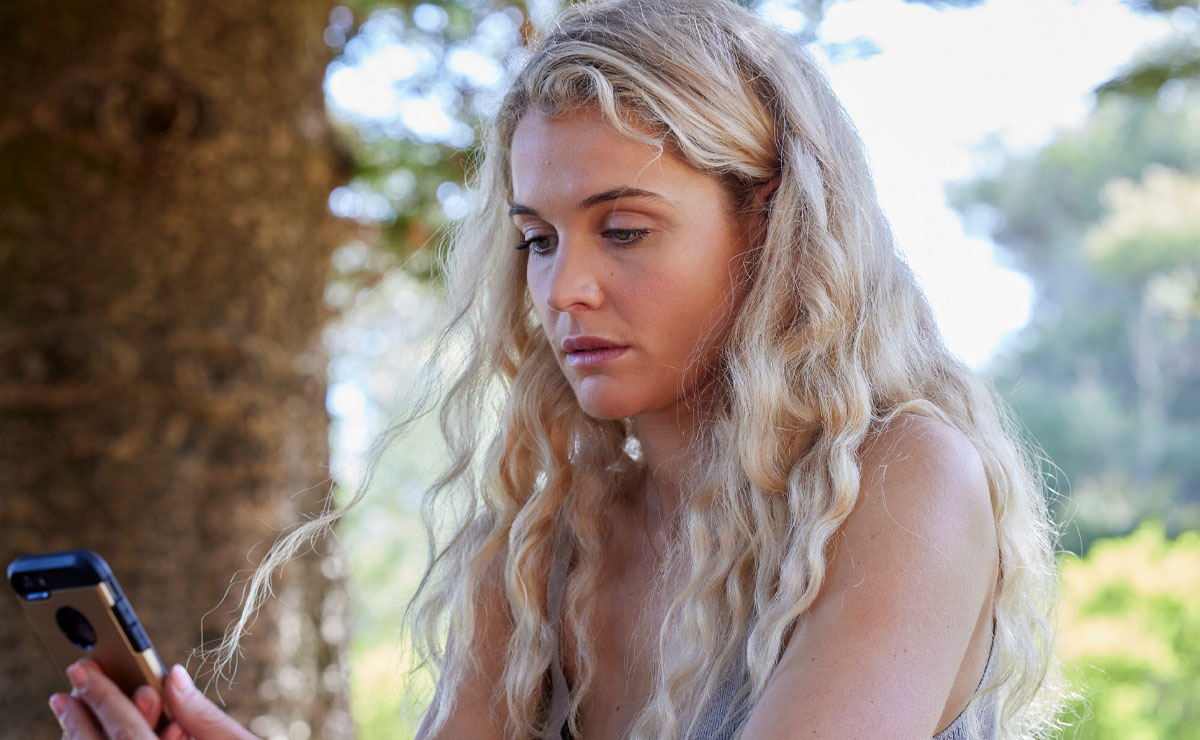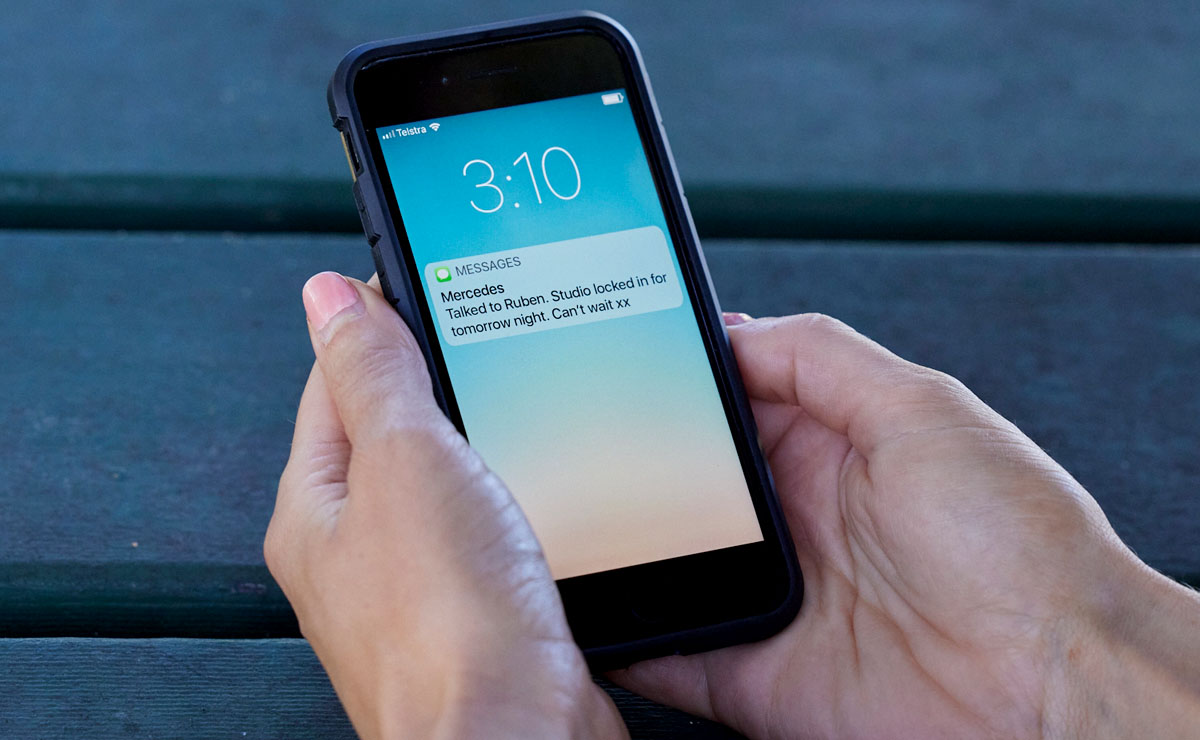 Bree opens up the phone and takes a picture of Mercedes' number for later, she clearly has a plan on what to do with it… but what?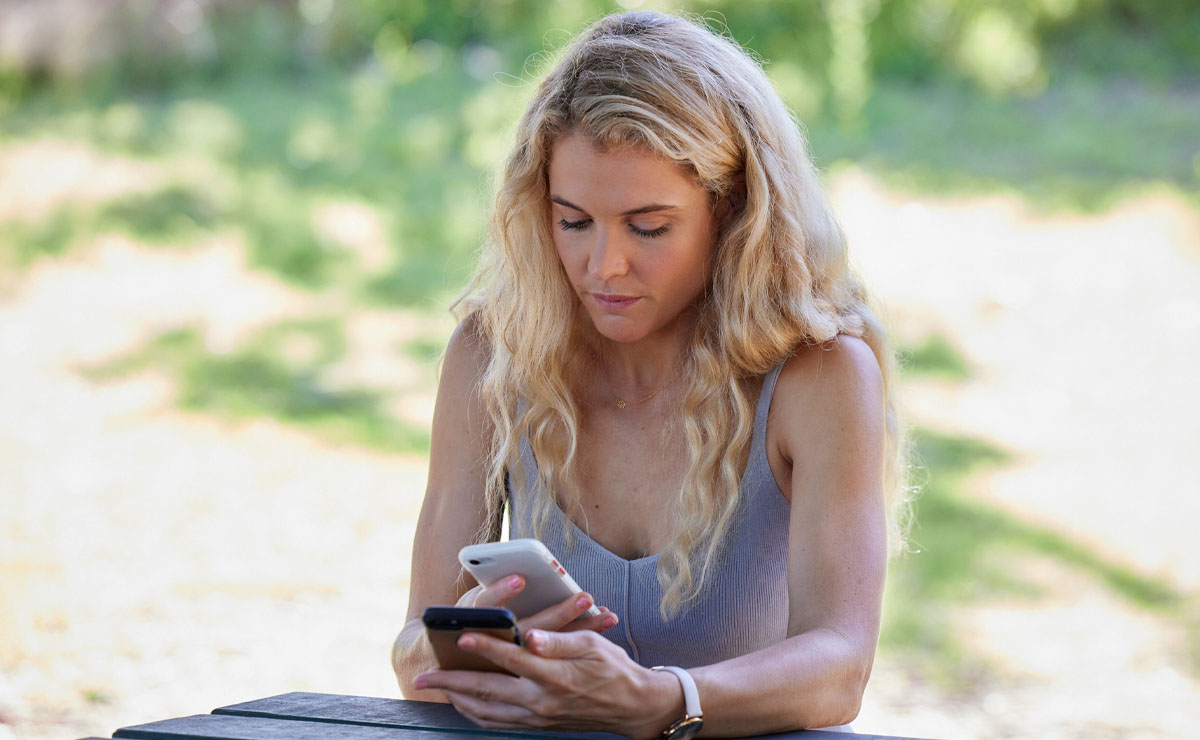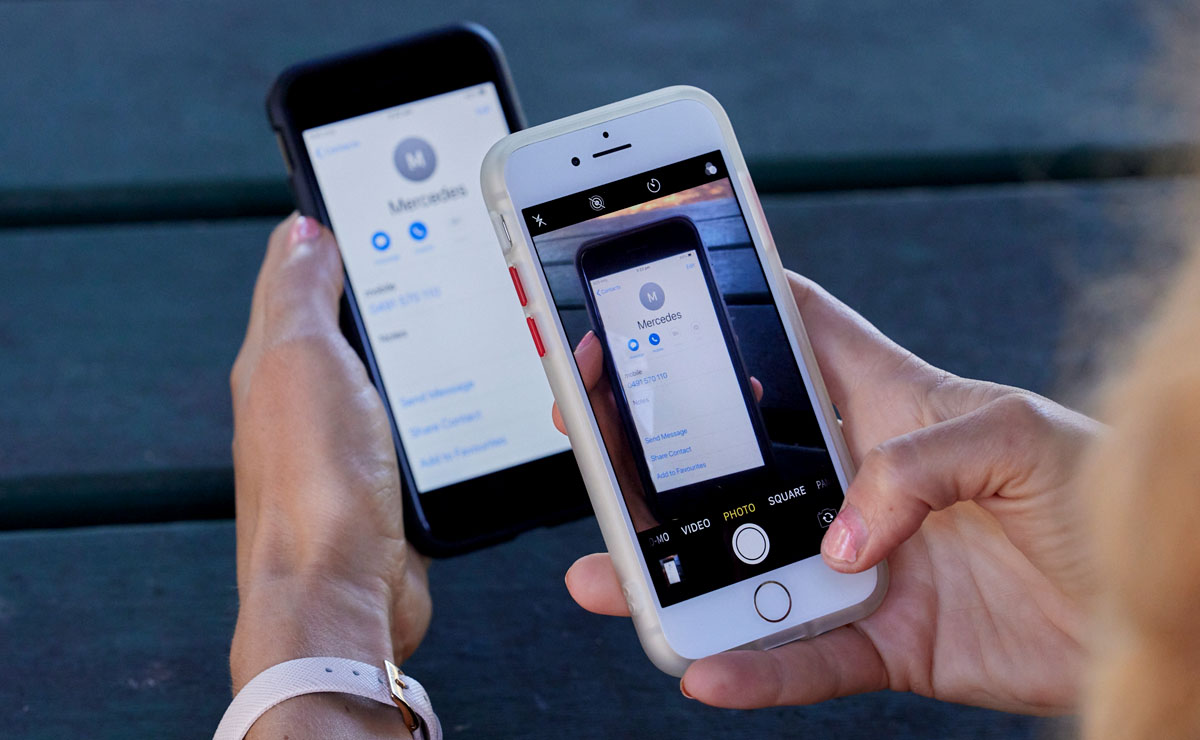 ---
Felicity gets a text from her attacker threatening to release a video of her assault if she doesn't hand over $1000.
---
Monday 28th August (Episode 8071)
Rose and Mali come to an agreement. Irene and John turn heads. Felicity's nightmare is not over.
Tuesday 29th August (Episode 8072)
Tane and Felicity don't see eye to eye. Cash vows to find out what's bugging Felicity. Marilyn suffers as a result of Irene's prank.
Wednesday 30th August (Episode 8073)
Will Mercedes leave Lyrik in the lurch? John comes clean. Is Justin losing Andrew to Tegan?
Thursday 31st August (Episode 8074)
Remi lets Mercedes down gently. Bree overhears a shocking secret. Andrew is torn between Justin and Tegan.
Friday 1st September (Episode 8075)
Justin finds a way to let Andrew go. Bree confronts Remi over his lies. Rose has romance on the mind with Mali.
Spoilers in your inbox every weekend!