Home and Away Spoilers – Justin arrested after Ava cries wolf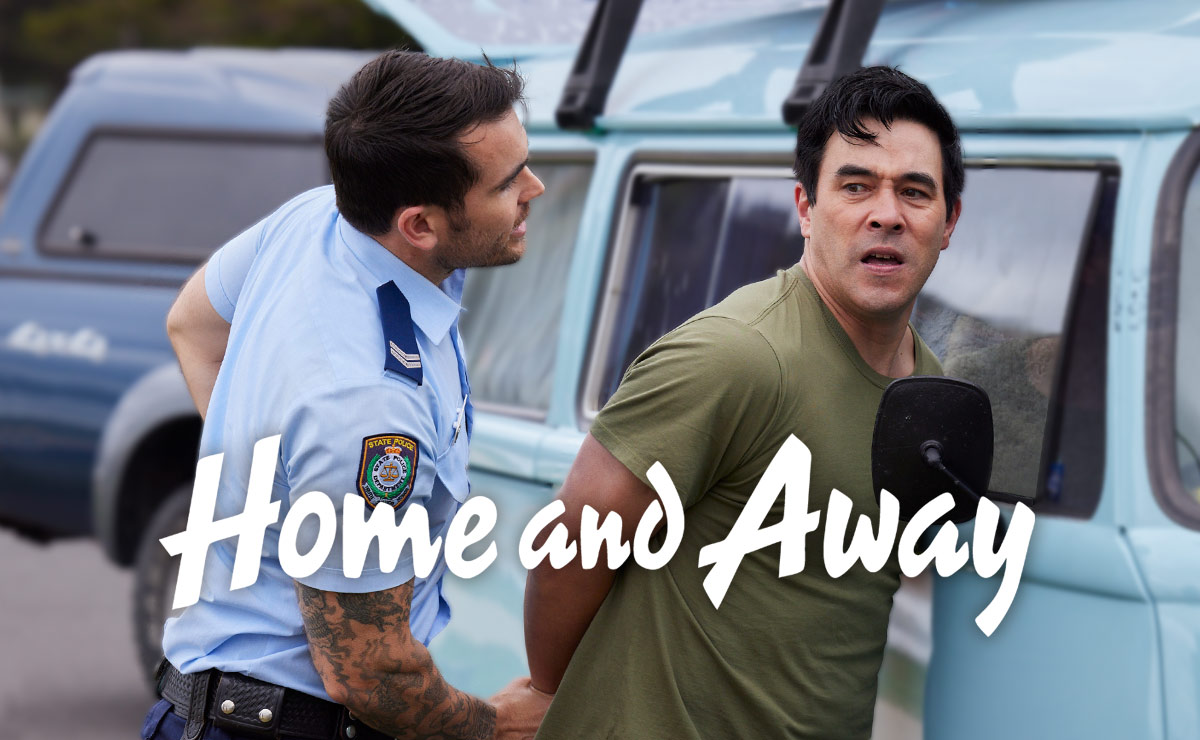 Next week on Home and Away in the UK, Ava pretends to be in danger as she vies for Theo's attention, leading to a vicious attack and Justin's arrest.
As Home and Away gears up for its 8000th episode later in the week, Ava's (Annabel Wolfe) deception leads to dire consequences for her father Justin (James Stewart).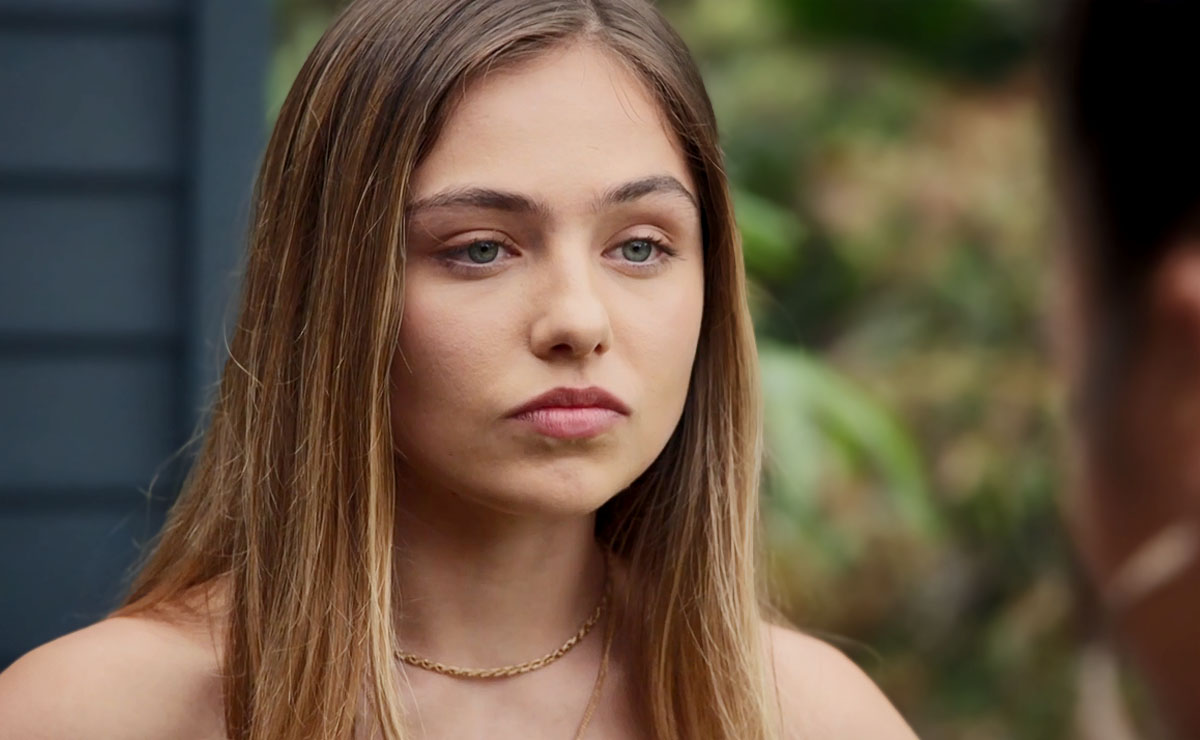 Recent episodes have seen the full extent of Ava's obsession with Lyrik frontman Theo (Matt Evans) laid bare to Justin, as saucy photos she secretly took in Theo's room whilst wearing one of his shirts were discovered on her social media.
When confronted, a deluded Ava attempted to convince Justin that she and Theo were secretly in love with each other, much to Theo's bemusement.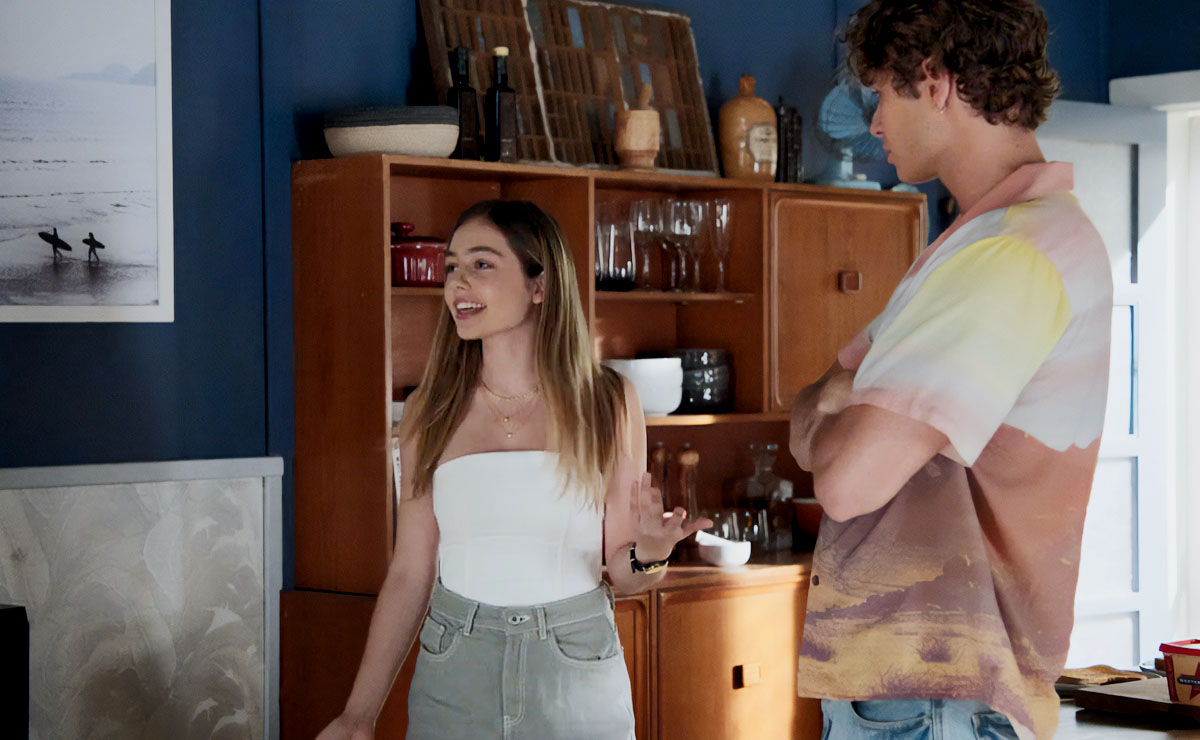 Justin wasn't buying her lies anymore however, and considered whether she should see a therapist. That evening, Ava crept out to go over to the Lyrik house, where she proceeded to rip up Kirby's (Angelina Thomson) notebook and trash the living room.
When Theo caught up with Ava the next day, his insistence that he was in love with Kirby led Ava to furiously accuse him of leading her on only to gaslight her.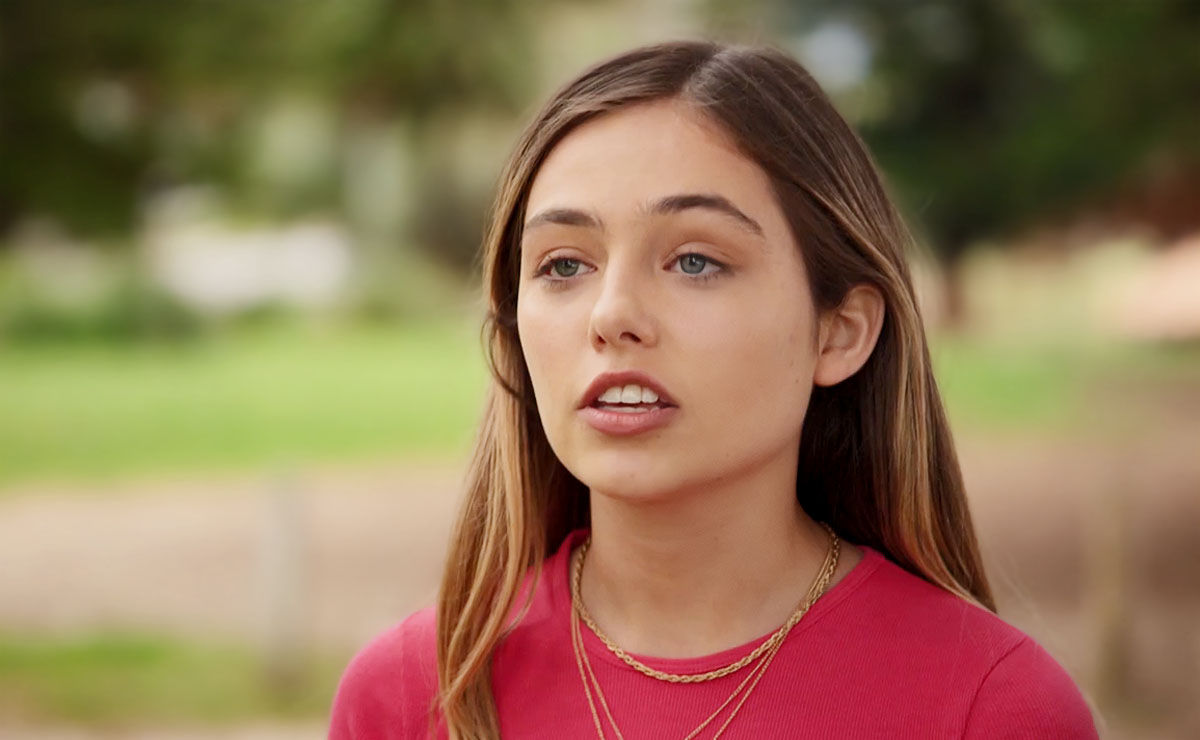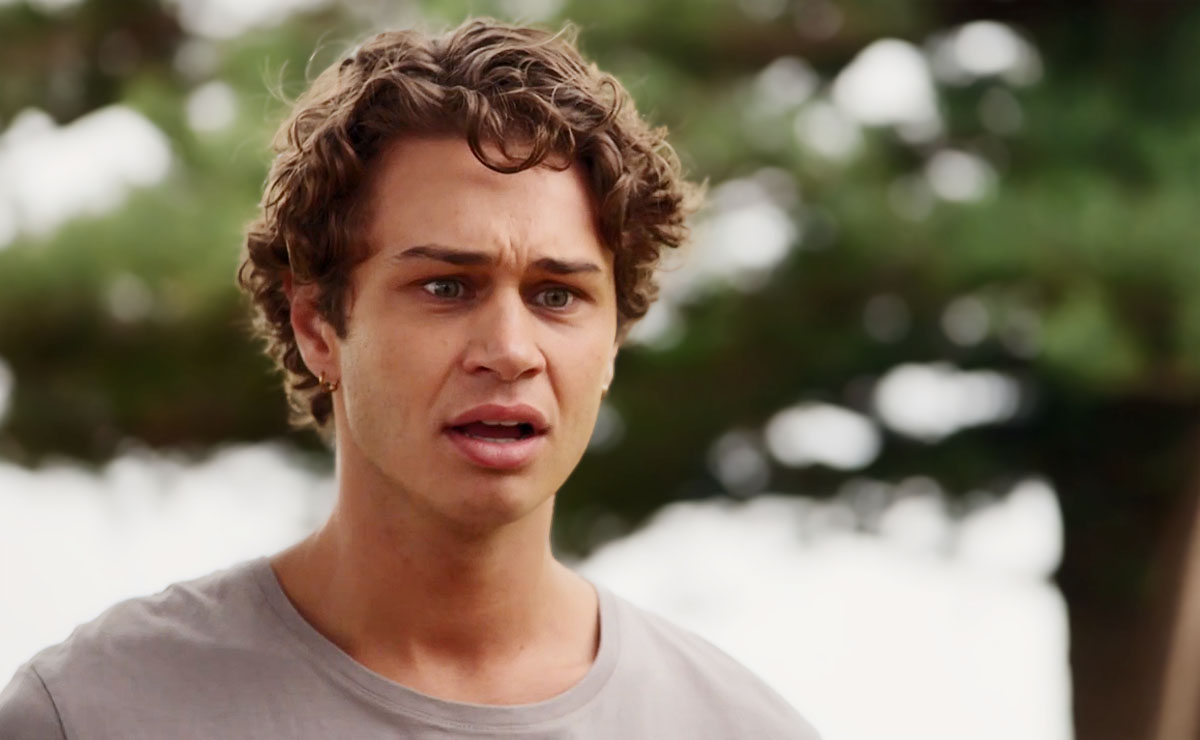 As Ava ripped into Theo, a concerned surfer who was passing in his Kombi van asked Ava if she was being hassled.
Asking the surfer, Conor (Tom Dawson), if he could give her a lift, Ava hopped into his van as a horrified Theo watched on. His attempts to stop her were only met with a warning from Conor to back off, and the two drove away.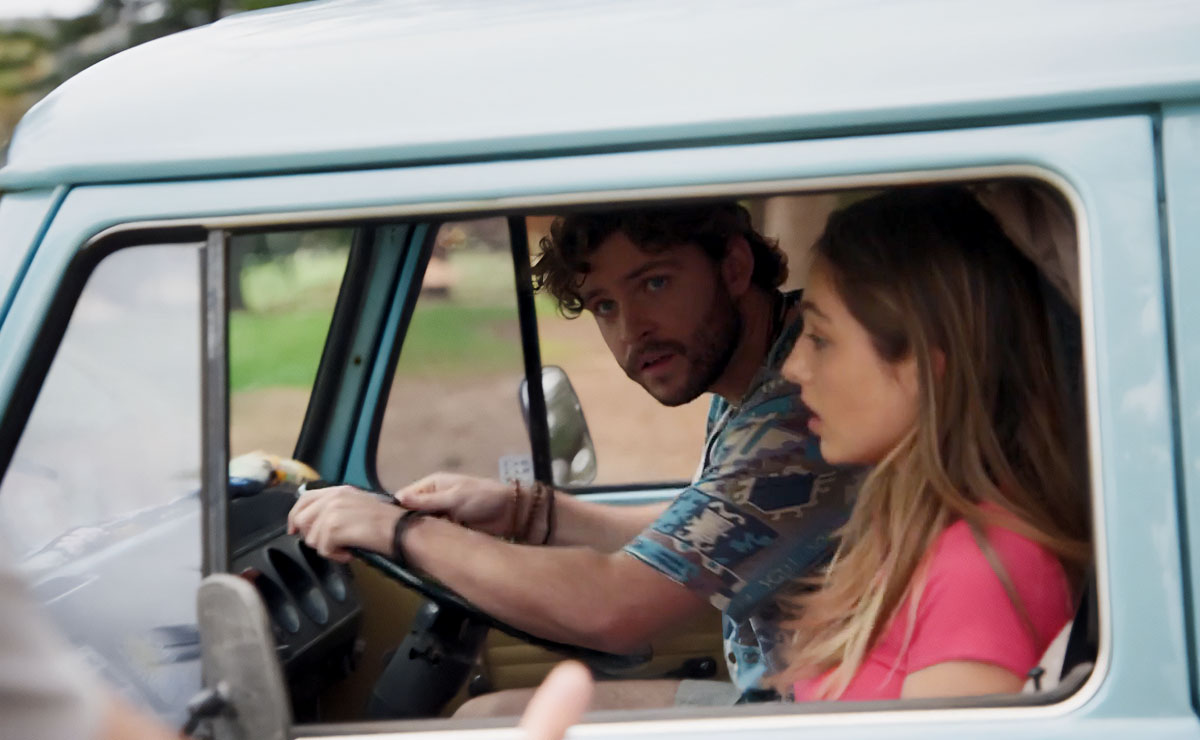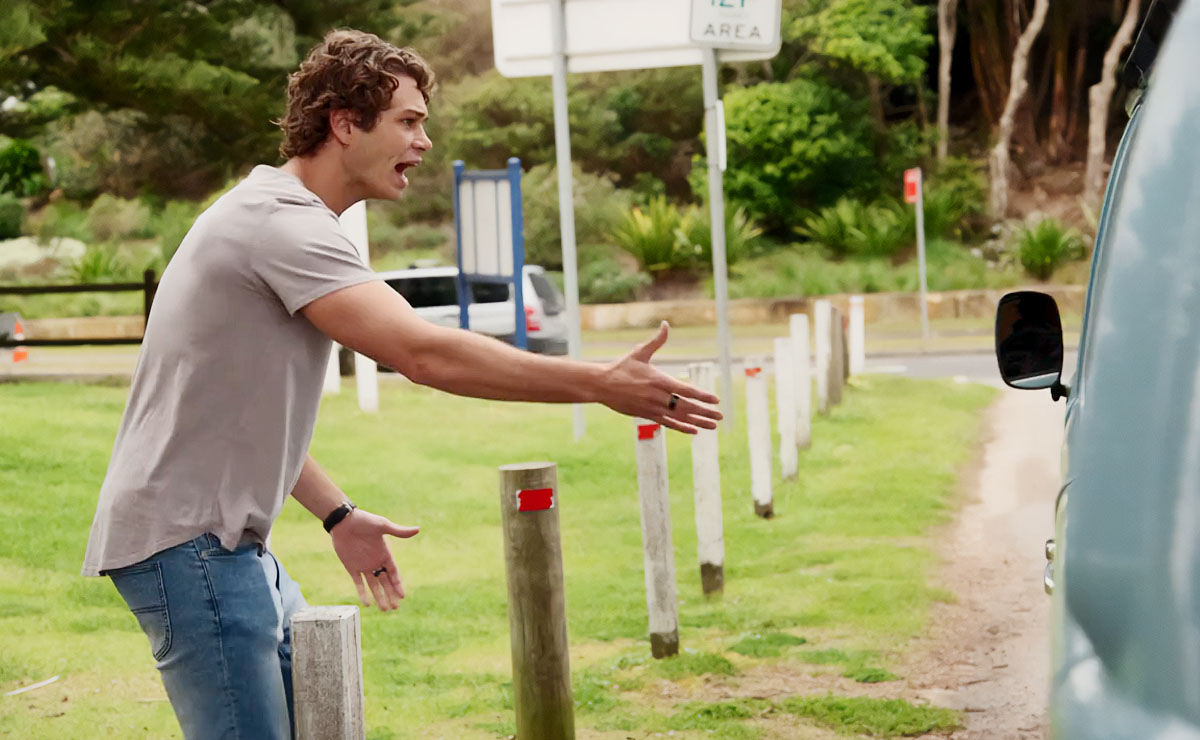 Next week, after hearing about the incident from Theo, Justin frantically leaves voicemails for Ava as he starts to pressure Theo for details about the car and driver.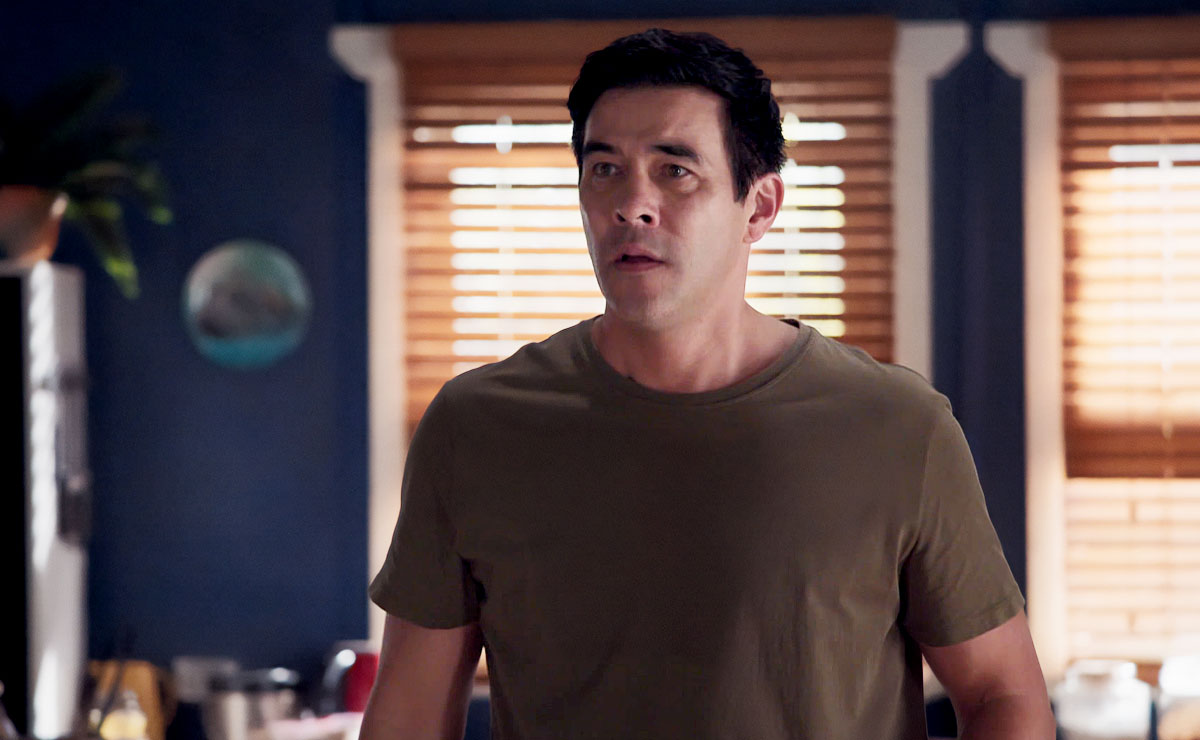 Driving around the bay in the hope of tracking down the mystery van, Justin is later frustrated to find Theo talking with Kirby at the side of the road when he should be out looking for Ava.
When Kirby tells Justin about how Ava trashed the house, Theo explains that this was the reason he'd felt he had to confront Ava.
Knowing how fragile his daughter's mental state had clearly become, Justin turns on Theo and asks why he didn't come to him first. As Justin decides to head to the police station, he rejects Theo's offer to come with him, stating that he's done enough already.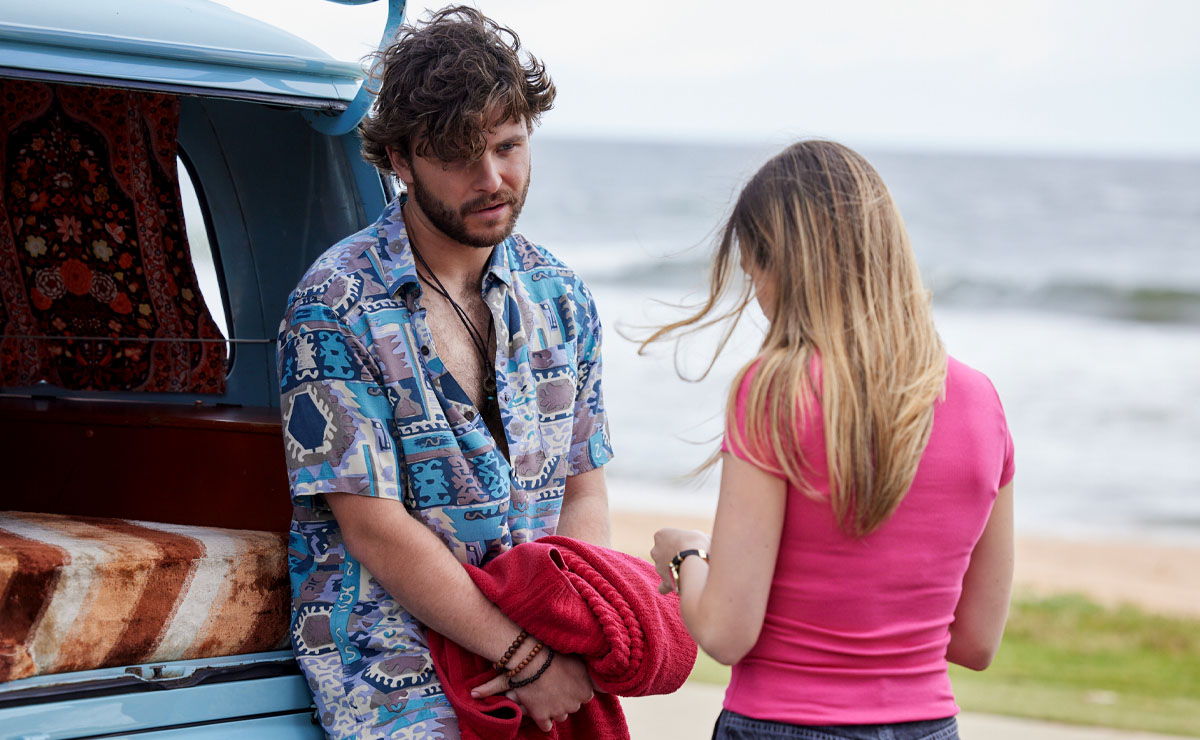 Meanwhile, despite everyone's fears to the contrary, it appears that Conor is genuinely concerned for Ava as the two park up alongside the beach. When Ava returns from the toilet block, having freshened herself up, she tells Conor that Theo is her ex-boyfriend.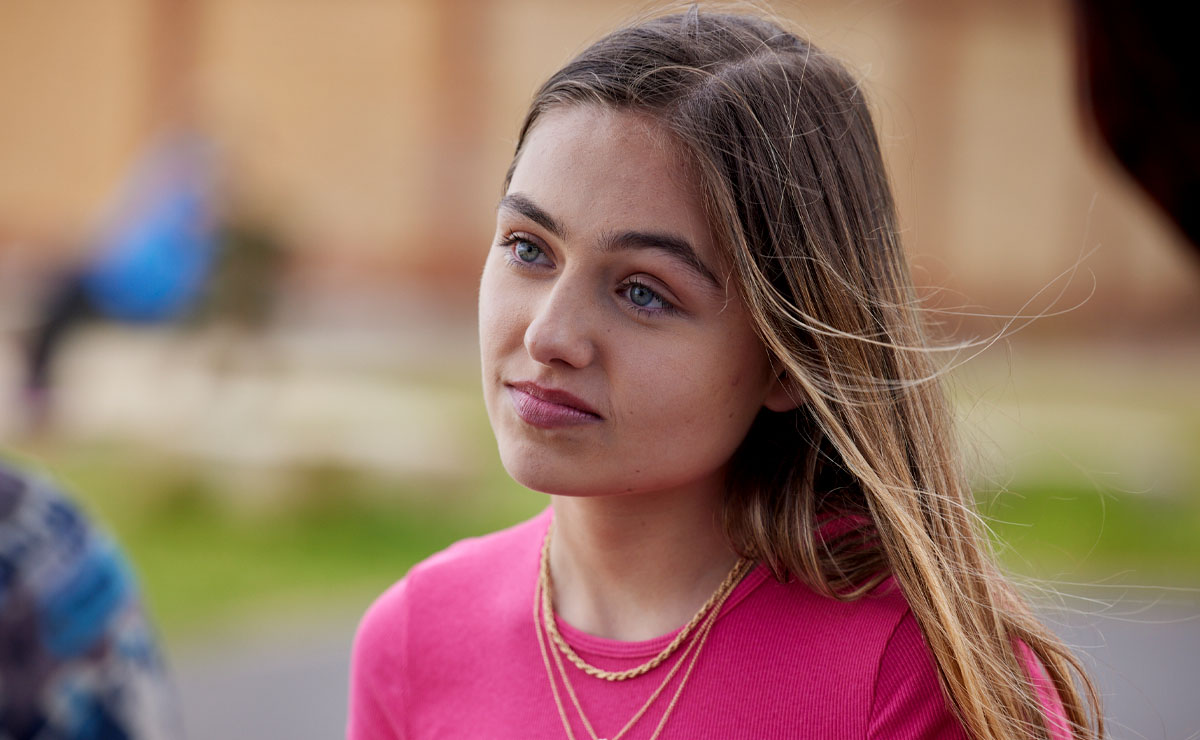 Wanting to avoid going home, Ava asks Conor if she can hang out in his van for the time being whilst he heads for a surf.
After Connor tells her that her phone has been going off in her absence, Ava notes the missed calls and texts from Theo and Justin but chooses to ignore them.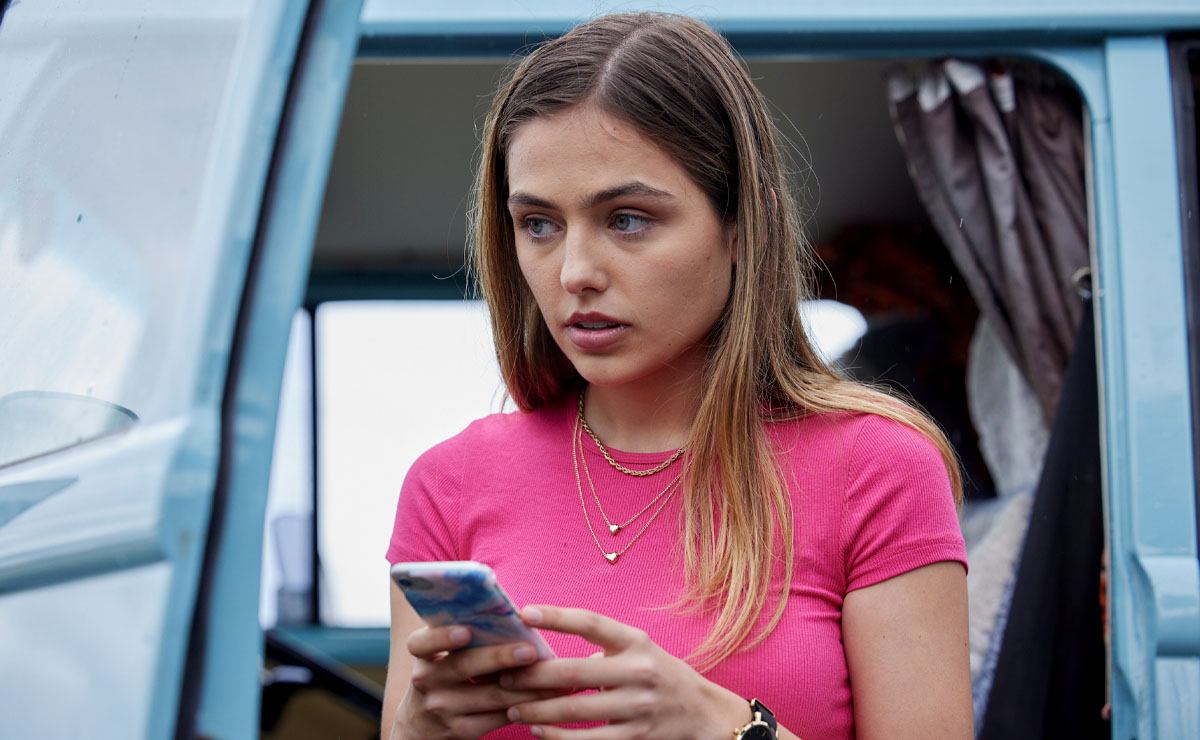 At the police station, Justin is pushed further into despair when Rose (Kirsty Marillier) tells him that it sounds like Ava has simply asked for a lift out of her own free will, and therefore there's no real concern for the 16-year-old.
After Justin returns home and angrily blames Theo for driving Ava away, Theo and Kirby decide to send Ava a message on her 1<3Theo social media account. They've both had her blocked up until now, and they hope that Theo sending her a message will attract her attention.
When Conor returns from his surf, he asks Ava what her plans are—she can't stay hiding out in his van forever as he needs to move on.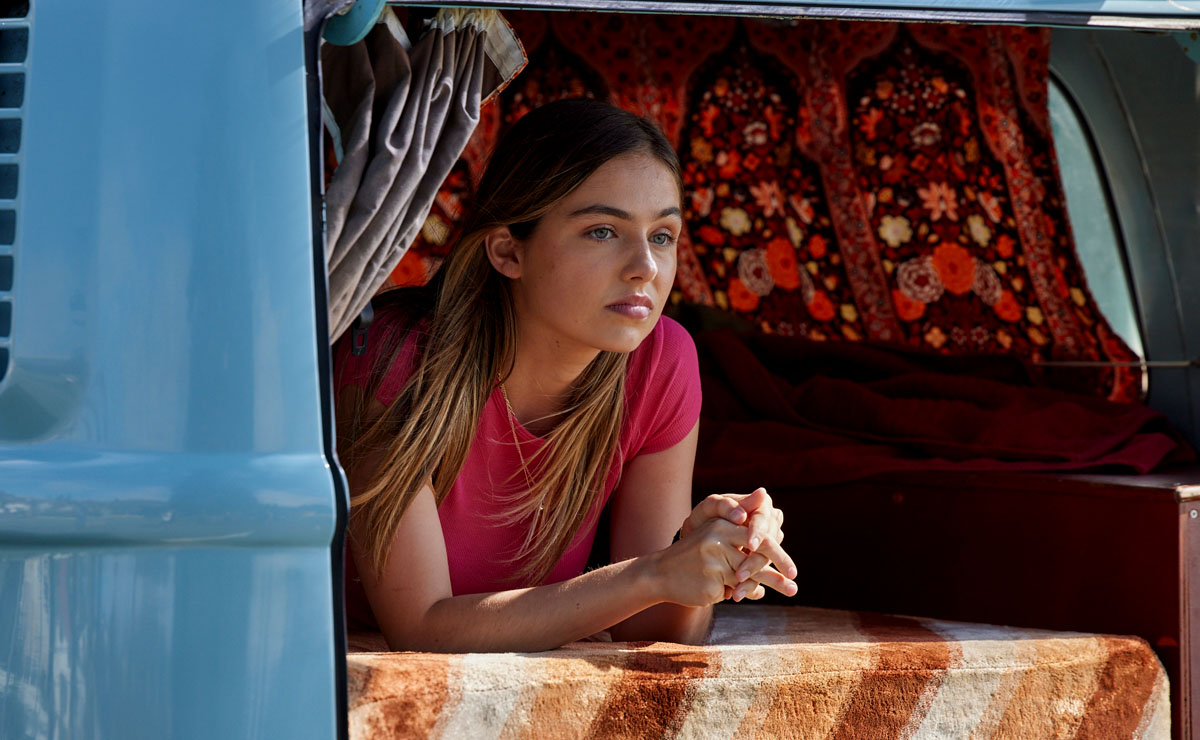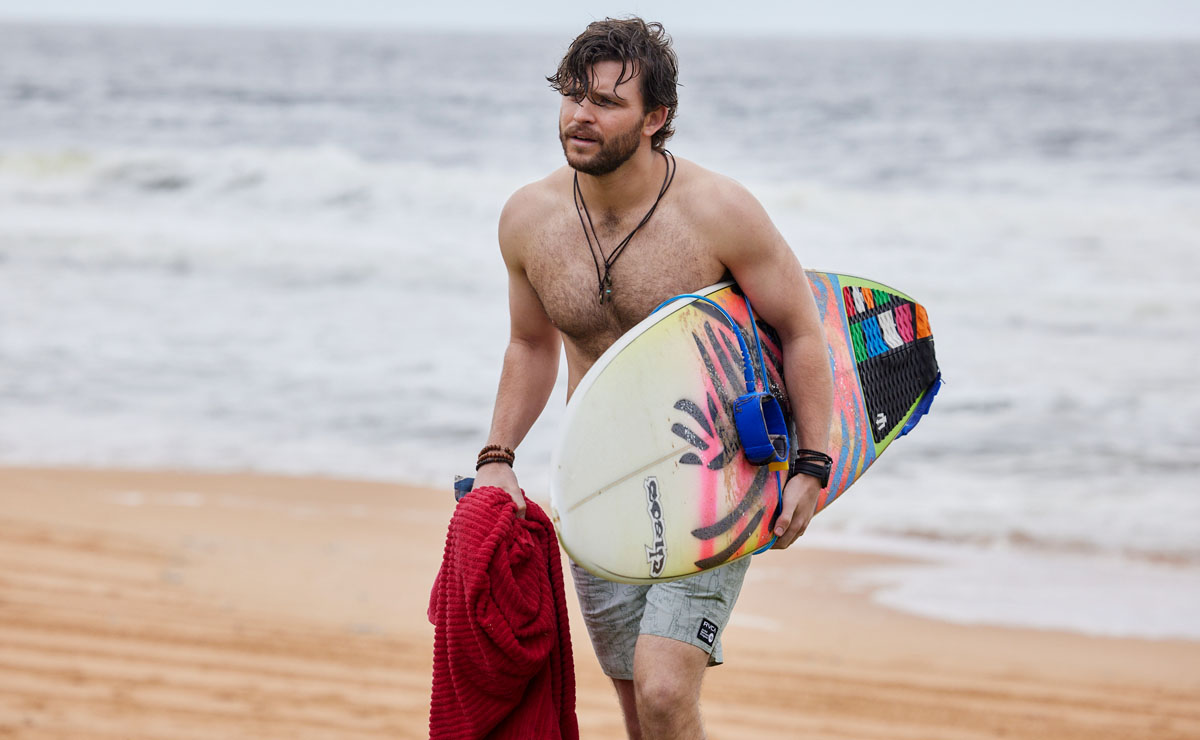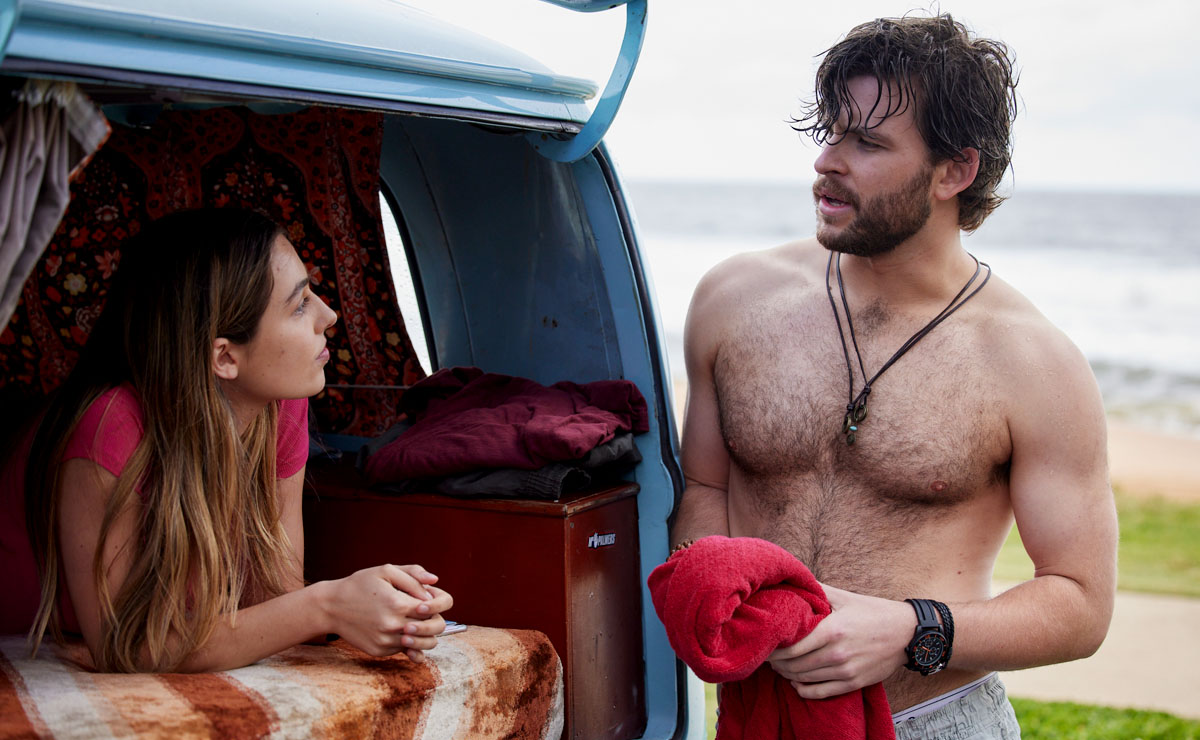 He asks Ava to think about whether she wants him to take her home before he heads for a shower, but when Ava then receives the message from Theo apologising and asking if she's okay, she suddenly realises she can use the situation to her advantage…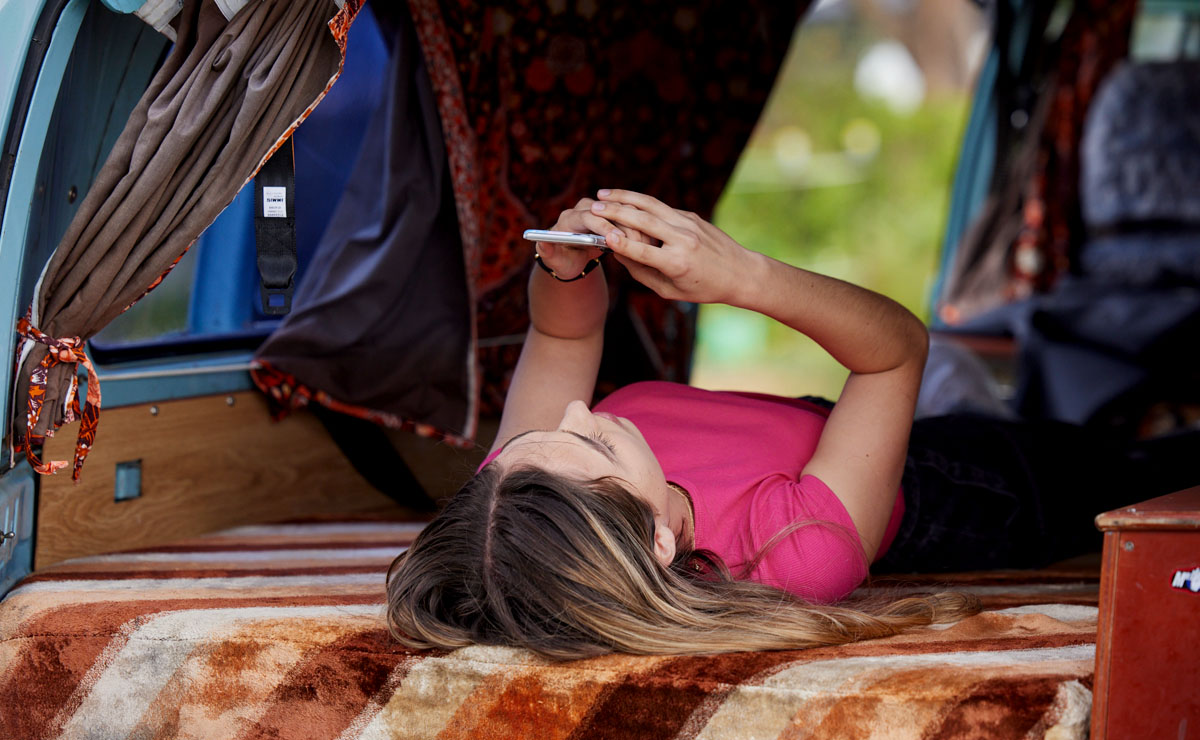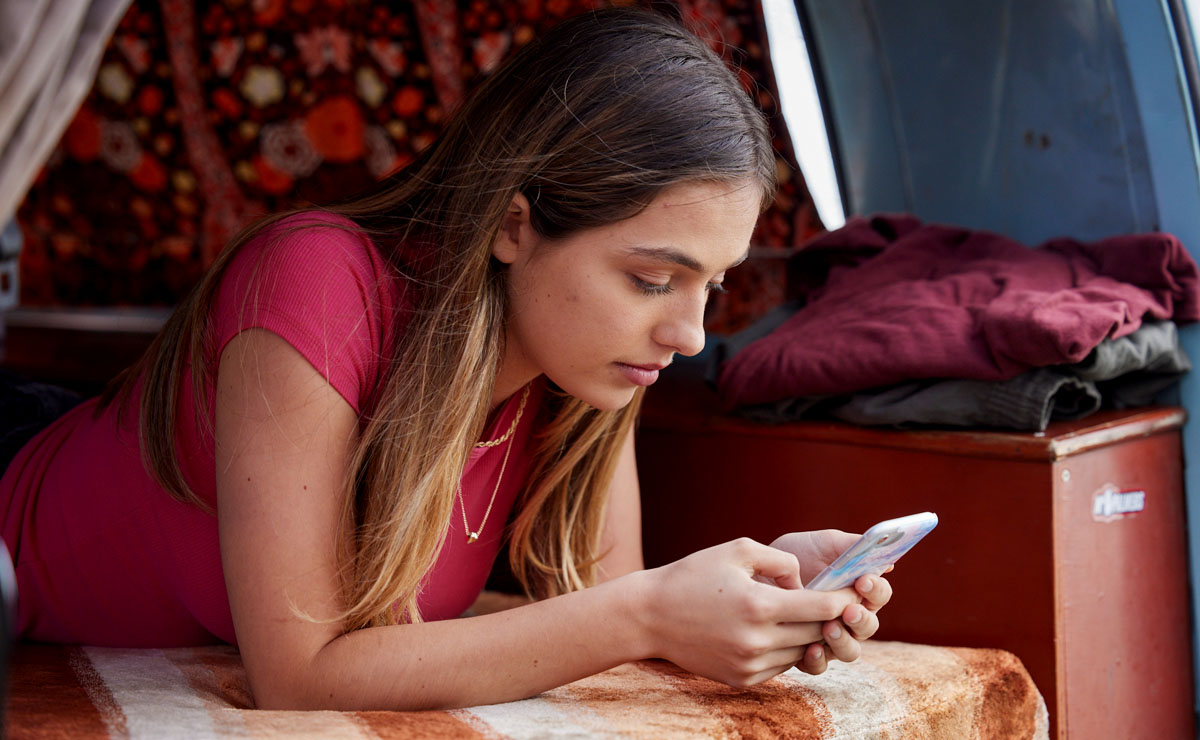 Hoping that Theo can come along and be her knight in shining armour, Ava replies with a desperate-sounding message: "HELP! I'm scared! I can't get away."
But her plan backfires when a panicking Theo immediately rushes to show the message to Justin, just as a map pops up pinpointing Ava's exact location.
As Conor heads back to his van following his shower, Justin pulls up in his car. Seeing a supposedly scared Ava lying in the back of Conor's van, as Conor puts his shirt on, Justin immediately jumps to the wrong conclusion.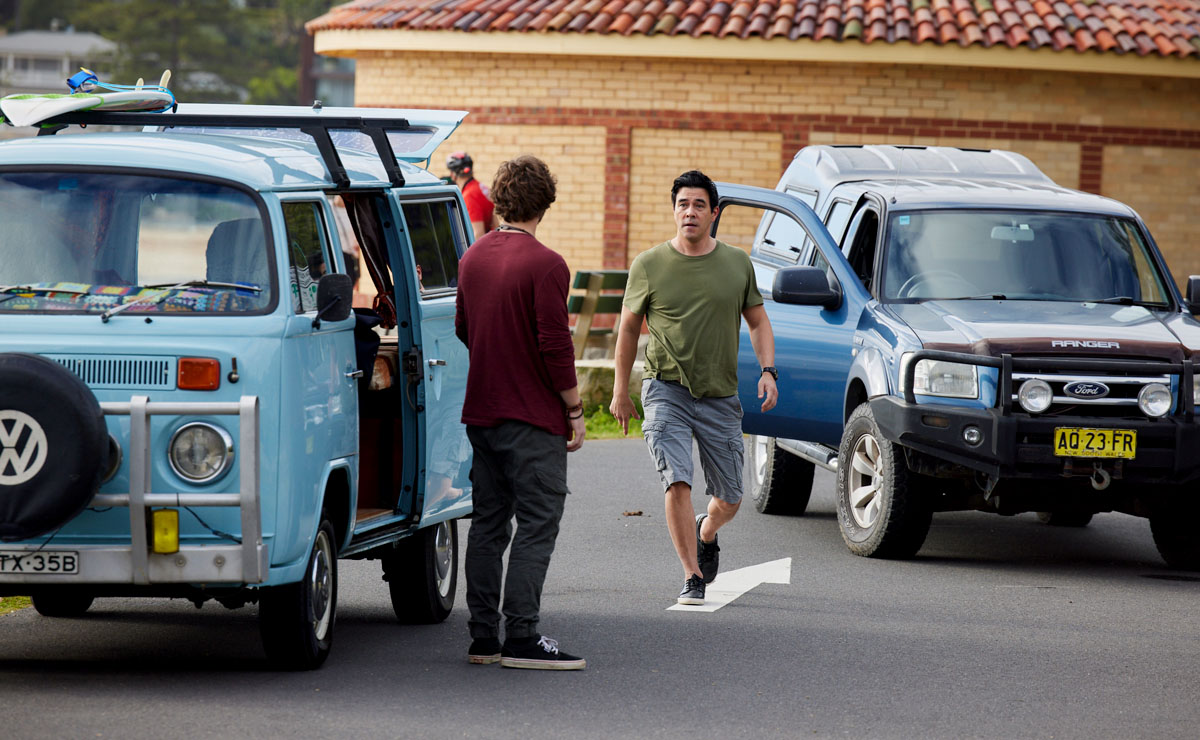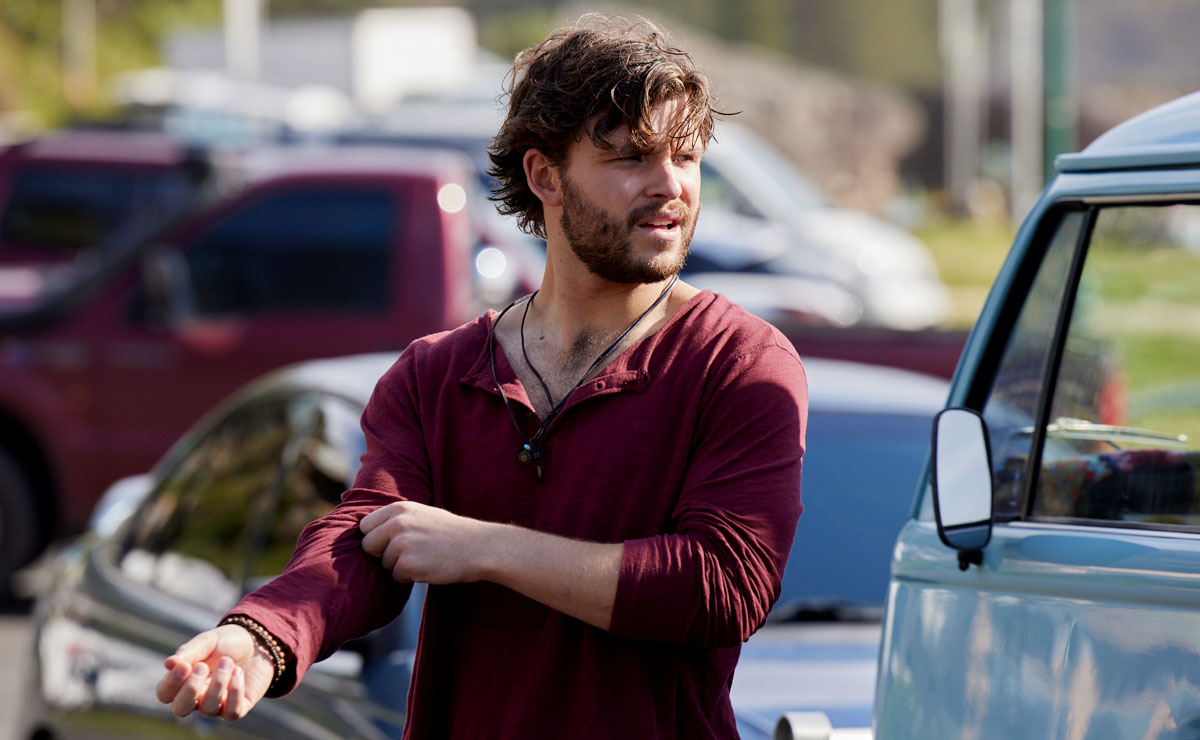 Ava can only watch on in horror as Justin floors Conor with a punch to his face.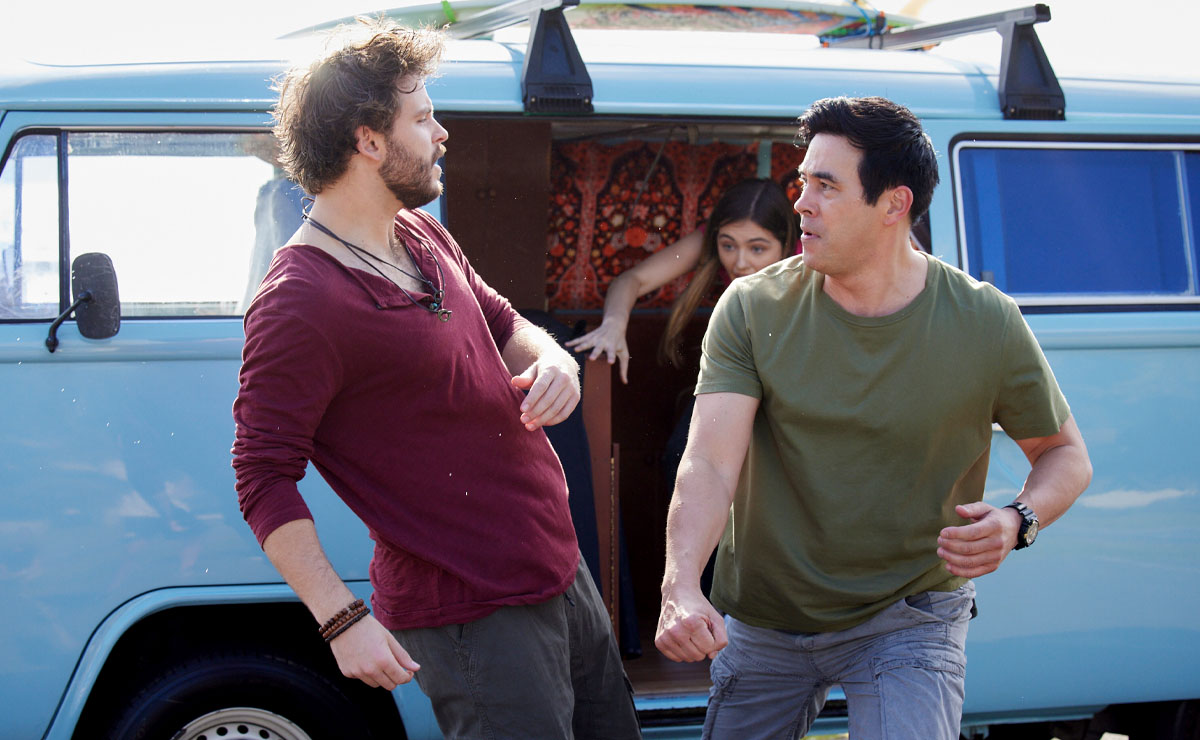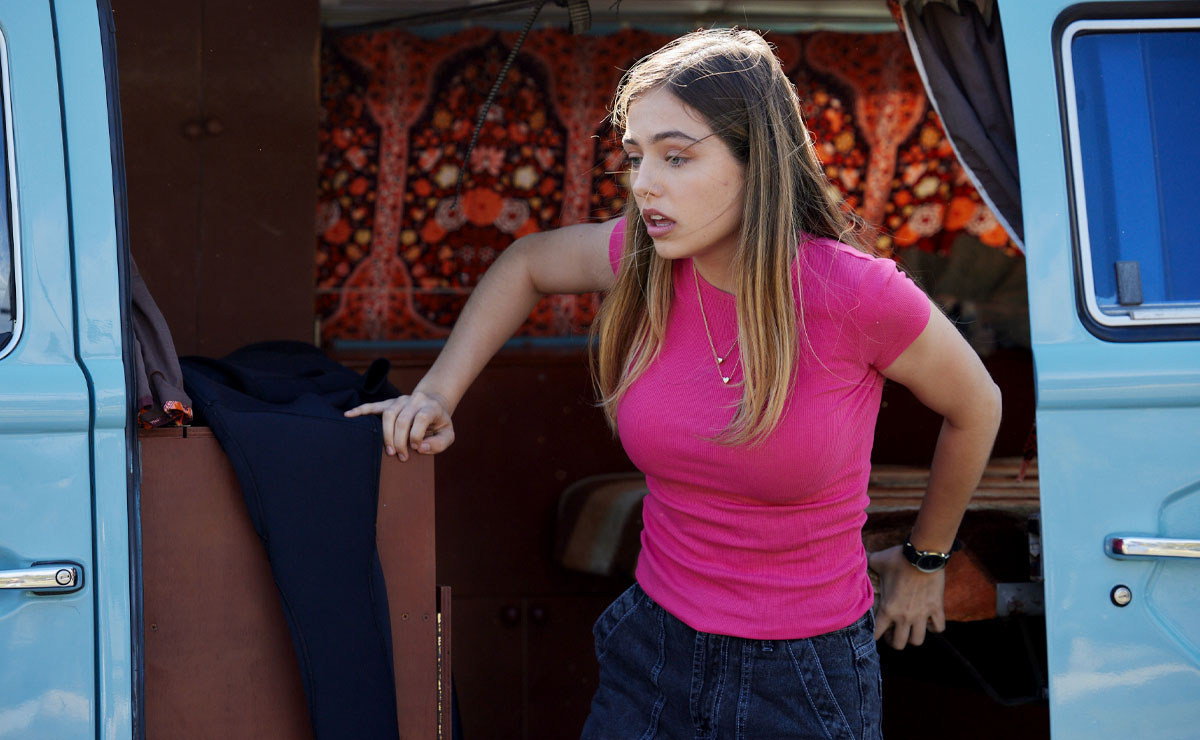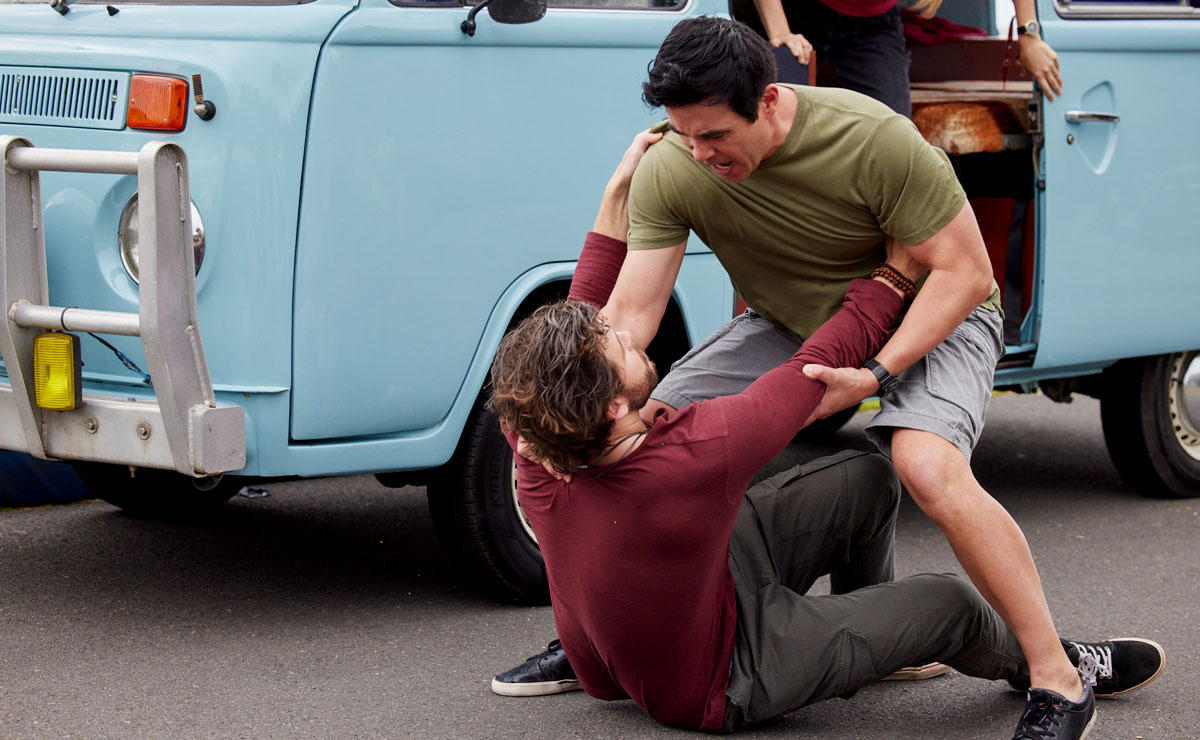 Out for his blood, Justin pulls Conor back up, only to send him flying over a nearby car bonnet as Ava screams at him to stop.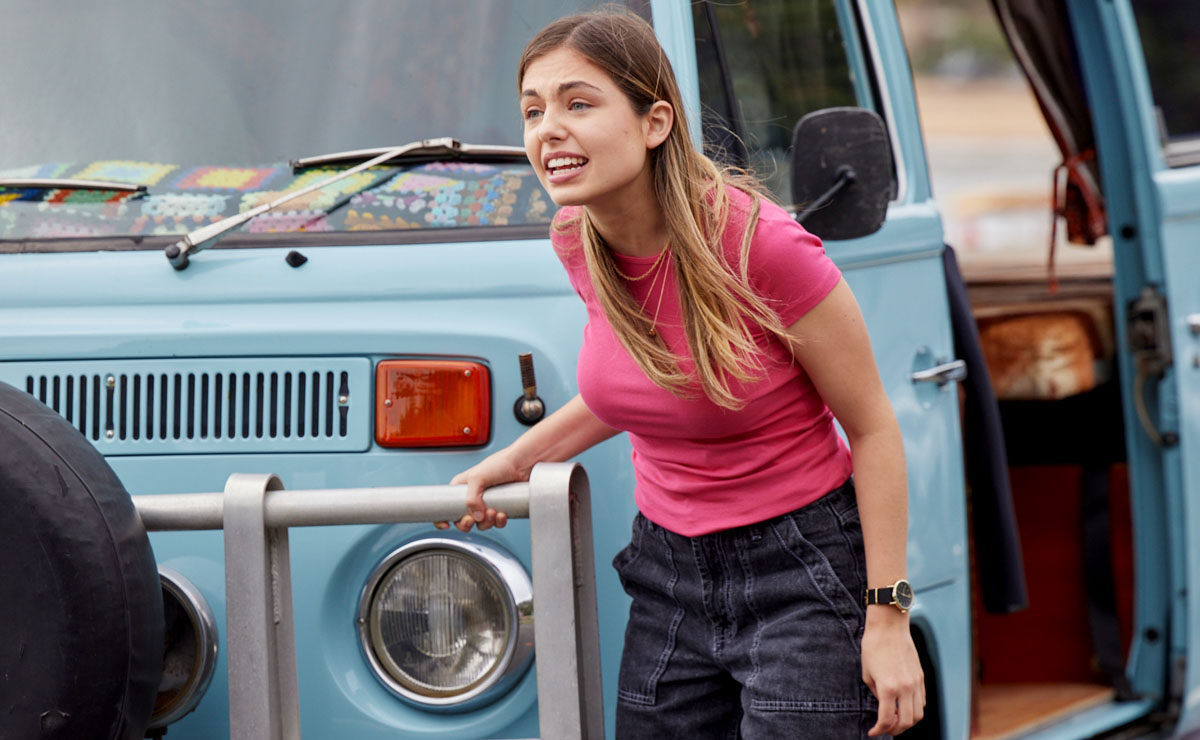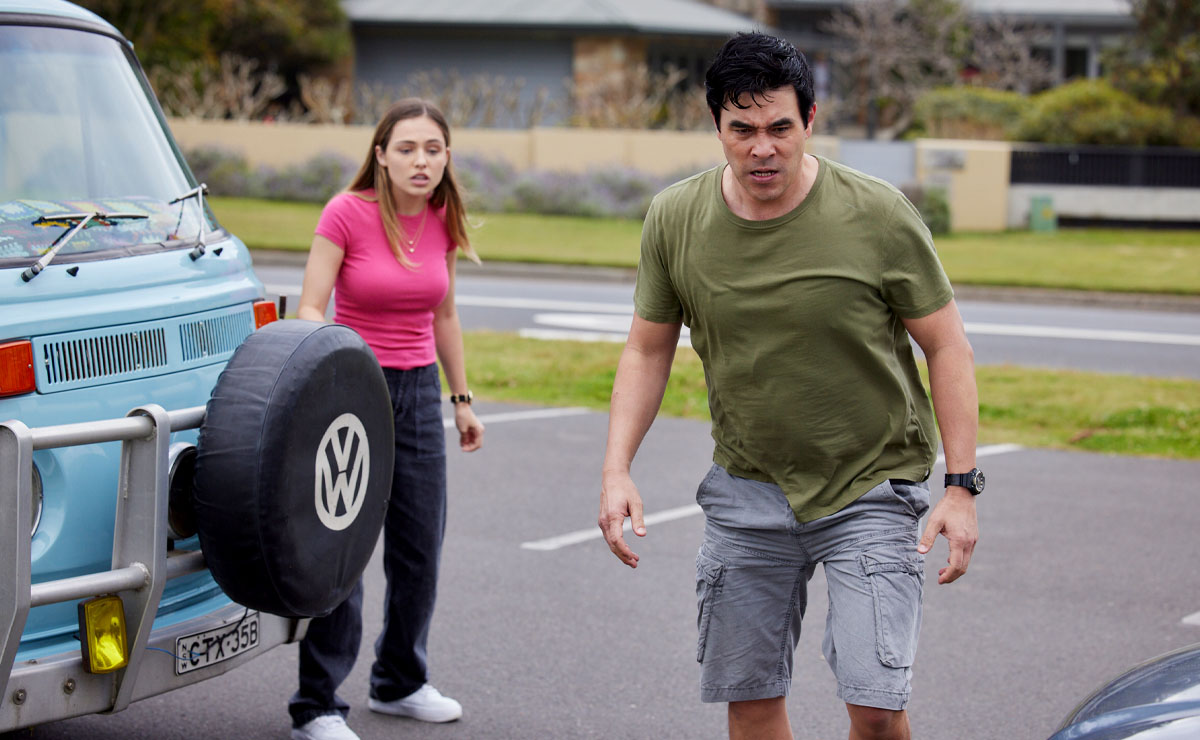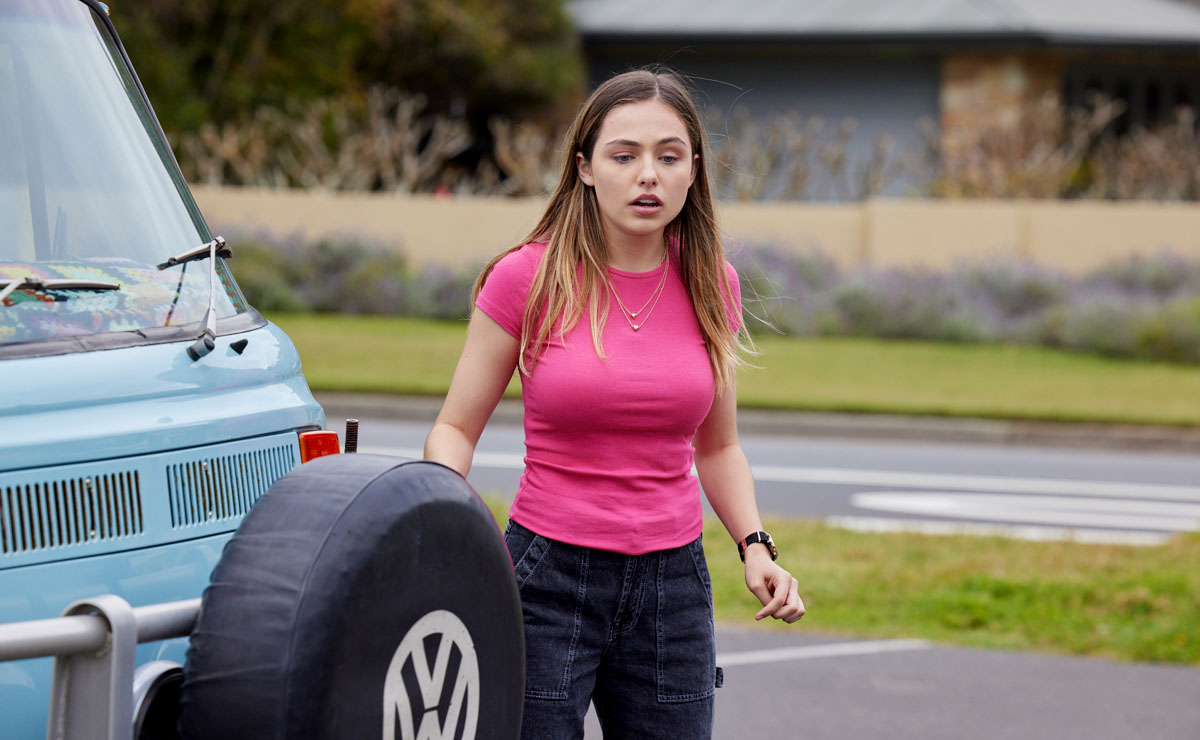 As Justin continues viciously beating the man he believes assaulted his daughter, he's eventually restrained by a passer-by.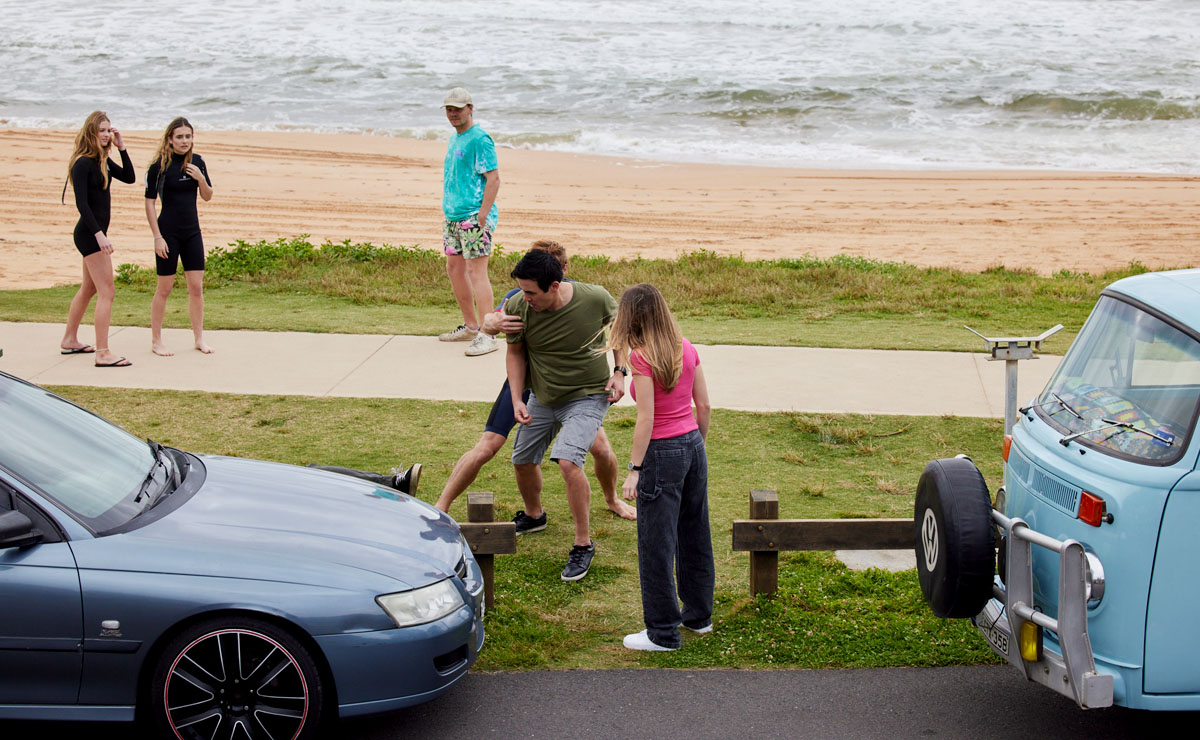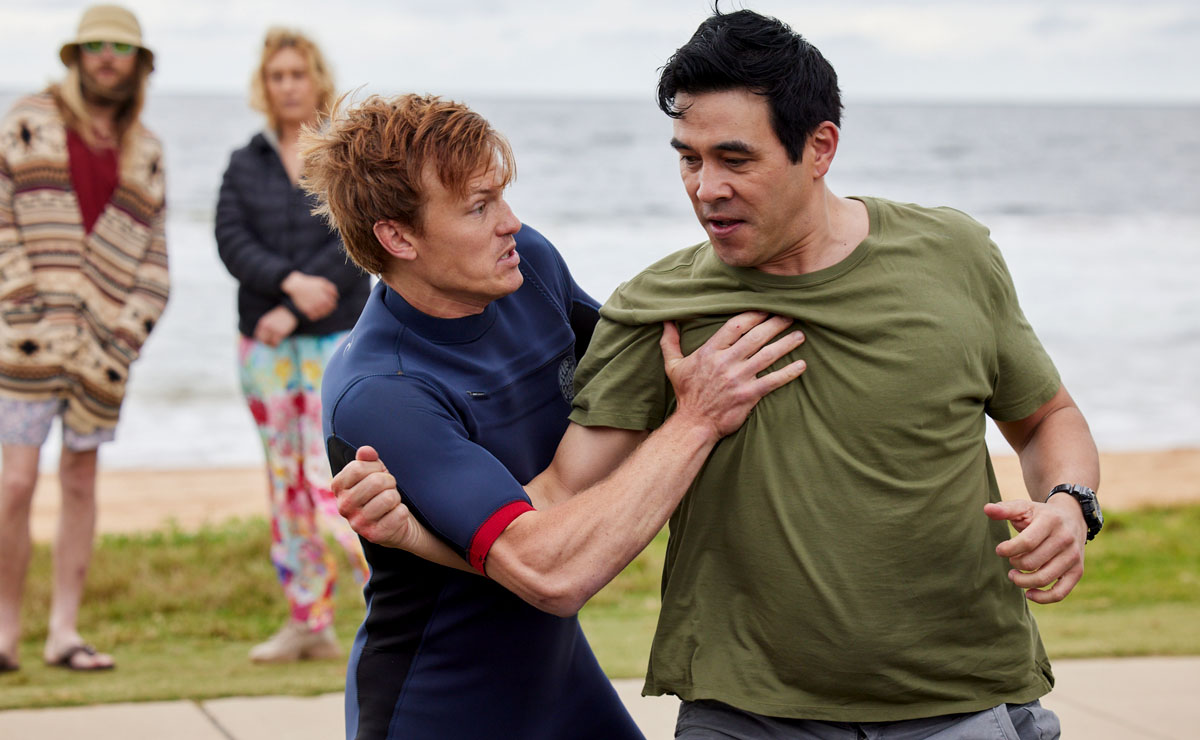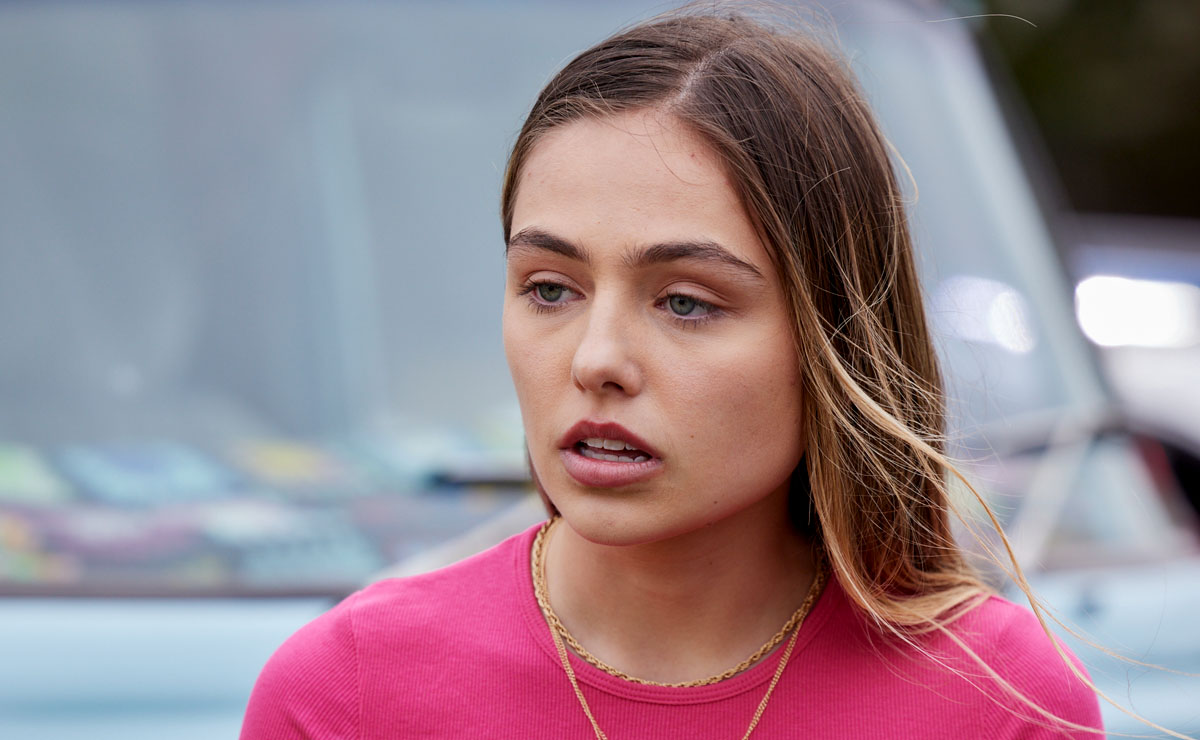 Police officers Rose and Cash (Nicholas Cartwright) are soon on the scene and Rose sees to a badly beaten Conor as Cash pulls Justin away.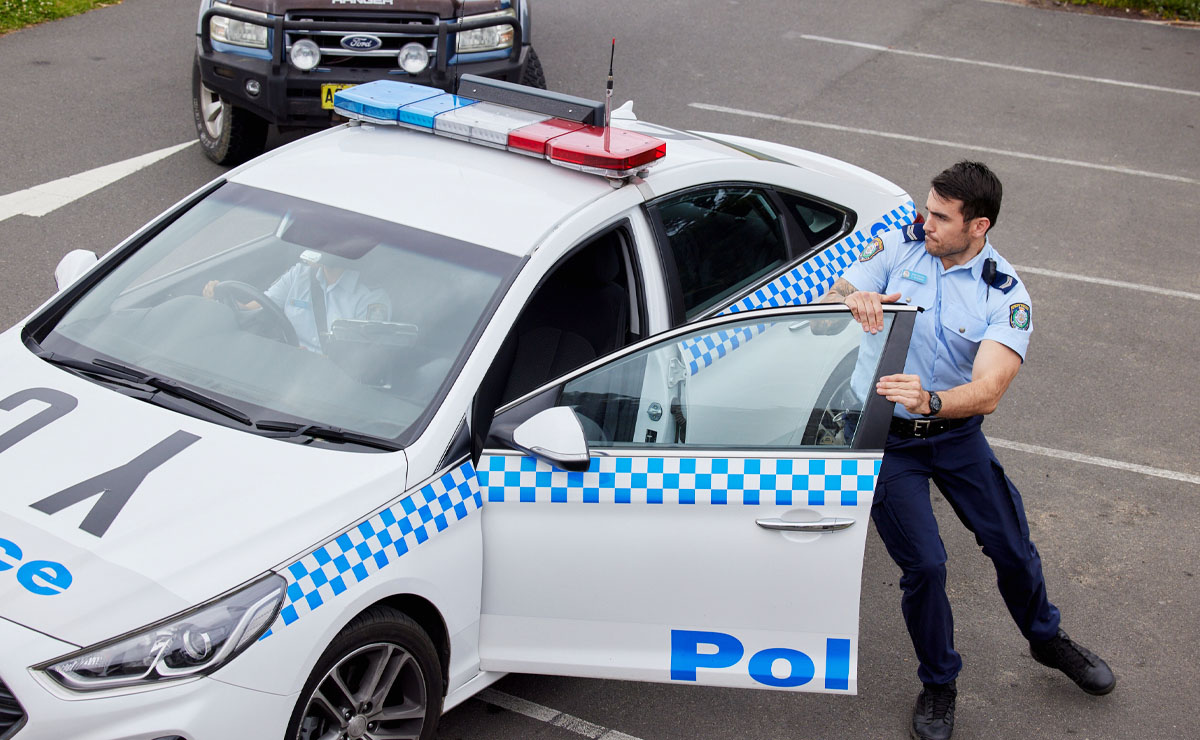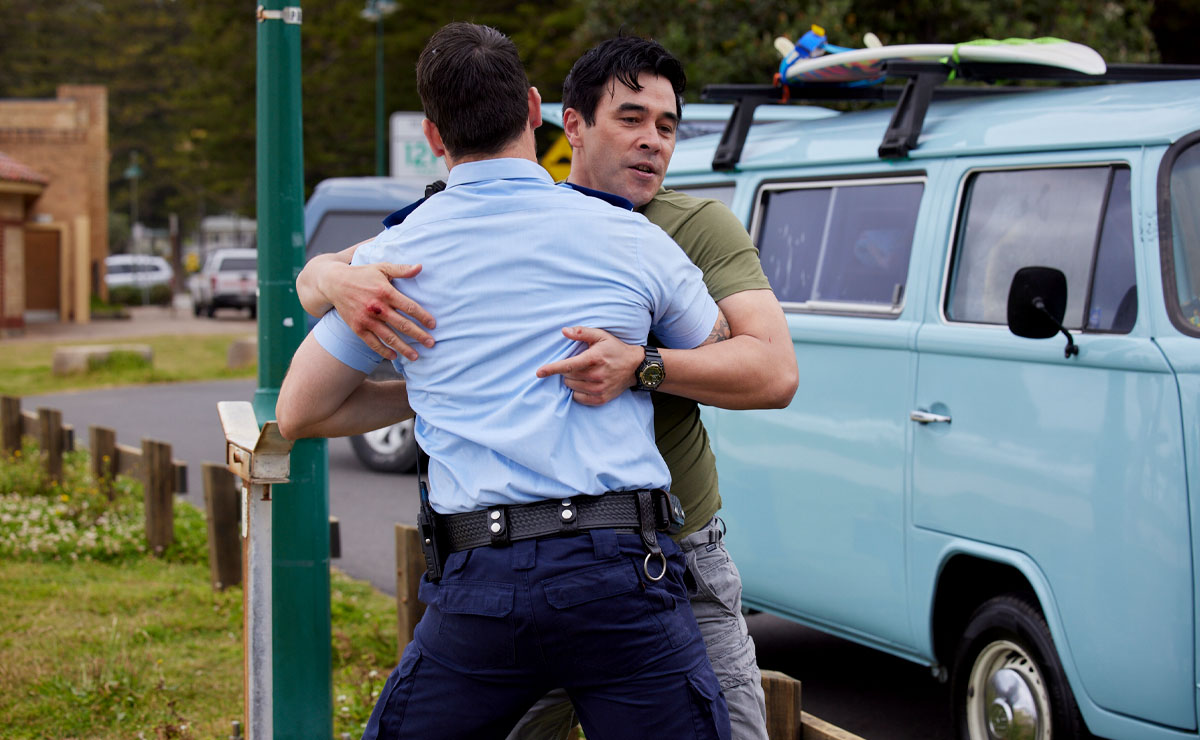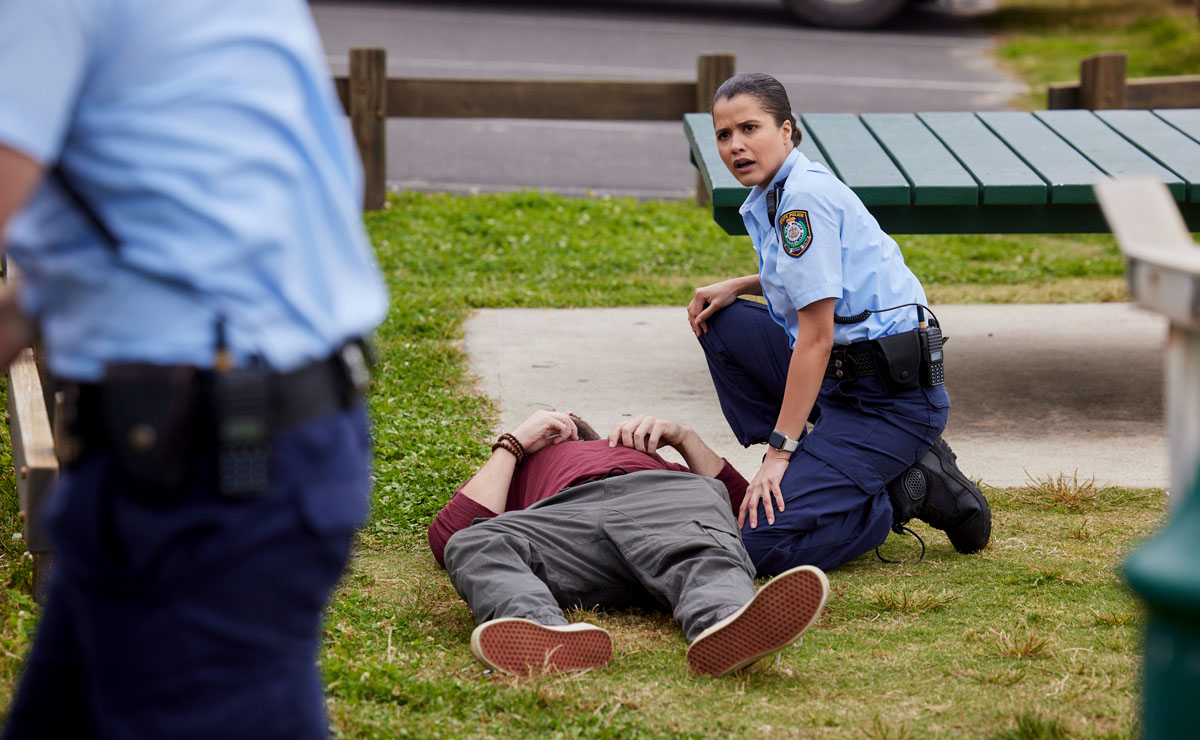 While Rose calls for an ambulance, Justin tries to explain that Conor touched Ava, but he's incredulous when Cash then arrests him for assault.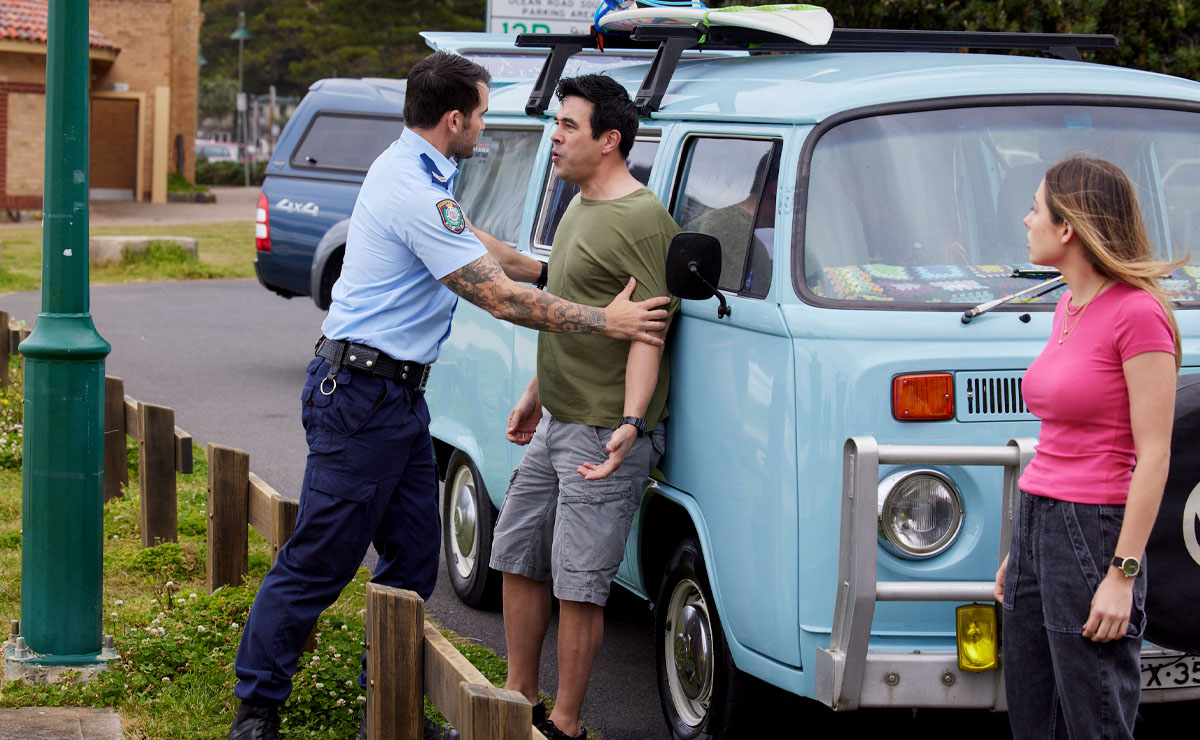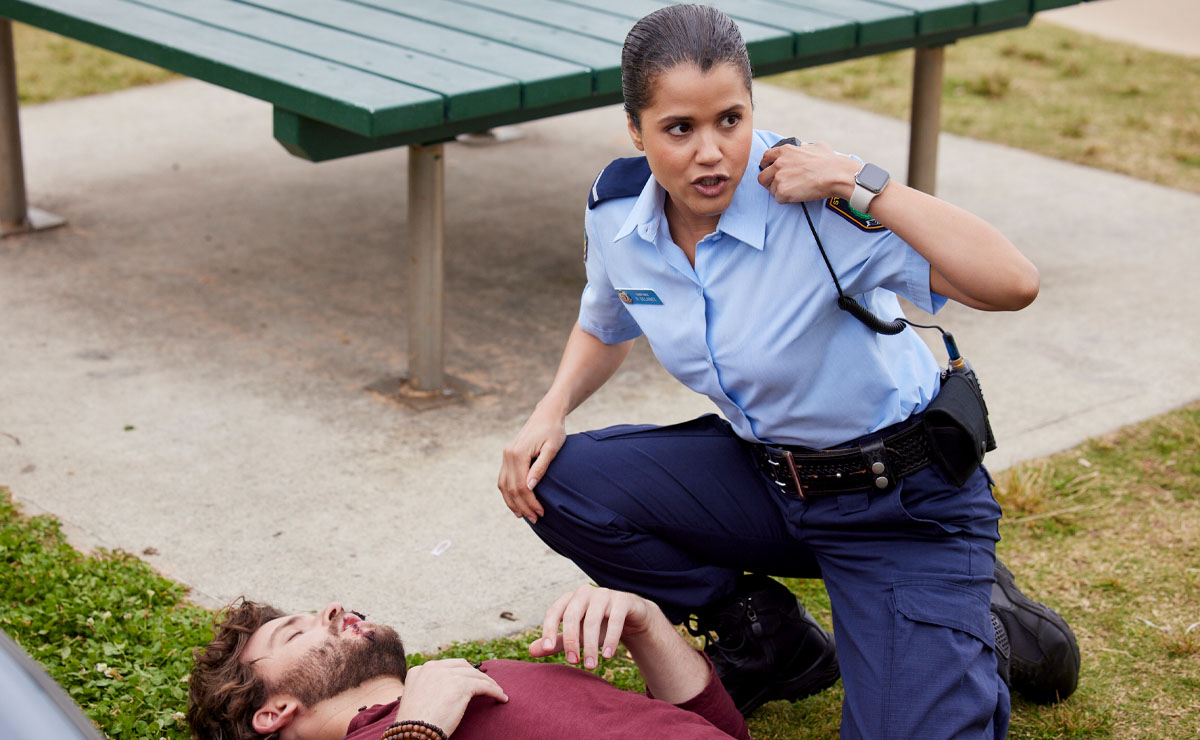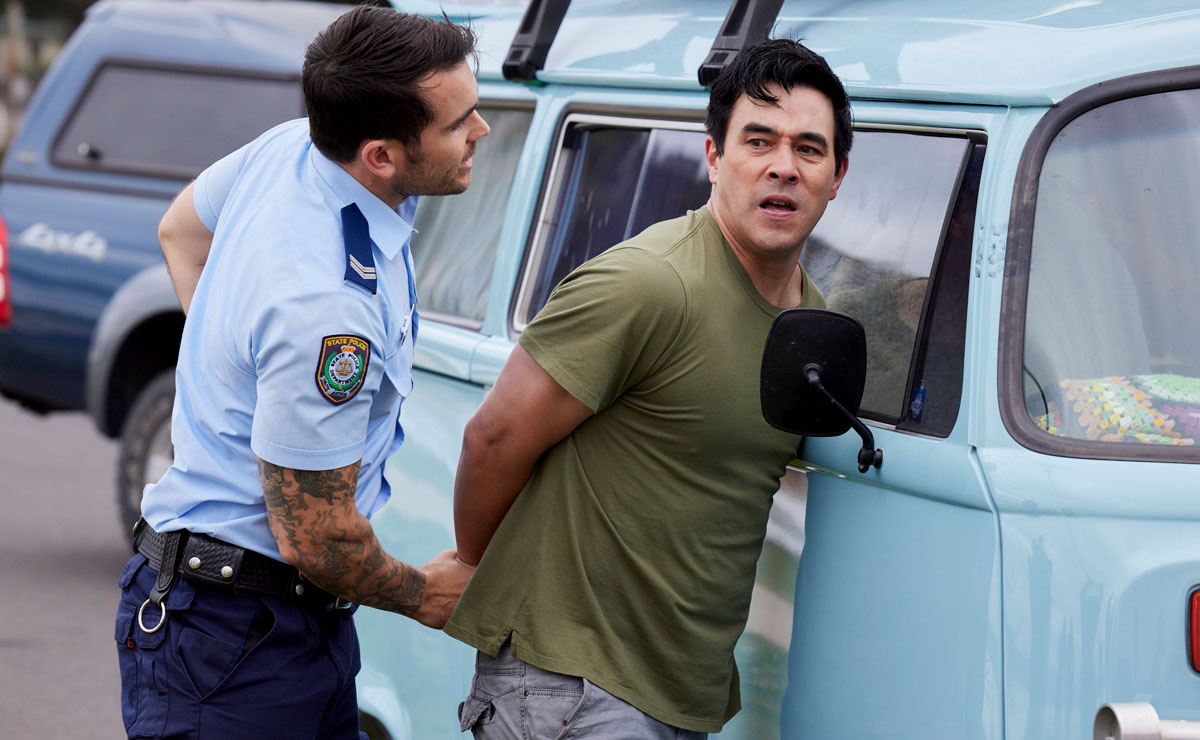 At Yabbie Creek Police Station, as Justin is taken in for questioning, a shaken Ava tells Theo that it was supposed to be HIM that came to save her, not Justin.
When Rose takes Ava home, she eventually admits that Conor did nothing wrong, and that she'd lied in her message to Theo.
Justin is fuming when he later learns that Conor, who remains in hospital, will not be charged. But when Cash and Rose then inform him that he actually assaulted an innocent man, and that Ava was just vying for Theo's attention, Justin is crestfallen.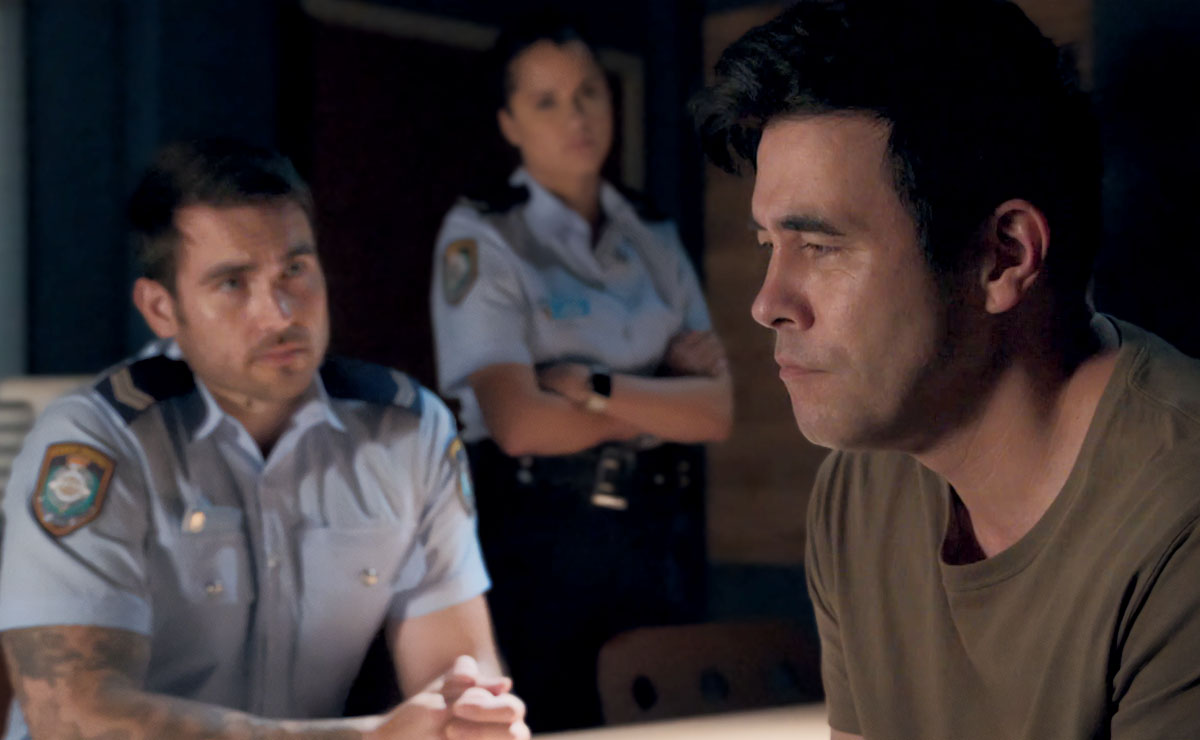 With Justin officially charged with assault occasioning grievous bodily harm, he's forced to spend a night in the cells as he awaits to hear if he'll be granted bail.
Will Ava's lies land Justin in prison?!
---
Monday 15th May (Episode 7996)
Justin goes into protective father mode. Theo makes a desperate play to get a hold of Ava. John turns his ire on Mali.
Tuesday 16th May (Episode 7997)
Justin faces the consequences of his actions. Leah returns to the Bay. Can Mali bring John around?
Wednesday 17th May (Episode 7998)
Can Ava and Justin reconcile? Will Bree tell Remi the truth? Cash and Felicity settle on a wedding date.
Thursday 18th May (Episode 7999)
Tane and Felicity prepare for their big day. Eden pushes Remi to be with Bree.
Friday 19th May (Episode 8000)
Felicity and Tane's wedding day has arrived. Bree is grateful for Remi's support. Has Cash made a life-long commitment to Eden?
---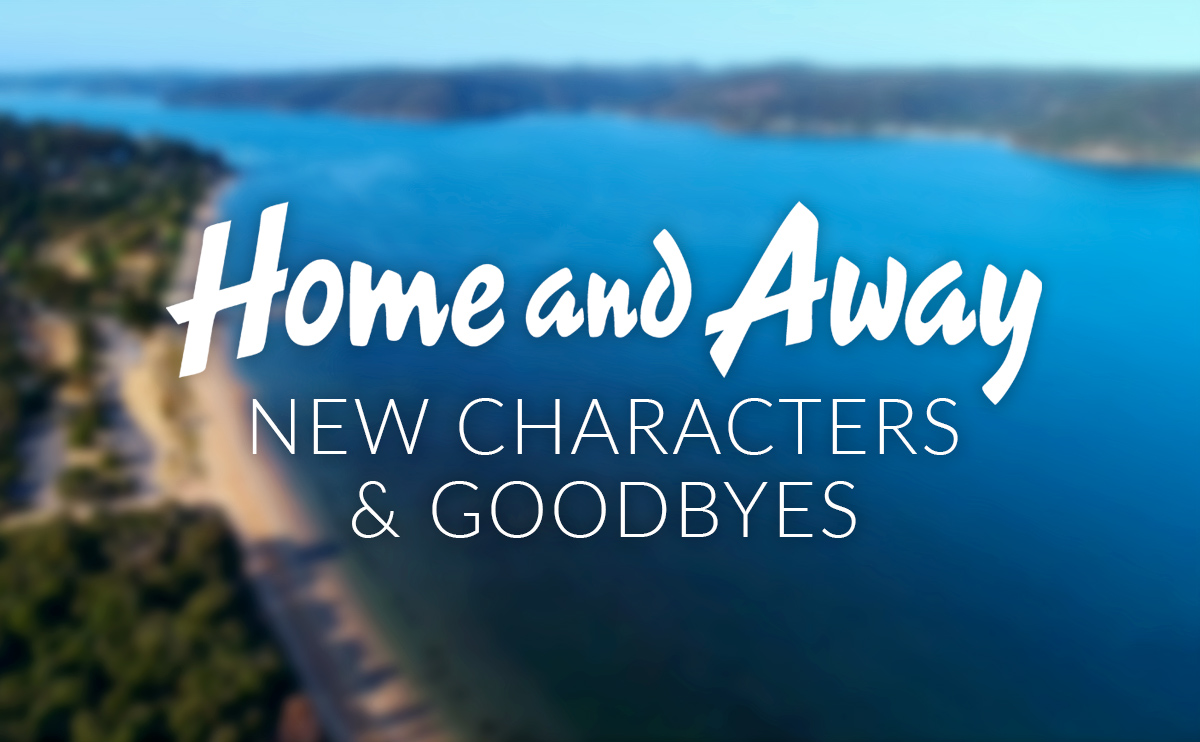 We take a look at the new faces set to arrive on Home and Away later this year, as well as those who'll be leaving Summer Bay in 2023.
Spoilers in your inbox every weekend!