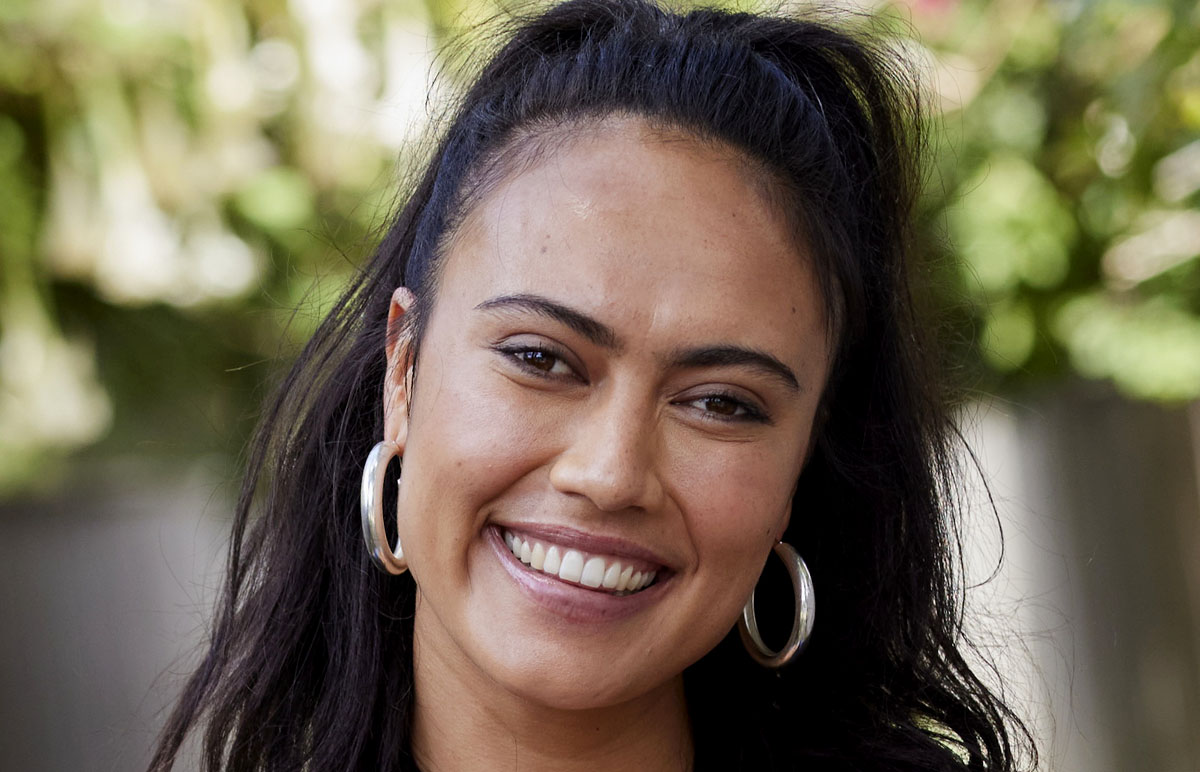 Kirby Aramoana (2022-present)
Angelina Thomson
Episodes: 7829-present
Occupation: Musician; Waitress
---
Kirby arrived in Summer Bay with her boyfriend Bob Forsyth and friends Eden Fowler and Remi Carter, who together formed the band Lyrik for which Kirby was keyboardist and lyricist. They were known to Felicity and asked to stay with her for a few days between gigs. Felicity asked them to play at the reopening of Salt, which she had just bought into, but Bob was against the idea. Although she tended to support Bob, Kirby voted with Remi and Eden in favour of the gig and convinced Bob to join them.
They returned to Summer Bay the following week where Felicity offered them a regular gig. Bob was against the idea and encouraged Kirby to ditch Eden and Remi so they could set up on their own. Kirby tried to broker peace between the others but Bob decided to quit the band. Kirby refused to go with him, breaking up with him. They had to arrange emergency auditions for a new lead singer and ended up choosing Theo. She helped Theo learn how to balance his work with the band with his apprenticeship at the garage, recalling how her family wanted her to study medicine and she went to uni but realised she liked music more.
After his first gig, Kirby stayed up all night working on a song with Theo after which they kissed. She was interested in pursuing a relationship, but when Eden and Remi put a ban on relationships between bandmates, she decided the band came first. She, Eden and Remi moved into the house opposite the Paratas. After a party to mark getting a new van, she and Theo slept together but she told him it couldn't happen again. However, she changed her mind when he serenaded her, agreeing to see him in secret. They were quickly caught out by Justin but swore him to secrecy. When Remi became suspicious of them, she got Theo to chat to a girl in Salt and tried to get him to kiss her, leaving Theo wondering if she was serious about them. When she still wanted to keep things secret, Theo broke up with her. Kirby responded by kissing him in front of Eden and Remi, who accepted them together.
She and Theo were assigned to do PR for the band and made use of Theo's old video channel to post a clip of them singing online. They were approached by Tully Dixon, editor of an online music magazine, about an interview. With only an hour's notice and unable to get hold of Remi or Eden, she and Theo did the interview without them, only for the article to focus on their relationship and barely mention the others. She and Theo tried to work out a band schedule before agreeing to hire Justin as manager. His negotiations with Mackenzie led to them temporarily losing the gigs at Salt until Kirby and the others agreed to a proper contract. They then agreed to play at Tane's proposal to Felicity and made plans to shoot a music video, with Kirby arranging for a friend of hers, Minnie, to shoot it.
Shortly after the video was uploaded, Kirby received a text from Bob commenting on her moving on. She agreed to meet with him only for Theo to see the messages. He was unhappy she'd kept it from him but accepted it was her choice. Kirby decided not to see Bob after all. She and Theo did a radio interview together, after which Bob turned up and told Kirby he needed her back. She shut him down but did agree to him doing one song with the band at their next gig. When Theo found out, he refused to turn up and the gig had to be cancelled. She told Theo she'd have stopped Bob playing if he'd objected but admitted she could have made that more clear. She and Theo found Bob sleeping in his car and he admitted his solo career had been a flop: He had borrowed the car and didn't even have money for petrol. Kirby gave him money to leave town.
Despite never having played before, she joined Theo in signing up for John's team for the golf tournament. Theo lost his temper with her on realising he had until the following morning, rather than a week, to do a TAFE assignment but later apologised and they admitted they loved each other. She took golf lessons from Rose and decided against joining Theo in moving to Justin's team. Their golf buggy was sabotaged by Justin, leaving them have to carry their clubs around the course, and resulting in them winning by default. After attending Tane and Felicity's bucks and hen do, Kirby reflected on what she hoped her own wedding would be like. Theo admitted to her he didn't see himself getting married and Kirby told him it wasn't an issue, after which he confided in her about the physical abuse he suffered from his father. She was confused to realise Remi was dating Bree, who was supposed to be married, until Mackenzie helped her realise a man she'd seen asking after Remi was Bree's abusive husband Jacob. She and Rose found Remi tied up and beaten, with Bree missing. She spent the night by Remi's bedside in hospital and kept his injury from Eden, who was concentrating on Felicity's wedding. Eden chided her when she found out.