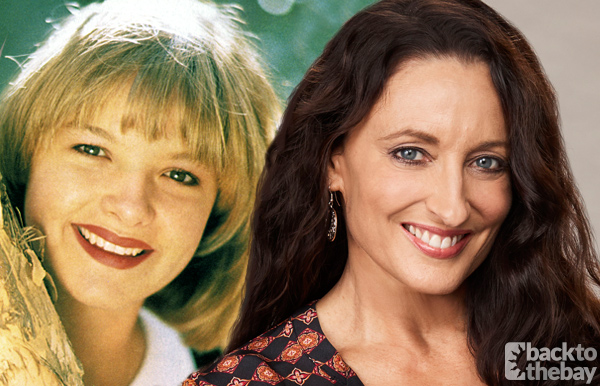 Ruth Martha Stewart (1988-1989; 2010-present)
Justine Clarke (1988-89); Georgie Parker (2010-present)
Episodes: 3–339; 344–345; 5195-present
Date of Birth: February 1971
Parents: Alf & Martha Stewart
Step Parents: Ailsa Stewart (deceased)
Siblings: Owen Dalby (deceased), Quinn Jackson, Kieran Baldivis & Duncan Stewart (all half)
Step Siblings: Shauna Bradley
Marital Status: Frank Morgan (1990-1991, divorced); Harvey Ryan (2012-2014, divorced); James Edmunds (2015, engaged)
Children: Martha MacKenzie
Step Children: Lottie Ryan (former)
Occupation: Student; Macklin Corporation Employee; Event Co-Ordinator; Diner Worker; Lecturer; Teacher; Bait Shop Worker; Private Tutor
---
The stereotypical teenager Roo was popular at school, doted on by her overprotective father Alf and certain that nobody could ever fill her dead mother's shoes, especially not Ailsa, who she took an instant dislike to. Unbeknown to Alf, his little princess had been boy crazy since puberty and her romances with city boys holidaying at Summer Bay had made the local boys seem dull by comparison. When she met Frank, the fact that he was a city boy added to the attraction between them and within days she was sneaking into his room for secret meetings. They decided to form a band together, shared their first kiss and began spending as much time as possible together, even paying Steven to do their homework when they were meant to be studying. Roo skipped school to be with Frank and was caught out by her furious father.
Roo was devastated to find out that Alf had proposed to Ailsa and Frank stayed over to comfort her, falling asleep in her bed. She returned home later and was caught out by her father so snuck out again and returned to bed with Frank, the suggestion being that they would sleep together but Roo put a stop to it at the last moment and they decided to wait. The next day Roo contacted her Aunt Morag, a lawyer in the city and asked her to check out Ailsa's past. She then broke into Ailsa's store and found a card from Fisher, it seemed Ailsa and Fisher once dated. Later Morag phoned from the city to reveal a nasty secret about Ailsa's past, that she killed her father and Roo spitefully announced the secret at Alf and Ailsa's engagement party. Alf took Ailsa's side and Frank too argued with Roo about her actions. When she was revealed to be the person behind threatening letters to Ailsa, Alf finally had enough and told her she had to go to boarding school.
We heard from Alf that Roo had been going off the rails at boarding school and when Frank went to visit her, he got into a fight with Brett Macklin, the guy she was seeing. When she returned to the bay at Easter she had changed and made lots of bitchy remarks to Frank about how she preferred 'real men with class' now. She later went the Doctors for a pregnancy test which showed positive. Deciding to return to the City, she met Brett and told him about the baby. He told her to have an abortion but Roo decided she wanted to keep the baby. Haunted by memories of her time with Frank, she ran away from Brett and returned to The Bay. When Brett followed her to the bay she confided her plan to get back with Frank, have him marry her and pass the baby off as his. She promptly put her plan into action and when Frank came round she turned on the waterworks, told him she loved him and suggested they make the most of their time alone.
Roo engineered for them to sleep together and then later for her father to catch them at it so that she had an alibi for when she came clean about her pregnancy. When Roo later teased a jealous Bobby, Bobby punched her in the stomach and Roo went to the Doctor to check everything was okay with her baby. The Doctor was shocked to realise Roo had not told anyone about the baby and warned her against her plan to dupe Frank but Roo refused to listen and planted a pregnancy test for Celia to find. After admitting to Celia that she was pregnant and the baby was Frank's, she and Celia broke the news to Frank and he agreed to marry her.
As the wedding approached Bobby sussed her lie and attempted to tell Frank but he didn't believe her. She trashed Roo's wedding dress and contacted Brett Macklin who promptly turned up in the bay with the news that he was infertile and wanted his baby. Roo was insistent on going through with her plan despite Brett confiding in her Aunt Morag. On the morning of her wedding Morag urged her to come clean and though at first Roo refused, she stopped the ceremony and raced out before telling a devastated Frank, the truth about her baby. He refused to have anything to do with her after that and a genuinely gutted Roo faced the prospect of life as a single mother.
Alf was also furious at her deceit and threw her out so she moved in with Morag but then found out that Morag was involved in a plan to hand her baby over to the Macklins. Tricked into signing her baby away Roo went mental and told everybody she had had an abortion but it was quickly revealed she hadn't. A trick by Ailsa saw her make up with Alf but their reunion was short lived when Brett turned up with a court summons demanding she hand her baby over to him. Roo also had a small role in Alf and Ailsa's break up, with Ailsa claiming Roo had hidden her letter and the subsequent argument between Alf and Ailsa leading to the ""knife between the shoulders"" comment.
Roo was then contacted by Gordon Macklin, Brett's father, a wealthy property developer. The Macklins had found out that Brett was infertile after a bout of the mumps, so the child Roo carried was his only chance of an heir so were keen to be involved with Roo's baby. With Alf and Ailsa now separated, Roo was determined to keep it that way and faked labour pains to prevent them meeting up at Christopher's christening. Rushed to hospital by Alf she was given the all clear and then promptly went into labour for real. During the labour she shocked Alf by calling out for Frank and admitted she still loved him and was planning to get him back. After a difficult labour she gave birth to a daughter only for Gordon Macklin to decide he only wanted a grandson and so wanted nothing to do with his new granddaughter. Brett Macklin though had fallen in love with his daughter and blackmailed Roo into letting him raise her. When Alf found out her plans he lost his temper and Roo raced out seeking comfort from Frank, who hugged her just as his girlfriend Bobby came in.
When Brett, realising the game was up, kidnapped Martha and a devastated Roo considered killing herself before the police called to tell her that Brett had turned up with Martha. Reunited with her daughter Roo forgave Brett and in a conversation they decided that, though they both loved Martha, neither could really take care of her and that she'd be better off adopted into a real family. She took a break from the bay and returned with a new boyfriend called David, who Alf and Ailsa were convinced was made up. He later turned up in the bay to the surprise of Alf and Ailsa who found that he was Chinese. Alf and Celia were both prejudiced towards him and David decided to return home rather than face their prejudices and later broke up with Roo.
She got a job as Stacey Macklin's secretary and went on a date with Martin but ended up spending most of the night with Matt instead. She was devastated when Ailsa received more threatening letters and the finger of suspicion was pointed at her with a furious Alf throwing her out and refused to forgive him when he realised his mistake.
Roo soon discovered that Bobby was actually her niece following Alf's revelations that Morag was Bobby's mother. Soon after, Roo was set up by Nicholas to look like she was trying to break Frank and Bobby up, leading to Frank confronting Roo on one occasion. Roo then went to Phil, worrying that she might be trying to break Bobby and Frank up without even knowing about it. Philip told her she had nothing to worry about, but soon after Alf and Ailsa received a letter left again by Nicholas which included Ailsa and Graham together.
Alf suspected Roo and told her to get out of the house. She was no longer his daughter after pulling a stunt like that and Roo again moved in with Morag at Celia's House. Roo believed Frank must have done it as revenge and then blamed Bobby. To try and avoid suspicion Nicholas started to get chummy with Roo. Philip and Stacey soon uncovered Roo's innocence and told Alf the news. Alf and Ailsa went to apologise to Roo, but so hurt was she by them refusing to trust that she was innocent in the first place, she told Alf that she no longer had a father anymore. Following the completion of renovations on the Blaxland Mansion, Morag and Roo move in together. Roo's uncle Richard, Morag's husband, tried to warn Roo off Morag, however Roo ignored him.
Morag tried to get Roo involved in some of her spying and following the revelation that Fisher was Bobby's father, Roo made amends with Alf, although she stayed living with Morag.
Roo soon got together with a new man in town Simon Yates. Morag was unsure of Simon and began doing some digging on him, finding out that he was a convicted criminal. When Celia's store was burnt down, the suspicion wrongly fell on Simon. Roo was hurt at Morag doing this and moved out to live with Celia. Simon left the bay leaving Roo a note telling her of his criminal past, but he returned the following week.
Dodge, sensing that he might get away with burning the store down, then set Simon up by trying to corner him as trying to commit arson on Morag's mansion. Alf and Ailsa bailed Simon out and then let him stay at the Stewart House. However Roo's heart was broken when Simon realised he was would never be welcome in Summer Bay and left in the middle, dropping a note through Celia's letterbox.
Frank then told Roo that he had feelings for her. Roo quit her job at the Macklin offices, saying that she was no longer able to work together. Alf was unhappy at this and soon after Frank told Bobby that he still had feelings for Roo. Bobby went to confront Roo, however Roo denied there had ever been an affair. Roo then was hassled on the streets by Revhead and Skid after this, but Carly and Bobby came to her rescue. After that event she went to meet Frank in the city and they decided to start life afresh in the city. Roo returned for Duncan's christening a few weeks later. By 1992, Roo and Frank were no longer together and she was later known to have married someone else.
In 2001, Alf went to stay with Roo for a month following Ailsa's death. In 2004, unhappy with life in Australia, Duncan blackmailed Tasha to pay for his flight to stay with Roo in America, a move which Roo accepted. In early 2005 Roo had an accident, causing Alf and Morag to come over to see her. Roo had recently got in contact with her daughter, and when Alf and Morag returned to Summer Bay, Martha returned with them.
Roo eventually returned to town towards the end of 2010 and told Alf she had heard from Martha and Hugo, who were now on the run in the States. She was shocked to find Alf under investigation over Penn Graham's death and was avoiding calls from both her boyfriend Tim and her bank manager. She also had to deal with the fact she was now related to Colleen and, staying at the old family home at the caravan park, soon struck up a close friendship with Nicole. She was interviewed by Detective Robertson about Martha and Hugo and claimed she hadn't seen them but then gave Gina a letter from Hugo and told her she wanted to take the money from the people smuggling operation that Hugo left with Xavier to them. She disillusioned Alf slightly by saying she only went on fishing trips with him as a child to spend time with him but rediscovered her love of Summer Bay slightly when she advised a customer at the bait shop and went fishing with Angelo. She admitted to him that she was suffering from financial difficulties. Gina also learnt this and was suspicious of Roo's reasons for wanting the money. Roo convinced Alf to keep the bait shop open and get Will to look after it and had a go at Robertson after learning he had been getting gossip from Colleen. She made a plan with Gina, Xavier and John to take a job with John, who would pay her with the people smuggling money. She told Alf what was going on and received a warning from Charlie. She attended Bianca's bridal shower and abortive wedding to Vittorio before leaving for the States, telling Alf she'd settle in the Bay when she'd finished.
She came back, having apparently concluded her business in the States successfully, only to find Alf away on a backpacking trip and Morag making her stay in a caravan. After Miles had walked in on her in the shower, she went to the relaunch of Angelo's restaurant where she got drunk, flirted with Angelo and Brax and woke up in bed with Miles the next morning, only to tell him she'd simply got in there because it was more comfortable than hers. She accidentally put her foot in it over Nicole's pregnancy when she assumed she was keeping the baby. When Romeo told her about his cheating on Indigo with Ruby, she declined to take sides but sympathised with Ruby when Xavier and some of the other boys gave her a hard time in the Diner. Uncomfortable with the lack of facilities at the caravan park, she was grateful when Angelo offered to let her stay at his place but turned him down when he made a pass at her, saying she just wanted to be platonic housemates. She began trying to drum up business with John and Brax and was hired by John to organise sponsorship for the surf carnival, managing to negotiate the tension between Angelo and Brax to get them involved (although she didn't manage to keep her promise to do Miles' washing after monopolising his machine).
After spending her first night in her new place drinking Angelo under the table, she was slightly bemused when he invited Liam to move in with them. She became close to Nicole and helped her and Marilyn over one of their blips over the adoption, which also impressed Sid. She invited Nicole to design new surf club costumes for the carnival and, although the showing was a disaster, she persuaded John to let her try again. When Nicole resigned, Roo didn't try and talk her out of it, saying she needed to be strong to survive in fashion, but did rehire her when she changed her mind. She organised a dinner party, inviting Miles, Nicole, Sid and Marilyn along, where she again got on well with Sid, leading Marilyn to think they were talking about her behind her back. When Miles took Marilyn's side, she insisted to both Marilyn and Sid that she wasn't going to take Sid off Marilyn. She helped Nicole with her new designs and also helped her through some Braxton Hicks contractions. However, Marilyn thought she was muscling in on their arrangement and told her to stay away from Nicole. When Nicole asked her to be present at the birth, Roo told her to run it past Marilyn but also encouraged Angelo to support her when they both realised Nicole wanted to keep the baby. When Marilyn relented, Roo looked for excuses not to be involved, eventually admitting she couldn't promise not to interfere with Marilyn bonding with the baby.
She supported Romeo in his attempt to start a boat charter business, offering to be his first client. She set John up with a Twitter account to help publicise the surf carnival but became increasingly dismayed when he started making libellous rants about his opponents. She was called upon to resuscitate Mangrove River president Gary O'Connor when he suffered a heart attack during the event. She tried to encourage Indi after Sid objected to her seeing Romeo again. She also reminded Sid he was committed to Marilyn. She comforted Nicole over Angelo being in hospital and during George's naming ceremony. She spoke to Marilyn about the distance between her and Sid and encouraged the pair to work it out as well as looking after Liam during his drug relapse and seeing him off when he left town. She encouraged Sid to give Romeo and Indi's relationship a chance and arranged for Romeo to see a journalist to give his business publicity. She accepted John's offer to get involved in a tourism idea he was looking into and seemingly gave April some help in tracking down Liam. She seemed uncomfortable when an old friend, Laura Carmody, tried to contact her and then turned up in town but agreed to let her stay with her and work with her on organising a hospital fundraiser.
When Sid asked her to dissuade Nicole from taking George back, she refused. When Marilyn then kidnapped George, Roo was reluctant to go on a trip to Melbourne to discuss sponsorship but Nicole persuaded her to, only for her to run into Marilyn in the airport toilet and take them to back to Summer Bay, where she returned George to Nicole and said a brief farewell to her and Angelo. She was annoyed when Marilyn subsequently told her to stay out of her and Sid's relationship. She offered to help Romeo by repairing the engine on the Blaxland but it broke down again soon after. Afterwards, she was shocked when Morag told her she was planning to take a job at a law firm in the city and said she'd miss her. When Romeo ended up being caught up in a drugs bust, Roo persuaded Morag to let her mentor him. When she overheard Ruby talking about the teens going surfing at Nelson's Noose, where surfers had been killed or left disabled in the past, she made her promise not to but didn't tell Charlie until some time later.
She accepted John's offer to go to a business conference in Hawaii in his place and invited Romeo to accompany her. She was slightly uncomfortable when Romeo arranged to take Indi with him and even more so when they announced they were getting married over there. She called Sid to tell him and tried to talk them out of it but supported them during the ceremony. When Sid then kissed her, she turned him down, since she was still seeing Marilyn, but when one of the conference attendees, Marty, pointed out she obviously liked him she ran after his taxi but failed to stop him leaving.
She was shocked when she returned to find that Marilyn and Sid had broken up and agreed to Romeo and Indigo moving in with her and Laura. She then had to face Morag asking her if she was responsible for the break-up. She went round to see Sid to try and put an end to the rumours but ended up kissing him instead. She went round the next day and they agreed to be a couple, only for Indigo to walk in on them and accuse them of cheating on Marilyn. With things tense between her and Indi at home, she decided to go and stay with Sid.
She organised the ball at the farm alongside Sid and Laura, where she made an uncomfortable attempt to make peace with Marilyn and then found Bianca after she had been raped. She criticised Laura for selling tickets to the event to the River Boys and was then abused by a returned Alf for her supposed affair with Sid. She made her peace with them both and said goodbye to Laura when she left town. Alf tried to make peace between her and Marilyn by inviting them both to a welcome home dinner but it ended with them arguing over the clearing up and both storming out. She tried to smooth things over between the Walkers by having Sid take Indigo and Romeo some family items but it backfired when one of the items belonged to Marilyn. She also learned Colleen disapproved of her. She tried to sort things out by inviting Alf and Morag to eat with her and Sid but Alf hardly said anything and later admitted he was worried how Sid would treat her.
She began to feel Sid and Dexter were taking her for granted, expecting her to do the cooking and shopping and even asking her for money for Dexter's school trip. She tried to revitalise the relationship by asking Romeo to take them out for a picnic trip but Sid cancelled and she spent the evening watching April and Dexter loved up before deciding to move out. When Alf found out she was staying at a motel, he invited her to move back in and she and Marilyn began being overly polite to each other. She agreed to Marilyn giving her a tarot card reading but it indicated she and Sid would be going through a rough patch. Sid tried to organise a picnic for them but Alf and Romeo invited Indigo along on the boat and they clashed again. Roo tried to stay out of the family drama but when Indi came to apologise to her they got talking and Indi admitted she had been overreacting because she was stressed about all the changes in her life.
Alf decided to sort out the tension between her and Marilyn by telling them they had to cook a meal for twelve people; in fact, it was only the two of them but the time together cooking and eating it helped them get on. She was the first person to learn Leah was pregnant and helped convince her to talk to Miles. She was shocked when Sid's wife Jody turned up during a romantic dinner and revealed they were still legally married. She felt Sid's family would always be a priority over her and broke up with him. When Alf lost his mooring, she tried to get an article printed in the local paper supporting him. She went to help Sid when Dexter found him getting drunk but he simply told her to go away. He later came round and apologised but wouldn't tell her what it was about. She met Sasha Bezmel when she came looking for a job with Marilyn and took her to the Diner where she persuaded Leah to employ her. She was shocked when Sasha then revealed she was Sid's daughter.
She asked Romeo to take Dennis Harling, the head of the development, out to look at the site but Alf refused to let him take the boat out in a storm. Harvey Ryan offered to take them instead but the boat sank in the storm and the party had to be rescued by Alf and Romeo. She ended up taking over the running of the Diner when Irene's breast cancer and Leah's pregnancy meant they both had to give up work. She showed Sasha the ropes despite still being on bad terms with Sid only for Sasha to steal from the place. When she learned Sasha had been stealing to help her runaway brother Felix, who was in hospital, she tracked Sasha down and defended her to both Sid and Leah, helping her keep her job.
She was then asked out by Harvey and, although she seemed bored on the date, when he bombarded her with flowers she agreed to a second one. However, she misunderstood a phone message Sasha passed on and Sid turned up in the middle of the date, thinking she'd agreed to see him. She realised Sasha had deliberately not put them straight but accepted her apology. She continued to see Harvey and they shared a kiss and she ignored Romeo and Indi's warnings about him, joining him on a picnic. She initially didn't invite Harvey to John's birthday party but asked him to stay when he turned up at the restaurant and ignored Sid's fears about him, even when he said Harvey had warned him off her.
As the agent on the Braxtons' house, she had to deliver a warning to them when John and Gina complained about the noisy parties. She sympathised with Charlie when the news about her relationship with Brax came out and tried to stop Colleen saying anything about it. She pulled away from Harvey a bit but when he suggested they break up she kissed him. When Sasha, who Sid had accused of stealing prescription drugs, turned up wanting to rent a caravan, Roo took her home but also chided Sid for his behaviour. She supported Harvey when he wanted to buy the Blaxland off Alf, disbelieving Romeo's claims he had sabotaged the boat and suggesting Harvey offer Romeo a job to mollify Alf. She was recruited by Leah, Marilyn and Elijah to run a breast cancer fundraiser and ran into Sid, who told her he still loved her. She was left confused by her feelings but, when she overheard Harvey making plans for the boat, she realised Romeo had been right about him and broke up with him, causing Alf to pull out of the sale. She then went round to see Sid but he told her to forget what he said.
She learned from Xavier that Stu had driven off in his car with Sasha and was tempted to call the police before they turned up safe. She confronted Harvey when he tried to blackmail John and was disgusted when he offered to drop the matter if she got back with him. She was annoyed when she saw Sid having lunch with a younger woman, Carrie, and mouthed off about it to Alf, Marilyn and Irene. She considered getting back with Harvey when he apologised for his behaviour until she learned he was still gunning for John. She was pleased when Irene told her Sid still liked her and she received a letter inviting her to a surprise date, only to leave when she found out it was from Harvey. Harvey asked her to be his campaign manager when he stood for John's old council spot while Leah and Gina tried to persuade her to stand against him. Instead, she persuaded Alf to stand. She arranged a lunch date with Sid when he supported her against Harvey but had to cancel to cover at the Diner. She later had dinner with him, where they shared a kiss and she spent the night. She agreed to help look after the caravan park after Miles left. She was a chaperone at the school dance where she saw Sid beating up Stu for hitting Sasha. She took Dexter and Sasha home and supported them but refused to condone what Sid had done and left.
Not long after, Roo ended the relationship.
She organised Bianca's hen party but the stripper she hired, Nathan Cunningham, fled after recognising Bianca and Gina as his old teachers. She supported Alf in his election campaign, clashing with Harvey's new girlfriend Kathy, only to see Harvey romp home. She joined Alf in persuading Irene to get out of the house after her heart scare but spoiled the effect by walking into a truck when she was distracted ogling Harvey, causing Irene to suffer a panic attack. She also tried to help Ruby when she moved into the caravan park and stopped her throwing away a box of Charlie's things before convincing her to stay in the house after she and Dexter found her collapsed from heavy drinking.
Along with Alf, Marilyn and Liam, she organised a karaoke night to cheer Irene up but was put off her performance when Harvey turned up with his new girlfriend Fleur Simpson, the mayor's niece. With Dennis' development closed down, she reluctantly took a job with Harvey working on his plans to turn the development site into an eco park. She and Harvey repeatedly clashed and she ended up quitting after a disastrous trek through the site left them both covered in mud. With Irene ready to return to the Diner, she asked for the job back but Harvey made her reapply. After spending time working on her pitch, she learned she was the only candidate and pushed him into a swimming pool, then accepted the job.
When Sid asked for Morag's help over Stu's death, Roo initially believed Sid had killed him until she learned Sasha was responsible and helped support the girl. Roo seemed jealous of Harvey's relationship with Fleur, but missed a dinner with him because of her involvement with the Walkers. She was annoyed that Alf asked Harvey to help out with a fundraiser and not her and set up a stall that raised $2000, only to be outdone when Harvey and Fleur arranged storage and a $10,000 donation. She retaliated by flirting with Dale Canning, a carpenter that Harvey introduced her to. When Harvey boasted about a date with Fleur, Roo claimed she was going out with Dale and ended up taking him to the same restaurant as Harvey and Fleur. When Roo and Harvey spent the evening eyeing up and sniping at each other, their dates walked out on them. Harvey later came to her house and kissed her and she threw him out. However, with some encouragement from Marilyn she resumed the relationship. Like Marilyn, she was irritated by John's idiosyncrasies while staying with them and tried to encourage Gina to take him back. They staged an intervention where they told him what was annoying them about his behaviour, prompting him to bin the dinner he'd made them and storm out. She then joined Harvey in making fun of him, unaware he could hear them. She celebrated when he moved out soon afterwards.
She was worried that she and Harvey always seemed to argue so took him out to an island for a picnic, only for him to collapse with food poisoning after bringing some oysters along. She agreed with Harvey's request to stay with her while he recovered but was annoyed to find out it was because his ex-wife Melissa and their daughter Lottie, who Roo didn't know about, were staying at his house. She insisted on getting to know Lottie and the three of them had a picnic together. She invited Harvey and Lottie round for dinner and ended up inviting Gina and John as well so the two men could bury their differences but it descended into an argument. She was annoyed when Harvey admitted to her that he had only been elected because Mayor Coombes rigged the election, especially since he was only telling her because it was about to be in the papers. When Sid told her Harvey had had a son who drowned, she was upset that Harvey couldn't tell her. She tried to get him to confide in her then, when he found out she knew, they were interrupted when he was arrested for his part in the vote rigging. However, he eventually admitted his feelings on the matter to her.
She encouraged Indi to see Logan Meyer and also supported Ruby while Romeo was in hospital with a knee injury. She both convinced Ruby to let Indi see him and suggested she give Romeo something to work towards. She helped organise Colleen's farewell party and convinced her to go when she suffered some last minute doubts. She supported Harvey during his trial and, when he pleaded guilty and escaped a jail sentence, told him she loved him. He began to resent the decision he'd made but she convinced him to let her and Lottie help him. When Alf returned, they argued on the phone over her dating Harvey and she failed to realise he had collapsed. When she found out he was in hospital with malaria, she visited him but told him to stay out of her and Harvey's relationship.
She tried to stay out of Harvey's family problems when Lottie asked if she could stay with her and Harvey because Melissa never had time for her, convincing her to go home to Melissa, but then she found that Melissa was sleeping in her car and it became clear Melissa wasn't coping with Lottie, who turned up at the caravan park saying she'd run away. Roo agreed to her moving in with them and when Lottie started spending all her time cooking and cleaning Alf convinced her to reassure the girl. Lottie overheard her saying she had difficulty relating to her unusual behaviour and responded by skipping school to show her how a normal teen behaved, until Roo told her she liked having her around. Despite concerns about Lottie's memories of Ben, she accompanied her and Alf on a fishing trip as part of a geography project and learned Lottie was more concerned about not taking her advice than being out on the water again. However, she was thrown when Lottie assumed she was going to be living there permanently. She shared her concerns about being a full-time stepmother with Alf and Harvey, who both reassured her.
She began making plans with Harvey and Lottie to run the Blaxland together but Melissa then announced she was moving to the city and wanted Lottie to come with her. Roo supported Harvey when Lottie asked to stay with them and was bothered when he suddenly seemed ready to allow Melissa custody. She confronted Melissa who told her Harvey was drunk when Ben died and they'd both lied to the police about it, which Melissa was now threatening to bring up. Roo told Harvey that she knew. She continued to support him but ultimately Lottie returned to live with Melissa.
With Harvey depressed in the aftermath, Roo suggested they give fostering a try but Harvey reacted angrily to the idea. He later suggested they try for a child of their own instead. Roo reacted angrily in turn, admitting she felt that after giving Martha up she'd had her chance to be a mother, and they ended up agreeing to get married. However, they instantly had different ideas: Roo wanted a big white wedding while Harvey wanted a simpler affair. She ignored an e-mail from her old boyfriend Tim Graham, only for him to turn up and announce that he'd left his wife for her. He told her he was setting up a business in the city and wanted her to give her opinion on it. She was annoyed when she read Tim's proposal and realised it was an idea she'd come up with in New York. He offered to give her credit for the ideas but she asked for a job instead. Alf tried to help her see that it was hard on Harvey but Harvey wrecked his work by trying to ban Roo from taking the job. She went to the city with Tim to look at the office he'd rented, where Tim kissed her. She gave him short shrift and told Harvey what had happened but couldn't deny having feelings for Tim. However, she refused to give up the job. Alf told her she needed to make a choice so she told Tim that, while she was tempted by him, she'd made a commitment to Harvey. However, when she returned home Alf told her that Harvey had left town thinking she'd chosen Tim and he ignored her calls when she tried to contact him. He eventually phoned her and, when she explained the situation, he returned only to reveal that he'd slept with Melissa while he was away. Harvey decided to move out as a result.
When Marilyn suggested a cleansing ceremony to get rid of her feelings for Harvey, she decided to burn his stuff instead but couldn't go through with it. However, she told Harvey she wasn't ready to move on and could only start seeing him again if they pretended they'd only just started dating. Harvey refused the terms and instead took her out on the Blaxland. After they'd spent the night there and discussed their mutual jealousy, they acknowledged they were drawn to each other and Harvey proposed again. Alf gave the pair a cheque as an early wedding present but Roo was annoyed when Harvey spent more time helping Alf with the surf carnival than organising the wedding. Harvey admitted he'd asked Alf for a loan and felt he owed him, prompting an argument in which they both said they should forget the wedding. She made Harvey sleep on the sofa but, after speaking to April and Dexter who had just been to Rocco's funeral, she put things in perspective and made up with him, with Alf insisting they keep the money.
She advised John against starting something with Marilyn and defended Marilyn when Gina accused her of going after John. Roo pressed ahead with her wedding plans, managing to annoy both Alf and Harvey with her obsessive behaviour. She eventually admitted she was having trouble getting on top of things and Harvey suggested she take a week off to get sorted. When she returned, she was disappointed to find Leah had left town and so couldn't be her maid of honour and so promoted Marilyn, who she'd asked to be her bridesmaid, into the role and told Harvey he needed at least two groomsmen. When he refused point blank to have a best man, Alf explained to her that he had no-one to ask, so she got the number of an old friend, Winston Markman, from Lottie and asked him to come and do the job. Harvey was horrified, since he'd been trying to get rid of Winston ever since he'd latched on to him at school. When it became clear Harvey wasn't happy, she planned to cancel Winston but Harvey decided to accept the arrangement. Marilyn admitted she hadn't organised a hens' night but Roo accepted the situation without complaint, saying Marilyn was like a sister to her. She was pleased when Morag and Celia turned up for a small gathering at the house but Celia took a dislike to Harvey. Finally tiring of the jibes, she went to find him but stumbled upon him berating Winston and told him the wedding was off. She changed her mind after Winston accused her of being scared and told her how Harvey had always stood by him and the wedding went ahead, after which they left on their honeymoon.
Shortly after they returned, they found Roo's aunts still in residence and they began competing to look after Harvey when he was diagnosed with chickenpox. Roo became interested in the case of Spencer and Maddy, a teenage brother and sister who did a runner from the caravan park. They claimed to have been orphaned and that they were waiting for their parents' money to come through. She worried they were behind some thefts at the caravan park and, when Sasha mentioned someone was sleeping at the school and had taken her lunch, got her to leave them some food and a note. The pair rang her for help when Maddy fell sick so, at Harvey's suggestion, she let them stay at the caravan park only for them to promptly disappear again. When she tried to research the pair, she could find no mention of the accident in which their parents were killed. She insisted on cooking extra food in case they turned up and, when the pair came to the house to get help for an injured Romeo, Roo got them to stay again. She then found out Maddy had been reported as missing and she and Harvey confronted the pair who admitted they were actually a couple who had run away from home after their parents wouldn't let them be together.
Roo was reluctant to inform the police where they were, wanting to rely on gentle persuasion instead. She covered for them when Maddy was admitted to hospital with meningitis and was annoyed when Harvey alerted the police behind her back, meaning Maddy's parents would be told where they were. She insisted Harvey tell Spencer what he'd done. When no-one turned up, Roo questioned Senior Sergeant Emerson who revealed Maddy had told her mother she'd run away again if she came after her. Roo admitted to Alf she wasn't sure if she could look after them full-time. She summoned Maddy's mother Tanya to town and talked Spencer into convincing Maddy they should both go home but was concerned to learn Tanya intended to send Maddy to boarding school. When Spencer returned to town soon after having fallen out with his father again, Roo encouraged him to go and find Maddy, only to be left with a dash to the bus stop to stop him leaving when Maddy turned up as well. When Spencer's father Ian turned up to try and get him to come home, Roo defended the pair and she, Harvey and Alf agreed to let them stay on condition they attend school. She began helping them settle in, buying them uniforms and equipment.
She tried to help Romeo and Indi with their plans to buy the surf club gym and, when they asked for her advice on publicity, she and the rest of the town began pitching in ideas and taking over the arrangements until the pair announced they would be making the decisions with Roo as a consultant. She had a hard time getting Maddy to do her homework and they began to clash, with Maddy rebelling after the restrictive regime she'd experienced at home. Maddy eventually told her that she'd never felt comfortable enough with her mother to bicker with her but Alf worried that Roo and Harvey weren't spending any time together. When Maddy worried she was causing Roo and Harvey to argue, the couple decided to talk Alf's advice and have an evening together at Angelo's. Maddy still had trouble obeying her and Roo had to drag her home when she went to the beach instead of doing her homework. She was initially angry when Alf threatened to throw Maddy out if she didn't do as she was told but, after Marilyn and Harvey sided with Alf, made the same threat herself when Maddy refused to help with dinner. Maddy realised they were both bluffing but agreed to obey their rules.
Roo advised Maddy about feeling ready to sleep with Spencer and told Harvey to talk to Spencer about the subject only for Maddy to end up upset when Spencer rejected her after Harvey gave him conflicting advice. When Rosie came to the Diner and revealed that she'd been raped, Roo took her to the hospital with Sasha and, on learning it had happened at the caravan park, consulted with Alf and Harvey on how to stop it happening again. She and Harvey exposed Chris' attempts to cause a rift between Spencer and Maddy. When she found out Indi had started sleeping with Chris, she warned her that Chris was taking it more seriously than she was. She joined Marilyn in organising Gina's funeral and warned Marilyn that John might be developing feelings for her.
She had to handle the fallout of Maddy and Spencer's break-up and encouraged Maddy to make new friends when she felt like a third wheel with Spencer and Sasha. When Maddy suspected Holly Chapman was lying about Zac sexually assaulting her, Roo convinced her to speak out. She was concerned when she discovered Spencer had begun seeing Sasha and was hiding it from Maddy, being unhappy about having to lie to her, and told Spencer that she knew. She worried Marilyn was getting too close to John after Gina's death and staged an intervention with Harvey and a reluctant Alf to convince her to move back home after she'd stayed with the family. The experience left Marilyn depressed and Roo tried to cheer her up by getting Irene to order some tofu wraps from her, even though they never sold, and asking her to give the house a feng shui makeover. Marilyn accused Roo of patronising her and then admitted she did have feelings for John. Roo felt her getting involved with him was a bad idea and encouraged Marilyn to stay away from him, taking responsibility when John realised she had been lying about being ill..
She was worried when Maddy started spending time with Casey, thinking he was a bad influence on her after catching them drunk together. She tried to order both of them to stay apart and even involved Brax, insisting he needed to find Casey when he and Maddy stayed out all night together at a club., When Roo saw Maddy coming out of Casey's caravan upset and dishevelled, she assumed he had assaulted her and threw him out, as well as telling Brax. She relented when Maddy revealed she had come on to Casey and he had turned her down. She trusted Casey to look after Maddy at Heath and Bianca's wedding reception, only for them to be run off the road, leaving Alf and Roo searching for hours before finding them. Roo was even more concerned when Maddy began spending time with Josh Barrett, who had been in the other car during the accident, and stopped Roo from throwing him out of the Diner. Roo told Alf and Marilyn who Josh was but felt she couldn't stop them seeing each other. However, Alf attempted to do so by reporting Josh to the police. He was soon released but Roo refused to believe he was the innocent party when he got into a fight with Spencer. When Maddy hid a homeless Josh in her room, Alf threw him out, causing Maddy to run away. Roo softened slightly after her return and allowed Josh to stay with them for a while.
When Sally returned to town, Roo felt uncomfortable around her, feeling she'd never managed to live up to Sally's image as the perfect daughter with Alf, and suspected she was hiding something. She became more sympathetic when that something turned out to be the fact her daughter Pippa was seriously ill and, with Alf, Marilyn and Harvey, tried to buy the house to raise money for Pippa's treatment, only to be refused a mortgage. When Sally was reluctant to move into the house, Roo forced the issue by moving herself and Harvey out to a caravan, leaving their room empty. She was concerned when she found out Marilyn was going into business with John and tried to involve herself but Marilyn assured her she wouldn't get hurt. She busied herself organising Bianca and Heath's wedding and had to organise it again when the first attempt ended in disaster and they married a few days later. Roo and Harvey got in touch with Winston, who bought the Blaxland off Alf to help fund Pippa's treatment but also turned out to be broke, something they tried to hide from Sally and Marilyn. She and Marilyn threw Sally and Pippa a farewell party. When Winston became rich again after selling a patent, he invited Harvey to sail around the world with him and Roo saw him off.
She arranged for a journalist to attend the first trip of John and Marilyn's bus tour but he didn't turn up. Sasha told her that Spencer had bipolar and she tried to make up for neglecting him by inviting him to dinner and convincing him to stay at the house while Maddy was away. When Maddy and Josh were suspected of burning down Mangrove River High, Roo suggested to Josh that he was just causing Maddy trouble, resulting in him briefly breaking up with her. However, Roo then received the news that Harvey and Winston's boat had gone missing. She insisted on returning to work but was frustrated by Leah, John and Marilyn keeping an eye on her and Indi comparing the situation to her losing Romeo. She was further frustrated when she invited John and Jett for dinner only for Jett to be on eggshells talking about his split with Nina. She was asked to help April and Dexter out with their wedding but broke down on seeing her and Harvey's wedding photo, then learned that Winston and the yacht had been found but Harvey had been washed overboard. She was annoyed when Marilyn summoned Alf home against her wishes.
When she learned the search had been called off, she accused everyone of giving up on Harvey. Roo considered going out to Hong Kong to look for him, then broke down in Alf's arms before deciding to go and visit Lottie. She learned John and Marilyn had been hiding the fact they were a couple and blasted Ricky when she learned Maddy had spoken to her rather than Roo about her drink being spiked, since Maddy had been worried she couldn't cope with it. She decided she needed to let go and held a memorial for Harvey down by the wharf with Alf, Irene, John, Marilyn, Jett and Maddy in attendance. Maddy asked to go to a music festival with Josh, claiming they would be sleeping in separate tents, and Roo reluctantly agreed, asking Spencer to keep an eye on them. At the end of the year, she returned home with Alf and Maddy to find Harvey waiting for them.
Roo was delighted to have Harvey home but it was clear that he had been changed by his experience and had difficulty settling back into life in Summer Bay. He abruptly left again, saying he was going to stay with Lottie for a bit. Roo gave Maddy advice over Josh getting friendly with Andy again and realised they'd slept together. John and Marilyn took her out for dinner to take her mind off Harvey but being around a couple just made her uncomfortable. She tried to talk to Harvey when he returned but he once more clammed up on her. She arranged a date for them to get to know each other again but Harvey quickly bailed, and when she forced him to talk to her, he blamed her for convincing him to go on the boat trip. He then moved out of the house, with Roo only finding out because she came home unexpectedly. He eventually decided to leave town to see more of the world and asked Roo to come with him, which left her shocked. After Maddy, Marilyn and Sasha organised a girls' night in to try and cheer her up, she went to see Harvey and, when he wouldn't commit to her, asked him for a divorce. They arranged a family meal to tell Spencer and Maddy that Harvey was leaving but when it went badly and Harvey refused to talk to them again Roo told him to just go. However, they managed to part on good terms.
When John asked for her help in setting Irene up with a man, Roo quickly threw herself into arranging a romantic dinner for them at the house, which ended up turning into a friendly meal when Irene's date cancelled, and then comforted Phoebe after she became disillusioned with Kyle. When she learned Alf was reluctant to replace Harvey at the boat business, she persuaded him to give Denny Miller the job. She offered Spencer a place to stay when he fell out with Sasha. Not long after, Colleen had an accident in the States and injured her foot. She sent messages home asking for one of her family to come and help her through her convalescence. Roo eventually agreed after Maddy helped her see Colleen was merely lonely and left Summer Bay for several months.
She returned to find John and Marilyn engaged and living in the house on a trial basis, and Maddy planning to move into a caravan with Josh, which she quickly refused her permission for. She offered to stay in a caravan so Jett could continue using her room but was reassured. While she was home alone, she suddenly collapsed but wasn't found until several hours later when Maddy came home and had her rushed to hospital. It was eventually discovered that Roo had meningitis but Nate had trouble identifying the exact type. She needed to have fluid removed from her brain but showed no improvement afterwards. Nate then discovered growths on her brain and Alf discovered she had left Las Vegas weeks ago. It wasn't until Maddy found her passport that it was discovered she had been to Peru and suffered a reaction to her inoculations and she could be given the correct anti-virals. However, she refused to explain why she'd gone there and ended up in an argument with Alf when he tried to question her but eventually admitted she was fed up with people knowing her business.
She advised Marilyn to stick to her guns when she refused to move in with John. She volunteered herself as John and Marilyn's wedding planner and was soon planning a bonanza rather than the quiet affair they had wanted. She attempted to get Marilyn to choose a matron of honour and was thrown when she chose Irene instead of her. She realised Marilyn had done it because she was too full on and agreed to back off, at which point Marilyn asked her to be bridesmaid. When John was reluctant to invite people to the wedding, she suggested he was worried about money. She made an unsuccessful attempt to talk Maddy out of quitting school and convinced her to stop using Oscar to make herself happy. She was determined Maddy should return to school rather than get a job and when she found out she was looking for work at the gym she asked Casey not to hire her. She was annoyed when Casey did just that but Casey told her he was going to give Maddy a hard time so she'd want to return to school and Roo told Maddy she supported her.
She convinced Spencer to let her, Irene and Marilyn try out his bridal boot camp idea but was left exhausted by the gym session while the others enjoyed themselves. She played match maker between Leah and Zac and tried to talk Maddy out of spending time with Josh when she still had feelings for him. She discovered Josh had slept with Maddy and then rejected her after Casey's death, and tried to get Maddy to open up to her when the liaison became public knowledge. She told John that the wedding venue needed the deposit paid. When John and Marilyn got cagey about a trip to the city, Roo realised they were going to elope and insisted on going with them. The number of people going increased until John and Marilyn decided to forget about eloping, leaving Roo grumbling that she had just cancelled the original wedding. She tried to reorganise the wedding but couldn't get the reception venue back and overheard John criticising her. However, Roo was determined to go ahead when Marilyn decided to cancel after a minor mishap and got everyone to pull together, but was angry when Maddy went shopping instead of doing her share. She arranged a flypast after the wedding but refused to let Maddy drunk a glass of champagne at the reception, then ended up arguing with her when found her drunk outside. She was then told by Oscar that Maddy had stolen her credit card to buy clothes and demanded she pay it back.
When Marilyn tried to retrieve the meditation CDs John had been selling, Roo got curious and played one, nearly broadcasting John saying only chumps bought the CDs to the Diner. Maddy then admitted she had been fired for stealing from the gym. Roo paid Andy back the money, thinking it was better Maddy owed her than him, and turned down his offer to try and get her job back, wanting her to go back to school instead. She arranged for Maddy to do a bridging course to continue into Year 12. Roo took Maddy to hospital when she fainted, where Nate told them she was pregnant. Maddy was reluctant to confide in Roo but Roo overheard her telling Oscar that Josh was the father. She put the hard word on Josh, insisting he had to be there for Maddy and the baby. Roo suspected Oscar was the father when Maddy appeared further gone than she should have been and tried to get her to have an ultrasound. When Maddy refused to budge, Roo lost her temper and called Maddy a spoilt brat, so Alf suggested she go away for a while. She returned when the truth came out and accompanied Maddy to an ultrasound which showed she wasn't pregnant. She supported her when it turned out she had cancer and asked Oscar to talk to her about getting treatment. As Maddy waited at the hospital to begin her chemotherapy, Roo went home with Alf to get her things where she broke down in tears.
When Roo discovered Maddy had run off, she wanted to go to the city to look for her and was furious when Spencer sent Oscar instead but was convinced to leave him to it. She helped organise for VJ to stay living in Summer Bay while visiting Leah, who was in hospital in the city. Oscar did eventually return with Maddy and Roo supported her as she underwent chemotherapy and took her to hospital when she developed a fever. She was involved in the planning for the Colour Run to raise money for cancer sufferers and convince Maddy she wasn't on her own. When Maddy talked about going back to school, Roo asked Zac about the possibility of her being allowed into Year 12. She arranged for Spencer to help her out with catch-up assignments and tried to talk her into carrying on with treatment when her initial round of chemotherapy didn't work, with the Colour Run eventually convincing her. She was a sympathetic ear to Alf when he was depressed about the teens' attitude towards Anzac Day. When Maddy summoned Tanya to town to tell her about her cancer, Tanya blasted Roo for not telling her. Roo was devastated by the idea that Maddy might go back to live with Tanya, then heard that Alf had been rushed to the city after collapsing on the Anzac Day trip and went there to visit him. She ended up smuggling him out of hospital so he could attend the commemoration. Maddy decided to stay but Roo had to say farewell to Spencer when he went back to his parents.
She moved to the city for a while to keep an eye on Alf. They returned without a diagnosis but when he had another attack Nate suggested PTSD. Alf refused to accept the diagnosis, despite Roo trying to get him to see a counsellor. She attended Ricky's baby shower and gave her a baby gown, and spoke to Jett about Alf's military service when he was considering joining up. She counselled Maddy after she learned Evelyn and Josh had tried to set her up with Matt, and told the pair Maddy just wanted to be treated like normal. She was pleased when Alf started attending counselling but learned from his counsellor, Maria Carmichael, that he had left after just a few minutes. She brought Maria to the house and convinced Alf to talk to her. When Alf suffered a panic attack at home, Roo called Maria and listened in on their sessions. She left for a lecture in the city and missed the memorial for Brax's assumed death but returned to advise Maddy on re-consummating her relationship with Oscar and express her upset when it looked like John and Marilyn might be leaving. She attended Jett's farewell party.
Roo began having secret conversations with James Edmunds, who turned out to be an old school friend now working as a doctor and lecturer. He convinced her to apply for a job as marketing lecturer at the local university. Her first day at university didn't go too well when she accidentally showed the class slides of her holiday in South America but Marilyn and James reassured her. She had a coffee with James and invited him to be her date at Casey's baby naming ceremony and ran the uni stand at the open day. When she and James had dinner at Angelo's, she tried to follow the rules in a magazine article Irene and Marilyn had showed her but it just made things awkward. Next day, Irene and Marilyn brought her to see him by the beach and they kissed.
She ended up sharing a room with Maddy and Evie when Leah and Zac's family moved in after their house burned down, and came up with the idea of combining Irene and Chris' ideas for a fundraiser for Leah and Zac into a banquet with topless waiters. She stayed out for the night after going on a date with James and agreed to the two of them having dinner with Irene, Marilyn, John and Alf. However, she was upset when she heard Alf saying he didn't trust James. She introduced him to Maddy and told Alf and Evelyn that a drug dealer on campus had put one of her students in hospital. When she found out Hunter was intimidating Leah, she encouraged her to speak to Zac. She and Leah were the ones who found Marilyn after she was electrocuted in an accident at the Diner. She visited Marilyn when she came round from her coma and was one of the few people she remembered, helping fill her in on her current life. She asked James about meeting his parents but he told her it wasn't convenient and instead asked her to move in with him. After speaking with Maddy who agreed to join her, she agreed. She encouraged Ricky to pursue a relationship with Nate. When she learned Kyle had made unwanted advances towards Maddy, she stormed round the house to have it out with him but Maddy declined to take it further.
Shortly after she had moved in, James proposed to her and they got engaged, but Alf made it clear he disapproved. She invited Alf to Maddy's birthday breakfast but dismissed his claim that James had threatened him. When they ran into Claire, John and Marilyn's celebrant, James suggested they get married straightaway but Alf interrupted the ceremony, announcing James wasn't who Roo thought he was and had never worked at the hospital in Blue Mountains. James explained he had used his middle name there but Roo felt the wedding was ruined and called it off, apologising to Alf and Maddy for trying to get married without them. When James was injured trying to stop an aerosol can exploding at Maddy's party, Roo rushed to the hospital to find his wife Megan had been summoned. She quickly slipped away, not saying anything to either Megan or Alf and Maddy. She eventually visited James, who admitted he had a wife and daughters in the Blue Mountains but insisted he was going to leave them. Roo ignored Alf and Irene's disapproval and, although she returned James' ring, told him she was going to keep seeing him. She asked Alf and Maddy to respect her decision, although it resulted in Maddy moving out. She was uncomfortable when Megan confronted her and showed her pictures of her family. Finding herself increasingly isolated from her family, the discovery that James' parents were dead was the last straw; she walked away from him, telling him to get help. She then set about building bridges with her family.
When Maddy told her about Matt liking her, Roo advised her to tell him that she was flattered but nothing could happen. Matt accompanied Maddy to a hospital appointment and Roo suggested that he loved her. She received a letter from James and hid it from Alf but confided in Maddy. She eventually admitted to Alf she was considering getting back with him so he offered her money to go away on holiday to Hawaii. She returned to find Oscar missing, having just broken up with Maddy. Although that was quickly resolved, she then commiserated with Alf over the news of Denny's death. She attended Zac and Leah's wedding as bridesmaid and witnessed their first dance.
She cautiously supported Maddy moving into Matt's caravan with him but soon after she gave notice on the house she had shared with James and instead rented the flat over the Diner, inviting Maddy and Matt to move in with her. Maddy initially turned down the offer but Roo put the hard sell on Matt until he agreed. The arrangement soon hit troubles when Matt used a skateboard as an ornament, followed by Roo walking in on Matt and Maddy about to have sex in the front room and Matt walking in on Roo in the bathroom. When an attempt at an intervention failed, Roo agreed to treat them as flatmates and let them do their own cleaning and cooking. She was reunited with Morag when she came to town to represent Zac after he was accused of killing Charlotte and attempted to talk down a lynch mob at the caravan park. She helped Olivia look into Claire Lewis, Irene's alleged daughter.
She learned from her uni colleagues that Matt hadn't handed in an assignment and questioned him about it, only to learn he was dropping out. Oscar tipped her off to the fact that Maddy was being bullied online, after defending Matt from the abuse he was suffering over his sex tape with Charlotte. When she realised how spooked Maddy was, she insisted she call the police and tell Matt what was going on. She helped out at Ricky's wedding by altering her dress. She was hired to organises a hospital fundraiser and thought she was on top of everything, until she discovered the Sands had double booked, prompting her to move the event to the caravan park. However, the event was hit by an explosion and Roo was left trapped under rubble near Oscar's body until Chris, John and Ash found her. She supported Maddy at hospital and talked her into having an arm amputated in order to save her life. She agreed with keeping the fact Andy had caused the explosion secret from Maddy and tried to talk Maddy and Matt out of ending their relationship, only for the pressure to cause Maddy to run away. Roo had to inform Tanya, who again blamed her for being kept out of the loop. Alf convinced Tanya they were on the same side and Maddy was soon found.
Not long after, Sergeant McCarthy told her that the investigation had shown that she had failed to do the proper safety checks and the set-up had been potentially hazardous: The gas canisters used were unlicensed and out of date. Even though she wasn't charged and Alf, Leah and Zac all assured her they didn't blame her, Roo felt guilty about the role she might have played in the explosion, breaking down in tears over a photo of Oscar when she stayed the night at the caravan park house. She was plagued with nightmares and unable to sleep, so Bernice Chung prescribed her diazepam. She was thrown when Tanya arranged for Matt to bring Maddy home from hospital and announced that she'd offered to let Maddy do rehab with her in the city, and told Maddy the accident was her fault. Maddy refused to blame her but Tanya attempted to sue her for medical expenses until Maddy put a stop to it. However, Maddy then told Roo she was going to go travelling with Matt after doing her rehab in the city. Roo threw herself into organising a going away party for them and afterwards Maddy thanked her for taking her in but Roo was shocked when she left the next morning without saying a proper goodbye, having decided to go without Matt.
This sent Roo into an even deeper depression; not only did she take more of her prescription than directed but she took some of Maddy's old painkillers as well, and was found by Alf wandering along the wharf in a confused state. When Matt also moved out, she went to Bernice for more pills, claiming she'd thrown out the old prescription. Matt found her passed out on the couch and she threw the pills away, then retrieved them from the bin when she thought he'd gone. When Alf and Matt staged an intervention, she initially denied having a problem but later gave Alf her pills and was buoyed when Matt moved back in.
She rushed to the hospital when Alf had a heart attack and then a stroke. Alf came round after a visit from Marilyn but had lost some of his movement on his right side. Against Alf's wishes, she hired Justin Morgan to manage the bait shop in his absence only for Alf to find out and order her to close it, meaning she had to lay Justin off. She decided to move back in when Alf insisted on discharging himself but ended up on the receiving end of his moods despite trying to stand up for herself. She was worried when Matt defended her but it resulted in Alf apologising and agreeing to reopen the bait shop.
When Roo learned that Alf had removed Duncan from his will, feeling he was no longer part of his life, Roo contacted her brother and invited him to stay. When he got back to her, she learned he and Alf had fallen out after Alf insulted Duncan's wife Caroline at their wedding. She played peacemaker between Alf and Duncan when he turned up in town but was herself shocked to discover Duncan had a son, Bryce. She defended Duncan to the other residents when the plane he was piloting crashed in the desert with several locals onboard and worried when he was missing longer than the others.
She suspected Matt had a new girlfriend that he was hiding from her but the girlfriend turned out to be Matt's sister Ellie, who had run away from their aunt's. Roo agreed to her staying with them on condition Matt cleared it with their aunt and DoCS. She found Ellie skipping school on her first day and warned Matt there was probably more to it then convinced him to listen to Evelyn's side of the story when Ellie claimed she had refused to help her. She convinced Leah and Zac to spark up their marriage by pretending they were meeting for the first time. When Caroline turned up with Bryce, Roo tried to keep Alf in check. She was suspicious of Caroline when she overreacted to losing her bag, at first suspecting she had a drink problem and then hearing from Bryce that she had special medicine. She found Caroline asleep in the caravan with Bryce missing and, although he was found quickly, she found marijuana in a drawer. Caroline admitted she had Huntingdon's and Roo's sympathy quickly disappeared when she realised Caroline hadn't told Duncan Bryce could inherit it. Caroline agreed to give Duncan custody of Bryce in return for Roo keeping quiet, then grabbed Bryce and disappeared in a taxi. Roo contacted Kat for help and Duncan convinced Caroline to come back to the park.
Roo found Ellie trying to hitch-hike to Yabbie Creek and admonished Matt for neglecting her in order to teach her a lesson for trying to set him up with Evie. When Raffy asked to stay with them, Roo took her back to Brody and Justin and told them to sort it out. She tutored Hunter for his HSC only to learn he had been planning to buy a stolen exam paper and convinced Alf to pass on a letter from Duncan to Tori. She convinced Matt to pursue a relationship with Evelyn and Olivia to go on a date with Mason then told Marilyn to keep an eye on Matt and Evelyn while she went to Hawaii to see Duncan and Caroline for a bit.
She returned shortly after Alf had left town to find Irene looking after Luc following Billie's death and Matt and Ellie having moved to Vietnam with Evie. Zac confided in her that he'd cheated on Leah and she was refusing to talk to him. She arranged for Morag to represent John over arson charges. It turned out she had a younger boyfriend, James Mayvers, who she had met at one of Duncan's barbecues and who she tried to hide from everyone. Morag quickly found out however when she moved herself into the flat. James told her he wanted to be with her permanently and she asked him to give her time to think about I, while also encouraging Hunter to forgive Zac. She asked Leah about moving back to the caravan park house.,then collapsed while moving. She was found to have low blood sugar and Morag suggested it was the menopause. James told her he was fine if it was, since he'd never wanted to have children. She was wrongfooted when she discovered James had taken a paparazzi shot of John being taken to jail, then her test results revealed that she was pregnant. She initially tried to keep it from James but after trying to bluff her way through a champagne breakfast she was forced to admit the truth.
James was surprised that she was considering keeping the baby and told her he didn't think she should. After Morag offered her support following initial frustration, she told James she would bring up the baby alone. She helped Zac set up a romantic meal for Leah and carried out an inspection of the farm house for Sid before it was sold. She ignored calls from James and reluctantly helped Marilyn set up Irene and Leah for a lunch. Leah's resulting tirade made her realise she had to talk to James, but before she could call him, she got a contract from his family demanding she have no more contact with him. In the middle of her discussing it, Alf arrived back from holiday and wanted to know what was going on. She shut herself away in her room and tried to avoid him the next day until she overheard him saying he'd stand by her no matter what. James' father David offered her a one-off maintenance payment of $250,000 in return for signing the contract but she refused to give up her child's right to know its father. However, she then suffered severe pain while driving. She was found by Nate and Tori and rushed to hospital where it turned out she had a ruptured ectopic and she needed to be rushed into theatre. Afterwards, Alf had to break the news that the baby was gone. She told Alf she needed to look for Martha and left town for a while.
She searched for Martha in Peru and San Diego without success before returning to the Bay. She admitted she felt she had achieved nothing in her life so Irene, Leah and Marilyn arranged a day to cheer her up. It prompted her to decide to become a teacher and she spoke with Terry Deakin from the department about doing teaching practise at Summer Bay High. She also befriended Maggie Astoni when she found her looking around the farm house and tried to play peacemaker when the Astonis bought the pier, making them Alf and Leah's landlords. She wrote a reference for John and Marilyn when they tried to be foster parents.
She tutored Hunter, prompting Maggie to give her a teacher's aide job at the school and ask her to look after Raffy. She acted as a substitute teacher for a day but struggled to interest the students. She accidentally gave Raffy a Year 12 paper but she did well at it, leaving Roo to suspect she was bored and not challenged by Year 10 work. She suggested Raffy be moved up a grade and put it to her, John and Marilyn but Raffy was vehemently against the idea and Roo ended up on the receiving end of a telling off from Maggie for jumping the gun. However, Maggie later changed her mind and offered her a permanent post when she qualified. She managed to convince Raffy to stay in Year 10 after an awkward start. She was accepted for a fast track teaching course and went away for two weeks.
On her return, she played peacemaker between Leah and Maggie over the former keeping news of Coco's bulimia from the latter. She was taken with her newly discovered nephew Ryder, the son of Alf's other daughter Quinn, and convinced Alf to let him stay with them when Quinn wanted him sent back to boot camp. She was also Kat's confidante when she found out she was pregnant. She stayed up half the night watching television with Ryder when Alf was trying to get him to go to bed so they could go on an early morning fishing trip and, when Ryder disappeared off with Coco and Raffy instead of moving some wood as Alf had instructed, Roo did it for him then got him to join Alf on an afternoon fishing trip. She partnered Mason in the glow day obstacle course and got a glimpse of Ryder's odd behaviour when she saw him snap at Coco on being woken. She became convinced he was on drugs for a time, searching his bag for evidence.
She met Quinn for the first time when she came to pick up Ryder and criticised her for her negativity towards him when she tried to get him to leave straightaway. She was concerned to find Ryder having a nightmare but Quinn dismissed it, saying he'd always had them. Roo was then run over by Ryder when he went joyriding in Alf's car. She refused to see a doctor but had to be rushed to hospital after collapsing with back pains. She was found to have a fractured spine and nerve damage which would leave her in constant pain. It was recommended that she have surgery but she turned it down when she learned there was a chance she'd be left unable to walk, choosing to have an implant to control the pain instead. She instantly forgave Ryder when he came to see her. When she returned home, she again clashed with Quinn but felt Ryder needed stability instead of being left at home on his own while Quinn travelled around for her career and suggested he stay with them. Quinn was initially outraged but eventually agreed.
Roo began trying to get Ryder into a regular sleeping pattern and making arrangements with Maggie to enrol him at Summer Bay High. She tried to get Alf to give him advice over Coco and encouraged him to talk to her at the Salt re-launch party. Helping organise Kat's funeral, she was furious to find Ryder had taken a job instead of returning to school and managed to guilt trip him into agreeing to go. She began work at Summer Bay High and quickly had to step up during Maggie's illness.
She put Ryder and Raffy on detention after they hijacked the PA system in order to cheer up Coco, then she and Alf ended up trapped in a sinkhole opened up by a gas explosion at the school. With Alf suffering heart troubles, he shocked her by announcing that her mother Martha was alive. She managed to hold it together until they were rescued, then told him they'd talk later. However, she refused to see him in hospital and avoided him when he was discharged while asking new police officer Colby Thorne to look into Martha's disappearance. Alf eventually explained that a few years after Martha disappeared he received a letter from her simply saying she was alive. Roo was unhappy that Alf might never have told her and decided to move out, taking a room at the motel. Alf visited her and gave her Martha's letter, in which she simply stated she couldn't be a wife and mother anymore.
Marilyn invited her round for dinner, which she ended up sharing with Alf after a miscommunication. Afterwards, she broke down in tears about the fact her mother didn't want her and John and Marilyn invited her to move in. She asked Alf to help her find Martha but he refused, thinking she was seting herself up for hurt, so she accepted the Palmers' offer. Colby told her all the evidence suggested Martha had died and felt the letter was a hoax; Alf believed otherwise but was annoyed she'd spoken to him. She sneaked into the house to check through Martha's things and confided in Ryder. Alf later visited her and gave her an old Stewart family ring that Martha had sent back to him. John pointed out that the box it was in came from Merimbula. With Alf's blessing, she went there to look for Martha.
Roo returned without success but did move back in with Alf. Soon after, however, Martha turned up, having heard Roo was looking for her. She told Roo about her life but was reluctant to get into why she left. She eventually admitted to having borderline personality disorder. Roo told her she was wrong to think Roo was better off without her, but still wanted to keep seeing her. Keen to get Alf and Martha talking, she invited Martha to dinner and convinced Alf to wait for her but she didn't show up. Seeing how Martha's presence was affecting Alf, she asked her to leave but promised to stay in touch.
On her return, she regaled Marilyn with stories about Martha's home and art but was reluctant to talk about her with Alf until he told her they shouldn't keep secrets. She later tipped Ben off to the fact Coco was skipping school. She wasn't entirely sympathetic towards Ryder when he was upset about Coco not spending time with him during Maggie's cancer. She helped Leah record the introductory video to her website only to find it full of abusive comments, then she and Leah helped Maggie pick out a wig to wear for Brody and Ziggy's wedding. She chided Ryder for not turning up when Ty was waiting in the computer lab to help him with homework and led Leah and Marilyn in rallying around to help Maggie organise the wedding. Shortly after, Marilyn mentioned Roo wouldn't be able to attend the wedding because she had gone to look after Martha who she was sick.
Soon after her return, Roo had to deal with Ty coming out at school and helped the other teens organise a birthday party for him. She had a word with Ryder when he got back with Coco and he established that he was happy to take it slow. She then went away again to help with Caroline, who was in hospital and died soon after, with Roo staying out there for the funeral.
She returned to find Ryder dealing with Raffy's accident and took him to hospital, although the state Raffy was in did little to help his mood. She insisted he continue going to his exams but found out that although he'd turned up he hadn't actually written anything. Ryder got drunk and accused her and Alf of not being there for him, and when they had to collect him from the Morgans they learned they had forgotten his birthday. Ryder walked out of the house announcing he was leaving town. After Dean returned him from a road trip, Roo promised to try to understand him better. She tried to talk to Ryder about his HSC options but he was too focused on Raffy to care. She was therefore concerned when he asked her help to stay in school in order to support Raffy but helped him plead his case to the education officer.
She was quick to offer her services to Maggie for her cancer fundraising but misjudged things, putting her face on the posters without checking. She pressured Alf to help Ben find somewhere new when he had to move out his surf board business of the bait shop and again got him to help out when John made things difficult for Ben at the surf club. She then learned she had been accepted as a last minute replacement for a teaching post in the Kimberleys. Ryder was happy with her to take it but Maggie wanted her to stay on at the school. However, after pleading her case and then saying she'd go anyway, Maggie signed off on it and Alf took her to the airport.
Roo returned to find Leah in an embrace with Justin and was amused to learn they had a secret friends with benefits arrangement. She was also shocked to learn Martha had been in town and no-one had told her. She began to suspect Leah and Justin had deeper feelings than they claimed and, when Leah was given free tickets to a movie, tried to convince her to take Justin. Maggie asked her to take over as support teacher, mainly to help Bella. However, Bella showed little interest in accepting her help or getting to know her and ended up setting off the fire alarm to get out of a session together, although she eventually apologised.
Roo was stunned when Alf's return was quickly followed by Martha, who announced they were back together, but after a bit of a think she accepted it. She was disappointed however when they revealed they were still planning to live separately and Martha was going home but began to accept the situation after joining Alf and Martha for a farewell dinner. She advised Jasmine against going into her marriage with Robbo keeping secrets and was concerned that Bella chose to do a photography assignment over an English assignment that was due sooner. Although Irene felt Bella couldn't handle the work, Roo refused to give up on her and coached her through the assignment, also pointing her towards online student forums. She and Irene tried to cheer Marilyn up with afternoon tea and she clashed with John over the amount of work he was putting on Alf and Ryder while looking after Jett. She helped out at the Diner while Marilyn was looking after John when he had a minor car accident. She found out that Ryder had failed to get an assignment in on time and banned him from working at the juice bar. She was disappointed that Ryder lost marks despite doing a good job because he missed the deadline and that he had no interest in going to uni.
She opposed Ryder taking a job at Salt, feeling the juice bar job would fit in better with his studies, so was furious to find that instead of studying for school he was focusing on getting his RSA. However, Alf convinced her to accept it. She tried to arrange special consideration for Raffy when she stopped being given CBD oil in the middle of her HSC trial and also to help Bella, who had shut herself away in the flat after being assaulted. She agreed to Ryder having a party at the caravan park if there was no alcohol but had to shut it down when his friends got drunk. She reluctantly kept Ben being at the caravan park secret from his family, although Dean soon told them. She tried to convince Ryder to go to uni, even inviting herself along when he had a driving lesson with Alf to pester him. She attempted to play matchmaker between Ben and Maggie by inviting them both to dinner but had to get Alf to help out when it resulted in them arguing.
She was delighted when Martha returned to town and happy with the news she was moving in with them. She smoothed things over when Martha turned up late and stopped Alf from smothering her with concern. She was disconcerted by Ryder dating Jade Lennox, a guest at the caravan park, so tried to invite her to dinner, only for Jade to rudely reject the idea. She tried to warn Ryder about her but he, Alf and Martha all felt she should have waited to be introduced to Jade and she agreed to give them space. She was unhappy when Ryder spent the night with Jade without telling anyone but they made an uneasy truce. With Alf and Ryder both busy, she volunteered to help Maggie with report cards, which resulted in them learning Bella was failing. She helped tutor Bella during the holidays. She supported Ryder when Jade accused him of making a sex tape and tried to stop him making things worse by confronting her. When there was an armed siege at the hospital, she realised Mason and Marilyn were hostages and watched news reports with Irene.
Roo found herself acting as a confidante when Alf proposed to Martha and gave a speech at the wedding. She and Ryder moved out of the house for a bit to give them space and she and Maggie decided to try and track down the missing Leah. This led to them finding out her blog had been reactivated and was now full of anti-feminist posts, which they showed to Colby. She hired Nikau to help out at the bait shop while Alf was away on an extended honeymoon and allowed Ari to stay in a caravan on credit until he had the money to pay for it. She also supported Bella's decision to leave school and go to Tafe. She rented John a caravan when he and Marilyn separated, failing to get them talking, and briefly met Leah during a rare day out after she returned from being kidnapped.
She advised Ryder against telling Nikau about Bella's history without her permission and ended up as Bella's confidante over her feelings for Nikau. Maggie confided in her that she had slept with Ben's brother Marco twenty years earlier when they split up for a time and he was blackmailing her with the information, with Roo helping her decide to come clean to Ben. She found herself having to deal with the appearance of Ryder's dad Evan and rented him a van despite Ryder being unhappy about it. When she confronted Evan about him stringing Ryder along, Evan admitted he was dying of mesothelioma. Roo tried to get him to tell Ryder but eventually realised he had no intention of doing so. After first telling Alf and Martha, she told Ryder herself. Ryder asked her not to let Evan know he knew and explained his plan to get Evan to do a gig at Salt. Roo found Evan struggling to sing without coughing but realised the gig meant a lot to Ryder and told Evan he would either have to do the gig or tell Ryder the truth. She helped Leah out after she was left in shock after a robbery at the Diner and queried Alf about him checking on John and Marilyn after John had a stroke. Ryder moved Evan into the house after his condition worsened but Evan was still reluctant to let Ryder see him die and asked Roo to help him make Ryder understand. It was eventually agreed she would go away with Evan so he wouldn't be alone.
She returned after Evan died and ran straight into John and Marilyn's marital problems, before travelling for Evan's funeral with Alf and Ryder. After returning to the Bay, she was stunned when she kept catching glimpses of Evan around town. Marilyn convinced her to try a séance but the answer was simpler when Alf and Ryder turned up with Owen Davidson, who was the double of Evan and who Ryder realised was his twin brother. Roo was uncomfortable around him as he stayed at the caravan park, and admitted to Alf and Marilyn that she had been falling in love with Evan when he died. She took Owen out for dinner at Salt but was uncomfortable discussing Evan. However, they ended up agreeing to a date. Roo ran off however, getting Alf to make her apologies, although she went for a walk with Owen the next day and later had dinner with him at Salt. After one date attempt was interrupted by John, she took Owen back to the house for coffee and cakes and then kissed him, with them then sleeping together. They had dinner with Alf and Marilyn but next morning, when she went to see Owen at his van, he was abrupt with her and sent her away. He eventually admitted it was his birthday and therefore Evan's, and Roo, Alf, Marilyn and Ryder arranged a family lunch to mark it. Owen told her he wanted to leave Summer Bay to visit Evan's grave and Roo decided to go with him.
Roo returned unexpectedly but dodged Marilyn and Ryder's questions about Owen. She broke down in tears on being reunited with Alf but still refused to explain, instead speaking to Martha about the latter's need to keep her house in Merimbula. When Owen turned up, Roo hid from him and admitted to Marilyn that she had called him Evan while they were in bed together, then disappeared during the night. They eventually committed to working at the relationship and slept together again but Roo admitted she couldn't stop thinking about Evan. They called the relationship off and Owen left town.
Roo then learned from Martha that she had another brother, Kieran. Immediately afterwards, she met him for the first time when he followed Martha to town, also guessing that Irene had already known about him, and gave him a tour of the bay. She convinced Jasmine to interview him for a job at the gym but became suspicious of him on hearing from Ryder he had ordered a drink in Salt and confronted him. She convinced Martha they should search his caravan but Kieran caught them in the act and warned Roo not to try and come between him and Martha. Roo found empty bottles under his caravan and told Alf. After Kieran nearly hit Alf, he and Roo went to Sergeant Cooper and learned Kieran was already wanted over a domestic violence incident. However, when they returned to the caravan park, they learned Kieran had already fled town. Martha blamed Alf and Roo for driving him away and threatened to go back to Merimbula. Roo tried to talk her out of it but Martha disappeared on her and it took Irene to convince her to stay.
Roo tried to help Alf's campaign for surf club president by inviting herself along to John's committee dinner, warning Alf that people were listening to his promises. Irene informed her and Alf that Martha had been hallucinating Kieran and they convinced her to go to hospital. Roo was concerned when Alf brought Martha home against medical device, but after an encounter with the real Kieran, Martha decided to go back to hospital. After Susie McAllister disappeared, Roo joined Alf in investigating her theft of the sponsorship money from the surf club carnival fundraiser. It became clear that if they couldn't refund the money, they'd have to put on the event to avoid being sued so Roo took a lead role alongside Alf and Dean in getting it up and running. She was forced to accept Alf's assertion that Ryder had become lazy since leaving his job at Salt, giving him until that afternoon before she employed him as a cleaner. He and Chloe came up with the idea of a food truck but Roo pointed out it had huge start-up costs. However, she ended up loaning them to him with Alf and Marilyn.
She became concerned about how much work Alf was doing and ended up cutting back on her hours at the school to help at the bait shop. She insisted to Alf that she could handle it but ended up asking Nikau for instructions. However, when Alf found out, he gave her a few pointers but was happy for her to remain in charge. When Martha was discharged from hospital, Roo worried they wouldn't be able to cope, then was asked to visit Kieran: He had completed his court-enforced rehab and needed somewhere to stay. She broached the subject with Alf but both he and Martha felt they couldn't cope with him and went to Merimbula. Kieran turned up anyway with a letter for Martha and, on reading it, Roo let him stay. Kieran admitted he'd told the court he had a sponsor lined up and Roo tried to get Irene to do it before Cash arranged for him to meet someone through AA. She then heard Alf and Martha would soon return and was concerned when Kieran became frantic while trying to find a job.
She defended Kieran when Alf turned up, convincing him to talk to him. However, Kieran failed to turn up and Ryder summoned her to help when he found him with an unopened bottle of scotch. When Alf ordered Kieran out of the house, Roo went with him, spending the night at a motel with him until Irene gave him a place to stay. She convinced Martha to talk to Kieran and he ended up moving back in with them, but Alf was less accepting and Roo organising a family dinner just highlighted the tension. To her disappointment, Kieran ended up moving out to Merimbula.
Roo helped Martha organise an art show as a fundraiser to raise awareness for mental health. When they lost the gallery, she set up an online auction with help from Ryder and Bella. They also decided to hold a black tie event at Salt to raise funds and Roo managed to sell John a table, being surprised he managed to find enough people to fill it. She offered Felicity support after learning of the bad blood between her and Tane, and told Cash that Tane had caused trouble at Felicity's work place (while neglecting to mention he had been picking up a drunk Ryder).
She was concerned when Martha disappeared right before the fundraiser and started it without her but she ultimately turned up. Roo avoided much of the organophosphate poioning at the event, since she was showing the guest of honour to his car at the time. With Martha having been hospitalised, Roo accompanied her to the city. By the time they returned to Northern Districts, Martha needed a transplant. Roo was found to be a match but counselling with Emma Pituzzi brought up some issues and she admitted she was scared of losing Martha again. She agreed to the transplant but Martha refused to accept it. Roo was furious and tried to demand an explanation. Martha said she didn't want anything to happen to Roo because of the transplant but Roo saw it as Martha giving up and refused to have anything more to do with her.
After realising Ryder was missing, she and Justin found out he and Theo had been doing a buried alive challenge together. They discovered Ryder had been left buried overnight after Theo got caught in barbed wire, with both Roo and Alf blaming Theo when Ryder was rushed to hospital unconscious. She was slightly mollified when Justin showed her videos of other challenges the pair had been doing to raise money. She nearly moved out when Martha returned home, only staying for Ryder's sake. Martha ended up heading to Merimbula and Roo talked Ryder into forgiving Alf for reporting Theo to the police. When Alf decided to go to Merimbula, Roo worried he would pressure her into going with him. Instead, she was left out of sorts when he went without her. This increased when Alf admitted Martha had deteriorated but refused to let Roo see her if she was going to talk about the transplant. Roo eventually called her for a chat. She witnessed strange behaviour by a returned Marilyn, although her attempt to involve Logan did little to help at first until Marilyn admitted to not taking her medication.
Roo made it her mission to find Marilyn something to occupy her time with, including a disastrous meditation session. She prepared for Alf and Martha's return only to learn Martha was back in hospital so went down to Merimbula with Irene. She was delighted when Martha changed her mind and decided to have the transplant, but when Martha was examined, her blood pressure was too high for her to have the operation. Roo resolved to make her healthy enough for the transplant and consulted with Logan, although she faced resistance from Alf, especially when Martha got tired after a walk. When Ryder announced he was leaving to work on a cruise ship, Roo took it upon herself to organise a farewell for him after which Ryder thanked her for everything she'd done for him. She suggested Martha get retested to see if her health had improved and she was eventually pronounced fit. Both of them came through the surgery fine, but Roo first tried to rush Martha's recovery and then refused to leave the hospital without her, continuing to worry about her when Alf and Marilyn took her home. She did everything she could to keep busy, volunteering to help out at the bait shop and coffee cart, only to tear her stitches open lifting some boxes. She got a lecture from Logan, and Martha decided they should both go to Merimbula to recover. On her return, she prepared to dismiss Tex, who Marilyn had hired to run things in their absence, but was unable to bring herself to do so when he talked about how much he'd needed the job, working with Marilyn to find jobs for him. She quickly convinced Alf to keep Tex on when he returned, prior to it turning out Tex was part of a bikie gang causing trouble for the Paratas.
After Alf was short with everyone, Roo learned Martha had decided not to return to Summer Bay. When Alf and Martha sorted it out, Roo realised she was at a loss without having to sort out their problems. After a talk with Alf, she decided to advertise her services as a tutor. She put up a notice in the Diner but was disappointed when no-one took her number. When the slips did start disappearing, she learned Marilyn had been taking them in the hope it would somehow lead to her getting calls. However, Marilyn did suggest she advertise at the surf club, TAFE and uni and in the Coastal News. Roo soon received her first client, Ali, a mature student hoping to get into nursing.
She began tutoring Heather Frazer, who told her she planned to study law and had got pregnant by an employer who forced her to give the baby to him and his wife. Roo befriended her and invited her to stay at the caravan park. Marilyn mistrusted her but was unable to give a reason, so Roo warned Marilyn not to cost her a client. As Marilyn's odd behaviour continued, Roo attempted to stage an intervention with Leah but Marilyn ordered her out. Roo accused Marilyn of being behind a negative review she had received as a tutor and asked Heather to leave a positive one to balance it. She received a message from Marilyn inviting her, Alf, Leah and Irene to an apology dinner but they were all drugged by Heather, who turned out to be Marilyn's daughter and held them all hostage. Roo attempted to get Heather to release them by playing along with her belief none of them would ever forgive Marilyn, with the group eventually being rescued by Cash and Rose.
After Marilyn left town in the aftermath, Roo convinced Cash to betray her confidence about working at a food truck in the city and tracked her down with Nikau, volunteerig as well to keep an eye on her. She eventually convinced Marilyn to come home but felt she needed to give up tutoring. Marilyn convinced her not to, saying she deserved a second chance too, and Roo settled for keeping a distance from her students in future. Marilyn asked her to help think of another way to help out the community kitchen and they eventually decided to raise funds for another food truck by organising a golf tournament. She spent a lot of time trying to get a decent prize organised and managed to get a car donated for the best individual golfer. She found out from CCTV that Justin had sabotaged John's team's buggy and recommended having him disqualified. She was delighted when the event made over $35,000 even though it was short of their target. After an anonymous donation took them over the line, she went to the city to buy the food truck and get it fitted out.