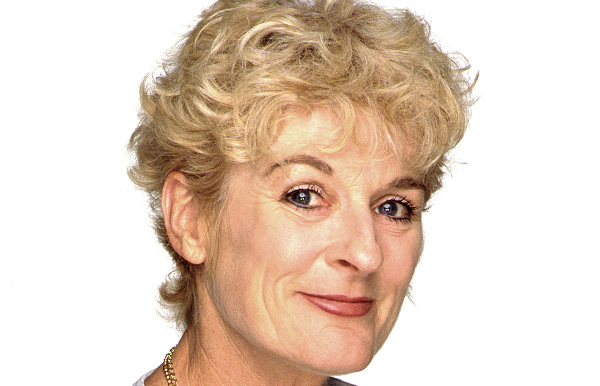 Ailsa O'Rourke/Hogan/Stewart (1988-2000; 2002-2003)
Judy Nunn; Nancye Hayes (temporary recast, 2000)
Episodes: Pilot–2960; 3420–3445
Date of Birth: September 1950
Parents: Harold O'Rourke & Unnamed mother (both deceased)
Siblings: Bridget Jackson & Tony O'Rourke
Marital Status: Alf Stewart (1988-2000)
Children: Shauna Bradley & Duncan Stewart
Stepchildren: Owen Dalby (deceased), Ruth Stewart & Quinn Jackson
Occupation: Store owner, Diner owner
---
When the show began, Ailsa was a relatively new arrival in Summer Bay, having moved there less than a year earlier and taken over the running of the local store. She had however been there long enough to strike up a friendship with Bobby Simpson, considered the local troublemaker by many, and to be in the early stages of a romance with Alf Stewart. She was immediately welcoming to the Fletchers when they arrived in town, defending them to social services and convincing Bobby to give them a chance. Aware that Donald Fisher was making it hard for Tom to find work, she decided to open up a small café in the store and employ Pippa to run it.
Ailsa's relationship with Alf brought her into conflict with his daughter Roo, who saw Ailsa as trying to replace her mother, with Ailsa unable to come over for dinner while Roo was home, and also with his conservative sister Celia, who disapproved of Ailsa staying over with Alf. Alf and Ailsa were united in defending Nico Pappas, who Donald was trying to get sectioned. Roo searched Ailsa's house and found a letter revealing she had had a brief relationship with Donald when she first came to the Bay. Alf took the news in his stride but Bobby felt betrayed, until Ailsa explained she had found him gentlemanly but rather dull. Despite this and their opposing views of Bobby, Ailsa would always remain on good terms with Don, listening to his fears about being passed over as headmaster at Summer Bay High.
Ailsa was stunned when Alf casually proposed to her during dinner at his house and walked out, but when he came round to her store with a more measured proposal she accepted. The locals threw Alf and Ailsa an engagement party, but it was spoiled when Roo revealed another fact about Ailsa's past that she had learned from her aunt Morag: Ailsa had spent time in jail for murder. Ailsa confirmed it was true: Her father had been abusive towards her, her mother and her siblings and she had ultimately stabbed him in self-defence. Her lack of remorse had seen her sent to jail for seven years. When she came out of jail, she changed her name from Ailsa O'Rourke to Ailsa Hogan for a new start but always had to move on when the truth came out. This time however, with Alf and her friends standing by her, she decided to stick it out. She put up with Roo needling her by buying a knife sharpener from the store and sending a threatening letter saying the store would be burnt down if she didn't leave, after which Alf had Roo sent off to a boarding school in the city. Ailsa performed a tap dance routine at the town variety night, which was initially met with silence by the crowd until Bobby led them in applause.
Ailsa gave Celia chewing gum to stop her gossiping after she spread the news of Carly's rape. She and Alf tried to set Celia up with Bob Barnett. Sandra Barlow, who had an abusive father like Ailsa's, came to her for advice but Ailsa was reluctant to get involved. She did however cover for Sandra spending time with the Fletchers. She helped arrange for the school dance to clash with a tennis tournament, with Alf sabotaging the bus to stop Don getting back. She and Alf intervened when Sandra deliberately got her father, Sam, to hit her to provide proof. Roo returned, claiming she would get on with Ailsa now. Ailsa wasn't fooled but privately agreed to keep up appearances in front of Alf. She took Sandra in for a short while after Sam had killed Sandra's mother, Kerry, but was unable to foster her permanently and Sandra moved away. When Alf fired Frank on discovering he was sleeping with Roo, Ailsa responded by giving him a job at the store, causing her and Alf to end their engagement for a short time. Roo then announced she was pregnant and she and Frank became engaged. Bobby, who had feelings for Frank herself, was unwilling to carry on living with him at the Fletchers'. Keen to keep her in town, Ailsa decided to apply to foster her and, in order to strengthen the case, brought forward her wedding to Alf, who she married off-screen in a quiet registry office ceremony. Bobby did move in with the newly married couple but her stay was short when she destroyed Roo's wedding dress. Ailsa looked after her on her own at the store flat for a few days but Bobby told Ailsa she'd rather have her as a friend than a mother.
Frank and Roo's wedding gave Ailsa a rather tense first meeting with Morag, as well as the revelation that Frank wasn't the father of Roo's child after all, which led to Roo being thrown out by Alf and going to live with first Morag and then Celia. Ailsa got on better with Alf's other sister Barbara when she also came to town for a while. Ironically, it was Ailsa who helped Alf and Roo reconcile, lying that Roo had had an accident in order to make Alf realise he still cared about her. However, the ceasefire between Ailsa and Roo didn't last long. Alf became involved in a plan by Brett Macklin, the real father of Roo's baby, and his father Gordon to develop the wetlands into a resort. Ailsa however disagreed, feeling it would have a negative impact on the town and the environment. She recruited Frank to join the Macklin office as a spy and leaked details of the proposal to the newspaper. She defended Donald when Alan faked his aneurysm rupturing to provoke him into hitting him, even though it put her at odds with Bobby, and objected when Alf held a cocktail party for the Macklins at their house, refusing to attend and distributing leaflets protesting against the development. She hired an environmentalist, Rod Barrett, to do a report but it didn't change Alf's mind. Her open disagreement with Alf led to Roo causing trouble between them again, conspiring with Brett to have Alf dropped as a consultant because of Ailsa. Ailsa let slip that she'd married him to help Bobby and decided to move out for a bit, but Roo deliberately hid the letter she left for Alf. Ailsa nearly hit Roo during an argument and Alf angrily asked if Ailsa was going to put a knife between his shoulder blades. He instantly regretted it but Ailsa couldn't forget it and immediately moved to the city.
Bobby tracked her down living with Graham Lynch, an old boyfriend who had joined the church while she was in prison, but she refused to return to Summer Bay, selling her store to Celia and making plans for a new start. She did visit Pippa on learning she'd given birth and Pippa convinced her to return to be Christopher's godmother at a naming ceremony, neglecting to mention that Alf was godfather in the hope it would get them talking. However, Alf didn't turn up after Roo faked going into premature labour, before she actually did go into premature labour. Ailsa was the first to discover Frank and Bobby were a couple when she caught them together in the store. Deciding to move to England after a holiday in Singapore, Ailsa left a farewell note for Bobby who ran to the city to say goodbye. However, when Brett ran off with baby Martha, Alf called her for support and they reconciled. Ailsa returned to Summer Bay and they renewed their vows. When Martha was found, Roo decided to give her up for adoption. Alf and Ailsa offered to look after Martha themselves, but Roo was told by a social worker that Ailsa's criminal record meant they'd never be accepted. Roo kept this from the couple and simply stuck to her decision.
With Ailsa and Roo finally getting on, Ailsa convinced Bobby to give her a chance and defended Roo's relationship with David Lee. With Bobby having left school and deciding to marry Frank instead of going to university, Ailsa went into partnership with her and they set up the Bayside Diner together, which opened in the first week of 1989. Martin also showed an interest in being a partner but did little work and was soon out of the business. Ailsa also became caught up in the chaos of Bobby learning that the Simpsons weren't her real parents. When Alf admitted to Ailsa that he'd learned the truth from his first wife Martha's diaries, Ailsa let Bobby sneak into the house while they were away to look at them. She next learned she was five months pregnant before Alf revealed Morag was Bobby's mother. When Morag was in a plane crash after Frank and Bobby's wedding, Ailsa reluctantly let Alf tell Bobby the truth, although no-one involved was happy at the news.
Ailsa again found herself going up against the Macklin Corporation in the shape of their new manager Nicholas Walsh. In order to distract her, Nicholas sent her poison pen letters. When they found one in Roo's things, Alf and Ailsa assumed she was responsible and she ended up moving back in with Morag. Stacey Macklin told them the truth but Roo refused to accept their apology. Ailsa was annoyed to learn Alf and several other residents had kept the fact Don was Bobby's father from her, resulting in Bobby finding out by walking in on them discussing it, but Ailsa helped Bobby come to terms with it. It also resulted in her and Alf making up with Roo. Ailsa was Stacey's confidante when she thought she was pregnant and agreed to let Andrew Foley run a youth centre in the Diner back room. She convinced Alf to give Simon Yates a job despite his criminal record and they let him stay with them when he was framed for burning down the store. She let Celia attempt to run the youth centre when Andrew left town and began to sympathise with Morag more on realising she was lonely. Lance persuaded her and Bobby to employ Marilyn at the Diner but she was a disaster, breaking plates, so Ailsa got her a job as Morag's housekeeper instead.
When Alf and Tom went missing on a fishing trip, Ailsa ended up going into labour, with Roo, who had moved back in to support her, acting as her birthing partner. She gave birth to a son, Duncan, but even though Alf and Tom turned up soon after, she had trouble bonding with him and developed post-natal depression. She initially left Duncan at the hospital to go and see Alf, then stayed with Morag until Alf came home. When she came close to smothering Duncan after being pushed to the brink by his crying, she moved in with Morag, leaving Duncan with Alf. However, she did attend his christening and, when Duncan ended up in intensive care after suffering an allergic reaction to the cleaning fluid Celia had used to wash the christening gown, Ailsa's reaction showed that she did care about him and they finally began to bond.
Ailsa had to close down the youth centre in the Diner's back room for health and safety reasons despite Andrew returning to run in. She was suspicious of Dodge, becoming an ally for Sally, although was impressed when he threw Tom and Pippa an anniversary party at the Diner. She and Bobby cashed in on the bunyip craze with cheap-to-make "bunyip burgers" until Martin posing as the bunyip ended the craze. Annoyed by Alf's attitude towards a raft race, she decided the Diner would sponsor an all-female team.
Ailsa was informed by a social worker, Samantha Wilson, that her sister Bridget had had a daughter, 17-year-old Emma Jackson, who had a difficult relationship with her stepfather and was in trouble with the police for hitting him with a vase in self-defence. Ailsa agreed to take her in but was shocked when Emma turned out to be a moody punk, who revealed that Ailsa's mother had died ten years ago, which Ailsa had been unaware of. Ailsa gave her a job at the Diner but she got into frequent arguments with the customers and Ailsa had to fire her. Ailsa was concerned when, on learning she had been in prison, Emma began to see her as a hero and gently explained it had been the worst experience of her life. She gradually managed to get through to Emma, helping her go back to school and convincing her to adopt a softer style when she seemed to put her off her intended beau Steven (although he preferred her friend Viv anyway).
She found herself at odds with Morag again following her clashes with Bobby's new boyfriend Danny Price, who blamed Morag for his father's suicide, and Ailsa ended their friendship. Like several other townsfolk, she jumped to the conclusion that Pippa was having an affair with Zac Burgess but was eventually convinced otherwise. She initially gave Bobby's adoptive father Al Simpson the benefit of the doubt when he came back to town in 1990, and convinced Bobby to give his daughter Sophie a job, until she learned Al was blackmailing Donald—having apparently seen him accidentally kill Shane Wilson eight years earlier. Ailsa convinced Donald to go to the police, resulting in Al being exposed as the real killer. Celia pressured Ailsa into supporting her Africa Awareness Week, after she had initially felt Alf's contribution was enough, by protesting outside the Diner and also convinced her to let the visiting Reverend Goodhope stay with them. Ailsa persuaded Alf to accept Celia becoming a missionary after hearing her reasons. She supported Bobby's campaign to be elected to council despite Alf standing against her.
Ailsa was reunited with her sister Bridget when she turned up looking to take Emma home, having split with her husband Barry. Ailsa mistrusted Bridget but invited her to stay with them so she could keep an eye on what she was saying to Emma. However, with Ailsa distracted by Tom Fletcher's death and Emma increasingly taking Bridget's side, Bridget managed to convince Emma to come back with her. Ailsa herself left town not long afterwards on hearing that Margot Dean, a friend from her time in prison, was dying. During her absence, Emma returned to the Stewarts on realising nothing had changed at home. Ailsa returned to find Emma had been accused of stealing an exam paper but realised she was innocent and supported her when she was expelled, convincing her to go to school in Yabbie Creek. She supported Alf when he was banned from driving and realised Donald had developed feelings for Pippa. Emma was eventually cleared but declined to go back to Summer Bay High, instead leaving to become an air hostess, with Ailsa helping her fix her look when she went back to a punk hairstyle in a moment of frustration.
Alf and Ailsa were not to be without teenage company for long, as even before Emma left, Margot's children Blake and Karen had arrived, hoping Ailsa would look after them following their mother's death. It took Ailsa some time to convince Alf but eventually he agreed to take them in. Ailsa spent the next few months dealing with Blake's relationship with Sophie, Karen's crush on Steven, the teens needing her kitchen and the Diner to make lamingtons to sell, new deputy head Alan Stone bullying Blake, and Blake's guilt over Margot's death—which he felt was the result of him causing trouble and going to juvenile detention. She also supported Bobby during her pregnancy and miscarriage but disagreed with her decision to foster afterwards, feeling it was a kneejerk reaction to losing the baby and worrying she would neglect the Diner. She attempted to get Bobby to change her mind by saying she'd have a pay cut at the Diner, only for Bobby to casually agree. She also had to deal with Alf's store taking a hit financially when a new supermarket opened, and refused to let him remortgage the house. Alf was left depressed when he had to sell the store and Ailsa had to take charge of removing the stock. While Alf was away, Ailsa learned a smaller store premises was up for rent and, unable to get hold of Alf, signed the lease. She hired Adam and Marilyn to clean it up but Alf was unhappy and refused to run it. However, he eventually changed his mind on his return.
Ailsa was against Blake dating Rachel Webb, the sister of drug dealer Josh. However, when Marilyn praised her for not judging Rachel on her family, she agreed to give her a chance and invited her round for dinner, finding she liked her. She was less happy when Blake started spending time with Josh but he was soon exposed as a thief. Blake and Karen attempted to treat Alf and Ailsa to an anniversary surprise by taking them on a camping trip, and it was some time before they realised none of them were actually enjoying it and went home.
Ailsa helped cover for Bobby when she nearly ran off with her foster son Sam rather than return him to his mother. However, neither Ailsa nor Alf were willing to compromise when Karen started dating Revhead. They grounded her in order to keep them apart and when Revhead left town, Ailsa hoped that would be the end of it. However, Karen blamed Ailsa and Alf for driving him away and Ailsa ended up hitting her during an argument. When she tried to make things up to her, Karen pushed the limits, getting permission to attend an all-night party. Karen moved out for a time and ended up in juvenile detention after causing a car accident that killed David Croft.
Alf and Ailsa agreed to leave Blake and his friend Simon Fitzgerald alone in the house while they went on a trip with Duncan. The pair had two girls over, Annette Hodges and Sharyn McKinley, who planted a bra in the house to teach the boys a lesson for assuming too much. Simon lived with the Stewarts for a time in order to get away from his father Bill's dodgy activities.
In 1992, Alf's old school girlfriend Julia Bowman moved back to town and Bobby and Marilyn told Ailsa they thought she and Alf were having an affair. Ailsa became more and more suspicious as she saw Alf visiting Julia and eventually confronted him, only to learn he was supporting Julia because her daughter Meg was terminally ill. They had to navigate Blake dating Meg and also had Don as a house guest for a while after his new house wasn't ready on time. Ailsa approved Blake and Meg going away together when it was clear she wouldn't last long and everyone was devastated when Meg died.
Ailsa and Bobby found themselves facing competition when the surf club kiosk was converted into more of a snack bar, but Adam Cameron solved the issue by convincing them to have the Diner franchise the kiosk and let him run it. She fell out with Alf for a short time when he let Adam set Simon up with a girl who was going to come on strong with him and then planned to go on a fishing trip without telling her. Not long after Simon went back to live with his father, Blake's father Les Bagley arrived on the scene and, while Blake said he didn't want to see him, Ailsa realised he was conflicted and advised him to talk to him. Ailsa was disappointed but more understanding than Alf when Blake went to live with Les. She visited him in the city and was accepting of him and his newly discovered half-sister Roxy when they returned to town, although she wasn't willing to accept Roxy insulting Alf. Nevertheless, she was pleased when things thawed between Alf and Blake, allowing him and Roxy to move in. She worried about Sophie when she tried looking after Tamara on her own.
She tried to help Karen on her release from prison in early 1993, giving her a job at the Diner, but Karen was soon taking liberties, turning up late, taking money for make-up on the grounds it was a business expense and spending time with Dougie, a youth in the Revhead mold who had attached himself to her. Ailsa gave her a second chance when she faked a headache to spend time with Dougie and then got into a fight with Fin, but Karen stole money and disappeared off to the city, with Blake choosing to join her there. Despite things ending like this, Ailsa would continue to pay them regular visits.
Ailsa took in Sarah Thompson, an Austudy student who had been boarding with Greg and Bobby for a while. Not long after, Sarah was hospitalised after a severe asthma attack and Ailsa blamed Tug for taking her out into the countryside, even though he had been the one to get her help. She was more understanding when Tug later saved Sarah from being abducted. Roxy's adopted sister Imogen came to stay with the Stewarts, but Ailsa began to realise that Imogen was deliberately making Roxy look bad and sabotaging her relationship with Luke. Ailsa set a trap for her, taking some cakes out of the oven and letting Imogen think Roxy was meant to do it. Imogen put them back in so Ailsa would think Roxy had forgotten and was caught out, leaving in a huff.
Ailsa helped out with Angel Brooks when she first arrived, comforting her when she was attacked on the streets, letting her set up a car wash business near the Diner, and taking her clothes shopping. She also helped make costumes for the town musical. Ailsa comforted Pippa after baby Dale's death, with her and Alf joining Pippa and Michael for a game of cards in her first attempt at socialising afterwards. She gave Angel and Adam a trial run at the Diner. When Irene Roberts returned to town seeking work, Ailsa initially turned her down after hearing rumours she was drinking again, but on learning it was a misunderstanding she apologised and hired her.
When Bobby was left on life support following a boating accident, husband Greg encouraged her friends to visit and talk to her—but sitting with her left Ailsa convinced that Bobby was dead. Greg threw her out but Bobby was ultimately declared brain dead not long after. Ailsa was unhappy when Morag returned for the funeral but invited her to stay the night with her and Alf. However, she came to regret it when Alf invited her to stay for longer. She began to suspect Morag was after custody of Sam, but her first attempt to confront her fell flat when Morag instead suggested Greg leave Sam with Donald. She was left looking foolish again when Morag started talking about seeing an accountant for Greg and she wrongly concluded that Greg was going to sell Bobby's share of the Diner. She and Alf felt they weren't able to look after Sam themselves and Ailsa began to give Morag a chance until she learned she was getting custody of Sam after all. Ailsa did some digging and learned Morag had already had a place set up for Sam at a posh private school, Wentworth Grammar. Sam admitted he didn't want to go with Morag, who had used Don's health issues to convince him he had to, and Alf sent her packing.
Ailsa was infuriated when Alf put himself forward as president of the golf club and even matched the other candidate, Barry, by putting forward a $500 prize for a competition. The Stewarts received further trouble when Sarah started dating Nathan Roberts; Alf wanted her to move out and Ailsa lost her temper with Nathan when he started a fight with Tug in the Diner. However, after Sarah and Nathan broke up and he was arrested for robbery, Ailsa convinced Alf to let Sarah stay. She and Duncan later joined Alf for a holiday in Hawaii after he had visited Roo and she tried to convince him to get treatment for a bad back. She had a small falling out with Roxy when she passed over Alf as guest of honour for the debutante ball in favour of Donald, losing her temper with her when she criticised Irene during a show party for skincare products and make-up. She and Alf agreed to let Sarah's father Matthew stay after he had a heart attack. She encouraged Roxy's relationship with Rob Storey and also had to deal with Jack Wilson's scams, such as sabotaging the dishwasher at the Diner so he'd be employed to do the washing up and sneaking one of her dresses out to be cleaned to hide the fact he'd made a mess of it.
Sarah left to go back to her father in late 1994, with the Stewarts already having a new house guest in foster son Curtis Reed, whose adoptive sister (and secret girlfriend) Shannon was being fostered by the Rosses. Ailsa supported Pippa as she and Michael temporarily separated, worrying when she lost her temper with Jack. She was left looking after things alone when Alf went on a sailing trip to Fiji just as Laura Bonetti arrived on an exchange trip. Laura quickly started dating Curtis, which they tried hiding from Ailsa although she soon found out and reluctantly allowed them to keep seeing each other. However, it ended in tragedy when Laura was killed by a train while running across a crossing, and Ailsa had to deal with Curtis' grief. Irene and Pippa tipped her off to the fact he was binge drinking and she removed all the liquor from the house. However, he used her credit card to buy more and ended up getting suspended from school after getting drunk there. Ailsa agreed to Travis Nash's plan to take him out on his boat to sober him up and appreciated Curtis' honesty when he admitted to smuggling a bottle of vodka on board.
Ailsa's stress levels were high however and when Alf returned loaded down with souvenirs from Fiji that she hated, she felt she had been left running the businesses while he had fun. She briefly sacked Jack over a minor argument and was short-tempered with everyone. She agreed to let Alf help run the Diner and was given respite when Curtis and Selina convinced Alf to let them sell the souvenirs for charity. She let off a homeless man who couldn't pay for his meal only for him to return after hours and attack and rob her. This tipped her over the edge: She became paranoid, convinced the robber was coming after her again, and was determined to leave town. As she descended further into a breakdown, she believed Alf was plotting against her so that the robber could come back and finish her off. After taking out of date medication, she saw a deceased Bobby emerge from her fridge. Visions of Bobby tormented Ailsa throughout the evening, with Bobby insisting to Ailsa that Alf loved her. This was enough for Ailsa to realise she needed help. She began seeing a counsellor and decided to be admitted to a clinic. On her return to the Bay, Alf invited Michael and Pippa over for dinner. Ailsa happily discussed her treatment but Alf was left embarrassed, resulting in an argument. Ailsa admitted she had a hard time remembering why she fell in love with Alf. After receiving some guidance from Pippa, she was touched to see Alf playing with Duncan and arranging a meal for them both.
She helped Curtis buy a ring for Selina's birthday and suggested Angel get a charity to arrange a treat for ill Dylan. When Alf began looking into putting up timeshare apartments near the caravan park, it resulted in a falling out between the Stewarts and the Rosses. However, despite describing Michael as unreasonable, Ailsa quickly smoothed things over with Pippa. Quinn Jackson, the daughter Alf didn't know he had, came to stay with the Stewarts and stirred up trouble between them by telling Alf that Ailsa was meeting with Pippa in secret. However, Quinn soon left and the proposal was dropped. When Kelly Watson was involved in a needlestick incident with an HIV patient, Ailsa was supportive. But when she took Duncan to hospital in the opening weeks of 1996, she asked for another doctor. When a local radio journalist got hold of the story, a broadcast about it turned into a witch hunt despite Ailsa going on the show to defend herself, until a call from an incognito Kelly managed to embarrass the host into backing down.
Alf and Ailsa faced competition again when Fred Archer attempted to turn the surf club kiosk into a bistro. Michael refused to run it, not wanting to jeopardise their friendship again, so Alf suggested he and Ailsa take it over, although the plans ultimately came to nothing. While taking Italian lessons, Ailsa befriended one of the classmates, John, who developed a romantic interest in her. Ailsa gently but firmly rejected him but Curtis overheard and got the wrong idea, thinking they were having an affair. Duncan then heard him gossiping to the other teens about it and repeated it to Alf, forcing Ailsa to explain.
When Duncan and Dylan accidentally taped over Angel's video of late husband Shane, Angel lost her temper with the pair. Duncan told Ailsa that Angel had hit him and Ailsa believed it, despite Angel's denials. Ailsa increased the rift between them when Angel overheard her saying that she didn't think Shane and Angel would have lasted anyway and resigned from the Diner. Ailsa realised her mistake when Duncan told Alf that she herself had hit him and apologised to Angel, but she refused to return to work. Ailsa hired Jesse McGregor as a replacement but he quickly left when he realised Ailsa didn't trust him. When Summer Bay was hit by an earthquake, Alf suffered a heart attack as his store collapsed around him, which resulted in him needing open heart surgery. Complications set in after the operation, with Kelly the only doctor available. Ailsa was initially thankful when surgeon James McLaren returned to take over, until Pippa pointed out he should never have left without cover, prompting Ailsa to sue the hospital.
Vera Sussman, a journalist doing a piece on former murderers, ambushed Alf at the Diner and wrote a piece that exposed Ailsa's secret to Curtis and also forced her to tell Duncan. It also led to an upsetting encounter with mentally unstable Margaret Mitchell, the mother of Curtis' girlfriend, Casey. She was left distressed when she heard Curtis and Casey had been killed in a car accident, only for it to turn out the car had been stolen when they turned up perfectly fine. Ailsa and Alf clashed with Curtis over his plans to drop out of school and become a pro surfer but eventually agreed.
In the opening week of 1997, Ailsa's brother Tony turned up, out for revenge over their father's death. Threatening to kill Ailsa, Tony changed his mind on seeing Ailsa play with Duncan and realising the effect that her dying could have on him. However, he refused to stay and reconnect with her, feeling too much had happened.
Curtis left to join the pro surf circuit and Ailsa and Alf's next house guest was Aaron Welles, who Alf found sleeping rough in the bait shop. They convinced him to make friends with the other teens and also dealt with his drug addict sister Justine visiting. Ailsa tried to get Alf to change his diet after he received a doctor's report and supported Donald and Marilyn when Marilyn had an operation to remove fibroids. The issue of competition was raised again in 1998 when Bonza Burgers decided to set up a franchise in Summer Bay. Ailsa and Alf decided to modernise the Diner, hiring an architect and giving it a chrome appearance. Irene resigned as a result of the changes, feeling she didn't fit in with the new image, so Ailsa employed Jesse instead. She and Alf were later looking after Rachel when she was briefly kidnapped by two boys in a shopping mall.
Shortly after Aaron had moved out, Duncan was involved in an accident when he fell into a quarry. He needed surgery and had to spend months in a city hospital having rehab to walk again. Ailsa was angry that Alf seemed more interested in suing the council than spending time with Duncan, and tensions got so bad that Alf moved out to the caravan park. The couple eventually reconciled thanks to advice from fellow guest Catherine Clements, who Alf had grown close to during his stay.
Ailsa suffered yet another traumatic experience when a gunman, Murray, held up the Diner. Although he was quickly caught, Ailsa became increasingly nervous, being suspicious of unfamiliar Diner customers. She went on a road trip with Irene to bring her out of herself, where their car ended up breaking down in the outback and they sung karaoke at a country pub. Her nerves remained shot however: She was scared when Duncan, who had returned home with a new malicious side, jokingly threatened her with Alf's old gun and when someone turned up in the Diner in a gun-toting Halloween costume.
Ailsa's nerves were further shattered in 1999 when she was involved in a road rage incident after another driver, Gilkey, blamed her for his windscreen being damaged and continually turned up at the Diner to harass her. Alf bought a gun to protect them but Ailsa was so wound up that, when he came home unexpectedly, she fired at him, prompting him to get rid of it. Gilkey backed off when his insurance paid out and Ailsa was left to help Duncan start at Summer Bay High. She dealt well with Joey when he caused a disturbance in the Diner, aware he was suffering from mental illness. She and Alf wound Vinnie up after finding out he was writing horoscopes, convincing him he actually was psychic, and she tried to help Marilyn with her post-natal depression. She was involved in a minor car accident when a distracted Diana Fraser nearly collided with her.
When both Alf and Irene went away, Ailsa offered to let Joey Rainbow and Will & Hayley Smith stay with her and Duncan. She helped resolve things when Will and Hayley's brother Nick ran away from his foster home, but when Joey found a knife in his room and had no idea how it got there, Ailsa asked him to leave. Will and Hayley went with him and Irene was furious when she found out, with everyone but Ailsa believing Duncan had set the whole thing up to get rid of the others. Ailsa seemed to be vindicated when Joey went back to hospital after hearing voices, but it turned out to be the result of one of Vinnie Patterson's practical jokes backfiring. When what Duncan claimed was a science project turned out to be a homemade bomb which went off and injured Alf, Ailsa was forced to accept he was out of control and apologised to Joey.
Ailsa decided the family needed to try a mediation programme that the school had set up, asking Natalie Nash to be mediator. Duncan revealed he felt Alf and Ailsa didn't care about him; they had always paid more attention to the foster children than him and had left him in a hospital miles away. The family drew up a contract, which Duncan initially abused to get out of chores, but Ailsa later convinced him to make an effort. She dismissed Alf's mistaken belief that Natalie was having an affair with Jesse and advised Marilyn when she doubted Donald's abilities as a father. Ailsa convinced Alf to accept $100,000 as an out of court settlement for Duncan's accident. Duncan began attending a church youth group in order to spend time with a girl, Hope, but ended up becoming a better person anyway and apologising to Alf and Ailsa for his recent behaviour. They ended up going to a church day with him.
Ailsa asked to join Alf and Duncan on a fishing trip and ended up enjoying herself. She entered a fishing competition Alf organised to raise funds for the school, partnering with Marilyn. Driving home with Duncan, Ailsa was involved in a car crash when she drove into a river after being distracted retrieving a cassette tape Duncan had dropped. Duncan got to safety quickly but Ailsa was left trapped in the car as it filled with water. After being rescued by Travis Nash, Ailsa was placed on life support and had to be resuscitated twice, with the doctors feeling she had too much brain damage to make a full recovery. Alf agreed to the life support being turned off but Ailsa began to breathe unaided and eventually recovered. However, she was left mentally disturbed by the experience and felt Alf wanted her dead. Initially she hid all progress of her recovery from Alf, and was determined to make his life a misery when she eventually returned home. When Alf was electrocuted after stepping into a puddle whilst using a power tool, Ailsa warned Duncan to stay back, and then proceeded to stand by and not attempt to help Alf herself. Ailsa continued to watch as Shauna Bradley saved Alf, and ignored her request to call an ambulance. Ailsa begrudgingly took Duncan to the hospital in order to check on Alf, but left without seeing him after James Fraser told them he'd be OK. After Alf made his own way home from the hospital, he confronted Ailsa who told him that he now knew how she felt—and that she was only sorry that she didn't get the opportunity to pull the plug on him too. Alf moved out to the caravan park but Ailsa and Duncan were then held hostage by David DiAngelo, the criminal who had terrorised the Nashes the previous year and whose secret stash of stolen money Duncan had found. Ailsa was rescued by Alf after being left tied up in the house, which reconciled them.
The Stewarts gained another house guest in Mitch McColl, who Duncan had befriended. Ailsa was not entirely happy with Duncan's friendship with Edward Dunglass, which led to Duncan adopting proto-goth stylings. She comforted Donald after he learned his son Byron had died and looked after Sam while he travelled to the States for the funeral, although the rivalry between him and Mitch caused problems.
In 2000, she was left coping on her own again when Alf went to Africa to look for Celia, who had been taken hostage by rebels. She was left with mixed feelings when Duncan helped Liang, a young illegal immigrant who he hid in the Diner, particularly when the Diner had to be closed down temporarily after Liang was suspected of having typhoid. She initially disapproved when Edward encouraged Duncan to see things from the rebels' perspective but eventually conceded Edward was a good influence on him. She began employing Leah Poulos as a chef at the Diner.
When Duncan went missing at sea, Ailsa was furious on learning lifeguard Shauna had delayed searching for him, thinking it was a hoax. Ailsa softened slightly when she learned Duncan had faked a drowning immediately beforehand to try and get Shauna to give him mouth to mouth, but was devastated at the likelihood of Duncan being dead. This turned to fury when she learned he had been hiding on the Blaxland all along to get Shauna into trouble and she ordered him to apologise. Duncan was unhappy with Ailsa though and, when she joined him in a father and son surf carnival race in Alf's absence, was embarrassed by her poor showing.
Ailsa received further upset when Alf returned with Celia and she learned he had only secured the hostages' release by paying a hefty ransom, leaving them short of money. When Shauna's aunt, Kate O'Connor, arrived for a visit, it shocked Ailsa, since Kate had been her cellmate in jail. She received another shock when Kate revealed Shauna was the daughter Ailsa had given up for adoption, after being raped by a guard while in prison. Ailsa explained the truth to Alf but kept it from Shauna, claiming she and Kate had been at school together. Ailsa went away for a while to clear her head, staying with her old friend Graham who now ran a retreat. When she returned, she had decided to not tell anyone, only to find Shauna had just found out she was adopted. She questioned Ailsa who gave away their cover story by claiming to have been at school with both Kate and Shauna's adopted mother Margaret, even though they went to different schools. Ailsa confessed the truth to Shauna, who had already worked out most of it, and also to Duncan and Mitch, with it soon being common knowledge. However, she lied to Shauna about her father, saying he was a German medical student that she had a brief relationship with.
When Martin Dibble came to town for a visit, claiming to now be a top executive with Mobitune, Ailsa quickly realised he was lying and he admitted he was only a technician. Ailsa helped him to gently let down Vinnie, who he had promised a job, and told him people would be impressed with the truth, that he was a skilled worker. She remained uncomfortable about Shauna and Duncan spending time together so decided to lay some old demons to rest. She visited her old childhood home in Victoria where she bumped into her old neighbour, Mrs Trent. Mrs Trent explained that Ailsa's mother had always loved her, and that she had stayed away from Ailsa out of shame for not standing up to her husband herself. Shauna unexpectedly arrived at the door, and Ailsa introduced her as her daughter, with Shauna later calling her Mum for the first time. After returning home, Ailsa was happy to tell Shauna and Duncan some more of their family history. She explained that her mother's ancestors came over from Scotland during the gold rush and had settled as farmers, whereas her father Harold's ancestry was Irish and they had emigrated to Australia during the potato famine in the mid-1800s.
Ailsa began taking on a maternal role towards Shauna, advising her over her break-up with Harry. When the Sutherlands bought the caravan park from Alf, the Nashes and Colleen, and learned they had been deceived about the state of the caravans, Ailsa accused Joel of covering up the damage only for Alf to admit it had been him: He had needed the money from the sale after paying Celia's ransom. Ailsa convinced him to make amends by helping the Sutherlands take over the surf club kiosk. With Duncan and Jade dating, Ailsa and Shelley arranged a joint family outing to try and smooth things over but it was less than successful with Alf taking over and Jade cutting herself on broken glass. Ailsa found herself defending Shauna when she was accused of murdering Alicia Campbell, whose husband Gavin she had been having an affair with, and was slightly at odds with Alf when Duncan admitted he had witnessed Alicia falling from a cliff and kept quiet.
During a storm, Ailsa took refuge in the Stewart house with Duncan and Jade. Shauna arrived to warn them of a mudslide, but before they could evacuate the house was buried. Although all four of them were rescued without serious injury, Gavin was killed when he was trapped in the house during the rescue. The family were left homeless and Ailsa received a further blow when the Diner was gutted by a fire in the kitchen, caused by Colleen leaving a chip pan unattended. Leah took responsibility and Ailsa promptly fired her. Sam had inherited Bobby's share of the Diner and chose to take his share of the insurance money rather than letting it be used to rebuild. Leah told Ailsa about a unit with a flat that could be used for a new Diner. By now, Ailsa had worked out it was actually Colleen who started the fire but kept quiet and employed them both at the new Diner. Since the new flat only had two bedrooms, Mitch thought he would be asked to move out but Ailsa and Alf made the storeroom into a bedroom for him.
The Diner struggled to gain customers although things soon started to improve. Shauna was diagnosed with a heart condition and the family were informed it was hereditary. Ailsa and Duncan went to get tested; Duncan's results came back clear but Ailsa didn't want to miss the launch of Donald's book so left without getting tested. After getting home, she moved some heavy boxes that Alf was meant to have moved earlier. Not long after, she collapsed in the Diner in front of Alf and Duncan, dead of a heart attack. Her funeral took place in the opening episode of 2001.
Despite this, she reappeared at the end of 2002 when Alf came home and was stunned to find her in the Diner kitchen, acting as though she'd never been away. At the beginning of 2003, it became clear that as far as Alf was concerned, Ailsa was back with him, but no-one else could see her—with Donald confused when Alf insisted Ailsa was there. The visions of Ailsa began influencing Alf, causing him to attack Donald and Morag and then to run away into the bush. He was hospitalised and Ailsa turned out to be a hallucination caused by a brain tumour. Ailsa encouraged Alf to refuse treatment so he could continue to see her, but her behaviour towards him became more and more cruel. Alf realised she wasn't the real Ailsa and had the operation after all. During surgery, his heart stopped and Ailsa appeared to him in a near death experience, showing him what Summer Bay would become without him and convincing him to return to the living.