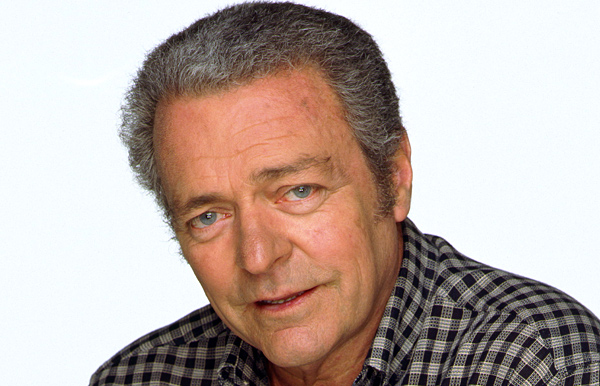 Donald Fisher (1988-2003; 2004; 2005; 2007)
Norman Coburn
Episodes: Pilot–3455; 3536–3538; 3723–3728; 3998–4000; 4468–4502
Date of Birth: 13th February 1945
Parents: R.J. Fisher & Isobel DuPre (both deceased)
Siblings: Mary Croft & Clive Fisher
Marital Status: Barbara Stewart (divorced); Marilyn Chambers (1996-2001, divorced); June Reynolds (c.2003-2007, divorced)
Children: Alan (deceased), Rebecca, Oscar (deceased) & Byron Fisher (deceased); Bobby Simpson (deceased)
Occupation: Deputy Principal / Principal of Summer Bay High
---
Donald Fisher was one of the original characters along with Alf and Ailsa Stewart and Sally Keating. Fisher's first appearance in the pilot episode made everyone shiver, not only because of his dire look, but his fierce way of treating people. Little Sally nearly started crying when Fisher addressed to her. His biggest wish so far was to see the local delinquent Bobby behind bars. Poor Booby turned out to be his daughter later on but the joy of having a daughter was cruelly destroyed when Adam killed Bobby in a boat accident. It's hard to enumerate all the good and bad deed of Fisher for he'd been so long on the show, for more than 10 years but one thing's for sure – he always took care about his pupils.
After an ardent affair with Marilyn, they decided to get married in 1995, one of the most lovely marriages ever. Fisher offered fostering weird Casey for some time and then Sam when Pippa went to live with Ian on the Carrington Ranges.
Fisher has also been haunted by the past as the book of his dead son Alan was supposed to become part of Summer Bay high's reading list.
Another shock in early 1997 was to see his long lost mother coming home and then to learn she'd only have some weeks to live. The biggest traumatic experience must have been the loss of the miracle child Byron after Marilyn was told being sterile several times and suffered from the loss of the "first child" Oscar and then had to struggle with post natal depression in early 1999 making her run away from Fisher once more. Fisher's marriage has never been smooth sailing for he's always told that he's too old for Marilyn and that he would repent on it but he always truly loved his wife although one's got the impression that he was more open-minded in the presence of his intermediate housekeeper Ellen Porter.
Fisher left the Bay in October 1999 to join his wife Marilyn who headed for the States in order to save Byron's life.
However, Byron got worse, and Fisher was about to go to the States, when he learned Marilyn was gone: he thought she'd return. He went anyway and came back without her; he later finds a letter from her: she is not coming back. He was devastated to learn she has left him.
————–
Soon after Don and Sam found out about Greg's whereabouts and Sam went to see him, but Greg wasn't there and he returned to the bay. Don had been meaning to say at this point how much Sam meant to him, but couldn't say it. Soon after Greg turned up in the Bay and started talking about how he was going to have Sam live with him. At was at this point Don showed Sam how much he really meant to him and he decided to stay with Don.
Sam didn't last much longer in the bay, full time at least as a few months later he left to join the surfing circuit after a strong performance in a competition.
_ ___________________
Don organised for a DNA test to prove once and for all that Seb was his grandson and the test turned up positive. In a move aimed at enhancing their relationship, Don gave Seb a photo album of the family. However, another student got hold of a photo of 70's Don and plastered photocopies around the school. Don assumed it was Seb and blamed him, setting their relationship back a bit.
Don soon left, with Irene and the Smith's for London for the UK launch of "Letter to Byron". It was there whilst taking a bus trip around the city he thought he spotted Marilyn on the pavement. Racing off the bus, he chased after her, but she was nowhere to be seen. When they went to the book launch the next day, Don was giving a talk when a blonde lady knocked a book over at the back. It was Marilyn and Don chased her all the way to a train station nearby where Marilyn told him to forget about her.
Don walked away distraught, but later he got a phone call at the hotel from Marilyn saying that she wanted to meet him. They met in a nearby park where Marilyn told him why she had left him almost two years ago. She also told him that she no longer loved him and Don returned to the bay, without Marilyn, but with closure on that chapter of his life.
June soon arrived in the Bay for a brief visit, and she inadvertantly told Colleen that Seb was Don's grandson, and Don had to reveal it to the bay. Don also recognised a face from his past in the bay, Jim Tyler. Jim had been at teaching school with Don in the seventies, but was now living it rough. Don offered him a teaching post during a teacher shortages, but Jim was fragile after killing his son many years before and had a breakdown.
When he returned to the bay he set about trying to build a better relationship with Seb, but they still had there ups and there downs. After Jude's bike accident, Seb turned down Don's many request to come live with him. However they had built up enough of a relationship for Seb to say yes to going with Don on holiday to Switzerland where they could meet up with some old Baysiders. However Don suffered some heart problems and wasn't allowed to fly and the trip was called off.
Around this time Irene began noticing that Don was going to much more departmental meetings than normal. Don was initially coy about this saying there was nothing up. However he soon had to reveal to the staff of the school that he was fighting to keep the school open as the department were trying to close the school or the nearby Reefton Lakes High.
Despite Don's protestations to Sally to let him deal with the situation on his own, Sally went public with the proposals causing Don all sorts of problems with Reefton Lakes headmistress Patricia,who thought that Sally had been saying that her school wasn't good enough in the paper. To help ease tensions a sports day was organised and then a teacher swap, with Don getting a new history teacher, Kick, in replacement of Sally.
Kick talked Don into organising a trip to a nearby attraction that he thought would be of beneficial to the kids. Whilst returning, the bus they were travelling on crashed off the road and into a field. Don wasn't too badly injured in this, but he did require hospital treatment and caused Seb to realise how close he had been to losing his only remaining living relative and so moved in with Don. Don returned to work, but turn his time off he had let Patricia enter their joint proposal in good faith to the department. However Patricia had changed the proposal to be more advantageous for Reefton and Don was soon told that Summer Bay High would be closed at the end of the year.
Some of the kids decided to organise a sleepover at the school to show their disgust at the decision, and even though he was against the action, he spent the night in his office as he was in charge of the school. When the police came in the morning, Don refused to leave and was arrested along with other protestors. Whilst the others were soon let go for unblemished records, Don had to wait a little longer due to a previous offence.
He soon had to leave the school after he was suspended for disobeying departmental orders and a new principal was brought in. June returned to the bay to see how Don was doing and soon pushed him into a job helping at the surf club. There he helped a kid called Ryan who was being bullied by some other kids, despite Flynn saying that Don would bring too much of a school mentality to the drop-in centre.
Brett Egan returned to the bay and gave Sally some papers, which she gave to Don and a few days later they were able to celebrate the school not being closed down. Don soon shared a kiss with June. Sam returned soon after for the Summer Bay sesquicentenary, but after the ship went down Don intially thought he had lost Seb, who he had given his ticket to. Thankfully Seb found safety and Don received more good news when Rebecca and Travis announced that they had had their first child. Don also got his old job back at the school and soon returned to work.
Without him keeping June company during the day, and with nothing to keep her occupied June's kleptomania started up again and she was started stealing stuff from around the bay. When she was caught taking Alex's watch at VJ's christening on video camera, her problem became public and Don said he would stand by her and offered her a job running the school Rock Eisteddfod.
Whilst the run up went smoothly enough, Don had to cancel the show after a lurid performance for Jade. The school also gained a new vice principal around that time, Angela Russell.
Around the same time, he asked June to marry him and she said yes. However, whilst June was working at the diner, money went missing and June overheard Don doubting her and even though she was soon found not to be guilty, she left Summer Bay, her reputation in tatters.
Don became increasingly worried by his the health of Alf and called Morag down to help him. Morag soon organised a meeting over the care of Alf's affairs. With Alf not wanting his sister involved, he asked Don and Don took over. Alf's health became more and more worrying and after seeing Ailsa and collapsing in the bush, Alf had to go and live with Donald.
Donald was also having problems at the school with the increasinly aloof behaviour of Angie, which included buring down Don's office and faking an assault. Don soon announced that he was intending after Alf's operation, to move up to the Whitsunday's to be with June and he left the bay soon after.
He subsequently returned to be the celebrant at Sally and Flynn's wedding, to see his injured grandson Seb after he was paralysed in a car accident and to celebrate Alf's 60th birthday.
2007 stint TBA