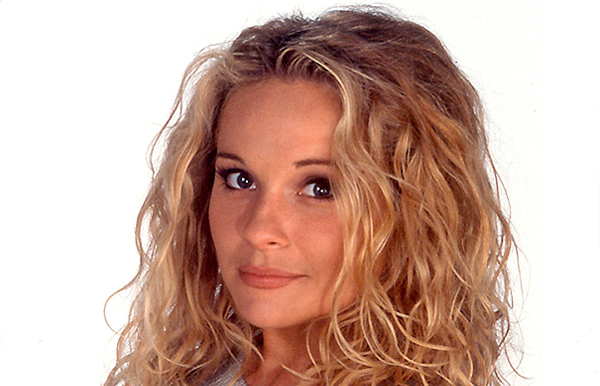 Rebecca Jane Fisher/Nash (1989, 1994, 1996-1999)
Jane Hall (1989), Danielle Carter (1994), Belinda Emmett (1996-1999), Megan Connolly (1998, temporary replacement)
Episodes: 276–289; 1494–1517; 1983–2678
Parents: Donald Fisher & Barbara Stewart
Step Parents: Marilyn Chambers & June Reynolds (both former)
Siblings: Alan Fisher (deceased); Bobby Simpson, Oscar & Byron Fisher (both half, both deceased)
Marital Status: Travis Nash (1997-present)
Children: Unnamed son
Occupation: Music Teacher
---
Rebecca first appeared in Home and Away when her half sister Bobby invited her to dinner with herself and their father, Donald Fisher, though this was a fact that Rebecca was not yet aware of.
Whilst staying at Frank's flat, Martin and Lance arrived and not knowing that Rebecca didn't know, told her that Donald was Bobby's father causing Rebecca to run out. Martin and Lance run after her and find her bracelet on the beach causing them to think she may have commited suicide. Steven soon found her hiding out in one of the caravans. She tells Steven about what's happened and she return home to Don's where Don explains everything regarding himself, Bobby and Morag.
Meanwhile Lance and Martin were still looking for Rebecca and thinking she may have drowned get out some snorkels and start searching for her in the sea. Steven, Bobby, Frank and Rebecca arrive to see them and so Rebecca dives into the water to surprise Martin and Lance. Following all of this, Rebecca decides to stay for the summer holidays in Summer Bay.
Following on from that Rebecca became friendly with both Steven and Bobby, kissing Steven and teaching Bobby how to play the piano. Don was unhappy about both of these things, thinking that it would ultimately distract Rebecca from her music training.
Her continued relationship with Steven eventually led to Rebecca lying to both Don and Celia and when Don and Celia's paths cross they realise Rebecca's deceit and become worried that her and Steven have ran away together. However Steven soon turns up and Rebecca hides out in Lance's caravan.
Rebecca also used her time in the bay to say goodbye to her older brother Alan, who had died in the past year, whose funeral she had been unable to attend.
Rebecca and Steven continued seeing each other, despite Donald's continued worries over her spending too much time seeing Steven and not spending enough time on her music. Don eventually loosened sligtly allowing Rebecca to go to the school dance with Steven on her last night before returning to the city.
Rebecca returned five years later, looking distinctly different, but we'll put that down just to growing up where she and Luke became close. However Don wasn't too pleased about this (have we been here before), and told Luke that he couldn't go out with Rebecca.
Despite admitting to Ailsa that Rebecca was now old enough to not have to live with him interfering in her life, Don gave Luke added work at the school in an effort to keep her away from Rebecca.
After spending weeks chasing after Rebecca, Luke then decided to finish his relationship with Rebecca very soon after. So Rebecca decided to put a rock through Luke's car windscreen. After crying in her father's arms, Rebecca again left soon after where she wasn't seen again till….
…1996, where she returned looking distinctly different.