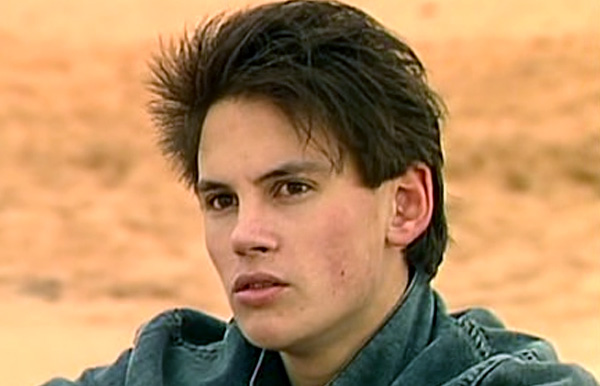 Alan Fisher (1988)
Simon Kay
Episodes: 121-160; 162
Parents: Donald Fisher and Barbara Stewart
Siblings: Rebecca Fisher; Bobby Simpson, Oscar & Byron Fisher (all half, all deceased)
Children: Sebastian Miller
Occupation: Student; Surfer; Author
---
Alan first arrived in Summer Bay much to the disapproval of his father Donald, with whom he had a very strained relationship. He also got on the wrong side of Bobby by cracking onto her but they quickly moved past that and became close friends. Fisher was not to be so easily swayed though and Alan enrolled at school with Donald threatening to have him expelled the minute he set a foot wrong.
Fisher warned Bobby to stay away from Alan so she deliberately hung around with him in an attempt to wind Fisher up. Barbara revealed that behind Alan's cockiness was a front for a brain tumour which couldn't be cured so he could die at any moment. Thanks to Carly the news managed to get round the whole Bay and Alan blamed Fisher for making his business public knowledge.
His anger at Fisher saw him turn up in a series of outlandish clothes, from dust covered jumpers to a girl's gym kit. He distributed a memo with Fisher's signature on the bottom and faked a collapse until Fisher lost his temper and hit him. He then reported Fisher to the department causing him to be suspended. When Fisher confronted him and told him he was genuinely worried when he collapsed Alan came clean only for his mother to throw him out. A few days later he apologised to everyone he had hurt and agreed to stay away from Fisher, dropping out of school to be come a professional surfer.
He collapsed on the beach and was admitted to hospital where he was in a coma and pronounced brain dead. Bobby confided in Frank that she promised Alan she wouldn't let him be a vegetable and was prepared to turn off his life support machine herself if she needed to but in the night he had a seizure and the damage was irrevesible so his parents agreed to let him go.
He was last seen on a videotape he left for his father requesting Fisher publish his novel 'On a crest of a wave' and that he ask a surfer to scatter his ashes at sea which Fisher eventually did.