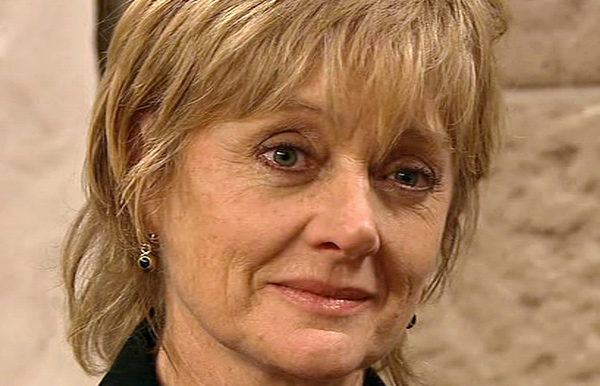 Barbara Stewart (1988, 1989, 1996, 2000)
Barbara Stevens (1988, 1989, 2005); Rona McLeod (1996)
Episodes: 98; 111-164; 231-232; 2018-2024; 4000
Date of Birth: 1952
Parents: Gordon & Sarah Stewart (both deceased)
Siblings: Alf Stewart, Morag Bellingham, Celia & Debra Stewart; Colleen Smart (half)
Marital Status: Donald Fisher (divorced)
Children: Alan (deceased) & Rebecca Fisher
Occupation: Teacher
---
Barbara was first seen on the phone to ex-husband Donald Fisher, explaining that she would be attending her niece Roo's upcoming wedding to Frank Morgan. She hinted that she had news to tell Donald, but would wait until she had arrived to tell him. In the end she was unable to attend the wedding due to their son Alan having a surfing accident.
A couple of weeks later she turned up in the bay and announced that she had got a job at the school, much to Donald's fury. They clashed on just about everything continually undermining each other but things seemed to thaw when Donald asked her out for dinner. It didn't last long though as she accused him of cracking onto her and though he denied it, he later admitted to Ailsa that he had been hoping to get back together with her.
She defied him by enrolling son Alan at school but when Donald continued to moan about him she confided that he had a brain tumour and could die at any second. Alan had a go at her for telling Donald and was overheard by Tom who Told Pippa and was overheard by Carly who told everybody. When Alan, believing Fisher was responsible for spreading the news about his anuerism, set him up to be suspended Barbara was furious and threw him out.
She forgave him though when he returned to the bay to make amends and was devastated when he collapsed and was left in a coma before later suffering a seizure and dying. She and Donald continued to fight over just about everything in the aftermath of Alan's death but they made their peace when Fisher gave his permission for Barbara to have Alan's book published. She took a taxi out of the bay after admitting to Donald that a part of her would always love him. Bobby then went after Barbara whilst she was trying to discover her paternity.
Barbara returned in 1996 and her personality had completely changed. She attempted to kill Donald so that she could gain access to his life savings. However Rebecca uncovered that Barbara was behind the strange occurrences that had been happening at the Fisher house and Constable Garner took Barbara away. Alf immediately disassociated her from the family.
Both Donald and Barbara returned for Alf's 60th birthday.
In a scene ultimately cut from Episode 4000, Barbara tried to apologise to Donald about what happened in 1996, but Donald said that he knew she was ill at the time and to forget it ever happened.