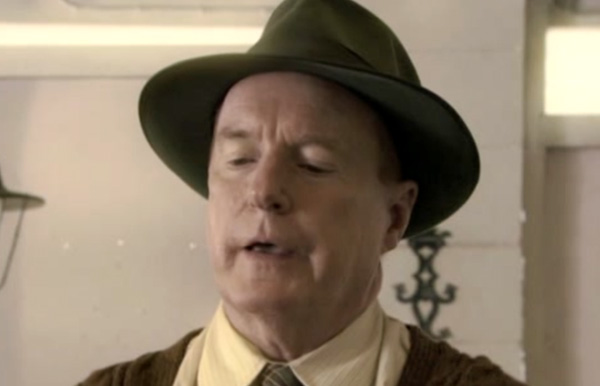 Gordon Stewart
Ray Meagher
Episodes: 5108
Date of Birth: 1st August 1912
Parents: Duncan Stewart
Siblings: Cess Stewart
Marital Status: Sarah Townsend (1939)
Children: Alf, Morag, Barbara, Celia & Debra Stewart; Colleen Smart
Occupation: Yacht Brokerage & Boatyard owner; Caravan Park owner
---
Gordon was born at the Northern Districts Hospital in August 1912, one of at least two sons born to Duncan Stewart, himself the son of Summer Bay's founder Angus Stewart. Gordon only had a few short years with his father, who was killed in action during WWI. He grew up in Summer Bay House, which Duncan had built at the turn of the 20th century.
In his twenties, Gordon became romantically involved with Sarah Jane Townsend. With the outbreak of WWII in 1939, their romance culminated in a hurried wedding before Gordon went off to war. The night before the wedding however, Gordon had a one-night stand with local girl Mavis Waters. Mavis ended up pregnant but Gordon told her that he wouldn't be able to support her. Out of desperation, Mavis married local layabout Merv Hickey and let him believe the child, Colleen, was his.
Sarah was aware of Gordon's indiscretion and came to forgive him, but began to feel sorry for Mavis being forced to live with abusive, alcoholic Merv. Once the war was over she asked Gordon to rescue Colleen from her circumstances but he refused. Merv had been dishonourably discharged during the war and the added scandal would have made life impossible in Summer Bay for both families. Sarah kept the secret, writing it in a diary that she would place in a time capsule in 1948 and be unearthed by Colleen 60 years later.
Sarah gave birth to their first child, Alfred, in 1945 and whilst Gordon would have liked more sons, he ended up with four daughters over the next 15 years – Morag, Barbara, Celia and Debra.
The owner of a successful Boat Yard & Yacht Brokerage business, as well as a large amount of land throughout Summer Bay, Gordon and his family were well respected in the town. Gordon brought his children up with a strict but fair hand, and believed his son should be taught how to make his own way in the world. He refused to let Alf come into his business, initially telling him that everything would be left to the girls on his death, but despite this Gordon opened the Caravan Park at Summer Bay House in the early 1960's as a future investment for Alf.
A couple of years later, Alf began a whirlwind romance with a girl named Vivian Standish, who had been holidaying in Summer Bay since she was little. When they announced their intention to marry a few weeks later, both Gordon & Sarah and Viv's parents were against it – Alf was a Protestant and Viv a Catholic. In the end, Viv left the bay soon afterwards with no explanation (it transpired 40 years later that Viv had fallen pregnant with Alf's child).
Gordon's attitude to his son's upbringing paid off and led to Alf becoming a successful business owner in his own right. When Alf eventually married Martha Baldivis in 1969, Gordon handed Summer Bay House and the Caravan Park down to them, and he and Sarah moved into a smaller house elsewhere in the bay.
Gordon and Sarah went on holiday to Tahiti shortly before the series began in 1988, with Celia remaining at their house. The stay in Tahiti was originally meant to be temporary, and as late as 1990 when Emma accidentally broke Gordon's golf clubs, Alf was anticipating their return, but they eventually decided to settle there and never came back to Summer Bay.
Gordon died sometime between 1990 and 2002, presumably back in Australia, with Morag stating that she had nursed him through Alzheimer's in his final years.
The only time Gordon has been seen on screen was during a flashback in 2010 to Alf's 5th birthday party. Gordon encouraged Alf to blow out his candles and make a wish, and told a bossy Morag not to pester Alf about revealing what he wished for. When a clown appeared with a ventriloquist doll, Gordon comforted a startled Alf. It is unclear how seriously we should take this flashback, which showed all the Stewart siblings as around the same age and acting like their adult counterparts, but if it is to be believed, Gordon bore a strong resemblance to Alf.