"Who won't come home?" – Home and Away explosion in new promo
A massive couple of weeks of Home and Away will see a car bomb, Justin held hostage by Vita Nova, and Felicity in grave danger.
A new promo for the Aussie soap aired after Thursday's triple-bill down under, and teased "groundbreaking drama that will leave you breathless" as it asks us "Who won't come home?"
Watch the promo in full further down the article.
Next week's episodes see Justin (James Stewart) and Cash (Nicholas Cartwright) head back to Vita Nova's compound, this time in an attempt to steal back Andrew (Joshua Hewson) from the cult's clutches.
Last week, Justin and Cash headed to the compound to chat to the doomsday cult, having learnt that it was leader Margot (Mandy McElhinney) who had taken Andrew from Summer Bay while masquerading as his mother Esther.
Yet they had no luck, as Andrew had already been brainwashed once again – he claimed that he was happy to be back with Vita Nova and had no desire to leave with Cash and Justin.
This week, Cash and Justin decide to make another attempt to get Andrew back, but this time with force.
Leah tries to stop Justin, telling him "we know these people are capable of murder."
The murder she refers to is that of Andrew's mum, the real Esther.
At the end of Thursday's triple-bill, Rose (Kirsty Marillier) updated Cash with the latest news from the taskforce – they've uncovered the remains of Esther locked in a suitcase at a storage facility. DNA testing confirmed that she's been deceased for at least ten years.
Although the cause of death hasn't yet been determined, Cash points out that "you don't die of natural causes and end up in a suitcase."
The new promo shows that Justin sneaks into the Vita Nova compound during next week's episodes, hoping to steal Andrew away without the other members realising.
He heads there with Cash, who plans to create a diversion at the main gate, giving Justin as much time as he can to sneak in and rescue Andrew while the bad guys are distracted.
Justin finds Andrew in a store cupboard and begs him to stay quiet. However, he's out of luck – Andrew is firmly under the gang's spell.
"We need to be quick, these people are dangerous," Justin tells Andrew.
But Andrew is having none of it – he's got no intention of leaving.
"Go!" Andrew shouts, before calling out what appears to be "Over here!" and drawing the gang's attention to Justin's presence.
Two burly men then run over and manhandle Justin, before later shots see him unconscious on a mattress on the floor.
Later, Justin pleads with Andrew again. He sounds desperate as he tells Andrew: "These people are never gonna let me go, you know that."
Back in Summer Bay, Leah (Ada Nicodemou) picks up a photo of her and Justin, worried her boyfriend has walked into the path of danger.
"He could be dead for all we know," she says.
Will she see him again?
A later shot shows a number of police vehicles descend upon the Vita Nova compound – will they get there in time to save Justin?
Marilyn (Emily Symons) and her friends also find themselves in grave danger in next week's Home and Away, as a bomb is planted inside a Stunning Organics box.
At the diner, a courier drops off a box with the now-familiar Stunning Organics branding. It's a change of location, with the ever-growing collection of boxes previously having been delivered to Irene's house.
For UK viewers unaware of who Stunning Organics are, they're a dodgy cosmetics company which hires unsuspecting brand ambassadors to sell their products. This week, Channel 5 viewers will see Marilyn sign up, hoping to make some extra cash to pay for Jett's wedding, but she quickly regrets her decision.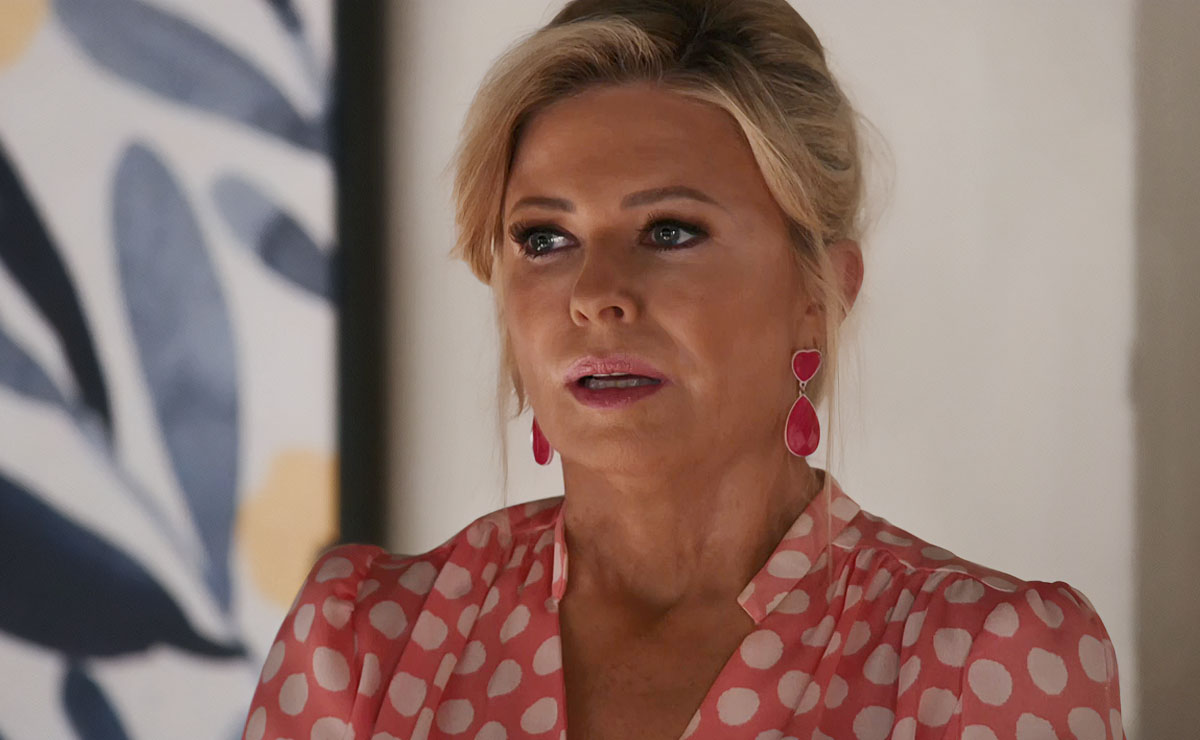 The company began sending her more boxes than she'd agreed to, Roo had an allergic reaction to their products, and they refused to let her out of her contract.
In recent weeks, Maz has angered the company by going to the newspapers about their shady tactics. Last week, as she was staying at Irene's, a brick was hurled through the window with a note attached reading "NO MORE INTERVIEWS. OR ELSE!"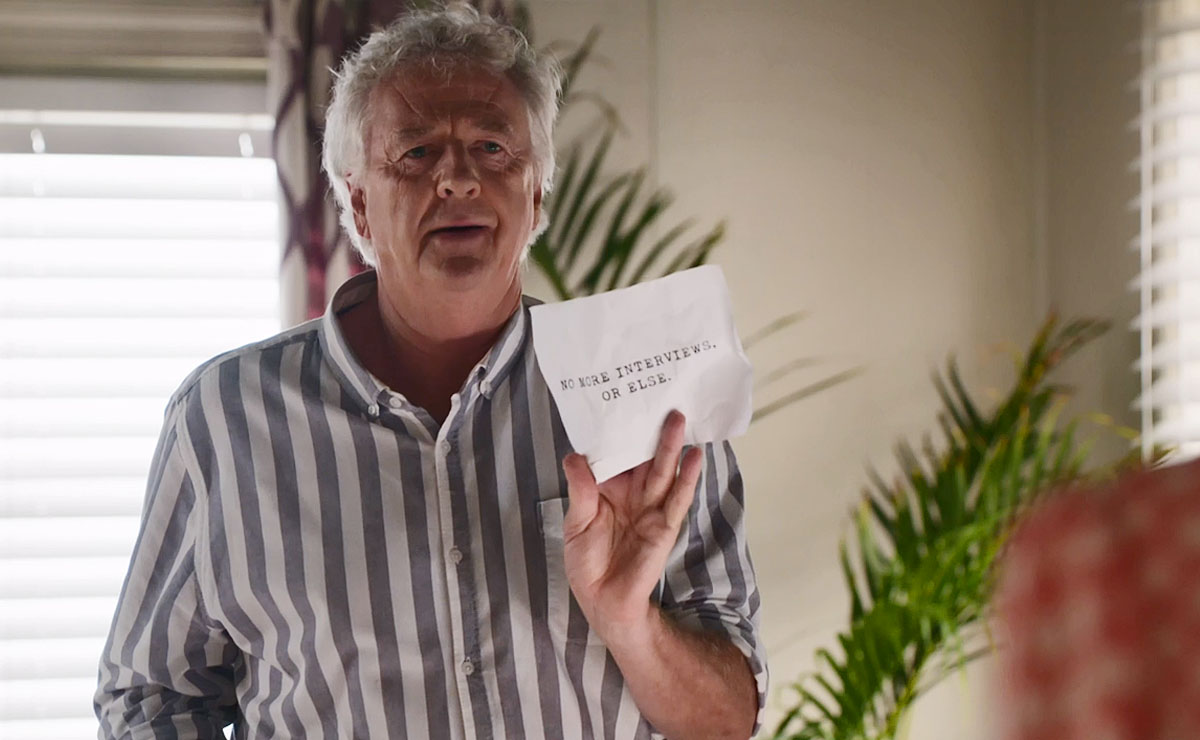 But that's nothing compared to what comes next…
"Hey Maz, a courier just dropped something for you at work," Kirby (Angelina Thomson) says as she calls Maz to let her know.
Kirby then places the box in the kitchen at the diner, as the next shot reveals what we can only presume to be its contents – a bomb!
As a light changes from red to green, a countdown appears and begins to tick down – time remaining: one hour!
Later on, we see Maz calmly cleaning tables at the diner, with the ominous delivery just meters away.
The clock still ticking, the bomb's timer now shows 39 minutes.
Later, after a shot of the bomb's timer at 8 seconds, we hear Cash tell Rose: "I wanna find who did this" – though it's unclear which of the many upcoming crimes he's referring to.
Then, a shot of a long-lens camera taking a photo of Maz as she talks to Roo (Georgie Parker) on the beach.
"I never thought it would come to this," Maz tells Cash.
Later in the promo, we see a shot of a van being driven. The driver spots Mali's (Kyle Shilling) campervan in their rearview mirror.
The driver's identity? If a synopsis from next Thursday's episode is anything to go by, it's John Palmer (Shane Withington).
The synopsis tells us that "John's on the road to disaster" – if so, just how has poor John ended up with Marilyn's dangerous package?
Mali urges John to pull over, as he jumps out of his van and runs towards the one with the package in the back.
"Get out!" he calls out. "Get out now, move, move, move!"
As he runs towards the van, the countdown reaches 00:00, and, as a red light appears, a huge explosion rips out.
Mali is pushed back by the force of the explosion, as the van goes up in flames. The fate of its driver – unknown!
The next stage of the saga will begin next Monday in Australia, as spoilers tell us that "Marilyn is being watched."
The synopsis for Tuesday's episode asks "Who is sending Marilyn threats?"
In Wednesday's episode, "Marilyn digs her heels in," suggesting she's prepared to fight back. However, whoever's watching her isn't going to give up, as spoilers for Thursday's second episode tell us that "Marilyn has no idea of the danger she's in."
Finally, in Thursday's third and final episode, "John's on the road to disaster."
As if that wasn't enough drama for one week, the Battle of the Bands competition takes place on Thursday. The Lyrik members put aside their differences and compete for the $20,000 prize, but the prize money soon becomes the least of their worries.
This week's episodes have seen the group fractured by the breakup of Kirby and Theo (Matt Evans), and the arrival of "rock chick" and classically trained violinist Mercedes (Amali Golden).
Remi (Adam Rowland) believes Mercedes to be the group's golden ticket to success in the Battle of the Bands competition, but Eden (Stephanie Panazzo) is far from a fan, revealing to Bree (Juliet Godwin) that she once tried to steal Remi away to join a different band, and she's not trusted her since.
However, while the promo shows that the band are able to come together for the sake of the prize money, Felicity (Jacqui Purvis) faces grave danger after a dark turn of events.
The promo shows her partying enthusiastically, smiling and calling out as she watches her best friends perform on stage.
Then, we see a hand pouring a small vial of liquid into a drink which we assume to be Felicity's.
Shortly after, Felicity's vision blurs and she begins to stumble around.
In the next shot, she's at the top of a set of stairs, unable to keep her balance. A closeup shows her beginning to lose control before she collapses to the floor.
Who has spiked Felicity's drink, and what are their intentions?
---
Monday 29th May (Episode 8048)
Justin is determined to rescue Andrew. Will Cash defy the law to risk a rescue mission? Marilyn is being watched.
Tuesday 30th May (Episode 8049)
Cash and Justin come face to face with Vita Nova. Xander consoles Kate. Who is sending Marilyn threats?
Wednesday 31st May (Episode 8050)
Kirby and Theo get on the same level. Marilyn digs her heels in. Justin's rescue mission is back on.
Thursday 1st June (Episodes 8051-8053)
Justin will do anything to save Andrew. Xander is determined to support Kate.
Cash storms Vita Nova to save Justin. Leah defends Andrew. Marilyn has no idea of the danger she's in.
Can Lyrik triumph at Battle of the Bands? Felicity is in grave danger. John's on the road to disaster.
---
We've had our first official introduction to Mercedes, a rock chick and classically trained musician who's set to shake up Lyrik and threaten Bree and Remi's relationship.
Spoilers in your inbox every weekend!