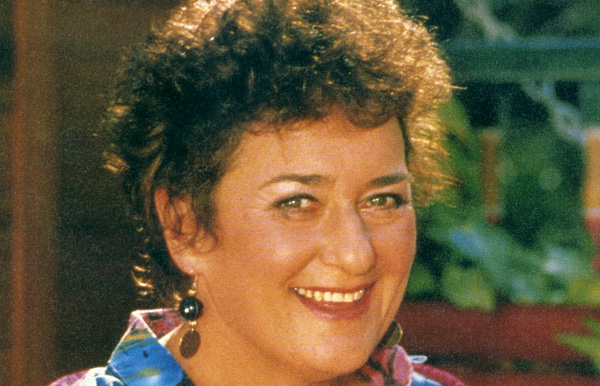 Floss McPhee (1988-1989; 2000; 2002; 2004; 2008)
Sheila Kennelly
Episodes: Pilot–260; 2853–2855; 3282–3289; 3698–3714; 4607–4608
Marital Status: Neville McPhee (deceased)
Children: Scott McPhee
Occupation: Circus Performer, Fortune Teller
---
First appearing in the pilot episode of home and away, ex circus performer Floss, lived in a van with husband Neville. She put her skills as a fortune teller to instant use by reading Pippa's palms and 'seeing' her being ripped off on a business venture. Pippa saw through Floss's attempt to warn them that the caravan park wasn't quite as good a bargain as it seemed and the two became good friends. The pilot episode also revealed that between them Floss and Neville had been looking out for local tearaway Bobby Simpson and even allowing her to hide in one of the vans. When Fisher had Bobby arrested, Floss defended her to Pippa and was responsible for sparking off Pippa's interest in helping her. Later though she regretted her defense when she saw a vision in her tarot cards that Bobby would be the death of one of The Fletcher kids.
We got an insight into Floss and Neville's past during Alf and Ailsa's engagement party when it was revealed that they were estranged from their son Scott. Heading to the city in an attempt to meet up with him, Floss came up with a hairbrained scheme to pose as a babysitter in order to meet her grandson and even obtained fake references from Pippa and Ailsa. After becoming babysitter to her grandson Ben, the two became close and he even began coming on visits to Summer Bay, much to the disapproval of Neville. It wasn't long before both became taken with Ben and after he found out from a photo album that they were his grandparents, he stunned them by announcing he wanted them to foster him so he could live in Summer Bay. His real father refused to stand for it thoug and Ben returned to the city.
In the meantime Floss became obsessed with her vision that Bobby would kill one of the fletcher kids and was horrified when, days after dreaming of Frank dying in a car crash with a car of a specific registration, Frank bought a car with an almost identical registration. Bobby trashed the car but Floss and Neville felt so guilty that they gave Frank an anonymous cheque to cover the cost and with it Tom bought Frank a car with an almost identical registration plate. On Frank's wedding day he heard from Roo that she had been lying to him and raced off in the car only to swerve to avoid Bobby and crash. Luckily not all of Floss's prediction came true as Frank survived the accident.
On mothers day Neville returned to the city in an attempt to talk Scott into seeing Floss and he reluctantly agreed spending a day in Summer Bay with his wife and son and the family made their peace with each other.
Neville ran into his old circus ringmaster who offered him his old job back and they decided to leave the bay. Not wanting to make a fuss they left quietly leaving behind a note but their car broke down allowing the Fletchers to catch them in time to say a proper goodbye.
Floss returned for Sally's failed wedding to Kieran in 2000, where Floss told Alf that Neville had passed away a couple of years previous due to his heart
Floss returned to the Bay in 2002 for the sesquicentenary celebrations, and predicted disaster for Shelley if she wore red. The Mirigini later sank with Shelley and daughter Kirsty, wearing Floss's discarded red scarf, were both left with their lives in the balance. When they returned safely Floss headed back to the circus.
Floss returned in 2004 apparently suffering from terminal cancer. She asked, first Alf, and then Sally if they would euthanise her. Sally took the medication out of Flynn's cabinets, but then Floss was given the most extraordinary news, she didn't have cancer after all. After spoiling both Henry and Max with gifts, she left with the circus again.
Sensing that change was afoot, Floss returned to Summer Bay in 2008, where she found Sally packing as she prepared to leave for her trip overseas. She helped Sally remove the photos from the hallway, which she'd been putting off, and helped her realise that it was the beginning of a new era. She later felt that there was a troublemaker in the bay who was in serious trouble, and when they passed the condemned Beachside Diner on their way to Sally's surprise farewell concert, Floss sensed that this was where the person was. Forcing their way into the building, Sally and Floss found Aden trapped under some rubble, unconscious. They eventually made it to the concert where Sally was reunited with Pippa, Steven and Carly, and Floss said her goodbyes to Sally off-screen.