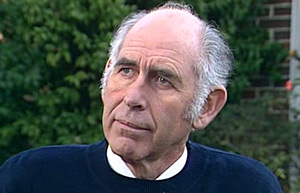 Gordon Keith Macklin
Ron Haddrick
Episodes: 134; 167; 173; 269 – 295; 389 – 390; 440 – 448
Children: Brett & Stacey Macklin
---
Though mentioned a few times by daughter Stacey and son Brett Gordon did not appear until he turned up to try and convince Alf to invest in the resort.
He was next seen when Brett called him as Roo went into labour and declared his disgust that Martha was a girl and admitted he wanted nothing to do with her. He berated Brett for not even managing to get 'this' right.
After Stacey discovered his plans to build a resort covering most of summer bay he asked Morag to help him destroy her. When she became pregnant he sacked her but she had documents proving his dodgy dealings and when she revealed she wasn't pregnant after all he offered her her job back. When he refused to apologise Stacey resigned but the two reconciled when her fiance Phil was killed in a fire.
Gordon returned to town for the grand opening of The Sands Resort and was disappointed in Stacey after the performance she arranged by Image, was a disaster. He tried to show her his caring side by arranging for Pippa to be escorted to the event and he and Stacey managed to make peace and share a hug.
He returned again in the aftermath of the Bay's shark attack and pushed for the closure of the beach and publicly paid $2000 to a shark hunter to catch the shark. He later went to the shark hunter, Zac and told him he'd double his money is he kept the shark alive. At a town meeting Alf suggested that Gordon was trying to milk the shark story to gain publicity but Gordon threatened to sue him if he kept up the defamatory remarks.
Steven and Viv spotted rubbish truck disposing of waste into the sea and on further inspection they realised it was Macklin waste. Alf and Tom confronted him but Gordon insisted that he paid someone to dump the waste legally and it wasn't his problem where they were putting it. Gordon's day got even worse when the shark hunter Zac threatened to expose his shonky practices so Gordon left the bay once more to avoid any damage to his reputation.
When Brett returned to the bay in 2005, he mentioned that Gordon had since passed away.