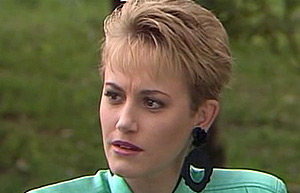 Stacey Macklin
Sandie Lillingston
Episodes: 169 – 430
Parents: Gordon Macklin
Siblings: Brett Macklin
---
Stacey arrived in town in the middle of a storm when her car broke down and she knocked at the Fletcher's for help. The door was opened by Phillip Matheson and his nephew Steven and it became clear that there was instant sparks between Phillip and Stacey.
She was seen again the next morning when she woke her drunk brother Brett up and told him that their father was sacking him and giving her the job instead. The job kept her so busy that despite Phillip's attempts at wooing her, their relationship never really got off the ground. When Brett went off the rails and stole baby Martha, Stacey and Phillip attempted to stop him but Brett slammed a door on Phillip's hand causing his fingers to be badly damaged and ending his potential career as a surgeon. Phillip's inabilty to forgive Brett caused him to nearly commit suicide and was a source of more tension between Stacey and Phillip.
Stacey accpted a date with Jeff Samuels and hated it but Phillip, believing it was more serious got his own back by asking Stacey's secretary Alison out. Stacey was dealt a blow when she realised her cheque book had been stolen and several cheques cashed on it. She suspected Gary Samuels and went on several dates with his brother Jeff in an attempt to get information from him. She later visited a nightclub that Gary used to frequent and asked a lot of questions about him.
She invited Phillip out on a date and recruited his help with Gary, inadvertantly offending him but she made amends by telling him she was attracted to him and kissing him. They became a couple and together they investigated Gary Samuels and found evidence that suggested he was responsible for a car accident in which his parents were killed. When they confronted him he admitted that it was an accident and met them on a high cliff before jumping off. It was quickly revealed that he hadn't actually jumped but was playing games. He later went to the papers with the truth about his parents and made Stacey and Phil look bad. Gary ended their problems by killing himself and his brother Jeff reimbursed Stacey.
In the run up to the season finale Stacey helped Lance and Martin land a record deal and Phillip admitted he needed to move to the city to further his career and Stacey refused to go with him. He didn't stay away long though, returning in the season return to ask Stacey if he could set up a practice in The Macklin resort but he turned out to be too late as Stacey had already agreed to marry her father's friend Nick. Phil reacted jealously and later asked Stacey to mary him instead but Stacey refused. Phillip refused to leave her alone though causing trouble between her and Nicholas. She and Phil reunited and she broke of her engagement to Nicholas and she blew Nicholas's dodgy plans sky high, teaming up with Tom Fletcher to bring him down.
Phil proposed and she accepted but her father caused problems for her by not thinking Phil was good enough and unbeknown to Stacey, had teamed up with Morag in an attempt to destroy her. She found out she was pregnant and confided to Phil that she didn't know if it was his or Nicholas's baby but he wanted to marry her anyway, no matter who the father was. Luckily she found out that her blood tests had been mixed so she wasn't pregnant but she went to war with her father who had planned to sack her for being pregnant. Using the evidence of her father's dodgy dealings with Nicholas she blackmailed him but on finding out she wasn't pregnant after all her Father offered her her job back. Stacey though wanted him to apologise but when he refused she resigned anyway.
She moved in with Phil at Bobby and Frank's flat but she and Bobby struggled to get along and she told Phil she wanted to move out just as Bobby told Frank, she wanted them out. Her world fell apart when it was revealed that Phil had been killed in the fire at Celia's store, having returned to the flat to phone for help over a flat tyre. The incident saw her reconciled with her father though and she threw herself into her work. She visited Andrew Foley in the city and agreed to help him set up his youth project there but when he agreed to move back to the bay she offered him a place to stay.
Her friend nina arrived in town and sked Stcey to get involved in her new enterprise, a record company with Martin and Lance as the band. At first Stacey refused but later changed her mind. Nina drew up contracts but Lance asked Morag to look at them and Morag approached Stacey and pointed out a clause where Nina could take whatever she wanted from the group. Stacey confronted Nina and told her the contract had been changed by Morag. She also paid Lance's share of the bill but after a disasterous performance at The Sands opening, Nina cut her losses and left town leaving Stacey high and dry.
When Andrew had a go at her for letting Nina take advantage of Lance and Martin their furious argument ended with them kissing. Their relationship went from strength to strength despite a number of disagreements and eventually Andrew proposed. They hit a nag though when Andrew's Youth Counsellor business saw Stacey's engagement ring disappear. She accused Andrew's friend, a drug addict and called the police on him but it turned out that he had taken the ring to get it tightened as Stacey had been moaning about it being too loose. The friend later attacked Stacey, trashing her house and leaving her shaken.
After that their relationship began to deteriorate with Andrew unable to give up on his counselling business and Stacey unable to accept it. After being offered a job by Nina in LA, Stacey decided to take it and packed her bags, saying a tearful goodbye to Andrew.
When Brett returned to the bay in 2005, he revealed that Stacey was running some Macklin projects down in Melbourne.