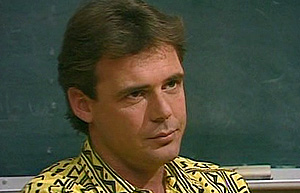 Andrew Foley
Peter Bensley
Episodes: 46 – 91; 262 – 490
Parents: Andrew Snr. & Julia Foley (both deceased)
---
First seen as a science teacher impressed by Steven and Sandra's home made walkie talkies. He was then put in charge of the school play and told Carly she didn't have to take part after she was worried about the kissing scene. He continued to be involved in the school musical and inadvertently broadcast Roo's pregnancy news by reading a note that Alison had passed, out loud.
He upset Carly when she overheard him talking about her having a crush on him at the school dance and when she quit the play he asked her why and she confessed being in love with him. He hugged her and Fisher walked in instantly getting the wrong idea and asking Foley to pick where he wanted to be transferred to. After speaking to Pippa, Fisher decided to let the matter drop but Lance and Martin had overheard his conversation and spread the gossip that Foley was seeing Carly. With his reputation in tatters he decided to leave the bay.
When Carly admitted she had a problem with alcohol and went for counseling in The City her counselor turned out to be Andrew who returned to the Bay to help her with her treatment. They hit a snag though when she confided she still had feelings for him and demanded to know how he felt. He admitted he had feelings for her too so quit as her therapist and they began a relationship. Meanwhile Morag tried to befriend him after realising that he was a millionaire and asked him to help her set up a Youth Centre in Summer Bay. He also moved in with her for a while.
His relationship with Carly met difficulty when she wanted to sleep with him but Andrew, convinced she wasn't ready, tried to back off. She gave him an ultimatum and he left for a few days but returned to take her to the dance and she agreed to take things more slowly. His involvement in the youth project hit a snag when he realised his father was backing it but after refusing to be involved, Morag agreed to get his father to back out.
He was furious to find his father in town and refused to speak to him despite Carly's pleas that his father was dying. He finally went to see him to warn him to keep away from him and Carly and just a few hours later, he received news that his father had died. Against his better judgement he went to the will reading and found that his father had left him a large sum of money and a letter of apology. The letter tipped Andrew over the edge and he began drinking. When Carly found him drunk he admitted he was an alcoholic but had been clean for five years. Carly enlisted Tom and Pippa's help and got him a place to live with Mr Fisher and Andrew apologised with an engagement ring but Andrew got drunk at The Macklin's dinner party and hit Tom. He apologised the next day but Tom asked him to stay away from Carly. He left her a note with Fisher explaining that he was going away to sort himself out. She caught up with him and he took back his engagement ring, telling her he'd be back for her when he deserved her.
He returned after getting clean to take up his role as youth counselor and moved in with Stacey. He and Carly both began to have doubts about their relationship as they grew apart with Carly eventually confiding that he didn't love him anymore. Andrew was convinced that if he gave her some space, Carly would come round but Carly reiterated that it was over, leaving Andrew depressed. He found a kindred spirit in Marilyn but became convinced she had feelings for him and tried to let her down gently but she insisted she knew they were just friends. He though Marilyn had tried to kill herself and raced to her side only to find it was an accident but seeing how she got his attention, Marilyn put herself on a tall building and threatened to jump unless Andrew came. he talked her down and became somewhat of a confidant to everyone in the bay with everyone from Celia to Carly coming to him with their problems.
He was devastated when Matt's Uncle, counselor Rex decided that the youth centre violated public hygiene laws and closed them down. He continued the youth centre from his house and lent Carly $300 to go on a skiing holiday but his actions angered Stacey and they had a series of furious rows. He had a go at her for letting Nina take advantage of Lance and Martin their furious argument ended with them kissing. Their relationship went from strength to strength despite a number of disagreements and eventually Andrew proposed. They hit a snag though when Andrew's Youth Counselor business saw Stacey's engagement ring disappear. She accused Andrew's friend, a drug addict and called the police on him but it turned out that he had taken the ring to get it tightened as Stacey had been moaning about it being too loose. The friend later attacked Stacey, trashing her house and leaving her shaken.
After that their relationship began to deteriorate with Andrew unable to give up on his counseling business and Stacey unable to accept it. After being offered a job by Nina in LA, Stacey decided to take it and packed her bags, saying a tearful goodbye to Andrew. Andrew refocused his efforts on the youth centre in an attempt to forget about Stacey but the council, backed by Celia turned down his proposal and Fisher refused to give him a job at the school after the way he handled the business with Carly. Fisher eventually relented after Pippa had a word with him but warned Andrew the job was temporary rather than permanent. Andrew settled down in his new role and was upset when Fisher informed him that The Department had appointed a new teacher to be Andrew's full time replacement. Gutted that he had forgotten his job was temporary, Andrew decided to leave the Bay and seek new employment opportunities elsewhere.