Home and Away Spoilers – John plans a Surf Club revamp
Next week on Home and Away in the UK, as Mali reveals a new look for the board shop, it inspires John to revamp the surf club.
John (Shane Withington) is feeling a little jealous next week, when Mali (Kyle Shilling) unveils his makeover. This isn't a case of perm envy though, but rather the newly revamped board shop in the surf club.
Mali is full of enthusiasm as he officially relaunches the shop under its new name, Manta Ray Boards—a tribute to his home town of Mantaray Point.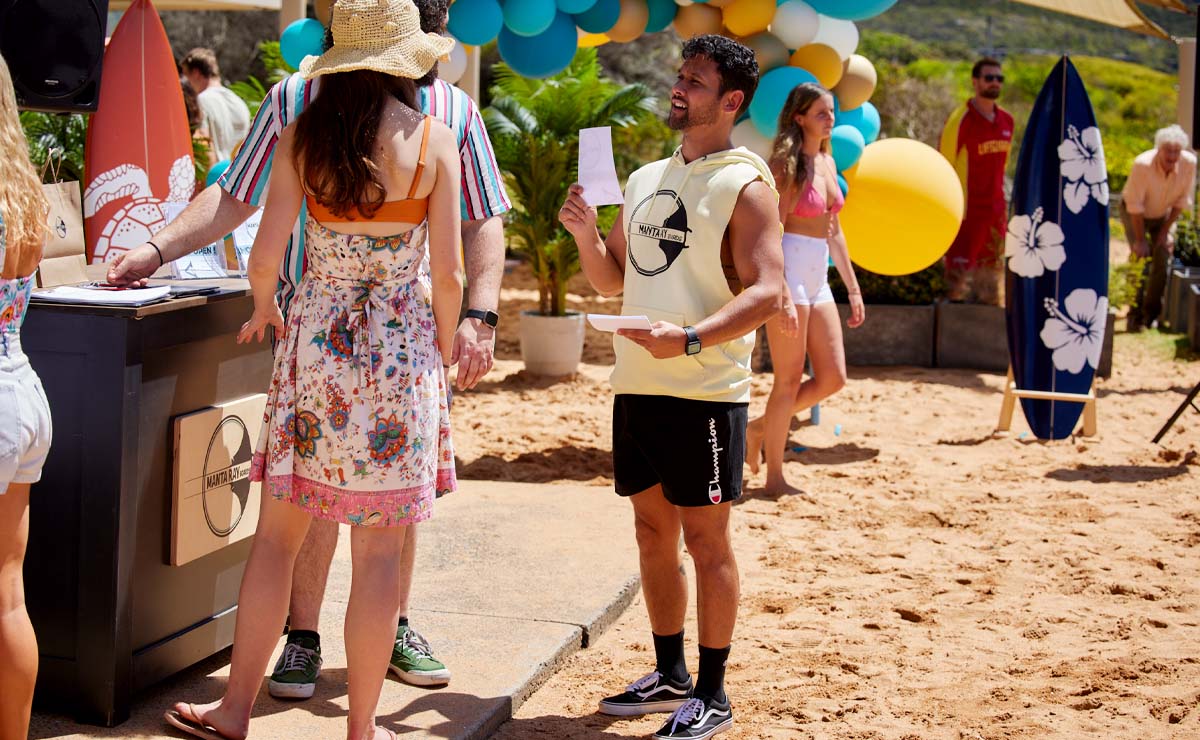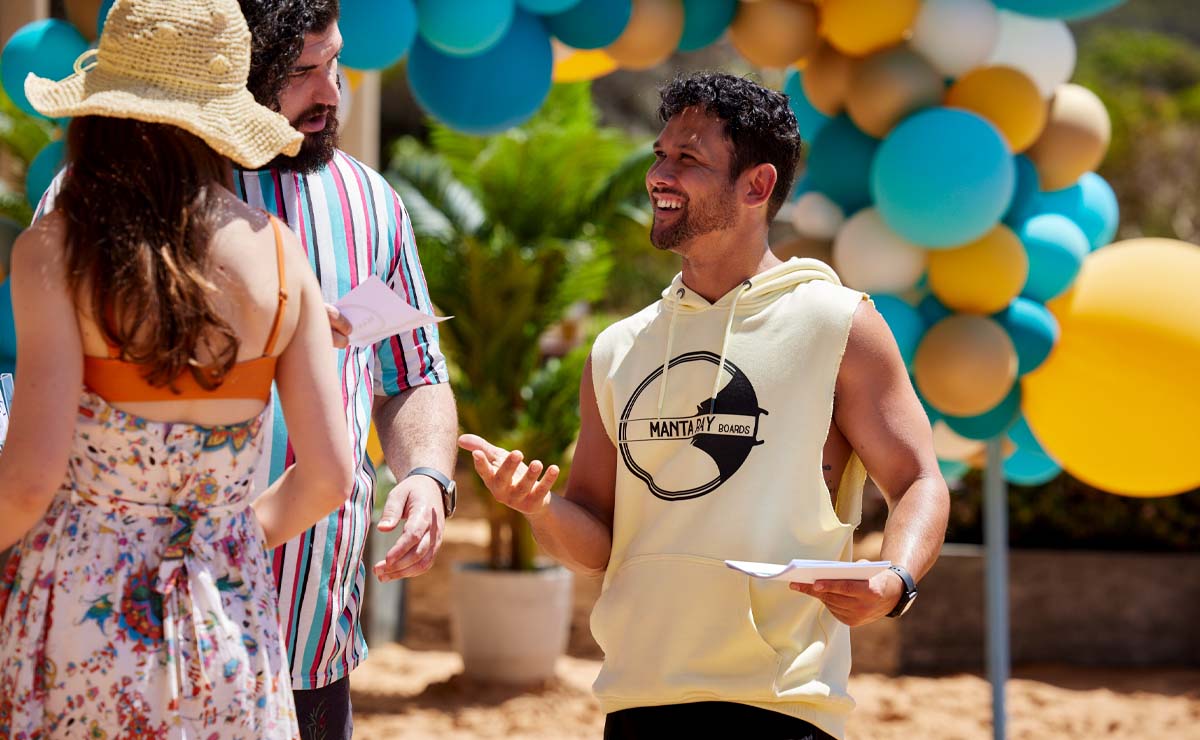 John is a little less enthusiastic as he arrives at the club to find Mali blaring music outside, but Mali soon sweeps JP up in the moment and offers him a personal guided tour of the new look board shop.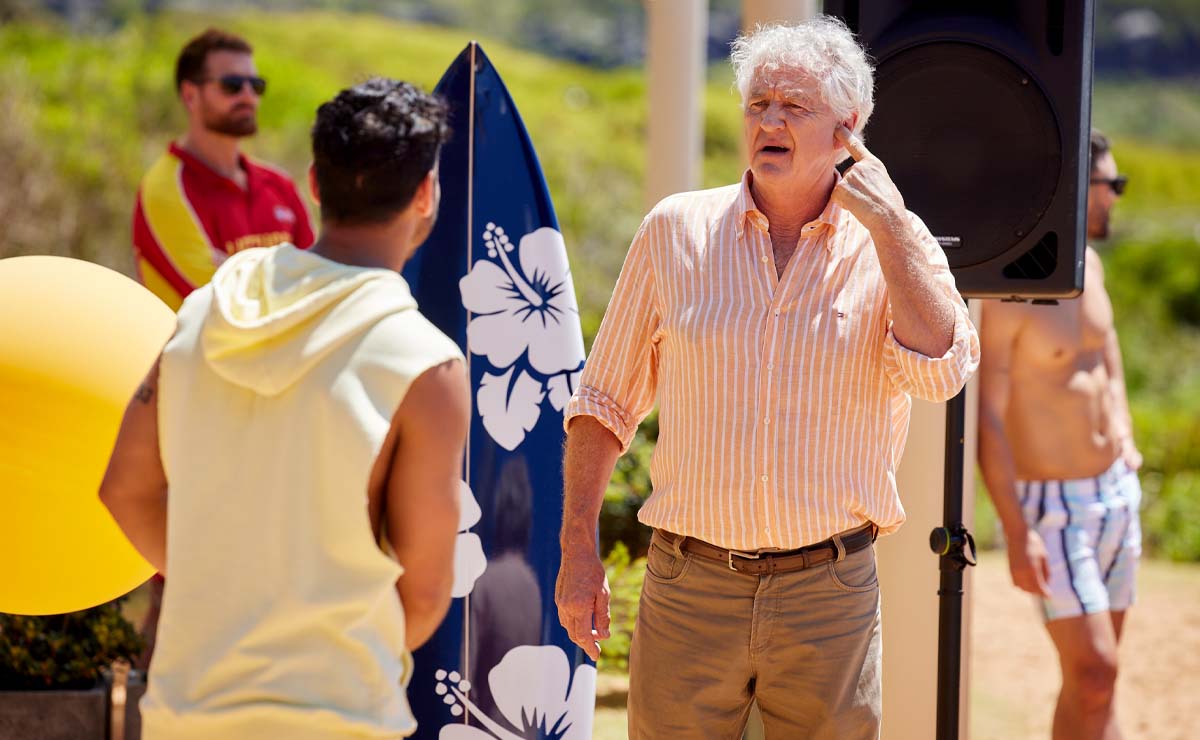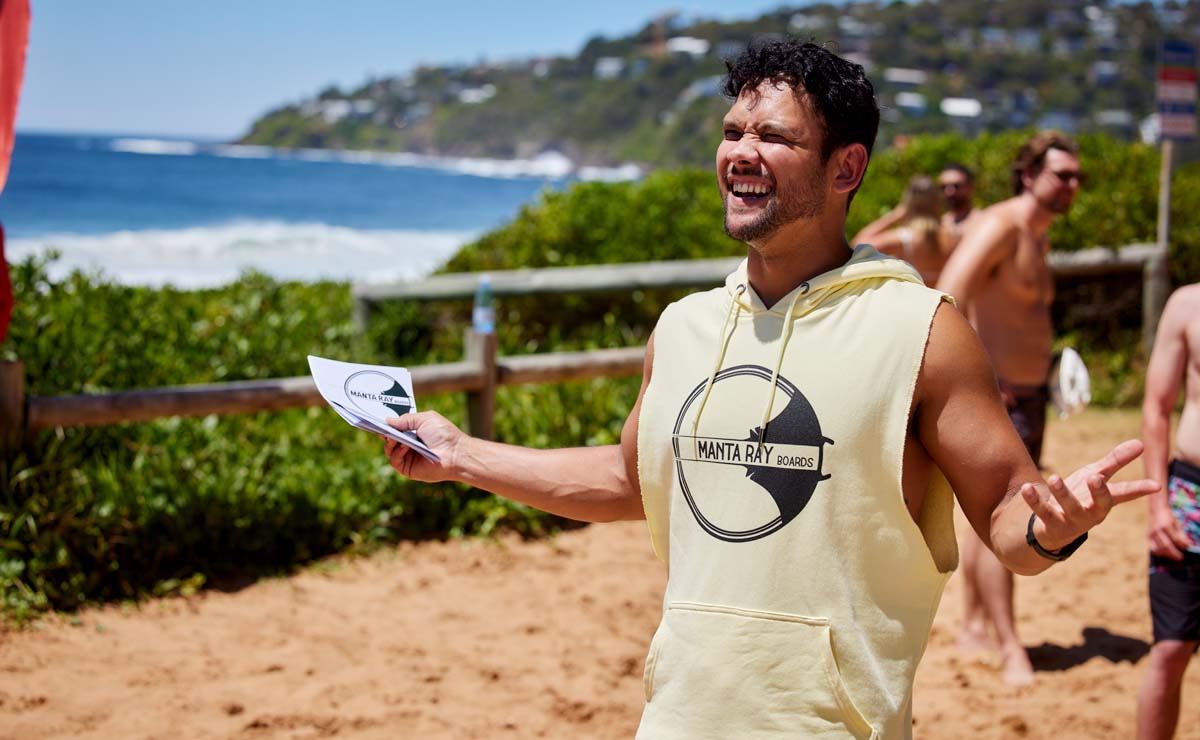 John is suitably impressed by the revamp, and even moreso when he snags some of the buffet food provided by Mackenzie (Emily Weir).
The revamped shop even receives big praise from surf club president Alf (Ray Meagher), who claims that it breathes new life into the place.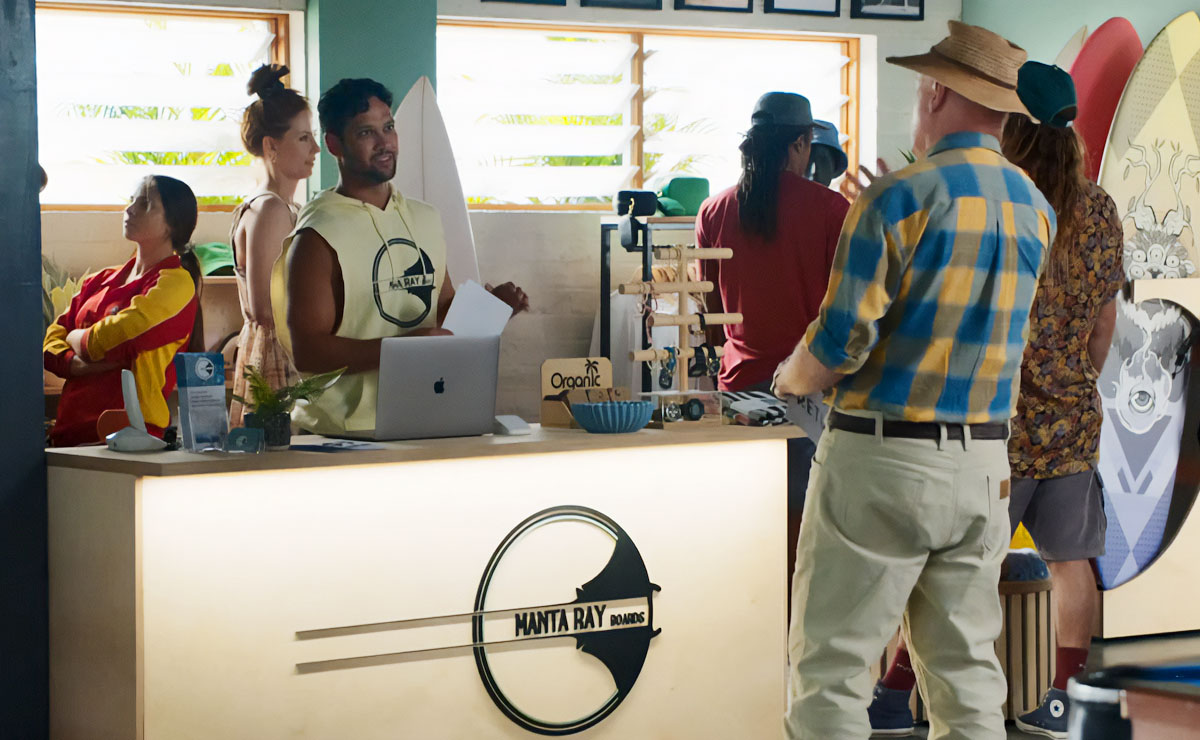 Overhearing Alf's compliments, something he gets seldom of himself, John suddenly feels quite inadequate as realises that his juice & gelato bar is now looking a little tired in comparison… and that won't do at all!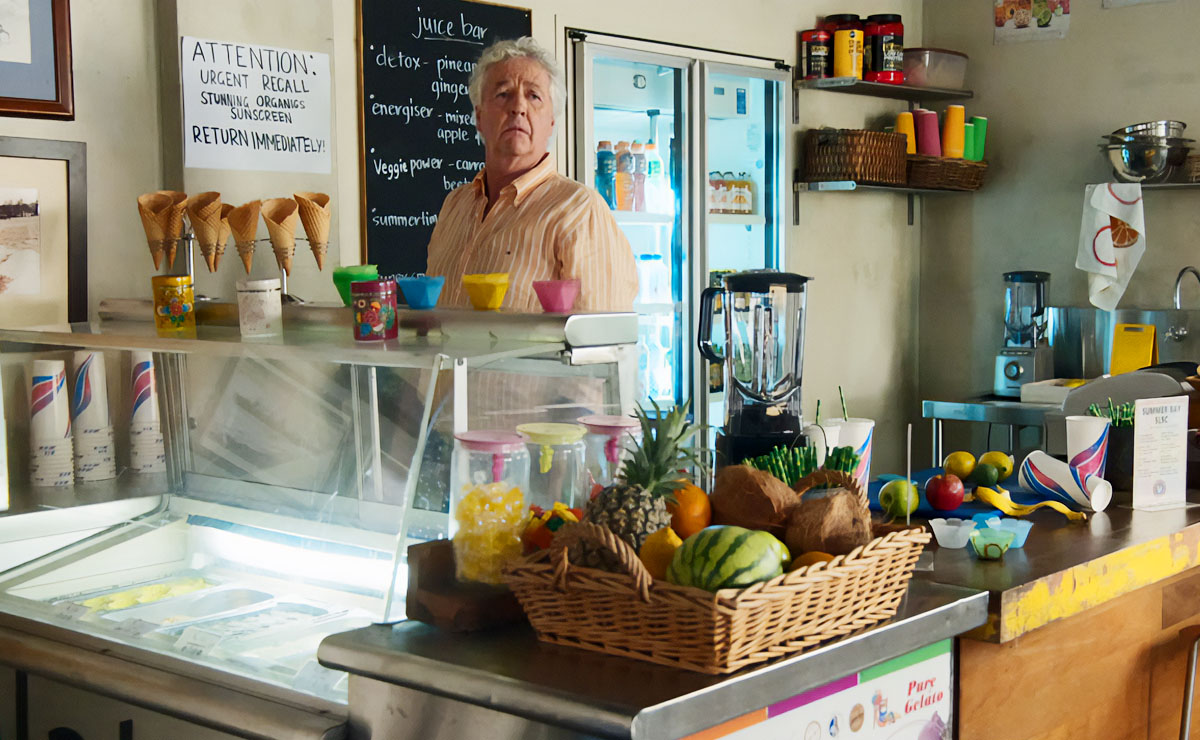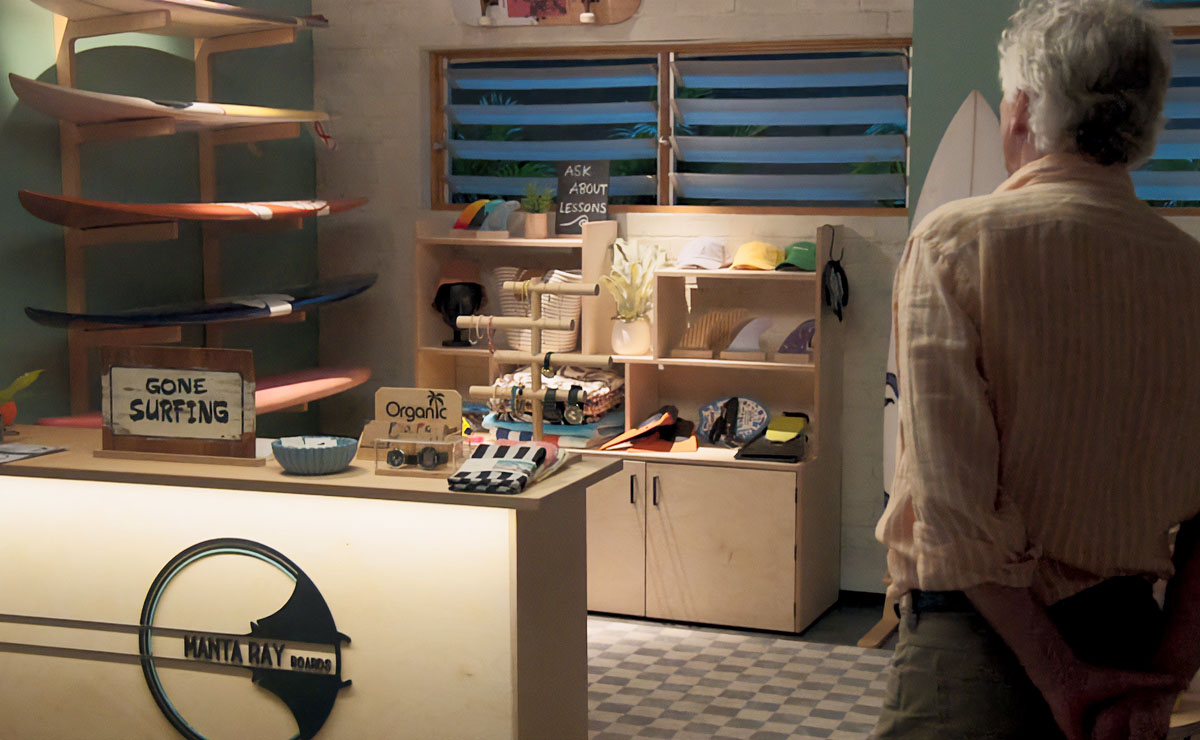 After mulling it over that evening, John approaches Mali the next day to ask if he'd perhaps help out with a new design for the juice bar to help freshen up the club even more.
Mali is more than happy to help… for a price, that is!
John had hoped he might be able to call in a favour, but Mali points out that he needs to be paid for any work he carries out, and to let him know if he'd like him to provide a quote.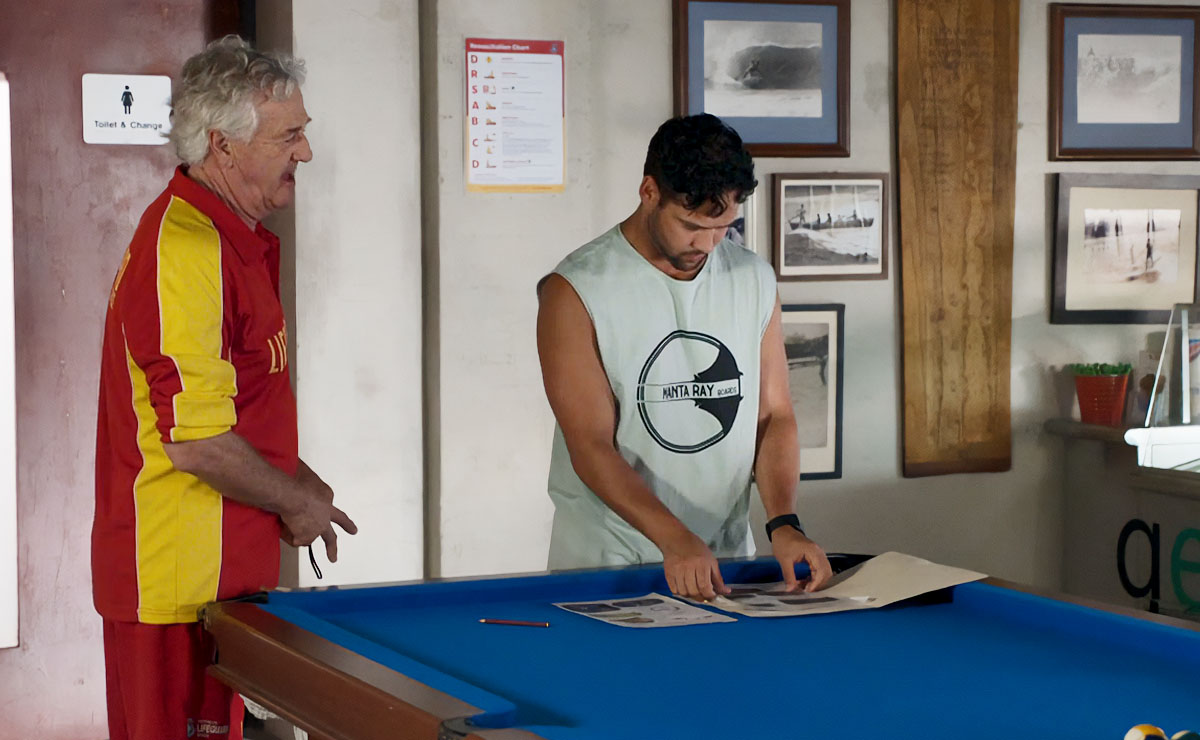 Knowing that the club wouldn't be able to afford to pay Mali, John resolves to come up with the design himself. But when he asks Mali for his opinion on some ideas, Mali is unable to hide his hesitance… clearly John knows nothing about interior design!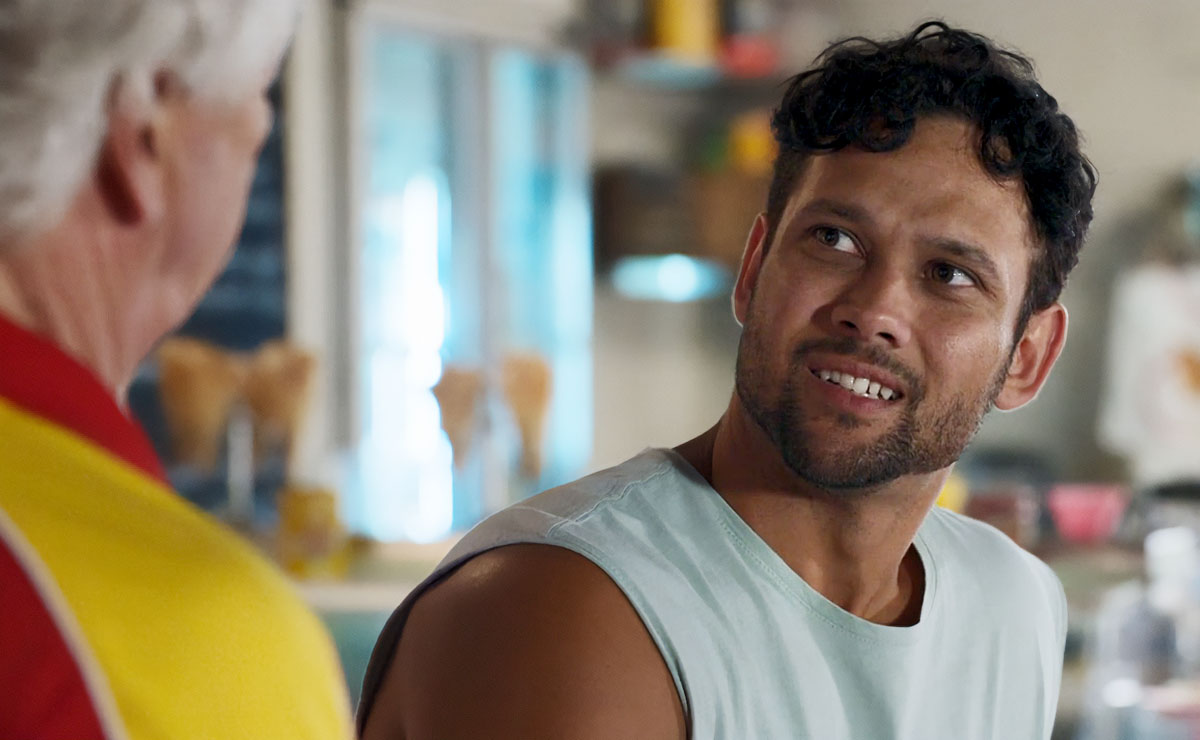 Although he manages to get Alf's blessing to go ahead with the juice bar refresh (must have caught him at a good moment!), John faces an uphill struggle when he speaks to Alf.
Alf tells him all the hoops he'll have to jump through first, including staying within budget and providing all the design details in advance.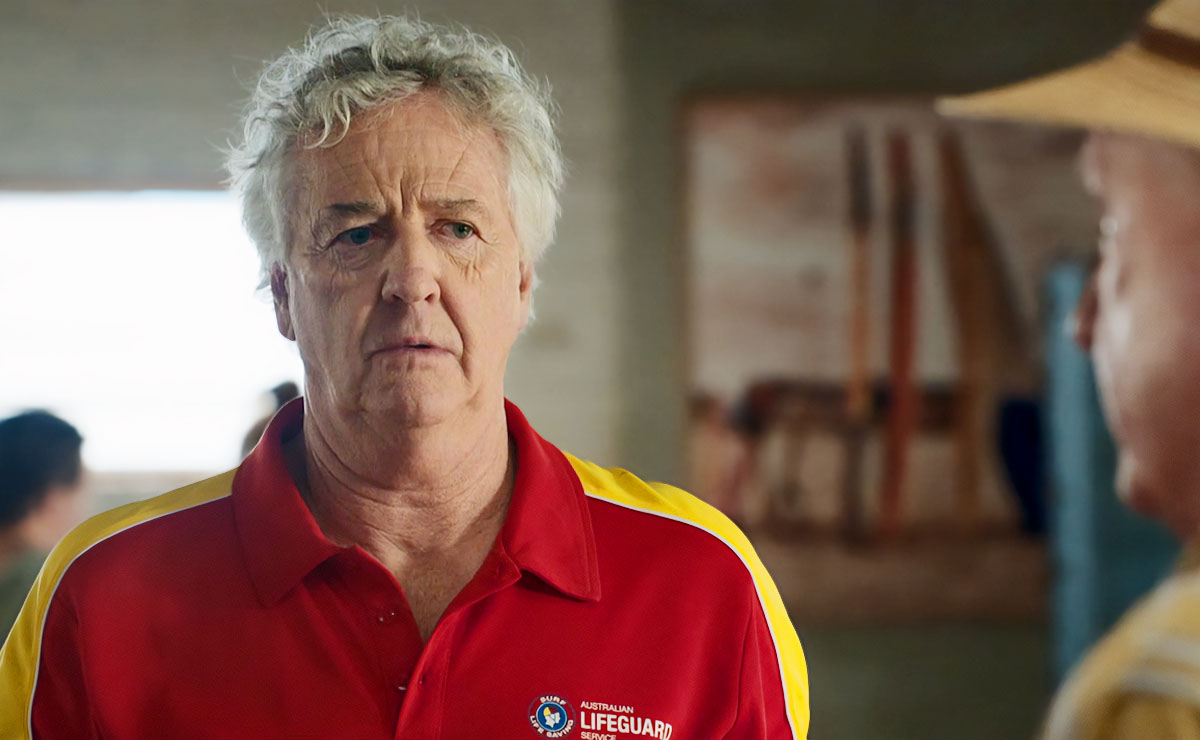 Overhearing the conversation and seeing a disheartened John realise he's out of his depth, Mali makes a decision…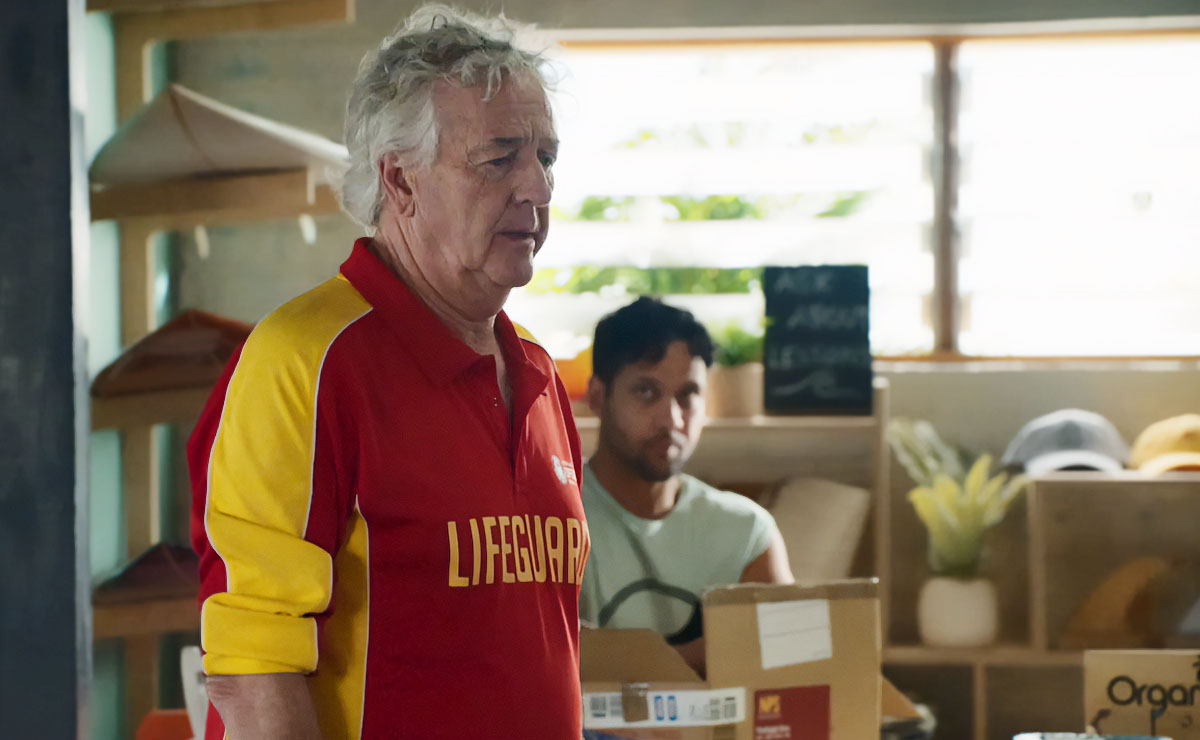 A clearly fed-up John is distracted with his moodboards later that day, as Mali leaves with a knowing smile. John finally gives up as he heads back into his office and bins all his ideas.
He soon notices a file that has been placed on his desk however, with a note attached—"For John, on the house, c/o Manta Ray Boards"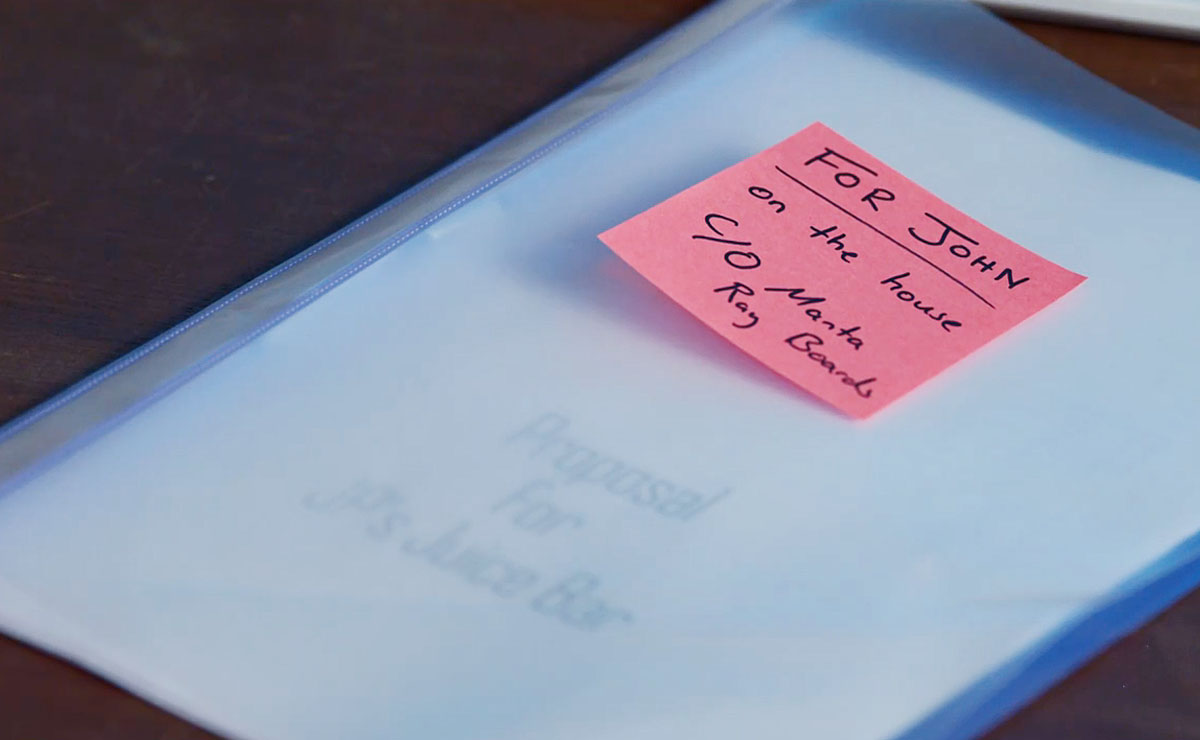 Inside, John finds a proposal booklet that Mali has put together for 'JP's Juice Bar', complete with 3D renders and colour charts…
The cockles of John's heart are well and truly warmed, what a thoroughly nice bloke that Mali is!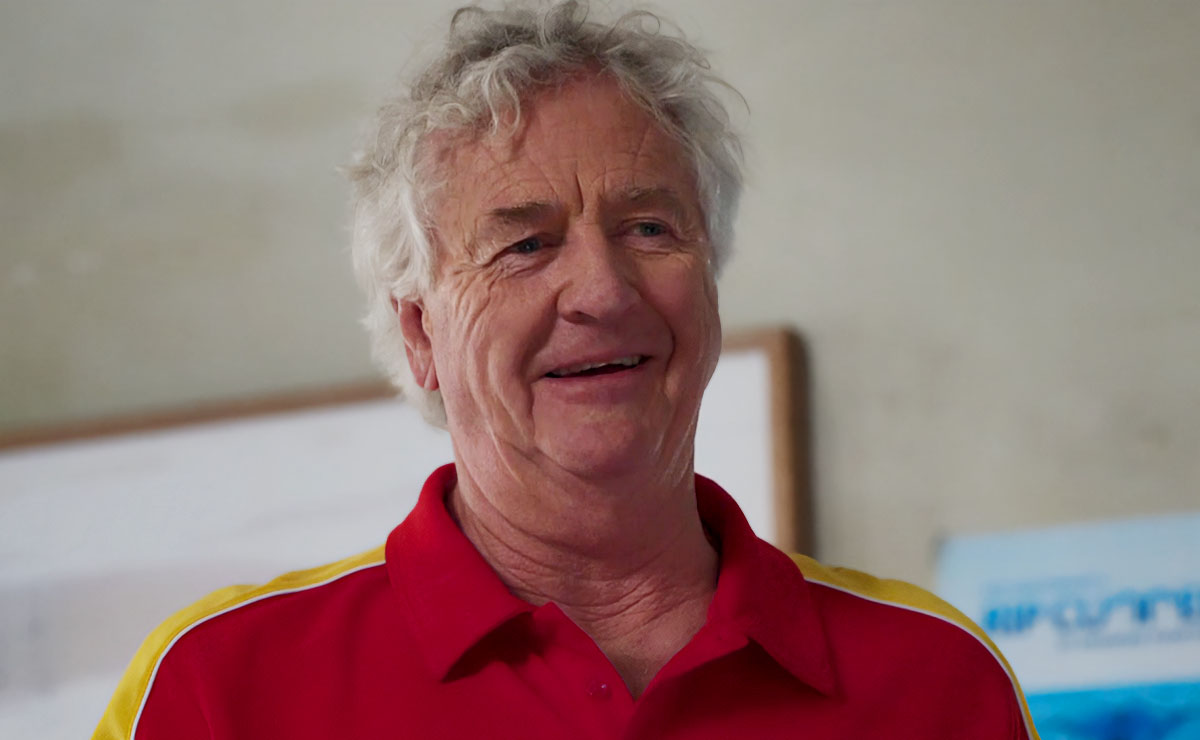 The launch of Manta Ray Boards spells an end to six years of Ben's Boards, which was first launched by Ben Astoni (Rohan Nichol) in late 2018.
When Ben and his wife Maggie (Kestie Morassi) left Summer Bay in 2020, Ben asked Dean (Patrick O'Connor) to take over the board shop, signing ownership over to him.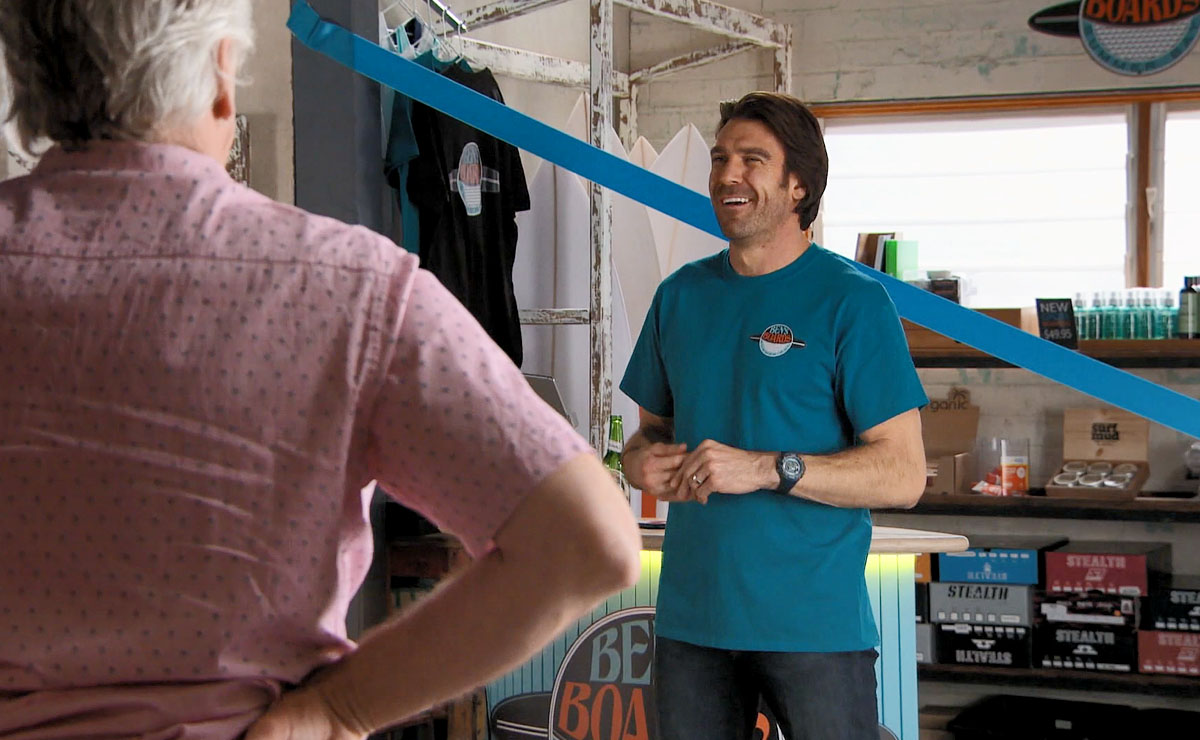 When it was Dean's turn to leave Summer Bay with Ziggy (Sophie Dillman) earlier this year, Dean passed the baton onto Mali, gifting him the business with Ben's approval.
While Dean opted to keep the Ben's Boards name, logo and décor intact after Ben's departure, Mali has decided to make a fresh start by putting his own stamp on things.
With Ben's Boards opening in episode 7025, and Manta Ray Boards making its debut appearance in episode 8016, the old brand was just 9 episodes away from reaching its 1000-episode milestone.
---
Monday 12th June (Episode 8016)
Mali's makeover makes John jealous. Marilyn fights fire with fire. Are Justin's anger issues the last straw for Leah?
Tuesday 13th June (Episode 8017)
Marilyn wants out. Eden's song is a hit. Remi has big ideas for Lyrik. Mali takes pity on John.
Wednesday 14th June (Episode 8018)
Is Lyrik hijacking Bree and Remi's romance? Kirby loses her songwriting mojo. Marilyn's options are running out.
Thursday 15th June (Episode 8019)
Kahu lies about his whereabouts. Long distance is triggering for Bree. Justin gets hot-headed. Xander throws caution to the wind.
Friday 16th June (Episode 8020)
Devastating news hits Mackenzie. Justin receives a plea for help. Tane takes a gamble on Kahu. Has Xander pushed himself too far?
---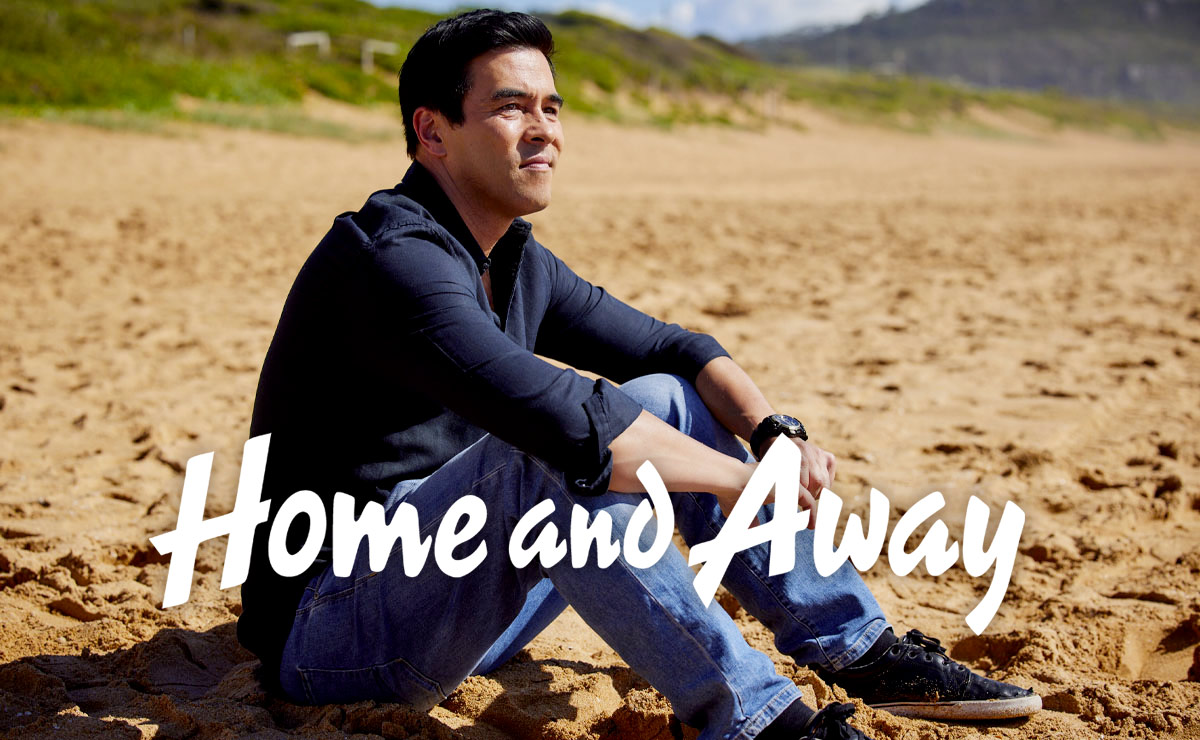 Justin and Leah's relationship is put under threat by Justin's anger issues – is Leah ready to walk away?
Spoilers in your inbox every weekend!