Home and Away Spoilers – Will Gabe break Mac's heart again?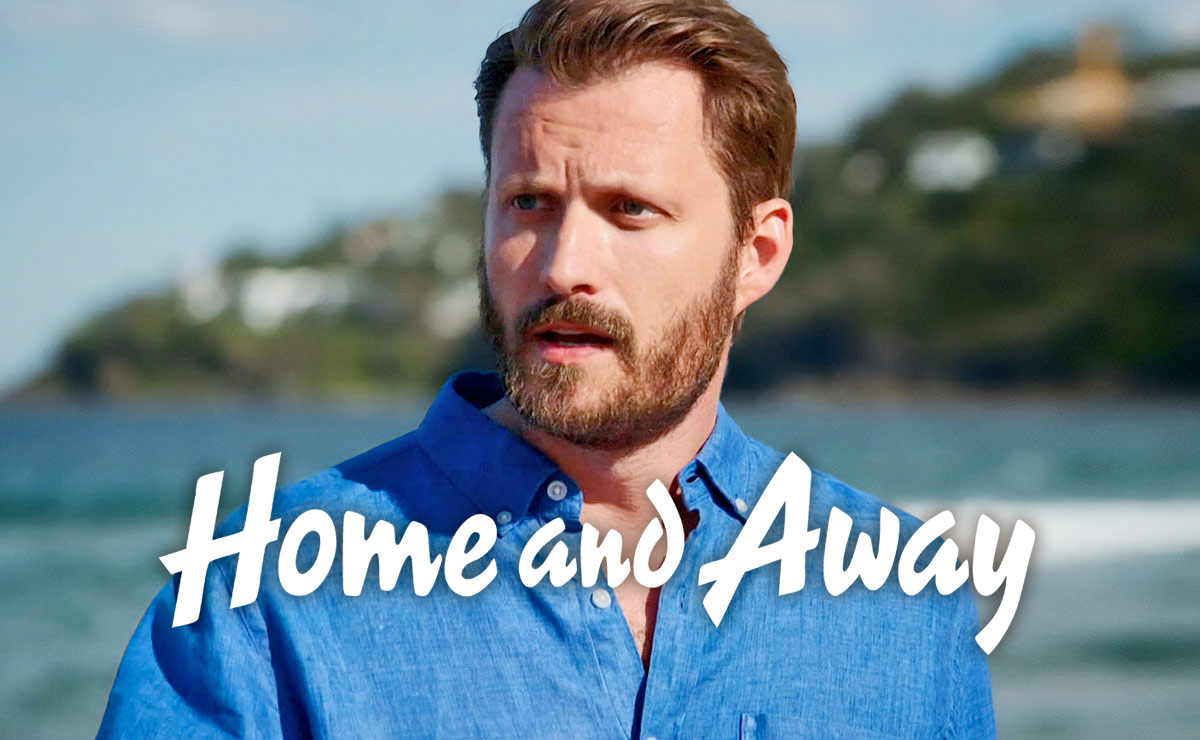 Next week on Home and Away in the UK, Bella makes a surprise return to Summer Bay, while Gabe decides to end things with Mackenzie all over again.
After a hectic few weeks for new parents Dean (Patrick O'Connor) and Ziggy (Sophie Dillman), there's a pleasant surprise in store with an unexpected visitor to the farmhouse.
Whilst Ziggy is in the midst of enforcing a health kick on the household, following baby Izzy's bout of gastro, she and Dean are shocked when Bella (Courtney Miller) walks through the door!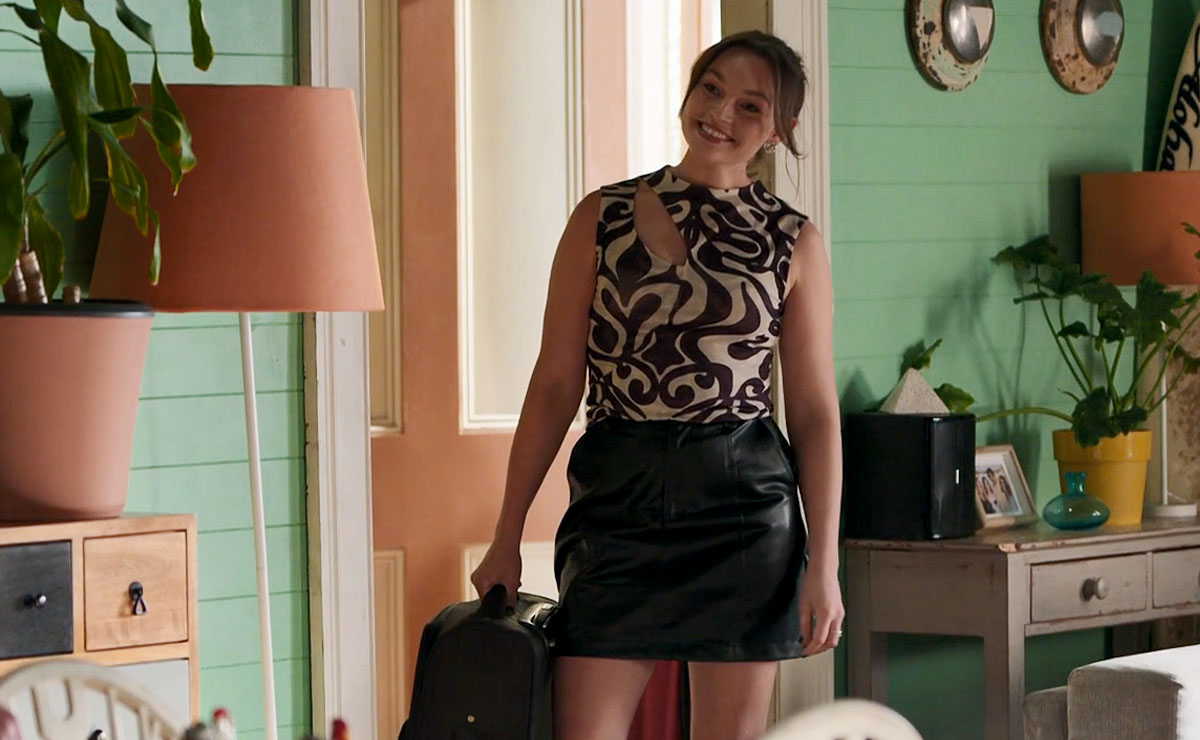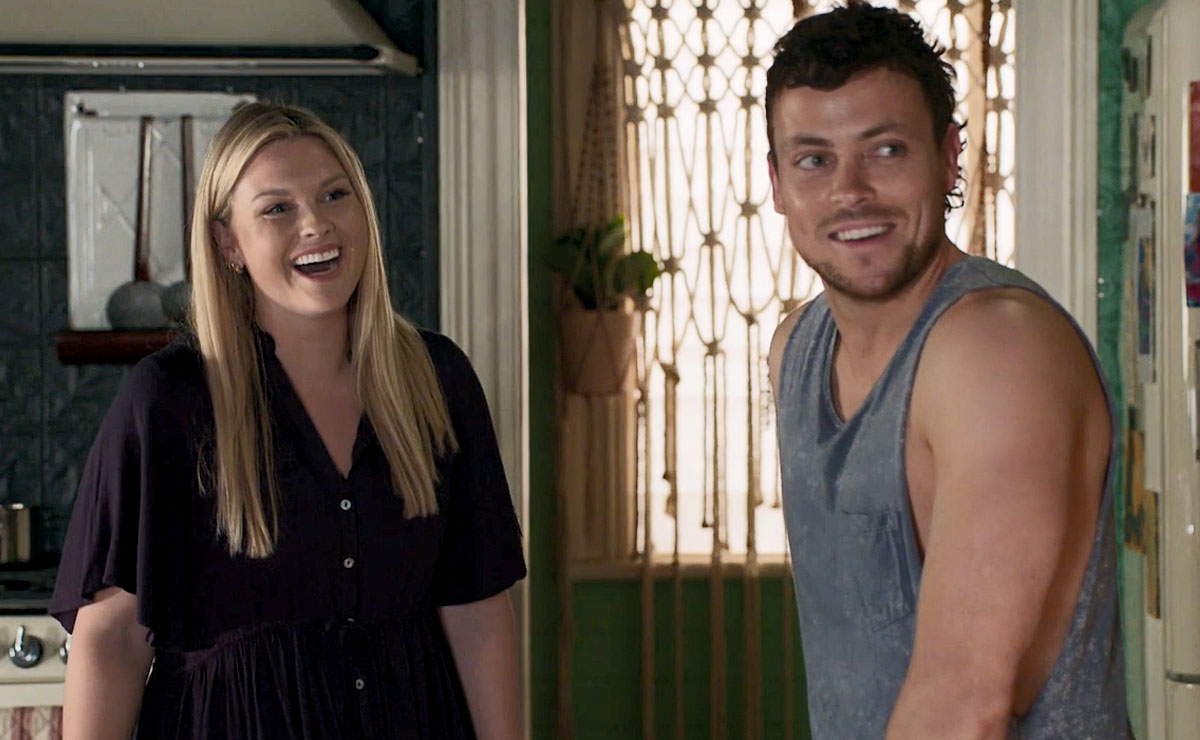 It's been nine months since we saw Bella depart Summer Bay, for what was originally intended to be a three-month stint in New York working alongside fellow photographer and mentor Emmett Ellison (JR Reyne).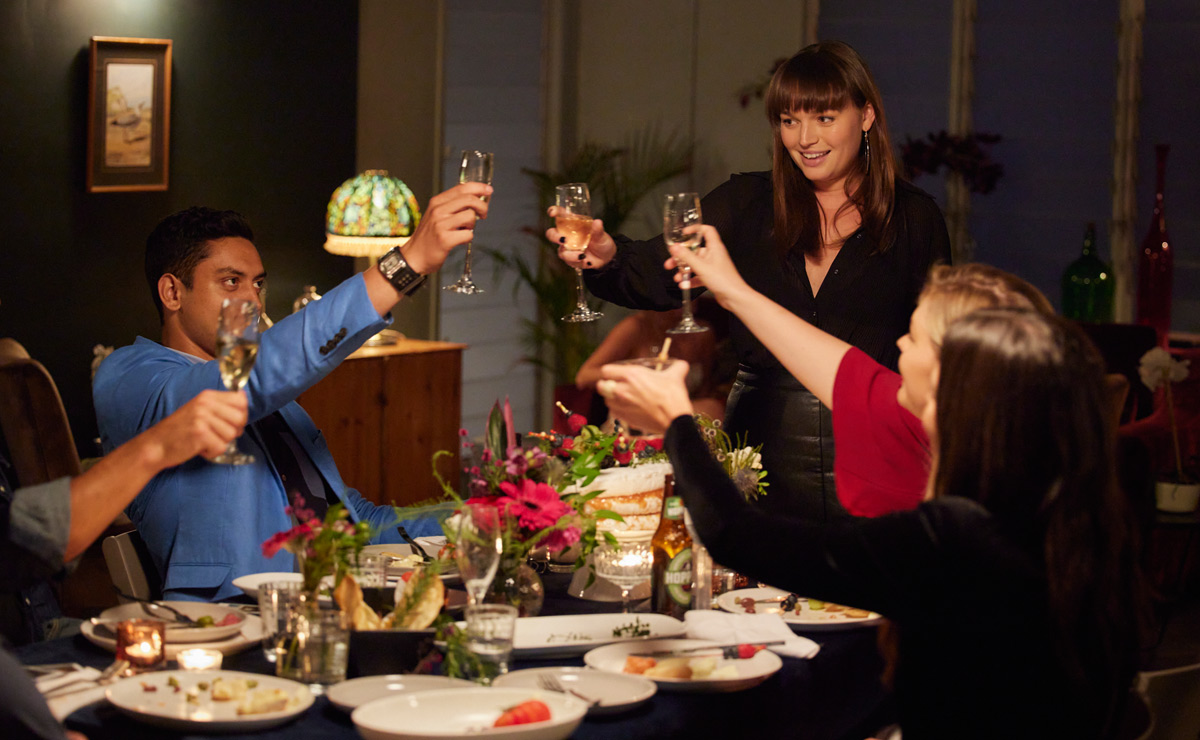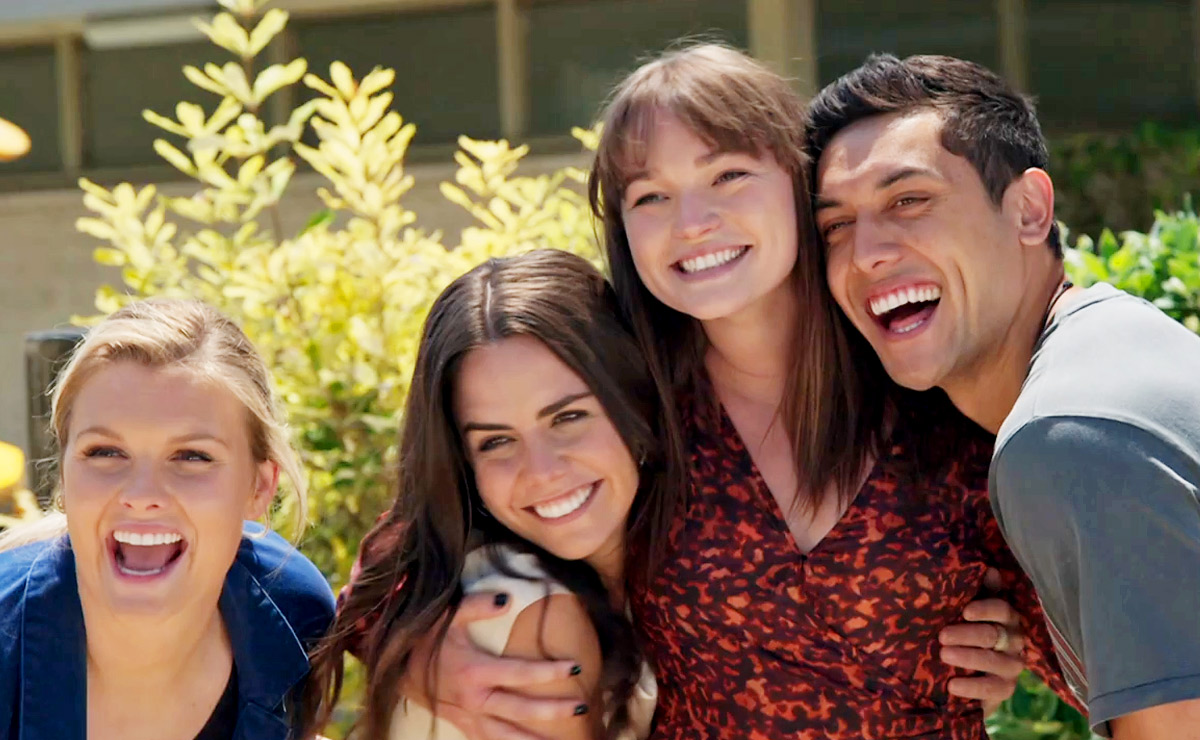 Although Bella had asked boyfriend Nikau (Kawakawa Fox-Reo) to come with her to the States, Nik's recent employment in his dream job as a paid lifeguard saw him opt to remain in Summer Bay.
Whilst the pair knew they were strong enough to survive the distance for three months, a spanner was thrown in the works when the Parata family came under threat from the Death Adder Motorcycle Club.
With their promise of going after the family's loved ones if Tane didn't play ball with laundering money through the gym, Nik had seen Tane forced to protect step-niece Chloe (Sam Barrett) by sending her to live with the whānau in New Zealand.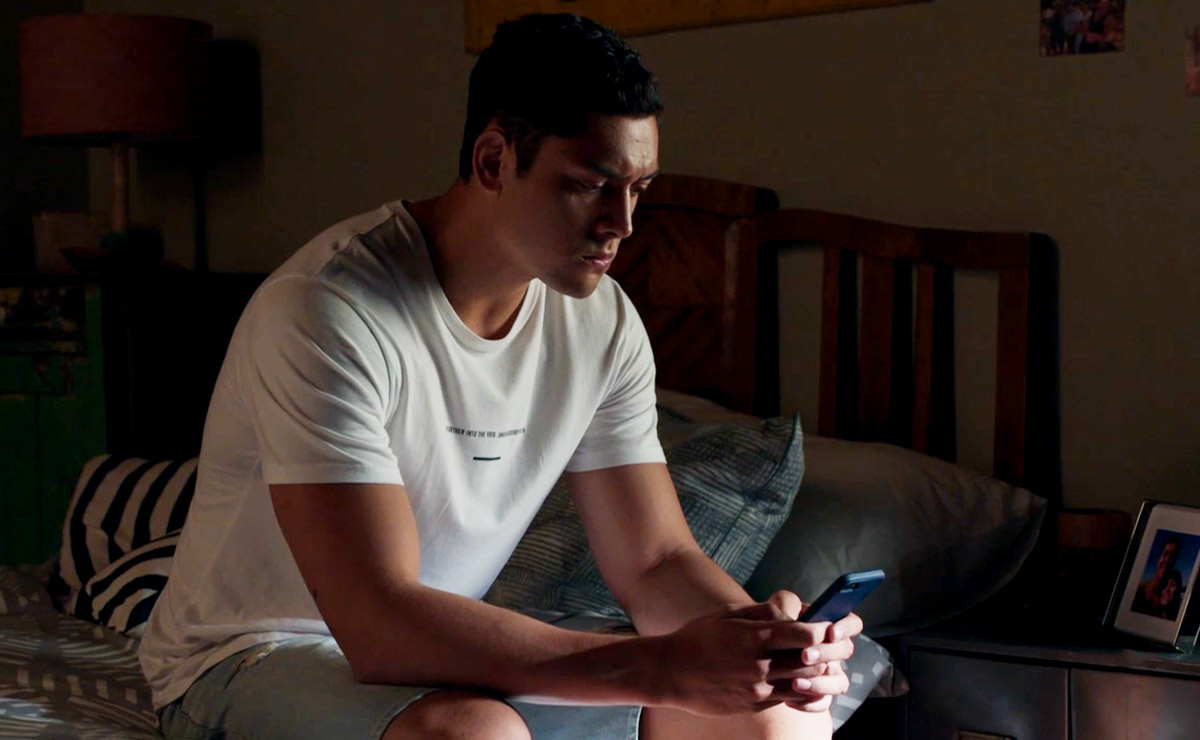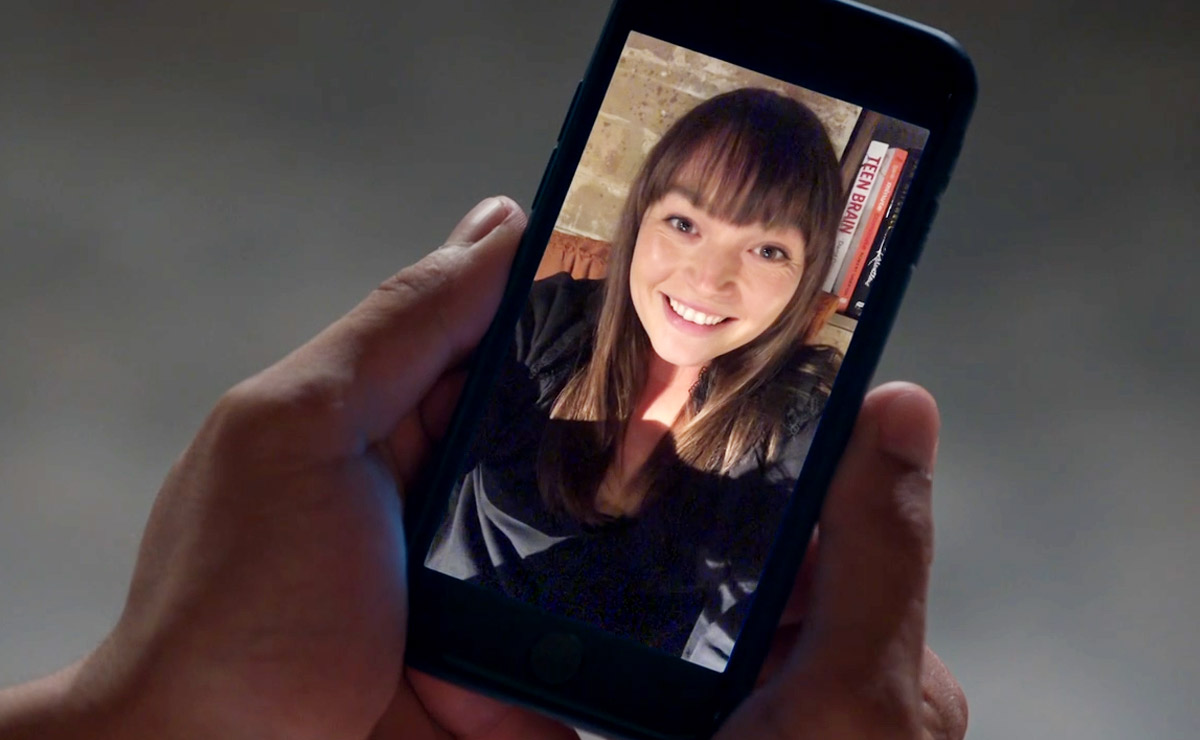 When Bella then called to say that she would be heading home from New York early, Nik realised that she too could be endangered, and so broke up with her whilst keeping quiet as to why.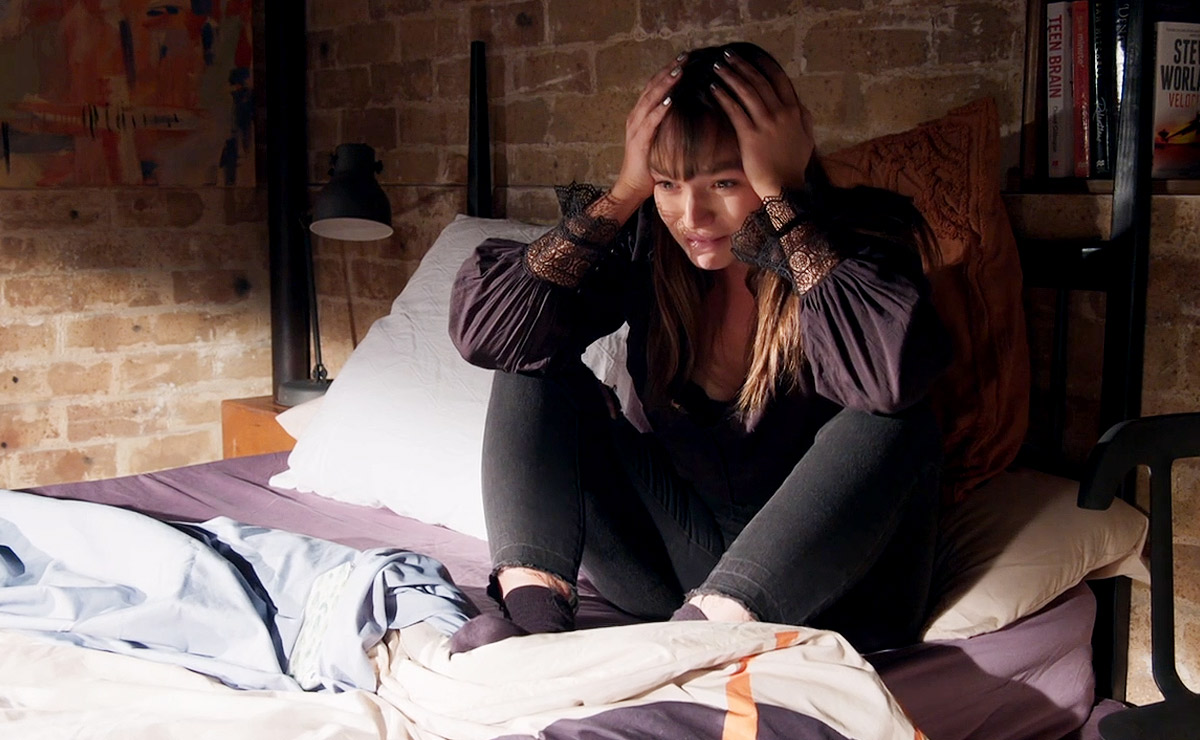 Bella was left heartbroken as she opted to stay on in New York, and whilst Nik planned to visit once the drama with the bikies had blown over, Dean pointed out that Bella had moved on and was now living her best life.
Back in the present, Bella explains that she's finished her most recent exhibition, and so with 5 days until her next gig, figured she would take some time out to head back to Australia in order to meet Izzy.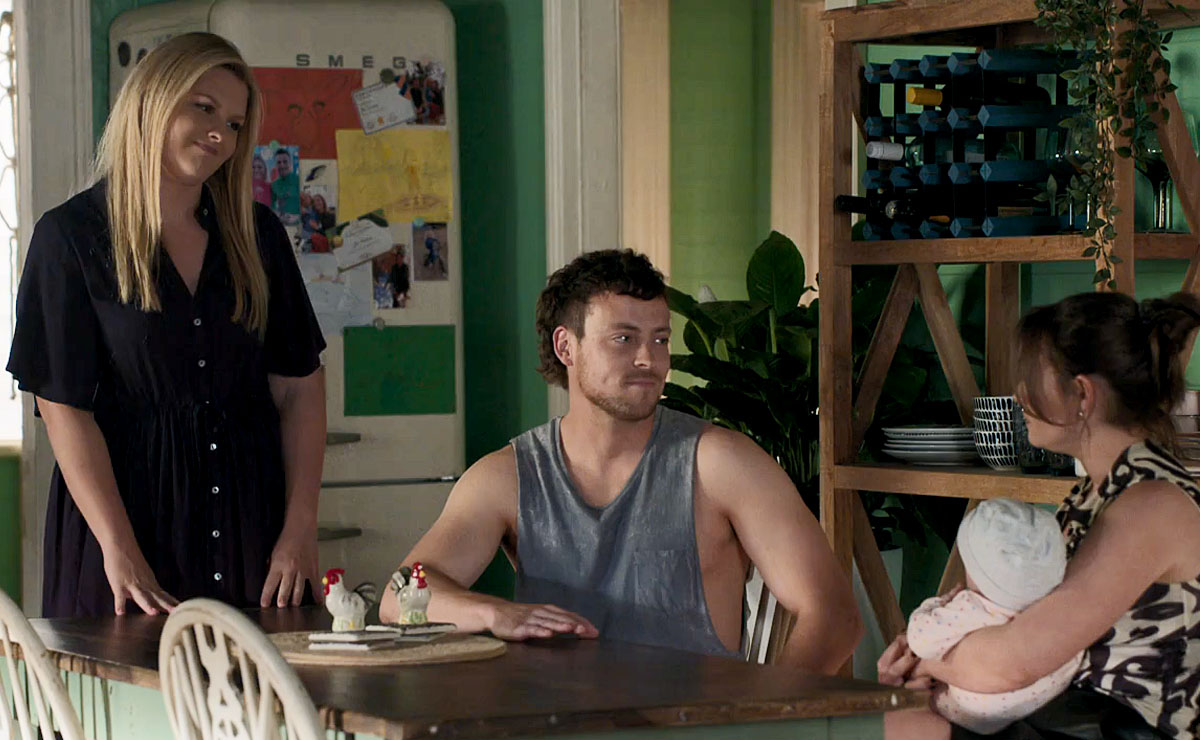 As Bella dotes over the new addition to the family, Dean and Ziggy are proud of her for smashing it in the Big Apple.
When Ziggy takes Izzy for her feed, Dean addresses the elephant in the room…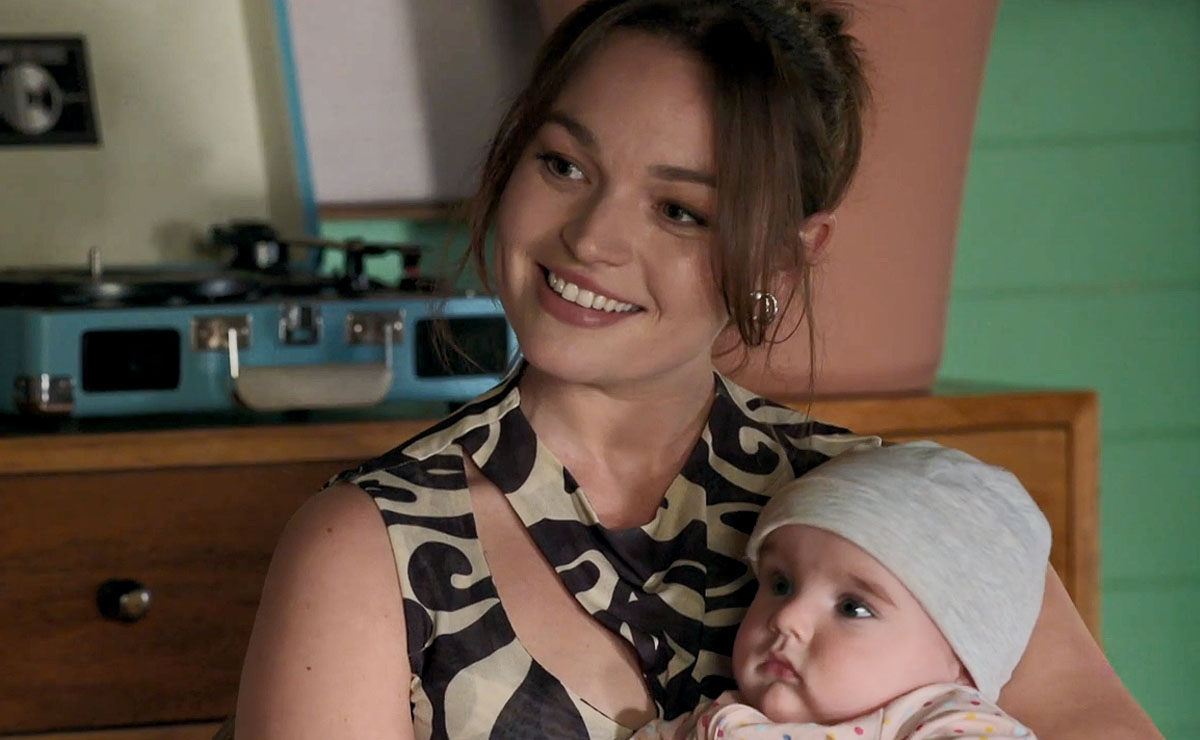 "So you're not going to even ask about him?" Dean comments, referring to Nik.
"Who?" Bella playfully responds, before changing the subject by asking if she can take a shower.
Dean won't let it go though, when he later points out that it's a long way to come without even saying hello to her ex-boyfriend.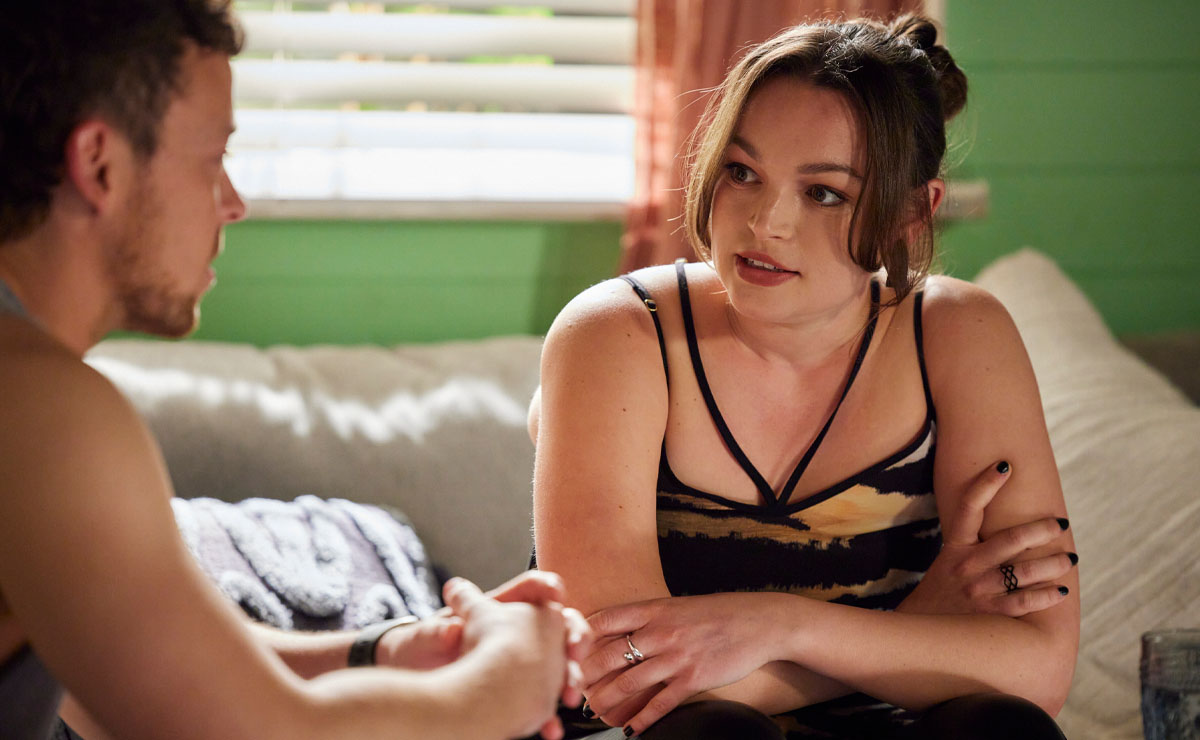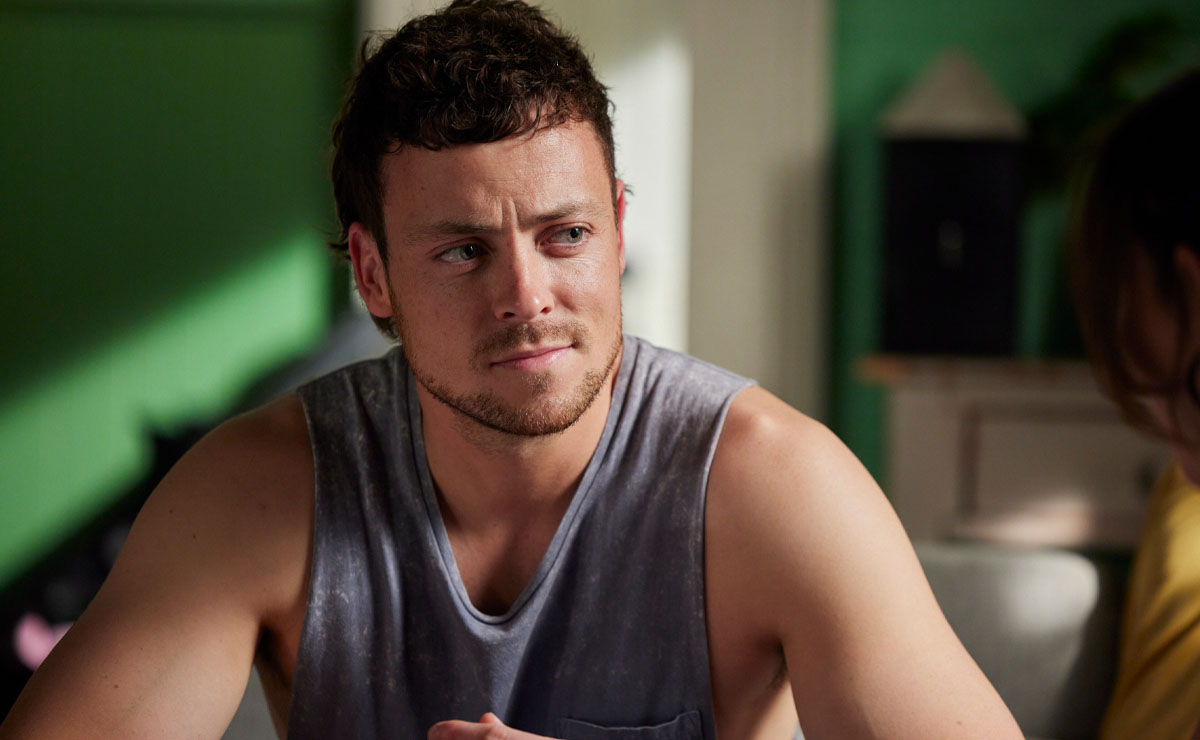 Explaining that she doesn't care if she sees Nik or not, Bella figures that Nik's decision to dump her was pretty final, and so they have nothing to talk about.
Summer Bay's a small town though, and after heading to Salt to see Mackenzie (Emily Weir), it doesn't take long for Nik to walk in and spot the familiar face standing at the bar.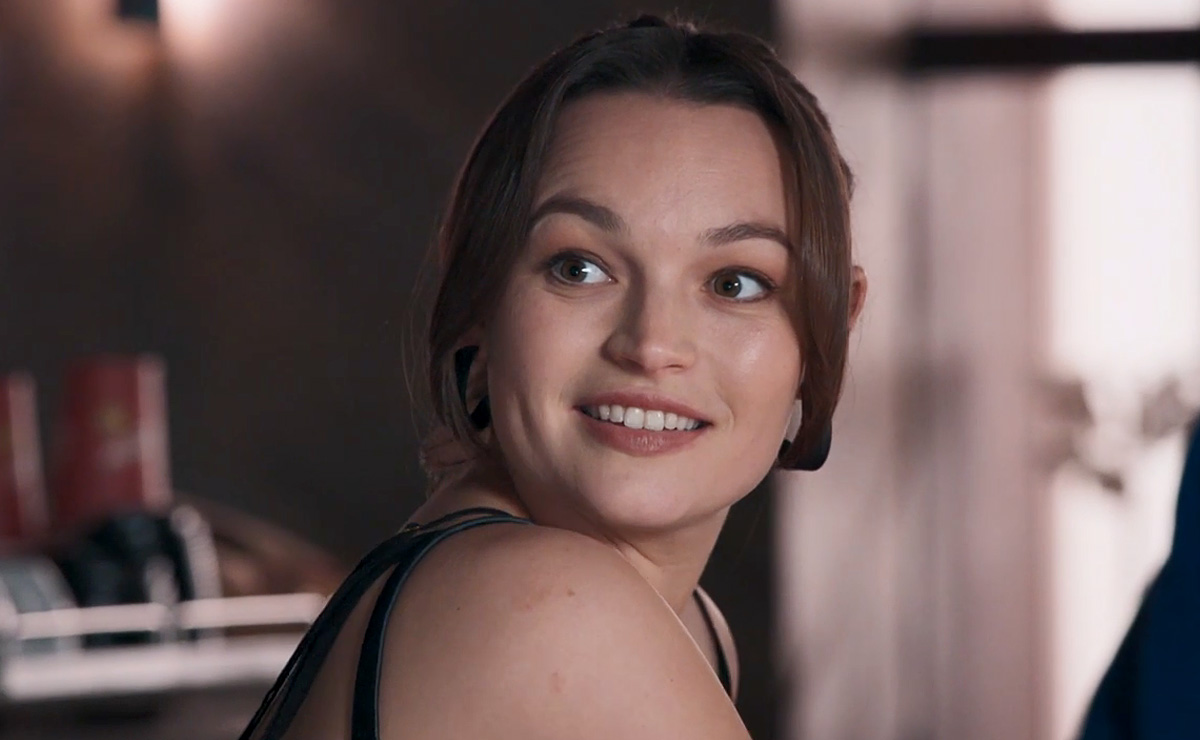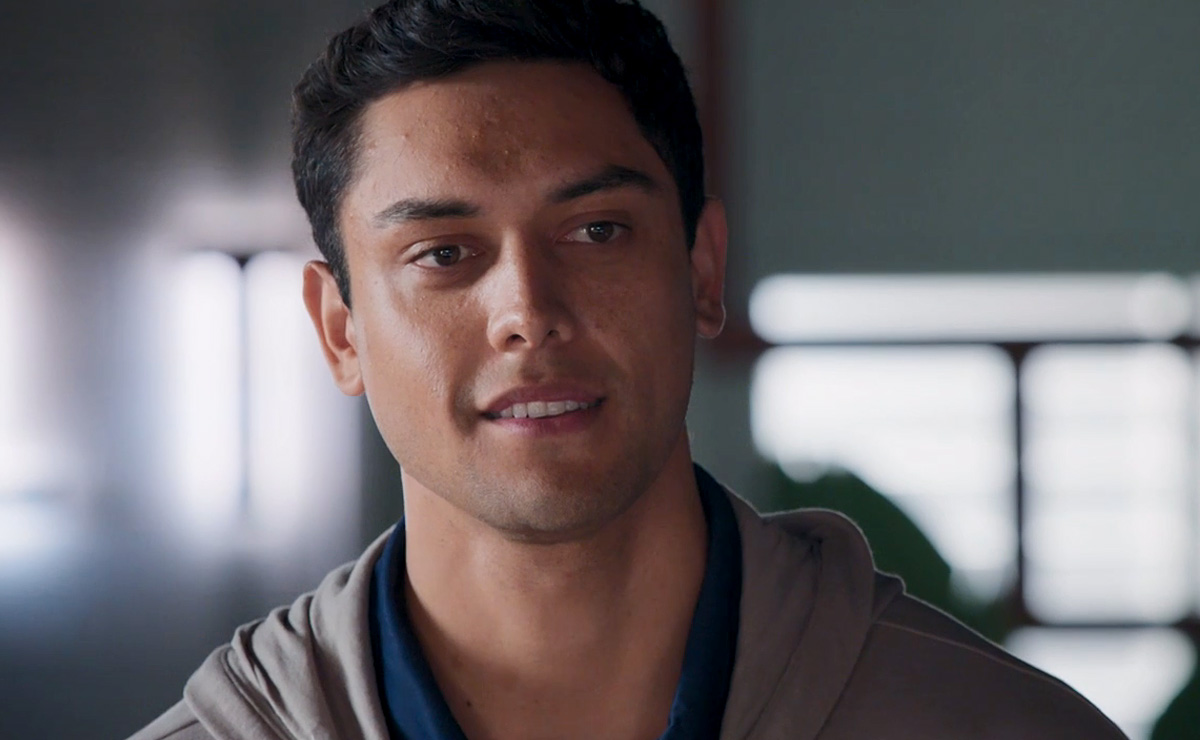 The pair are clearly pleased to see each other, and sit down for a chat.
Whilst Nik tries to make awkward small talk, Bella tries to put him out of his misery by telling him it's not necessary—he made his feelings pretty clear on his last video call to her!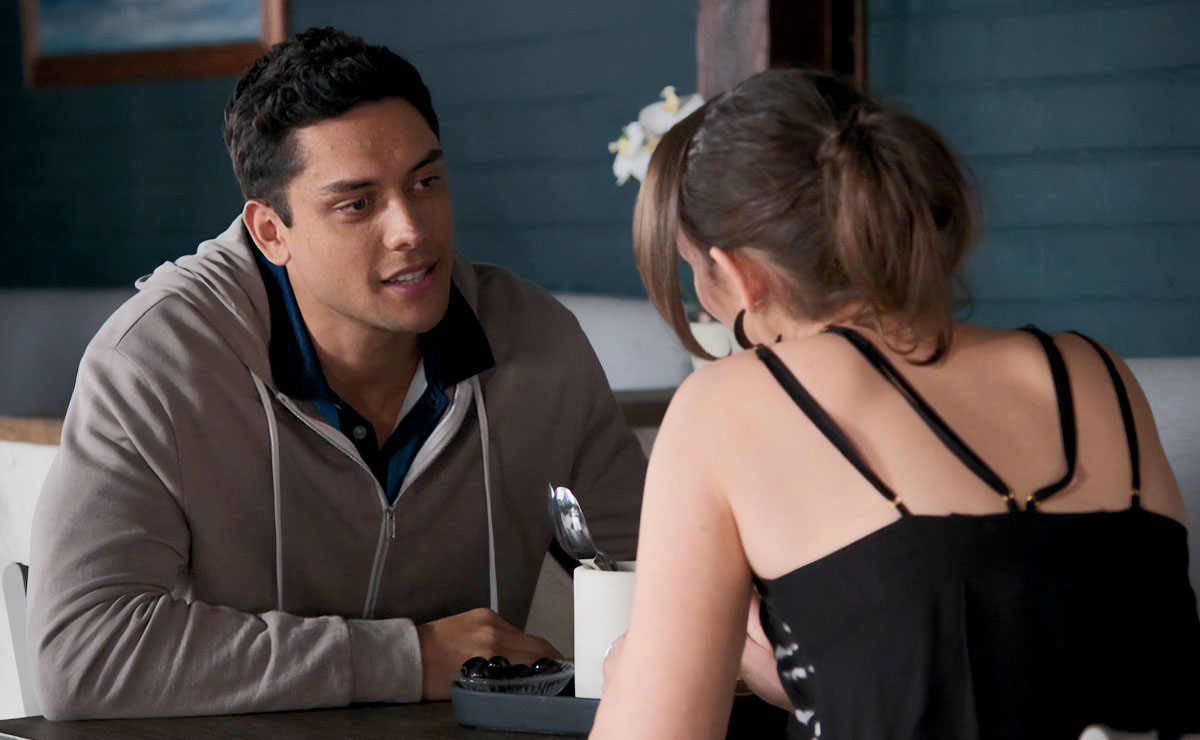 Nik tries to explain that there are things they need to talk about, but Bella interjects by telling him that her life in New York is amazing, and that his dumping her turned out to be the best thing that ever happened to her.
As Bella assures a downhearted Nik that there's no hard feelings, she tells him that it was really good to see him, before leaving the table.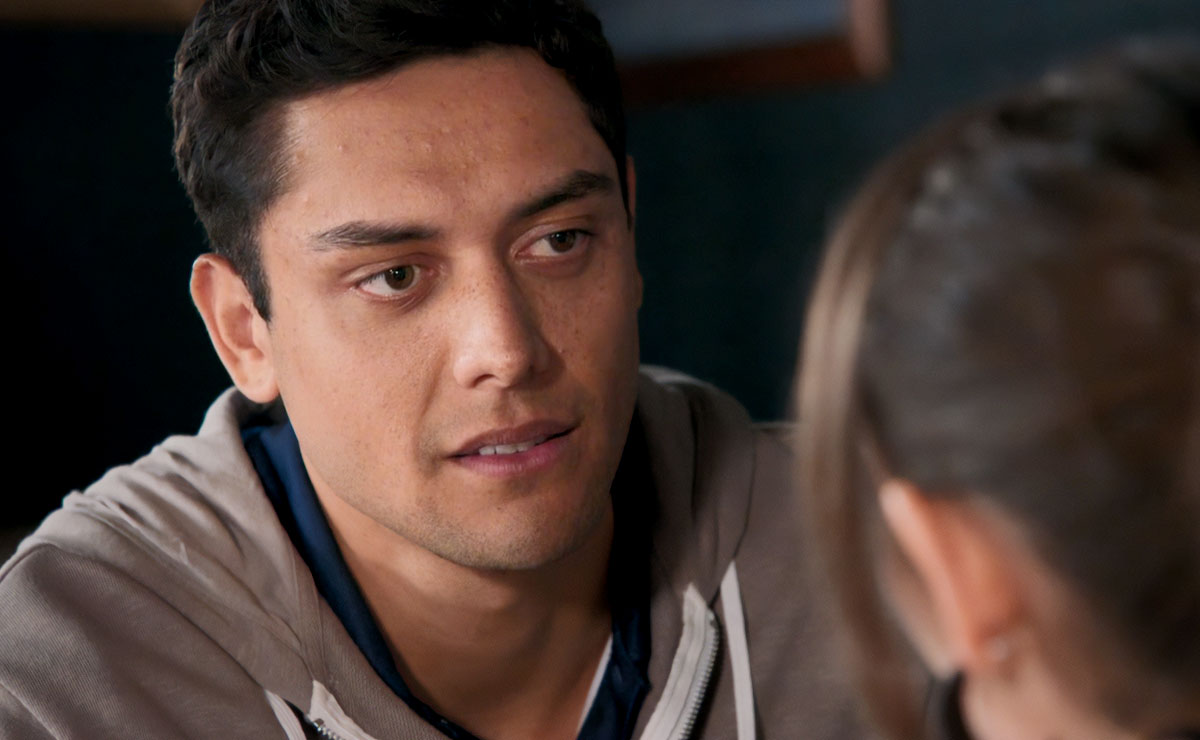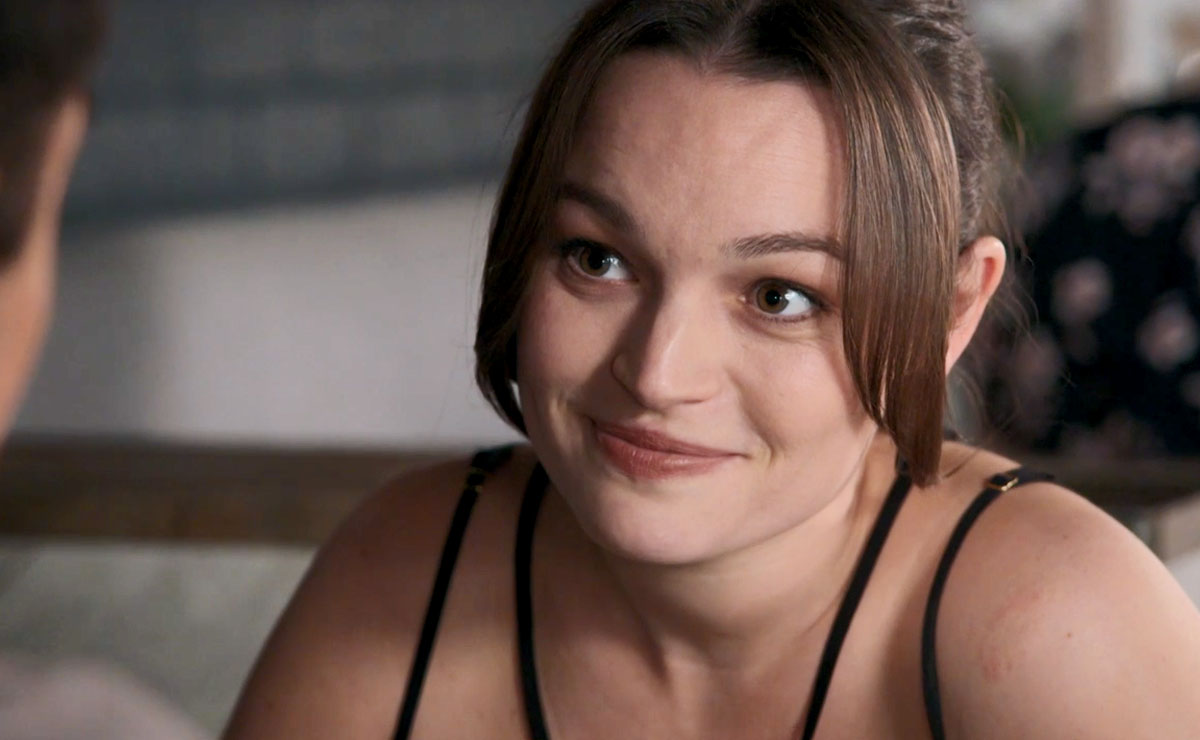 Bella puts on a brave face as she returns to the farmhouse, but Dean can see right through her.
Eventually, Bella gives in and admits that she's angry that Nik can still get to her after all this time, not to mention the fact that he dumped her with no explanation.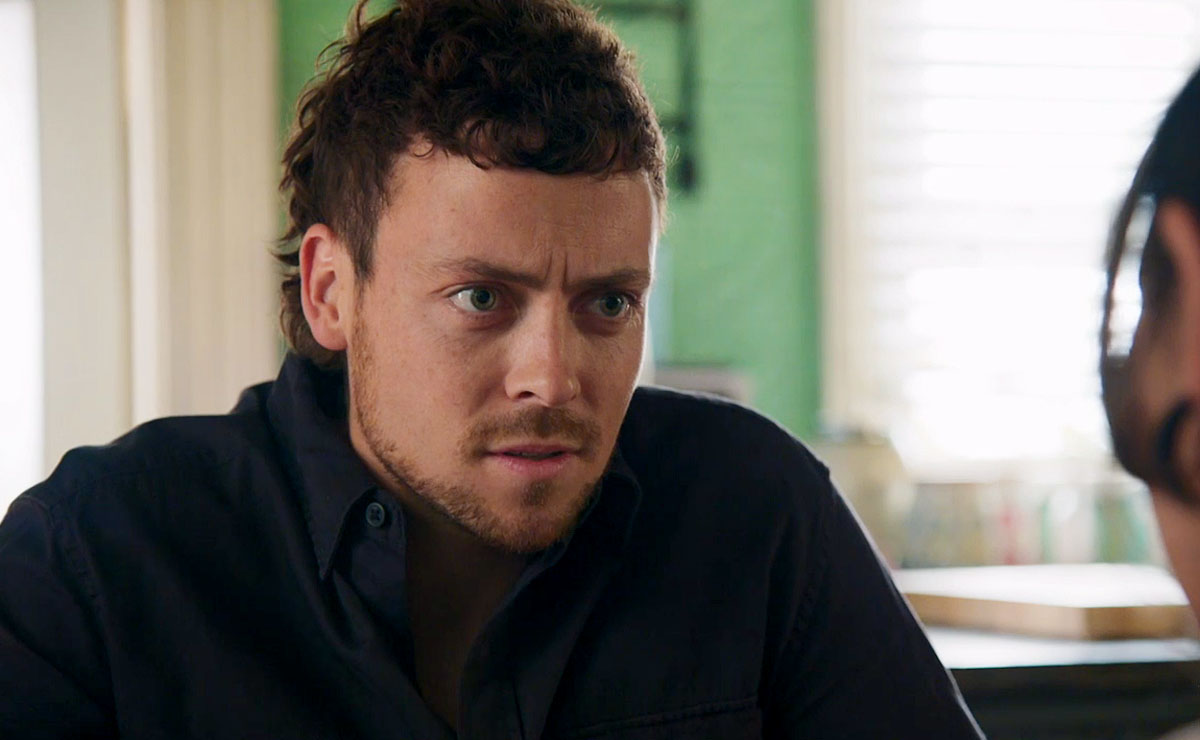 "All I ever did was love him," Bella states, before pointing out that there's no point in dredging it all up again with Nik now.
"You've clearly got questions," Dean replies. "Surely you didn't come all this way, not to ask them… right?"
Will Bella be able to bring herself ask Nik the real reason for breaking her heart?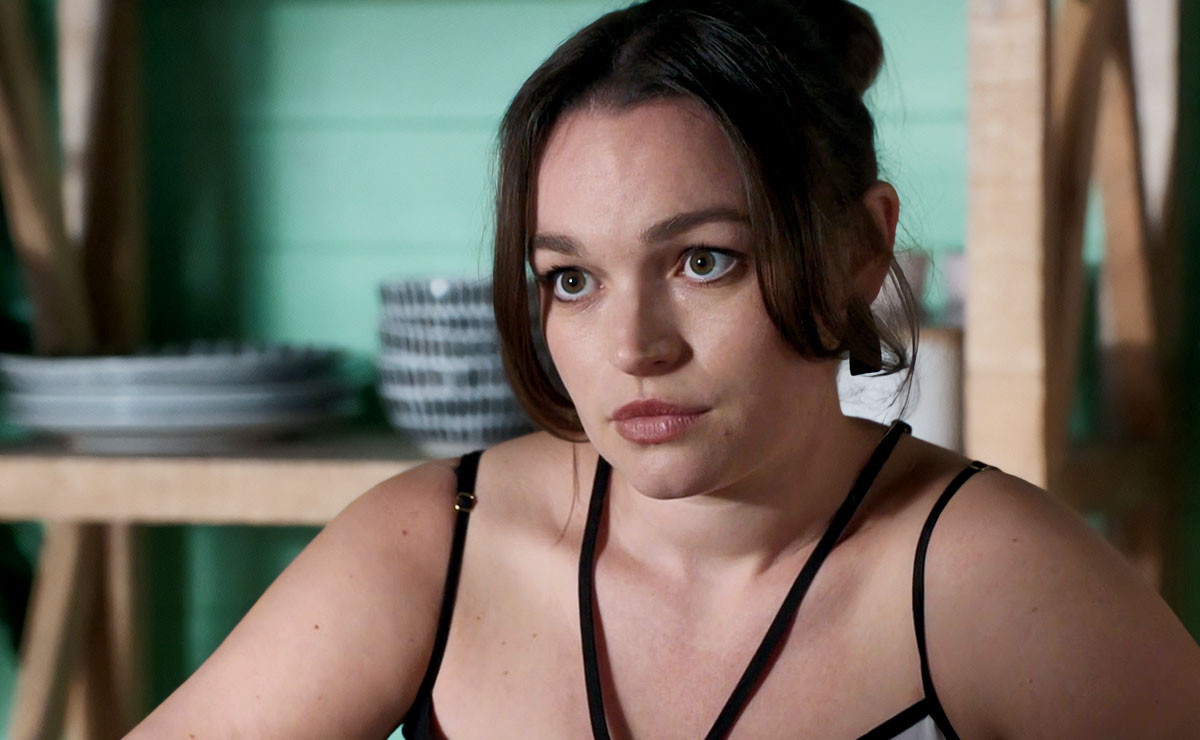 ---
Elsewhere in Summer Bay, Gabe (Akos Armont) is in a bad way after learning that his non-Hodgkin's lymphoma is likely to have returned.
After he suffered a concussion the previous week, after being hit on the head with a surfboard whilst swimming, Bree (Juliet Godwin) had wanted to run some blood tests to be on the safe side after learning of Gabe's medical history.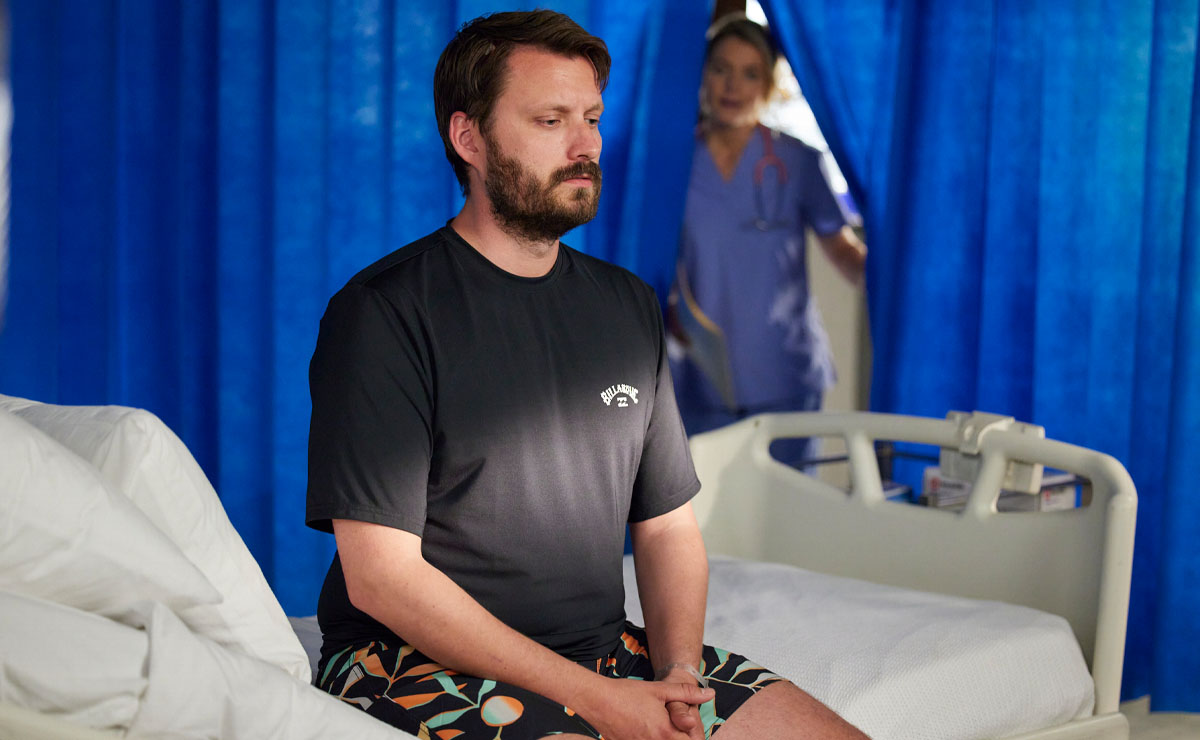 What Gabe hadn't banked on however was his tests showing some abnormalities, and was quick to assume the worst.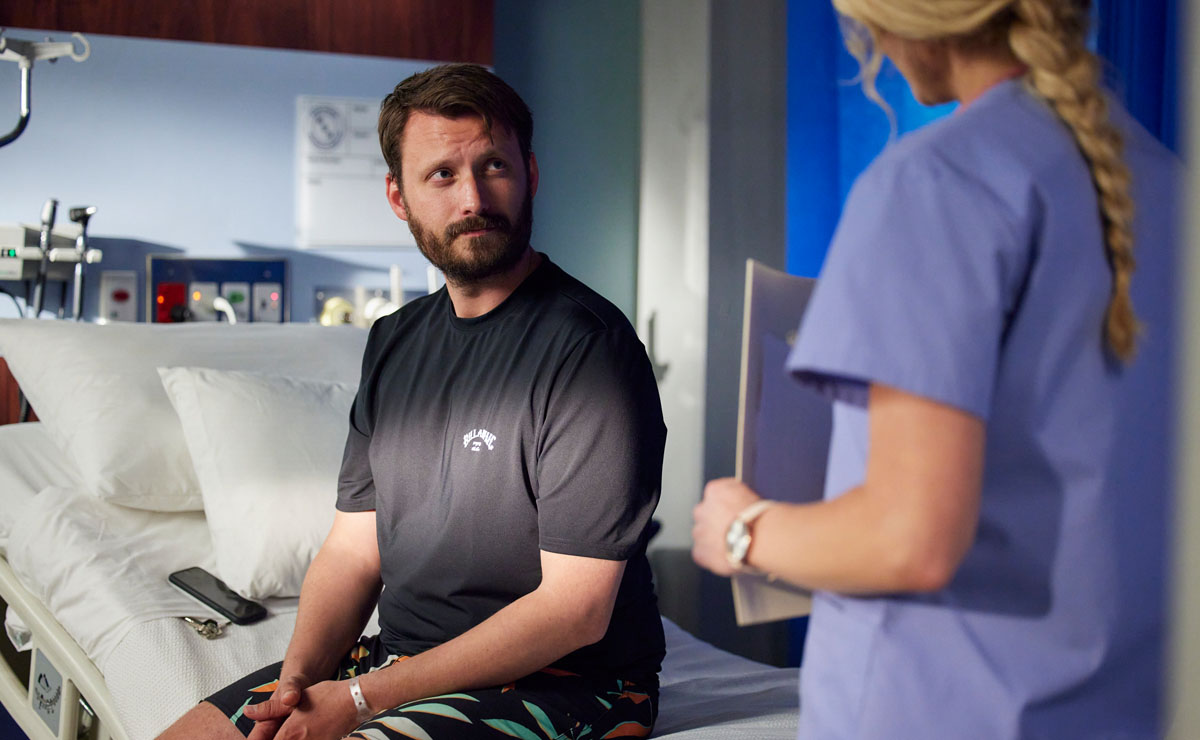 Picking up the action next week, Bree explains to Gabe that she's booked him in for a further scan tomorrow, and offers an ear for him if he ever needs to talk.
Turning down a further offer of a social worker, Gabe asks Bree if she can keep everything under wraps with their friends, to which she of course agrees.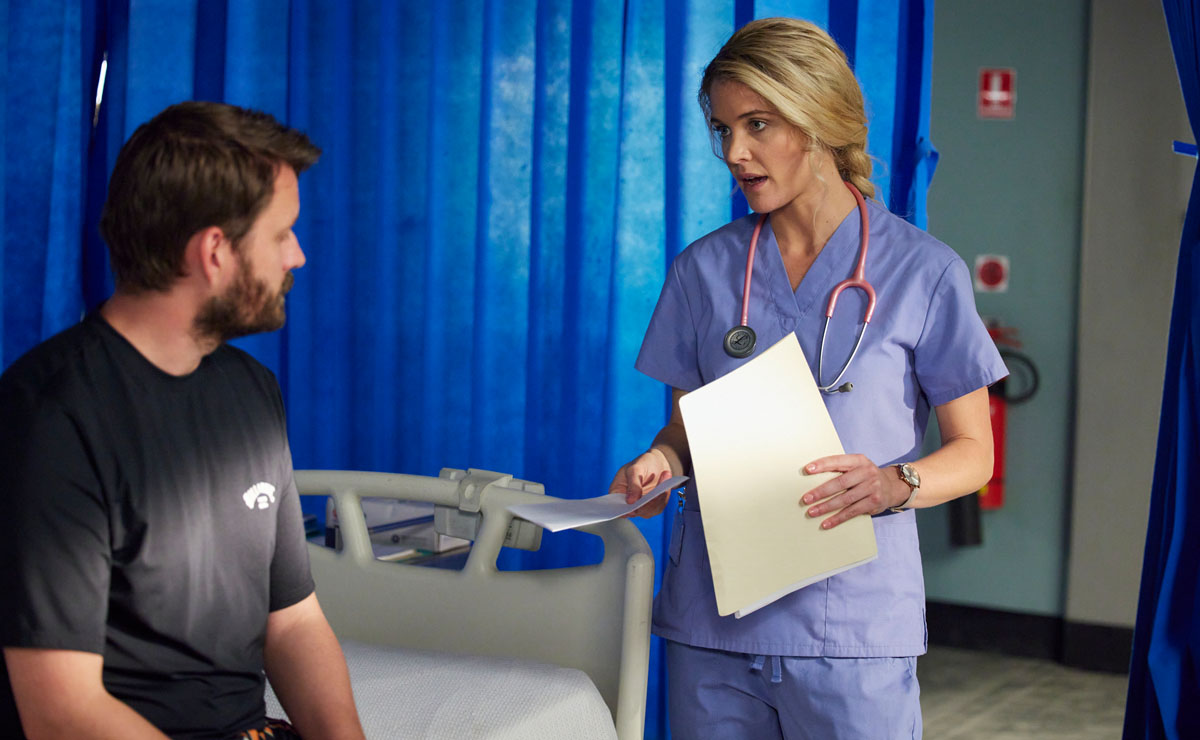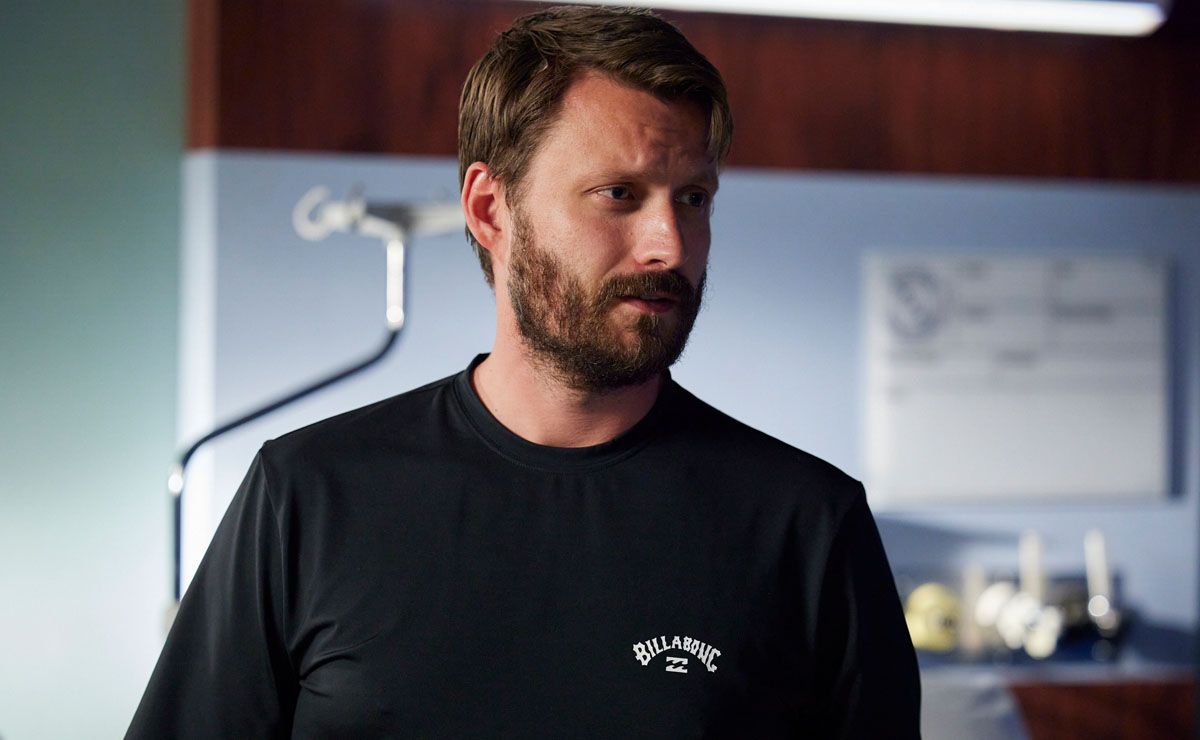 Gabe is later caught off-guard when Mackenzie puts on a romantic lunch and asks him to move in with her. Knowing what he could potentially be about to face, he's quick to turn her down and makes a swift exit.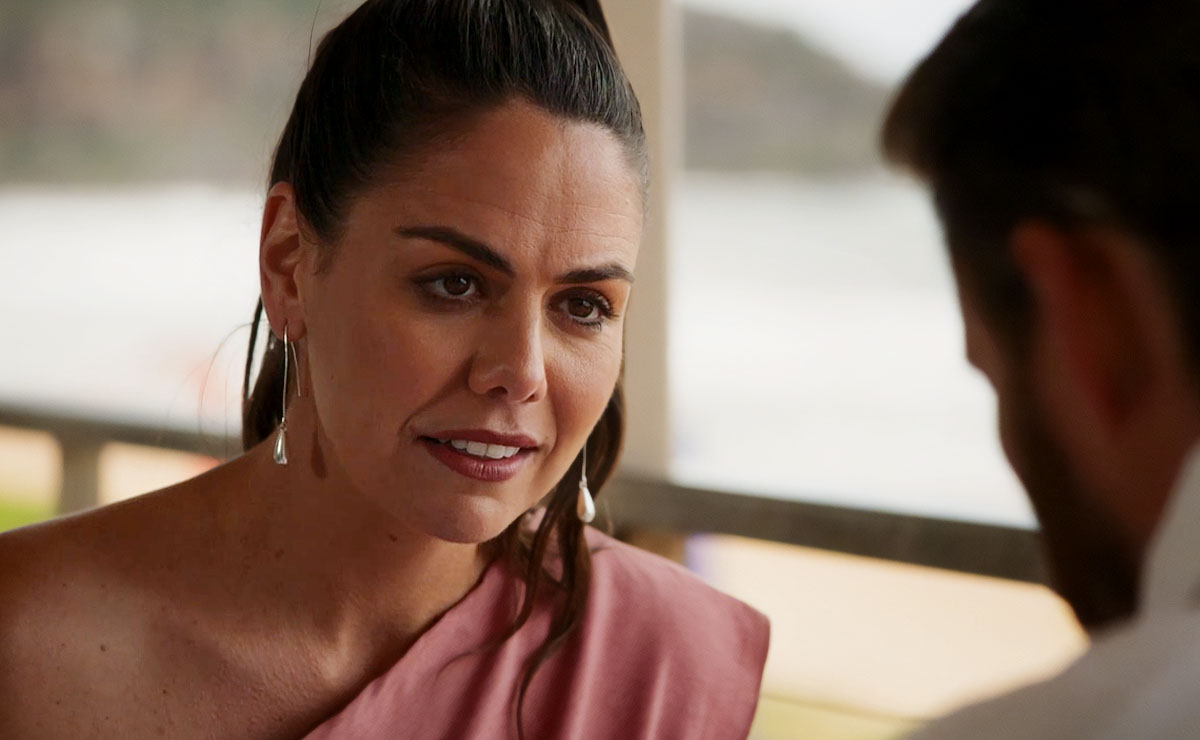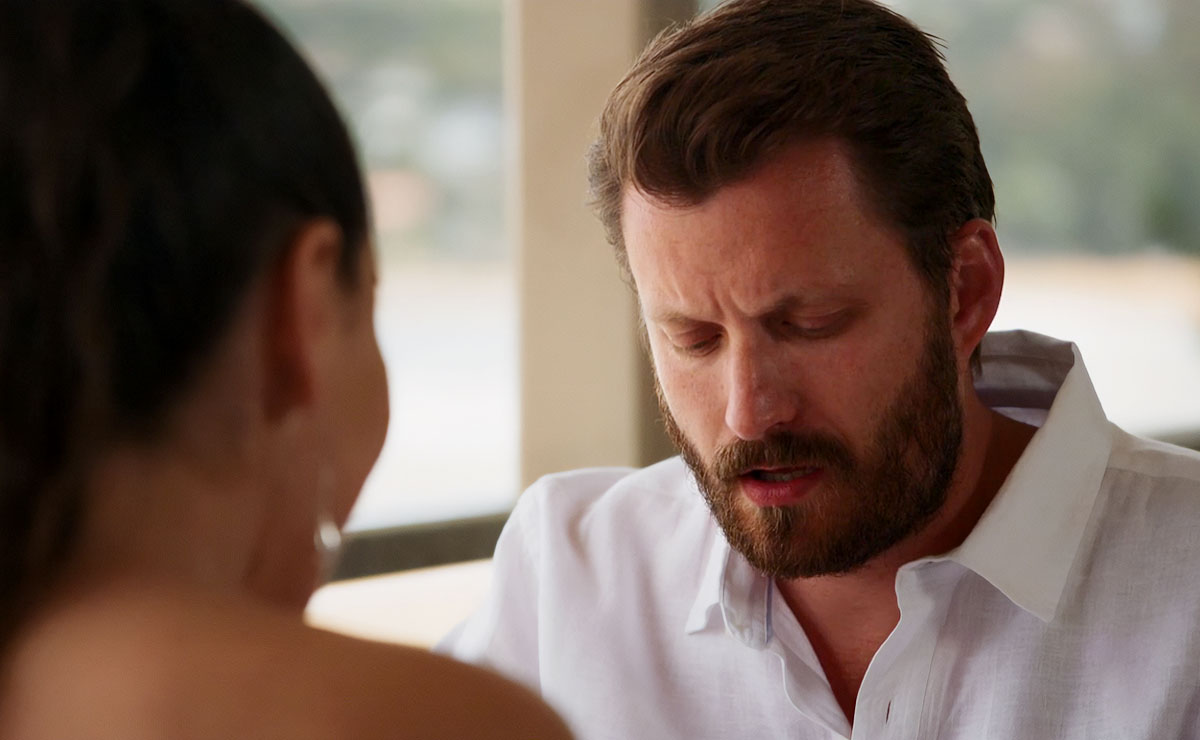 Mac follows Gabe, hoping for an explanation, but he puts his funny mood down to the concussion and promises that they'll talk tomorrow.
After hearing about the incident from Mac, Dean decides to confront Gabe the next morning, who is in no mood for an interrogation. As he aggressively tells Dean to back off, Gabe cracks, knowing that he can't hide it anymore.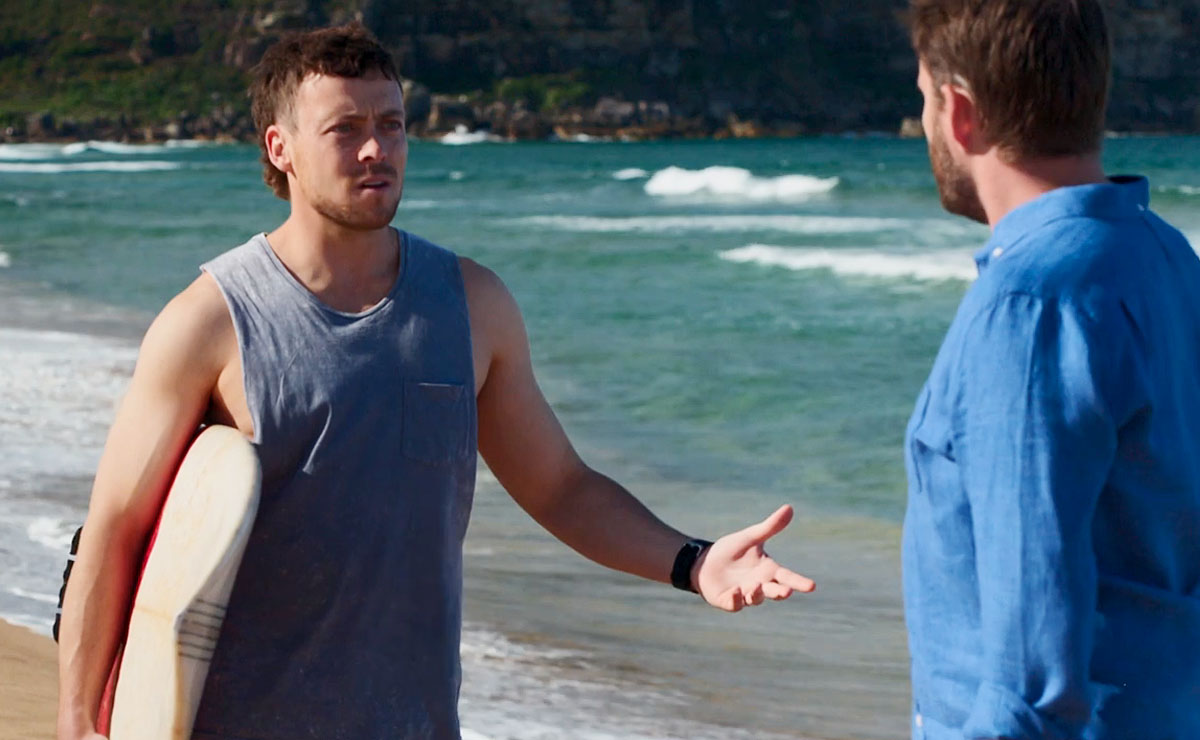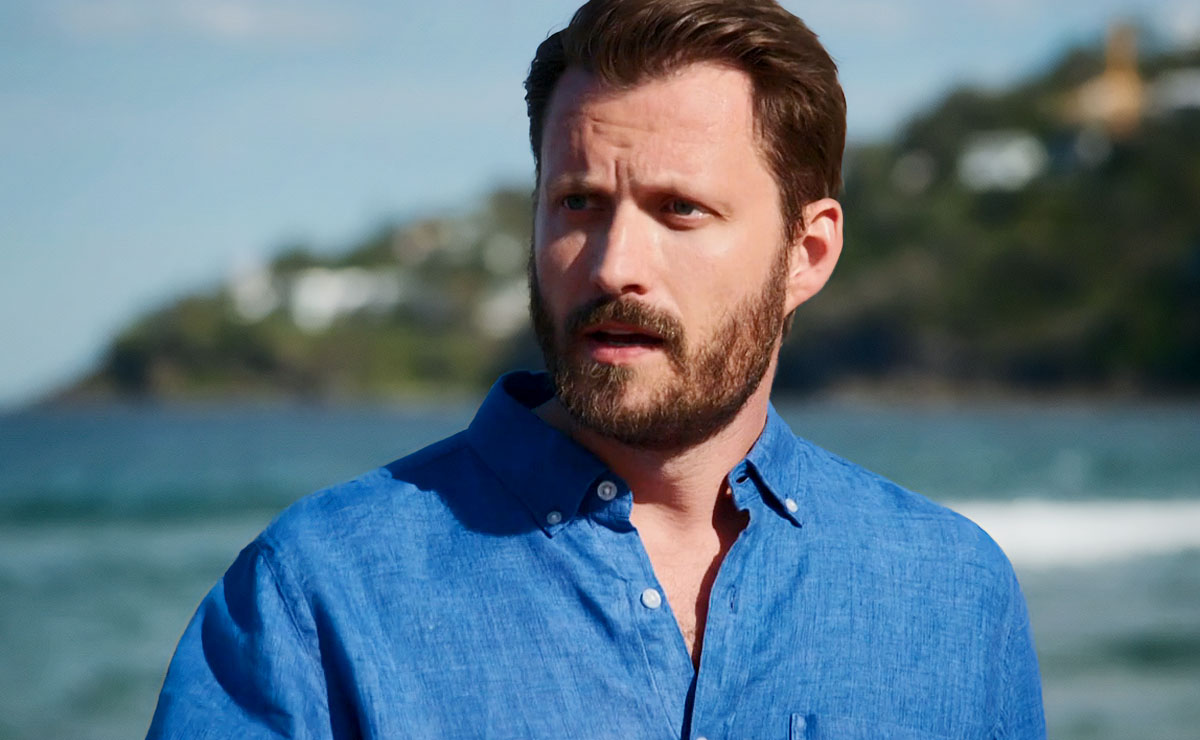 Dean is stunned as Gabe explains his likely diagnosis, explaining that he'd seen his remission last year as a second chance at life, hence his coming to find Mac after all this time.
He asks Dean to not tell Mac, but when Dean later overhears Gabe informing Bree that he's not going to attend his scan appointment to confirm the diagnosis, he knows that he has to tell Mac the truth.
When Gabe later heads up to Salt, he apologises to Mac for his reaction the previous day, but explains that he wants to call it a day and split up.
But Mac seems nonchalant at what Gabe has just dropped on her, as she asks whether that's it.
"I don't know what else there is to say," Gabe explains.
"Well I know about the cancer," Mac reveals. "So why don't you start there…?"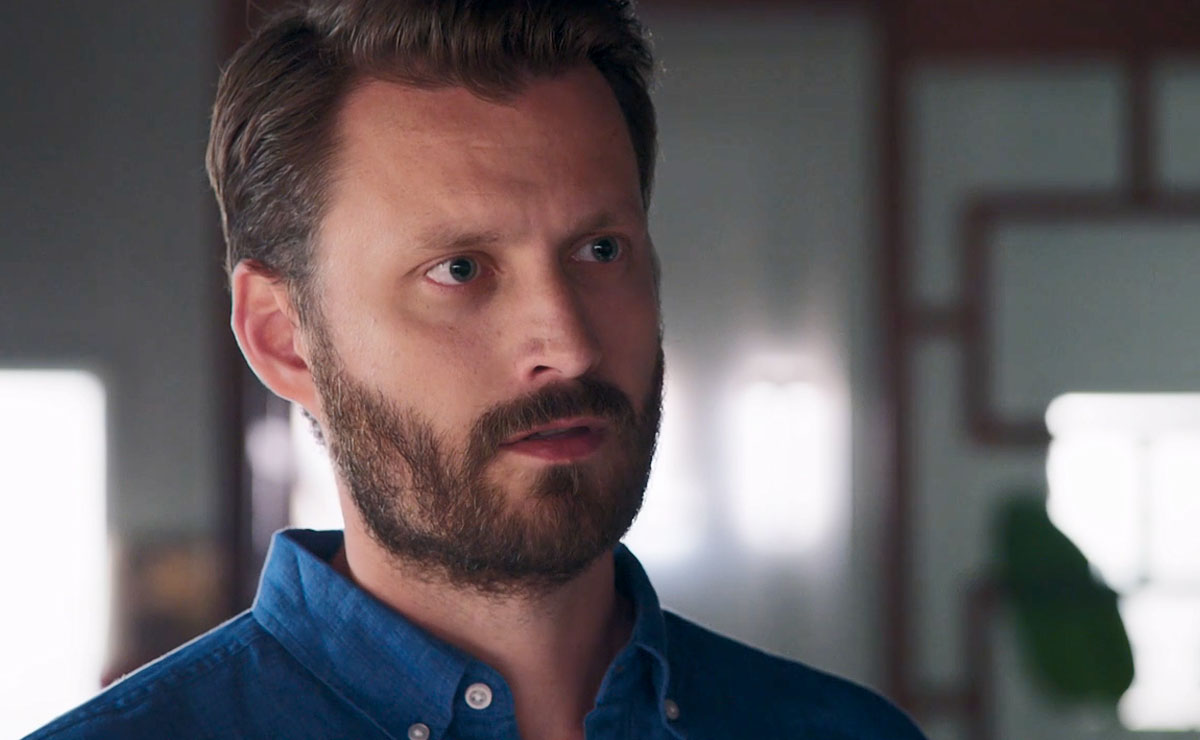 ---
Monday 17th April (Episode 7976)
Gabe struggles to deliver bad news to Mackenzie. Bree gets the push she needs to seek help. Ziggy enlists Marilyn to help protect Izzy.
Tuesday 18th April (Episode 7977)
Can Mackenzie get through to Gabe? Alf and John clash. Dean and Ziggy welcome a surprise visitor.
Wednesday 19th April (Episode 7978)
Felicity's drinking reaches new lows. Can Nikau and Bella get past their differences? Alf and John's feud goes to extraordinary lengths.
Thursday 20th April (Episode 7979)
Has Felicity hit rock bottom? Mali surprises Rose on the beach. Theo defends Ava.
Friday 21st April (Episode 7980)
Remi supports Bree through her counselling. Mali has a mysterious caller. Ava's pushing the boundaries.
Spoilers in your inbox every weekend!