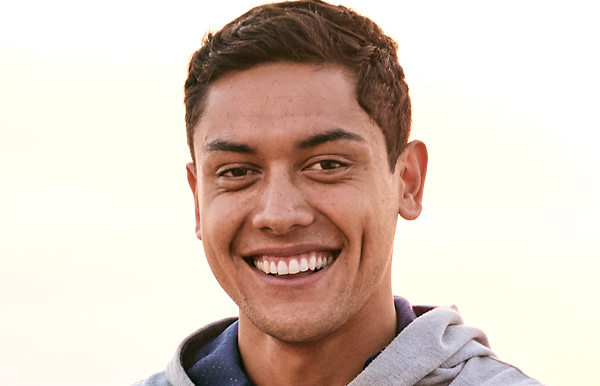 Nikau Parata (2020-present)
Kawakawa Fox-Reo
Episodes: 7274-present
Parents: Mikaere (deceased) & Gemma Parata
Occupation: Bait shop assistant; Model; Board Shop assistant; Lifeguard
---
Nikau came to town with his uncle Ari and mother Gemma. He broke up an argument between Ryder and Jade, seeing Ryder as the aggressor. When Ryder told him Jade was trouble and called him an idiot, Nikau punched him. Nikau's father had died recently and he objected to Ari, his father's younger brother, acting like a replacement father figure. He reluctantly joined his family for lunch with Marilyn, who had been held hostage with Ari, but was dismissive of her referring to Ari as a hero. He continued to spend time with Jade, spending a night with her rather than going back to the motel where his family was staying, but became suspicious when she was confrontational towards Ryder and his family despite claiming he had videoed them having sex and posted it online. His suspicion increased when he saw her stealing from Salt and being rude to Gemma. Jade tried to seduce him in the store room but Nikau realised she was filming them and took her phone. He took it to Ryder, showing him it contained similar videos of several guys, and ended up being invited to stay for Alf and Martha's wedding reception while Jade was thrown out. Ryder convinced him to make a statement to Colby, although this caused him to clash with Ari and call his other uncle, Tane, who was still living in the city.
He relied on food Gemma gave him while working at the Diner and the family were evicted from the motel. After spending the night in the car and washing his clothes in the public shower, Nikau was offered work at the bait shop by Roo while Marilyn gave them a place to stay. Nikau helped convince Roo to let Ari stay in a caravan on credit. He began spending time with Ryder and Bella, but John threw them out of the surf club and Dean threw them out of their flat. He confided in them about the death of his father, who had been killed carrying out an armed robbery in which an innocent woman had been killed. He convinced Bella to forget about getting her HSC and take a photography course at TAFE instead.
Ryder warned him to be careful around Bella, telling him she had once been groomed online. Nikau initially avoided her but ended up taking her to the city to see Tane after an argument with Ari and Gemma, telling Tane he didn't want to go back, although he ended up leaving rapidly the next morning after Bella panicked about staying out all night. He worried about Ari dating Mackenzie, local police officer Colby's ex. Bella blurted out to him that she liked him, then ran off. Ryder managed to get the two of them together and they shared their first kiss. They hustled two teens at Salt to get money for a date.
Bella then summoned him to her flat and told him she wanted to sleep with him. However, when they attempted it, Bella freaked out and locked herself in her room. Nikau went to get Ryder but panicked and ran off when Ryder called Colby. After Ryder told him Bella had cut herself and blamed him for mishandling her, Nikau tried to skip town but Gemma insisted he go to the hospital to check on her. Colby accepted he'd done nothing wrong but wouldn't let him see her, and he only managed a brief word with her before she was sent away to a therapy centre next day. He ended up arguing with Ari and Gemma and tried to go and live with Tane again. In the end, it was John that stepped in and got him and Ryder to make up.
Frustrated at Ari putting pressure on him to find work, Nikau went back to Tane's with Ryder in tow, insisting if he couldn't stay there he'd go somewhere else. Tane let him stay the night, then went back to Summer Bay with him. Nikau pressured Marilyn into letting Tane spend the night on their sofa and refused to take the labouring job Ari had arranged for him. He was delighted when Tane leased a house for the family in Summer Bay but unhappy when Gemma invited Ben to their hangi. He was hostile on seeing them together in Salt and, after Gemma stayed out all night with him, got into an argument with her, tried to warn Ben off and even told Ziggy to keep Ben away from his family.
He advised Ryder over making memories with his dying father Evan, but was angry when Bella returned from therapy and told him she wasn't in the right place for a relationship. He lost his temper with Alf, who had returned to the bait shop, and quit his job, then turned Alf down when he offered to rehire him, confronted Ben and Gemma in front of Maggie, and finally stormed out of the house following an argument with Gemma. He nearly ran away and had to be stopped by Tane. Ari helped him get his job back but he became increasingly panicky as Colby pursued the Paratas for a break-in at the Diner. When Bella told him Colby intended to put him and his uncles in a line-up, he decided to skip town. After failing to catch a bus, he stole Tori's car, only to find Grace in the back seat. He called Tane, who left Grace on the Morgans' doorstep while the car was wiped and abandoned. He refused to say anything when Colby questioned him but he and his uncles were forced to stay in the country when Gemma took Mikaere's ashes home, since Colby had put a block on their passports. He was comforted by Bella before joining the others in a memorial haka on the beach.
With Tane also away and Ari working, Nikau was left isolated. Bella convinced him to get out and that the town weren't against his family, with him again being trusted to look after the bait shop with Alf away. He and Bella kissed and reunited although they had to deal with Colby's opposition and Bella not wanting a repeat of last time. When Ari and Tane teased him that his idea of a romantic date was making Bella soup, he asked Ryder for help and Ryder suggested a boat trip and picnic, but both Nikau and Bella quickly concluded it wasn't their thing.
Nikau avoided Bella's flat to keep away from Colby, who made him feel unwelcome, but Colby eventually accepted Nikau cared about Bella and they made their peace. He realised that Tane liked Mackenzie and talked him out of skipping town, then supported Ryder over his father's death and Bella when her father was found in a shallow grave, only for Bella to admit that she knew Colby had killed Ross and was going to run away rather than risk giving him away to the police. Nikau ran away with her, taking the money Tane had hidden in their shed to buy a plane ticket. They bought an old ute and drove off into the bush but Nikau was uncertain about never seeing his family again. They slept together but, with their car battery dead, Nikau insisted on going for help. Instead, he ran into Ari, Tane and Mackenzie, who had come after the pair. He took them to where he'd left Bella but found her gone. After a few days fruitless searching, he managed to get Bella to come back by leaving her a phone message wondering if she'd run off because of them sleeping together. Although they returned to Summer Bay together, he was unhappy about her leaving him and told her he needed space. However, when Alf sacked him for abandoning his job only to quickly reinstate him after Bella put in a good word for him, they made up.
He continued to support Bella when she worried about Colby's affair with Taylor, the wife of Angelo who was leading the investigation into Ross' murder, and informed Colby when Angelo questioned Bella about her leaving town. With Colby refusing to listen to anyone about the affair, Nikau invited Bella to move in with him. She did so for one night but ultimately decided she couldn't leave Colby. Nikau became exasperated by Bella's increasingly desperate attempts to break up Colby and Taylor, resulting in Bella ending their relationship. Ryder and Jasmine locked them in the gym together until they sorted things out.
He then learned Gemma was staying in New Zealand and wanted him to join her. He asked Colby about getting his travel ban lifted and was given another reason to go when Tane confided in him that he'd got on the wrong side of some drug dealers who were threatening his family. Nikau asked Bella to go with him but she was reluctant to leave Colby. However, she changed her mind and agreed to go when Colby refused to listen to anyone about the affair. Colby threatened to stop Nikau leaving the country again and Nikau retaliated by revealing he knew about Colby killing Ross. Nikau helped his uncles out when the drug dealers turned up at the house looking for Tane but the move was delayed when Colby was arrested. Dean accused Nikau of talking to the police and he and Bella went to stay with Ziggy and Mackenzie. Nikau again insisted on standing by his uncles but was scared when a car drove at him as a warning. He was unhappy that Ari and Tane did a job for the dealers without telling him and supported Bella when Colby was jailed. With Ari and Tane being blackmailed to do an armed robbery, they and Bella convinced Nikau to go to New Zealand. He kept in touch with Bella by video call.
He returned with Chloe Anderson, whose mother Mia had lived with Ari for some years, and brought her back to Summer Bay with him. They went on a trip up the coast together, during which time Mia arrived in town looking for Chloe. Nikau managed to blag a day off in order to show Chloe around town and introduce her to Bella. Pleased to have Chloe back in his life, he spent all his time with her to the point that Bella felt neglected. He was unhappy to overhear Bella yelling at Chloe but Ryder helped him see her point of view and he agreed to them spending time alone. He was nevertheless angry to find Bella had got Ryder to keep Chloe away from a family barbecue but began to share Bella's point of view when their attempt at an evening alone was ruined by Ryder and Chloe turning up and spending the evening arguing. They invited the pair out clubbing to try and convince them to get along, but were kidnapped by a group of men in a van. The men turned out to be working for Paul and Leon, who offered to trade them for Ari and Tane. When Nikau's uncles arrive, a fight broke out during which Nikau managed to get the other youngsters to safety and then go back for Ari and Tane, who had already overpowered most of the thugs. He was the one that found Ari after he was injured in a hit and run and realised Paul was responsible.
He was annoyed to discover Ryder and Chloe had been seeing each other in secret. Bella told him to accept them but he wasn't above paying Ryder back: When Ryder asked for help in impressing Ari, Nikau taught him a speech in Maori about being a bad person who was unworthy of Chloe. He and Bella soon got tired of the new couple always being around and arranged a weekend away at an expensive cottage, only for Ryder and Chloe to follow them. They paid the pair back by trying to prank them over a ghost, having Nikau sneak around the house during the night and Bella take photos of them all sleeping, but found the joke on them when first Ryder faked an injury and then they noticed a mysterious figure in one of the photos. He was unhappy when Bella used a photograph of him sleeping that she'd taken without permission to win a photography competition but Dean convinced him to support her. He accompanied her to the awards ceremony, where he drew the attention of modelling agent Sienna Blake. He initially ignored her calls but eventually agreed to meet her in person so he could turn her down. However, when Sienna also offered to get Bella an internship with her top photographer Emmett Ellison, he agreed. However, he felt out of place while shooting his portfolio and nearly walked out, only staying thanks to some support from Bella, who Emmett got to direct him. He was immediately given his first job but was frustrated when Sienna insisted he attend the after party instead of going home to rest, saying it was part of the job. He did however let Sienna and fellow model Allegra Freeman introduce him to everyone at the party. Sienna turned up at his house and announced she was organising a shoot around the Bay, expecting him to drop everything. He was thrown, and Bella upset, when Allegra kissed him without warning during the shoot. He considered quitting but Sienna warned him Bella would lose her internship. Although Bella was willing to let them both quit, he was wowed when he received his first pay and saw the amounts he could earn, so instead resigned from the bait shop, helping train up Roo to run it.
Sienna and Allegra encouraged him to beef up his social media to get more interest. Allegra gave him an appetite suppressant after chiding him for eating junk food. Although he didn't take it, he began skipping meals and exercising more than was recommended. Sienna and Allegra helped him put on a party in order to maintain his social media profile and he convinced Bella, who was trying to work on a photography exhibition with Emmett, to attend, also hiring Ryder and Chloe to do catering. He suggested to Sienna that he use his socials to advertise the exhibition but this resulted in Sienna requesting a fee from Bella for use of his photos. Nikau agreed to go on a trip to Japan in return for Sienna giving Bella permission. On the day of the pre-show, Nikau was doing a shoot in the city. He received a text, apparently from Bella, saying it had been delayed, so Sienna invited him back to her apartment. Showing him a photo of a tender moment between Bella and Emmett, Sienna convinced him Bella had cheated on him and then seduced him. He returned to town in the aftermath of the food truck explosion and kept quiet as Bella tended to an injured Emmett. When he showed her the photo, she said it was just a hug and that she had lost her phone and hadn't sent the texts. He confronted Sienna, who used the information to blackmail him into doing the Japan job. He confessed to Tane but couldn't tell Bella.
His discomfort hit breaking point when Sienna got Bella to photograph him and Allegra for a shoot, and he learned Allegra knew what had happened. He confessed to Bella who immediately broke up with him and told Sienna he wasn't going to Japan. She initially told him that he had a contract but eventually decided to cut him off without paying him. He punched Ryder when he told him he didn't deserve Bella and was on the receiving end of lectures from Ari and Tane even after apologising. He contacted Sienna about the Japan job but learned she had already replaced him. He tried to talk to Bella but was seen off by Dean, then turned up again on the morning of the exhibition, harassing Bella about letting him go with her. Tane took him away but he turned up at the exhibition anyway, where he grabbed a microphone and loudly declared his love to a mortified Bella, pushing Emmett to the ground when he tried to intervene. He was thrown out of the event, receiving lectures from nearly everyone involved, and bit back by revealing he had seen Ziggy kiss Dean.
He was pleased when Bella agreed to meet him and they had lunch together, but he took it too far by kissing her and then refusing to leave, having to be escorted home by new cop Cash Newman. After another row with Ari, he walked out. However, the place he was going to stay was closed and he ended up spending the night on a bench. He called Mia to pick him up and she arrived with Dean. As they were going back however, Dean swerved to avoid a kangaroo and Nikau was thrown from the car. He recovered to find Dean and Mia still inside the car, poised on a cliff edge. Despite being badly injured, he headed back to the road and managed to flag down a car, but was rushed to hospital needing emergency surgery. When he came round, he found Bella there but told her to leave. He was uncomfortable around Mia, who had suffered a miscarriage after the crash, but she assured him she didn't blame him. He also refused to see Bella, causing her to lose patience. He tried to talk her out of selling her photography equipment, then paid another boy to buy it for him. Bella was furious when she found out but Nikau refused to give it back, even when she returned the money. He went away with Tane but they didn't go far after getting a flat tyre. He was initially supportive when Ari and Mia told him they were planning to adopt, but on learning Ari had helped Dean move in with Ziggy, even though she'd only just broken up with Tane, told him that ex-criminals weren't allowed to adopt. He apologised once he'd calmed down.
Bella ended up taking the camera back but Nikau refused to get back with her. After a talking to from Chloe, he went back to Bella and they finally reunited. He tried to get her to go back to photography and took Ryder's place doing deliveries with Chloe so Ryder could talk to Bella about it. He volunteered to run the board shop while Dean was recovering. He realised Bella still didn't fully trust him when he caught her looking at his phone and they were invited by Chloe to help celebrate Ryder's 21st. When the evening descended into chaos, with Nikau having to call Tane to collect a drunk Ryder, he and Bella cleared the air. When he learned Tane was in hospital with organophosphate poisoning, he suspected Felicity, who had accused Tane of stalking her. He confronted her and her friend Anne in Salt, having to be dragged away by Theo. Theo then told him that he'd spent the night with Chloe. Nikau told Bella, who told Ryder, only for Theo to announce he just meant they'd spent the night talking.
Dean asked him to keep an eye on Ziggy's first class as a surf tutor, where the girls were only interested in taking photos with him. Against Bella's advice, he began making posts on social media branding Felicity dangerous. When he heard she had disappeared with the police looking for her to arrest her, he took this as confirmation and told his followers to hunt her down. He finally stopped and deleted the account when Bella told him to choose between social media and her. He was left feeling guilty when he learned the person behind the attack had been arrested and it wasn't Felicity, apologising to her. John encouraged him to qualify as a lifesaver but he walked out of his first bronze medallion session, not understanding the theory. A chat from Ari convinced him to go back and he overcame his nerves to pass the assessment.
On his first day as a lifesaver, however, he was given a list of chores and then tricked by Theo into letting him steal the surf club ATV. He received a telling off from John after starting a fight with Theo in uniform. On his first solo shift, a man collapsed in front of him. Nikau successfully resuscitated him but felt let down when he discovered John had been nearby and hadn't helped him. Although John insisted he could see Nikau was handling it, Nikau nearly quit and gave John the cold shoulder for a while until they made up. He then celebrated Ari and Mia's engagement.
He was devastated when Ari confessed to killing Chloe's father Matthew Montgomery, when in fact Chloe was responsible. He felt Chloe should tell the truth and was frustrated that Tane closed ranks and told him to stay away from Bella. He failed to be enthused by a visit to Ari or Mia's plans to get married in prison. Tane took him away and told him it was time for him to earn Mikaere's old taiaha, teaching him the rituals that went with it to focus his mind. He was at hospital when Ari was diagnosed with terminal cancer and for his deathbed wedding, accompanying his body back to New Zealand with Tane.
He tried to spend time with Bella on his return but Chloe insisted on hanging around them. Even when he asked Tane to help her, she still gatecrashed a romantic meal and Nikau ended up going to bed so Bella and Chloe could talk. He lost his temper with Chloe at a family meal and wondered whether he was coping. He helped Bella out with a project by suggesting she photograph his taiaha moves and suspected Chloe when the taiaha went missing soon after. Chloe eventually returned it, saying she found it in the bathroom. He missed a family meal after Chloe told him the day had changed and believed her when she claimed to regret sleeping with Theo. He made an effort to repair their rift including joining her for a poker night Ryder arranged. However, he then stumbled across a journal in which she catalogued her manipulations. Despite Bella urging him not to, he ended up confronting her about it at Ryder's farewell.
Although he helped save Millie, who tried to drown herself after causing a friend to die in a car accident, Nikau felt he needed to resign as a lifeguard to get paid work. John offered to instead arrange for him to be a full-time lifeguard. His application was marred somewhat by Tane being stabbed, although the incident did lead to him and Chloe putting aside their differences. He waa thrown to see Emmett back in town, seeing him as a reminder of what happened with Sienna, although Bella reminded him Emmett had done nothing wrong and Nikau apologised to him for what happened at the exhibition. He then learned Emmett had offered Bella three months' work in New York and she asked Nikau to go with her. However, he realised he was where he wanted to be but convinced Bella to go without him. He attended her farewll meal and they spent her last evening in town together before saying goodbye.
Nikau convinced Tane they should wind Theo up when Chloe brought him along to a family barbecue as her boyfriend, pushing him in the pool. Missing Bella, he considered going to New York, but then saved Goldie, a swimmer in trouble. John convinced him to have lunch with her sister, Naomi Stevens, who had witnessed the incident, and he ended up enjoying himself and being reminded of why he did the job. He stepped on a sea urchin during a rescue and was taken to hospital, where he was looked after by Naomi, who was working as an agency nurse and stayed with him overnight.