Home and Away promo shows Tex out of prison and Cash in trouble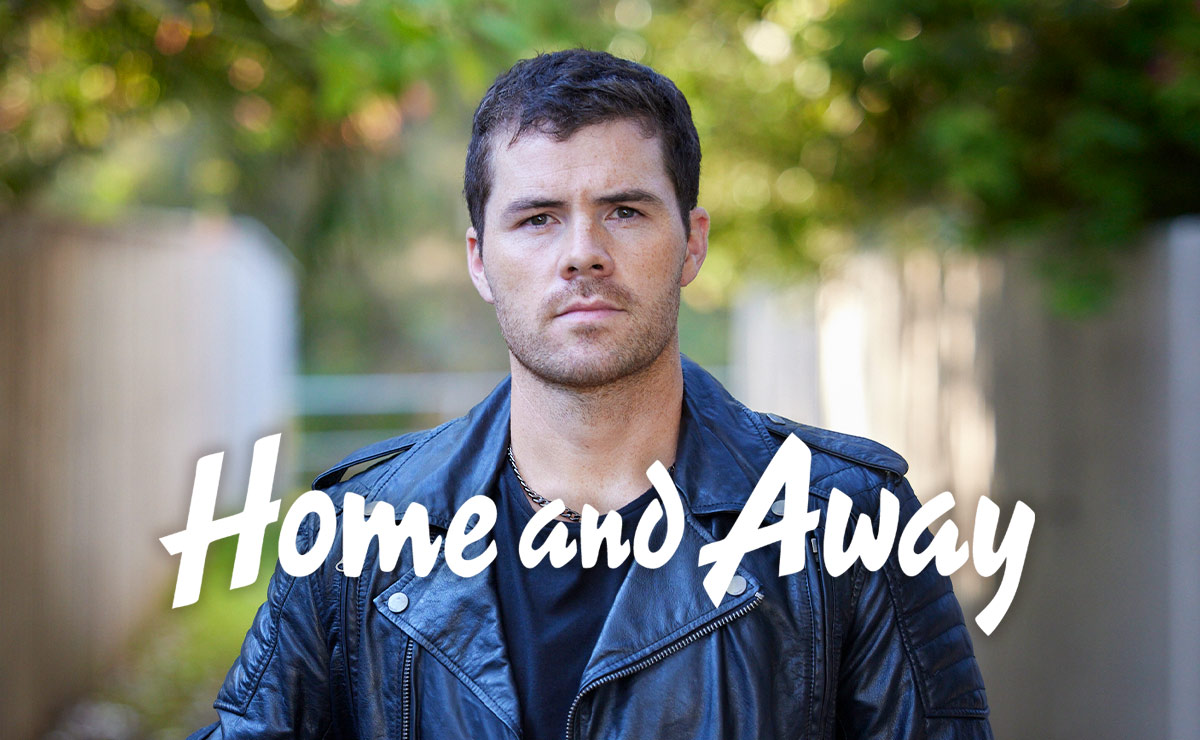 A new Home and Away promo shows that Cash's troubles are far from over, as Tex is out of prison and looking for revenge. Elsewhere, Mackenzie and Gabe are about to mix business with pleasure.
When Rose orchestrated a raid on the headquarters of the Death Adders bikie gang last year, it seemed like that might have been the end of Tane Parata's (Ethan Browne) gang troubles.
The Death Adder motorbike gang arrived in Summer Bay seeking revenge on the Paratas, after Ari (Rob Kipa-Williams) stole from them over a decade ago. With Ari having passed away from cancer, they came after Tane instead, and quickly took over the gym to use it for money laundering.
Things came to a head in a dramatic police operation, with Rose (Kirsty Marillier) leading a raid on the gang's headquarters. She teamed up with Tane, who went to the gang's HQ wearing a wire, allowing the cops to gather the evidence they needed.
During the raid, Cash (Nicholas Cartwright) shot and killed Marty (Ben Wood), the gang's leader, while second-in-command Tex (Lucas Linehan) – formerly known as Leigh, a known bikie associate – was arrested and thrown behind bars. The police managed to arrest and imprison a large number of the gang, and it seemed that, other than the injuries Cash sustained during the operation, everything had been a success.
However, while the gang have since left Tane alone, they wanted revenge on Cash for killing their leader Marty. They ordered a hit on Cash, with a bounty for whoever took him out.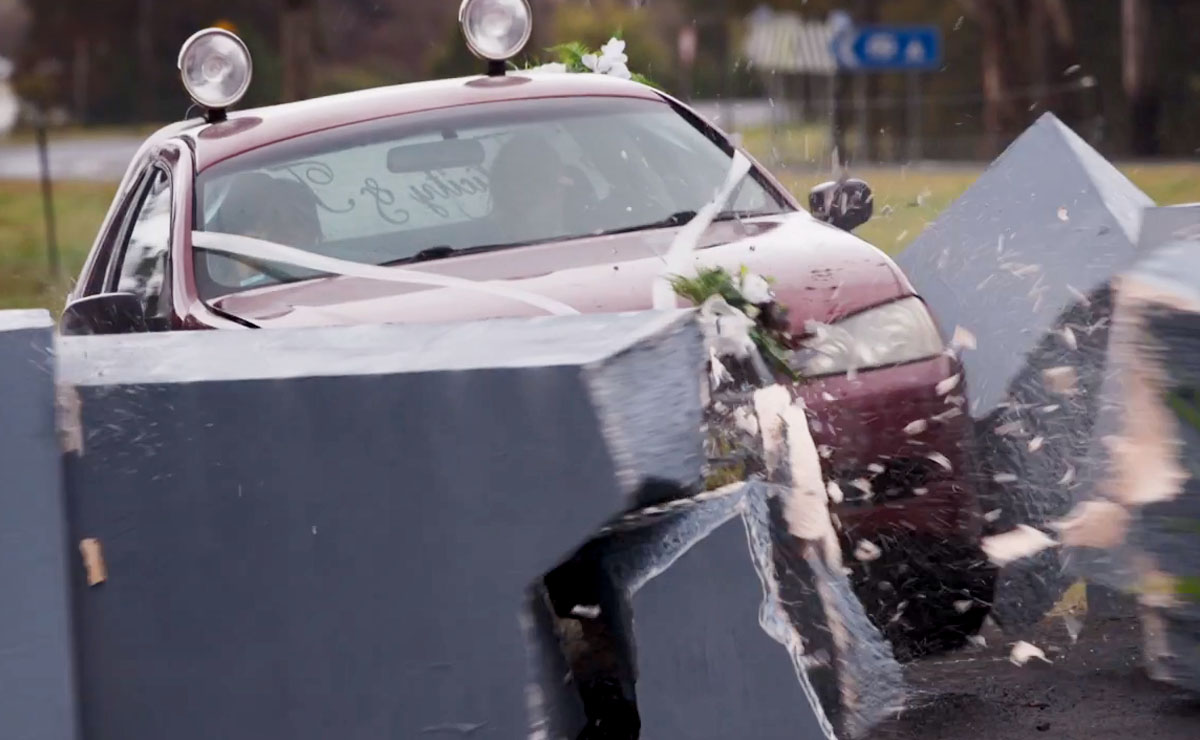 They put their plan in place the night before Felicity (Jacqui Purvis) and Tane's wedding, cutting the brake lines of the ute in which Cash was meant to be driving his sister to her nuptials.
Their plan failed when Felicity got cold feet, and Cash headed to the wedding venue in a different car, leaving Eden (Stephanie Panozzo) to drive Felicity there in the ute. The vehicle crashed as planned, but it's Eden who's now fighting for her life in hospital.
This week saw Cash realise that he was the real target, and he's now out for revenge. He realised that the gang must have been listening to him – that's how they knew he'd be driving to the wedding in the ute – and eventually found a number of listening devices hidden around the Parata house.
However, he still had to prove that it was the bikies who placed the listening devices and cut the brake lines.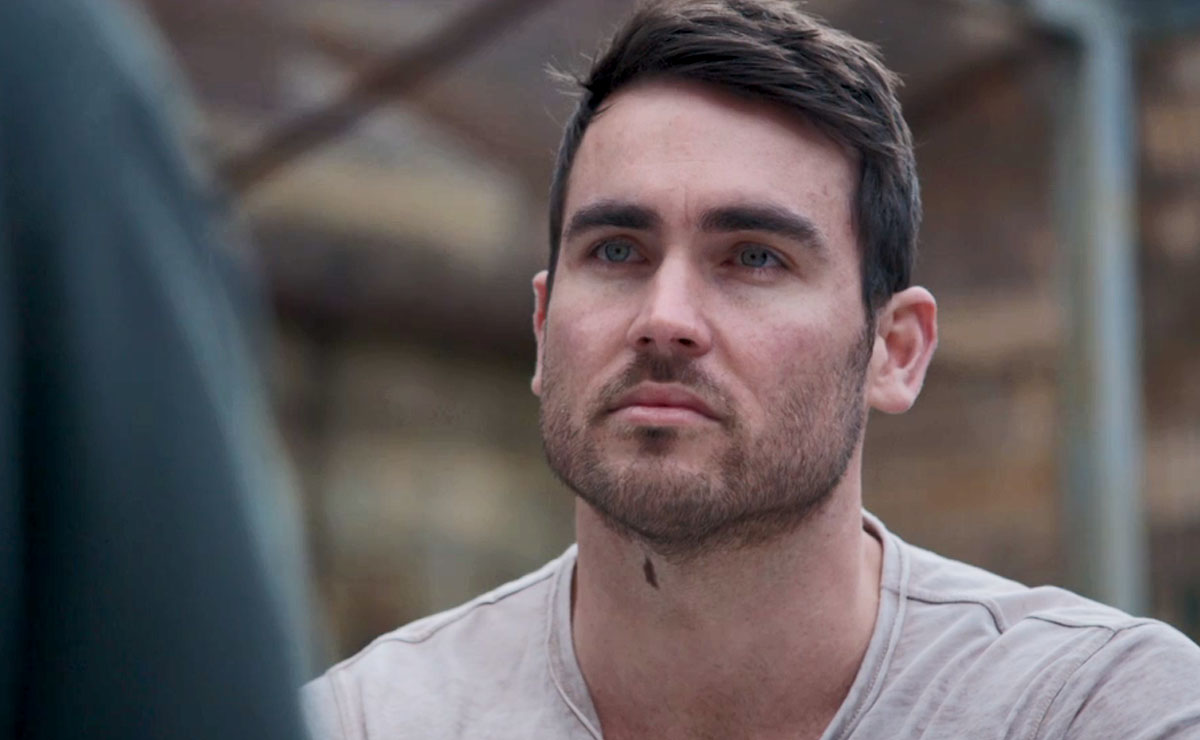 He paid Tex an off-the-record visit in prison, where Tex feigned ignorance, before eventually telling Cash that it was a shame Felicity and Eden got hurt.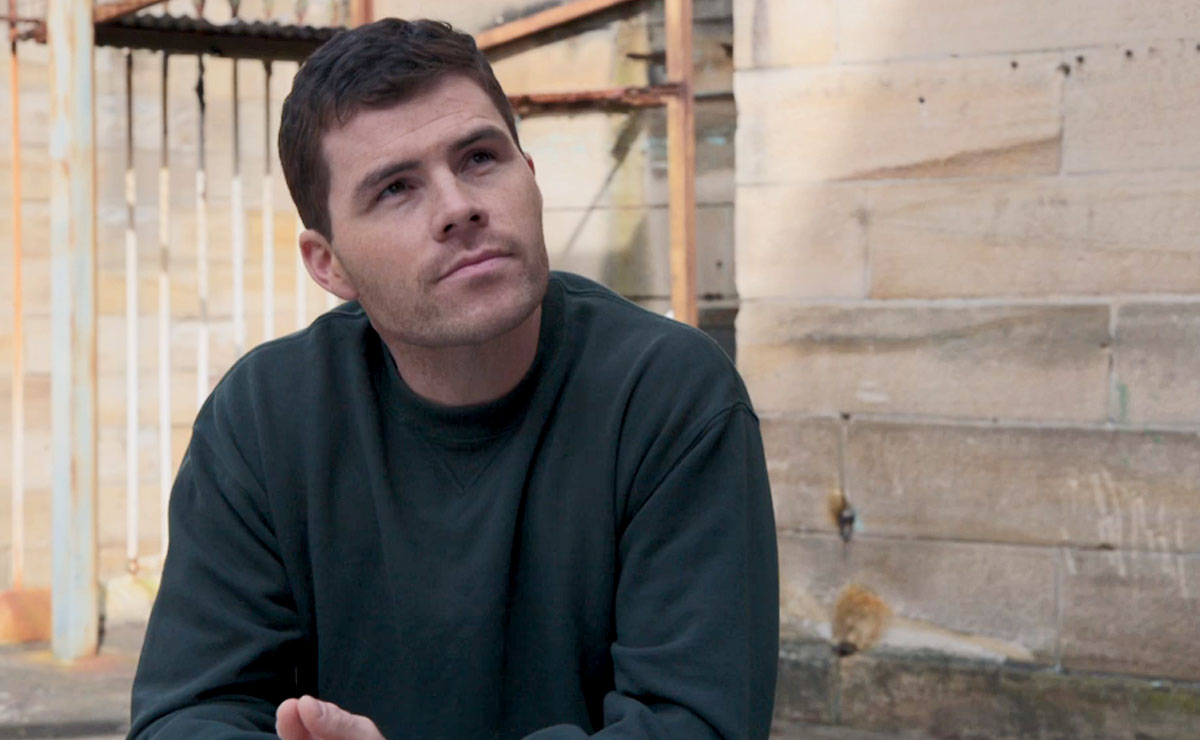 That was the evidence Cash needed – the only way Tex would have known Eden's name and her involvement in the crash was if he and his mates had been listening.
Back in Summer Bay, he spoke into one of the devices, demanding a meeting with whoever was on the other end.
In a new promo which aired after Thursday's episode, we see that Cash's story has plenty more twists and turns ahead, as Tex is somehow out of prison and is about to come after Cash!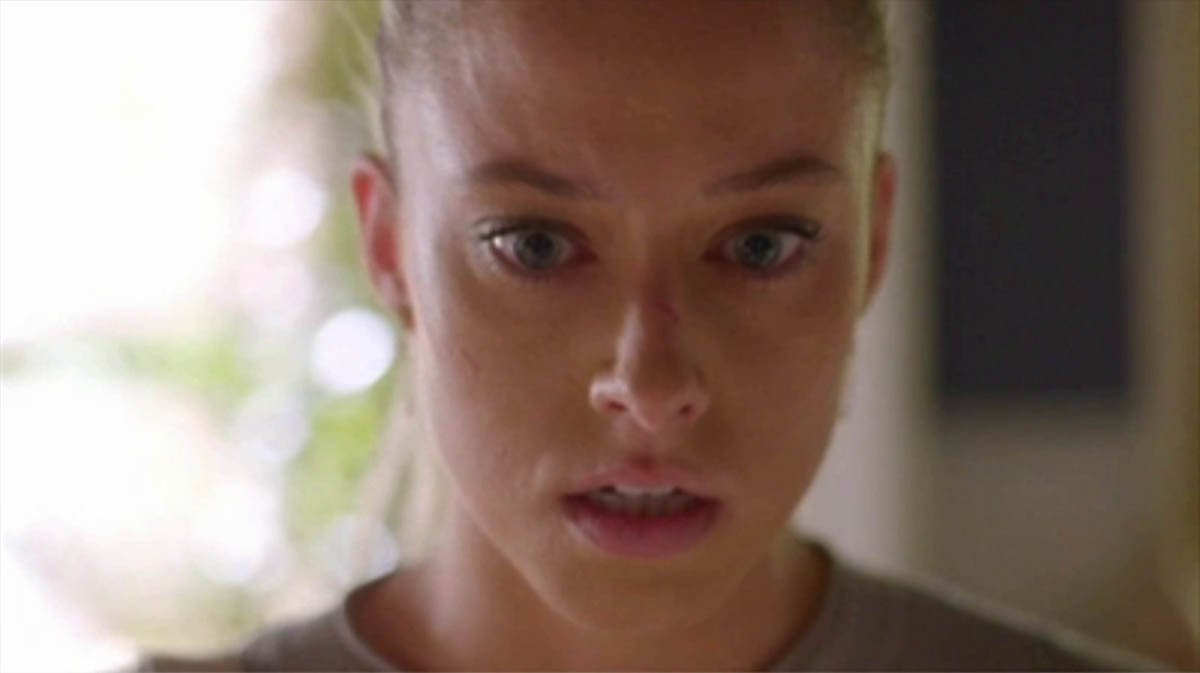 After a number of flashbacks to the car accident, which continues to haunt Felicity, we see Cash by Eden's bedside as he promises her that he'll "make them pay for what they've done."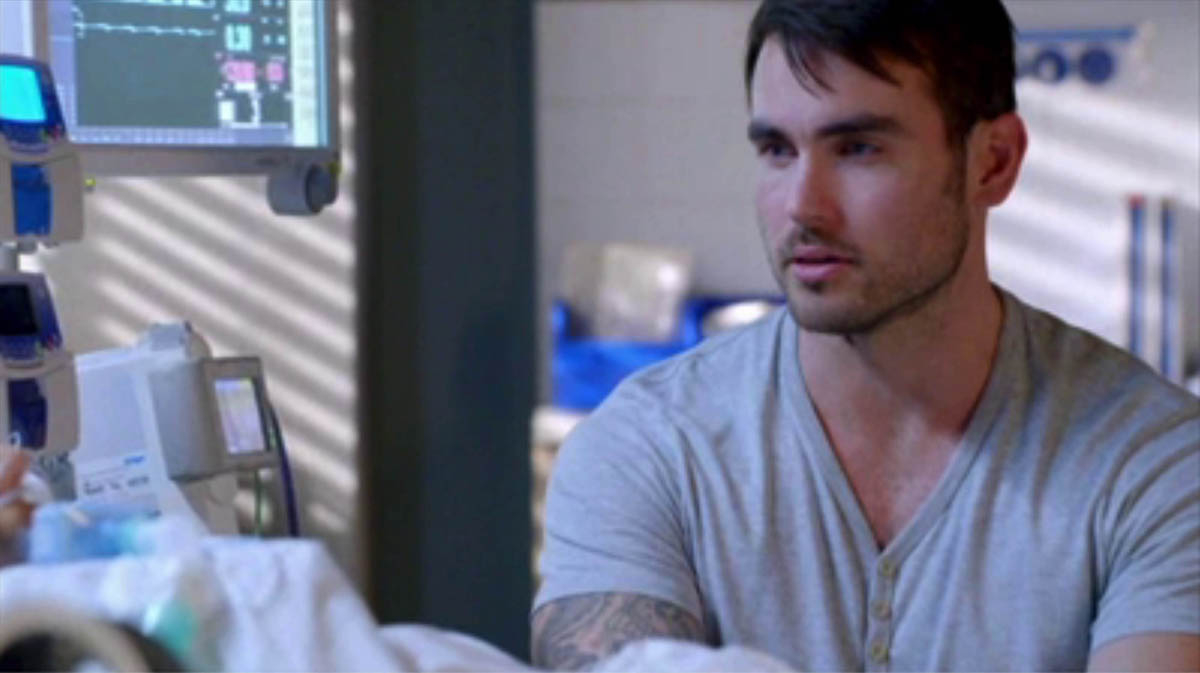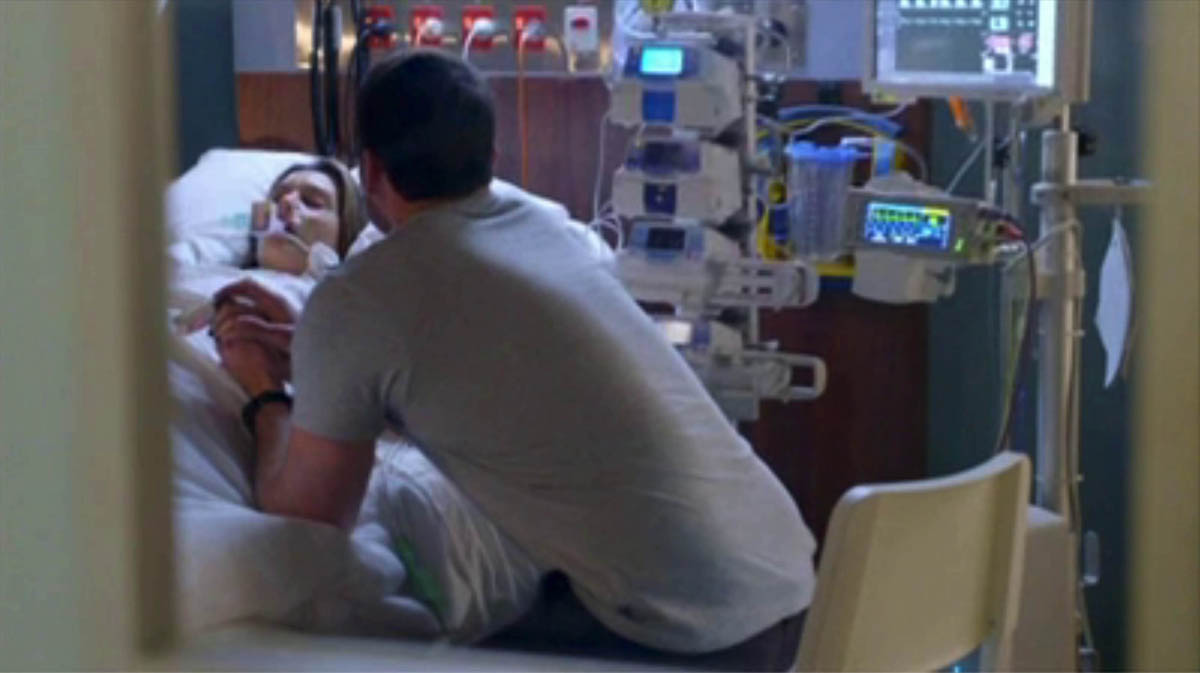 Cash is aware that he's taking a huge risk going after the bikies, and confesses his feelings to Eden before leaving the hospital to put his plan into action.
While he was reluctant to start a relationship with Eden since she arrived in Summer Bay, still traumatised from the breakdown of his and Jasmine's relationship, the accident has left him regretting his decision.
"Just in case it doesn't go my way, I wanted to tell you how much you mean to me. It's time for me to do this."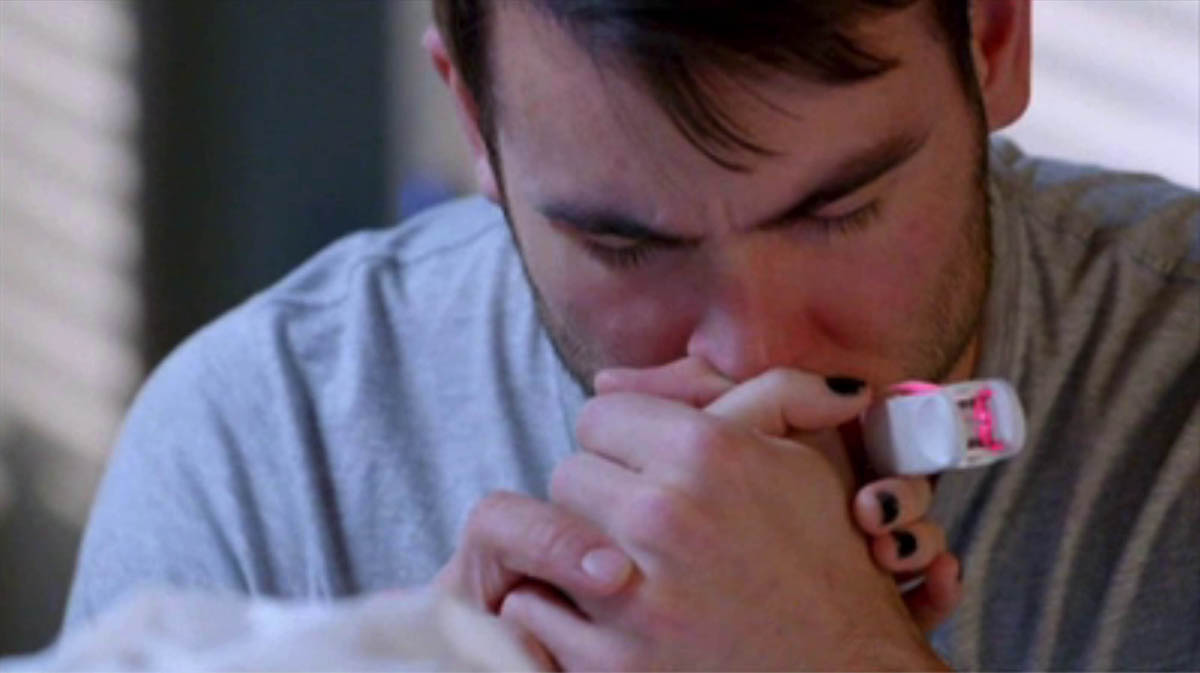 Next, we see Tex on the phone to someone – and from the looks of things, he's not calling from prison!
"Now go get him," he orders.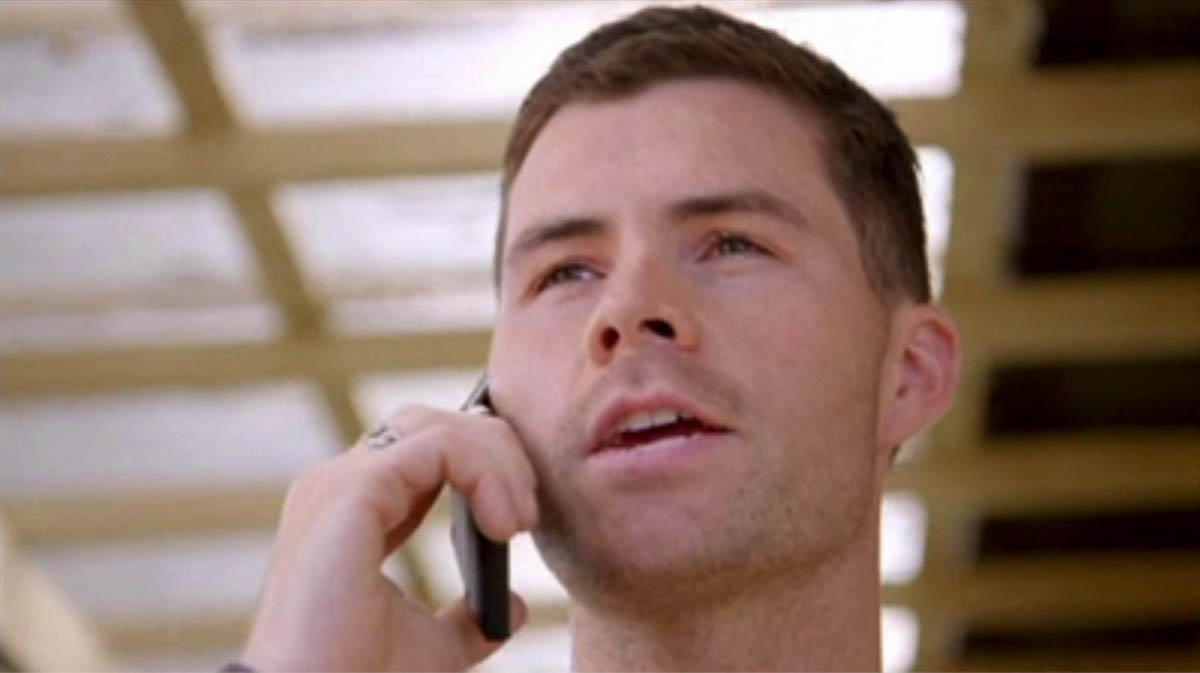 Then, in Salt, a man with a gun in his coat pocket approaches Cash and marches him out of the restaurant.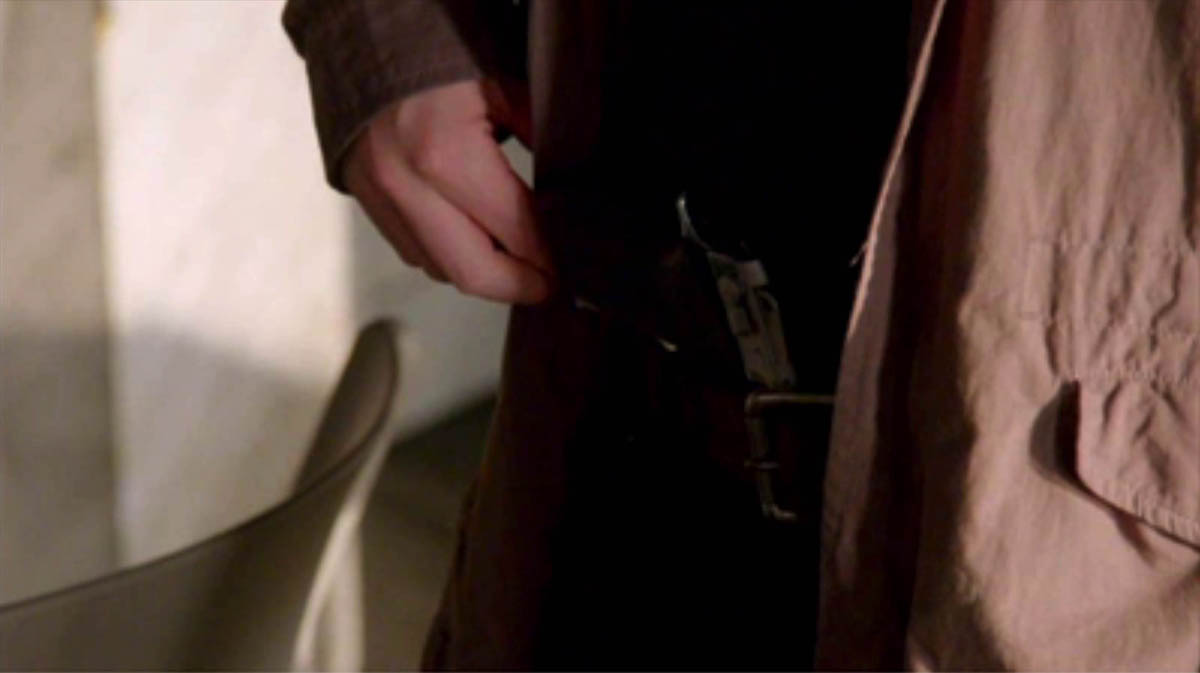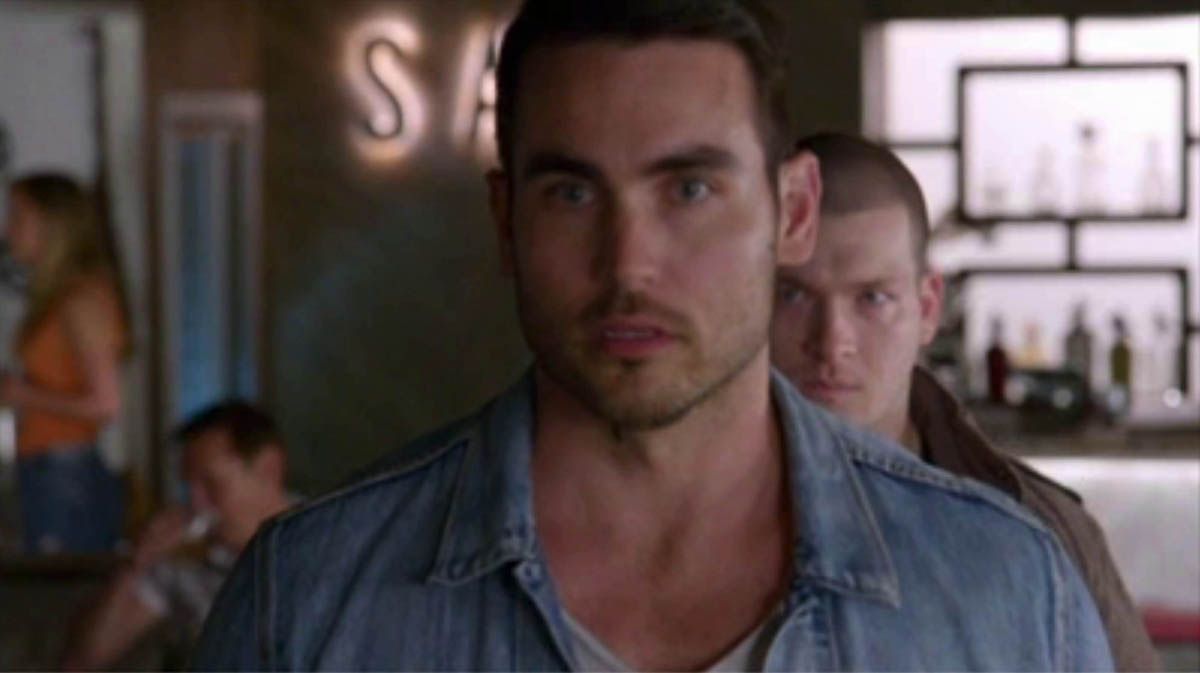 While Cash wanted to meet up with the gang, it seems unlikely he was expecting to come face-to-face with Tex outside of prison. Just how did the gang leader get out?
We see Cash being marched towards Tex. They're at a remote location surrounded by green fields and farm buildings, with a number of the gang's trademark motorbikes parked up nearby.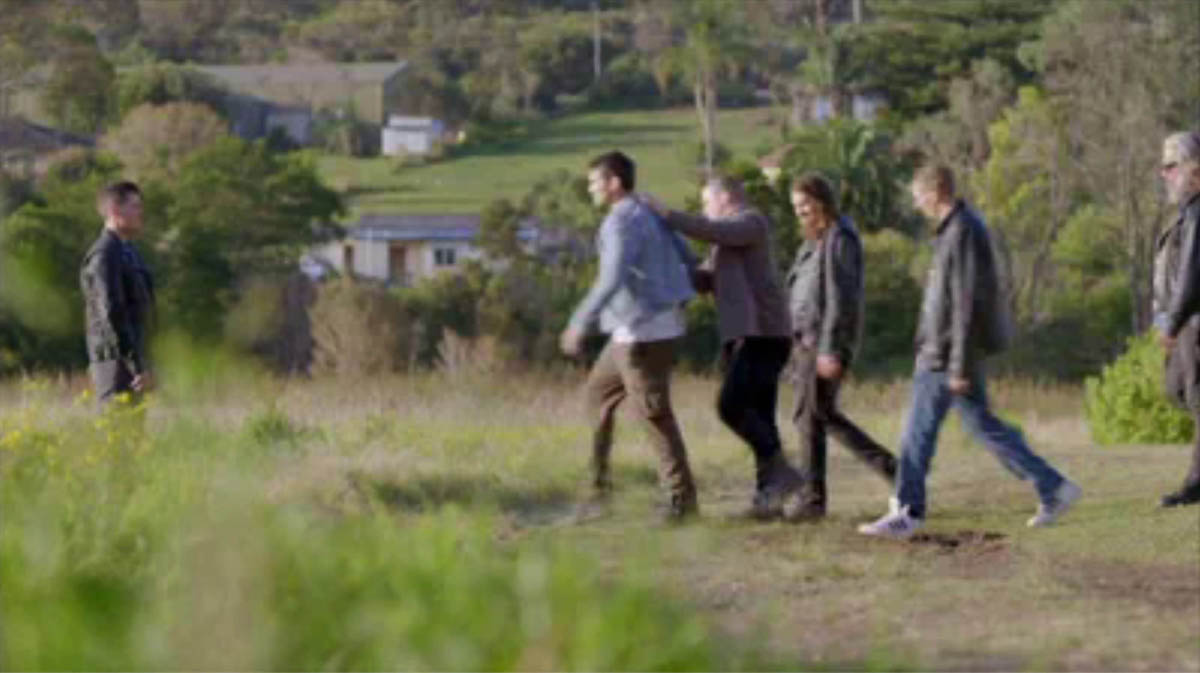 "You're the one who said you wanted to end this," says Tex, menacingly.
What does he have planned?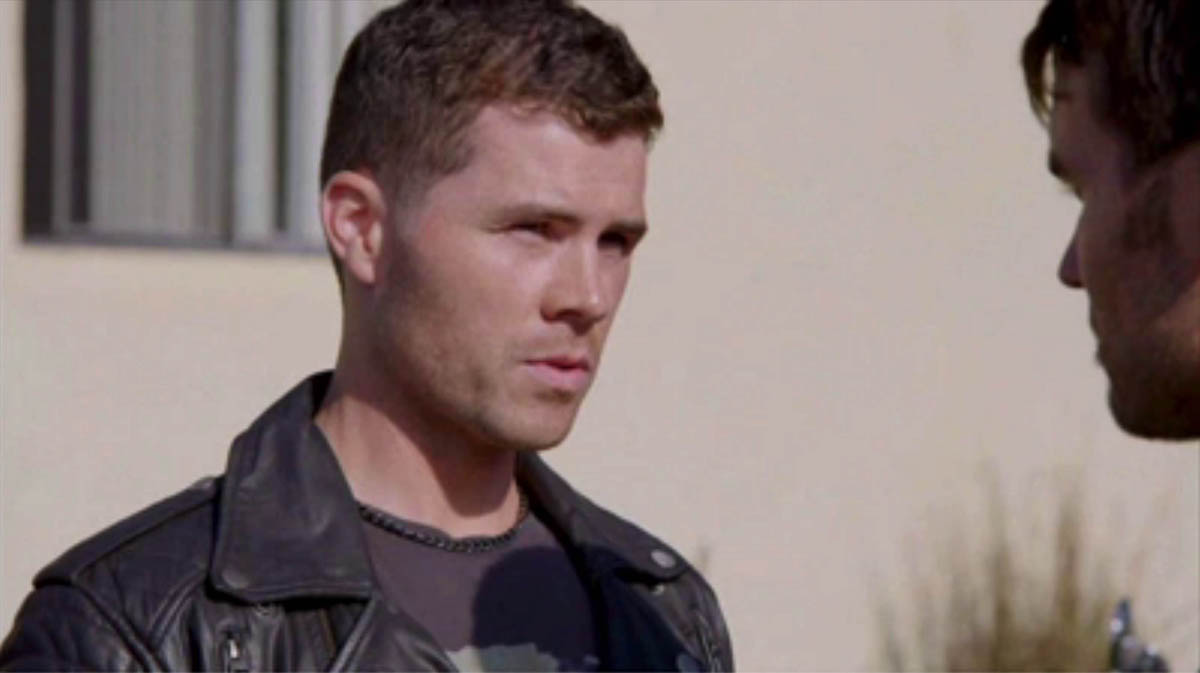 Tane watches on from behind a van.
Did he spot Cash being marched out of the Surf Club building and follow, and will he be able to save the day?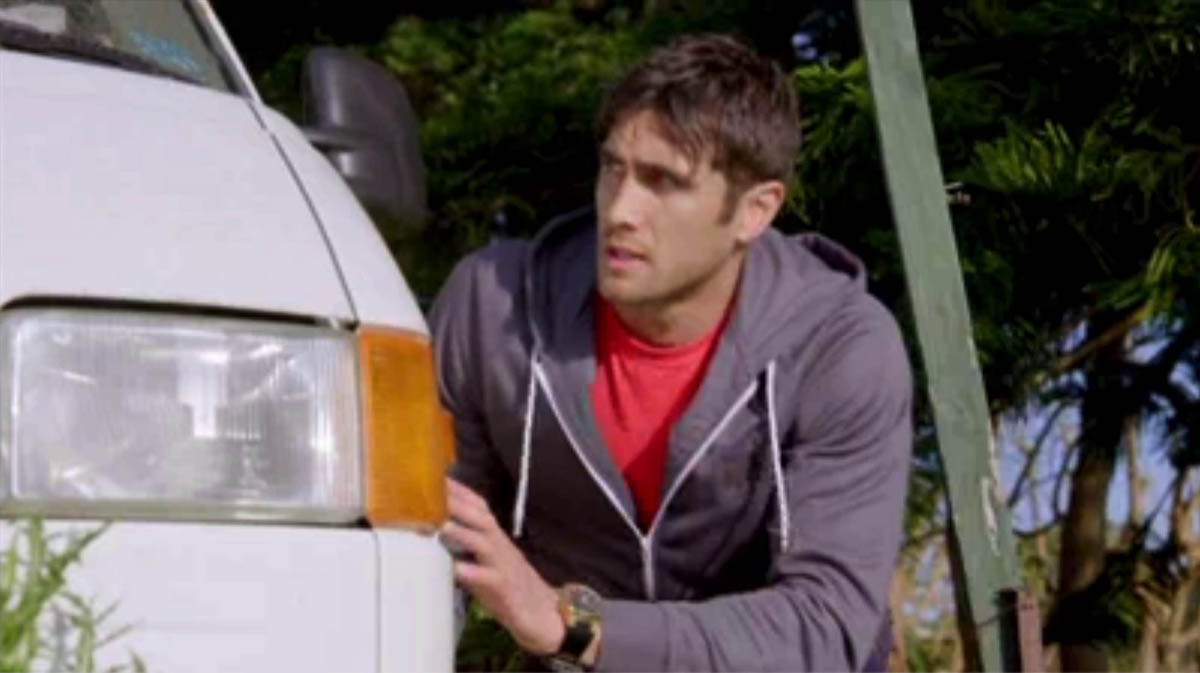 Tex tells Cash to "take a look around" as he's manhandled to the ground by several of the gang's cronies. "It'll be the last thing you ever see."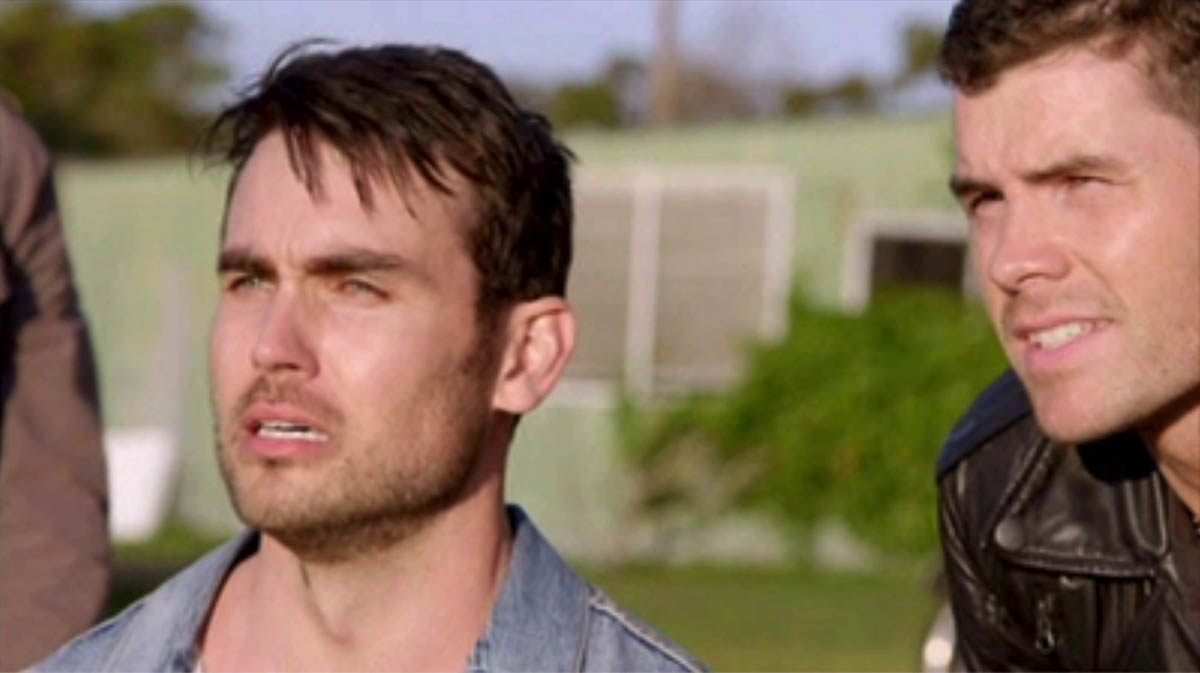 Also in the promo, interspersed with the footage of Cash and Tex, we see another police raid. Hopefully this one won't go the same way as last year's.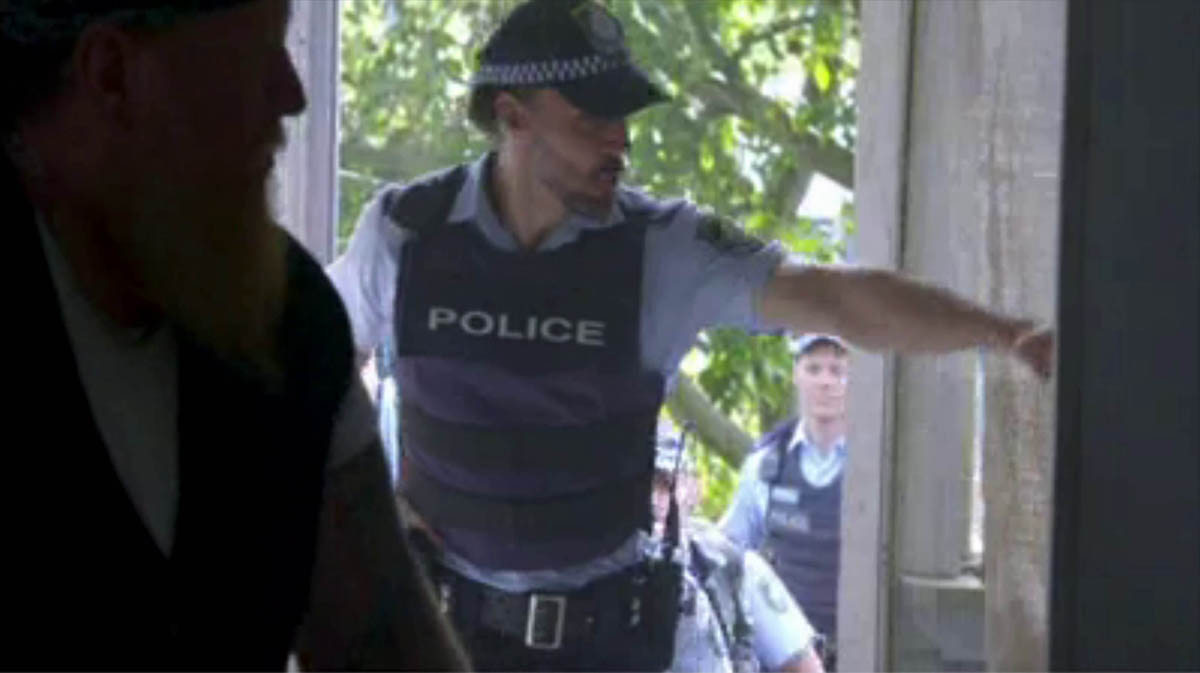 An officer calls out for everyone to get down, as Rose has a shocked look on her face.
Has she just caught sight of Tex, the man who deceived her into a relationship so that he could avoid the attention of the police?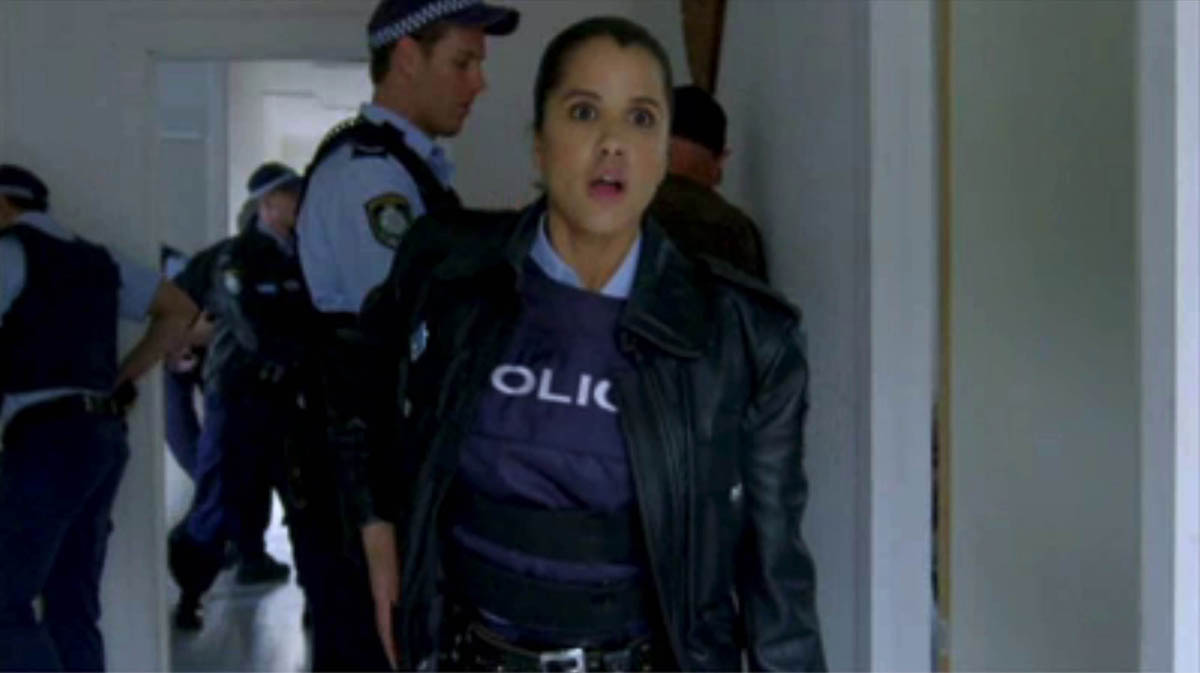 Whatever happens next, it seems things are far from over!
---
The promo also shows the next steps for Mackenzie (Emily Weir) and her ex-fiancé Gabe (Akos Armont).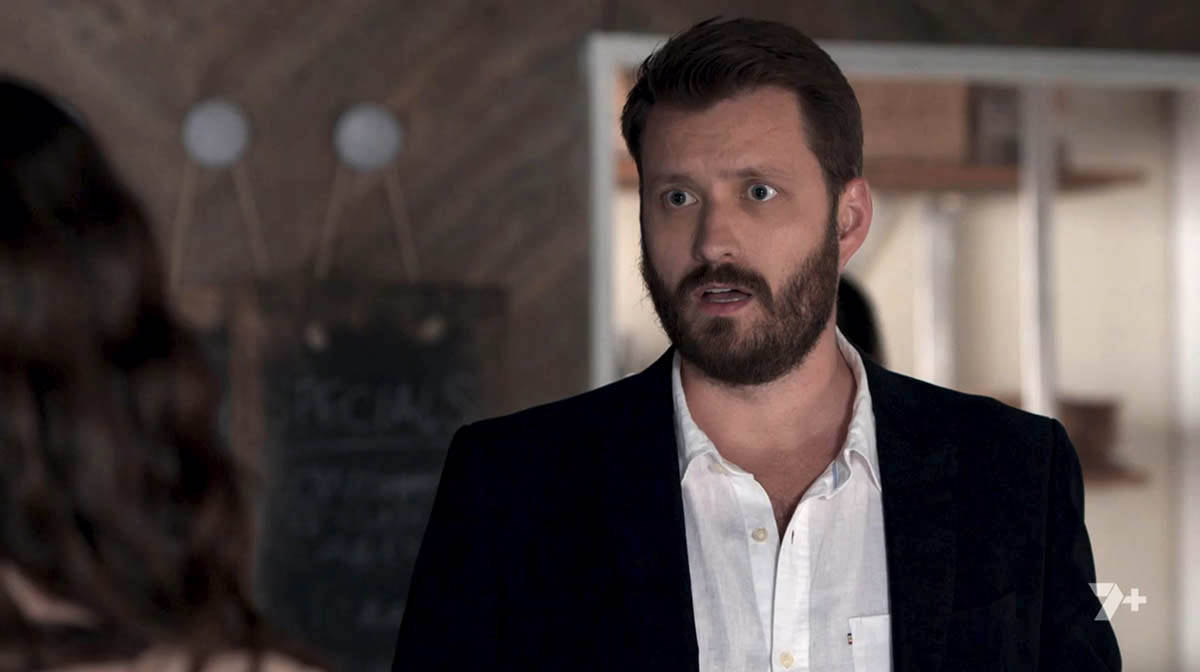 Gabe arrived in Summer Bay at the end of last week, heading to Salt, where he hoped to find Mackenzie.
When she walked in and saw him, she froze. She quickly called Dean, who she made jump in his car and head to the restaurant so he could kick the mystery guy out.
Mackenzie eventually admitted that the man was her ex-fiancé. The two had been engaged to be married a number of years ago, but Gabe called things off just two months before their wedding, leaving only a note.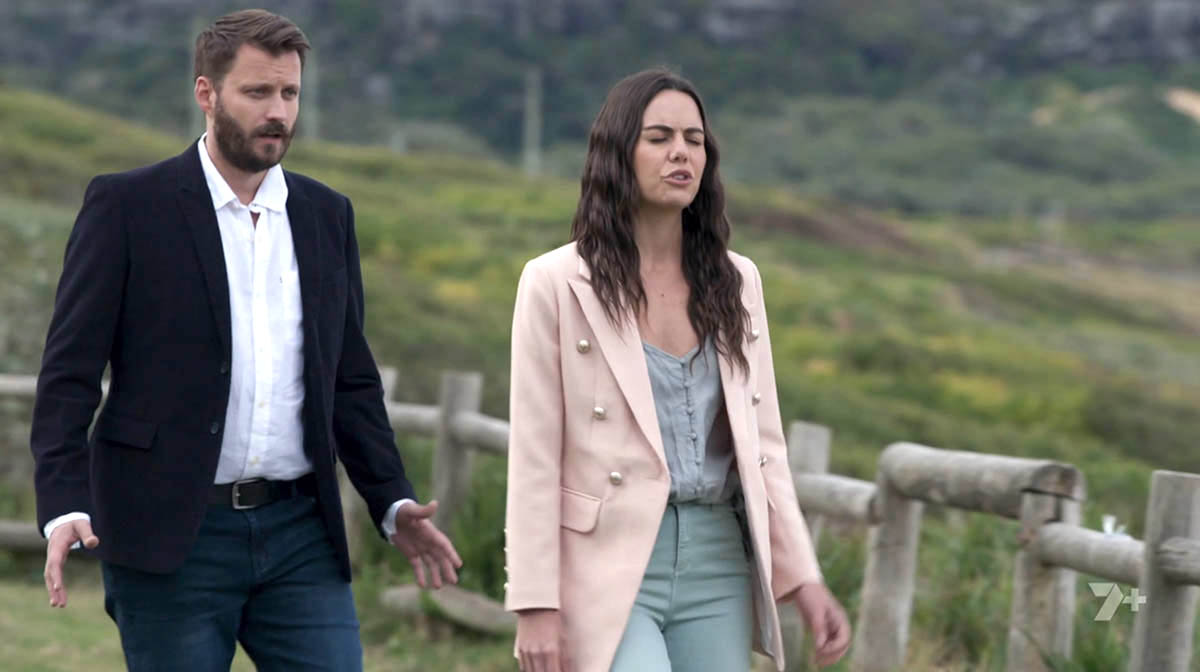 It eventually transcribed that Gabe's business was on the brink of collapse, and Mackenzie and Dean's manipulative father Rick paid him $50,000 if he'd leave Mackenzie and skip town without an explanation.
Now, years later, he's come back in search of Mackenzie, calling the decision the biggest mistake of his life. He gave Mac the $50,000, his way of demonstrating that this wasn't about the money, and told her that all he wanted was for her to forgive him.
Remarkably, Mackenzie decided he was worth another shot, and agreed to spend some time with him and see where things led.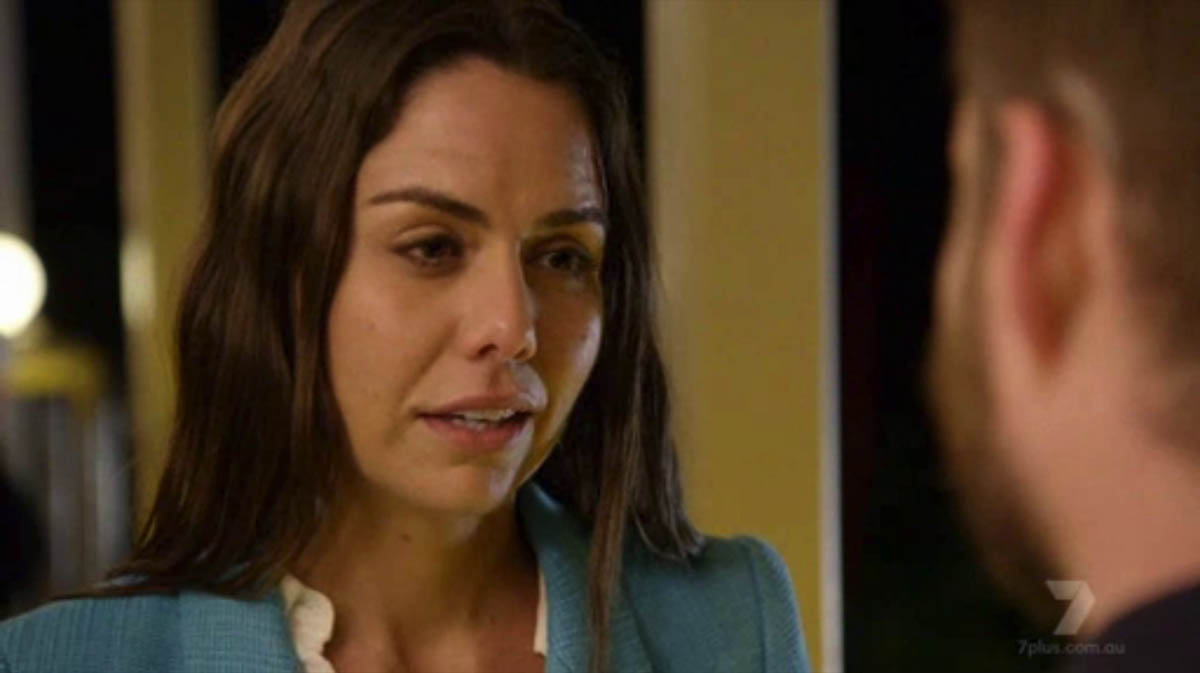 The new promo shows that things move quickly over the next couple of weeks.
"The future that you saw for us – that's still possible if you want it to be," Gabe reassures Mac.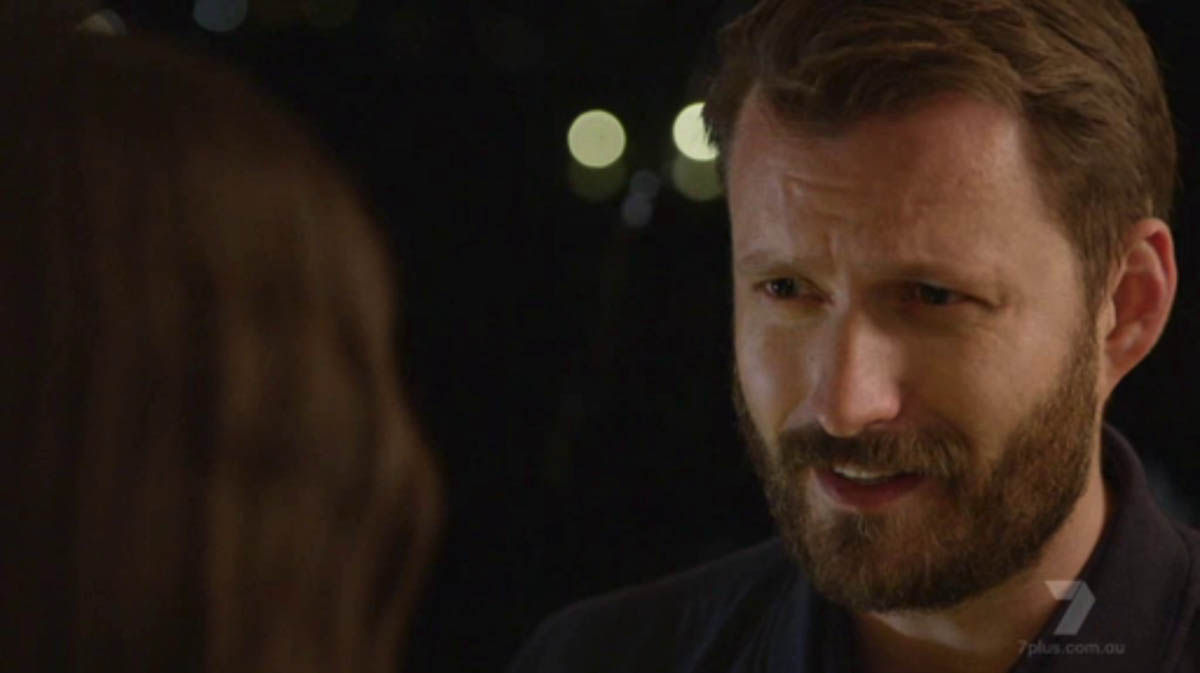 We then see the two of them behind the bar at Salt.
"Let's do this," she tells him. "All of it!"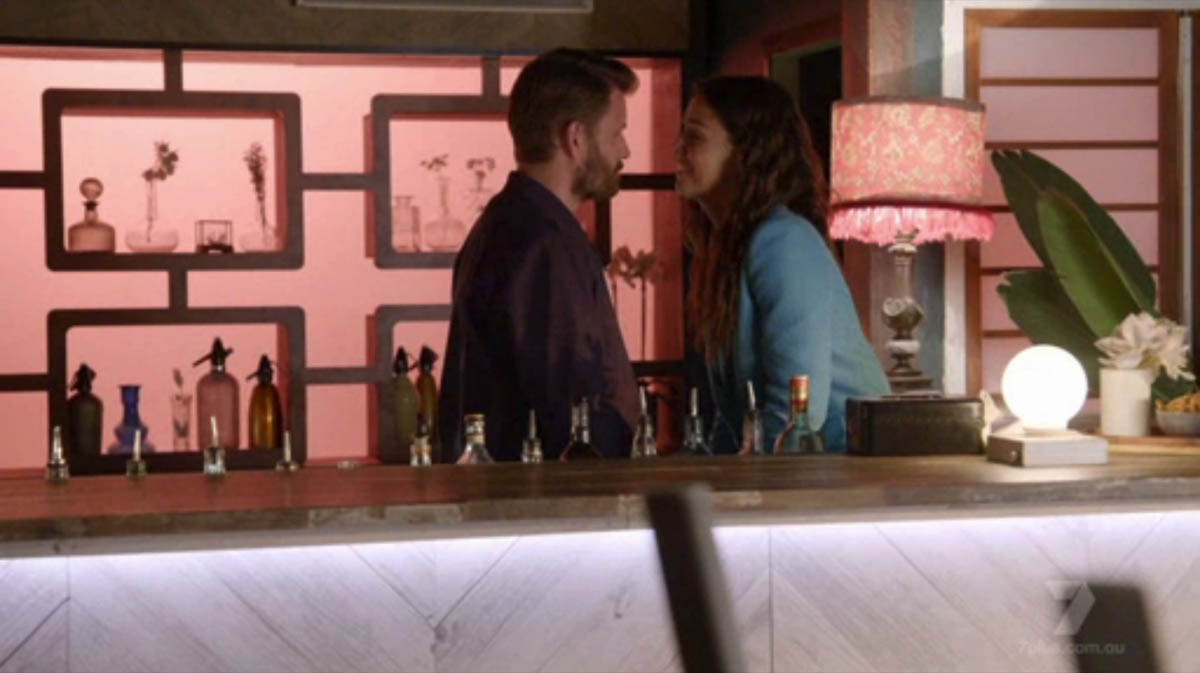 "I will never hurt you again," Gabe assures her.
We then see the pair kissing at the Farmhouse, before Mackenzie jumps into Gabe's arms.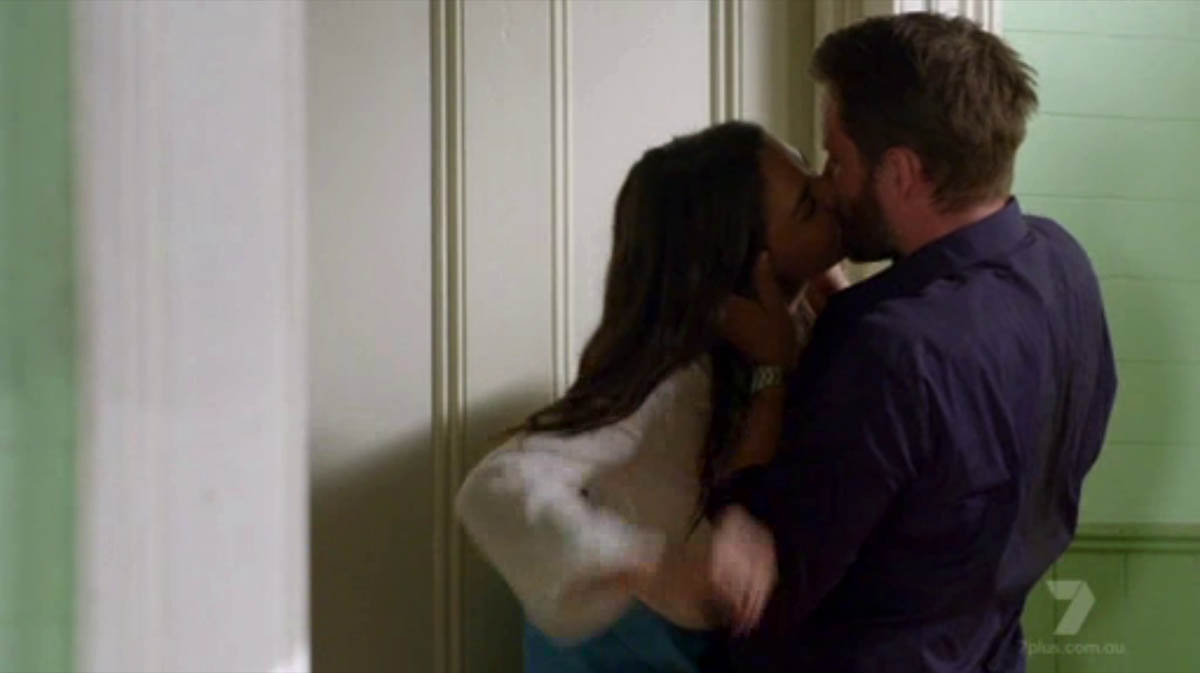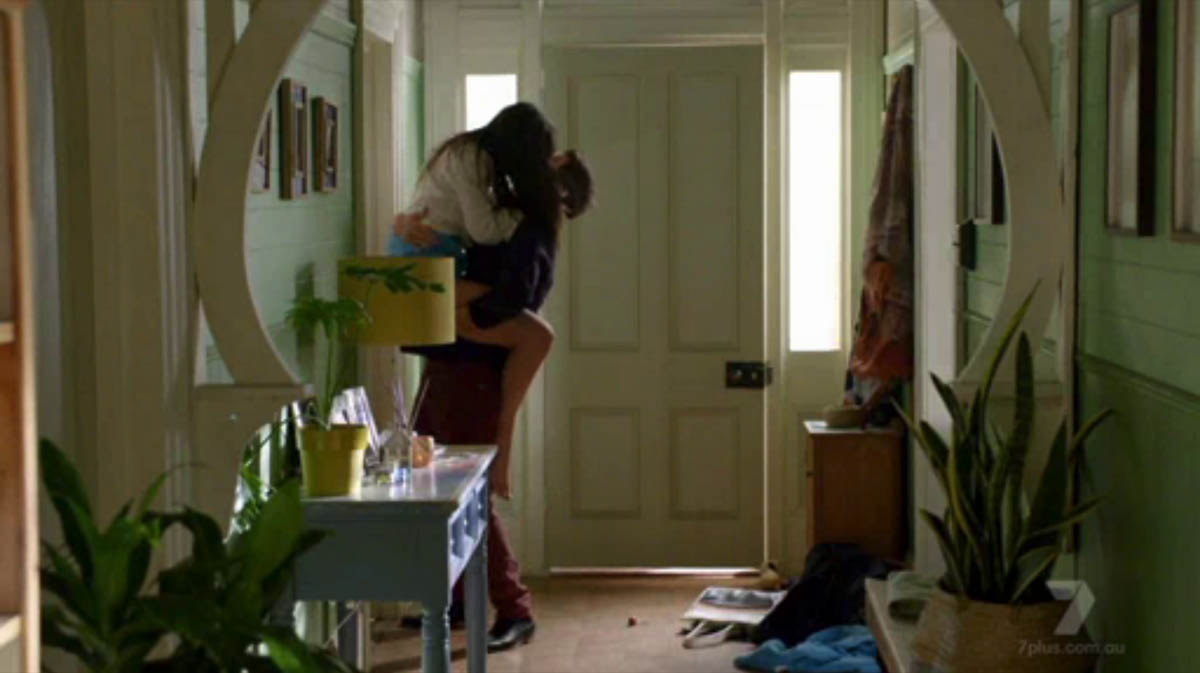 Dean's in for a surprise when he returns home to find his sister looking dishevelled in the kitchen.
Mac tries to assure her brother "that is not what it looks like," but he's not convinced.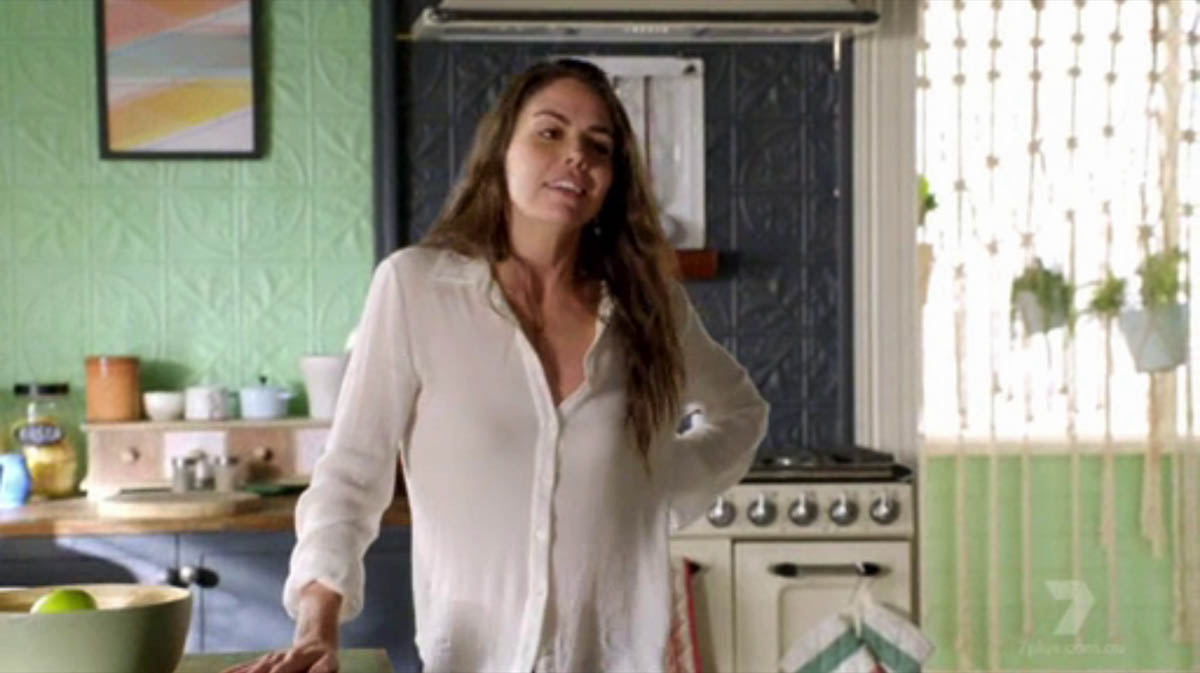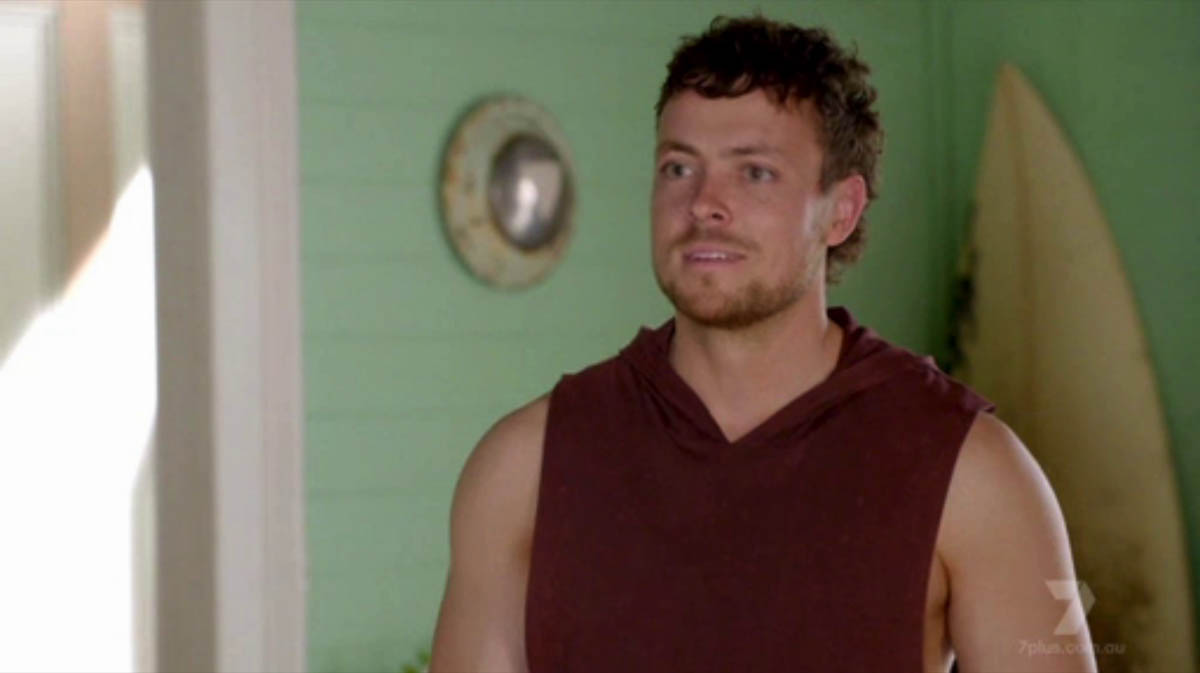 "I'd believe you more if you had your pants on."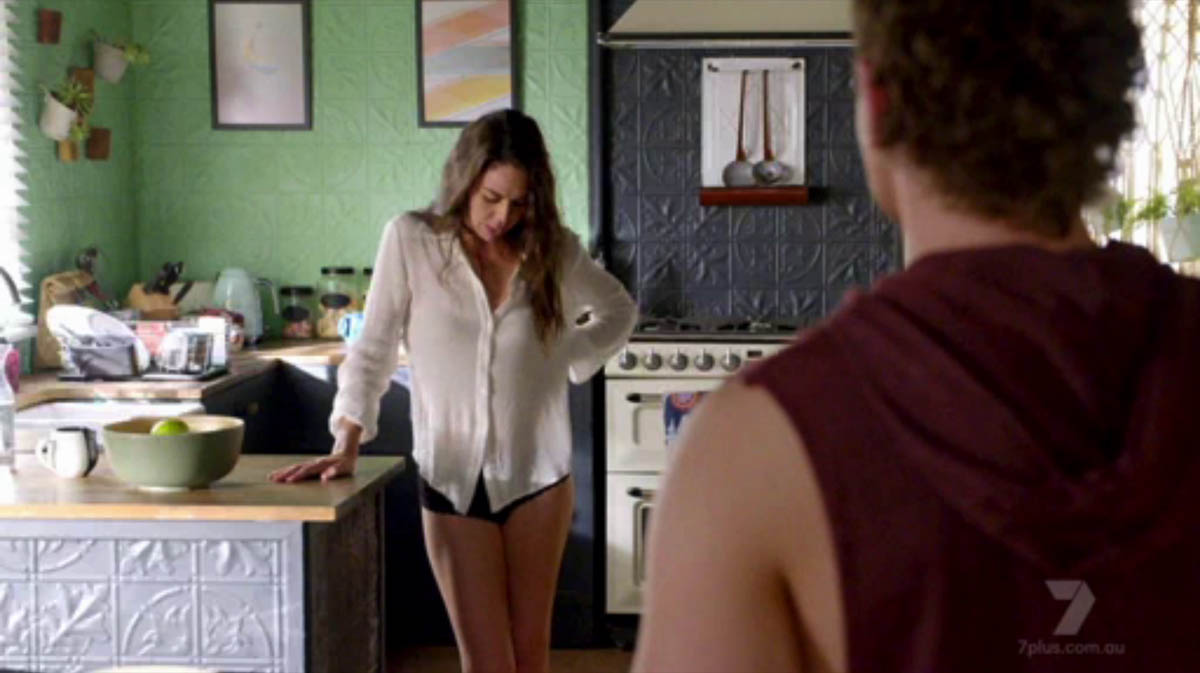 While Mackenzie may be smitten to be reunited with her ex, is Gabe in Summer Bay looking for more than love?
In episodes airing next Wednesday 25th and Thursday 26th January, the episode synopses ask us if Mackenzie and Gabe can "mix business and pleasure?" before telling us that "Mackenzie and Gabe start a new chapter."
With the promo showing the pair behind the bar at Salt, could Gabe be about to invest in Salt?
It wouldn't be the first time Mackenzie has accepted money for her business and lived to regret it. Let's hope Gabe has come to Summer Bay with good intentions, and that Mac isn't about to have her heart broken yet again…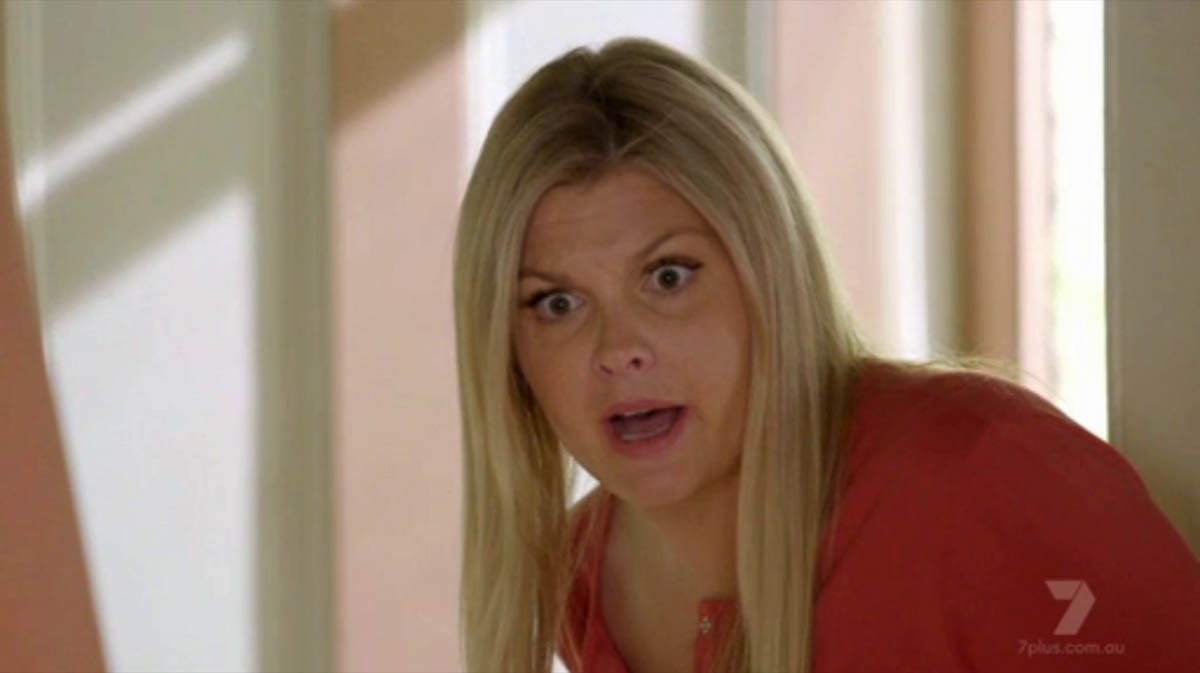 Finally, the new promo shows Ziggy going into labour at some point over the next few weeks.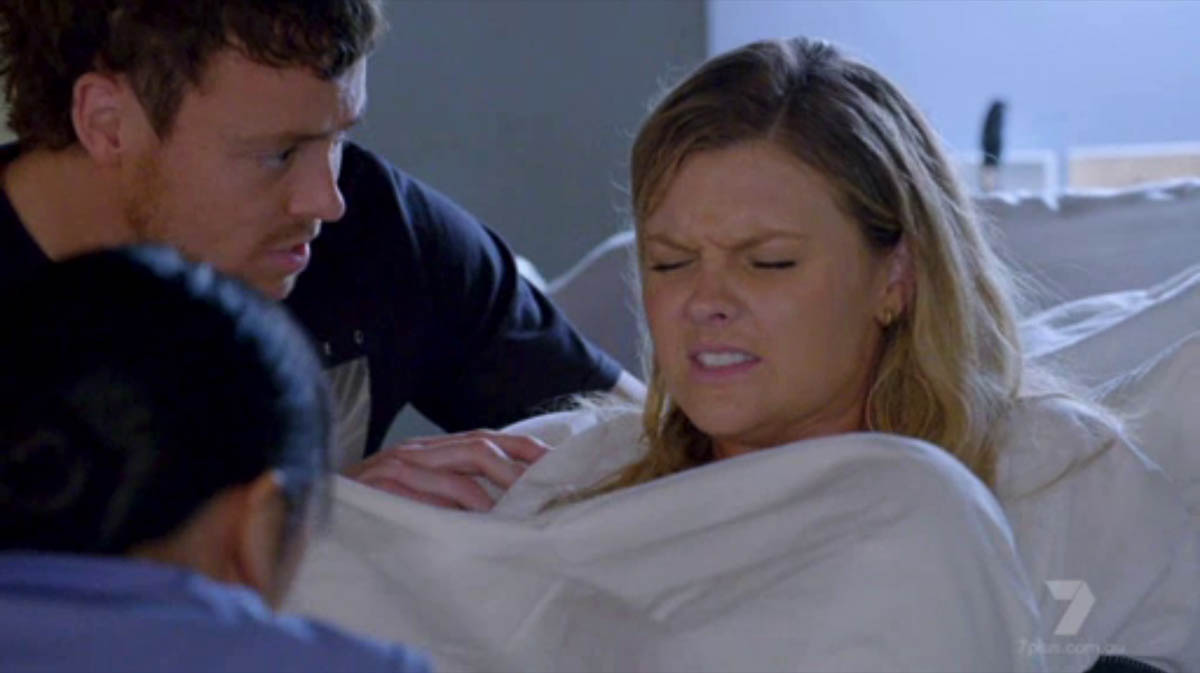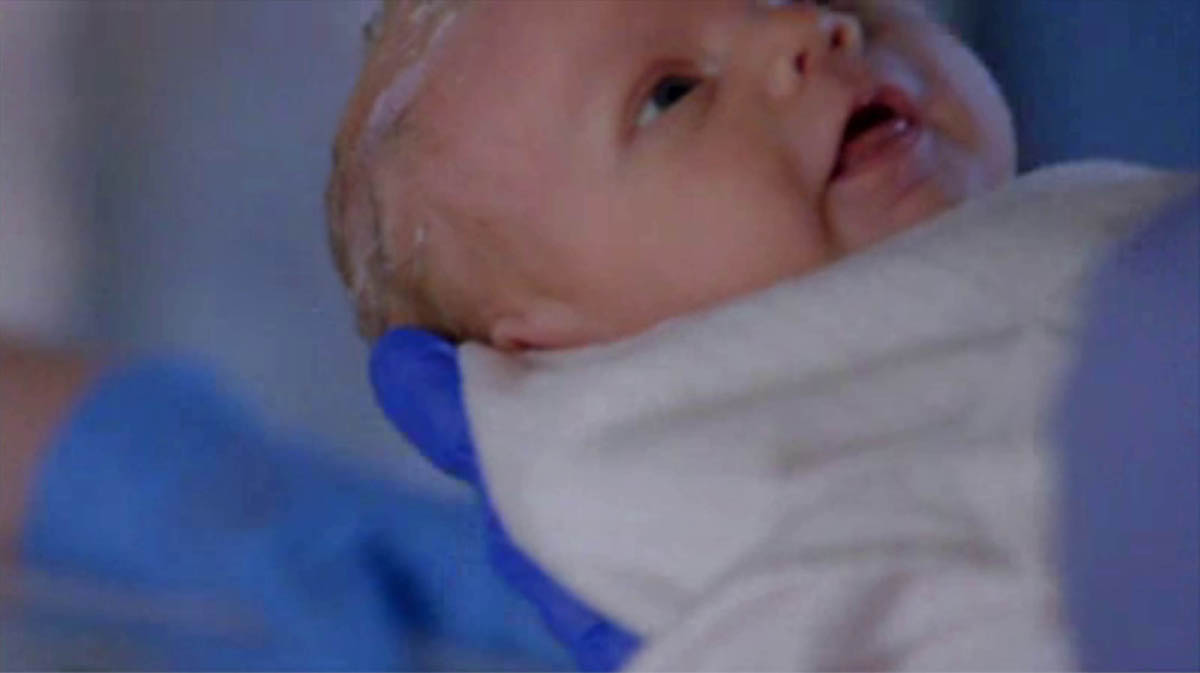 Get ready to welcome the newest member of the Astoni / Thompson family!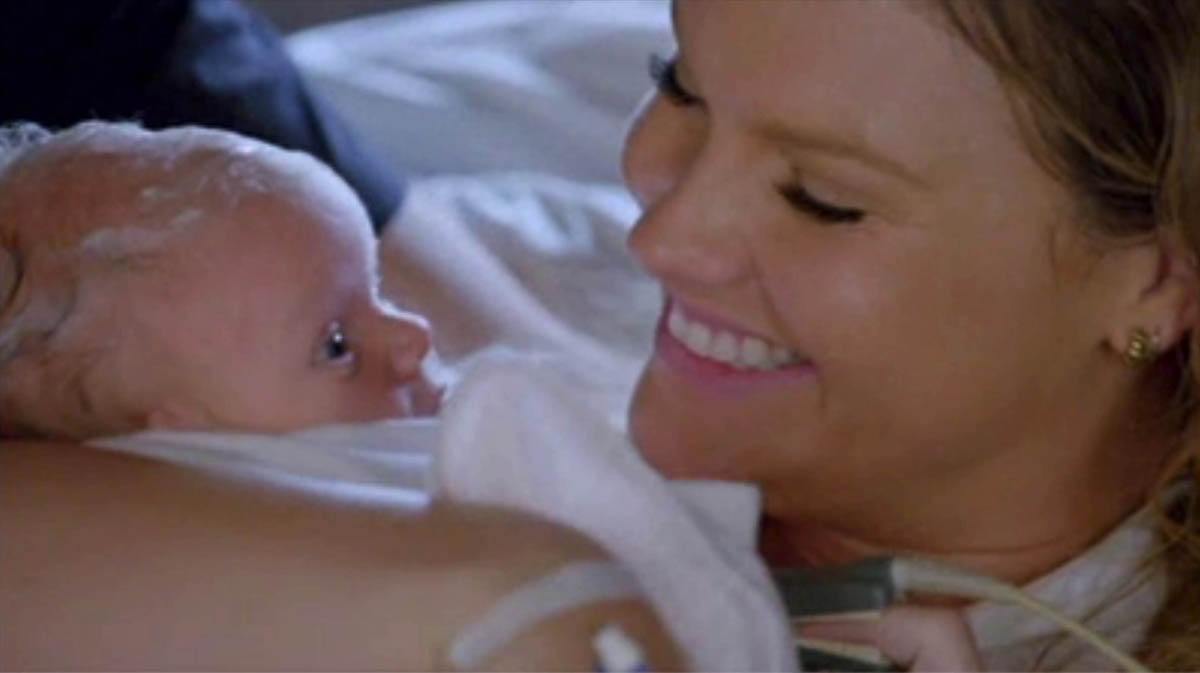 ---
Monday 23rd January (Episode 7954)
Theo may have a stalker on his hands. Was Felicity the victim of a targeted attack? Justin's mollycoddling gets on Leah's nerves.
Tuesday 24th January (Episode 7955)
Theo feeds his fan's obsession. Is Stacey and Xander's monogamy at risk? Leah and Justin heal together.
Wednesday 25th January (Episode 7956)
Xander kicks himself for trusting Stacey. Leah gives Kirby a lifeline. Can Mackenzie and Gabe mix business and pleasure?
Thursday 26th January (Episode 7957)
Mackenzie and Gabe start a new chapter. Can Xander and Stacey overcome infidelity? Ziggy and Dean get an unexpected visitor.
Spoilers in your inbox every weekend!