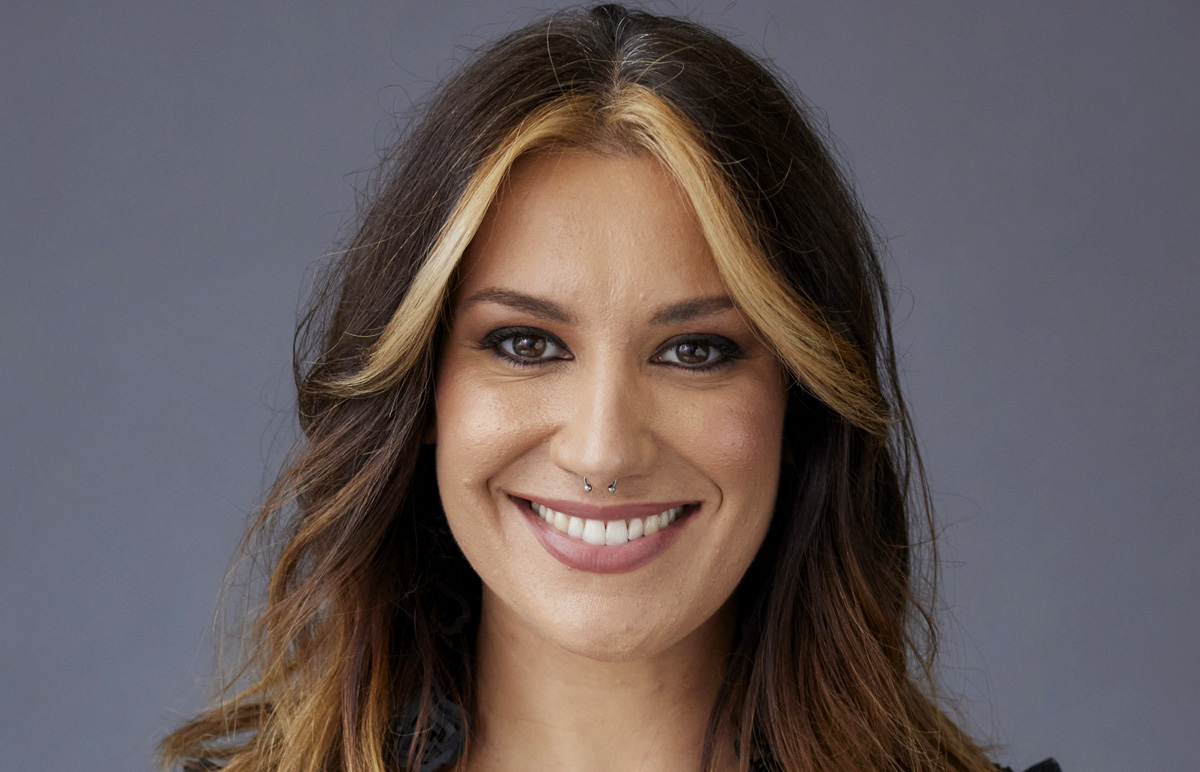 Eden Marie Fowler (2022-present)
Stephanie Panozzo
Episodes: 7829-present
Occupation: Musician; Bartender
---
A good friend of Felicity, Eden arrived in Summer Bay with Kirby Aramoana, Remi Carter and Bob Forsyth, the other members of band Lyrik for which Eden was bass guitarist, and arranged to stay with the Paratas. Eden quickly claimed Nikau's bed, offering to share, although he retreated to a seat by the pool. She was willing to go along with Felicity's request for them to play at the reopening of Salt, which Felicity had just bought into, but Bob was against the idea. However, the rest of the band outvoted him. At the gig, Eden was reunited with Felicity's brother Cash. She admitted to Felicity that, last time they met, she slept with Cash, who had long had a crush on her, and left town straight afterwards. She met with Cash and they cleared the air.
The band returned to town the following week where Felicity offered them a regular gig at Salt. Eden was keen but Bob was so against the idea that he quit, leaving them to find a new lead singer. They held emergency auditions at Salt and selected Theo. While rehearsing at the Parata house, she noticed the house next to John across the road was up for lease and asked Cash for a reference, also acting as Cash's confidante with his girlfriend Jasmine failed to return to the Bay. After taking possession of the house, she agreed with Remi to ban Kirby and Theo from seeing each other. She also volunteered to take over Felicity's shifts in Salt while Cash was in hospital. She revealed that she grew up in a funeral home and was expected to take over the family business before she got into music. She accepted Theo and Kirby together on realising they'd been seeing each other in secret.
She and Remi missed out on being part of an interview Theo and Kirby gave with online magazine editor Tully Dixon after heading down the beach, and were upset that the article barely acknowledged them. Asked by Felicity to keep an eye on Cash, she ended up sleeping with him only for him to reject her next morning. She and Remi missed a band meeting that saw Justin appointed as manager and Eden quickly wanted him fired after he lost the gigs at Salt. Cash met her for another hook-up and they were caught together by Remi. The next person to catch them out was Felicity, who accused her of using him. As a result, Eden nearly refused to play with the rest of the band when Tane proposed to Felicity. She found out Remi had told Cash she had feelings for him and refused to let either of them help her when she sprained her ankle. She tried to get Bree to keep her in hospital so she didn't have to deal with it before admitting to Cash it was true, prompting Cash to end things.
Eden initially resented Remi but softened towards him on learning he was dealing with the discovery that Bree's husband Jacob was hitting her and stood up to Jacob on his behalf. Felicity, meanwhile, changed her mind and began pushing Eden and Cash together, asking Eden to be her "bridesperson" so they'd have to work together on wedding arrangements. Eden asked Cash's advice about Bree without naming names and refused to perform with Bob when Theo didn't turn up to a gig. She learned Remi and Bree were sleeping together and accused Bree of using Remi as a distraction.
When Felicity refused to go wedding dress shopping, Eden brought a large number of wedding dresses to the house for her to try on. She had to pay a $1000 deposit and pretend to be a celebrity stylist, and ended up leaving the dresses in the van while she helped Felicity with her vows, leading to them being stolen. She was left facing paying $12,000 if she couldn't recover them and asked Cash for help. Together with help from Rose, they managed to find the thief, Stan, selling the dresses online and lure him into a trap.
She arranged a karaoke bus for Felicity's hen night only for Felicity to cancel it and drag them out to the city in order to get Eden to spend time with Cash. Eden ended up getting drunk and falling off the stage. Cash took her home where she sleepily told him she loved him. She learned from Cash that Remi was in hospital after Jacob broke his hand and visited him. She then accused Cash of ignoring her declaration of love. Cash told her if he was going to love anyone, it would be her, but he couldn't go there again. On the morning of the wedding, she had to talk Felicity into going through with the service before driving her to the wedding.