Spoiler Roundup: Drugs & More Departures?
A roundup of all the latest news from filming at Palm Beach in the past couple of weeks… and speculation on what it could mean.
Brody in Rehab?
Trouble could be on the horizon for one of the bay's newest regulars next year, with the revelation that Brody Morgan (Jackson Heywood) could be about to get involved with drugs.
We recently stumbled across two videos of audition pieces for a future Home and Away character named Scarlett Snow.
In the script extract provided to auditionees, dialogue indicates that Brody is in rehab after apparently taking $10,000 from Scarlett and subsequently going missing.
Whilst auditions do generally use genuine script extracts, it of course cannot be considered definitive proof that the storyline will actually occur.
However, it does appear to tie-in with rumours we've heard from recent filming.
Eyewitness at Palm Beach have talked of Brody being seen conversing and buying from drug dealers on more than one occasion, and scenes filmed this past week have also shown Brody walking around in a clearly distressed state, dropping to his knees in agony with his head in his hands.
Part of the scene was filmed using a GoPro camera, on an arm mounted to a harness around Jackson's waist—a filming technique often used for dramatic purposes to convey a feeling of disorientation and panic.
Given that Brody's parents, Coby & Kate Lee, were murdered by a drugs syndicate, such a storyline would be a surprising development for the character and would no doubt cause a large amount of pain for his siblings.
If true then we can only hope that it doesn't lead to the Morgan family making even more enemies….!
---
Action Kat!
Summer Bay's resident cop got into a bit of strife during filming this week, with Kat Chapman having to jump out of the way of a speeding car.
Actress Pia Miller performed her own stunt which saw her land on some safety mats on the grass verge, with Kat later seen receiving treatment in the back of an ambulance for an arm injury.
Reports from the scene claim that the car was driven by none other than a drug dealer…. though let's be honest, given Kat's penchant for sticking her nose in where it's not wanted, it really could be anyone.
---
Phoebe to Farewell Summer Bay?
Interesting scenes have been filmed recently which could indicate a departure for another of the bay's young residents.
Isabella Giovinazzo was pictured filming a scene with James Stewart outside the surf club, which saw Phoebe Nicholson reportedly saying an emotional goodbye to Justin Morgan before driving off in her station-wagon, guitar on the back seat.
Once filming wrapped, Isabella was seen hugging various crew members and having photos taken with them.
Although this occurred on 16th November, if Isabella is indeed leaving then it's likely she would have finished up in the studio this past week (interior scenes for a block are filmed the week after location scenes)
This comes just a couple of weeks after scenes which appeared to show Phoebe showing off a ring, bringing speculation that she and Justin could be engaged.
In the same scene, Phoebe excitedly ran down onto the beach clutching some papers – could an opportunity arise that sees her leave the bay?
---
Matt Gone Too?
Whilst we've previously speculated that Evelyn MacGuire may have left the bay, since Phillipa Northeast now appears to be posting frequent photos from LA, it's also been noted that Alec Snow, who plays on-screen beau-to-be Matt Page, has also not been seen filming for nearly two months. In that time, Alec has posted a photo from some travels in Nepal.
Since both actors disappeared around the same time, could it be an indication that one of the bay's newest couples leave together in the first half of 2017?
Either way, they surely deserve some happiness!
---
Zac & Leah Marriage Woes?
Fresh from his apparent fall from the roof of Summer Bay House filmed a couple of weeks ago, the drama for Zac MacGuire (Charlie Clausen) continues as scenes filmed at Palm Beach show him having a blazing row with wife Leah (Ada Nicodemou), whose wedding ring seemed noticeably absent.
Irene (Lynne McGranger) was on hand to try and calm the pair, though of course she herself had seemed to be at the brunt of Leah's anger in recent weeks.
With rumours still circulating of Charlie Clausen's impending departure from the show, could the couple be heading for a separation? Zac better be careful as both of Leah's previous husbands died after leaving the confines of Summer Bay…
---
In Other News…
Ash (George Mason) filmed some scenes on the beach with baby niece Luc, and Justin was filmed getting into a very heated argument with a newcomer played by Felicity McKay, which had to be broken up by Kat—could this also be related to Brody's storyline…?
---
Visit Summer Bay!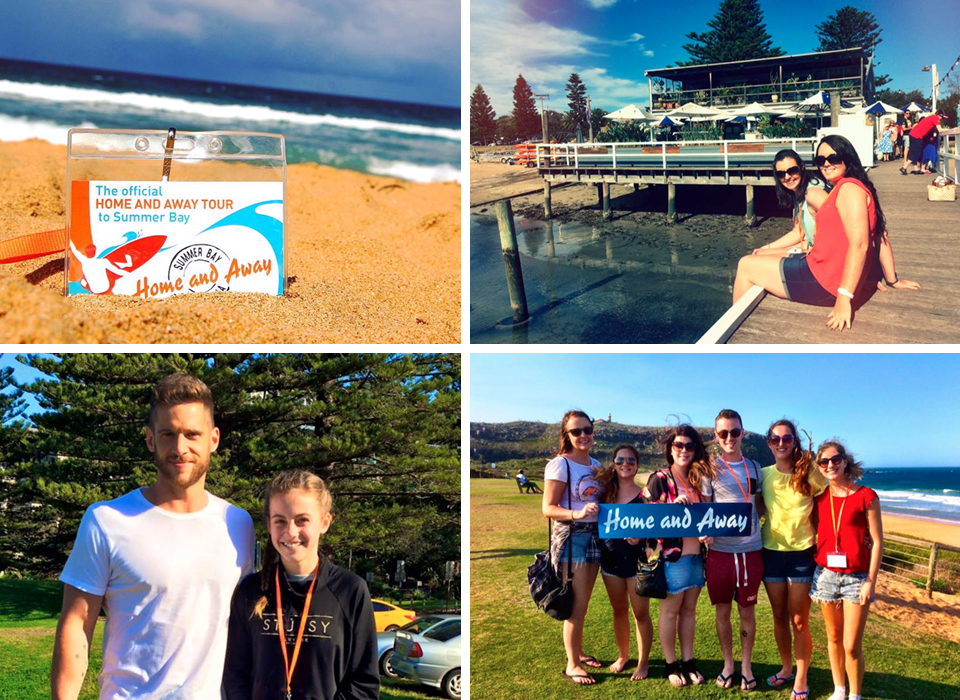 With the summer months fast approaching, there's no better time to see 'Summer Bay' in all its glory – and you may even be lucky enough to spot some filming for yourself.
The Official Home and Away Tour departs from central Sydney four days a week, and costs just $99 per person. For more information, and to book tickets directly through the official tour provider, click here or on the button below.