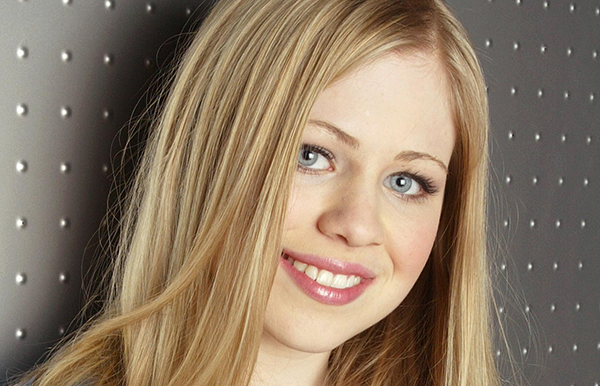 Jade Sutherland (2000-2004)
Kate Garven
Episodes: 2856–3730
Date of Birth: 27th November 1986
Parents: Mr & Mrs DeGroot; Rhys & Shelley Sutherland (legal parents)
Step Parents: Beth Hunter (former)
Siblings: Dani, Kirsty & Joe Sutherland (deceased) (legal siblings)
Step Siblings: Scott, Kit, Robbie, Henry & Matilda Hunter (former)
Foster Siblings: Brodie Hanson
Occupation: Student
---
Jade is the younger Sutherland-twin, and the youngest of the Sutherland sisters. She is more sensitive than her twin sister Kirsty, and while Kirsty was into sports like soccer, Jade was a talented ballet dancer.
It was the dancing that lead to one of her first big storylines. To become a better dancer Jade developed bulimia after her friend Melissa encouraged her to binge after eating, to lose weight. But when Melissa got ill from the binging Jade realised it wasn't a healthy way to become a better dancer, and she decided to got help for her eating disorder.
Jade fell for Nick Smith, but was torn between Nick and Kirsty, whom Nick was seeing at the time. Eventually she decided to give up Nick for Kirsty, and she started dating Duncan. The relationship ended when Jade dumped Duncan for David, and Duncan left the Bay, however he would come back into her life later.
Kirsty gave her approval and Jade and Nick began dating, staying together for a pretty long time. Their relationship ended when Nick went on a reality show called "The Dorm". Originally Jade was the one who wanted to go on the reality show, but he lost the audition to Nick, and when a setup by Nick's fellow contestants made it seem like Nick was unfaithful to Jade he was voted to be evicted during his first week.
Despite Nick's repeated attempts to make Jade trust him again the relationship was over. The break up was hard on Jade, especially when she had to play Juliet in the school production of Romeo and Juliet. Jade broke down during a rehersal when she was reading a dialogue with Nick, who played Romeo.
Nick later left the Bay, and meanwhile Jade found herself falling for Seb Miller, Nick's best friend who had recently been dumped by Kirsty for Kane Phillips. Both Jade and Seb were against Kirsty and Kane's relationship and after bonding over it, they soon became a couple.
In the 2003 season finale the Sutherland family was trapped in a mine shaft when they went looking for Max.
Jade, who has asthma couldn't breathe, but was rescued out and brought to hospital.
This marked the start of a dramatic few months for Jade, as she kept covering for Kirsty when she went to see Kane, against her family's wishes. She also covered for Kirsty when she faked a pregnancy, but Kirsty's scam was later exposed.
There were more secrets to be exposed for the Sutherland family this year; in 2004 a couple from the City turned up and told Rhys a devastating secret. There had been a swap at the hopital the night the twins were born, and one of the Sutherland twins Jade, was really a part of the DeGroot family.
While Kirsty started to connect with her biological twin, Laura DeGroot, Jade tried to cope with the fact that she wasn't a Sutherland. Unfortunately her family didn't seem to get through to her, and Kane Phillips was strangely the only one who seemed to understand Jade.
To make matters worse, Duncan Stewart returned to Summer Bay and introduced an already vulnerable Jade to drugs.All drugged up, Duncan stole Robbie's new car at Hayley and Robbie's joint birthday party, after making the party spin out of control. He got in the car with Jade, and Seb tried to stop them grabbing on in front of the car.
The car went over a cliff, and while Duncan got out in time, both Jade and Seb went down with it.The fatal accident left Seb paralysed from the waist down, while Jade got away with only some minor scratches. Thinking Jade deserved better, Seb started to shut her out, and decided to go to Brisbane with Fisher.
With Seb gone Jade decided to leave the Bay as well, and only one day after Seb she decided to go with Kit to the city and live with her.
She returned for one last visit to the Bay a few weeks later when Kirsty was in hospital, being treated for her kidney disease.
Profile thanks to Eli.