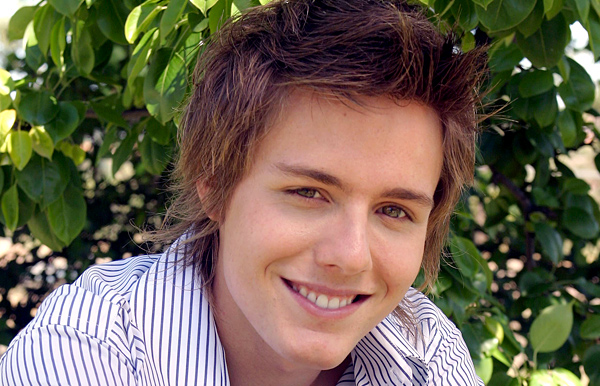 Robert Hunter (2003-2006)
Jason Smith
Episodes: 3647–4292
Parents: Jack & Beth Hunter (both deceased)
Step Parents: Rhys Sutherland (former)
Siblings: Scott, Kit, Henry & Matilda Hunter
Step Siblings: Dani, Kirsty & Jade Sutherland (former)
Marital Status: Tasha Andrews (2006-present)
Step Children: Ella Hunter
Occupation: Student; TV Commercial Actor
---
Robbie Hunter was Jack and Beth Hunter's third child and also the third Hunter child to move to Summer Bay. A bit of an odd-ball at first, he soon began rubbing the Sutherland's the wrong with comments that were out of place.
When Tasha Andrews went missing Robbie tried to use one of his inventions to try and catch her, but only managed in catch himself. When he managed to escape a snake bit him and it was up to Tasha to go and run for help. After saving his life, Robbie became friends with Tasha, and as a gift he gave her a box that when opened recreated the bush.
Robbie and Tasha however didn't take long to start getting in trouble. First they were caught running naked in the bush and then skipping school. He then became friends with new kid Kim, who he soon fell out with when he found out that he had also been kissing Tasha. When Tasha told him that she was unaware that she couldn't have two boyfriends and that is was Robbie she wanted to be with, and he took them back.
Robbie was soon in trouble with both Irene and Beth when he was involved in crashing Irene's car. Soon after, he was again in trouble when he electrocuted his sister, Matilda and vowed to give up his inventing. Then whilst he was supposed to be serving his punishment, he got involved in the school lock-in, causing Beth more ire.
Despite this Robbie still got a car as a present for his 17th birthday, but it didn't last long. A drunk Duncan took it and then crashed over the edge of cliff along with Jade and Seb. Thankfully they all survived.
When Tasha found a chest containing some money, guns and Tasha's parents identity, it began to send Tasha off course. Kim and Robbie tried to get rid of Tasha's guns, but unbeknownst to them she retrieved one. Robbie and Kim also tricked Tasha by following her out of the bush to give her money to Flynn to keep it safe. Thinking she couldn't trust her friends she ran off to city, but Robbie and Kim stayed friends to her and convinced her to come back.
Soon after Robbie and Tasha decided they wanted to go one step further in their relationship. However Robbie was unable to "perform" and this caused a slight breakdown in their relationship, but they were soon back together.
Later, on in the year Robbie became involved in a dope crop incident, discovering a plantation in the bush and setting up Ric, getting back at him for setting his brother Henry up over the kiosk fire.
The Hunters then decided to move out of Summer Bay House, swapping houses with Sally and Flynn. Robbie became involved with an argument with Matilda and Henry over who would get the surgery room, something that eventually also ended up including Kim and Hyde. He also got worried that his mother and Hyde were getting too close. He was also there for Tasha when she suffered rejection by her father.
At the start of 2005, Robbie, Kim and Tasha all went on camping trip. Robbie agreed to do a naked run as a dare. Whilst doing this he stepped on a needle and initially kept it a secret. Worried that he might have caught something from it, his behaviour became more and more erratic. He stole Kim's car and then jumped off Jump Rock which put Jesse's life in danger.
His family and friends decided they had had enough and along with Flynn organised a "tough-love" intervention session which eventually made Robbie see how much he had been hurting them. Tasha broke up with Robbie at this point because of his behaviour. However they weren't apart for long when Tasha was injured in the plane crash and they realised how much they meant to each other.
Robbie then entered a competition to film an advert which he won, he however also caught on video Josie and Marc in deep conversation, which eventually led to Josie running out on Jesse at their wedding. Scott's girlfriend Lisa was then able to organise a commercial for Robbie, as one of her friends in the business had been impressed with Robbie's performance.
Unfortunately Robbie's part in the donut commercial (which involved him wearing a giant plastic donut over his bare chest and a black cowboy hat) was overdubbed with another actor's voice, and his dreams of stardom were crushed before they began.
Robbie's brush with fame almost cost him Tasha's affections once again, due to him telling his beautiful commercial costars that she was a groupie and not his girlfriend, but he was soon able to patch things up with her by joining her new friend Martha's crusade against Martha's father, Brett Macklin, who had plans to develop the caravan park into a resort. Tasha had been tricked into selling the property by Josie, and neither she nor Robbie were impressed when Kim decided to join the dark side and back the resort in pursuit of a higher paying job to support his and Hayley's illegitimate child.
Kim and Josie both realized the error of their ways before Brett could put his plan into action, paving the way for Robbie and Tash to trust them again. Robbie accepted Kim's make-up gesture of a free ticket to a Magic Dirt concert, despite Martha and Tasha trying to keep the best friends apart on principle (Martha had wanted to go to the concert too, and was very affronted when Kim didn't offer the ticket to her…) However, Ric had recently been grounded, and had to forfeit the tickets that he had won off the radio to Martha and Tash anyway, so they were able to tag along in Robbie's new car, which he had bought with the money he'd earned from acting.
None of them ever saw the concert, as they'd been put in charge of looking after Matilda, who had in fact wandered out of the admission line to go get high with her new boyfriend, Callan. While looking for her, Robbie accidentally ran Mattie down in his car after she stumbled out onto the road. She said she was fine, and none of them wanted to get into trouble, so they tried to keep the accident a secret. But when Mattie collapsed the next day at school, the truth came out.
Incidentally, this was the last time that Robbie and Kim spoke to each other on a regular basis. There is no logical reason for this, other than them each becoming more involved in their own lives.
Mattie's involvement with Callan reached crisis point when she wandered away from a house party, thoroughly drugged and dazed, leaving her family to worry over her disappearance. She was found soon after, safe and well, but it was not long before Robbie lost is other little sibling, Henry, who decided to move to the city in pursuit of his tap-dancing dreams, never to be seen again.
At some point, Robbie decided that it was time for him and Tasha to take their relationship to the next level… again. They had made a vow of celibacy, deciding to wait until they got married, but Robbie didn't want to wait anymore. The plan was to take Tasha to a nice hotel and make it special, but a problem with the booking meant that they ended up camping in the bush instead. When Tasha learned Robbie's plan, she suggested that they need not break their vow – they could get married right then and there, and have sex afterwards. So that's what they did. In a private commitment ceremony, just the two of them, Robbie and Tash became married in their own eyes, and consecrated their union in style – under the stars, with some European backpackers close by to shine a torch in their eyes when they were done.
When they got home, Robbie and Tash had difficulty explaining their unofficial marriage to Beth and Irene, but were eventually allowed to move in together as husband and wife. That didn't got as well as planned though, as Tasha wasn't too comfortable having Beth around while she was trying to sleep with Robbie, and the living arrangements in general were just too stressful in the Hunter house. They didn't want Beth to feel like they were abandoning her though, so they resolved to move in to Josie's old apartment in secret, where they were promptly ratted out by Madge Wilkins who reported hearing strange noises coming from within.
They finally came clean and owned up to their new living arrangement, going so far as to invite Beth and Irene to a nice housewarming dinner to prove how well they were doing on their own (which wouldn't have worked at all if Martha hadn't suggested it and helped them out the whole way through.) With that out of the way, Robbie and Tash were free the throw the real party, which got a little out of hand and ended up receiving a noise complaint, which was addressed by the new cops in town, Jack Holden and Corey Henderson. It was later revealed that Jack had moved in next door to Robbie's mum, and the two became good friends.
Meanwhile, Kim and Hayley had gone out of town, leaving Irene alone at the Beach House. Robbie and Tasha decided to stay with her overnight to keep her company. When Tasha heard a noise in the middle of the night, Robbie went to investigate, only to be confronted and attacked by a burglar. Tasha saved him. The fact that his wife was able to defend him better than he could defend himself sent Robbie into a bitter rage of self-doubt, which he thought he could cure by hanging out at the gym and picking fights with anyone who looked at him or Tasha sideways. This came to an abrupt end when he was left alone to lock up the Diner, and the burglar that attacked him came in for a late night coffee. Robbie was able to keep the guy there until help arrived, which Tasha praised him for. Robbie however still felt worthless as he had relied on his brains rather than his brawn – which was painfully non-existent – and he traced his feelings of inadequacy back to when his father used to abuse him for not being strong enough. Tasha told him that he's much stronger than he gives himself credit for.
Shortly after this, Kim asked Robbie to be best man at his and Hayleys wedding. This included organizing the bachelor party, which gave cause to Robbie uttering the immortal line, "Is it stripper-gram or strip-o-gram?"
Irene was going slowly insane at the time (courtesy of Corey), so she accidentally said yes to both the bachelor party and the hen's night being held at her house on the same night, but rather than turn anyone away, Kim and Hayley decided to just go with it and have a combined party. Robbie's main job was to keep Martha away from the CD player, as she was threatening to put Mariah Carey on. Sadly the stripper/o-gram never showed.
Sadder still, the wedding never went ahead, despite Robbie's best efforts to help Kim clean up the venue after a freak storm hit and uprooted the archway, among other things. It might have still proceeded if they hadn't been informed that Scott, Robbie's brother and Hayley's secret crush, had gone missing at sea with his ex, Amanda Vale. Robbie and Kim joined the search, and the survivors where eventually found dinghy-wrecked on a secluded beach. Kim had come to the realization that Hayley's concern for Scott's wellbeing ran deeper than "just friends," and called off the wedding, but just as Hayley was about to confess her true feelings for Scott, Amanda butted in with the news that she was pregnant with Scott's baby.
Robbie was excited about the prospect of having a nephew, especially since Amanda was living in his and Tasha's apartment at the time. Scott, refusing to rekindle his relationship with Amanda in spite of the pregnancy, had moved back in with Beth. Amanda had been lying about the child to keep Scott with her – she was never pregnant at all – so when that didn't work, she tried to go for sympathy instead by faking a miscarriage. When Robbie learned the truth, he unceremoniously ejected Amanda from the apartment, costing him an academic reference from her as his teacher. When Robbie challenged her professional and personal integrity, Amanda slapped him, and she was suspended from her job as a result. She later quit altogether to pursue a scam with Josh West, which included seducing Robbie's grandfather, Graham Walters, in an effort to get her hands on his money.
Meanwhile, Tasha had gone to the city to be with her brother, Dylan, after he was reportedly involved in an accident. Robbie had arranged for himself and Tash to spend a romantic weekend at a naturalist resort, but when Tasha informed him that she wouldn't be able to make it back from the city in time, Robbie decided to take Kim instead to cheer him up over his failed relationship with Hayley. Robbie's plan backfired, however, when the "naturalist" resort turned out to be a nudist resort…where Robbie, Kim, and the receptionist, Kylie, were the only ones not getting around in their birthday suits. To make things worse, Robbie had booked a "Lovers Package," causing a raised eyebrow from Kylie.
When Kylie informed them that there were no extra beds available and they'd have to share, Robbie and Kim did what any respectable friends would do – they got blind drunk and woke up spooning. Kim was not impressed. In a last ditch attempt to make Kim see the funny side, Robbie decided to go to breakfast stark naked… only to discover that everyone else was fully clothed, in accordance with the recommendation of being dressed for meals. Kim was finally able to laugh at Robbie's expense, which was of course Robbie's plan all along. Kim was sincerely grateful, though sadly not enough to take Robbie up on his offer to share his bed back home while Tasha was away.
When Tasha returned from the city, she came back with a new friend, Jonah. At first, Robbie thought that Jonah was just moving in on his territory, but it soon became apparent that Jonah was actually part of a religious following called "The Believers," and that he wanted Tasha to join as well. Robbie was reluctant to believe that The Believers were anything more than scam artists or psychos, but Jonah and his friend Charity soon had him and Tasha both convinced that they'd be much happier living a natural life in the bush, which is of course how Tasha had lived before being discovered in the bay. She therefore had no qualms selling the apartment to Robbie's grandfather so that she and Robbie could go live on The Farm – a hippy-like commune of tents, run in accordance with the spiritual teachings of Jonah's mother and the leader of The Believers, Mama Rose.
Irene, Jack and Martha were worried, and decided to research The Believers and see what they were really about. They found out that there was a girl in Queensland who claimed that The Believers, and specifically Jonah, had tried to impregnate her before she escaped them. Robbie's friends managed to make him realise that he and Tasha had become involved in a dangerous cult, but Tasha refused to listen. She was convinced that they were all just being narrow-minded, and couldn't understand why they couldn't just be happy for her.
After Robbie's increasingly irrational attempts to get Tasha away from Jonah and Mama Rose, Tasha finally decided to go back to him, believing that it was for the best, as she'd only cause more trouble for the Believers if she stayed. Jonah, however, told her that they wouldn't hold her accountable for the actions of others and persuaded her that she belonged with them. Robbie then gave Tasha an ultimatum "Them or me." Tasha chose them.
During the 2005 finale/2006 premier, a cyclone hit Summer Bay, and Robbie was terrified that the flimsy tents that The Believers called homes wouldn't be able to withstand the force – he had to at least make sure that Tasha knew the danger she was in. He drove out to the farm and found her tent. Jonah was with her. As the storm worsened, Robbie had no choice but to lie down with Jonah and Tash to anchor the tent, watching Jonah hold onto Tash while he could do nothing to stop it…
After the storm passed, Tasha told Robbie to leave. He walked away into the night to stand by a river, which was swollen with floodwaters. Suddenly, he felt someone push him in, and as he called out for help, clinging to a flimsy branch to avoid being swept away to his death, Jonah was the first person on the scene.
Jonah told Robbie to take his hand, and he'd pull him up. Robbie didn't trust him, but he didn't have much of a choice. He took Jonah's hand, but Jonah conveniently lost his grip and Robbie was swept away in the raging torrent.
When Robbie's glasses were found with no sign of the man himself, Tasha feared the worst. She tried to find her mobile phone to call Robbie's family, but couldn't find it. Unbeknownst to her, Mama Rose had stolen it. Jonah told Mama Rose that Tasha would "suffer terribly" if anything happened to Robbie, to which Mama Rose basically replied, "She'll get over it."
Robbie was found the next morning, washed up and unconscious on the river bank. Miraculously he'd survived the ordeal relatively unscathed, but when he accused Jonah of pushing him into the water and trying to kill him, Tasha shook her head at him and decided that Robbie had made it all up to turn her against Jonah. Robbie washed his hands of her after that.
When Jonah confronted Mama Rose over Robbie's claim that he felt someone push him, Mama Rose simply told her son that she had only done what he had failed to do, and that was to keep Robbie away from Tasha, by any means necessary.
It was now Kim's turn to cheer Robbie up. After a particularly slow day at the Diner of staring into space and playing with the wooden menu seagulls, Robbie and Kim, prompted by Martha's suggestion, decided to go camping to take their minds off things.
They went to a beach where Robbie's family used to go when he was a kid. The plan was to hide out away from the female species and the stress they cause (Kim was also having some unrequited love issues with the new doc in town, Rachel, at the time), but fate intervened by sending a random love-interest Robbie's way. After much prodding by Kim, Robbie attempted to make his move on the girl with such classic pick-up lines as "Beer rocks," and "World pizza," but it turned out that she was a friend of Kit's anyway, so the mystery around her quickly fizzled.
The camping trip came to an abrupt end when Kit and Robbie received news that their grandfather was in hospital after suffering a near-fatal heart attack. Amanda, who had successfully fooled Graham into marrying her, had neglected to call the ambulance straight away after Graham had collapsed right in the middle of telling her that he knew all about her affair with Josh, and that he was planning to divorce her.
Robbie, too, had known about the affair, but Amanda and Josh had convinced him that he had drawn the wrong conclusion when he saw them kissing; that Josh, in a moment of weakness, had made a move on Amanda, but she had not reciprocated. In return for his silence and some unwitting involvement in illegal bribery, Josh promised Robbie that he would do everything in his mayoral power to shut The Believers down, thereby rescuing Tasha from their evil clutches. In reality, Josh did nothing to stop them, and was in fact accepting bribes from them as well.
When Graham's health took a turn for the worse, everyone in his family decided that they should take him off life-support, as he had told them that he didn't want to be kept alive that way. Everyone that is except Amanda, who, as Graham's wife and a close personal "friend" of Josh's, was able to get a ruling from a corrupt judge stating that she had the legal word on when Graham should die, i.e.: no sooner than when she was eligible to claim his money as her own.
Outraged by the ruling, and by the fact that Amanda had won, Robbie took matters into his own hands. He snuck into Graham's hospital room and turned off the machine – an act of compassion to restore his grandfather's dignity, which he regretted none the less.
Robbie kept his dark secret from everyone but Tasha, who came to Graham's funeral to support him, despite having moved on with Jonah.
Martha and Jack had not given up on Tasha, and neither had Robbie, despite having done everything he could do. Just when it looked like Tasha would be lost forever, Robbie was contacted by a girl named Rebecca, who told him that Mama Rose planned to have Jonah impregnate Tasha with a miracle child that would lead The Believers to glory. She knew because they had tried to do it to her, but she escaped.
Before Robbie could introduce Rebecca to Martha and Jack, she disappeared. The only option left now was for Martha to go undercover and "join" The Believers to try and get Tasha out from the inside. Whilst at the farm, Martha discovered a shrine to Tasha in Mama Rose's tent, and soon discovered Rebecca herself being held captive on the property. Unfortunately Rebecca was moved before Martha could get help, and Martha was close to suffering the same ambiguous fate. Jack was able to rescue her though.
When Robbie tried to go back and convince Tasha of the danger she was in, he too saw the shrine. When he tried to show Tasha, it was gone, and despite Martha claiming to have seen the exact same thing, Tasha did not believe them. She was still adamant that this was all due to them being close-minded and jealous of her new friends.
Jonah, however, was interested in being more than friends. Under pressure from his mother to act fast, he attempted to engage Tasha in a romantic relationship, but that was too time consuming for Mama Rose's liking. Instead, she had Jonah drug and rape Tasha, unbeknownst to her.
Tasha eventually discovered the shrine herself, and tried to escape with Jonah, who had finally come to realise the insanity of what he was a part of. The pair were captured by the others and held prisoner. When they were finally rescued, Jonah was sent to jail, and Tasha returned to Robbie. At this stage, they still had no idea that she was pregnant.
Ecstatic over having Tasha back, Robbie decided it was time to make their marriage official. The pair had a surprise wedding, tying the knot on the day they were meant to have their engagement party. It was not until the reception at Irene's house that they realized something was terribly wrong. Tasha collapsed and was taken to hospital, where she was congratulated for being pregnant… the only problem was, she hadn't been with Robbie for months.
Tasha realized what Jonah had done to her and confided in Martha, who ensured her that Robbie would understand. Robbie did, but he was still ready to tear Jonah apart, and he had to be escorted away by security when he tried to get into the jail to see his wife's attacker without an appointment. Outside, he met Charity who implored him to try and understand that Jonah was brainwashed into thinking that he had to do what Mama Rose wanted, just like the rest of them… It wasn't entirely Jonah's fault, it was Mama Rose's. Robbie, for Tasha's sake more than anything else, agreed to let go of his rage and turned his attention to taking care of Tash and the baby.
Then Josh West died.
For a long time, no one knew what had happened – it seemed like everyone had a motive to want Josh dead. But Robbie was the only person to confessed to the fatal shooting. He had hoped to protect Tash – who actually took a shot at Josh – by destroying the surveillance tapes which showed her fleeing his office at the time of the murder. When Irene unwittingly turned the damning evidence into the cops, however, having found them in the skip bin outside the Diner, Robbie had no choice but to admit that Tash had been there before hand, but that he was the one who went back and pulled the trigger.
But Tash wouldn't let him take the fall for her. She had gone to Josh's office with the intent of killing him for letting Jonah rape her, and when Josh showed her nothing but smug indifference, she fired. Josh went down, but as the evidence showed, it was not Tasha's gun that had killed him. The bullets didn't match, nor did the position of Josh's corpse. (Tash said that he fell behind his desk, but the body was found in front of it). Tasha's bullet was found outside in a tree, having gone straight through the window without touching Josh at all. The true killer was later revealed to be Barry Hyde.
Apart from scalding the young couple for wasting their time, the cops had no interest in charging Robbie or Tash, and they were both free to go.
Having dodged a proverbial bullet themselves, Robbie and Tash were able to focus all of their attentions on the pregnancy, including breaking it to family members and close friends, such as Kim, that Robbie wasn't the father. And having to endure such ignorant comments as, "Now we know why the wedding was so rushed." (-Colleen, who else?)
In the midst of their own turmoil, Robbie and Tash found the time to get Martha and Jack happily engaged, and it wasn't long until they were both in the bridal party of a fairytale wedding. Unfortunately, the reception was more like a horror movie. Eve Jacobson, AKA Zoe McCallister – The Summer Bay Stalker, had returned to wreak havoc with her new toy-girl, Detective Tracey Thompson. The pair exacted an ill-conceived final revenge by blowing up the tin shed where the reception was being held, managing to kill only themselves and Rachel's mother, whom neither of them had ever met. They did however manage to injure quite a few of the regulars, including Robbie, Kim, Martha, Kit and Belle, who were all sent off on an immediate helicopter ride to a hospital in the city to have their minor burns tended to.
And then the helicopter crashed in the wilderness, and all five of them, plus Colin the pilot, wandered around in circles for weeks and weeks until Amanda, Belle's mother, had a "feeling" and was able to pinpoint their location and have them rescued. Kit suffered a broken leg and impregnation (thanks to Kim), Belle got a random spider-bite, but survived, and Robbie divulged his darkest secret to Martha, confessing to her, as if on his deathbed, that he was the one who killed Graham. Other than that, they all made it out with nothing more than cuts, bruises, and dehydration, and there were absolutely no lasting effects of not having their initial burns treated.
While Robbie and Martha were presumed dead, Jack and Tasha were back in hospital getting better acquainted to deal with their grief. The stress of losing Robbie almost sent Tasha into premature labour, but Jack was able to talk her down, and immediately won Tasha's devotion. Robbie and Martha's survival put a fly in the ointment of what could have been a new romance for Tack, but the pair realized that their feelings were misguided, and they were already married to the people they truly loved.
Martha, having missed her honeymoon on account of being blown up and then stranded on the verge of death for a month, decided it was about time for her and Jack to have a little getaway. But Jack couldn't (or wouldn't) get time off work, so Martha grudgingly invited Tasha to take a holiday to the little rustic cottage in the middle of nowhere instead.
When Robbie couldn't get in contact with Tash, he became worried, and with good reason. Mama Rose had reappeared and kidnapped both Martha and Tash.
Robbie tried to tell Jack that something was wrong – he had one of his feelings (which are accurate more often than not) – but Jack wouldn't listen, he wanted to do everything by the book and wait and see if Tasha and Martha would show up. They didn't. They were being kept in a caravan, chained to it, until they could be moved to a safe house. Mama Rose intended to steal Tasha's baby, even if she had to let Tasha die to do it.
Rachel got roped into delivering the baby, but managed to get Tasha and herself rescued by way of a secret message to Nurse Julie. Robbie met them at the hospital to stand outside the delivery room and wait while the lives of his wife and child (as he saw it) hung in the balance…
Eventually, the baby was born and Tasha was okay. Robbie named the baby Ella after a strong and beautiful character he remembered from a book, and commented to Martha in the waiting room that he never thought he could be so lucky after all the bad things that have happened, including him having to turn off Graham's life-support… But Robbie spoke too soon.
Tasha started to show all the signs of post-natal depression, and on more than one occasion said that she didn't love Ella. In her darkest hour, when she couldn't get the baby to stop crying, she ran out of the house and left Ella alone, only to return to find her missing. It turned out that Robbie and Irene had come home and taken Ella to the hospital for a check up after her ordeal, but Tasha was still beside herself with guilt and worry. Robbie pointed out to her that those weren't the feelings of someone who didn't care, those were the feelings of a mother who loved her child.
They decided to employ a midwife in the unlikely form of Charity, Mama Rose's now reformed right-hand woman. Or so she said. All too soon, Charity was up to her old ways. She kidnapped baby Ella and took her to Mama Rose, who was intent on performing some kind of ritual with the child. The police caught Charity, and Irene urged her to realise that Mama Rose was just using her, and to tell them where the baby was. Charity caved and Tasha was able to rescue Ella while Mama Rose was arrested and put away once and for all.
Still, Robbie and Tash's troubles did not end there. While their baby was safe, Robbie himself was now in danger of being taken away from his family. Someone (it was never revealed who, though Martha swore it wasn't her) tipped off the police about him killing Graham, and now he was up on murder charges. Morag took his case and said that Robbie had quite clearly broken the law, so the only way to get him off was to change the law… No one was particularly confident that that would happen.
Meanwhile Tasha had received a letter from her aunt Josie asking for her, Robbie and Ella to come and live in Boston. Tasha didn't want to tell Robbie about it because she thought he would go to jail. Instead she begged him to run away with her like Kirsty and Kane did, but Robbie didn't think it would be practical, especially with Ella to think of. He decided to let the courts render their verdict.
The judge determined that Robbie was guilty of murder… but given the circumstances, there would be no jail time. Robbie was free to go.
Tasha then told Robbie about the plane tickets that Josie had sent them, and they decided to take up the offer and leave the bay.
With a final get together of their friends and family, a much-needed hug from Kim, and one last look out to the sunset, Robbie, Tash, and Ella said goodbye to Summer Bay. And we said goodbye to one of the greatest characters Home and Away has ever known.
Farewell, sweet Robbie. We knew ye well.
Profile thanks to emmasi – (possibly) Robbie's number one fan.