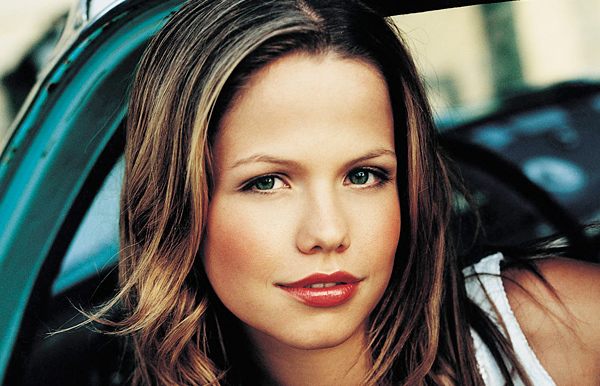 Danielle Sutherland (2000-2004)
Tammin Sursok
Episodes: 2856–3860
Date of Birth: 7th July 1984
Parents: Rhys & Shelley Sutherland
Step Parents: Beth Hunter (former)
Siblings: Kirsty & Joe Sutherland (deceased) and Laura de Groot; Jade Sutherland (legal sibling)
Step Siblings: Scott, Kit, Robbie, Henry & Matilda Hunter (former)
Foster Siblings: Brodie Hanson
Marital Status: Scott Hunter (2004, engaged)
Occupation: Student; Journalist
---
Dani is the oldest of the Sutherland sisters, and she arrived with the rest of the family in 2000. As the rebellious, older sister, Dani was, at first very much against the move to the Bay. That changed though when she met Will Smith and after an initial mix up where she thought he fancied her friend, they became a couple. Their relationship was threatened though by Will's ex-Gypsy who was secretly in love with him and after a row with Dani, the two had a one night stand.
Soon though, Dani had more important things to worry about when new bad boy in town Kane Phillips started paying her attention. Their flirtation ended brutally though when Kane raped Dani.
Dani took the case to court, but Kane was found not guilty. Her relationship with Will though didn't survive Dani's emotional trauma and the fact that Gypsy was now carrying his child. They split up and Will returned to Gypsy. Dani wasn't single for long though and when Josh West arrived in the Bay the two started to become close and became a couple. When this relationship ended, it was Scott Hunter that came riding into her life on a white horse, literally.
While Scott and Dani's relationship was going pretty well, Kane Phillips returned to the Bay, claiming he had changed.
Kane started seeing Dani's younger sister Kirsty and Kirsty was several times forced to choose between her family and the man she claimed to love.
Dani started developing feelings for one of her teachers, Ross McLuhan, and after they shared a kiss, Dani was very upset because she hadn't told Scott what was going on. While driving home, crying, she hit Kane with her car, but because she thought it was an animal that had escaped into the bush again, she left Kane at the scene.
Later it was revealed that Dani had hit Kane with her car that night, and she found herself once again in court, this time on a charge of attempted murder. Once again things failedto go her way and she was found guilty.
Dani went to jail, and got into trouble with "The Guv", one of the jail-veterans. Eventually Dani got The Guv's respect, and the two of them started a weird friendship, and stayed in touch when Dani was released from jail.
Dani and her still tried to break Kane and Kirsty up, but failed several times. Not even after Kane helped rescue her family from a mine shaft, or after he saved several lives during the fire at the drop-in centre was Dani able to forgive Kane for what he had done.
Eventually she started accepting Kane and Kirsty again, but her father Rhys still wanted to break them up.
In 2004 Dani decided to write an article for the uni newspaper, criticising a fellow student named Felix Walters. Felix started stalking Dani, and he even sent his girlfriend Sarah Lewis, dressed as a police woman to tell Dani Scott had died in a boating accident. This made Dani realise what Felix was capable of, and she was immidiately suspected when Felix was bashed and ended up in hospital. It got even more dramatic when Felix later died in hospital, and Dani realised she might have had something to do with it after all.
In a letter to The Guv she had told her about Felix, and it turned out to be The Guv who had ordered the attack on Felix to help Dani out. But in the meanitme it was also revealed that Felix had died because he had been injected with metamphetamine while being in a coma. Sarah Lewis, who like Felix was using metamphetamine couldn't or did't want to see the fact that she had killed Felix, and she came back to punish Dani and her friends.
After almost ruining Hayley and Noah's wedding reception, making her way into Noah's bachelor party, dressed as a stripper, and holding Jesse as a hostage at the gym and shooting him, Sarah was arrested and taken to a mental institution.
The police never found the gun Sarah used to shoot Jesse, because Sarah had hid it in Irene Roberts' house. When Sarah later escaped from the institution and went after Dani and her friends, she picked up the gun and broke into the Palace. There she surprised Dani and Scott, and after having tied up Dani she made Scott take her to the place everyone else was hiding.
Scott did as told, while Dani managed to get the attention of her father and the police guarding outside the Palace. She then drove off to where the others were hiding, desperate to stop Sarah from doing more damage. As she arrived Sarah fired two gunshots, killing first Noah and then herself.
After Sarah's tragic reign of terror, Scott didn't want to wait any longer. His first proposal to Dani more than a year earlier didn't go as expected, but this time Dani said yes, and after Noah's memorial the two of them got engaged.
The engagement however, didn't last very long. Dani's friend from jail, The Guv found out she was dying, and wanted Dani to write her memoirs.
The writing process lead to jealousy because Scott thought Dani was having an affair with the publisher, Stafford McRae. Stafford tempted Dani with his great ideas for her. He said he thought she could become something great if she left Summer Bay, and Dani started to realise she and Scott wanted different things.
Eventually Scott gave her an ultimatum; to choose him or the book she was writing, and Dani decided to leave Scott because he was trying to force her to make an impossible decision.
She left the Bay in late 2004, leaving Scott and her friends behind.
Profile thanks to Eli.