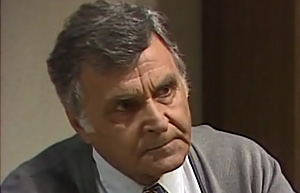 Walter Bertram (1988)
Owen Weingott
Episodes: 2-3, 34, 62-63, 71, 75, 93-95; 183-187
Occupation: School Headmaster
---
Walter Bertram first appeared in Episode 2 of Home and Away when he let Bobby Simpson rejoin Summer Bay High, after her promise that she was going to work hard during the following year, much to Don Fisher's annoyance.
However things went bad straight away, as when Bobby and Carly tried to play a prank on Martin and Lance by releasing the hand brake on Martin's truck. However the truck rolled down the hill and staight into Walter's car, which he was sitting in leaving him with a broken leg and internal injuries.
After a couple of months recouperation Walter returned to the school quashing Don's hopes of becoming headmaster, causing Don to threaten to leave. However in the new term, Walter was still getting headaches from the accident that had been caused by the accident. Walter the played a part on the ANZAC day celebrations, of which he was a veteran.
After a series of strange events over the past months, a couple of phone calls to Pippa, uncovered Walter as the Summer Bay "Nutter". Having gave Pippa phone call a few days early as "The Nutter", when Pippa phoned on the school to pass on a message regarding Steven's dentist appointment, she recognised the voice and finally solved the mystery and he was carted off to a mental asylum.
Near the end of the year, Steven, Carly, Narelle Smart and Philip Matheson were bushwalking when they came across a house in the bush. They searched around the house, finding nothing, but when Carly remembers that she left her shoes in the house, she returns to find them on her own and whilst in a room, a door shut on her trapping her inside. After uncovering Walter as the hermit in the bush, she told Pippa about it. When John Farnham visited the bay soon after, he got him to visit Walter and helped Walter get his life back on trac.