Home and Away Spoilers – John breaks some upsetting news to Irene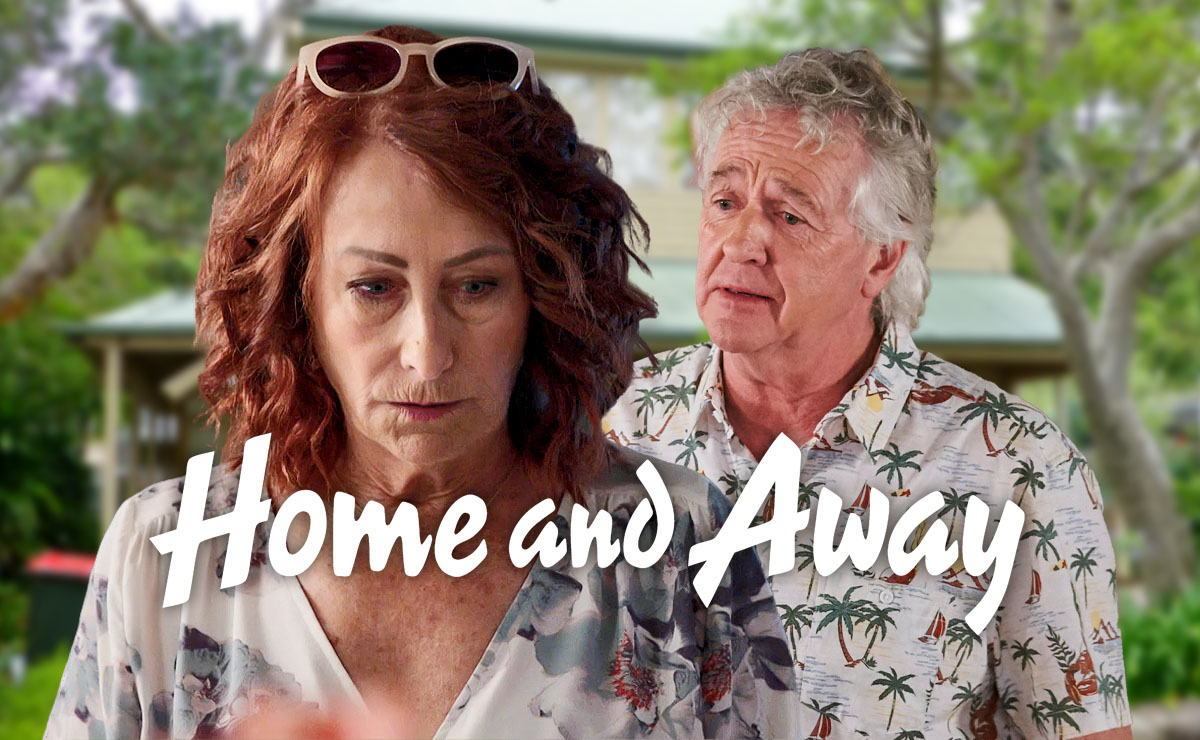 Next week on Home and Away in the UK, John struggles to tell Irene of his plans to return home, whilst Theo discovers a big secret from Kirby's past.
It's the day that fans of 'Jirene' hoped would never come, as John (Shane Withington) decides the time has come to move out of the Beach House.
John has been staying at Irene's (Lynne McGranger) Pacific Road home for the past couple of weeks, as he recuperated from surgery following the Stunning Organics attack.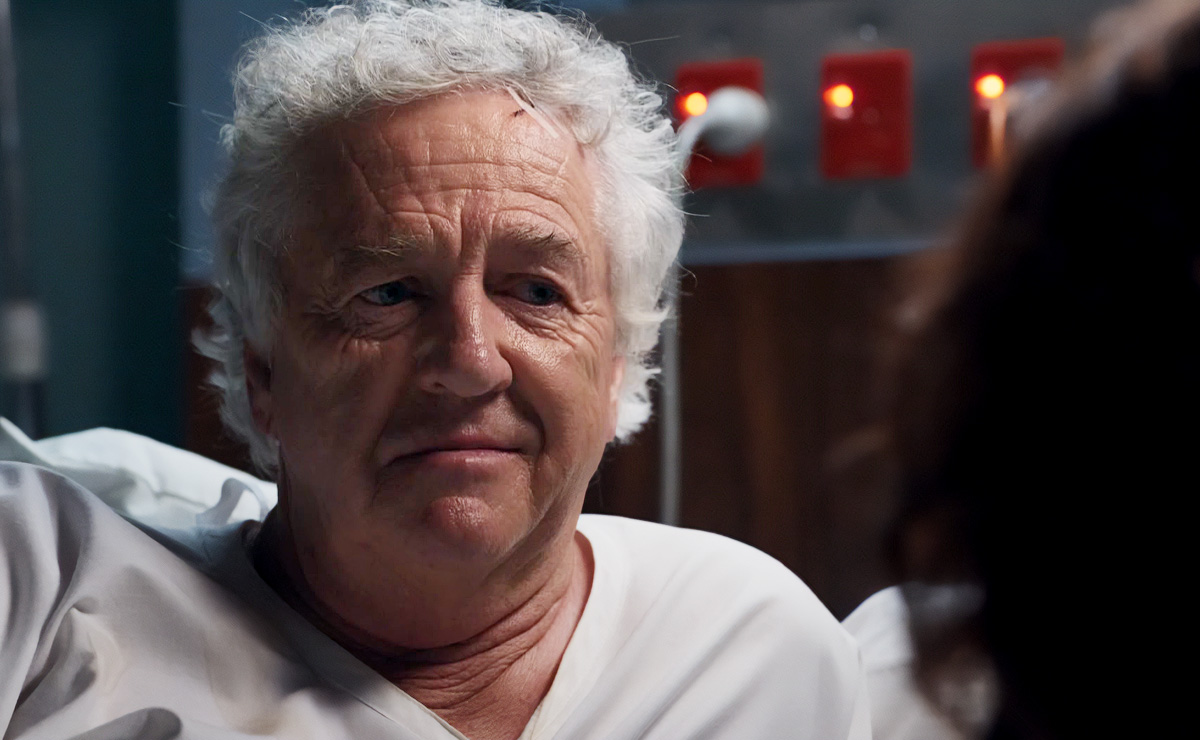 After he suffered a subsequent heart scare whilst in hospital, Irene had spent the night at John's bedside where he reflected on living alone for the past few years.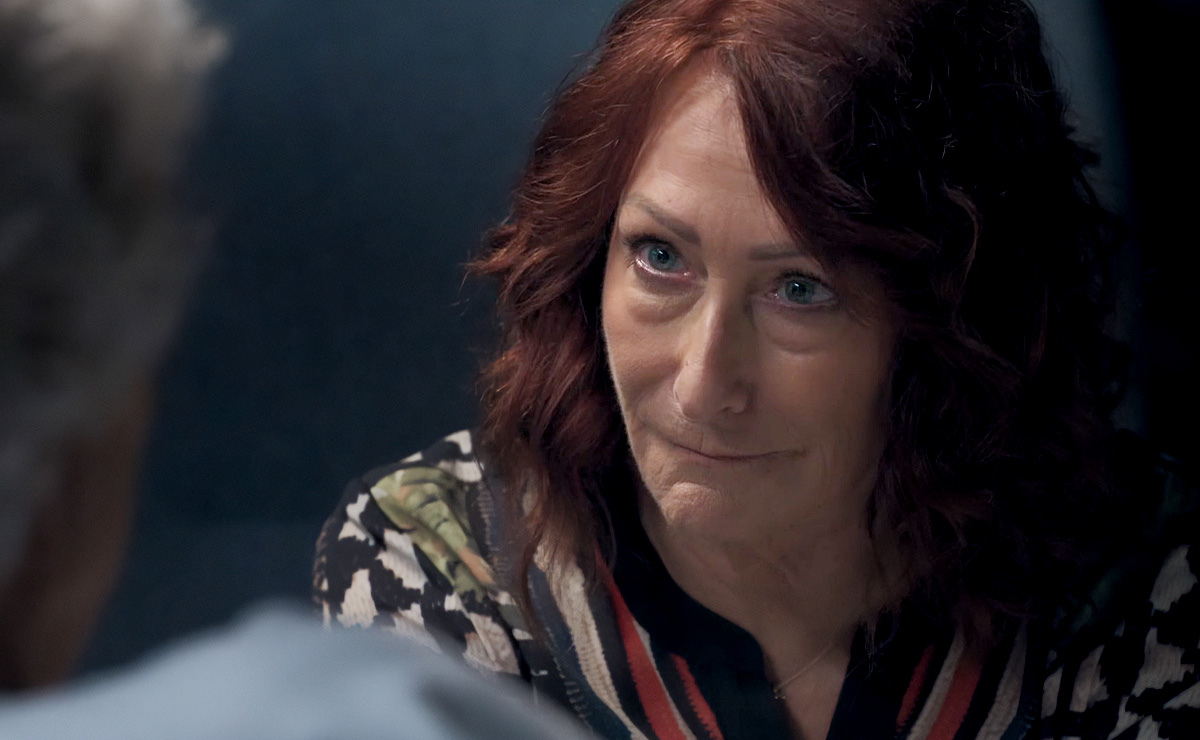 "If I died here today, I would have died a lonely man" he told Irene. "When I leave here, I go back to an empty house… there's got to be more to life than that, hasn't there?"
Given Irene has also been living alone in the Beach House since last year, she was all too happy to invite her old friend to stay on his release from hospital, with Dr Bree (Juliet Godwin) backing her up in saying John shouldn't be on his own whilst recovering.
Their cohabitation has gone much better than anticipated, to the point where rumours started circulating around Summer Bay that the pair were dating.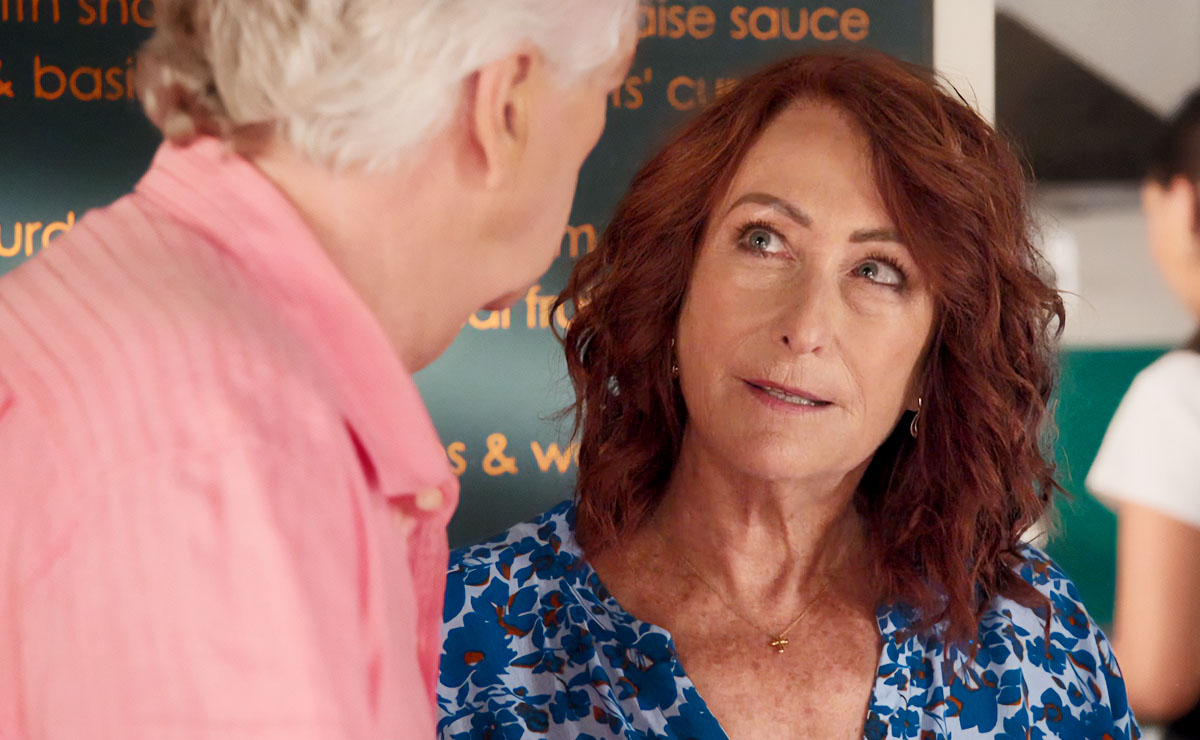 Annoyed that her friends were gossiping about her, without asking directly, Irene convinced John to make out they were actually an item in order to teach them a lesson, and pretended to be his date to John & Marilyn's adopted son Jett's (Will McDonald) upcoming wedding.
The prank ended up backfiring though when Marilyn (Emily Symons), whilst claiming she had no issue of Irene getting together with her ex-husband, felt hurt that they hadn't told her about the relationship directly.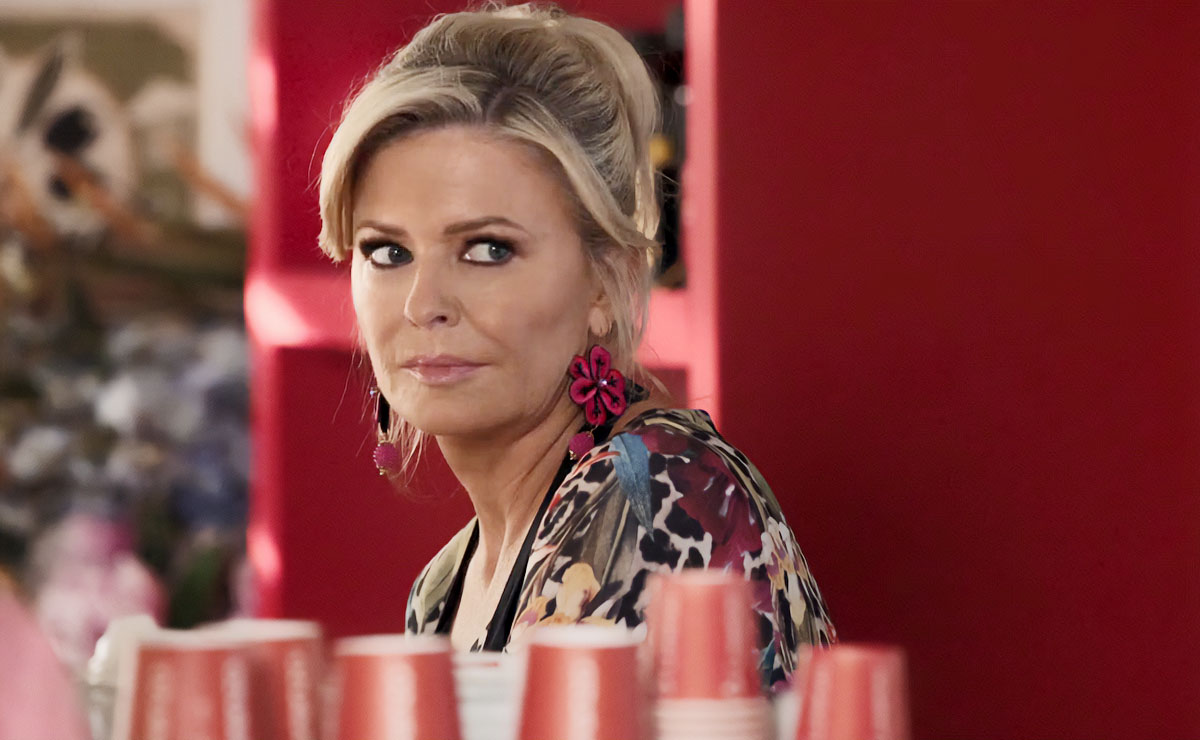 Once everything had been cleared up, John and Marilyn agreed to attend Jett's wedding together, and next week the pair return to Summer Bay following the nuptials.
The wedding went well from all accounts, with John and Marilyn's speeches being the highlight of Jett's day, but as John finds something to complain about regarding the bed in his hotel room, Alf (Ray Meagher) observes that he sounds like he's back to normal.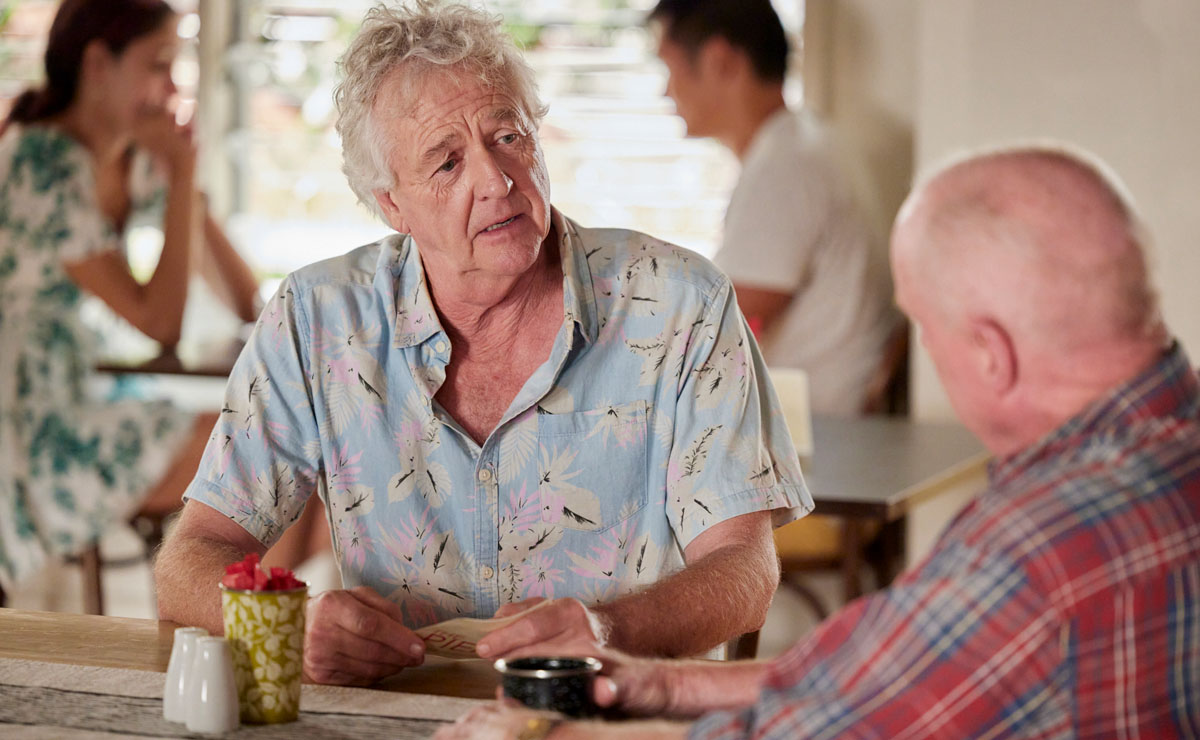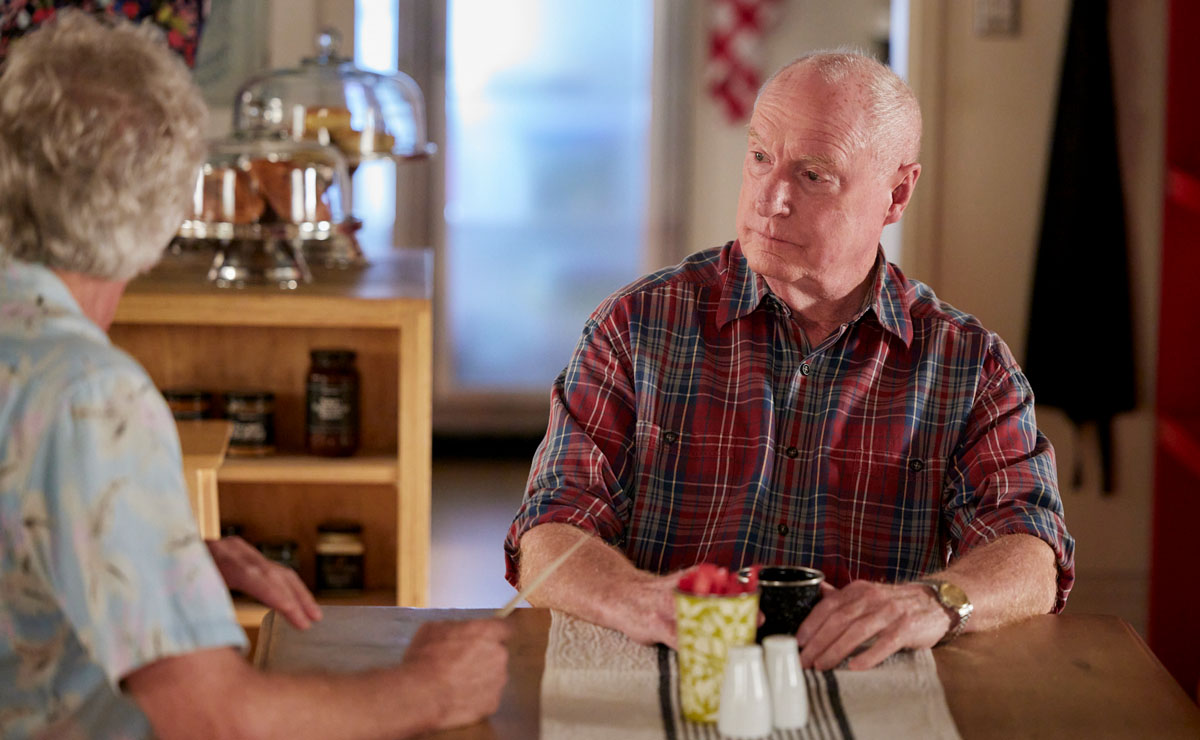 As Alf asks whether John thinks he'd be up to coming back to the surf club full time, John replies that he'd like that very much.
Meanwhile, Irene wants to ensure that there's no hard feelings from Marilyn over the prank. Marilyn confirms that it's all water under the bridge, as both promise to be more upfront in future.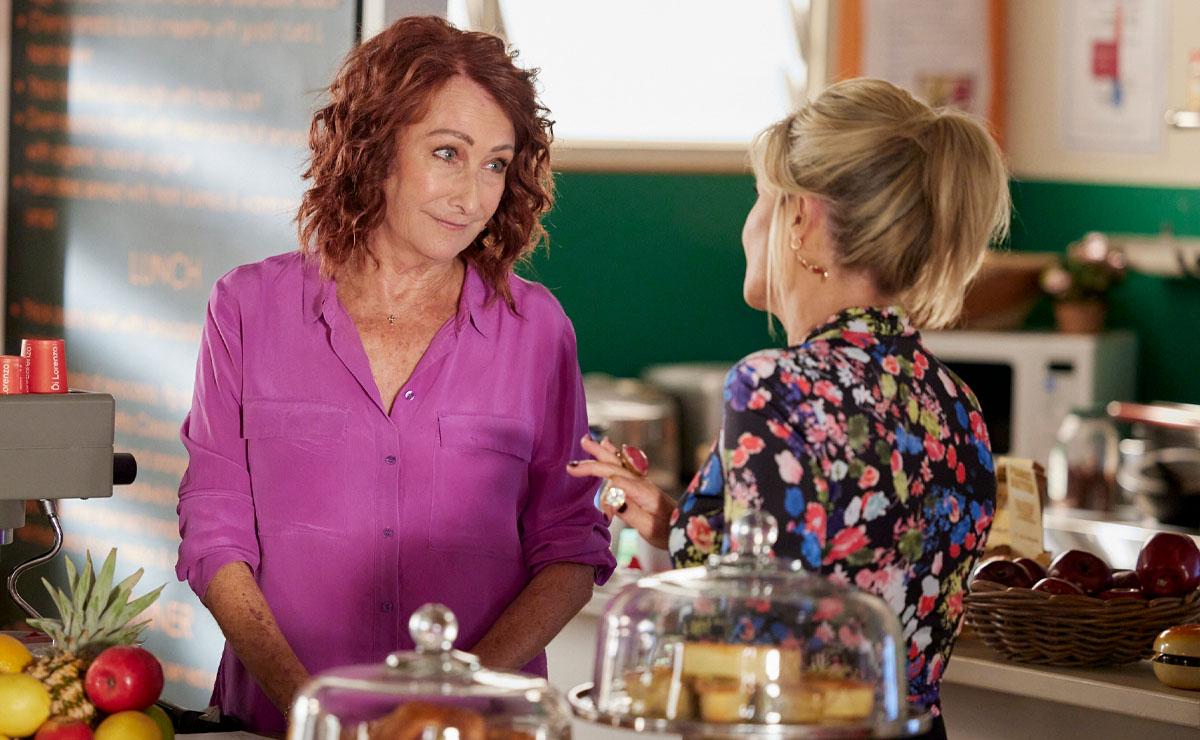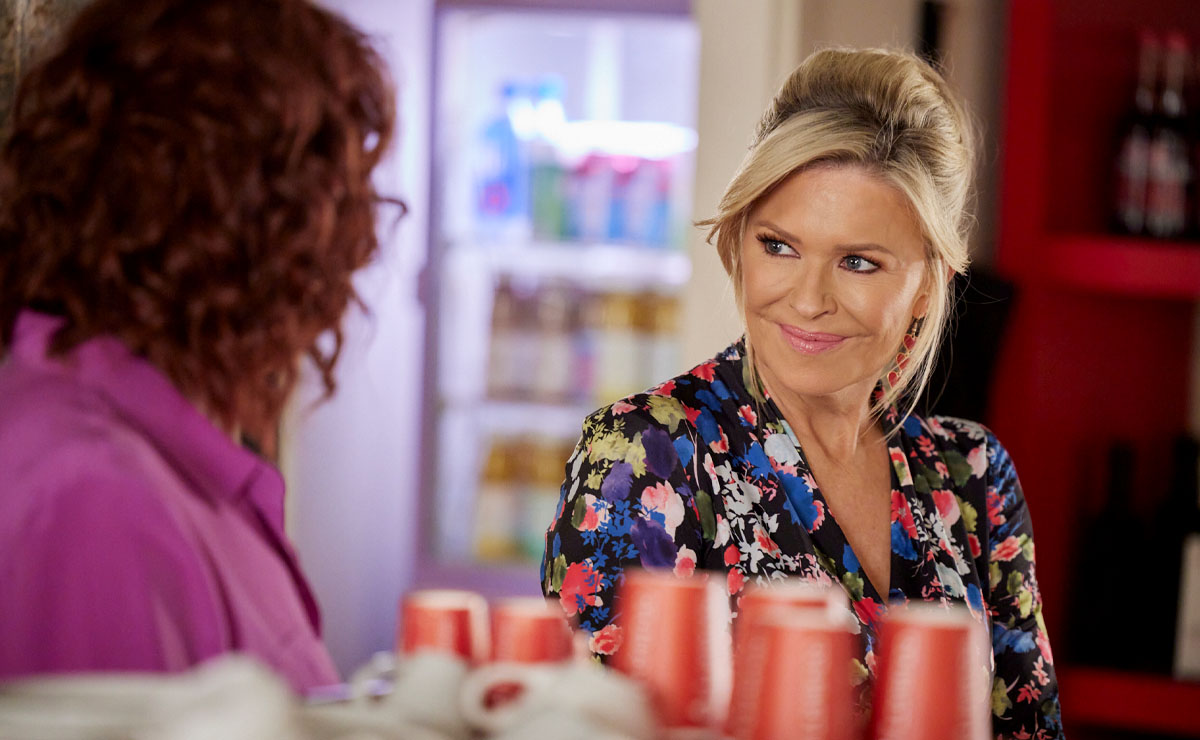 Irene is most excited for John's return however, the house has been quiet without him and she's looking forward to cooking him a slap-up meal tonight. She's even made him a cake to welcome him back!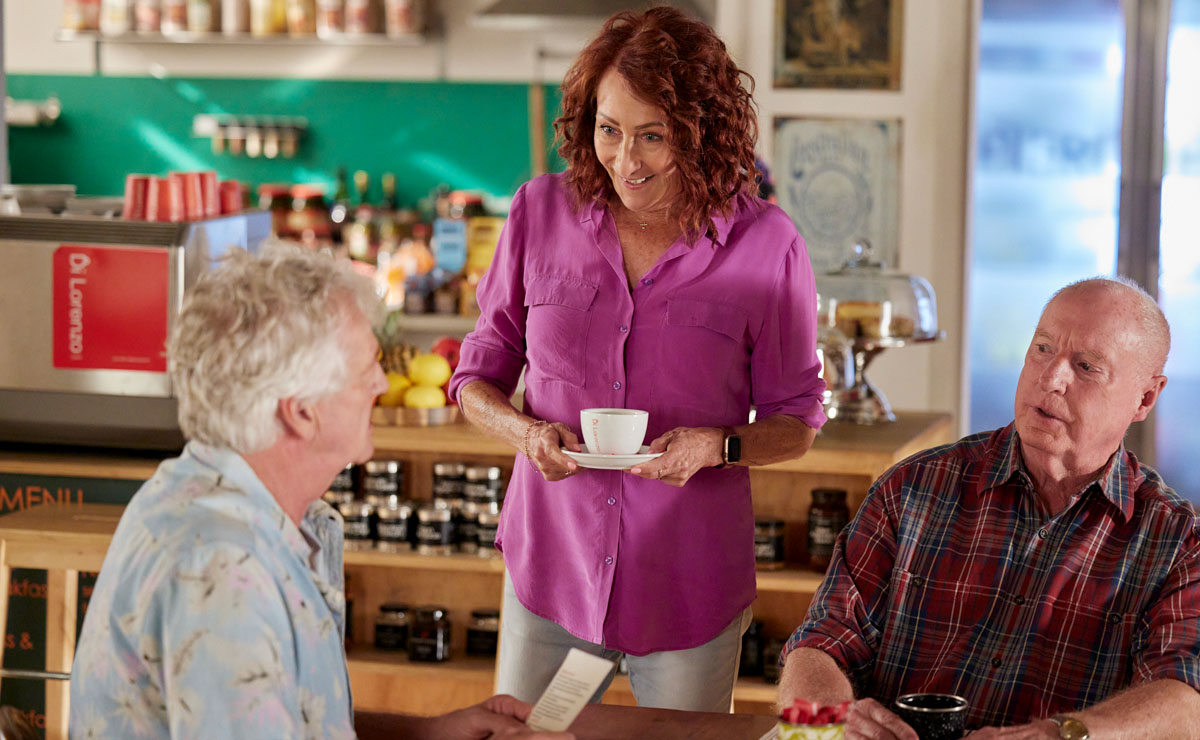 Irene's got it all planned out as she warns John that it'll be his turn to cook tomorrow night, and she's in high spirits as she leaves him and Marilyn at the coffee cart.
John feels awful. Little does Irene know that he was planning to move back home tonight, and had told Marilyn as such during the car trip home!
Marilyn calls him out on it, but with Irene so happy to see him back, John figures that one more night at the Beach House won't do any harm…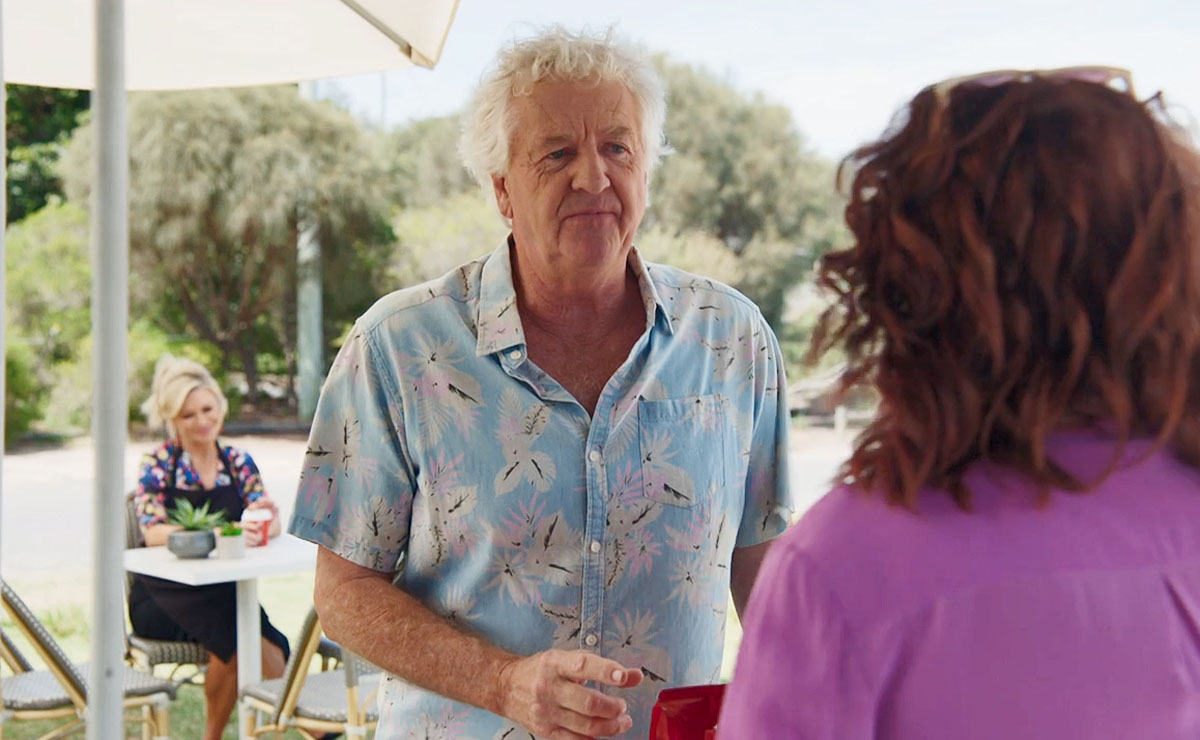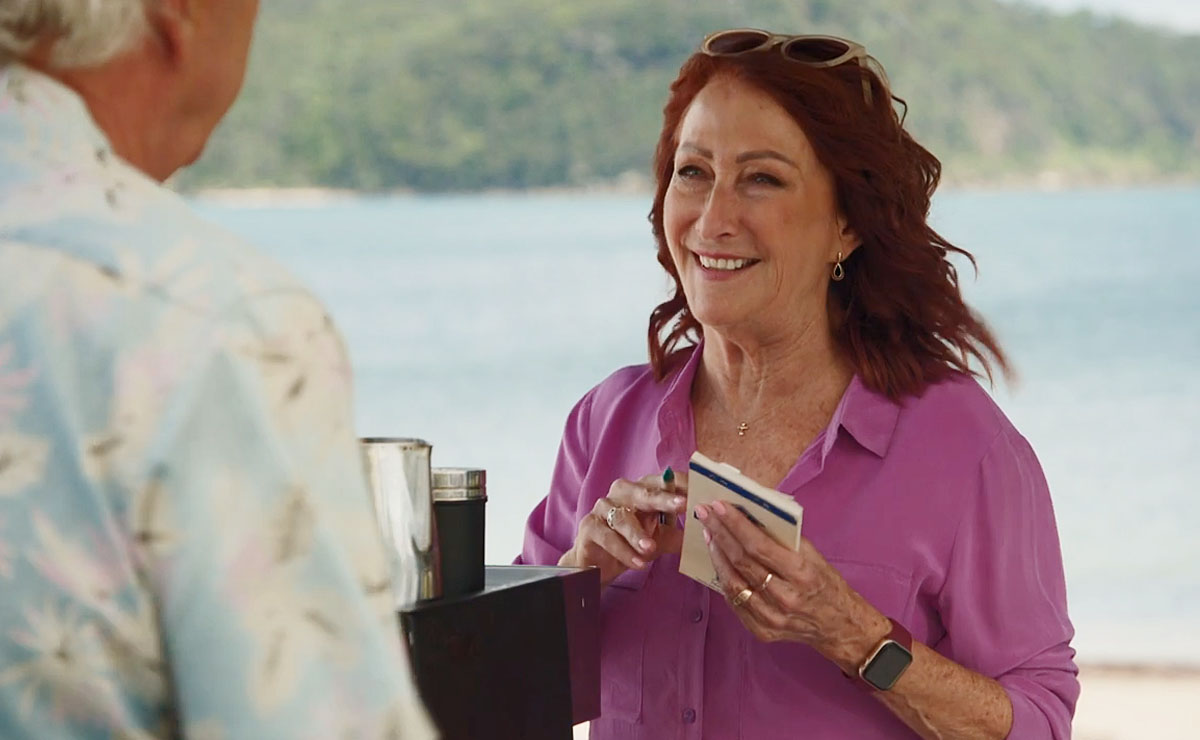 Seemingly keen for John to stick to his plans, Marilyn convinces him that he needs to be honest with Irene about his wish to move home.
John psychs himself up to tell Irene, but before he can do so, she tells him that there's a new episode of their favourite police show out (we hear it's a Keystone Cops revamp set in Yabbie Creek). She purposely didn't watch it so that they can enjoy it together on his return.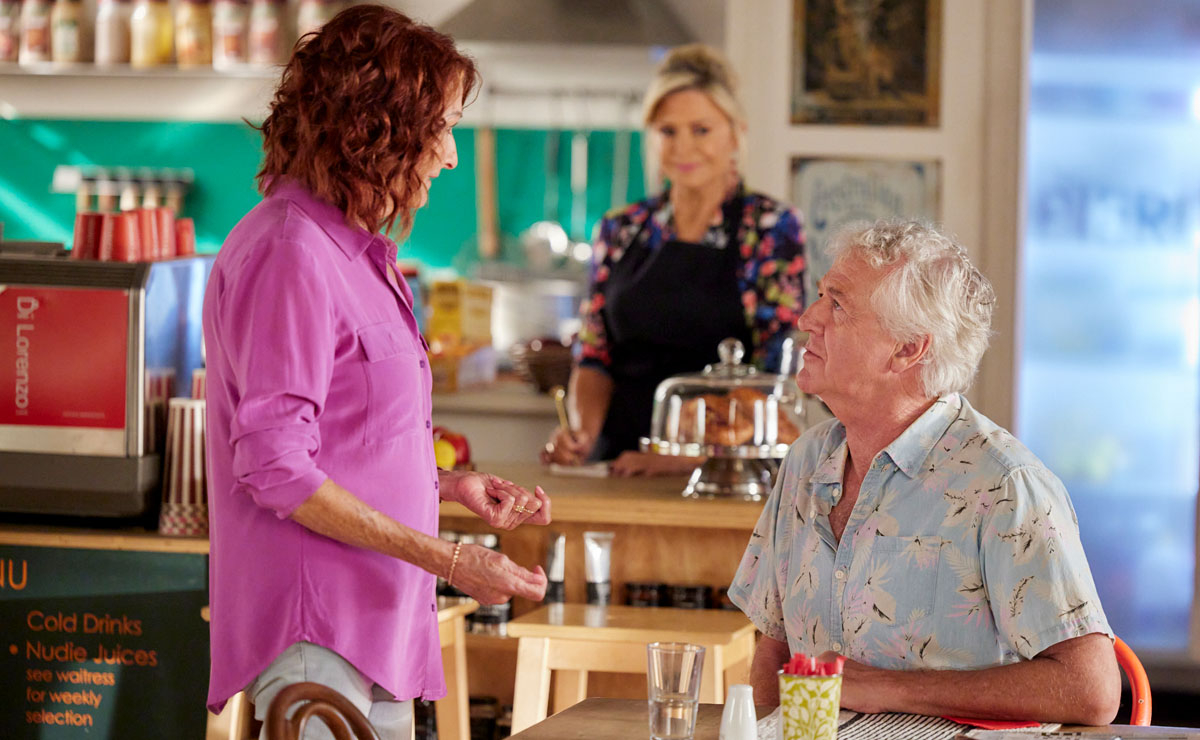 John is touched by the gesture as Marilyn watches on, and he remains torn when Irene later tells him that she's cooking his absolute favourite that evening, roast pork.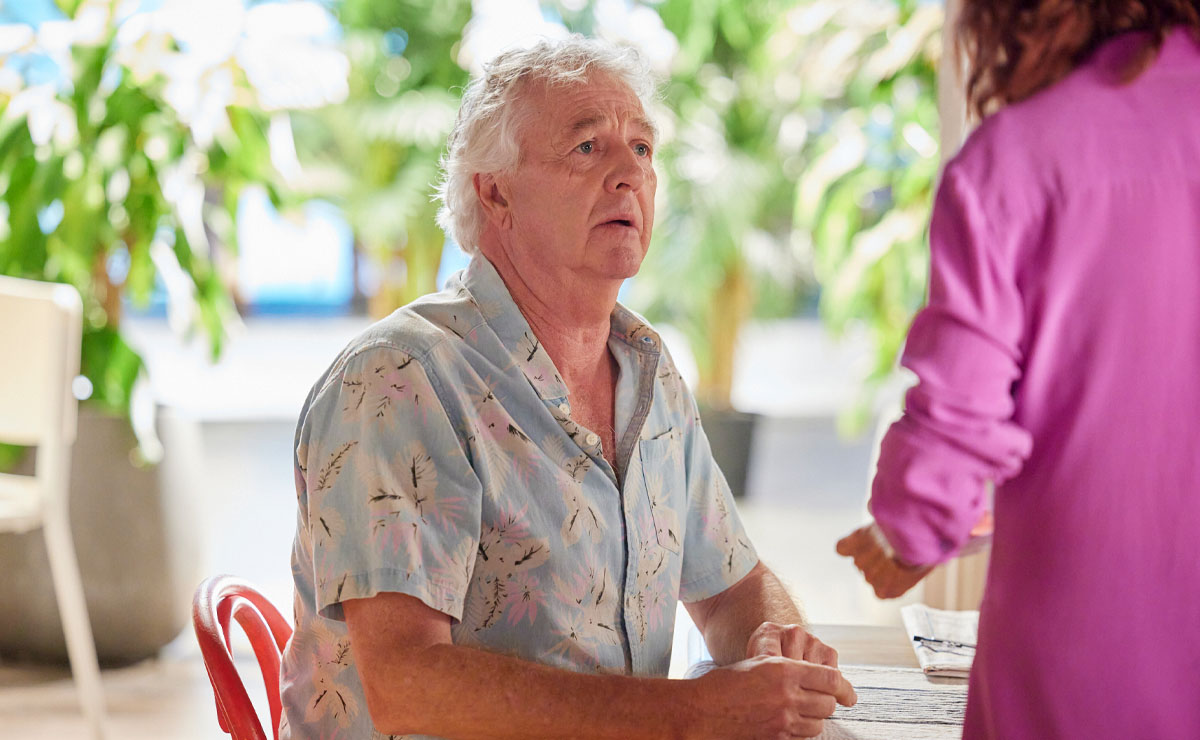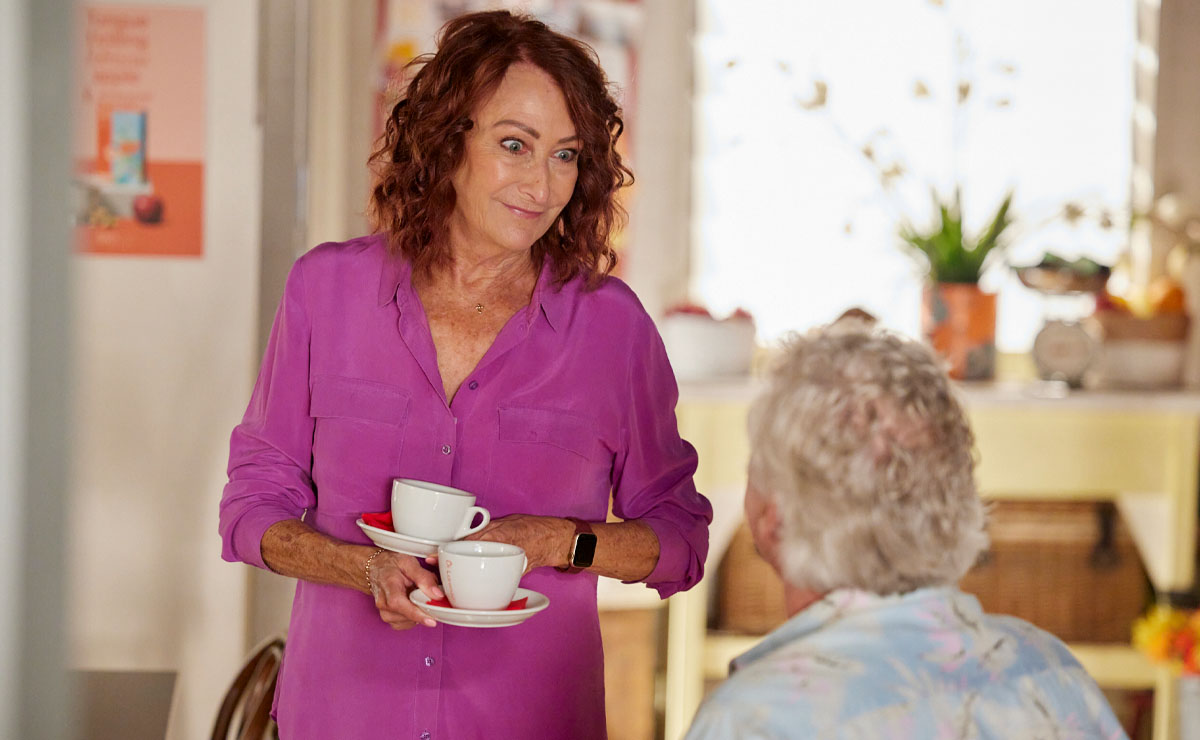 When Irene asks Marilyn to shut up the coffee cart, Marilyn drags John outside with her, where he explains that whilst he wants to move home, he doesn't want it to be at the expense of Irene's happiness!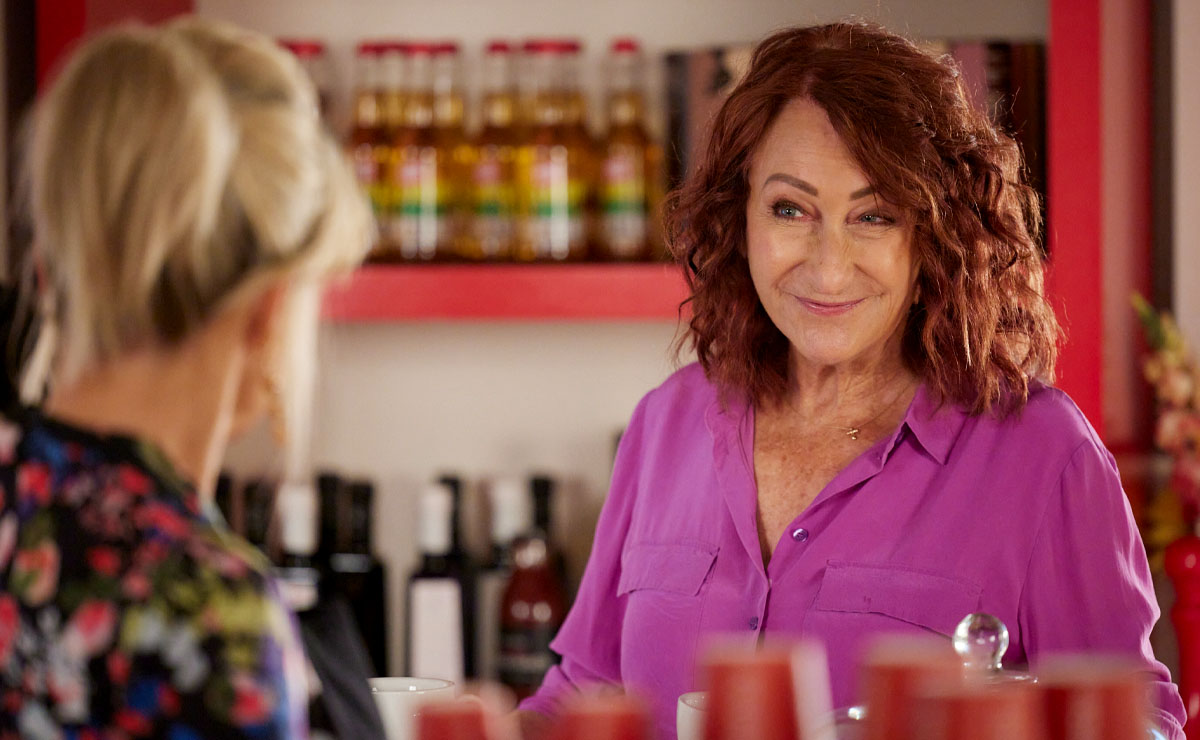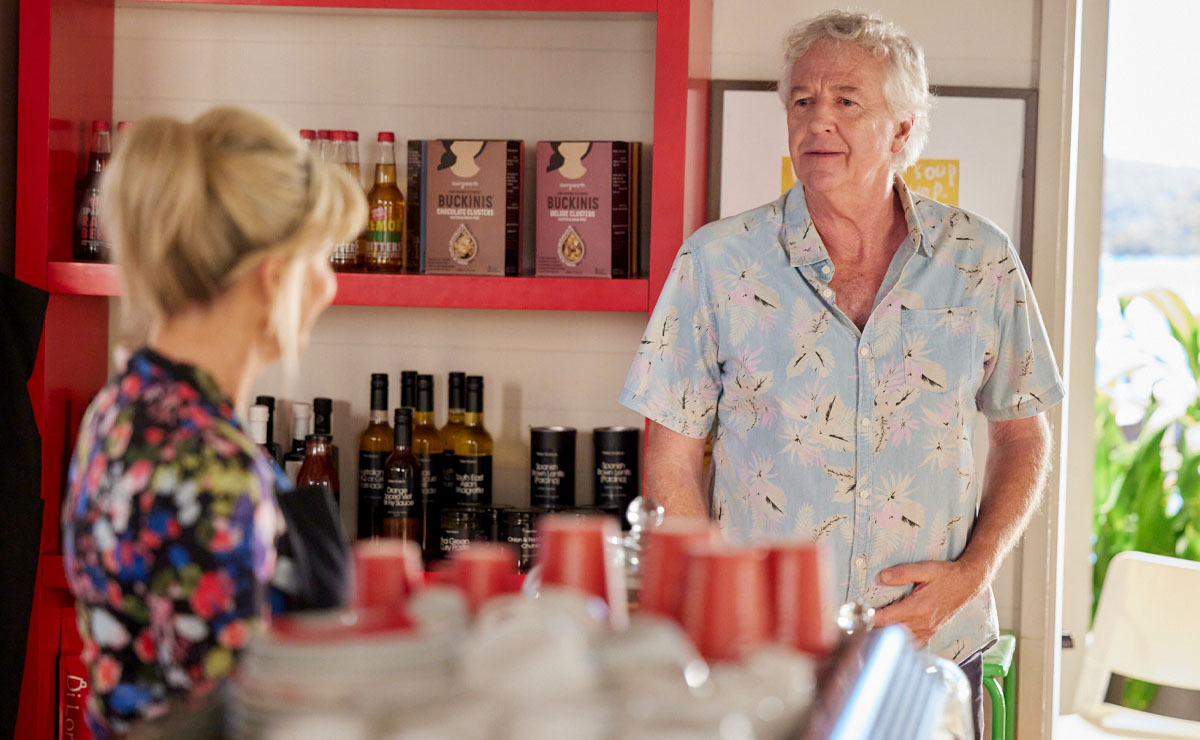 John wonders whether he should dial up his annoying habits to soften the blow a bit, but Marilyn reminds him that after recent events, Irene would prefer honesty. John agrees, he'll tell Irene… but in the morning.
The next day, John finally announces to Irene that he's moving back home. To his surprise, she takes it well, understanding that he needs his own space. John thanks her for everything she's done for him, and assures her that her friendship means the world to him.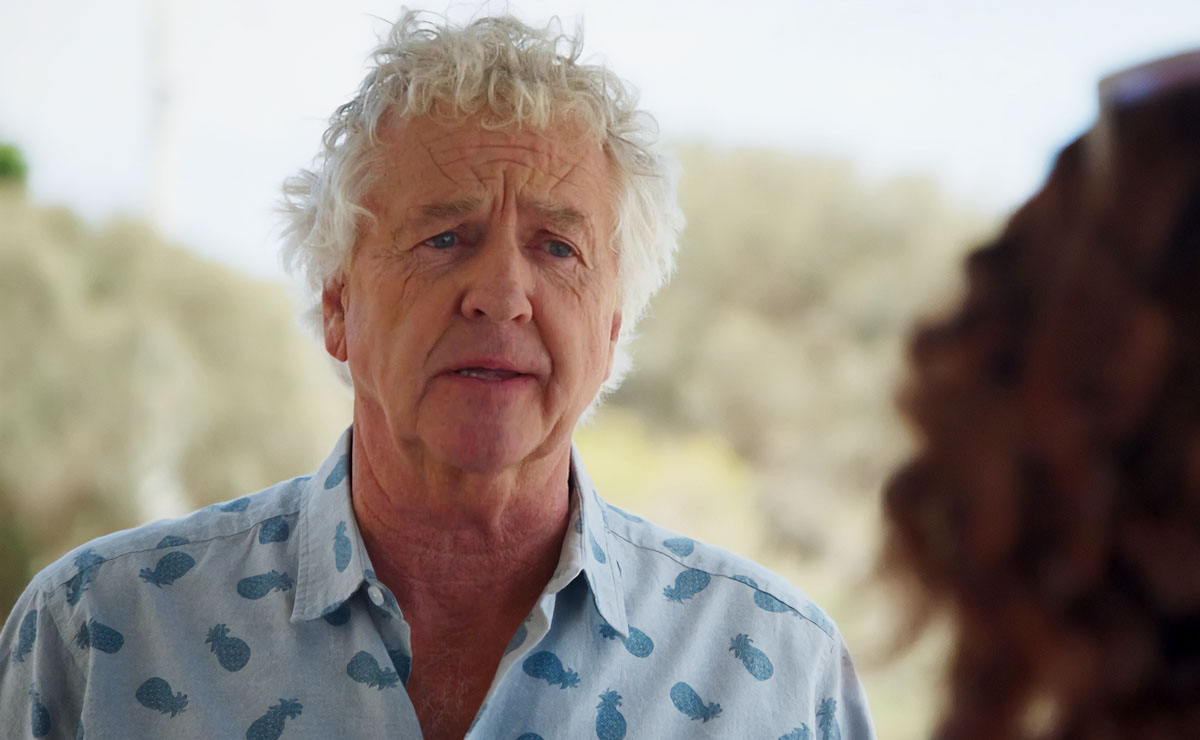 The feeling is mutual, and Irene reiterates that she will be fine on her own. But as John heads away, it's clear that Irene is more upset than she's letting on…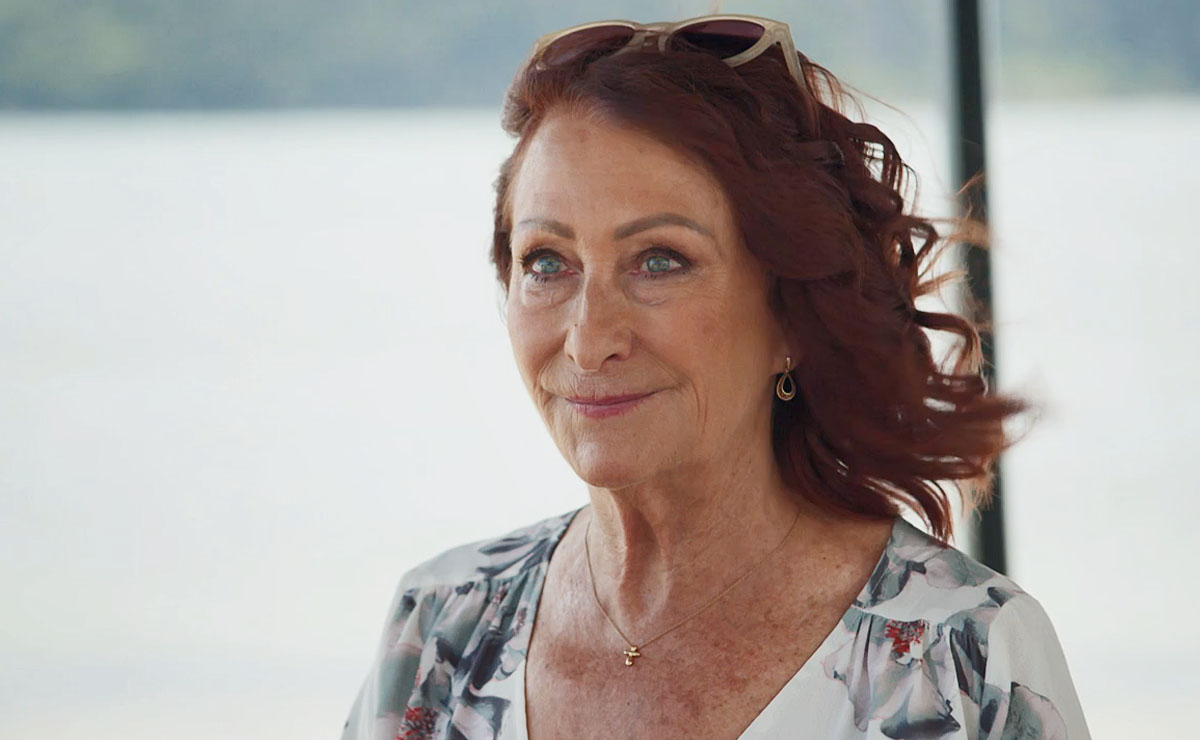 ---
Elsewhere in Summer Bay, with Justin (James Stewart) back on board with Lyrik to resume his duties as 'manager', he catches up with Kirby (Angelina Thomson) who has been working hard organising publicity for the upcoming album.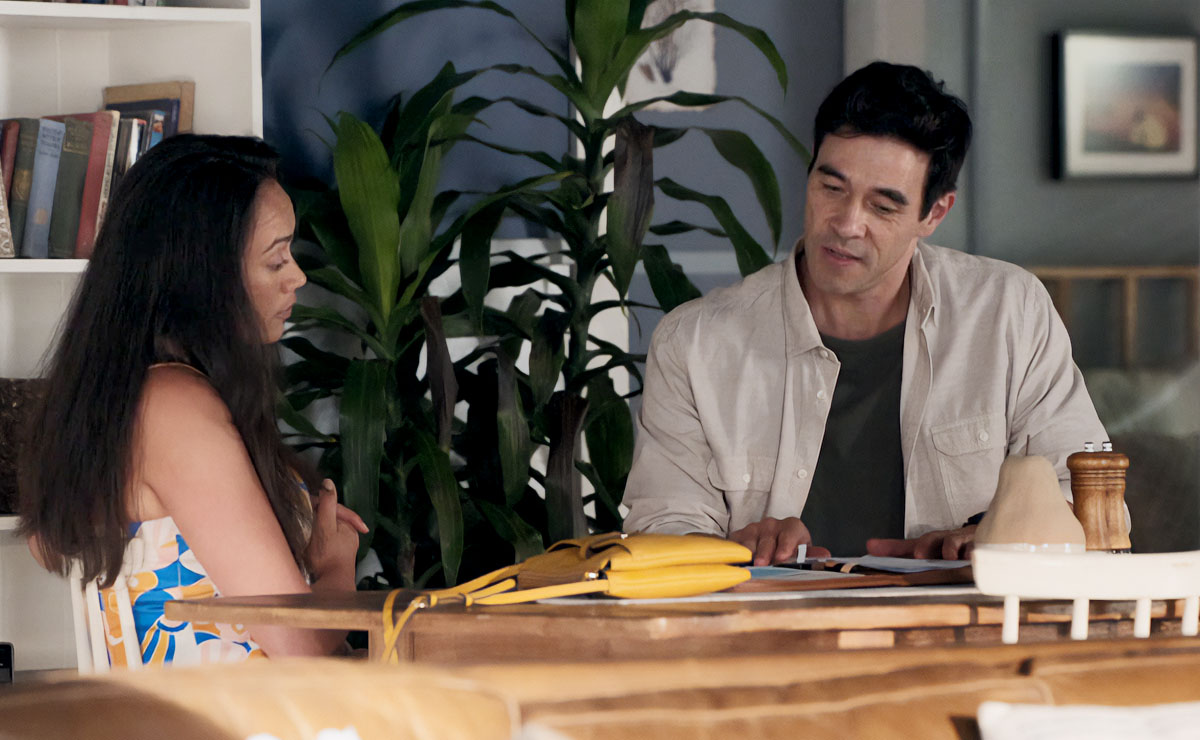 When Justin sees that Kirby has assigned a lot of the publicity to ex-boyfriend Theo (Matt Evans), despite his discomfort at promotional stuff, Justin is concerned that she may be punishing Theo for their recent breakup. Kirby finds the suggestion insulting, and points out that as frontman, Theo will have to lump it.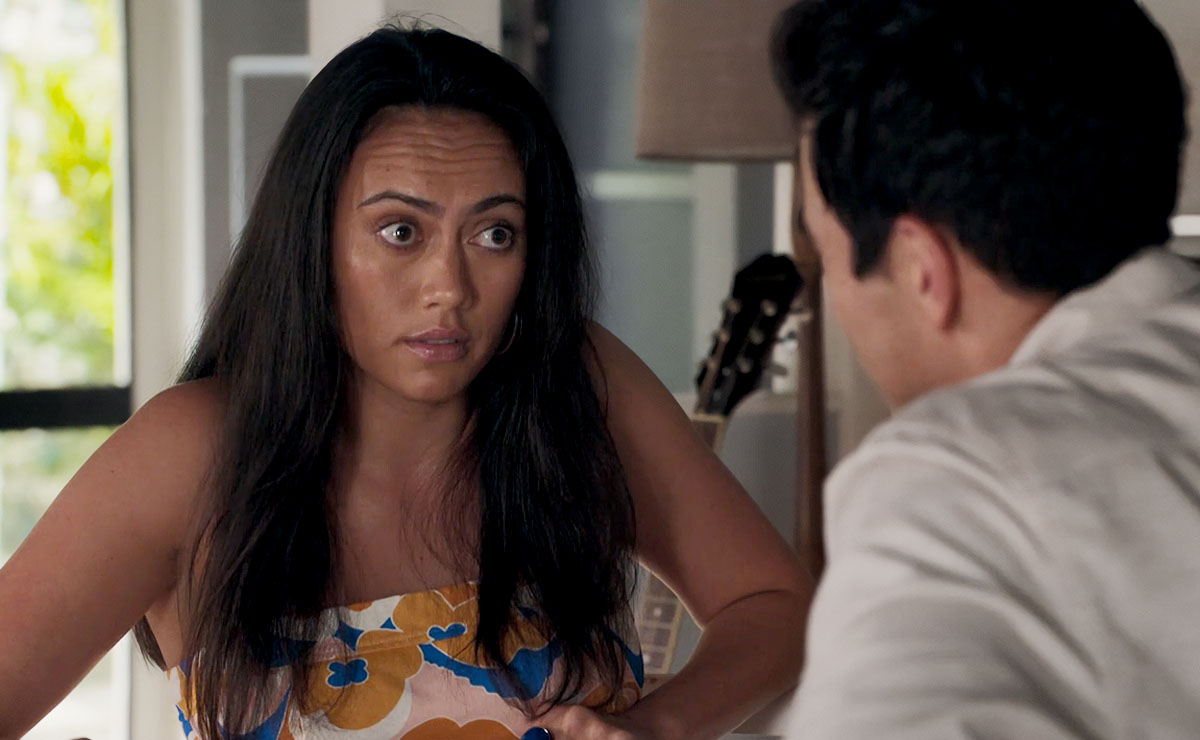 Leah (Ada Nicodemou) offers to try and clear the air, and later suggests to Kirby that whilst Justin may have gone about things the wrong way, perhaps there is some truth with what he's saying.
Leah reckons it's classic break-up behaviour, Kirby focusing on the band 24/7 to avoid thinking about the end of her relationship, but when that ex-boyfriend is in the band it makes it even harder.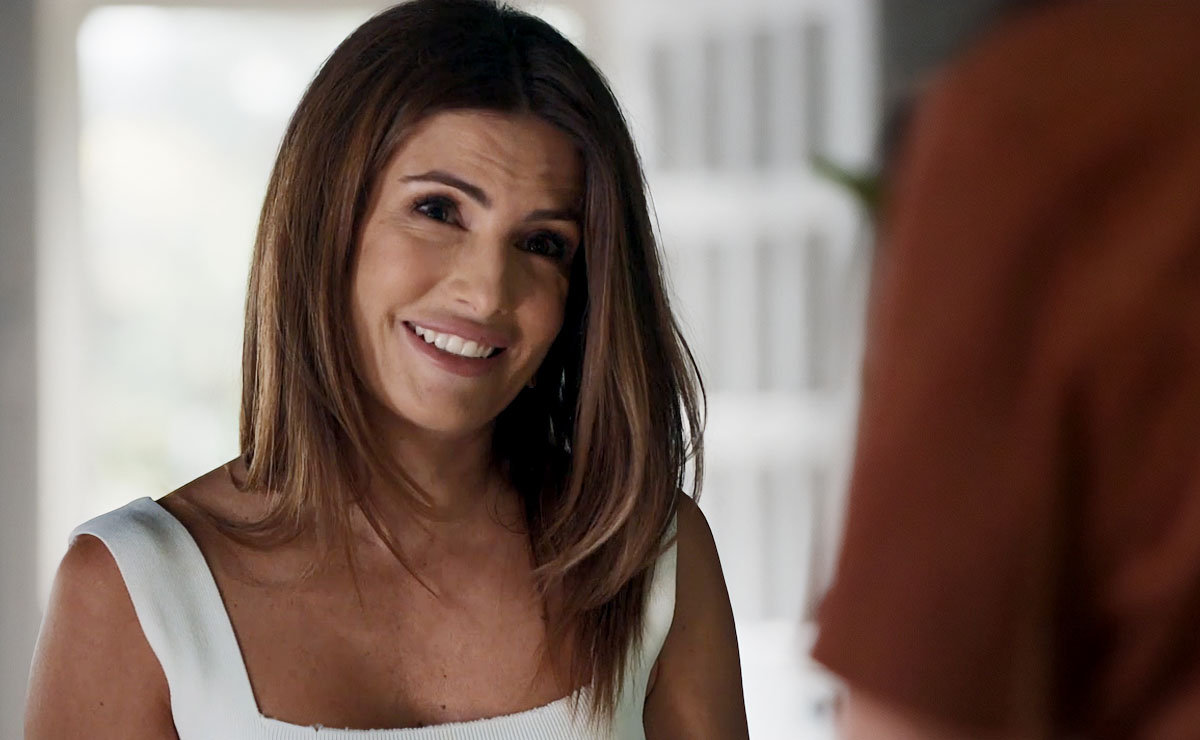 Leah suggests that Kirby needs to find something else in her life to focus on, other than the band and Theo. This doesn't go down well with Kirby, who proceeds to point out that having Leah, Theo's aunt, as her boss at the diner makes it even more difficult. Figuring she needs some space from it, Kirby tells Leah that she quits the diner, and walks out.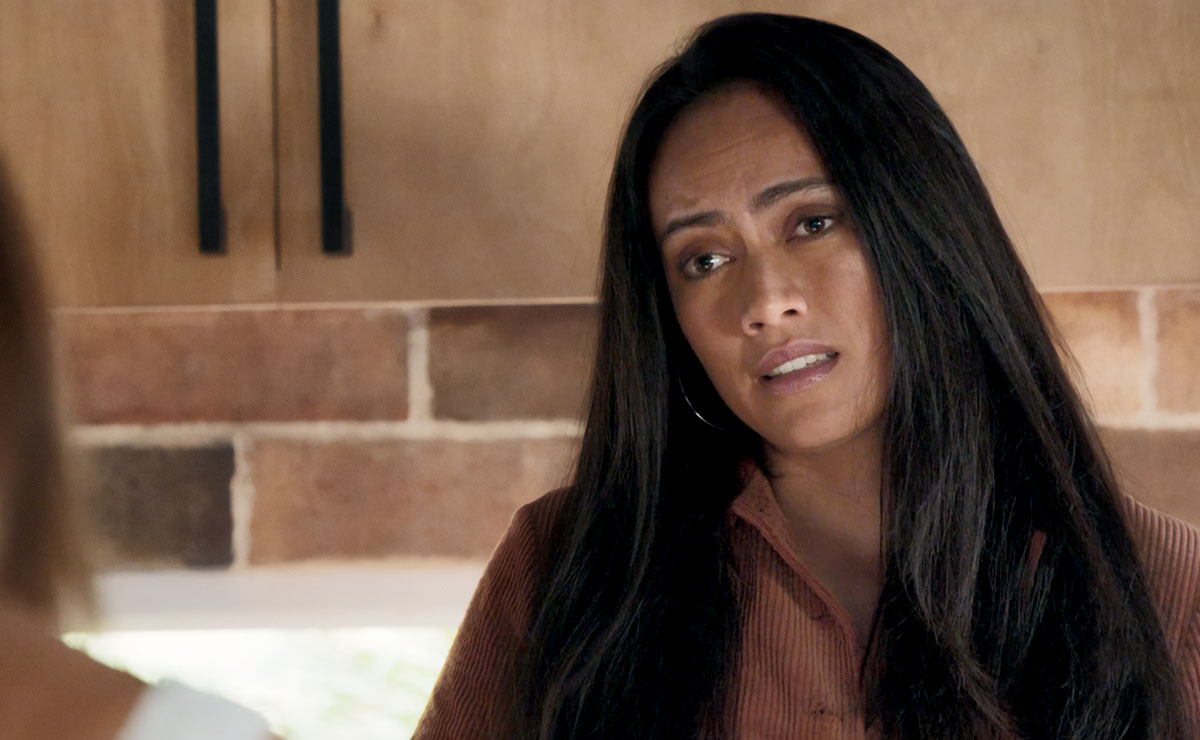 After making it clear to Justin and Theo that their relationship is purely professional from now on, Kirby takes a moment down on the beach to reflect. Mackenzie (Emily Weir) approaches as Kirby watches the various surfers catching waves, and Kirby reveals to her that there was a time when she would have been out there too.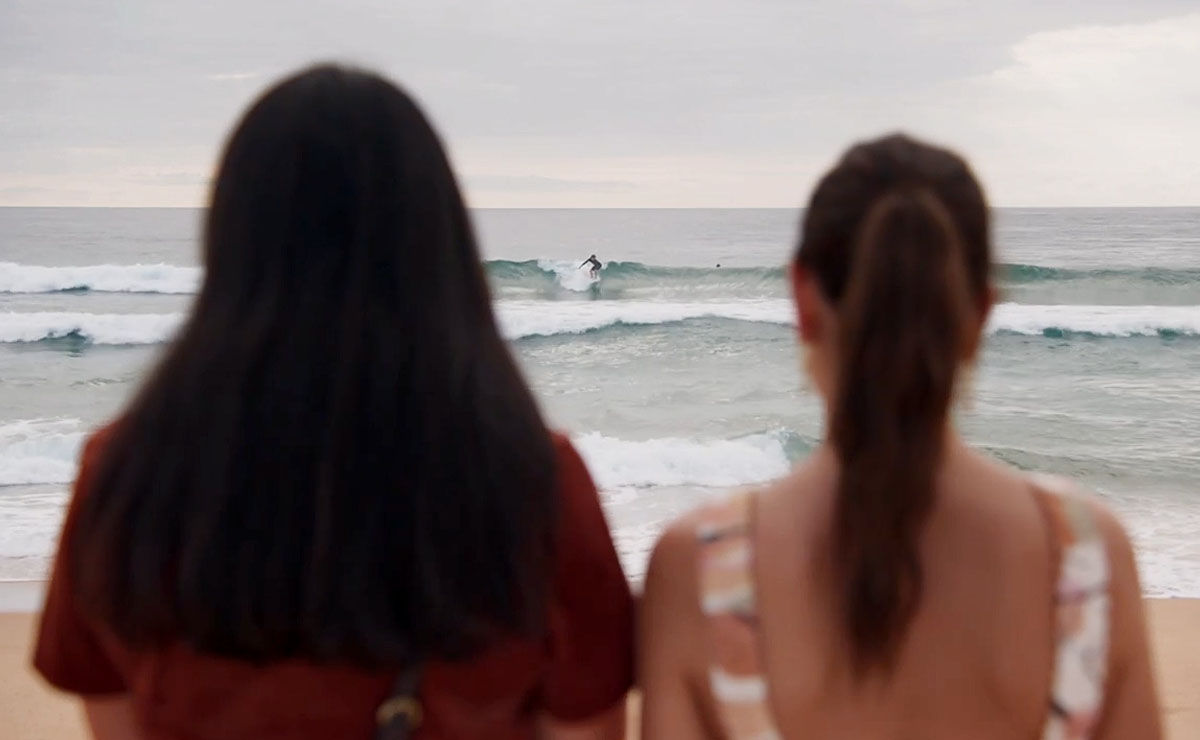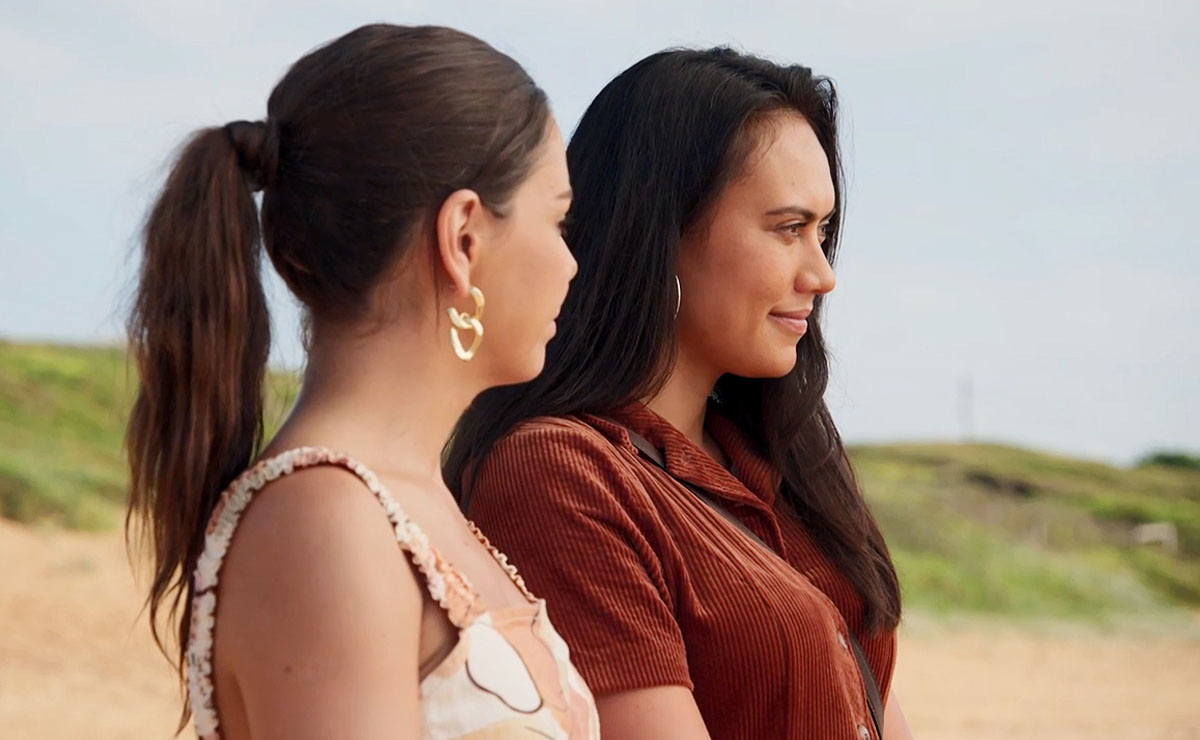 Kirby goes on to explain that surfing was like her meditation, and she used to regularly go down to a remote beach where she had the whole place to herself—her own little paradise.
However, one day she wiped out and got knocked out by her board, with it only being pure chance that a passerby spotted her and raised the alarm. Kirby woke up in hospital, and hasn't been able to get on a board since.
Mac reckons its time that Kirby faced her fear. Promising that she'll be there with her every step of the way, Mac borrows some gear from Mali (Kyle Shilling) to give to Kirby and the pair head back down to the beach.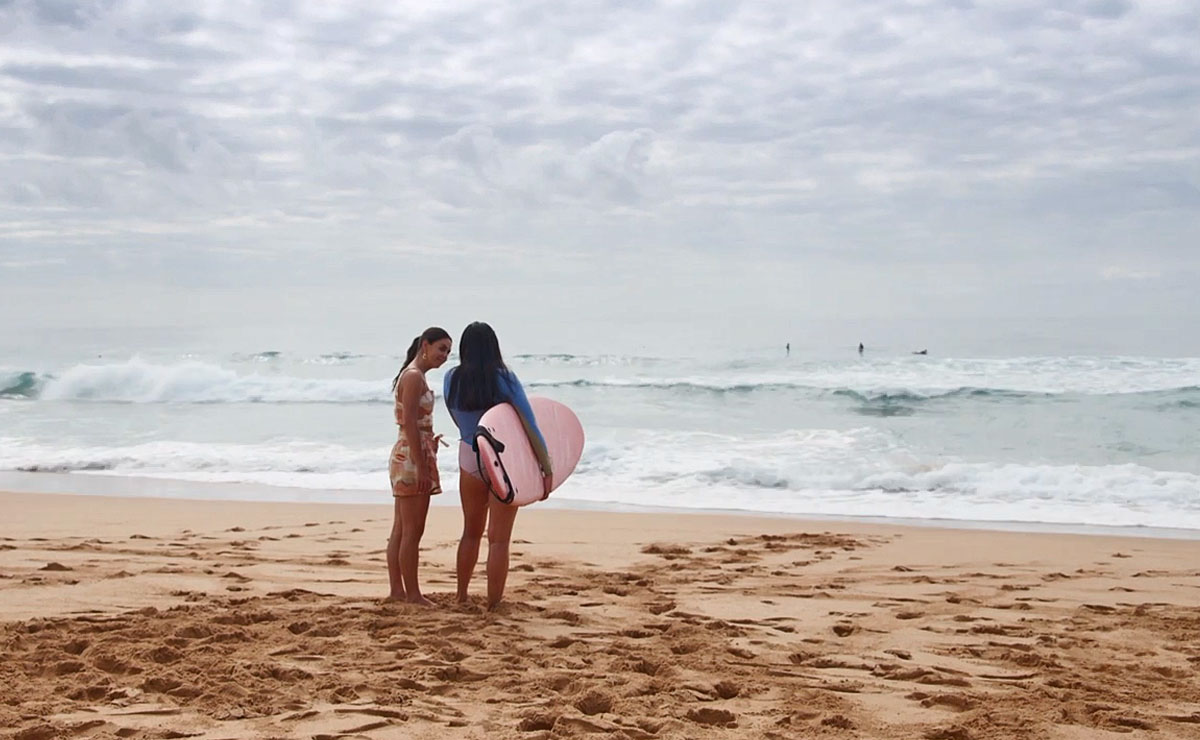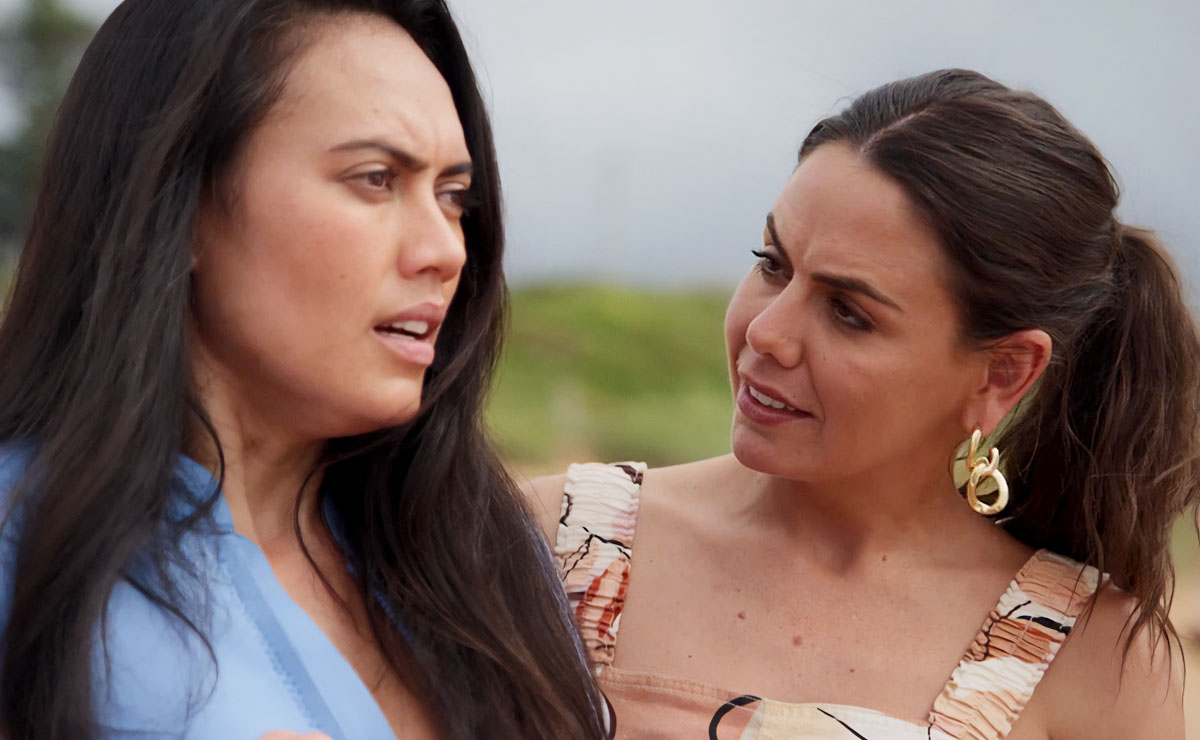 Kirby takes her time as she paddles out, steeling herself to stand up on the board, but once she does so she finds a new sense of courage.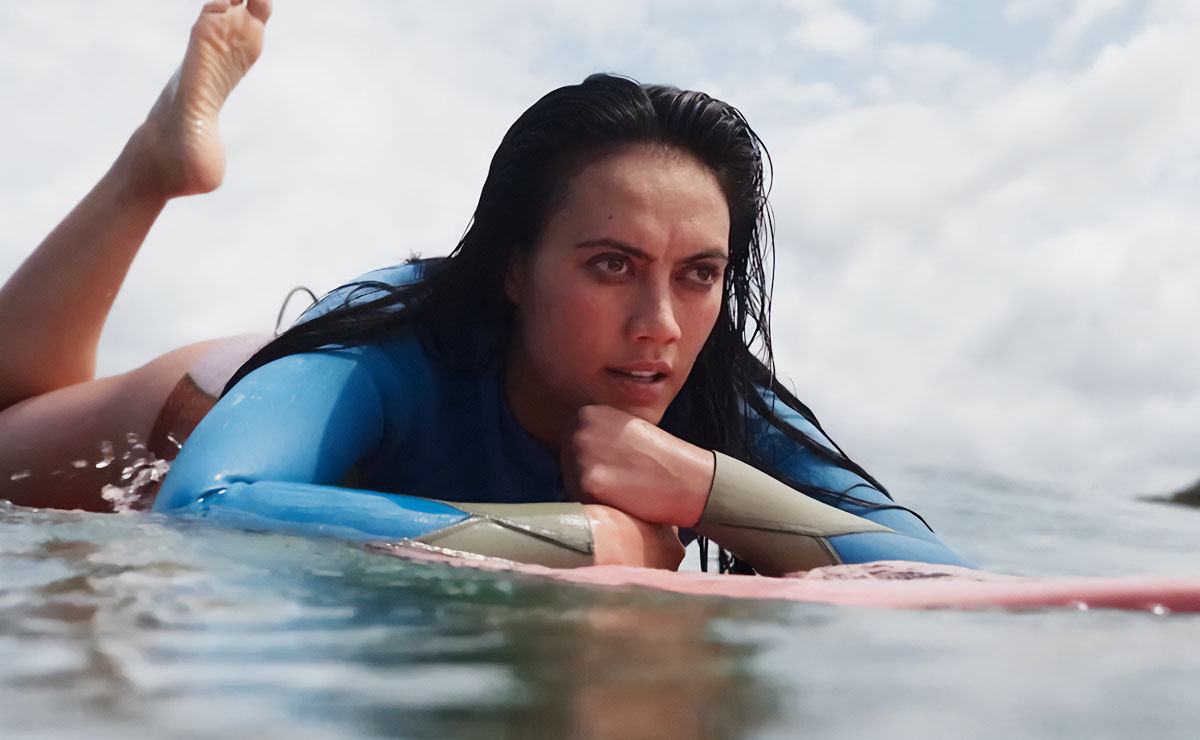 Mac cheers from the beach as Kirby triumphantly catches wave after wave and conquers her fear.
Theo then approaches, curious as to who Mac is cheering for, and is stunned when she points out Kirby in the surf.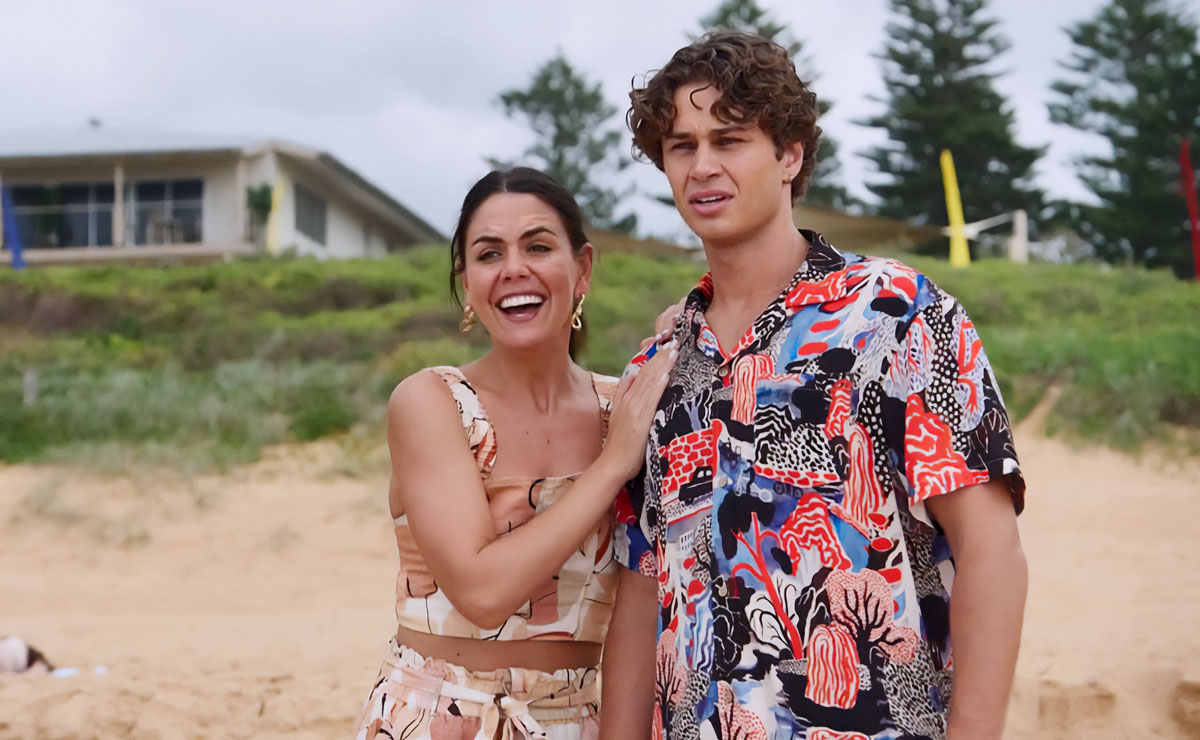 Mac catches his reaction… "You didn't know?"
"The whole time we were together, she never mentioned it…" a miffed Theo replies.
Given Theo is a keen surfer himself, that's got to smart a bit! Is this revelation going to cause further issues between the pair?
---
Rose is suspicious of Mali after the farmhouse is trashed by a jealous husband, while Felicity's blackmailer demands $10,000.
---
Monday 4th September (Episode 8076)
Rose wants answers. Remi stands by Bree. Mercedes is torn.
Tuesday 5th September (Episode 8077)
Love is in the air for Mali and Rose. Cash has a new lead. Mercedes changes her tune. Felicity's horrors are far from fading.
Wednesday 6th September (Episode 8078)
Felicity and Tane are running out of time. Justin is back in action. Can John end his tenancy at chateau Irene?
Thursday 7th September (Episode 8079)
Felicity accumulates more lies. Justin questions Kirby's motives. John comes clean to Irene.
Friday 8th September (Episode 8080)
Kirby rides a wave of change. Justin's on the hunt. Irene is alone and lonely.
Spoilers in your inbox every weekend!