First glimpses of new Neighbours as filming resumes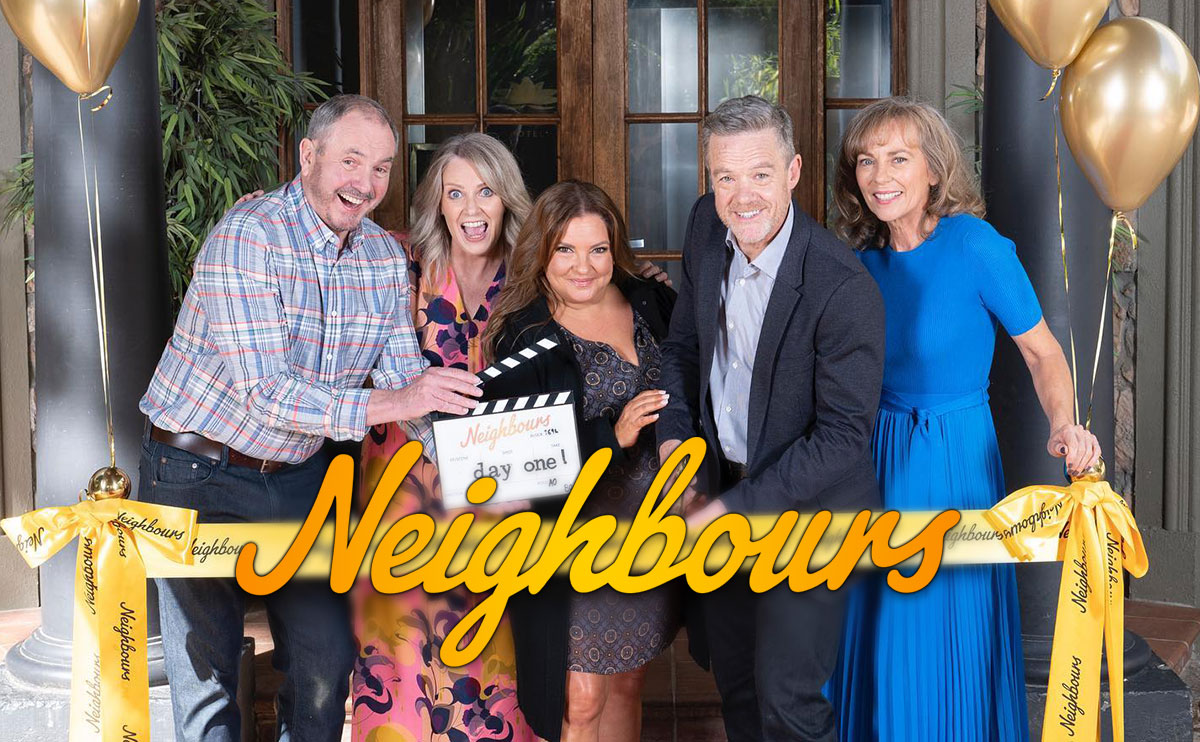 Neighbours has resumed filming today, and we've had our first glimpse of the show's new faces and returns – including one that hasn't previously been announced.
Filming for the show's final episode wrapped on 10th June 2022, over 37 years after its first episode aired in Australia.
Now, less than a year later, the show's actors are getting back behind the cameras to film the first scenes for the rebooted show, after it was saved by Amazon late last year.
With cameras rolling for the first time in nearly a year, Channel 10, the show's Australian home since 1986, has been running a series of features across its programmes and has given us a few glimpses of what's in store.
Starting at 10am this morning, Studio 10 broadcast a number of segments from Nunawading Studios, home to Neighbours' internal sets and Lassiters backlot.
Presenter Angela Bishop chatted to a number of the returning cast, interviewing Alan Fletcher (Karl Kennedy), Stefan Dennis (Paul Robinson), Rebekah Elmaloglou (Terese Willis), Lucinda Cowden (Melanie) and Annie Jones (Jane Harris), who are all reprising their roles on the rebooted show.
Read More – Who else is back in Neighbours in 2023?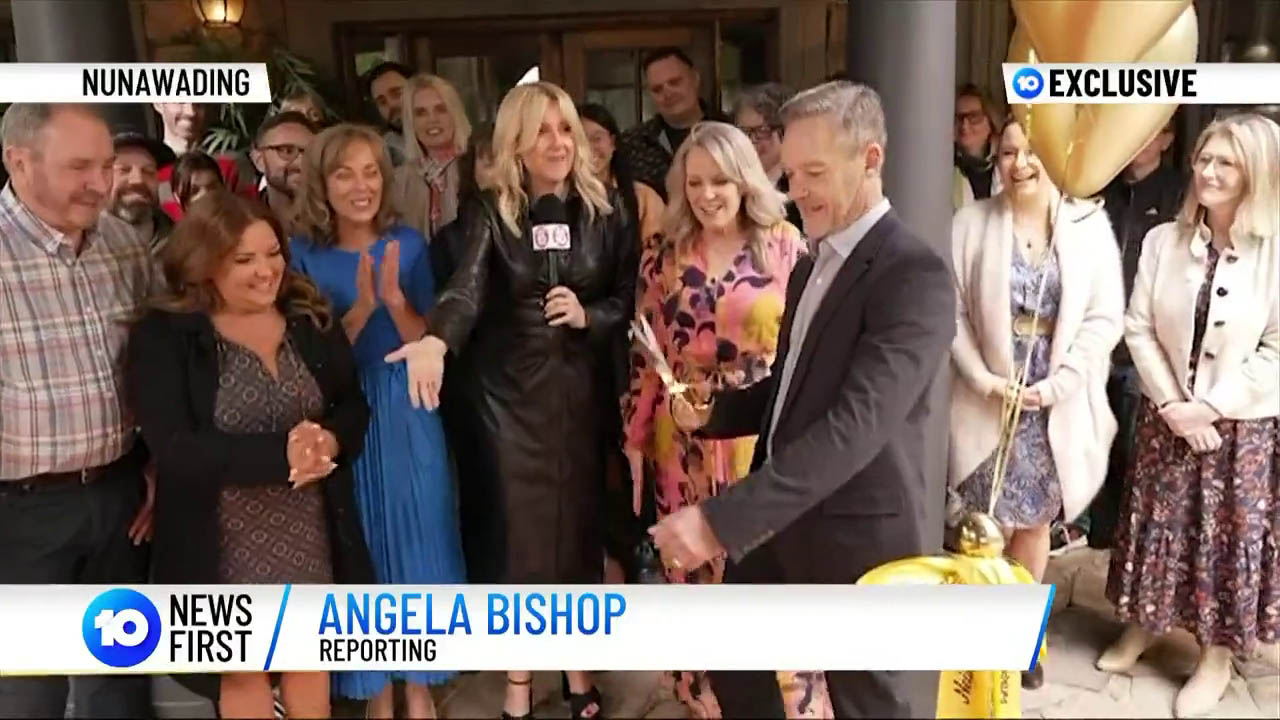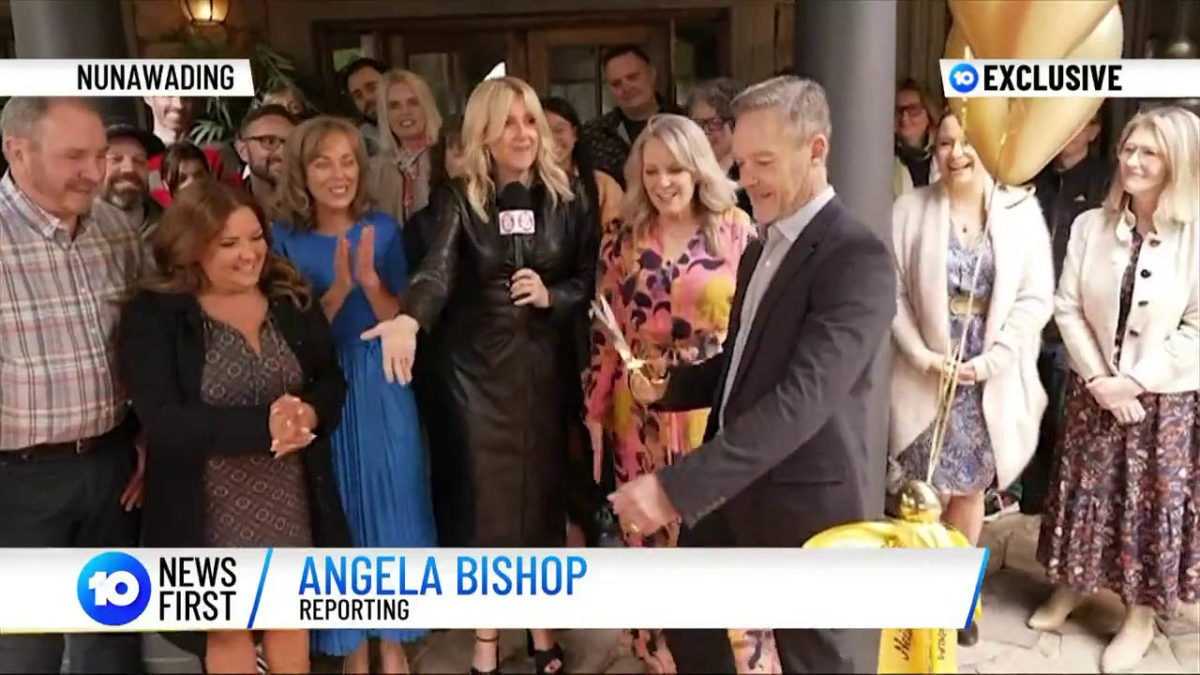 Stefan Dennis, who has seen Neighbours axed twice during his long tenure on the show, cut a gold ribbon to officially re-open the Lassiters complex.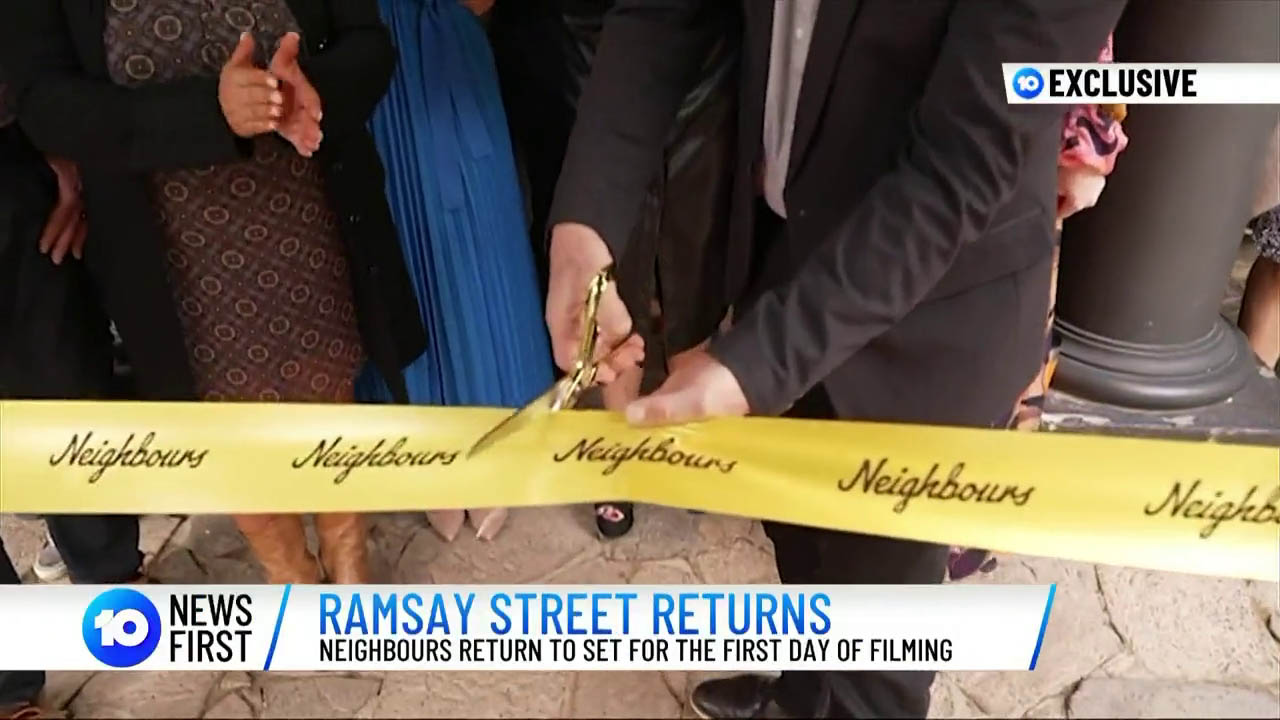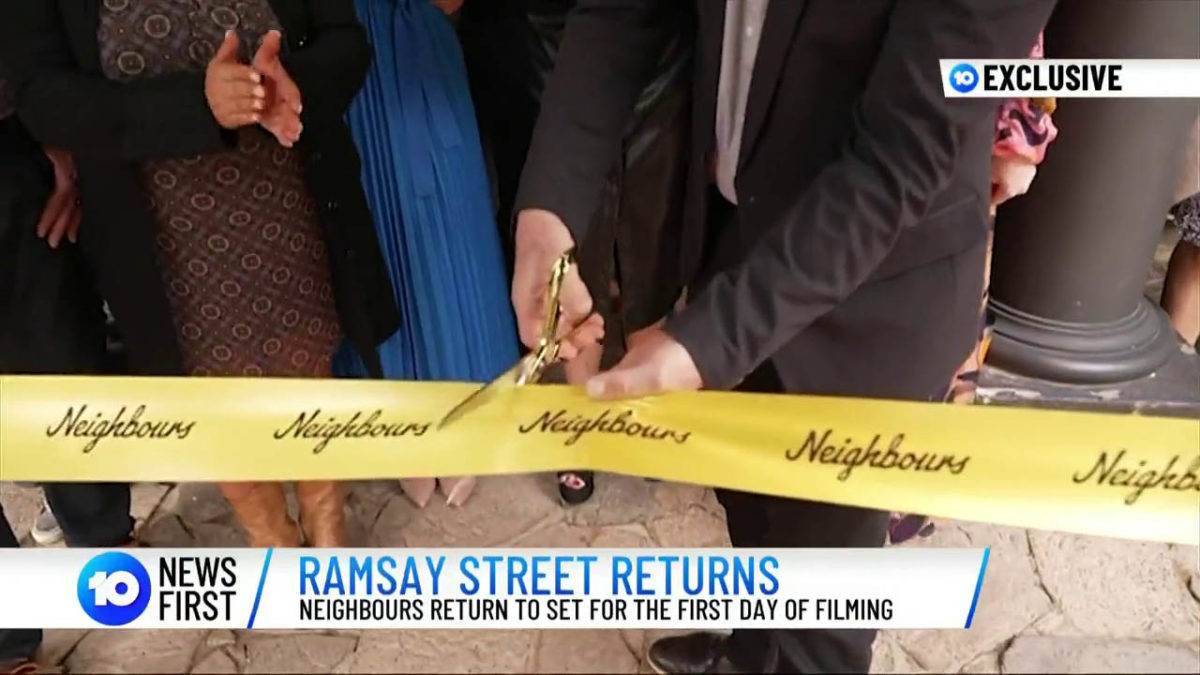 All five remained very tight-lipped when asked what was in store, and the only hint of spoilers seemed to be that Paul and Terese are still together.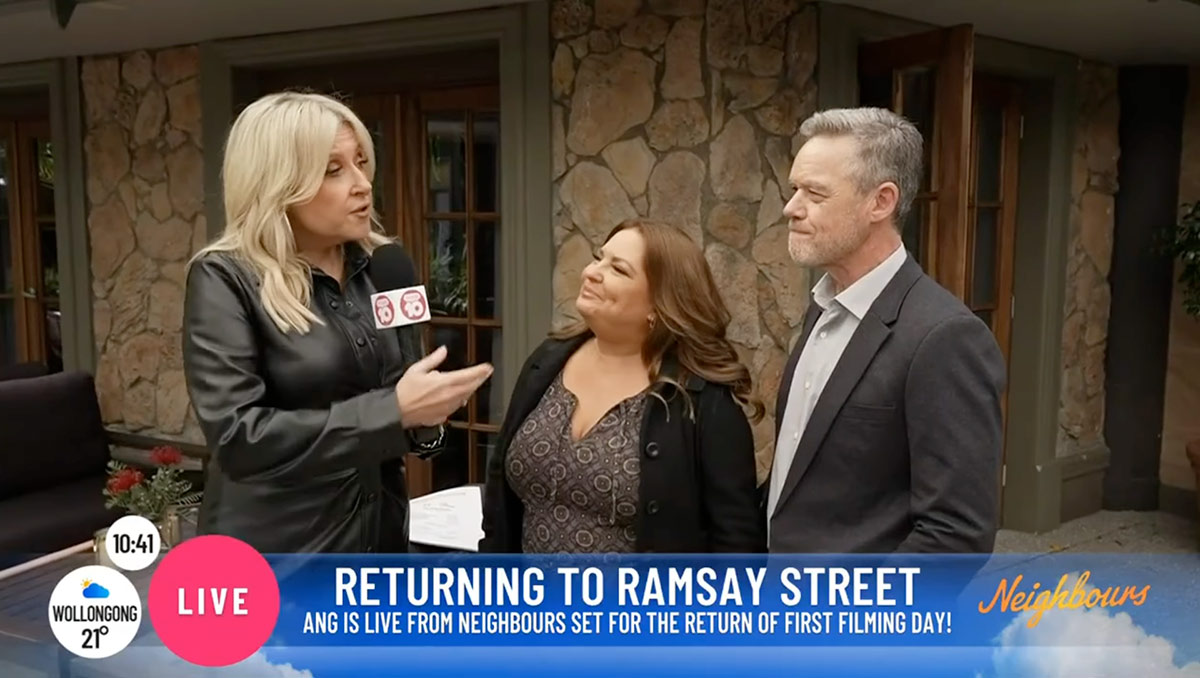 The pair had begun divorce proceedings in the show's final year, with both planning on leaving Ramsay Street for a fresh start. They only reunited in the final episode.
Stefan rubbed his stubble against his on-screen wife's face as Angela joked that Terese would have to put up with "pash rash" on the new show, before Stefan confirmed that he would be returning to Paul's clean-shaven look before stepping in front of the cameras again.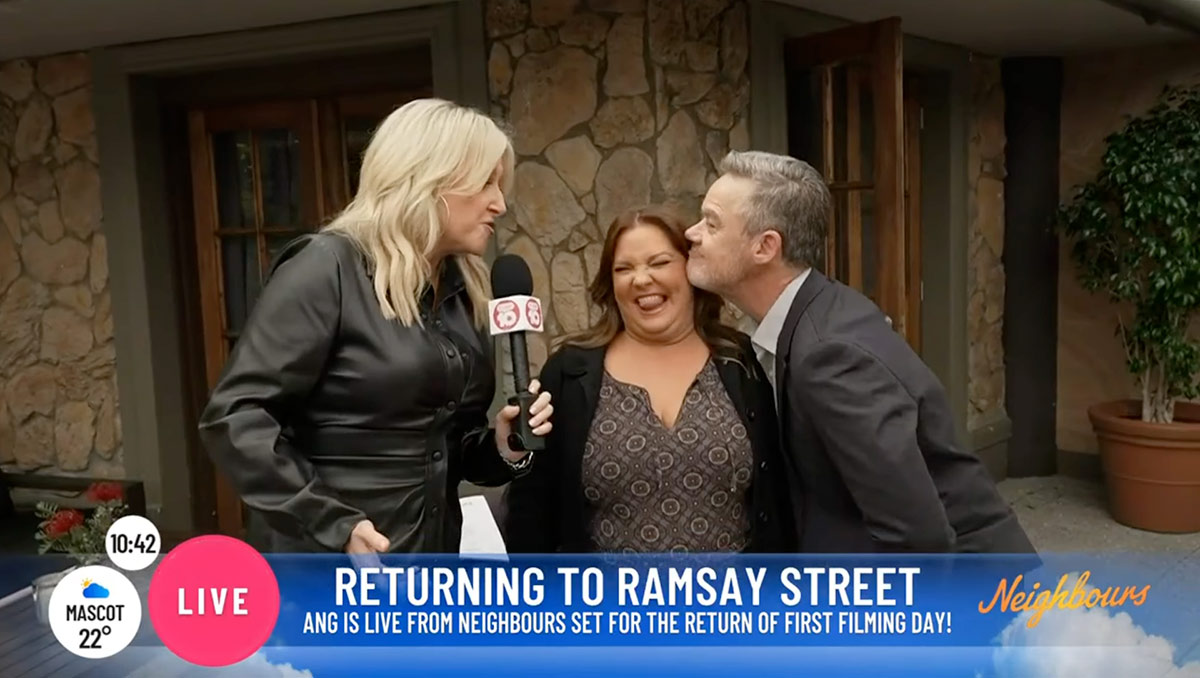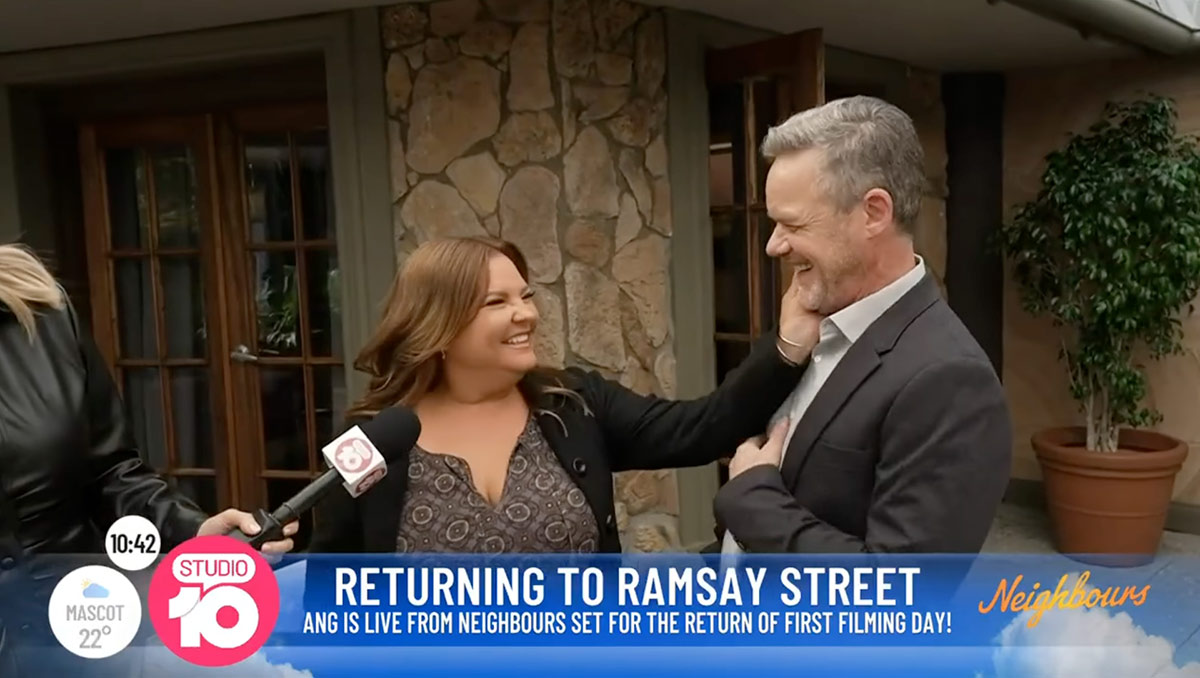 Despite Angela's best efforts, the Studio 10 presenter couldn't get Annie Jones, who plays Jane Harris, to give up any precious info on whether there'll be any sign of Guy Pierce as Mike Young when Neighbours returns later in the year.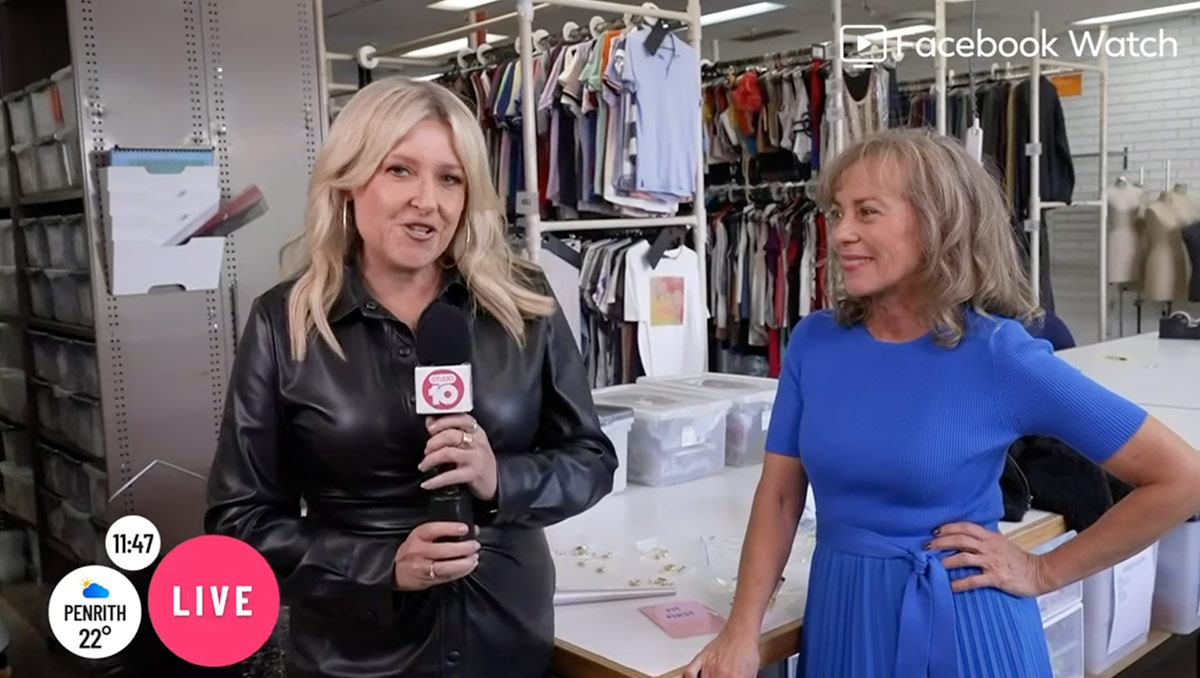 The 80s sweethearts Jane and Mike reunited in the show's final week, and the question of whether the pair would still be together in the rebooted show has become one of the biggest mysteries.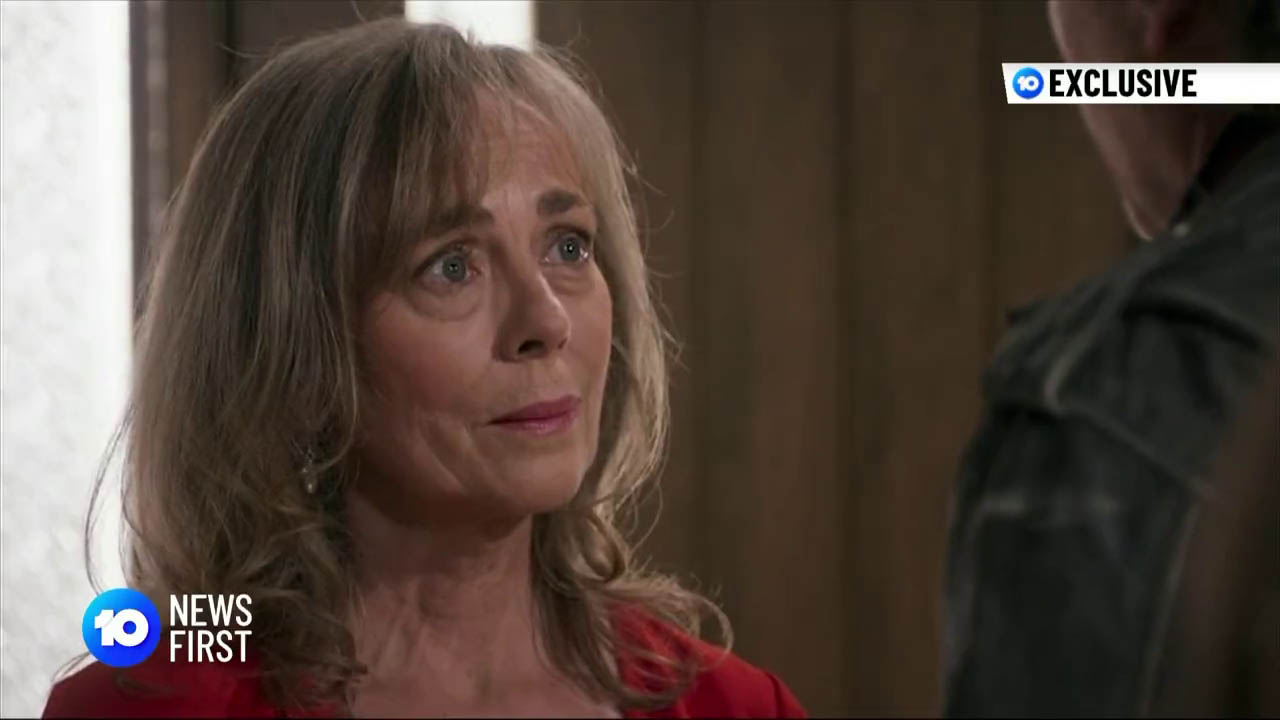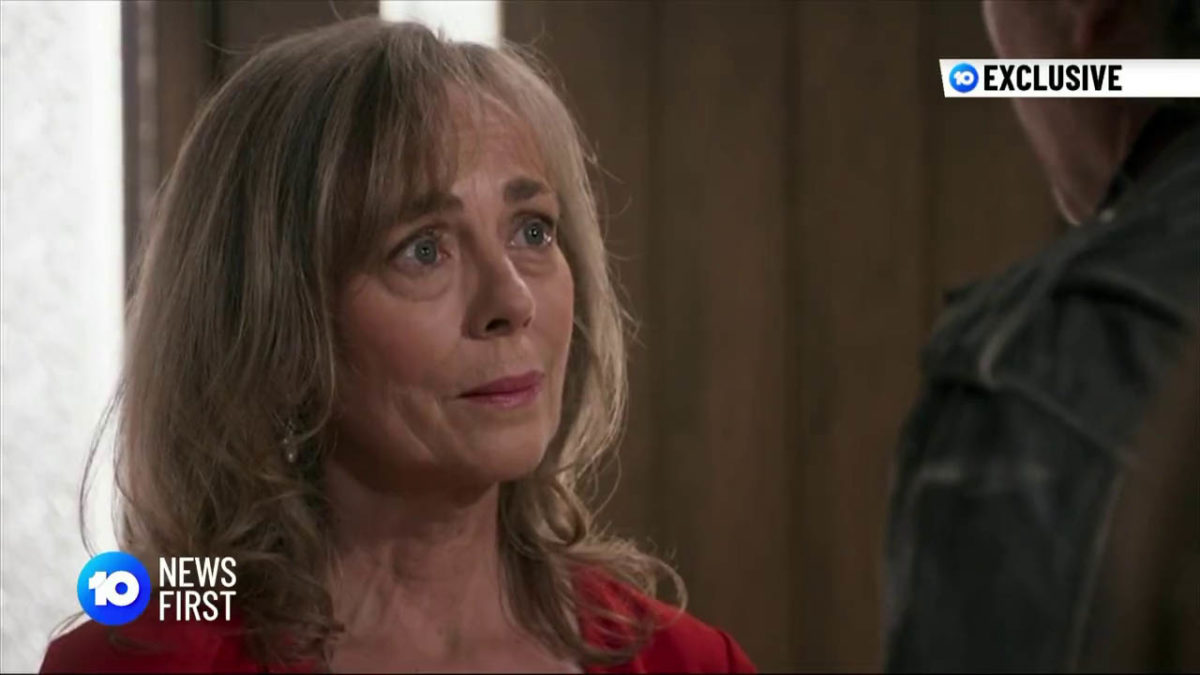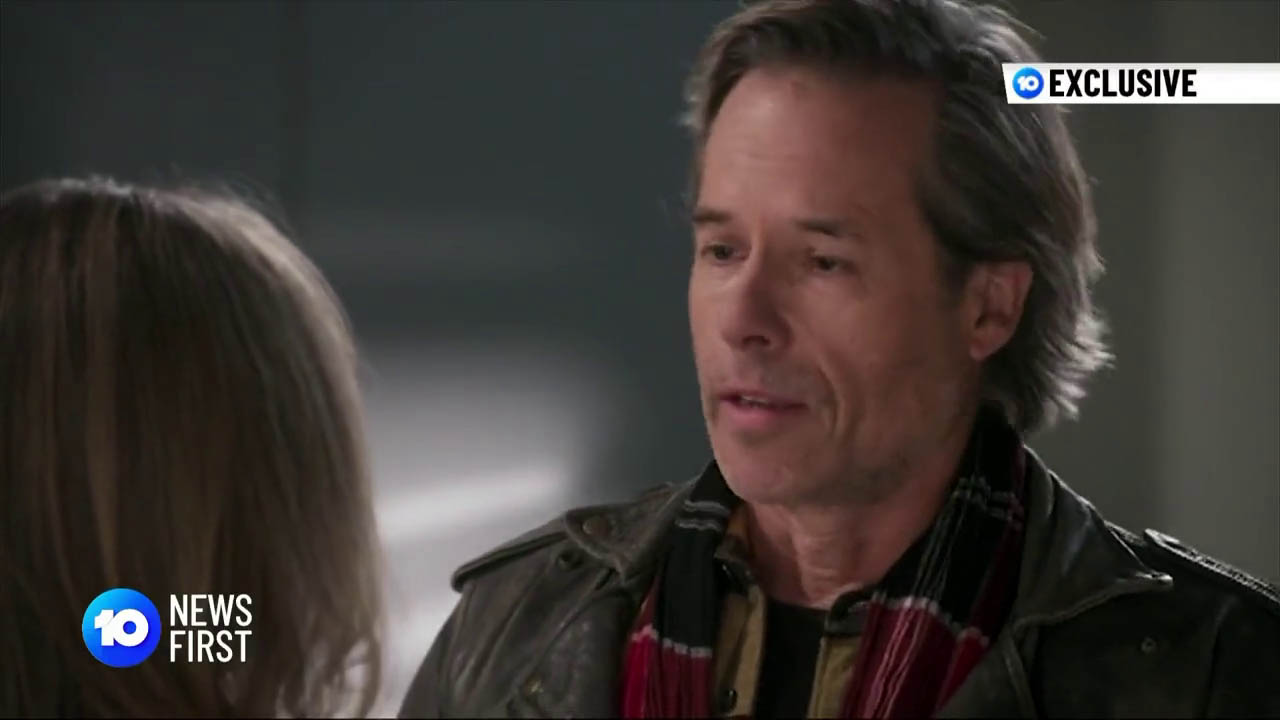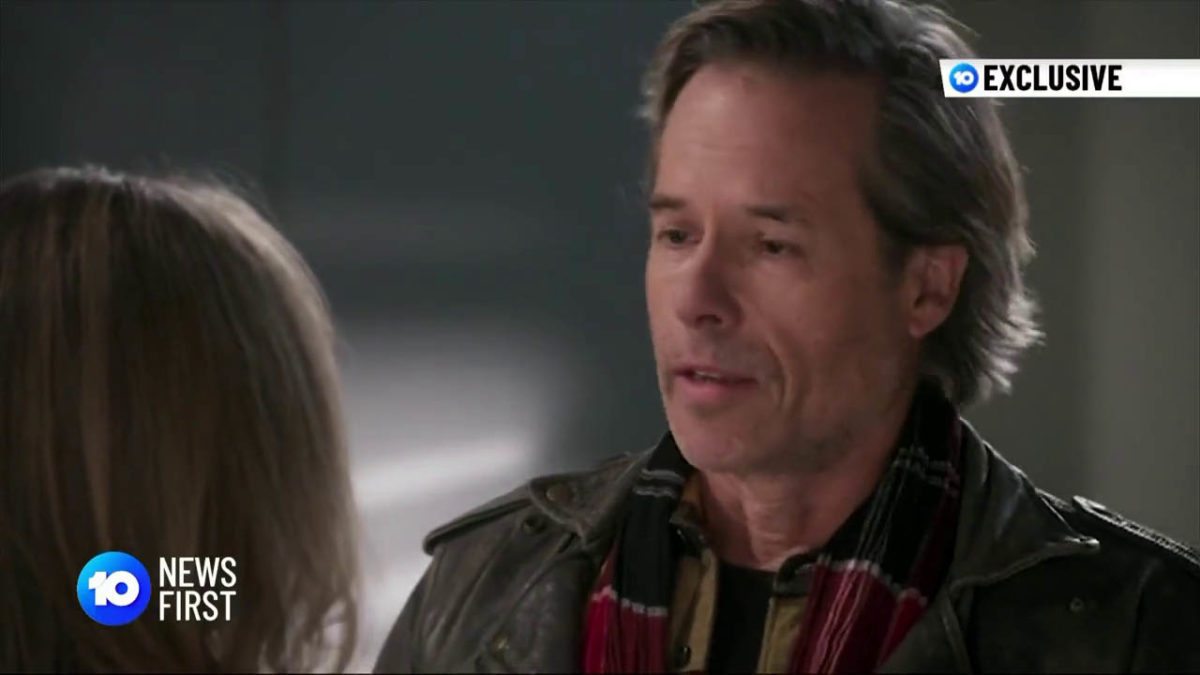 While the cast wouldn't give anything away, we did get some intriguing spoilers when Channel 10's 10 News First headed to Pin Oak Court later on Monday – including what appears to be our first look at some new faces.
A clip showed a behind-the-scenes look at filming on Pin Oak Court, the residential street in Melbourne's suburbs which is used for filming Ramsay Street's external shots.
The brief clip showed rehearsals for a scene in which a man who appears to be Andrew Rodwell, played by Lloyd Will, walks across Ramsay Street pushing a large container.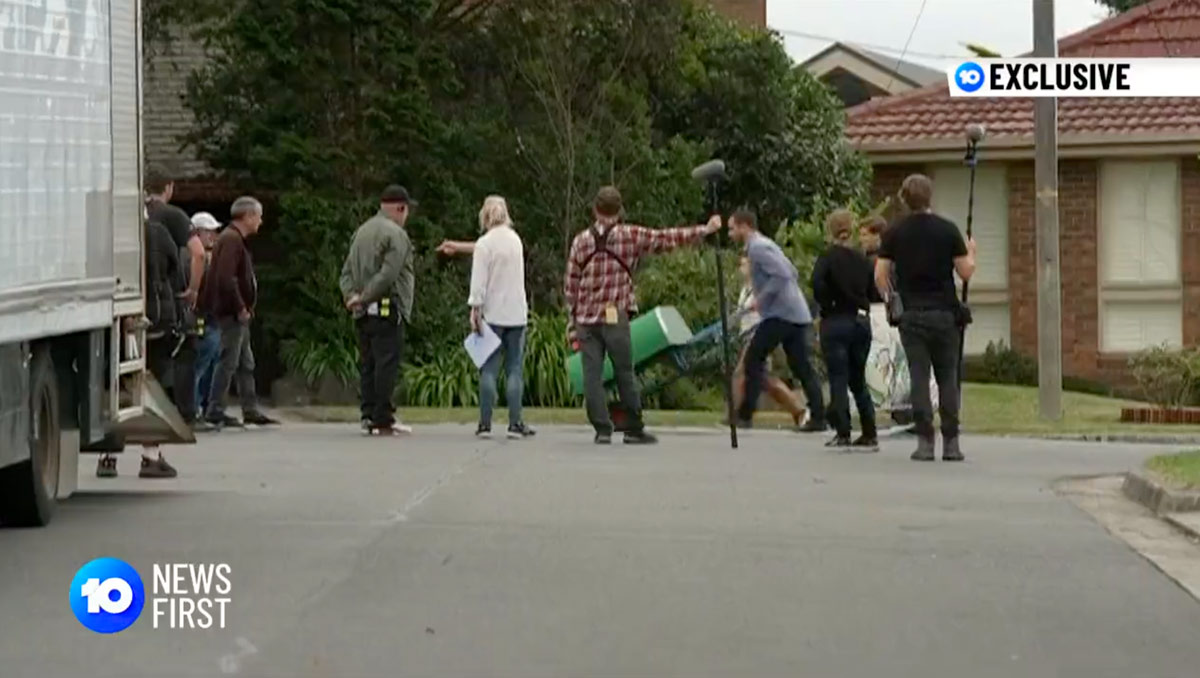 He appears to be walking in the direction of No. 26, the house that he, wife Wendy (Candice Leask) and daughter Sadie (Emerald Chan) moved into in the show's final year.
While a number of ex-cast members have already been confirmed as returning, this is the first confirmation we've had that Lloyd Wills will be making a return to Neighbours as Andrew Rodwell.
There's no confirmation yet whether Candice Leask and Emerald Chan will reprise the roles of Wendy and Sadie.
Walking behind him are two teenage children, seemingly played by previously unseen actors. One is carrying a box of belongings, while the other is carrying, intriguingly, a large picture which was previously hung in the living room of No. 30.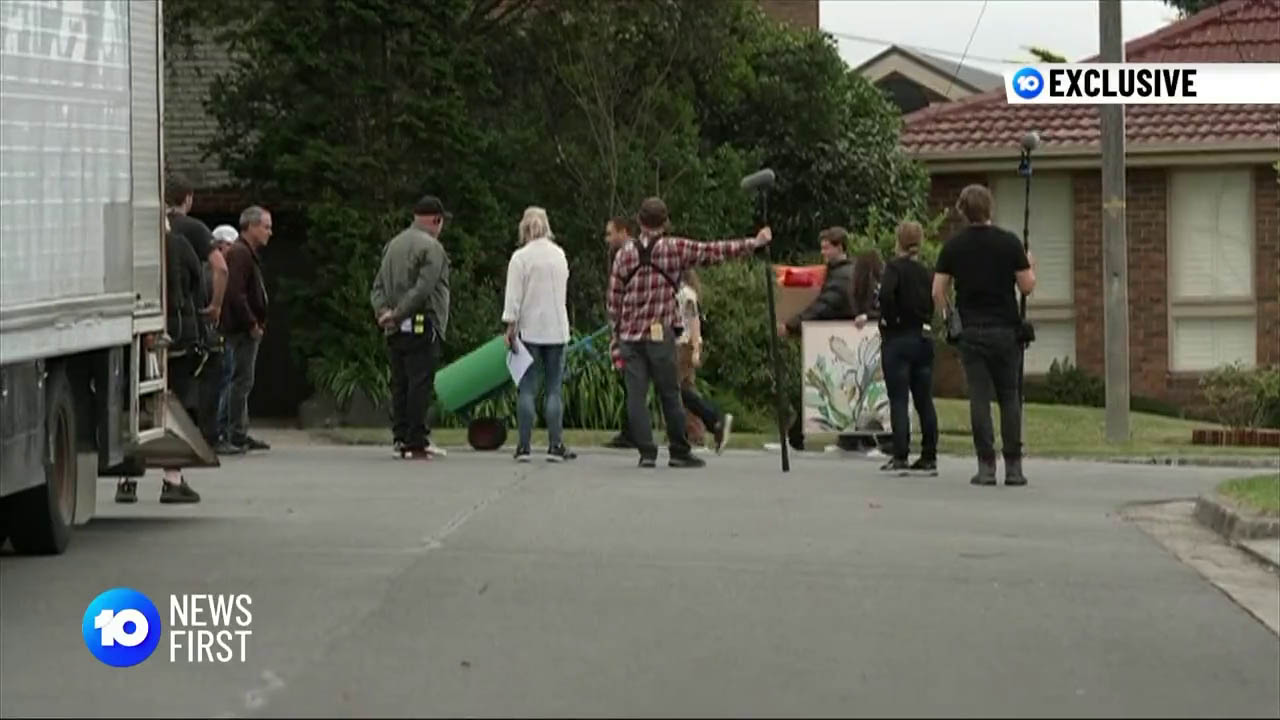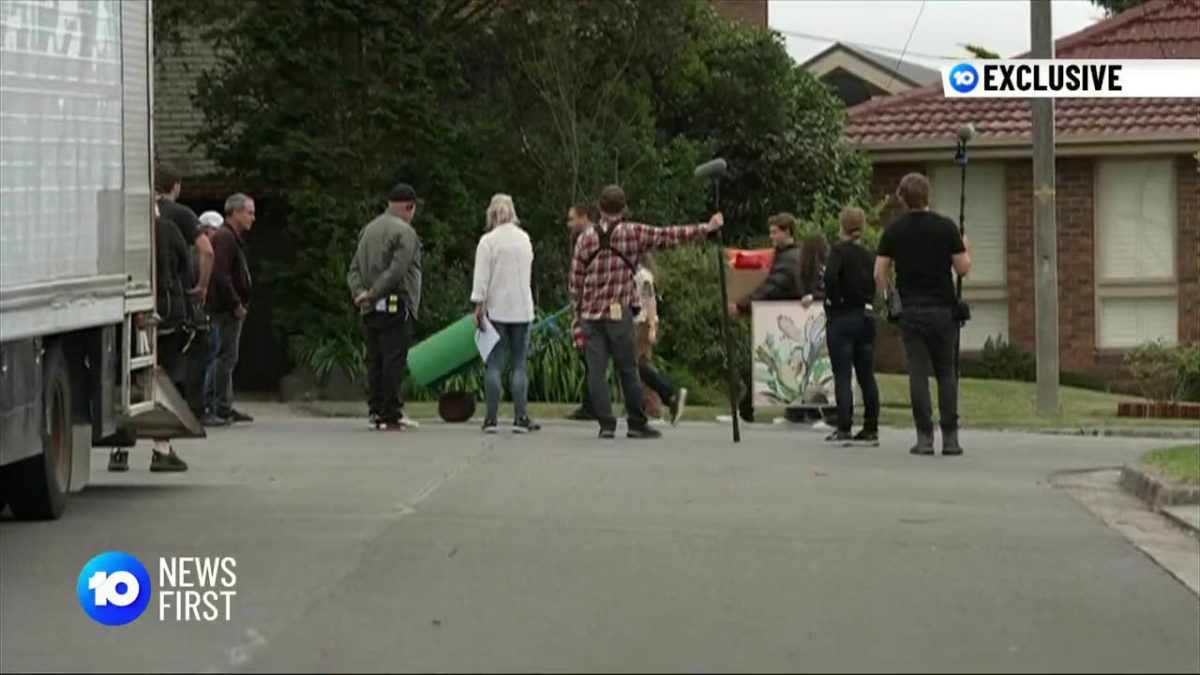 The picture was a favourite of Sonya's (Eve Morey), and it was moved into Nell's (Scarlett Anderson) bedroom in the final few weeks when Mel gave No. 30 a pig-themed makeover to make herself feel more at home.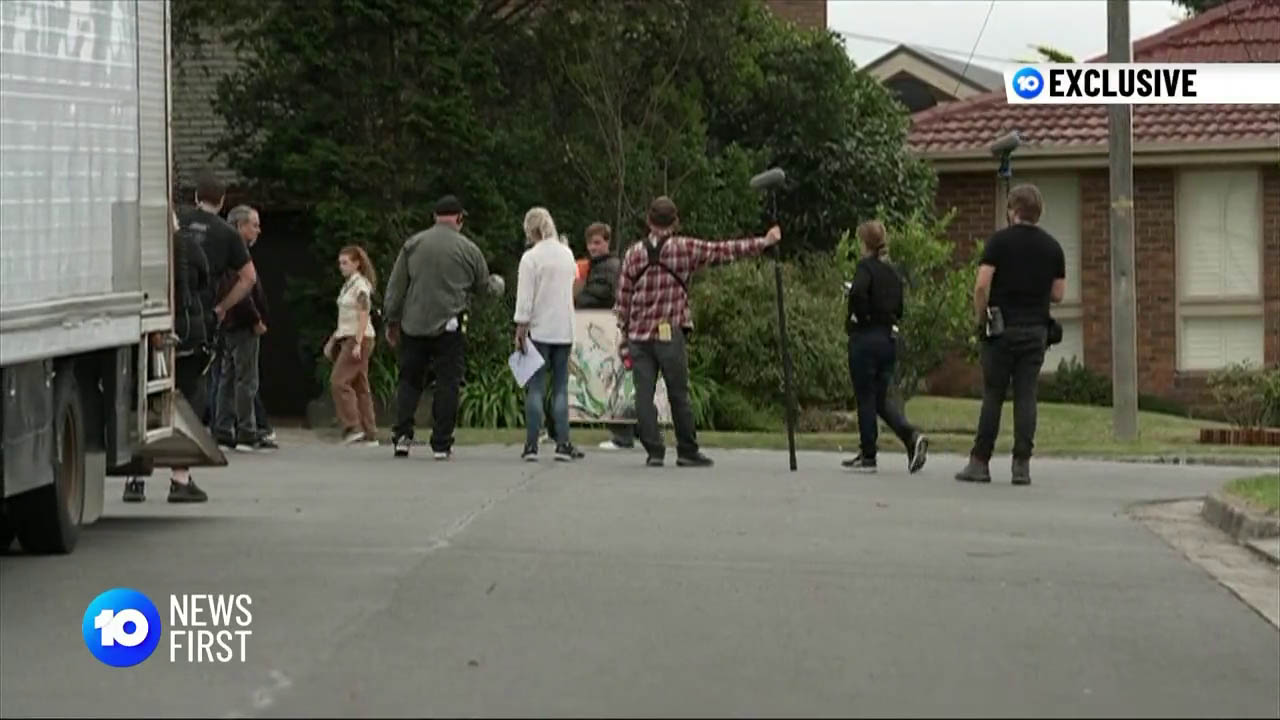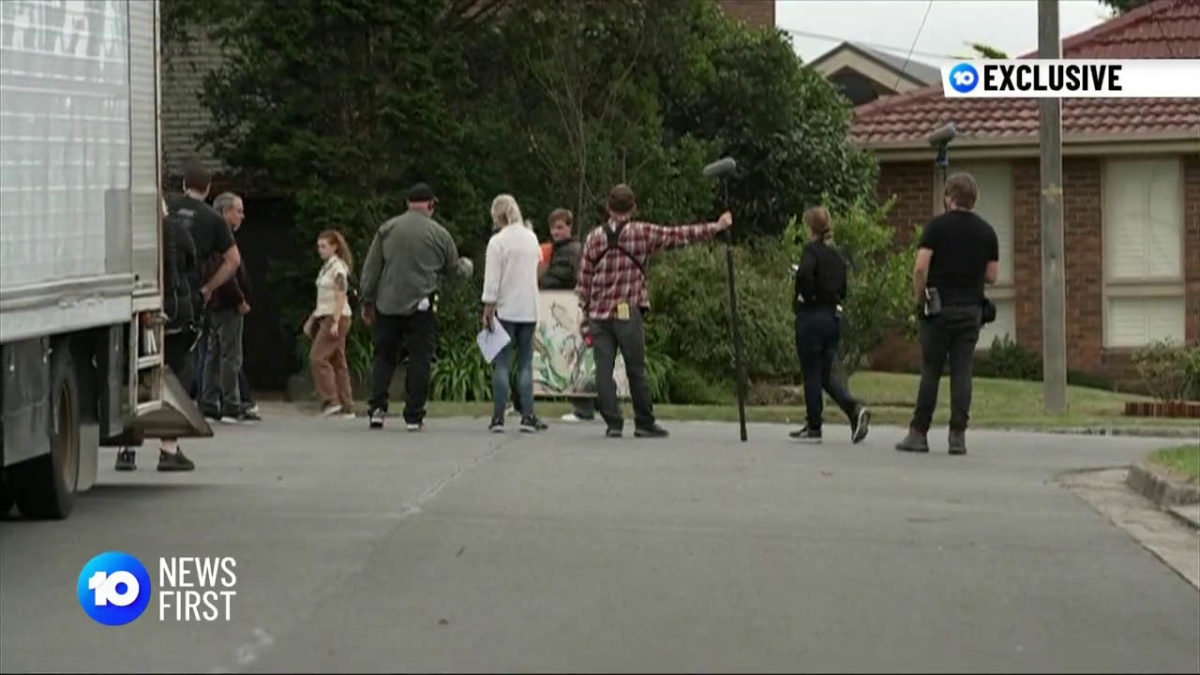 That begs the question, why would Andrew be moving things out of Toadie's No. 30 home and in the direction of his own? And who are the two teenage newbies flanking him?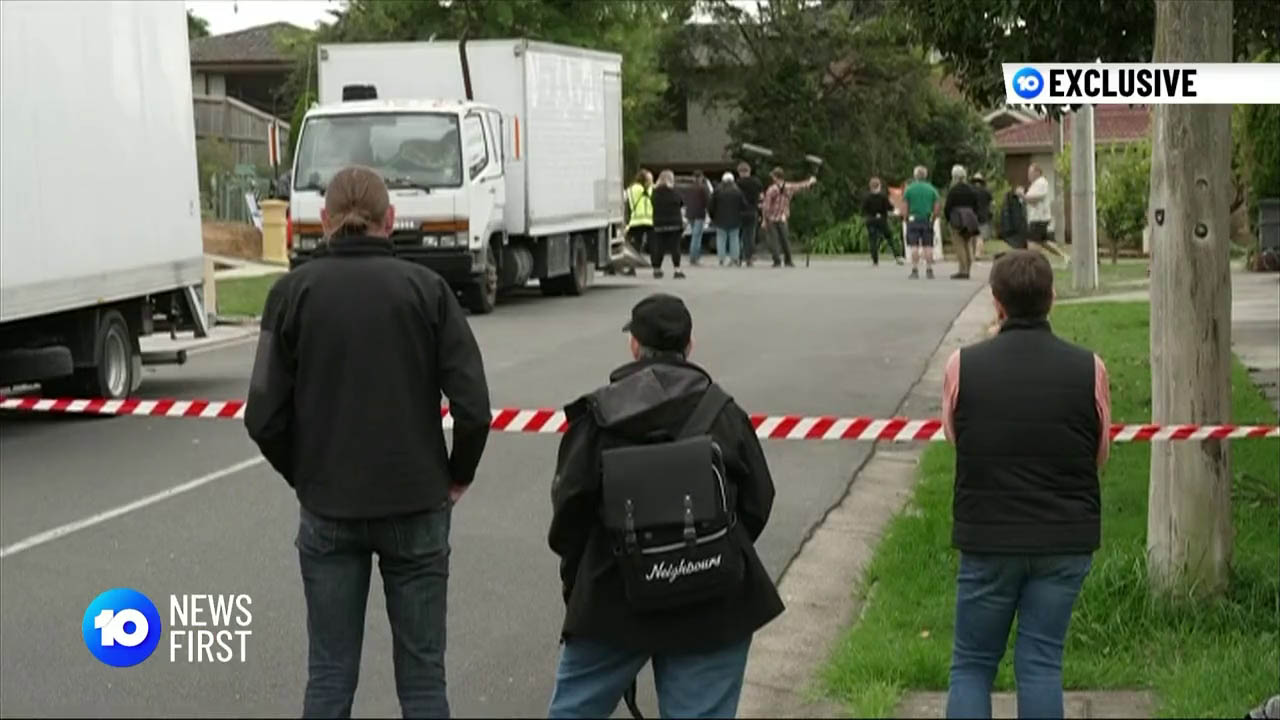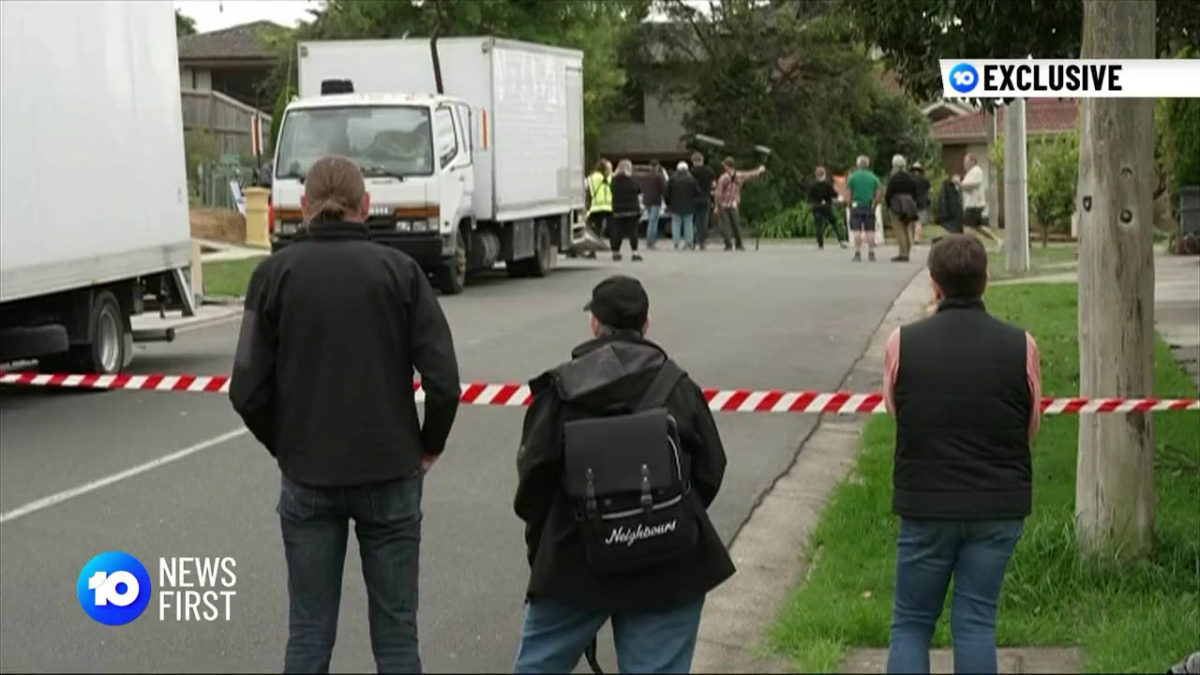 Following shortly after is Toadie himself. Is he about to say goodbye to Number 30 after 25 years?
Also returning to Neighbours are Tim Kano as Leo Tanaka, Georgie Stone as Mackenzie Hargreaves, and Jackie Woodburne as Susan Kennedy.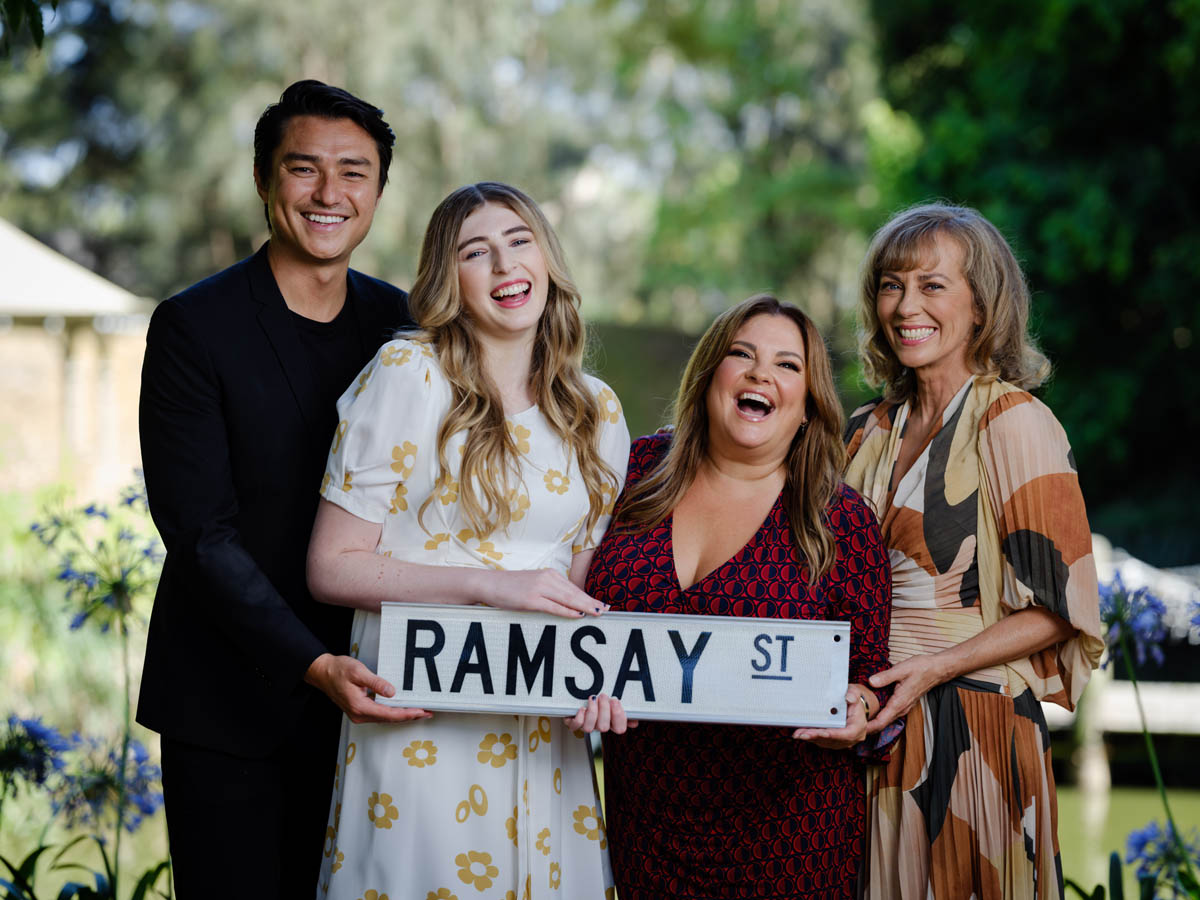 Returning in a part-time capacity are April Rose Pengilly as Chloe Brennan, Ian Smith as Harold Bishop, and Melissa Bell as Lucy Robinson.
While it's not yet known whether Emerald Chan will reprise the role of Sadie Rodwell, the character is believed to be returning.
Members of the NeighboursFans forum recently uncovered footage of audition tapes, in which a new character named Demi was chatting to Sadie and Mackenzie (Georgie Stone).
The audition tape footage also appeared to confirm that the show will undergo a time jump when it returns – and it may be longer than the single year that many were expecting.
The dialogue suggested that it will be around 2 years since the death of Hendrix Greyson (Ben Turland), who died just weeks before the show's final episode.
Neighbours returns later this year.
The new series will premiere for free on Amazon Freevee in the UK and US. In Australia it will get its first airing on Network 10, before airing seven days later on Prime Video.
The series will also stream on Prime Video in Canada, Ireland, South Africa, Australia and New Zealand.
---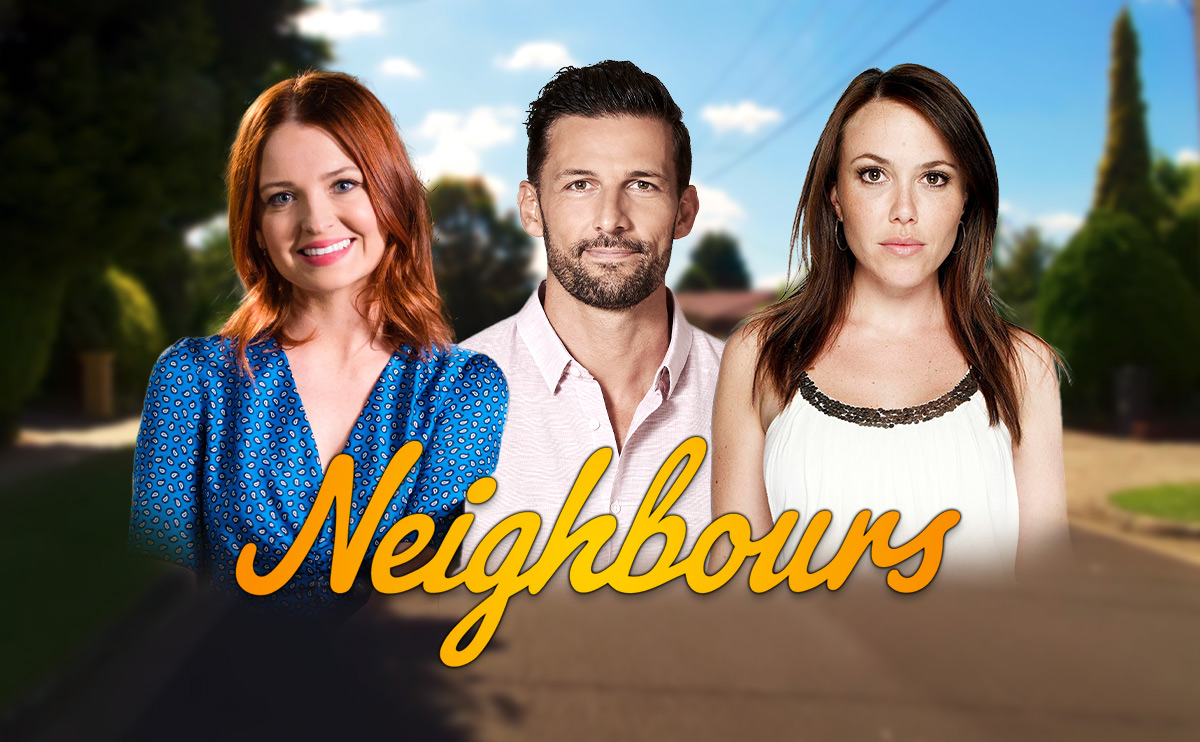 A re-cast Nicolette? The return of Libby Kennedy? There are plenty of rumours floating about…
Spoilers in your inbox every weekend!