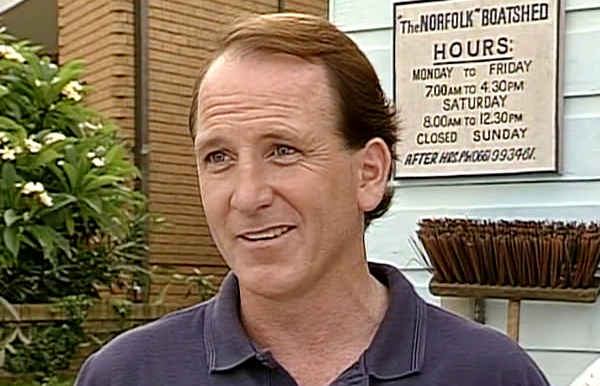 Michael Ross (1991-1996)
Dennis Coard
Episodes: 651–1912
Date of Birth: 1947
Martial Status: Cynthia Ross (divorced); Pippa Fletcher (1992-1996)
Children: Haydn Ross & Dale Ross (deceased)
Step Children: Sally & Christopher Fletcher
Foster Children: Sophie Simpson, Damian Roberts, Finlay Roberts, Sam Marshall, Jack Wilson & Shannon Reed
Occupation: Boatshed Owner; Caravan Park Owner
---
Michael Ross came to Summer Bay after his business started failing. He has a son, Haydn, from his first marriage to Cynthia. Haydn was very upset by their divorce. When Michael told him he would have to leave his private school, and live with him in Summer Bay where he purchased a boatyard, he did not react well.
Michael was a fit, determined man, who was quickly accepted by the local residents. He met Pippa, and despite her continued resistance to him, he never gave up. They married in 1991, in the then Fletchers. Michael has started sharing responsibility for the large family of foster kids. Haydn left the Bay around 1991.
In 1994, his son Haydn came back to the Bay. He lied to Michael that he wanted money for a surf shop he wanted to open. It was only later when Michael realised that his son had a gambling problem.
It was from then onwards when the Rosses ran into numerous difficulties. When Jack arrived in the Bay, Michael tried his best, but Jack continued to hate him. It was only when Michael found him about to hit Sam that things changed.
The family ran out of money and they had no choice but to put the boat shed up for auction. Michael was disappointed at losing another business. A friction occurred between him and Pippa, but was sorted out eventually.
Not long before Christmas 1994, problems arose again. From Michael's eyes, Pippa seemed to be overriding every decision he made. He felt he was no longer a decision maker in any part of the family's activities and they separated. Christmas was a lonely one for Michael, who spent it alone in a flat.
Pippa and Michael made up and he moved back in. In late 1996, there was a storm in the Bay which caused havoc and flooding. Michael had to pick up Sam as he could not get home through the floods. Sam slipped into the stream, which had been turned into a fast flowing river. Jack tried to save him, and Michael then dived in. Sam was rescued, and Jack tried to help Michael to safety. Michael was losing his grip on the branch, and was pulled away.
The next morning, a search was carried out for Michael. There was no luck; it was apparent that Michael has been drowned from the heavy river. Pippa was left devastated and Sam felt guilty for causing his death.