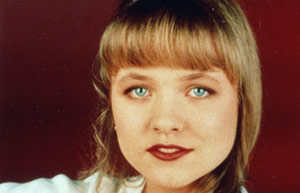 Finlay Roberts (1991-1994; 1996; 1997)
Tina Thomsen; Jessie Bullions (young Finlay, 1997)
Episodes: 858–1470; 1869–1874; 1927; 2006–2008; 2099–2102
Parents: Murdoch (deceased) & Irene Roberts
Foster Parents: Michael (deceased) & Pippa Ross
Siblings: Nathan & Damian Roberts; Mick Jennings (half)
Foster Siblings: Sally Fletcher, Christopher Fletcher, Sophie Simpson, Dale Ross (deceased), Sam Marshall & Jack Wilson
Marital Status: Barry Michaels (1997-present)
Children: Paul & Mark
Occupation: Restaurant Manager
---
Finlay has not had much of a start in life. She is bright and intelligent and has a burning ambition to be a doctor. She has a cheeky smile and is always ready to crack a joke in the face of adversity.
Finlay is the only girl in a family of seven children, and by her virtue of her sex, inherited all the duties that would normally have fallen to her mother. Her mother was not around much, spending most of her time drinking. Her father is a hopeless drunk who split after staying around to father seven children he had no intention of providing for.
Fin lamented the lack of opportunity for her and her brothers. She realised she would never achieve her ambition of being a doctor if she stayed at home – she even had to repeat Year 10 when things got really bad. At the age of seventeen, Fin decided to leave and move somewhere where she could continue her schooling.
Finlay's meagre money supply ran out at Summer Bay. She had arrived from the city with her schoolbooks and a few clothes in a dusty old backpack. But she was determined to get a part-time job, enrol in Year 11 and find somewhere to live.
Finlay hid in a boat which Nick and Lou rented. They found her hiding there. Finlay was put in the care of the Rosses, and later became a foster sister.
Her brother, Damien, arrived in the Bay, looking for her. He begged her to return, but she refused. She persuaded Damien to leave home.
Irene turned up in the Bay and one evening, fell down the stairs (episode 1000). She accused Damien and Finlay of pushing her down.
Irene returned to the Bay in 1993, for good and without alcohol. She hoped to get her family back together eventually but never got her wish.
She left the Bay in 1994.