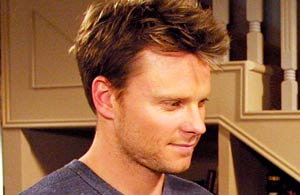 Nathan Roberts (1993-1994; 2002)
David Dixon (1993-1994); Craig Ball (2002)
Episodes: 1346-1395; 3215-3255
Parents: Murdoch (deceased) & Irene Roberts
Siblings: Finlay & Damian Roberts; Mick Jennings (half)
Marital Status: Grace O'Connor (assumed)
Occupation: School Cleaner; Waiter; Deckhand
---
Nathan arrived in Summer Bay in 1993 telling his mother that he was a changed man, ridded of his criminal ways and an effort to get back on track he went head to head with Tug over a cleaning job at the school. Donald then thought Tug was sabotaging Nathan's application and Nathan won the cleaning job.
Despite opposition to there relationship, Sarah and Tug soon began to date. However when Sarah dumped him soon after, Nathan's dark side began to come out again, his goading leading Luke to quit the school.
Nathan also began to lead his brother, Damian astray, much to Michael's chargin. Then after a brief period apart they got back together. However things soon began to fall apart for Nathan. He took the school fees from Don's office. After initial leads turned up nothing, it was discovered Nathan had indeed stolen the money and was sent to jail.
Nathan was released for prison in 2002 and went to live with Fin. Fin found it difficult to cope and rang Irene, who after deliberation with the kids decided to take her son in. Nathan got the bus down and Irene picked him up on the morning of Will and Gypsy's wedding. Left alone in the house for the afternoon, Irene, Nick and Hayley returned home to find a painting smashed on the floor. It was never made clear whether or not Nathan did this however.
He initially got off to a bad start with Nick, getting Will's old bedroom which Nick had been promised and then Nick ate a tin of Nathan's baked beans. Irene took Nathan out and about in the bay, but he lost his temper when Colleen was bad-mouthing him behind his back.
Trying to get him back into the normal way of life Irene managed to arange with Leah a job waitering at the diner. Colleen let her bowling pals know that Nathan was an ex-con and customers stopped going to the diner. With takings down Leah had to let Nathan know that she wasn't able to keep him on. When Nathan left, the customers returned and Nathan turned to the drink.
As his frustration grew he stole Alf's ute. However he came across the bus crash and helped the rescue the kids before the bus blew up and Nathan was hailed a hero. Whilst at the hospital whilst Nick was still hospitalised, Nick began to build up a relationship with an Irish nurse called Grace. He was also interviewed by the local news station.
Nathan got a job as Alf's deckhand and went up in a plane as part of his 30th birthday celebrations. Grace got posted out to Alice Springs and Nathan decided to leave with her, leaving Summer Bay a changed man.
In 2016, Irene referred to Nathan as having married a "lovely Irish girl" presumably confirming his later marriage to Grace.