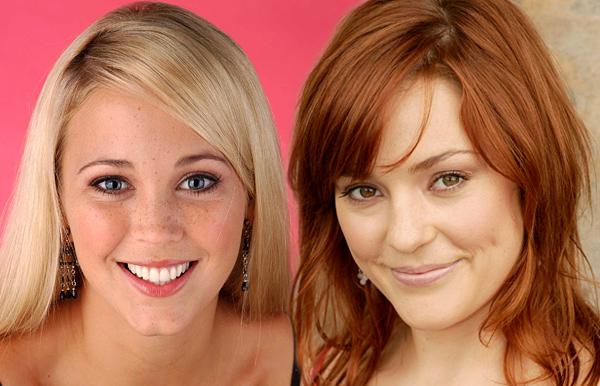 Hayley Smith/Lawson (1998-2005)
Rebecca Cartwright (1998-2005); Ella Scott Lynch (2005)
Episodes: 2481–4100
Parents: Ken & Eve Smith
Foster Parents: Ted & Wendy Williams; Irene Roberts
Siblings: Will & Nick Smith
Marital Status: Noah Lawson (2004, deceased); Kim Hyde (2005, engaged); Scott Hunter (2005-present, engaged)
Children: Noah Hyde
Occupation: Artist, Student, Bar Owner
---
Hayley came to Summer Bay in late 1998 looking for her brother Will, having ran away from her foster parents. Upon her arrival Will snuck into Irene's house.
Hayley quickly started "tagging" Summer Bay and fell longtime Summer Bay resident Sam. It wasn't long before she was in her first love triangle however as Daria was still around and this led to a couple of fights.
Soon after Sam and Hayley went bushwalking with Will and Gypsy, where there were captured and held hostage by the gunmen. After spending a night with the gunmam, they were found the following day.
After that ordeal Hayley continued tagging, but this ended tragically when one of her tagging mates, Brian Matthews fell off a building to his death.
Hayley's relationship with Sam came to an end in 1999 however when after spending a night together he disappeared leaving Hayley heartbroken. She however began to fall for newcomer Mitch who Hayley had helped out when he was hiding out on Travis' boat. In the Summer Bay spirit of things Hayley and Mitch were going out.
Hayley's father Ken, came and went during 1999, having cleaned himself of his alcoholic ways, he wanted to rebuild his relationship with his kids. Hayley was happy to see him, however Will wasn't as pleased.
In 2000, Hayley's relationship with Mitch became strained after the discovery that he had slept with Gypsy and probably the fact he had taken on a slightly sleazy form. Hayley's brother Nick returned in 2000, and with Hayley began to feel like everything was coming together in her life.
However Ken died soon after, and things became strained for Smith's. Hayley had broken up with Mitch and she began to go off the rails. Partying one night she got herself into trouble and was only saved from harm by a passing motorcyclist. His name was Noah Lawson.
After her troubled year, Hayley failed her Year Twelve exams and decided to resit them. However she found solace in her artwork, and was asked by Don to do the drawings for his new book. At the book launch, Hayley saw her dead dad amongst the crowd and this gave her confidence to go on with things.
Her relationship with Noah looked steady through the early part of 2001, but, then at Hayley's 18th, she caught Noah kissing Skye Patterson and they broke up. Noah soon descended into alcoholism, and things became further strained between the two when Hayley became friendly with Noah's mother, a woman that Noah detested. The reconciled for a brief period, but then split up again.
Hayley then had a brief fling with Shauna's brother through adoption, Aidan. Aidan began using Hayley as a doll, dressing her in the clothes he wanted her to wear, having her do what he wanted her do. Despite Irene and Noah's protestations, Hayley could see no wrong in Aidan. It was until Gypsy showed Hayley what a control freak he really was that Hayley took notice, and when she showed up to a lunch with some corporate bosses after making some modifications to the dress. Not surprisingly that was end of that relationship.
Hayley was soon jetsetting of to the UK for the UK launch of Byron. Here too she found love with hotel porter Robbie, who shared her love for art. However, when he asked her to stay in London with him, she realised that Noah was who she was meant to be with and they got back together soon after her return.
There relationship however wasn't always plain sailing when she got drunk on a mixture of hay fever tablets and alcohol and found herself in the arms of a member of a rival surf club, who Noah promptly punched. Once Hayley had explained herself, they eventually got back together at the end of term prom.
During this time, when Hayley was studying for her HSE she found herself stuck between Will and Gypsy as they argued over the impending birth of their child. When Will and Gypsy finally got back together it meant that Hayley no longer needed to act as the messenger.
After finishing school, Hayley needed some cash and decided to put her artistic skills to good use selling her paintings and making T-shirts. She also got a job working at the drop-in centre.
Hayley then helped Nathan get through some of his troubles after he left prison. Unsure of him at first, they built up a friendship during Irene's time away. With Noah living at the beach house as well, her relationship had went a step further.
Soon after Noah was struck down with meningitis and Hayley nearly lost him. After pulling through they decided that they were going to move into a house together, and found a place called The Palace, which they shard with Josh.
Leah and Hayley then went into the T-shirt making business together after Celia prompted them into thinking that it was a good idea.
Hayley and Noah went on the sesquicentenary cruise, and this time it was Noah's turn to worry about Hayley, after she went missing, though she was found. Soon after Josh decided to leave the bay, and so they offered the spare room at The Palace to a new start at the diner called Aimee.
Aimee began to dress and style her hair just like Hayley's and Noah once mistook her for Hayley, so it wasn't surprising that they decided to throw her back out and invite Josh back. I mean, Josh wouldn't cause any trouble between Noah and Hayley, would he?
Next it was Noah's turn to be suspicious of Hayley when she starting hanging around with old mate Jesse McGregor. Hayley eventually convinced Noah that there was nothing going on between them and Noah finally trusted Hayley to work at the gym with Jesse.
Early in 2003 Noah found out Hayley had been kissing Josh and so she and Noah split up. She had a short relationship with Josh, but eventually Alf convinced her to break up with him, after seeing visions in his dream of them as an unhappy couple.
Hayley wasn't long single however and was soon dating Alex Poulos. Their relationship caused initial strife forcing her to move out of The Palace and over to Leah's house. Ironically a few month's previous she had been trying to find Alex a partner!!!
Hayley also joined a football team, which she managed to got Alex involved in coaching, and found herself competing with teammate Amber for Alex's affections.
Alex soon found himself addicted to steriods as he tried to start his own footballing career and they began to grow further and further apart. Coupled with Brodie returning to the bay Hayley and Alex broke up, but not before Hayley had crashed her car into a tree and smashed up her face, leaving her with memory loss.
It was Noah who helped her through this difficult time and soon they got back together. A couple of months later on her twenty first birthday Noah proposed and she accepted.
After a few disagreements in the run up to the wedding, such as whether Noah's mum should be invited or not, the wedding went ahead, on the same day as Kirsty and Kane's recommitment ceremony, with her dad walking up the aisle. Their happiness was not to last when Noah was shot dead by physho Sarah a few months later and Hayley was left a widow.
She started seeing visions of Noah from behind the grave and then paintings were getting left at The Palace, Hayley adamant that she hadn't done them, even though they were her paintings. Noah had been to see Kit as well and told her to take the paintings to Hayley.
2005 saw Hayley able to move on with her life, becoming friendly with both Kim and Scott and managing to bed both of them within a matter of weeks. I won't bore you with the amount of times that she broke up with one and got together with the other and PaternityGate is probably well known about for me to write a spiel about so all I will mention is that Zoe mixed the paternity results about leading everyone to think the child was Kim's when in fact it was Scott's.
Hayley also began to suffer from a heart condition which caused her to collapse on several occasions and led to pleas with her to abort the pregnancy, but she went ahead with it and gave birth to a baby boy that she named Noah.
She also got to her wedding day in 2005 with Kim before the marraige was stopped and one last time got back together with Scott before getting ready to leave the Bay.