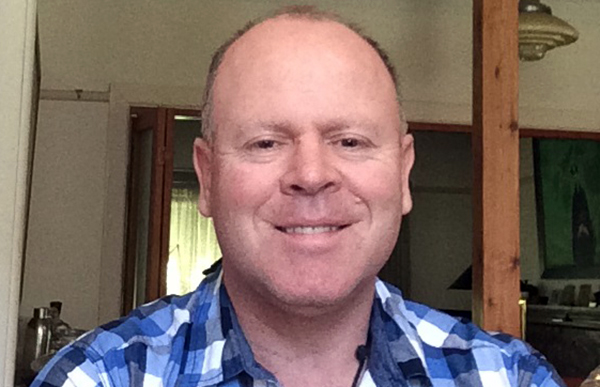 Story Editor: 1998-1999; 2011
Senior Story Editor: 2000
---
Scott Taylor discovered the world of entertainment in high school and in 1987, he began studying Theatre Theory and Drama Performance at Latrobe University. Afterwards, Scott unsuccessfully auditioned for National Institute of Dramatic Arts (NIDA), Victorian College of Arts (VCA) and Western Australian Academy of Performing Arts (WAAPA), but the odd role in The Flying Doctors and various ad commercials, as well as being cast in several plays were enough to keep the acting dream alive. He developed a working relationship with Ian Scott, a well-known Australian actor, who read and directed a play Scott had written, called Closing Time. Whilst it garnered a lot of attention, it was also when Scott realised that maybe acting wasn't the path to follow.
In 1991, he was accepted to the VCA to study Fine Arts, majoring in Writing. He graduated in 1994, after which he wrote a play titled Clipped Wings which won the AWGIE Theatre Award, the following year. During his time at VCA, he wrote his first episode for Home and Away.
Scott was hired on Neighbours as a storyliner in 1995 and eventually worked his way up the ranks and was hired as the story editor the following year. Three months later, Greg Stevens, the script producer at the time, was dismissed and Scott was promoted to his job, due to a lack of interest in what was a dwindling series. Together, with the help of Ray Kolle, Scott was able to make Neighbours the highest rating drama in Australia, and in doing so, oversaw the return of Harold and Madge Bishop, two of Ramsay Street's most loved residents.
In 1998, Scott was head-hunted by the Seven Network executive team to join the in-house story department of Home and Away, due to his work on Neighbours. After some tough negotiations, Scott signed onto the series after a three month break and began his work as a story editor. With two other story editors, (including Ray Kolle, Ray Harding, Phil Sanders and Edwina Searle), eight-week rotations were undertaken, rotating between plotting, editing and preparing new stories. Eventually, Home and Away's ratings overtook Neighbours' once again and Scott was promoted to the role of senior story editor.
1999 was a big year for Scott, the year beginning with the need to replot 8 weeks of story material and ending with his departure. His material continued to air into 2000. He found himself as a freelancer, where he wrote scripts for Home and Away, Neighbours and the ABC soap, Something in the Air.
In March 2000, Scott was employed by Fremantle Media International and was sent to Indonesia to set-up a series, Balahan Hati, an Indonesian soap based on the 80s Australian soap, Sons and Daughters. He remained on as the supervising script producer until May 2002, when he then moved to Poland to set up and oversee the first season of Na Wspólnej, a soap which is still airing today. He remained on as the supervising script producer there, until July 2003.
From there, he made a permanent move to Moscow in September 2003 to set-up another series, and remained in Russia until January 2007. After stopping in London and joining the drama development team at Fremantle Media as the supervising script producer in charge of World Wide Drama Development, he returned to Australia to create his own series.
Eventually, he was given a writing job for a one hour drama series called Interrogation by the head of Fremantle Media Australia at the time, Riccardo Pellizzerri. The series was commissioned by Sandra Levy, the head of drama at the Nine Network, but after she left at the end of 2006, the series was decommissioned and Scott moved back into writing for Neighbours, and wrote a script for which he was nominated for an AWGIE in 2008.
In 2007, Scott started up his own production company with Wayne Hardy, the producer of the Polish soap that he had set up, and they pitched ideas to several networks to little avail. Scott eventually moved into writing comedy, and in 2010 was hired as the Script Producer on The Bounce with Peter Helliar, however the show was axed due to poor ratings just five weeks later.
In August 2010, Scott once again joined the Home and Away story department as a story editor under Jason Daniel, however in December, the whole story department underwent a shake-up and Scott departed the show after 17 weeks. His material aired from 25th April 2011 (Ep#5281).
Scott then began writing novels under the name 'Scott Norton', his first and middle name. He moved into advertising, and eventually became a bus driver. In the time after becoming a bus driver, he wrote a film script which was shortlisted for an AWGIE competition in 2013, as well as two concepts for television.
In June 2014, the ABC commissioned a script by Scott called Moonman, a pilot starring Australian comedian, Lawrence Mooney. The pilot was produced and went to air on ABC on Wednesday, 1st June 2016. Although it wasn't commissioned as a series, you can watch the 29-minute long pilot here for a small fee.
Scott currently writes a blog, detailing his life as a writer, as well as his opinions on current issues such as politics. He is also undertaking a Masters.
---
---
Other Credits
Neighbours
Trainee Storyliner (1995)
Storyliner (1995-1996)
Story Editor (1996-1998)
Script Producer (1997-1998)
Story Editor (2008)
---
Picture with thanks to Scott Taylor
---
Written: