Home and Away Spoilers – John and Irene's romance shocks the bay!
Next week on Home and Away in Australia, John and Irene are the talk of the town as they flaunt their new romance for all to see. But is all as it seems?
Many successful relationships are born out of friendships, and, with over a decade of friendship under their belts, could the same be true for John Palmer (Shane Withington) and Irene Roberts (Lynne McGranger)?
In next week's Australian episodes of Home and Away, the pair turn heads as they show off their new relationship – but will it all end in tears for Marilyn (Emily Symons)?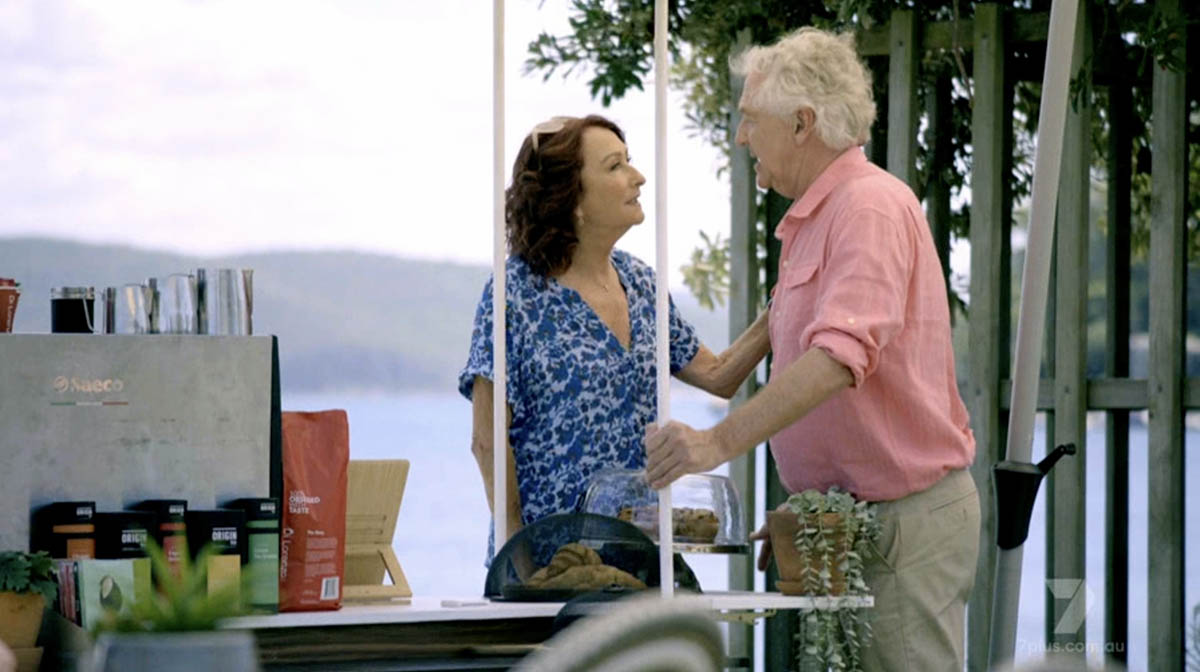 Both John and Irene have lived alone for a number of years, and recent weeks have seen the pair shack up together in the aftermath of John's heart scare.
John's last house guest was Susie McAllister (Bridie Carter) in early 2021; real estate agent Susie arrived in the bay and took an instant shine to John, moving into his place claiming she needed somewhere to stay after her recent move from Western Australia.
Sadly for John, Susie was a con artist who was attempting to scam Leah (Ada Nicodemou) and Justin (James Stewart) out of a hefty house deposit, and she eventually washed up dead on Summer Bay's beach.
Before that, John lived with Marilyn, until the pair split in mid-2020.
The Beach House has been Irene's home since 1993. It has welcomed countless waifs and strays over the years, but it's been empty since Jasmine's sudden departure from Summer Bay just over a year ago.
When John suffered a terrifying heart incident just a couple of weeks ago, Irene was with him at the hospital, and both were deeply affected by the event. It left John feeling sad that he had nobody to share his life with, resulting in Irene offering him to come live with her.
Despite John's reputation for being difficult, he and Irene have got on like a house on fire, and both have enjoyed spending their evenings in the company of a good friend.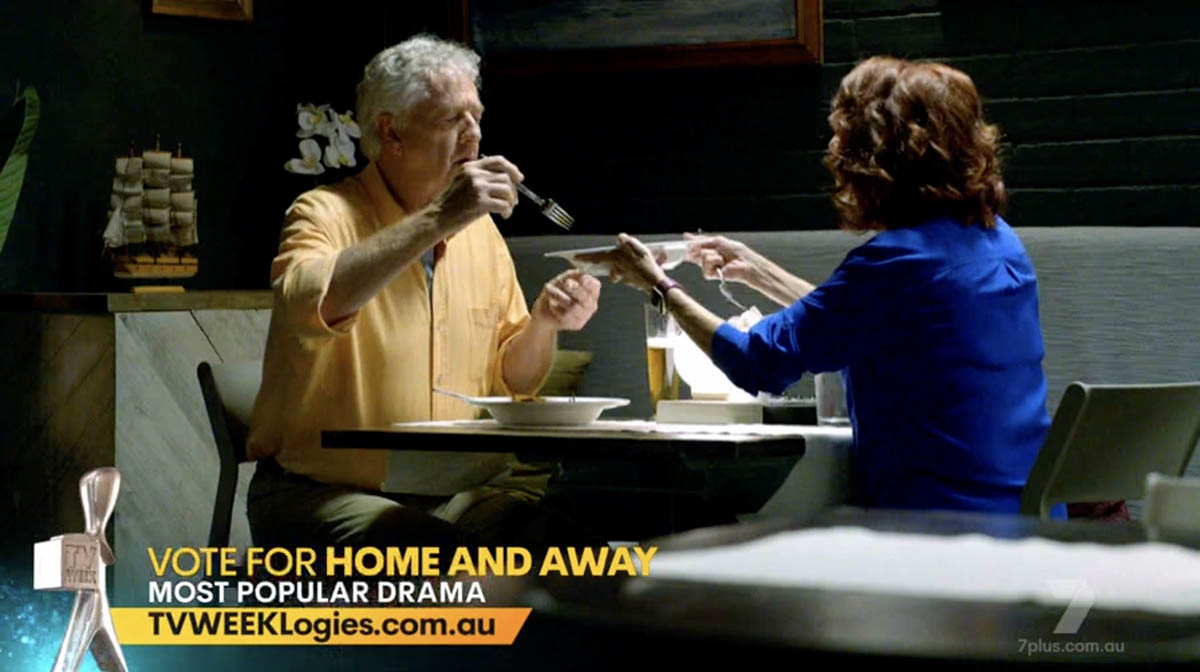 When John's cooking plans fell through in this week's episodes, the two headed to Salt together, where their closeness soon caught the attention of Alf (Ray Meagher), and John's ex-wife Marilyn.
Next week, the rumour mill is out in force, and Irene decides to play along… but does she risk upsetting Marilyn in the process?
A new promo which aired after Wednesday's episode describes the pair rather disturbingly as "friends… with benefits."
It takes us back to the moment Theo began to suspect something was up, showing the… surprised? … disgusted? … look on his face as he overheard John and Irene talking.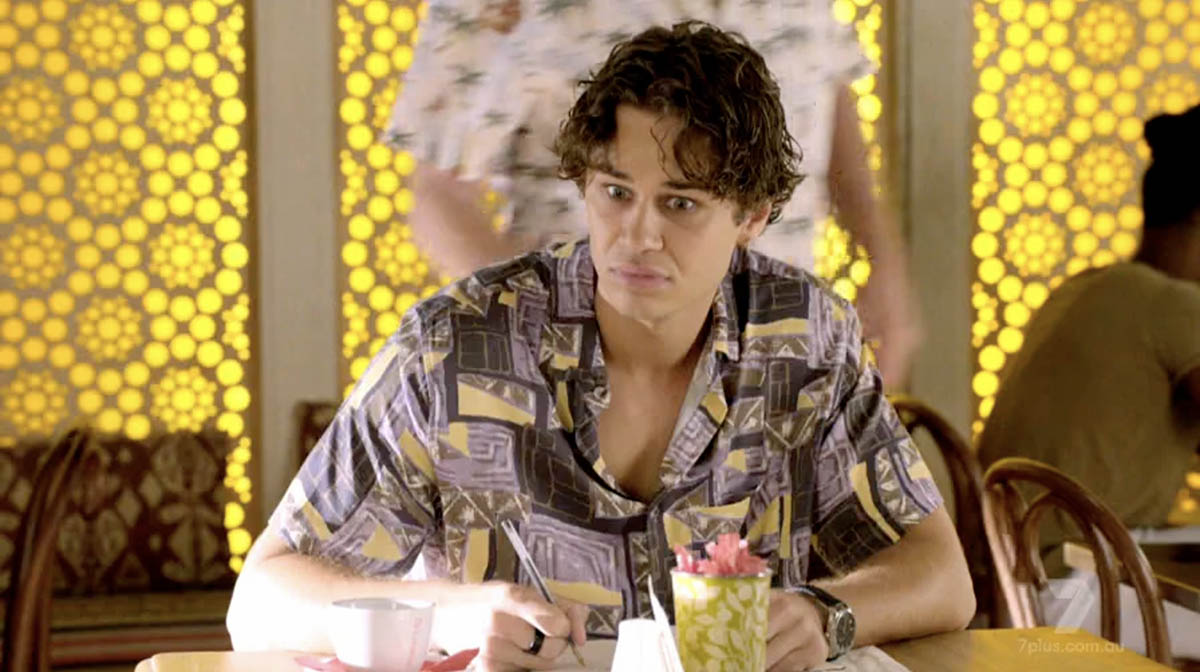 He got the wrong idea when he overheard John teasing Irene with his plans for a surprise dinner that evening, and the idea that they were dating became firmly planted in Theo's mind when John told Irene: "it's great to be with someone who understands me perfectly."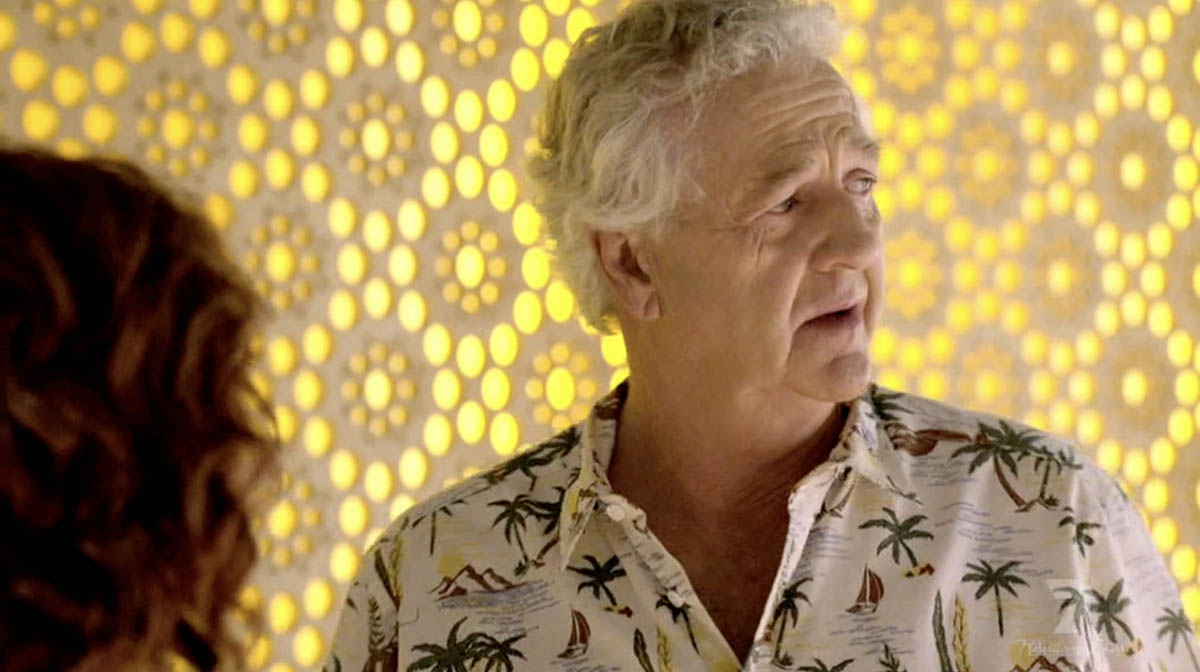 He becomes one of the first to suspect that something's going on between the pair – but he's far from the last.
"Can you believe it?" Marilyn asks Alf, as the promo teases scenes from next week's episodes.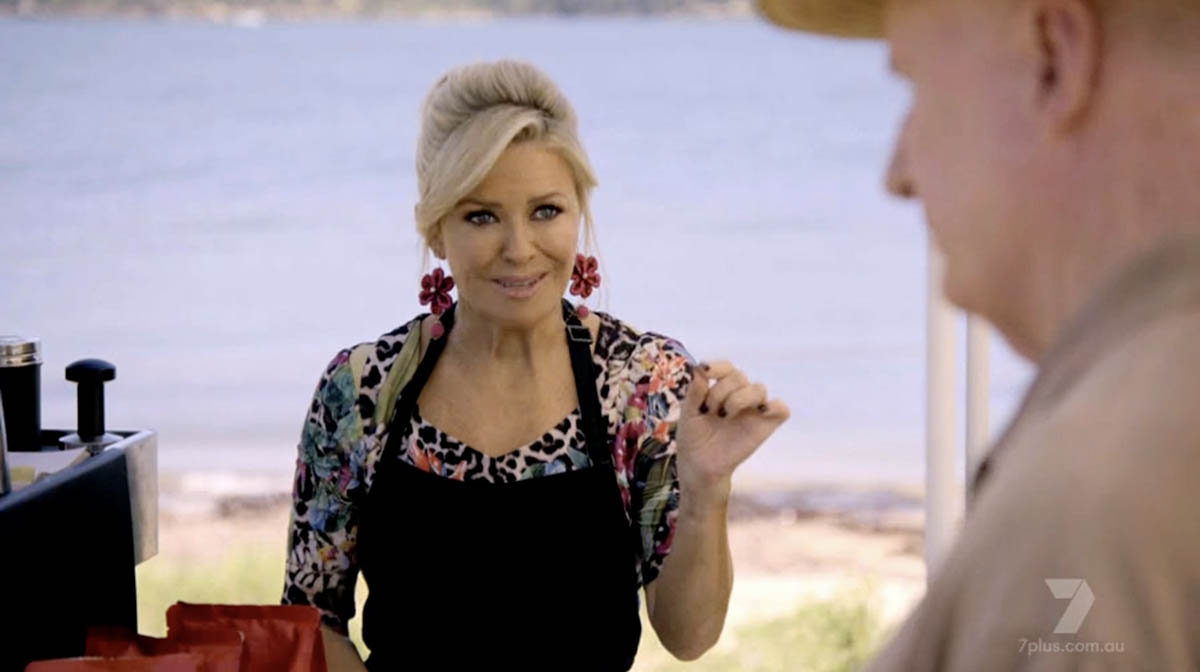 "No, I don't," he responds curtly. "They've been friends for donkey's years, why would that change now?"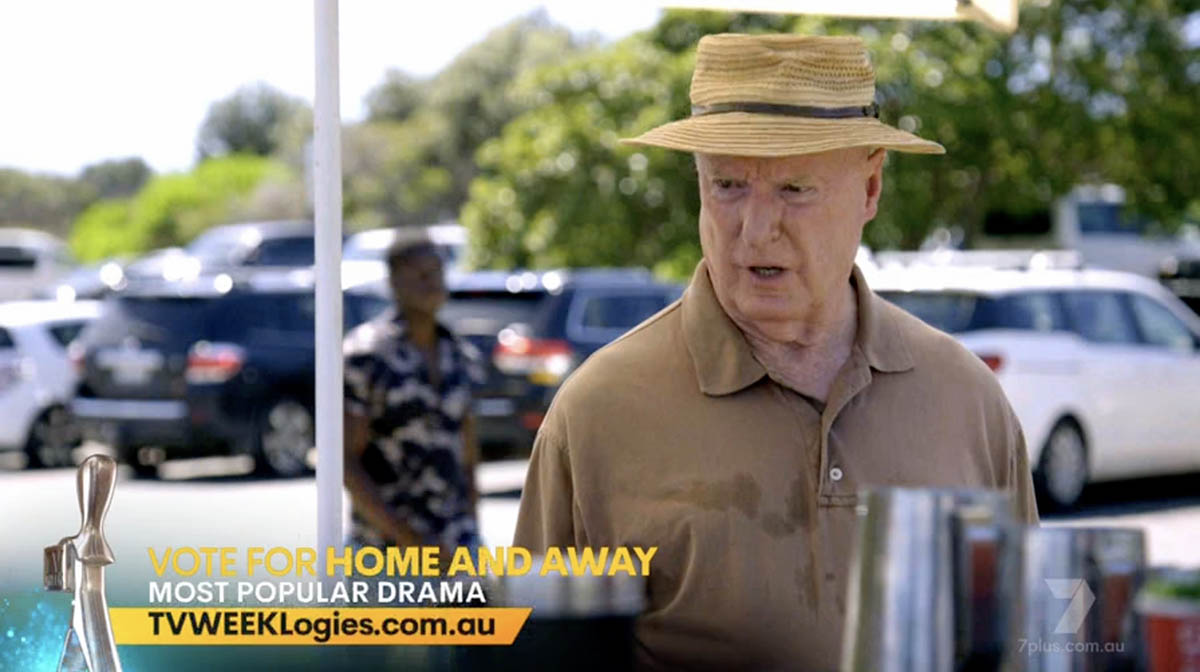 Yet it won't be long before even Alf begins to suspect something's going on between the two firm friends.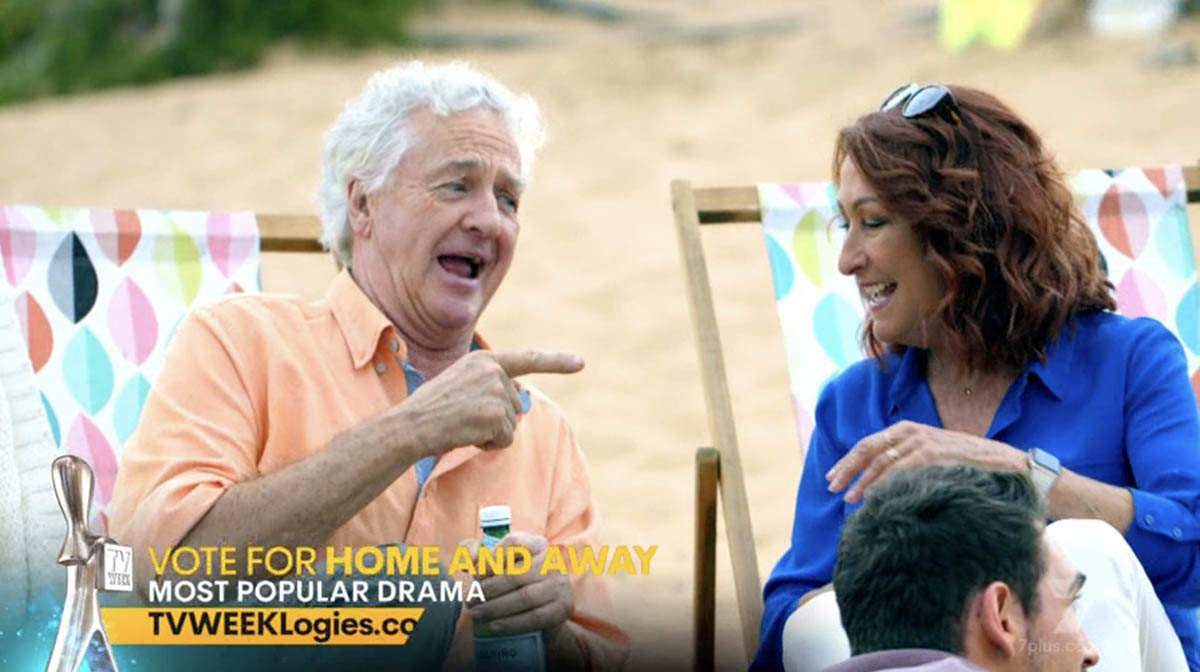 The promo then takes us back to John and Irene's recent dinner at Salt – a result of John spending so much time planning his big dinner surprise that he failed to get the ingredients before the shops shut!
As they raised a glass and Irene offered John to try some of her food, Marilyn commented: "they do look a bit cosy, don't they?"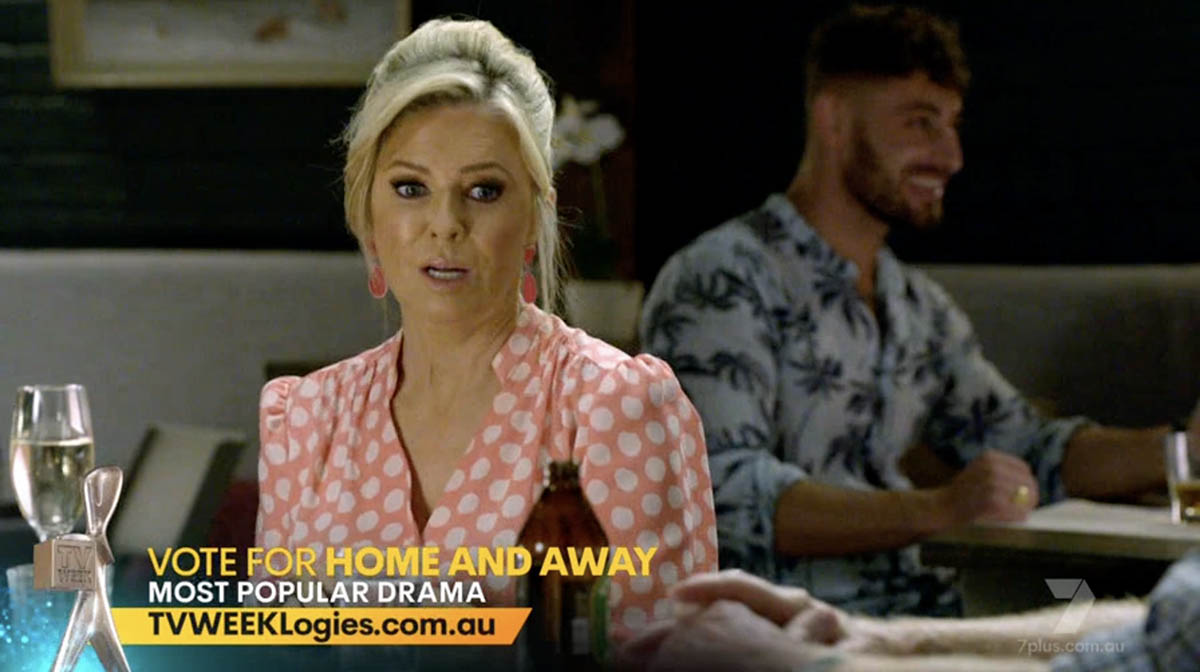 "Strewth" was all Alf has to say.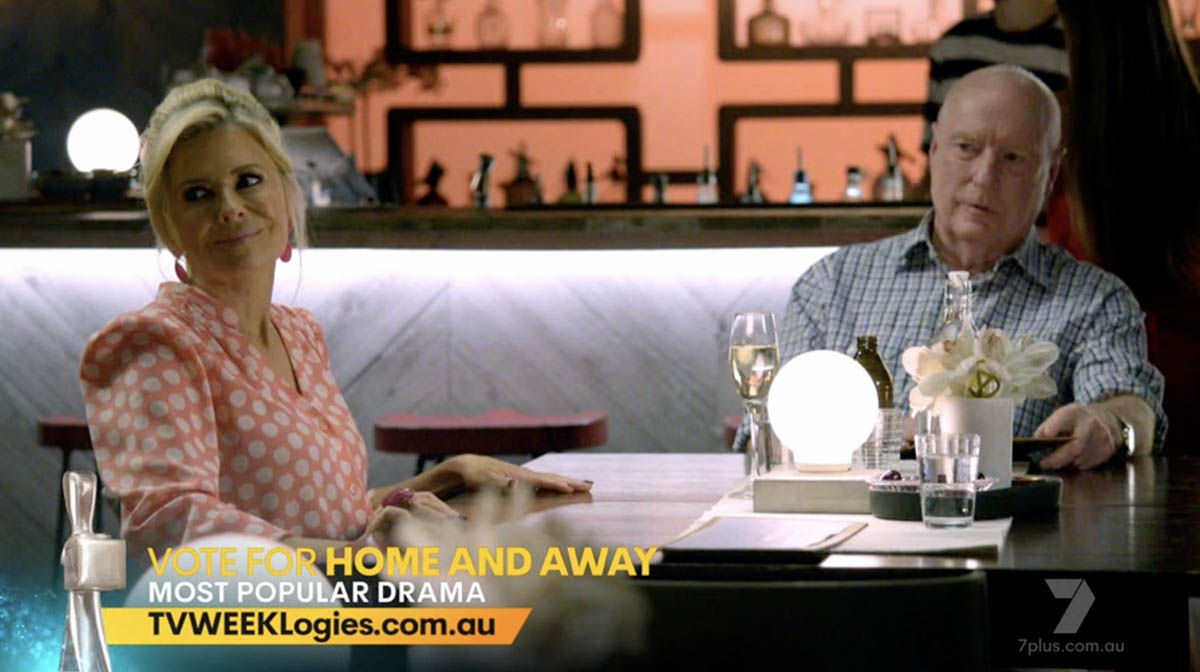 While Alf and Marilyn were soon distracted by some good news about Roo (Georgie Parker), next week Marilyn begins to believe that her best friend really is dating her ex-husband, and she's not happy.
"They've got the whole bay talking!" says the promo's voiceover.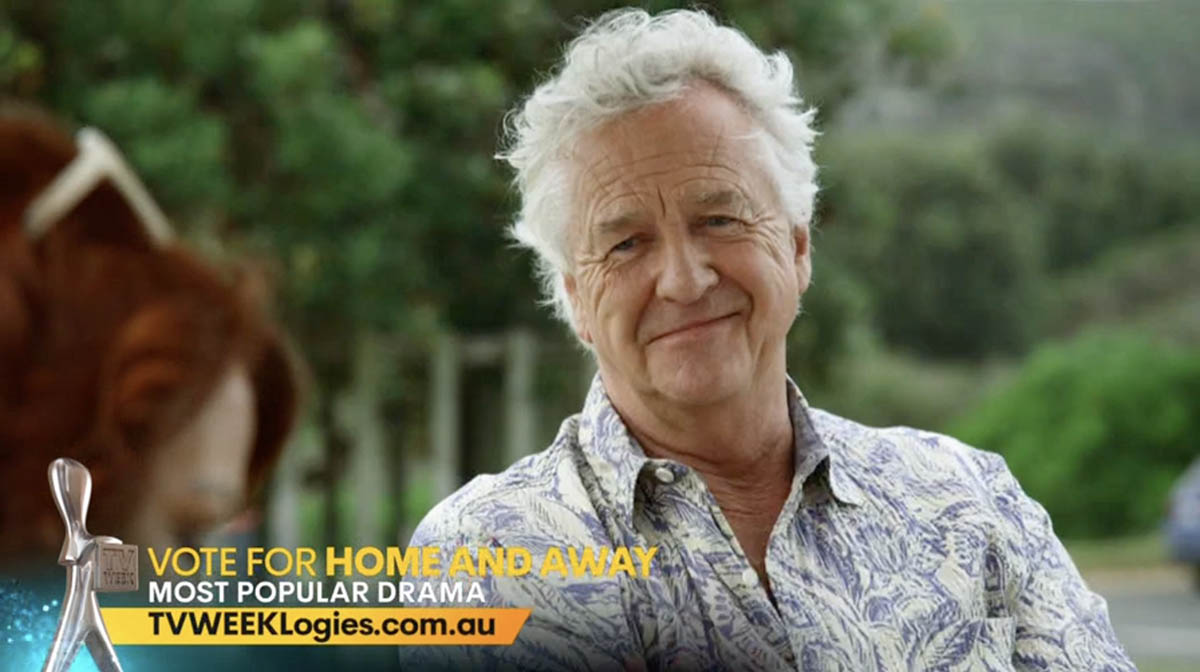 Xander (Luke Van Os) and Mackenzie (Emily Weir) soon pick up on the vibes and want answers.
Xander tells Mackenzie his suspicions: "He's single, she's single…"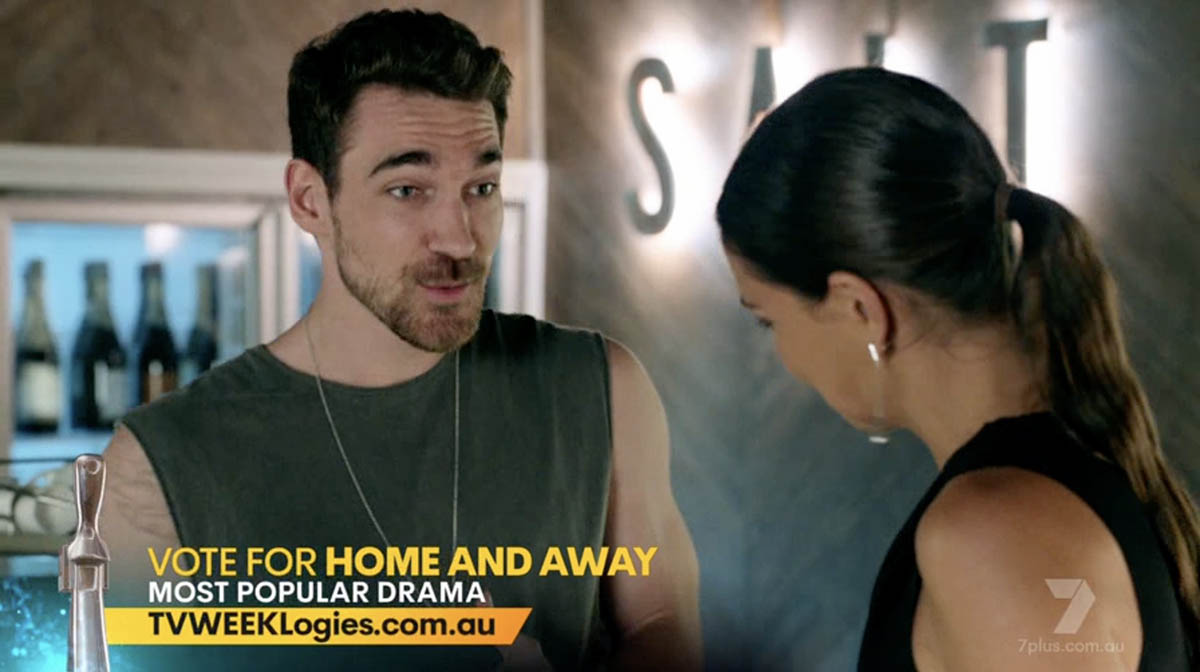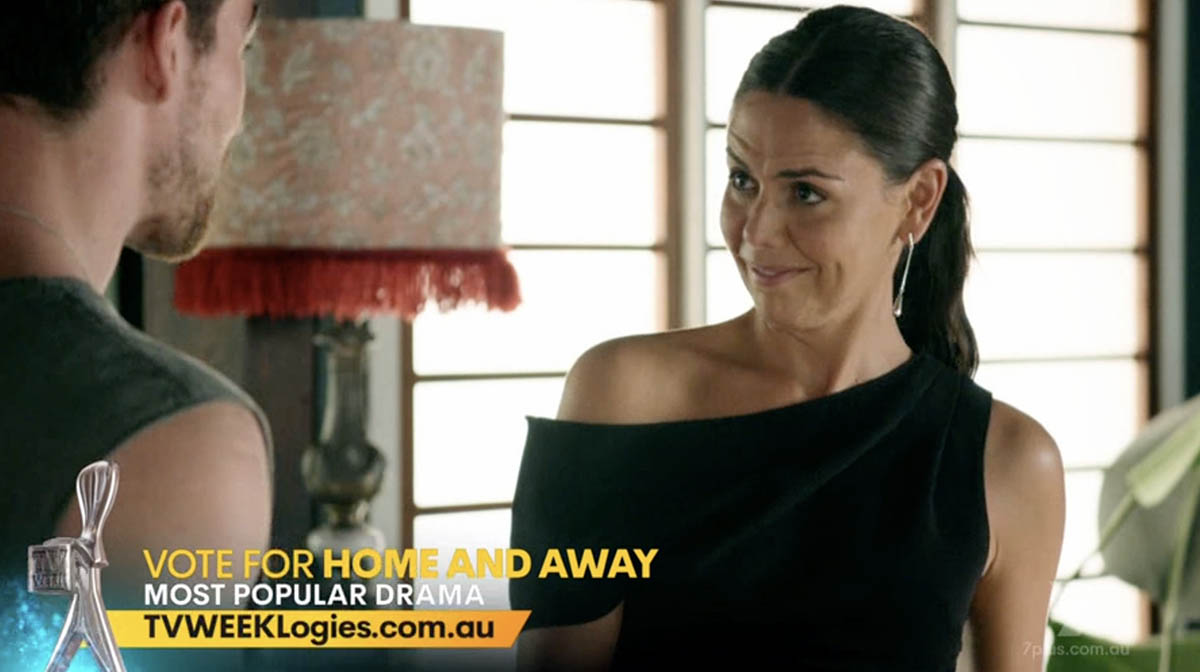 Before you know it, they're knocking on the door of the Surf Club office trying to get the goss from Alf.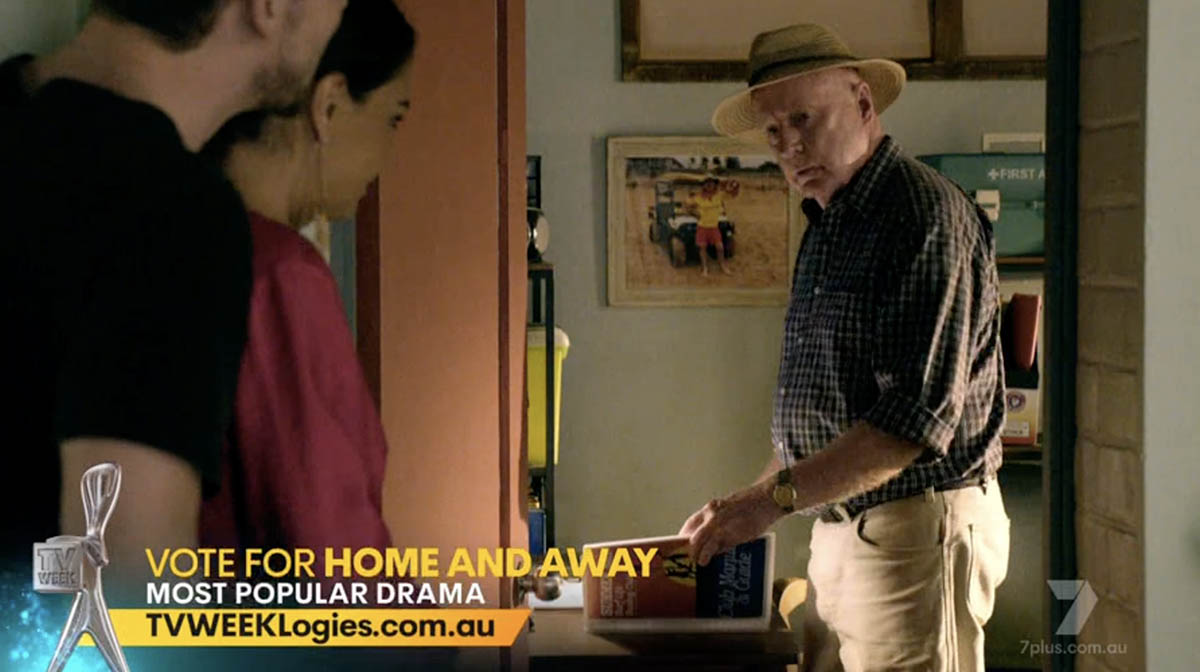 "Come on Alf, is it true?" asks Mackenzie. "We're dying to know…"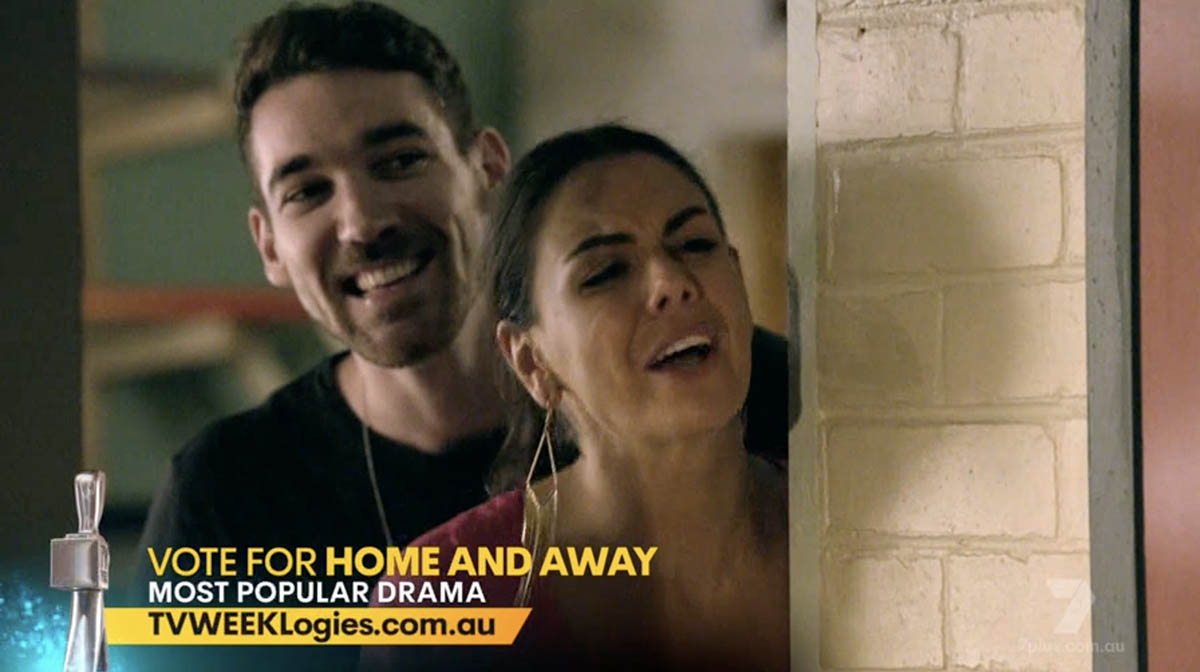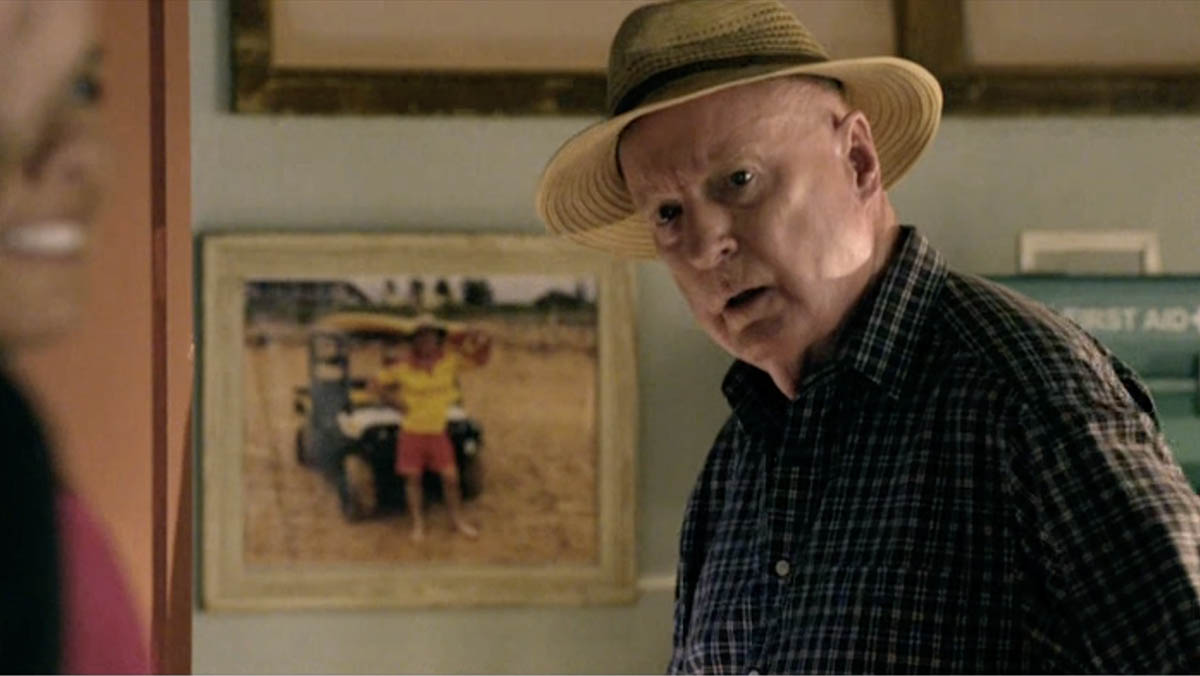 "But it's not what you think," the promo's voiceover tells us, crushing the hopes and dreams of Irohn / Jirene stans everywhere.
However, that doesn't mean that the pair can't have a little fun…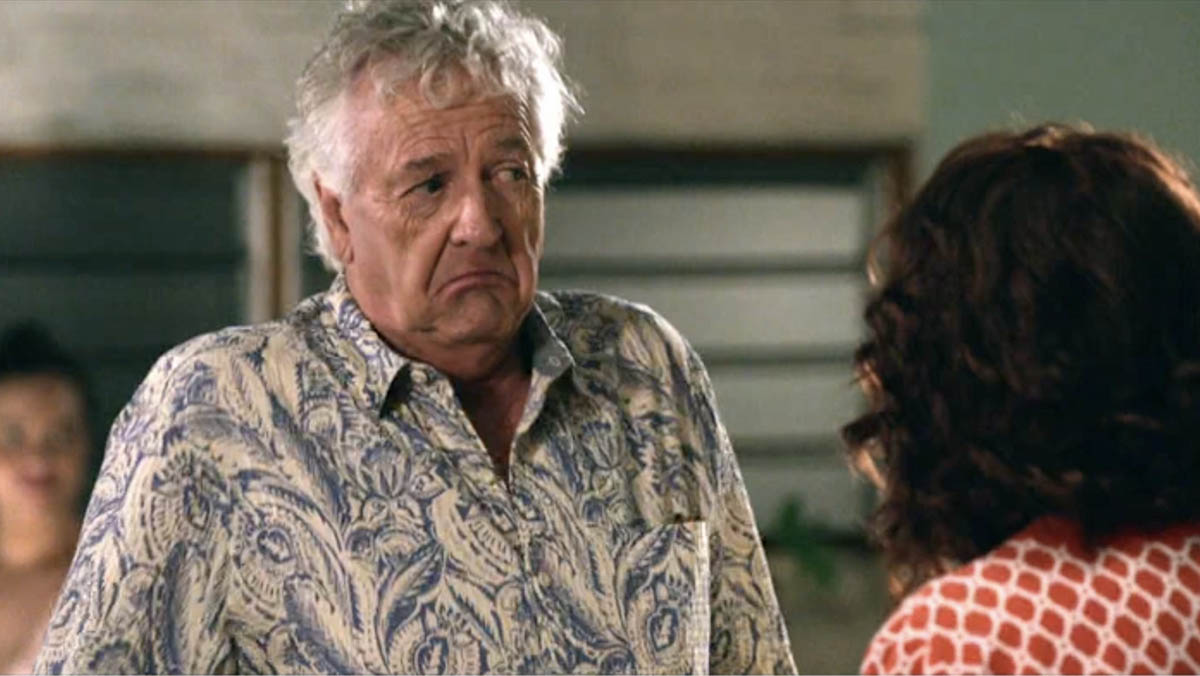 Clearly Irene picks up on the fact that Summer Bay's residents are paying them a bit more attention than usual.
She asks John "who'd have thunk we were that interesting?" as he shrugs.
Then Mali (Kyle Shilling) fills them in: "Everyone thinks you're dating!"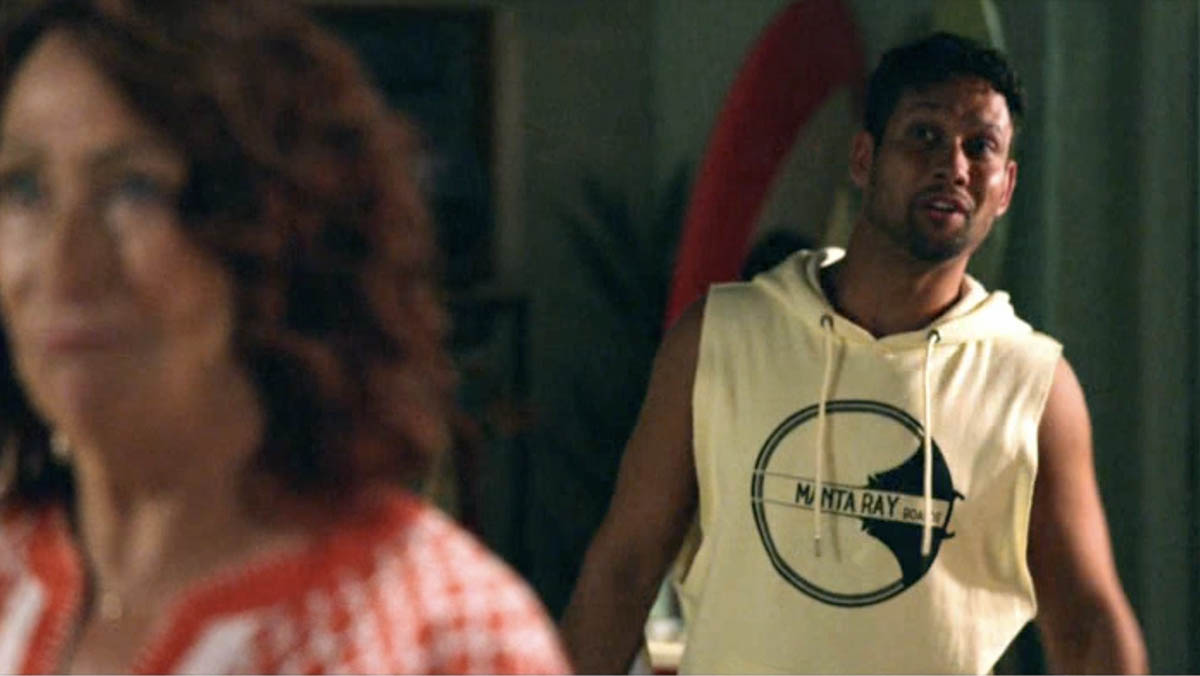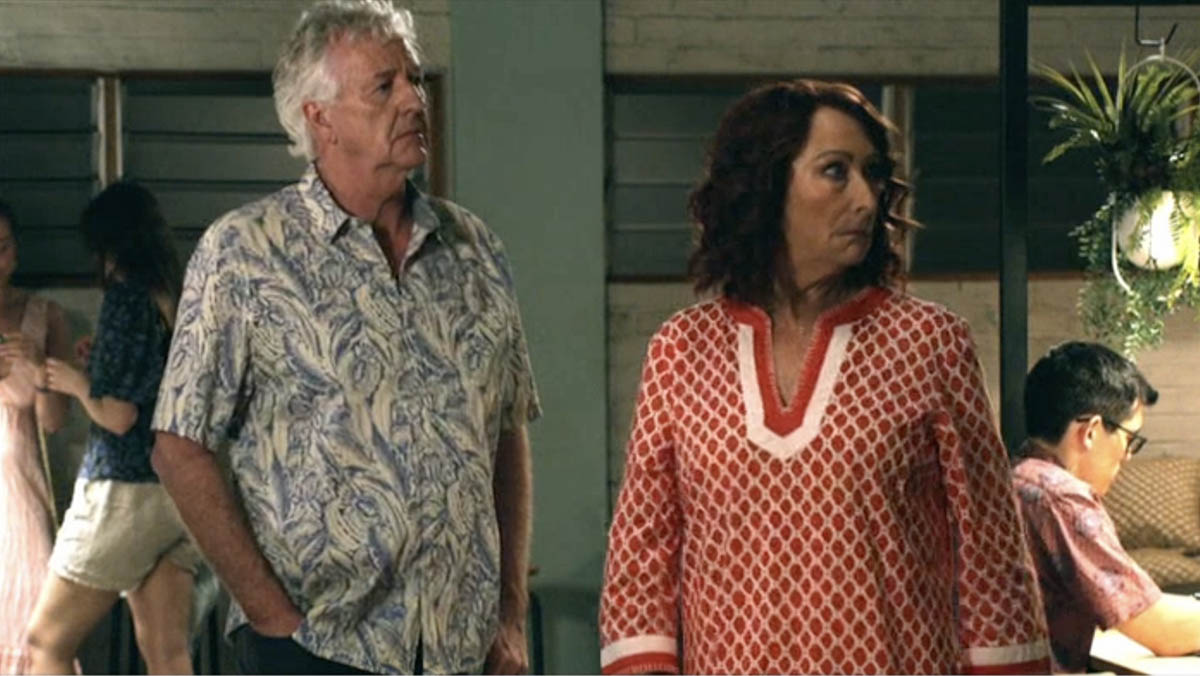 "Good for you if you are," he adds with a wink.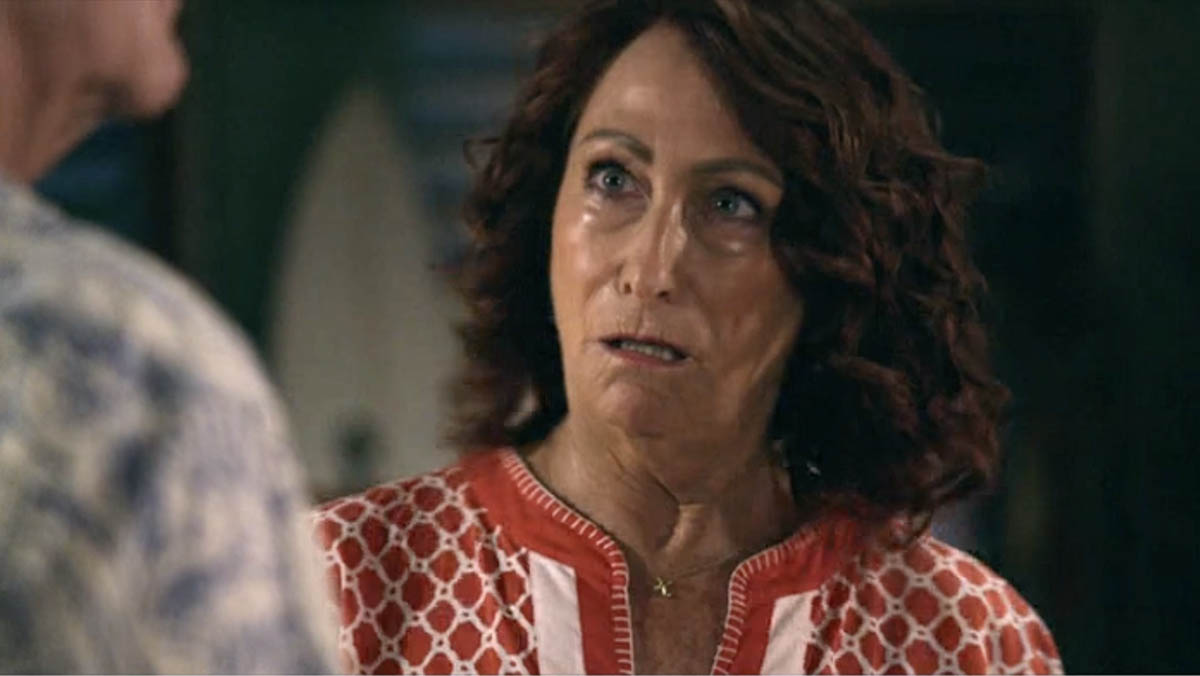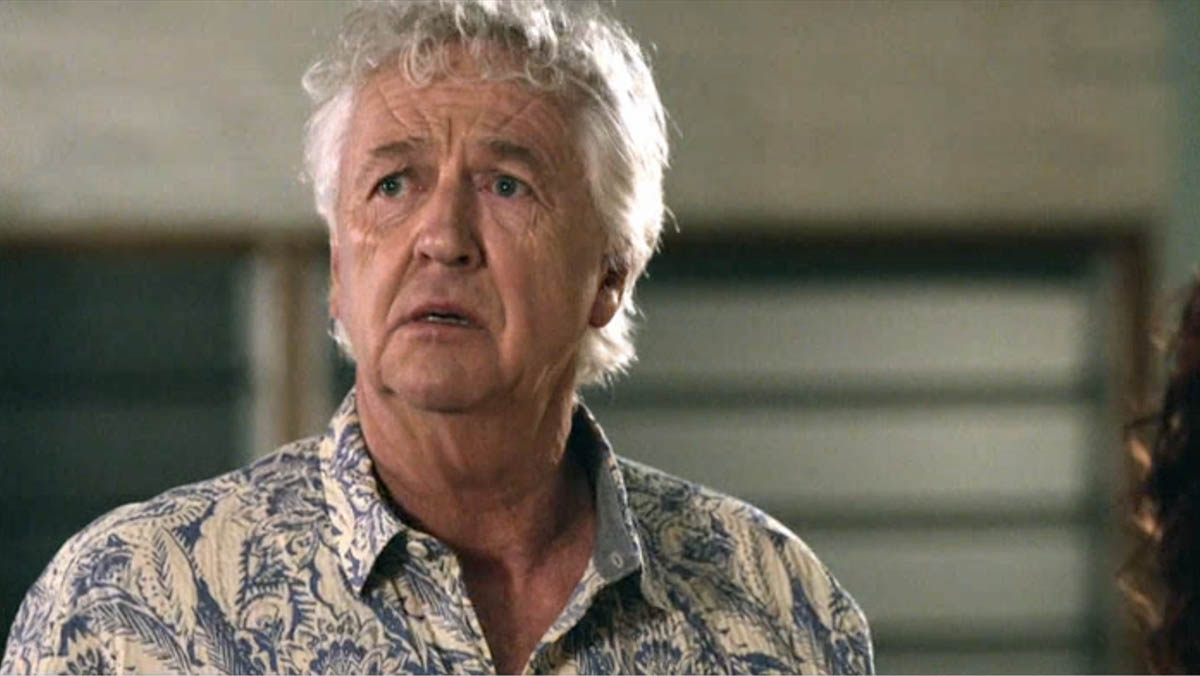 After a moment of shock, Irene realises they can use the bay's newfound suspicion to have a little fun.
"Or maybe we can really give them something to talk about," she tells John as she grabs his arm and pulls him in.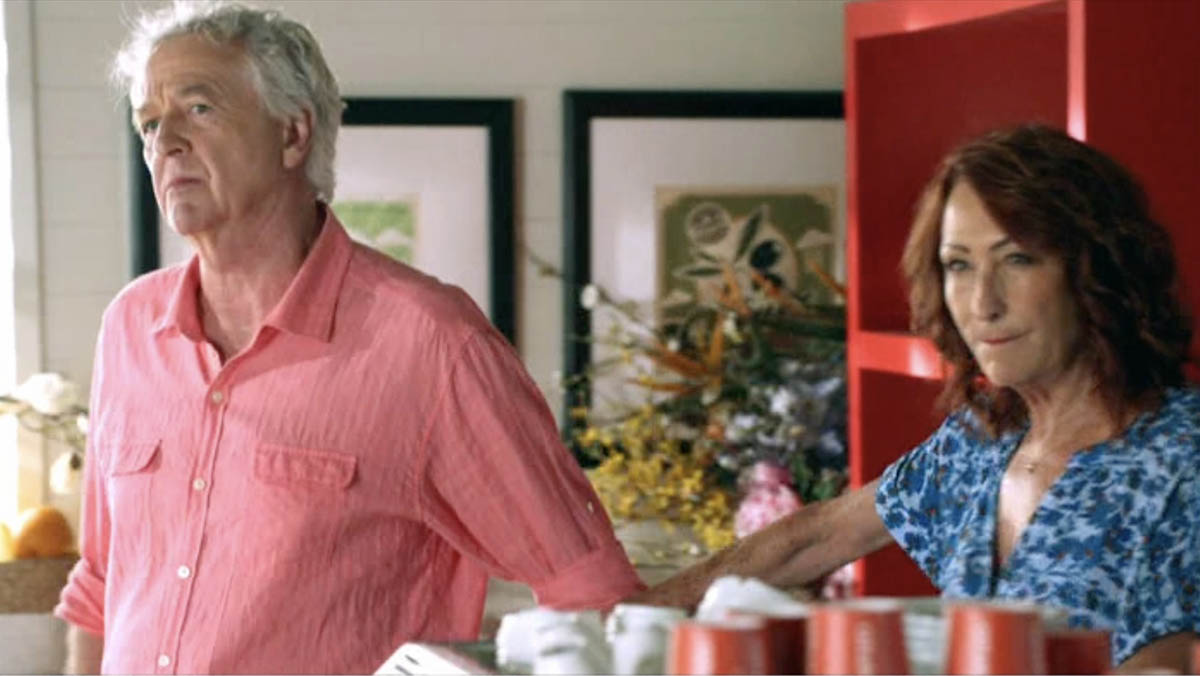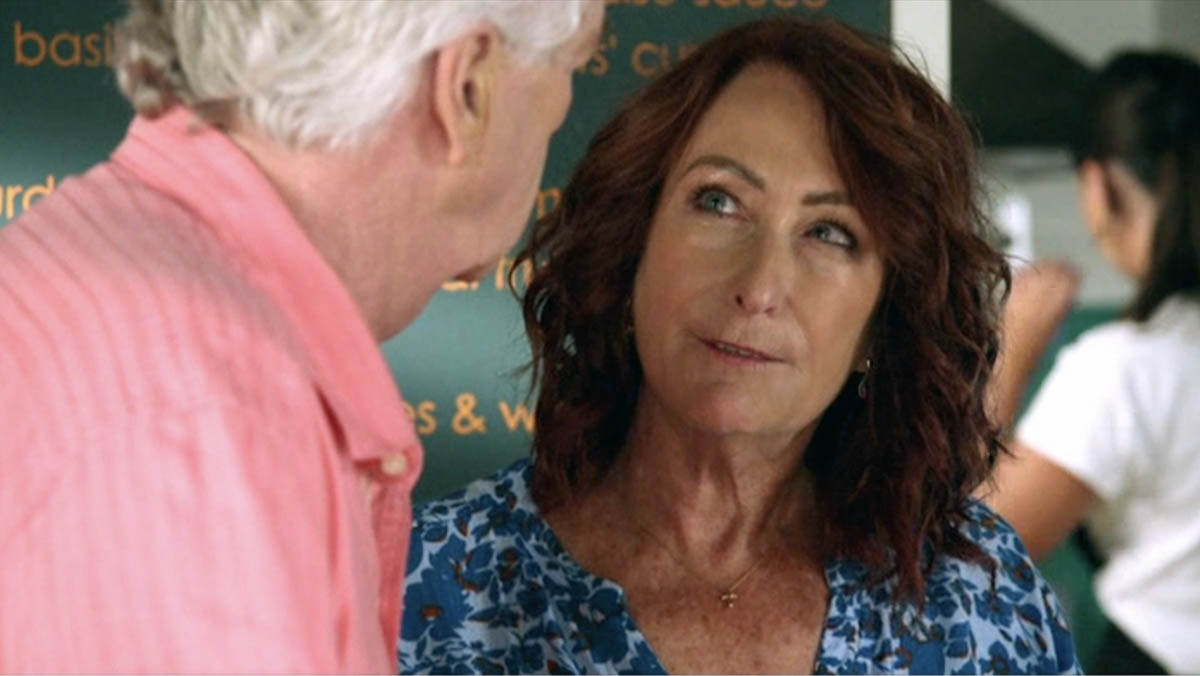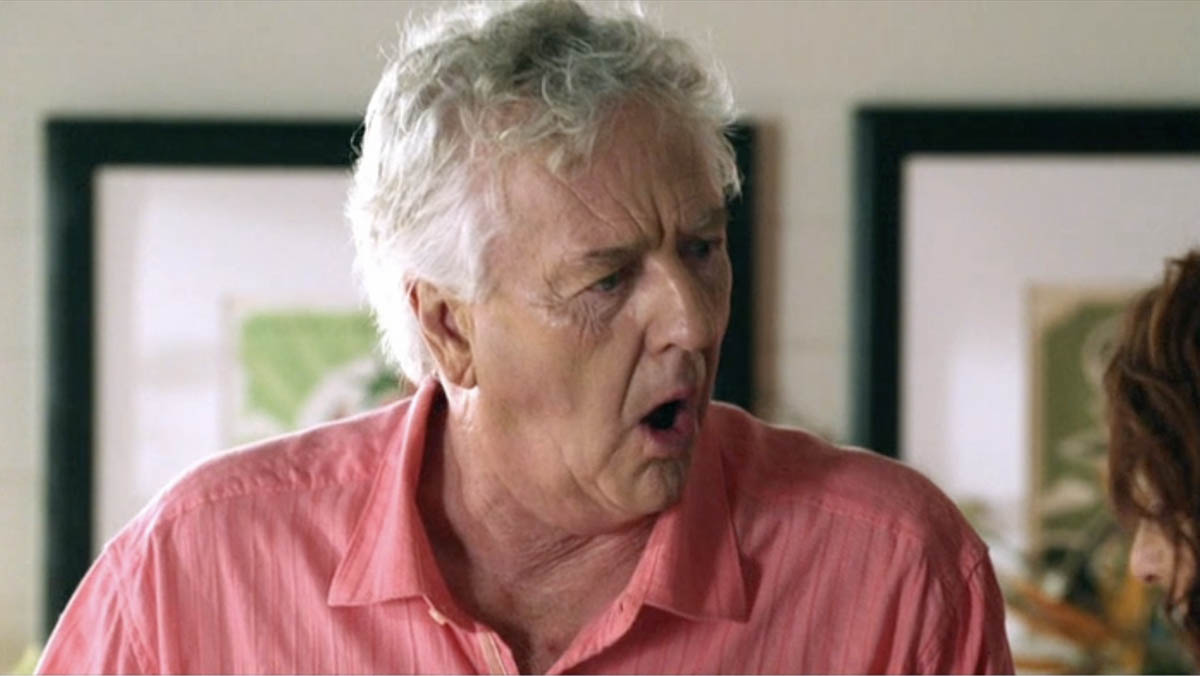 "Just how far will their scandalous new romance go?" asks the voiceover.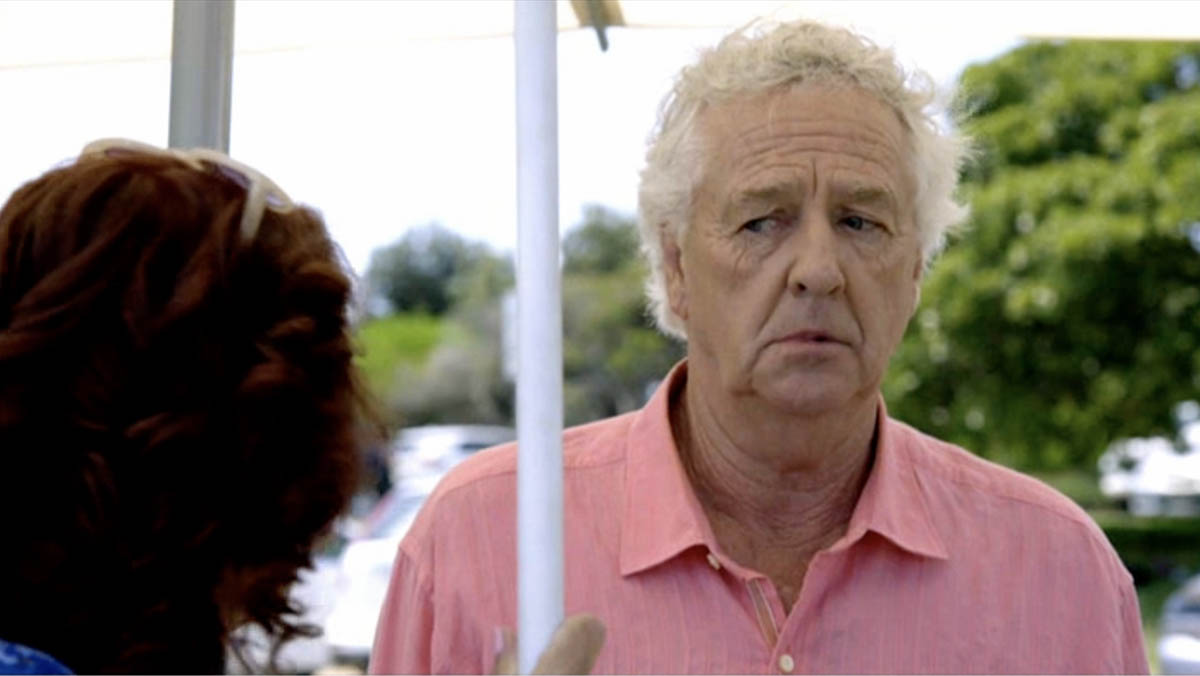 As Alf and Marilyn sit together outside the Coffee Cart, stealing glances towards Irene and John, Irene is in her element as she plays up to their suspicions.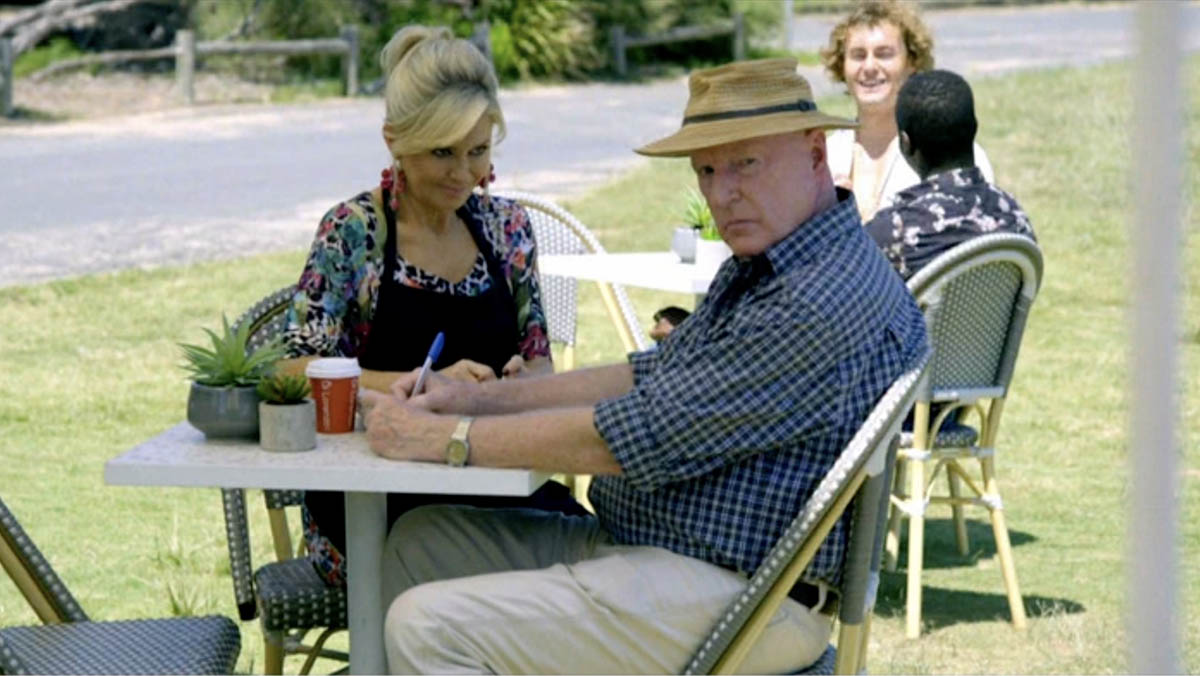 She beckons John in for a hug, before planting a kiss on his cheek.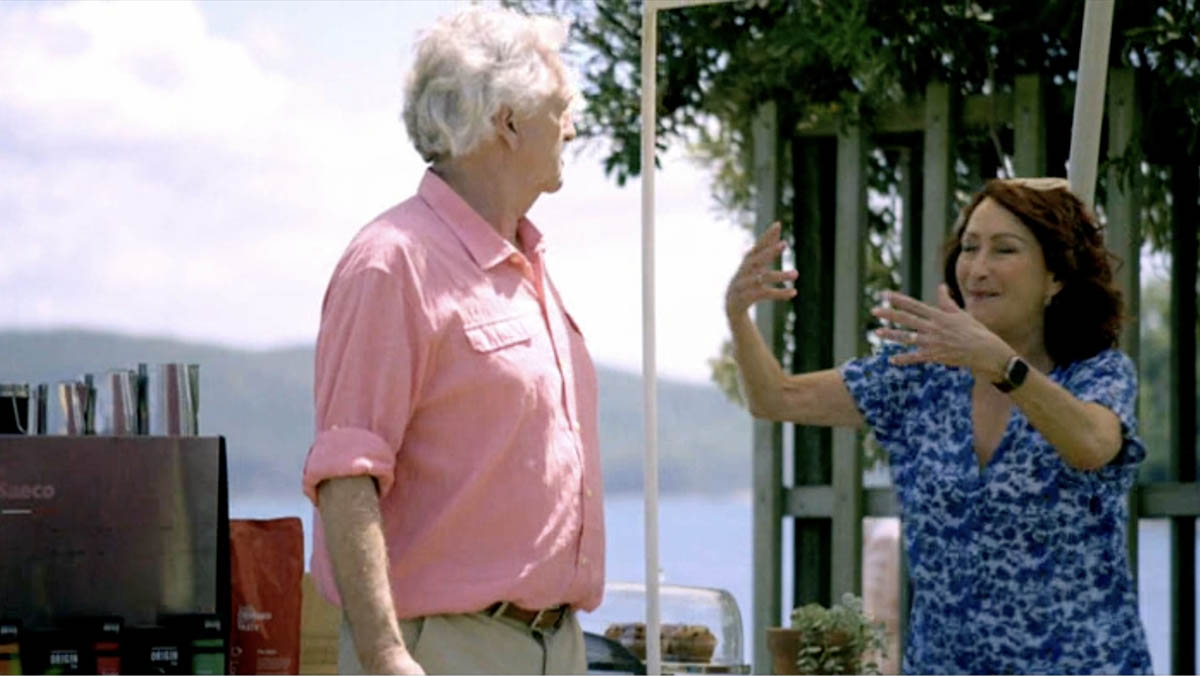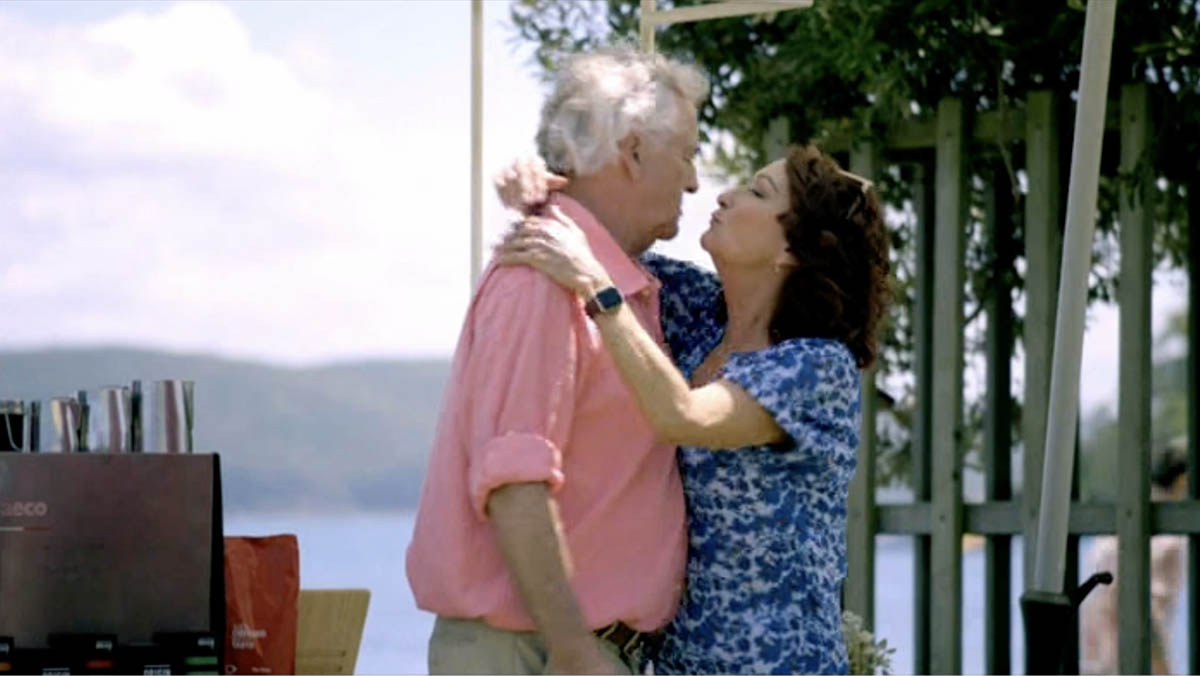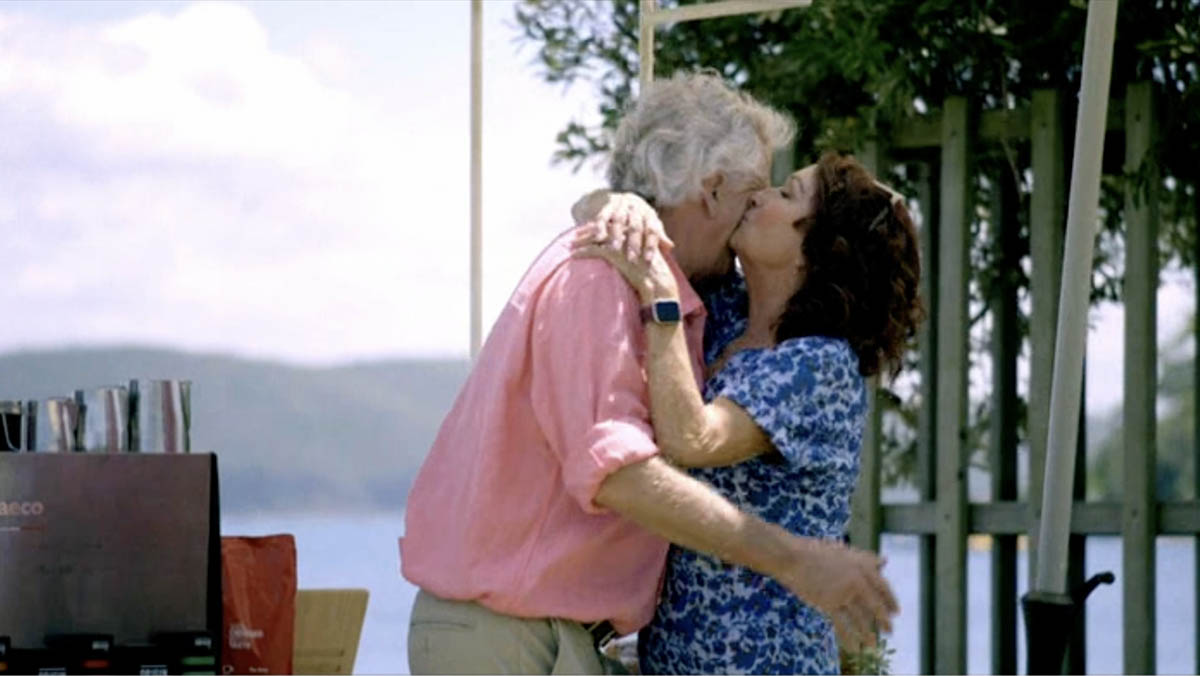 Alf and Marilyn watch on in shock – is this really happening?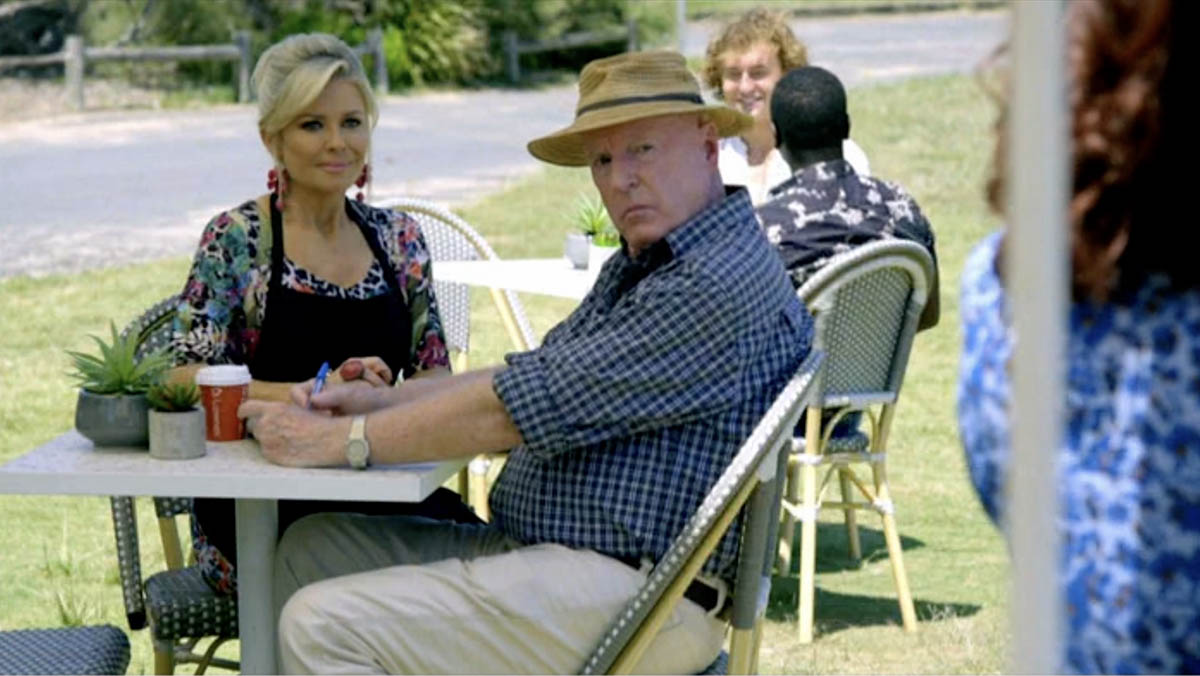 As John turns around, he stares Marilyn directly in the eye before walking off at pace.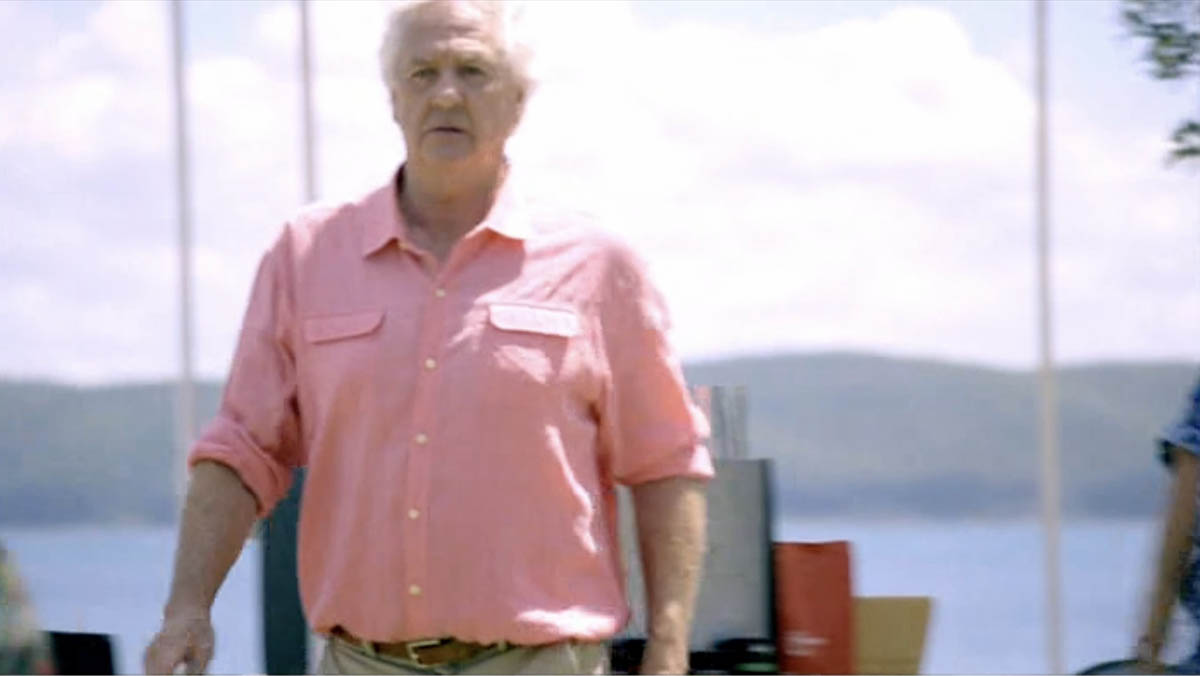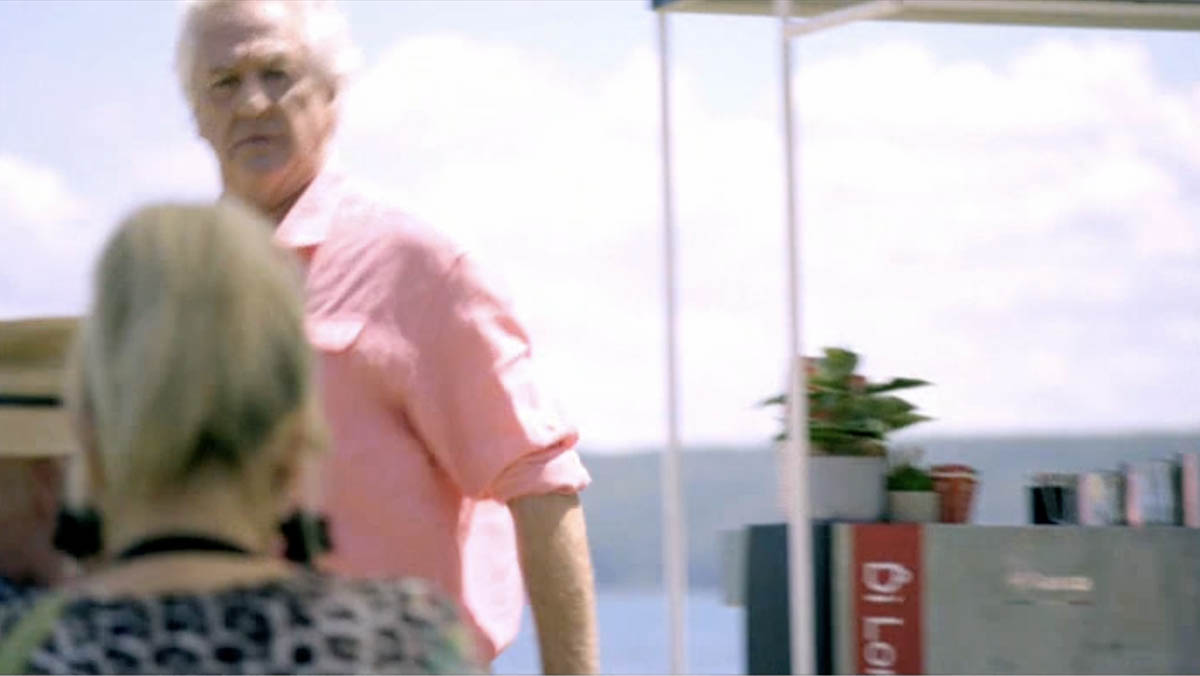 Maz's face says it all.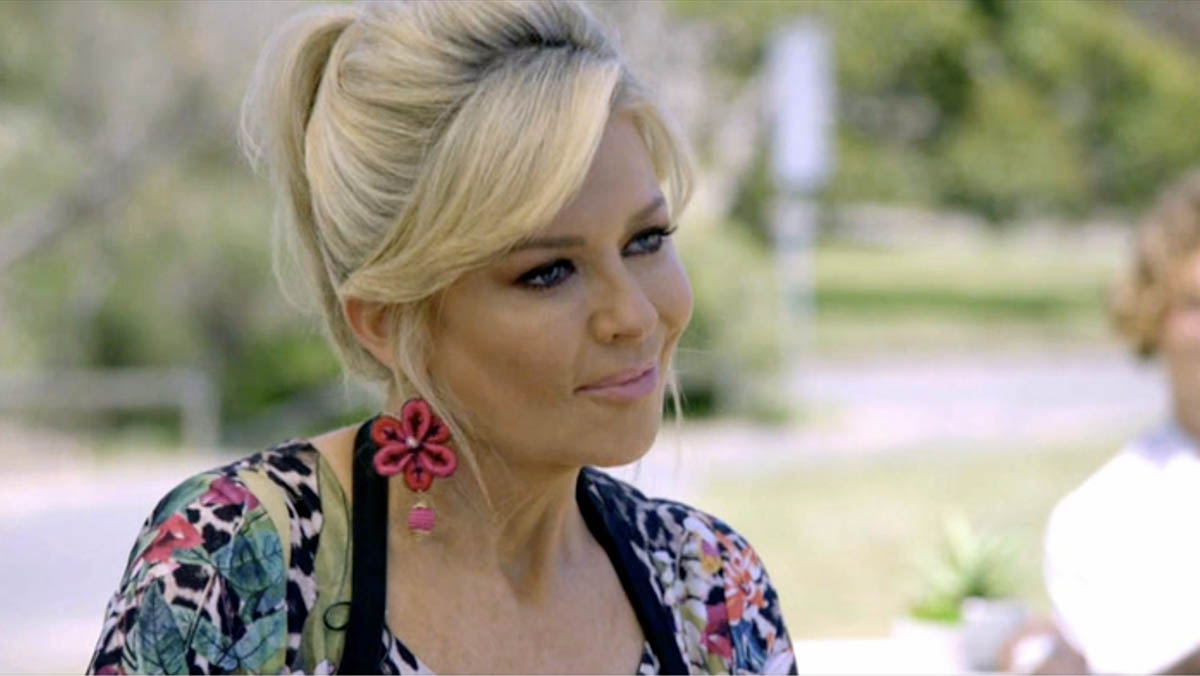 As does Alf's, as he looks back at Palmer in shock.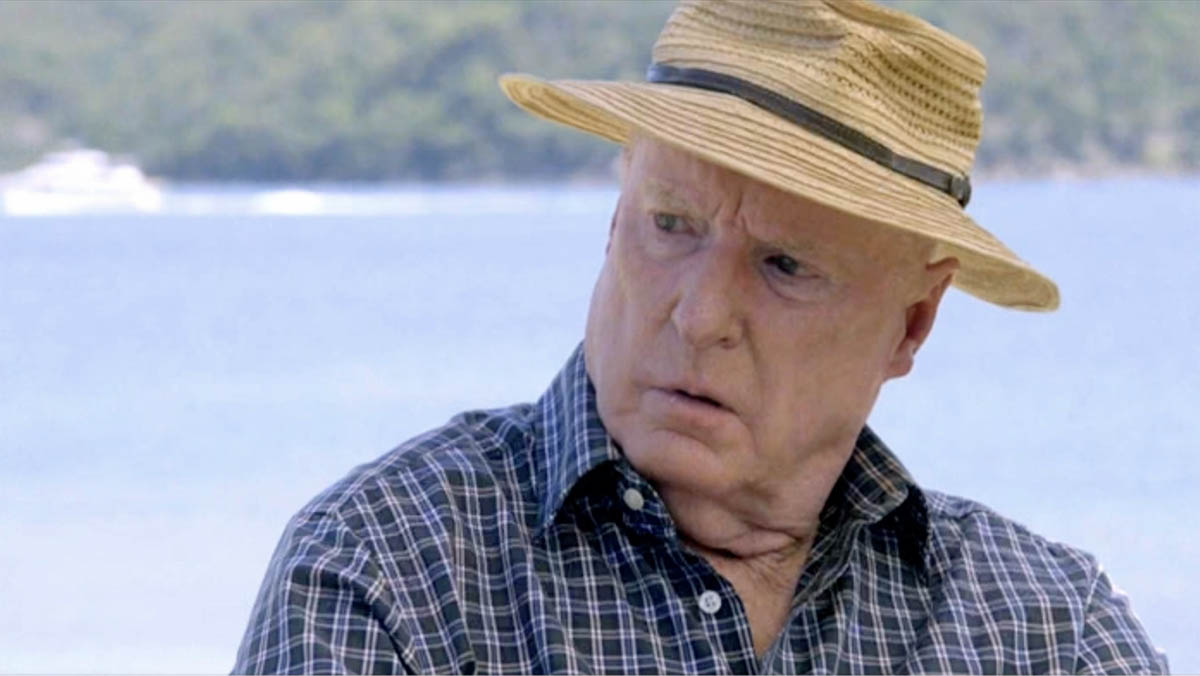 Irene looks pleased with herself, as she too watches her new flame walk away.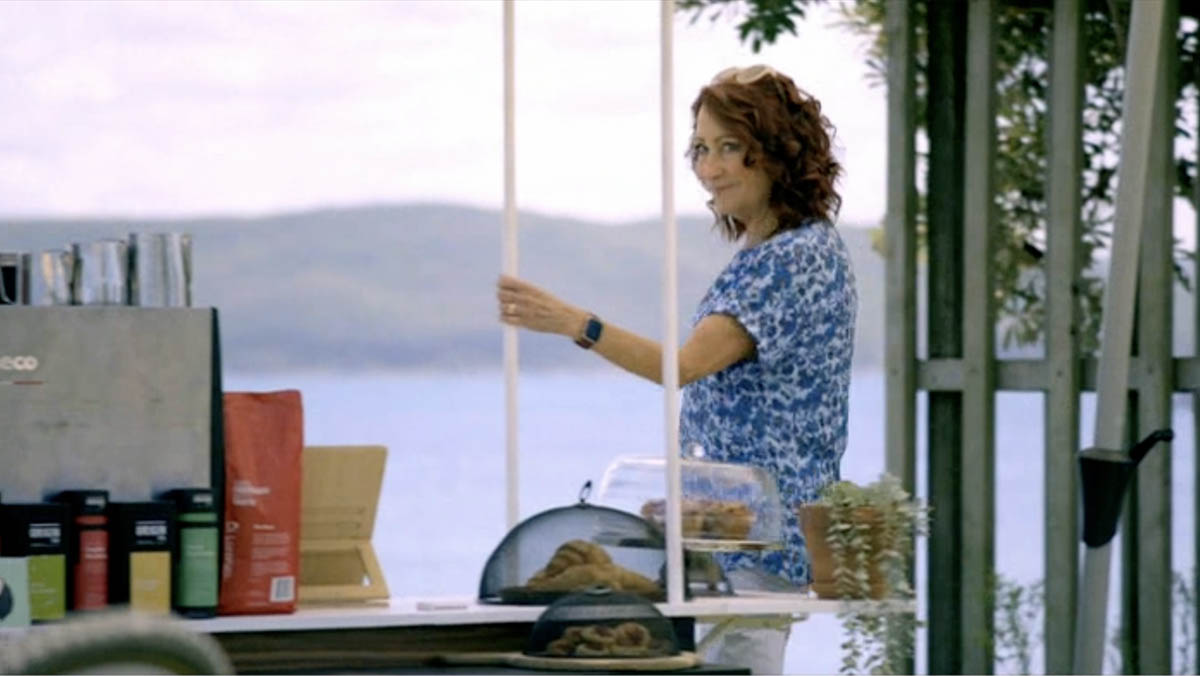 While it's all just a bit of fun, it has the potential to end in tears.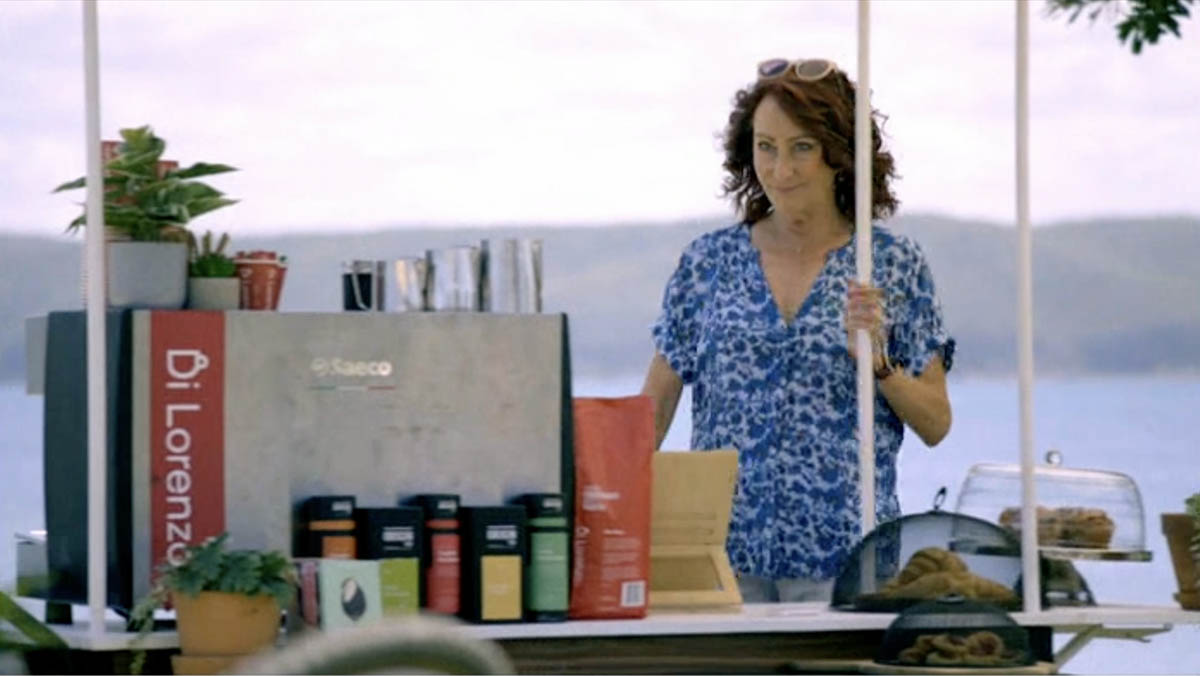 In next Monday's Aussie episode, "Irene and John are the talk of the town," and in Tuesday's episode, they "turn heads" as they put their plan into place.
However, by Wednesday, spoilers tell us that "Marilyn suffers as a result of Irene's prank."
While Maz and John have been separated for years, and she hasn't exactly treated John well since their split, will Irene's games get to her?
UK viewers will see these scenes in late August.
---
Monday 3rd July (Episode 8070)
Irene and John are the talk of the town. Mali's in financial turmoil. Marilyn closes a traumatic chapter of her life.
Tuesday 4th July (Episode 8071)
Rose and Mali come to an agreement. Irene and John turn heads. Felicity's nightmare is not over.
Wednesday 5th July (Episode 8072)
Tane and Felicity don't see eye to eye. Cash vows to find out what's bugging Felicity. Marilyn suffers as a result of Irene's prank.
Thursday 6th July (Episode 8073)
Will Mercedes leave Lyrik in the lurch? John comes clean. Is Justin losing Andrew to Tegan?
Spoilers in your inbox every weekend!