Tane and Felicity's Wedding Gallery – A Home and Away Photo Special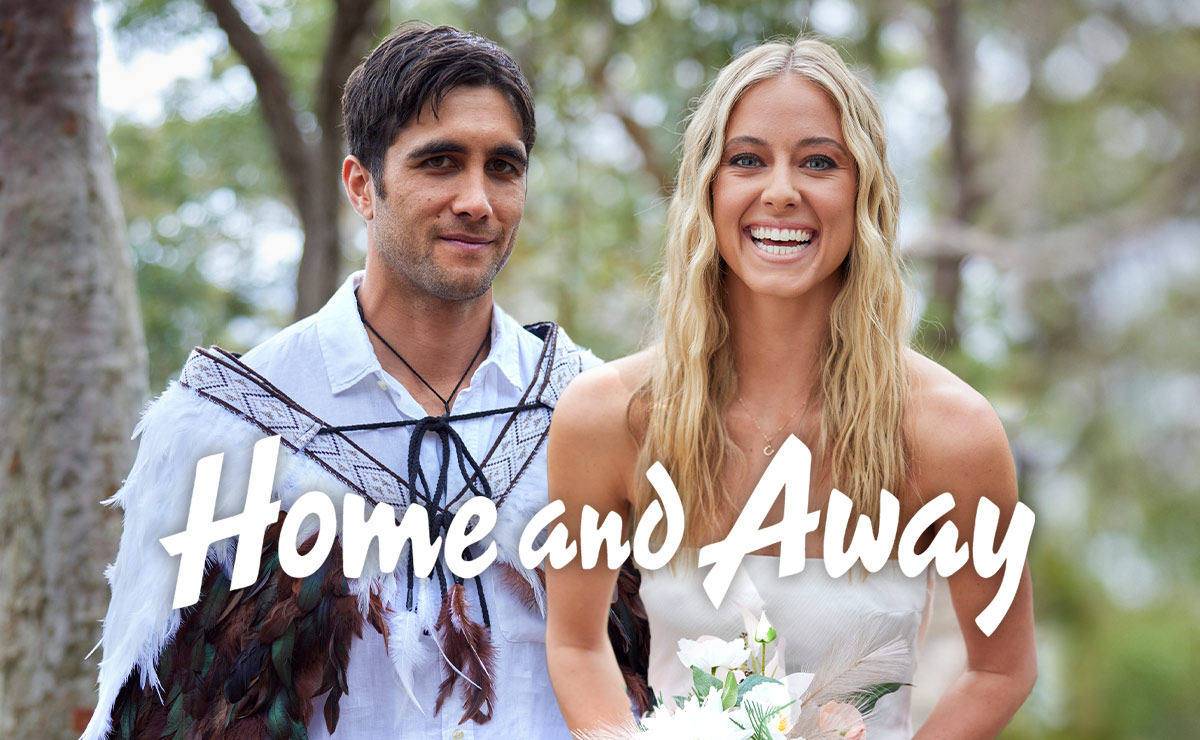 Next week on Home and Away in the UK, Tane and Felicity get married on their second attempt, and we present 35 photos of their intimate Māori ceremony.
It's been a longer road than most for Tane (Ethan Browne) and Felicity's (Jacqui Purvis) engagement, with numerous ups, downs and potholes along the way, but the pair are finally set to get their happy-ever-after as they marry in an intimate Māori ceremony in the show's 8000th episode.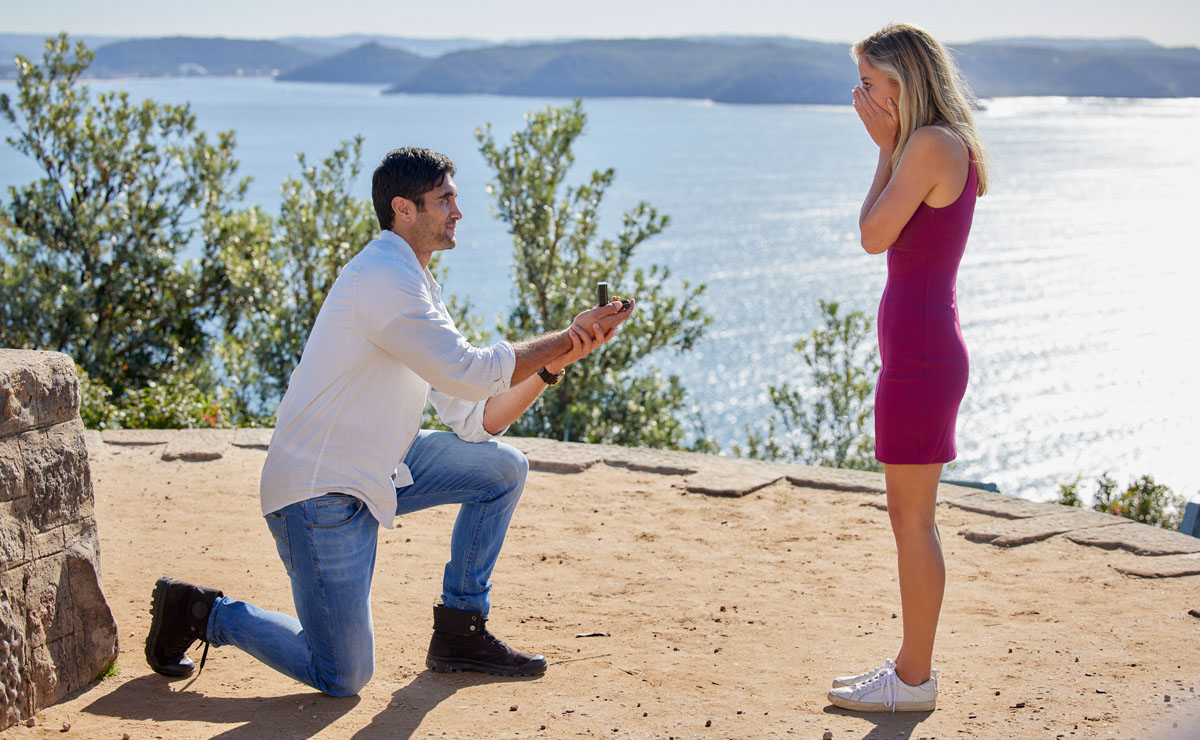 It was back in November when Tane first proposed to Flick, during a special picnic up at Summer Bay's lighthouse with music provided by Lyrik.
Although Tane later picked up on Flick's overwhelming doubts about getting wed and called it all off, Flick was able to convince him that she was ready to get married in 8 weeks time and re-proposed to him.
Of course things all went pear-shaped on the day of the wedding, when bridesmaid Eden (Stephanie Panozzo) lost control of the bridal car after it was sabotaged by the bikies (who were attempting to take out Cash).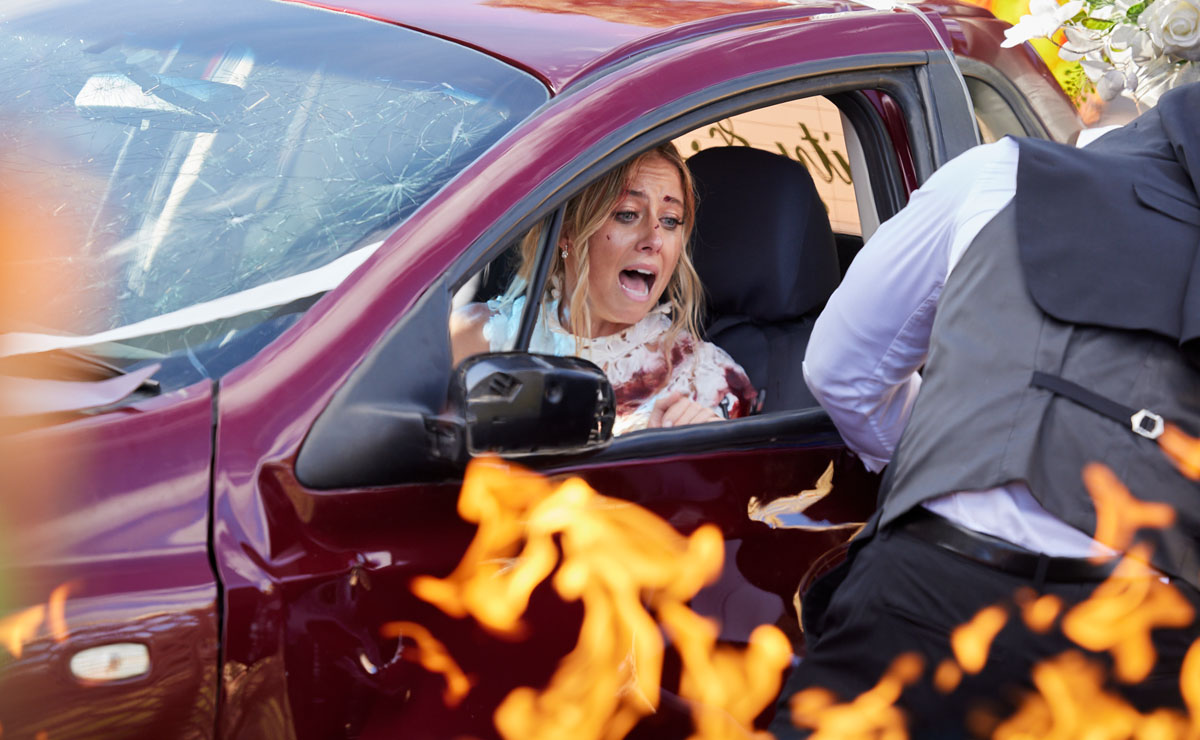 With Flick traumatised from being trapped in the burning ute, and Eden left in a coma for several weeks, Flick began a downward spiral that saw her turn to drink, move out of the house, and eventually dump Tane.
After a trip to her old hometown to visit foster father Gary (Peter Phelps), and the graves of her parents, finally enabled Flick to put the demons of her past to rest, Tane came up to the farm to see her and the pair were reunited. On their return to Summer Bay, Flick reaffirmed her commitment by proposing to Tane again on the beach.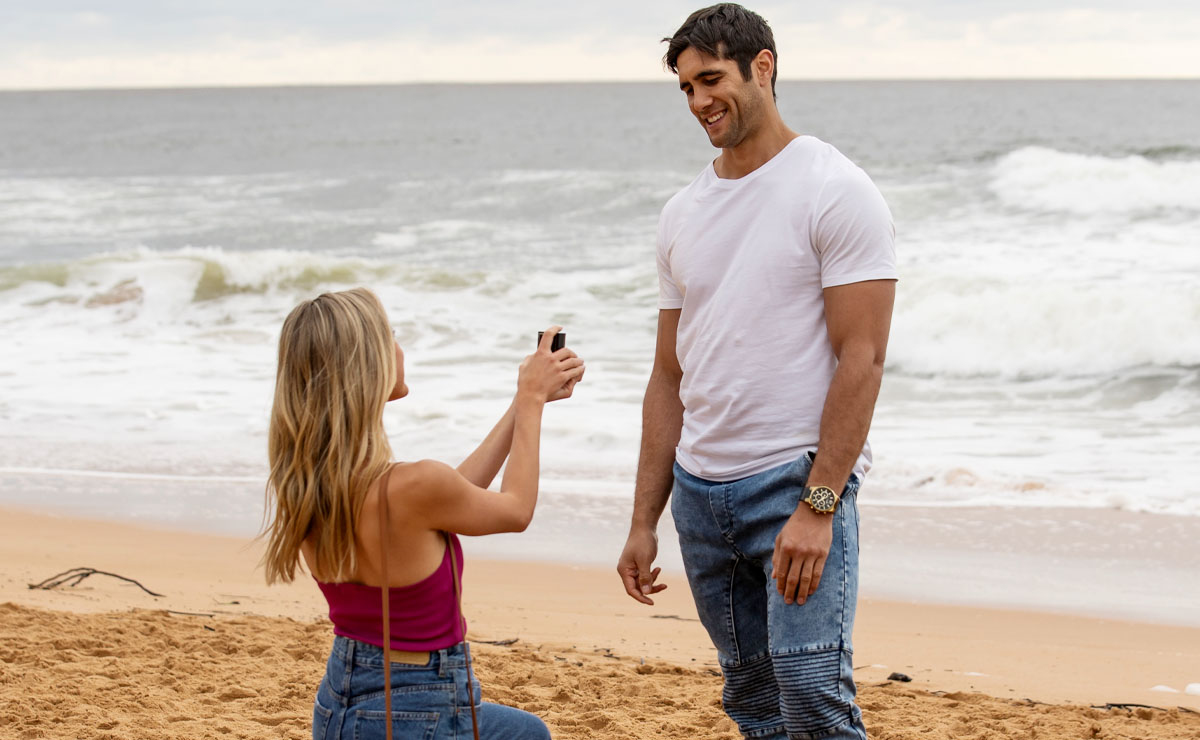 Not wanting to have any reminders of their previous attempt at a wedding, Flick and Tane agreed to start afresh, keep it simple… and take a hands-off approach by appointing Eden and Cash (Nicholas Cartwright) to organise everything.
Next week, it's clear that whilst Cash and Eden have the best intentions in making preparations, they're getting somewhat distracted by their own burgeoning relationship. Rather than exploring potential menus and venues, they're exploring each other…
Getting impatient, Flick and Tane decide that Cash and Eden have had their chance, and it's time to take matters back into their own hands.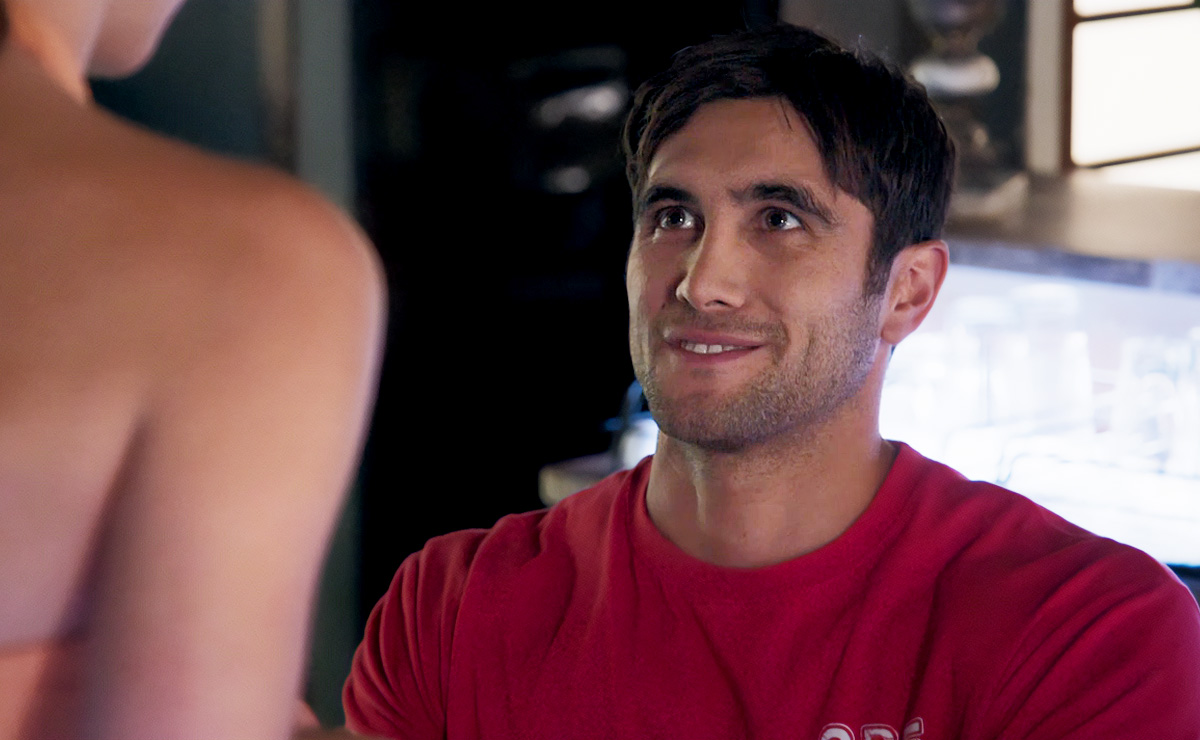 Bending down on one knee again, Tane asks Felicity to marry him… tomorrow, on the beach! (that's four proposals they've had in total, but who's counting…)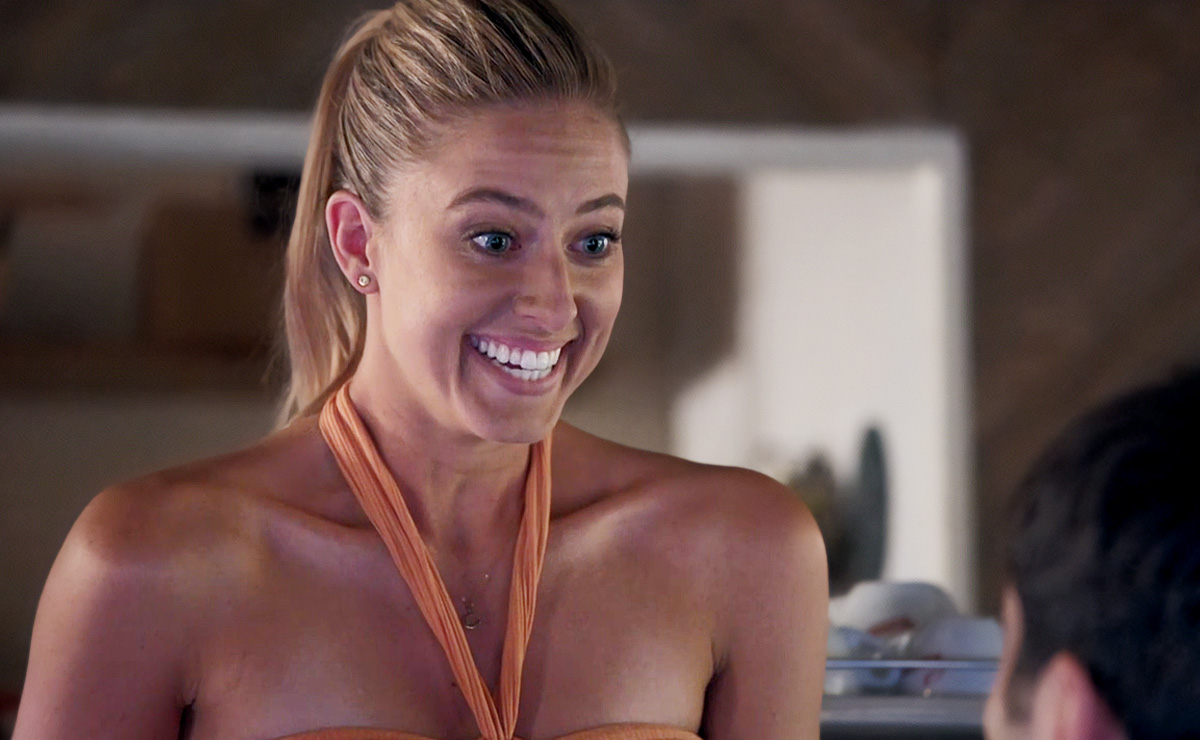 "After all they've been through, Flick and Tane want a simple wedding and just to be married," Jacqui explained to Aussie magazine TV Week.
Interrupting Cash and Eden as they continue their bedroom antics, Flick and Tane inform them that they've been relieved of wedding planning duties, and all they need to do is ensure they can act as witnesses the next day.
There'll be no other guests at the ceremony in order to save on the show's budget keep things low-key, and they'll have celebratory drinks in Salt afterwards.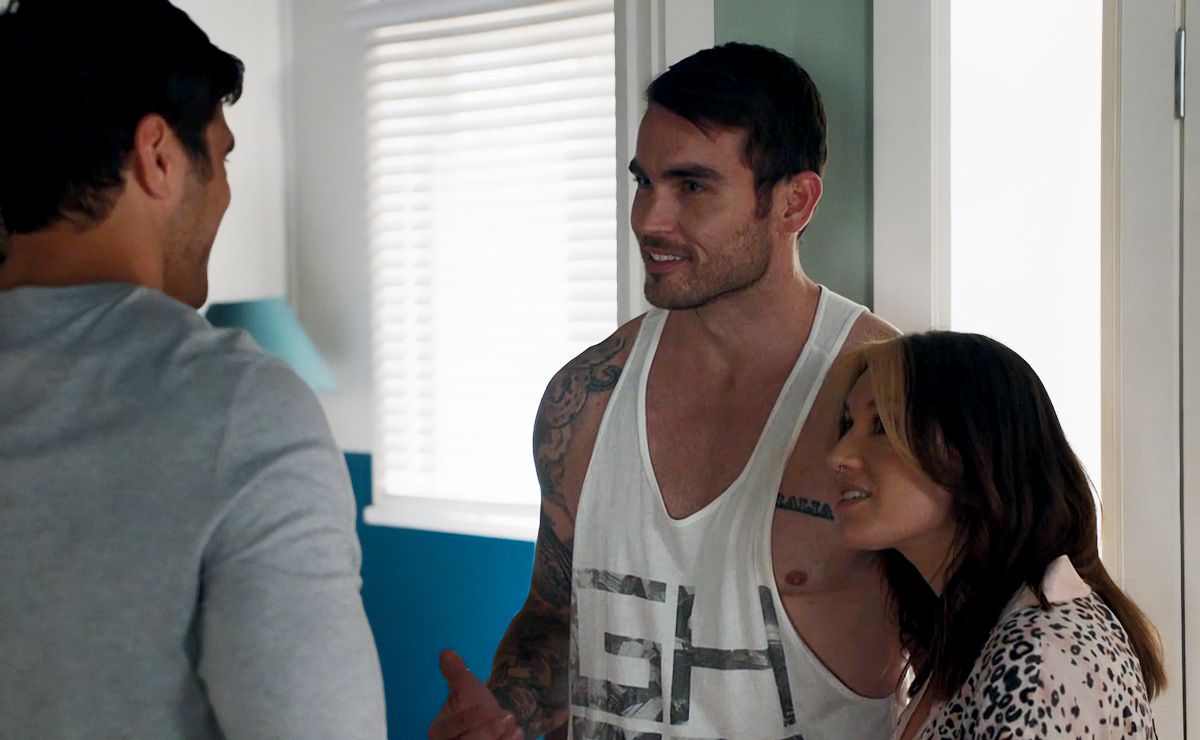 That evening, Flick makes a call to the recently departed Nikau (Kawakawa Fox-Reo) to go over her previously rehearsed te reo Māori vows one last time, and the next morning Tane enlists Cash to help with some last-minute preparations—he's got one or two surprises of his own up his sleeve.
The next morning, Cash picks up Flick and Eden to take them to the ceremony, only to reveal that they're not going to the beach as planned…
On their arrival at some remote bushland, they find Tane waiting in a clearing, alongside the celebrant Tui (Miritana Hughes), a kaikaranga, and some poi dancers.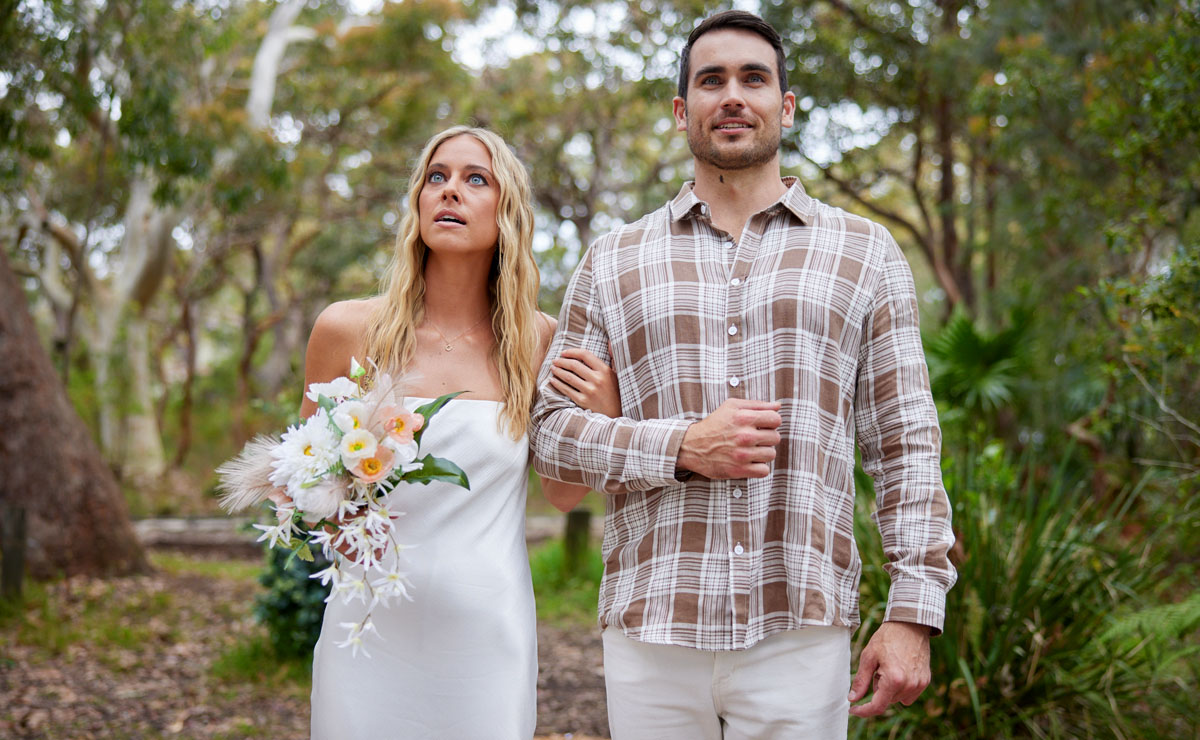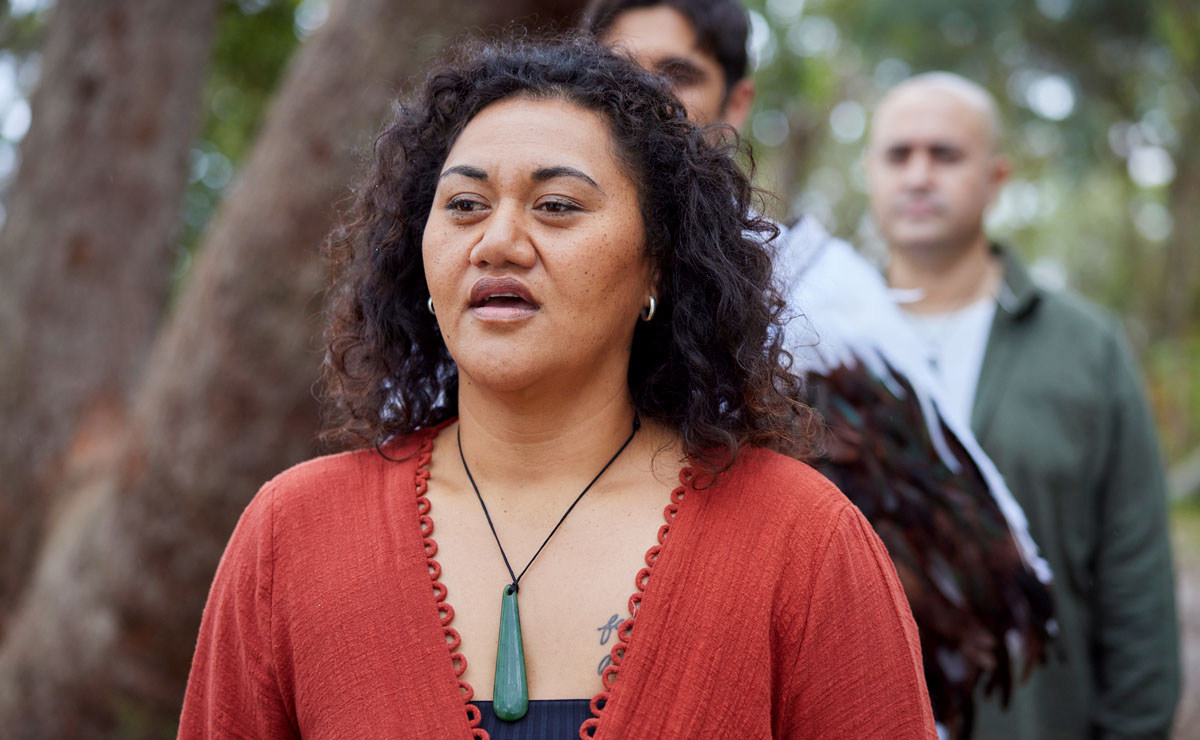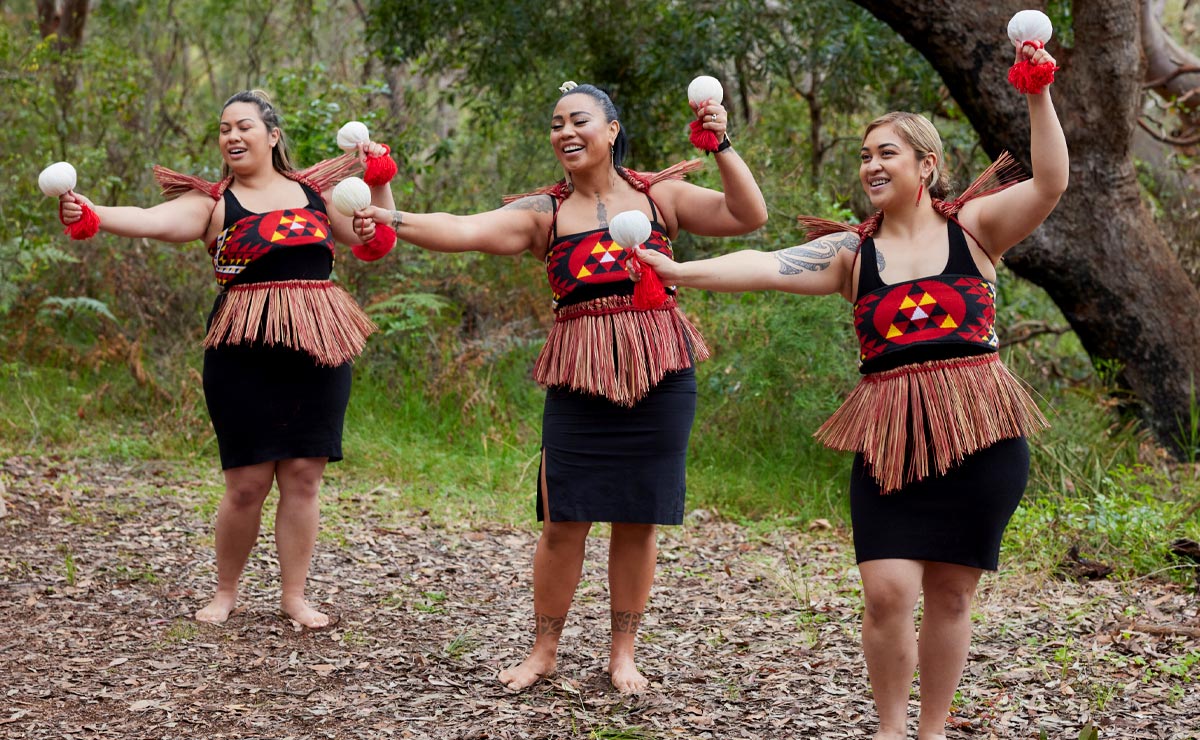 The kaikaranga (Michelle Morunga), who was last seen at Ari's (Rob Kipa-Williams) funeral gathering, is the one who traditionally makes the ceremonial call to welcome people to the venue.
As the call is made, Eden starts the music. The poi performers (Celeste Thompson, Mina Martin & Rhiana Cooper) begin their dance, and Cash begins walking Flick down the bushland aisle.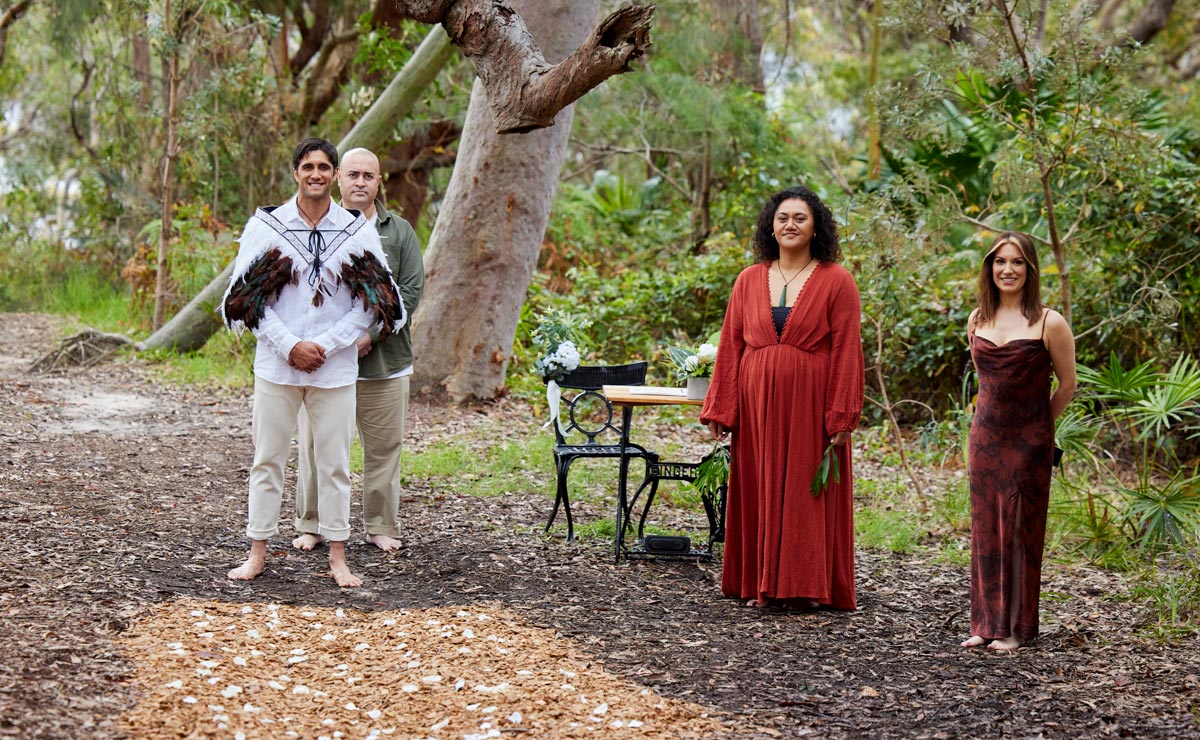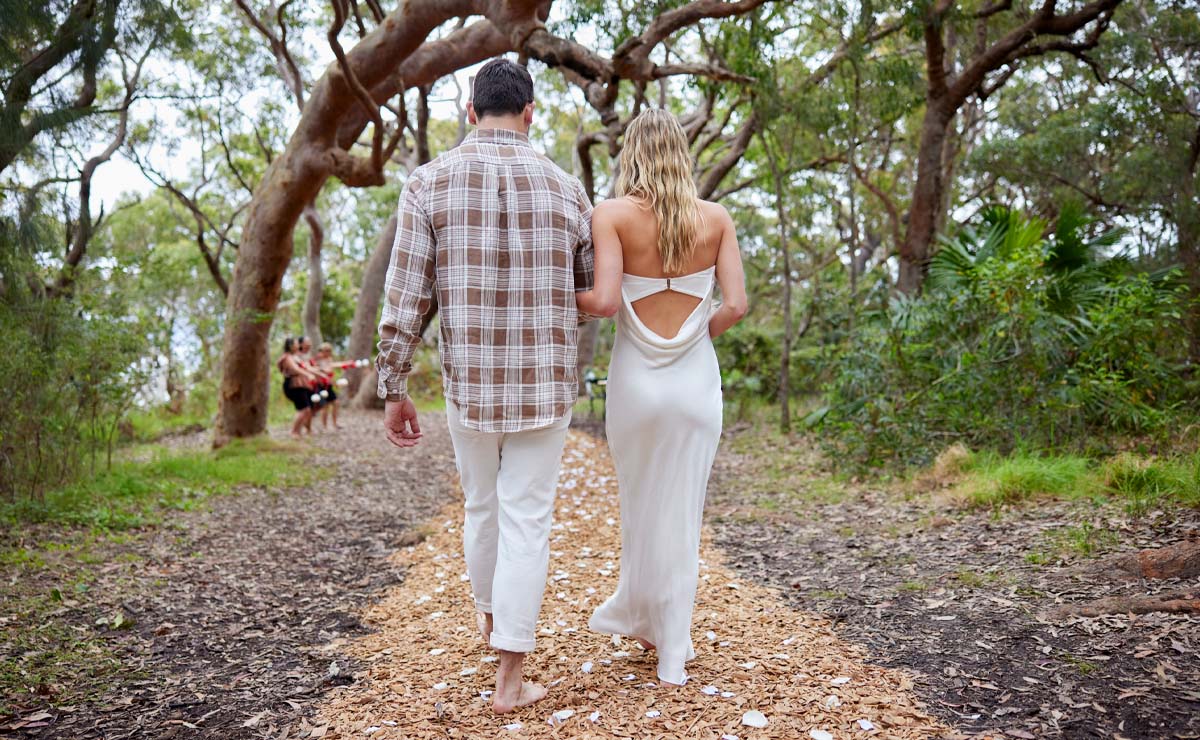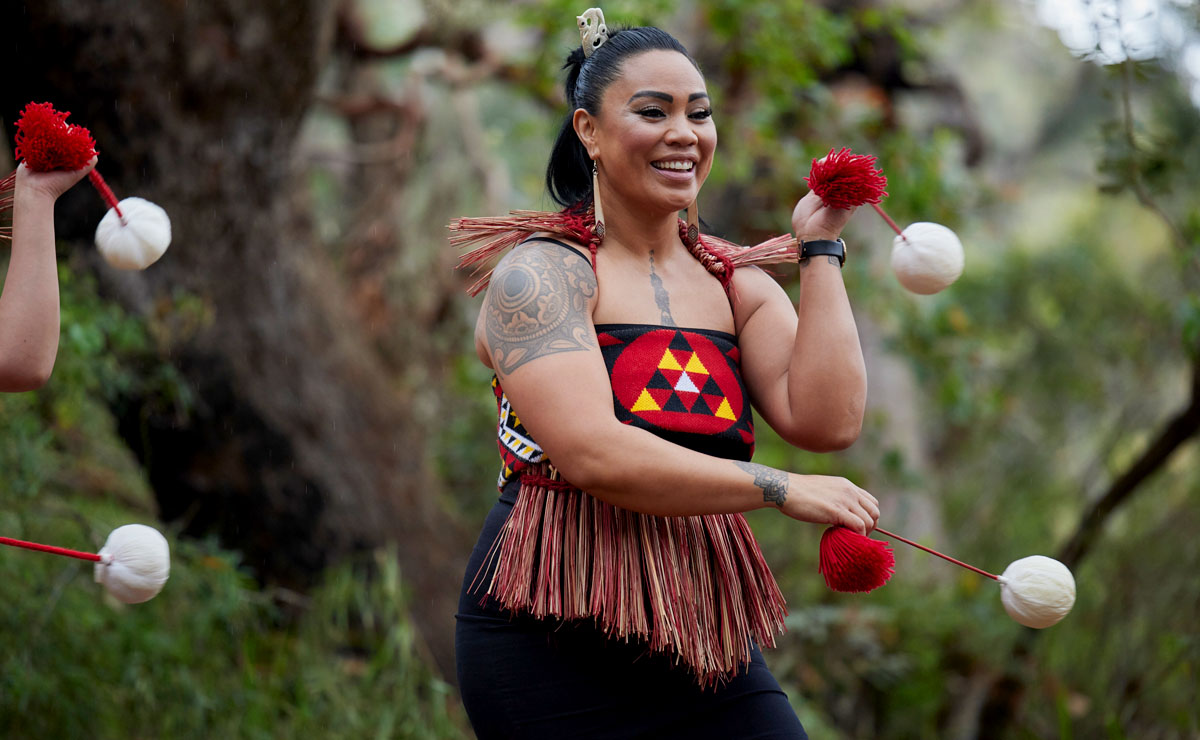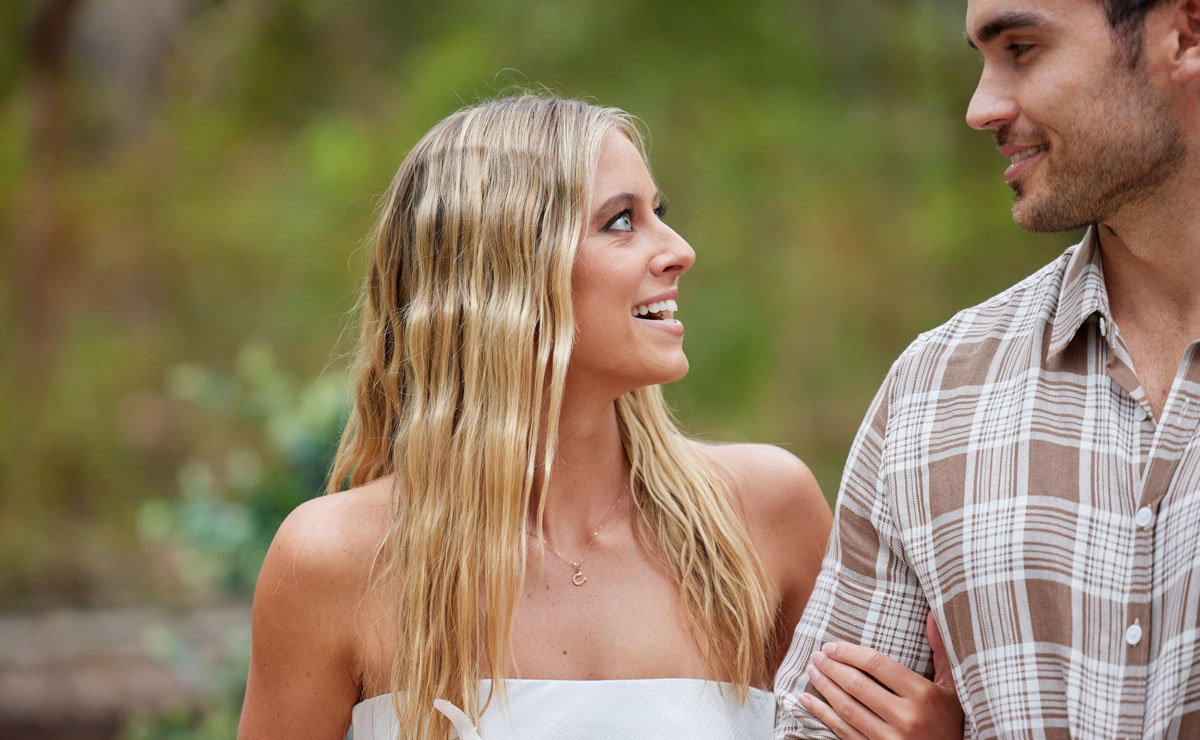 Flick can't contain her excitement as she gasps in awe at the beauty of everything that surrounds her—it really is the wedding she'd always dreamed of.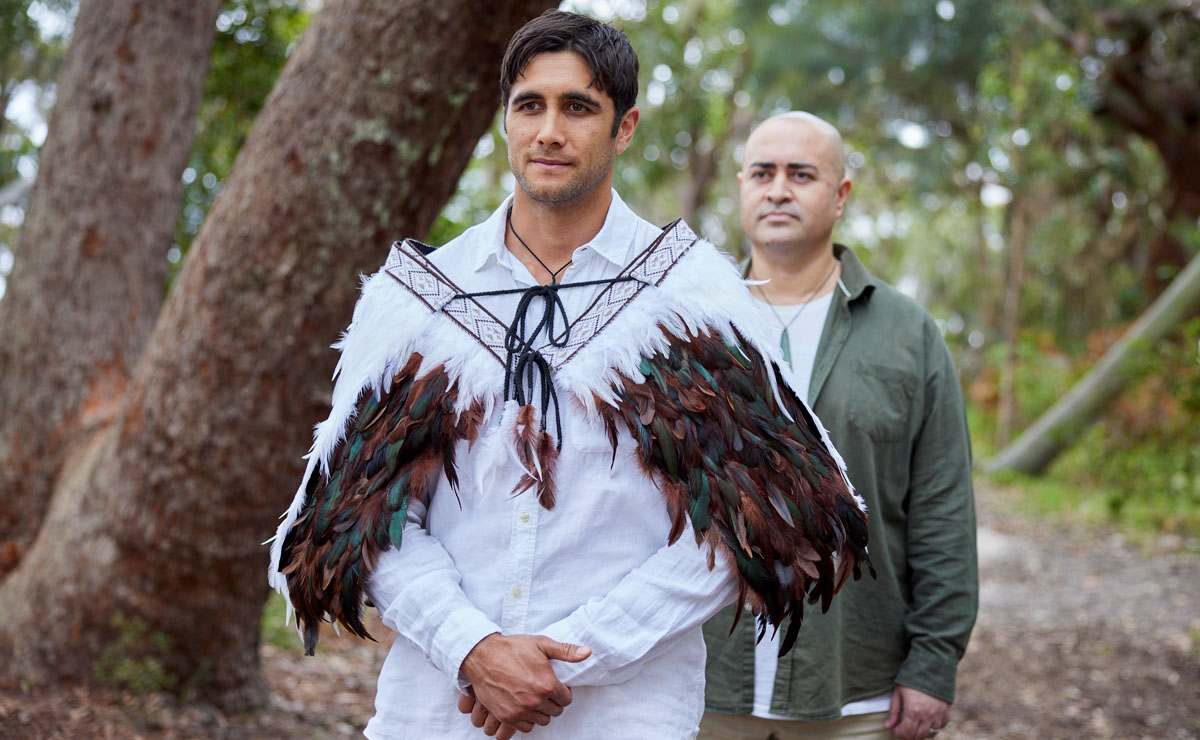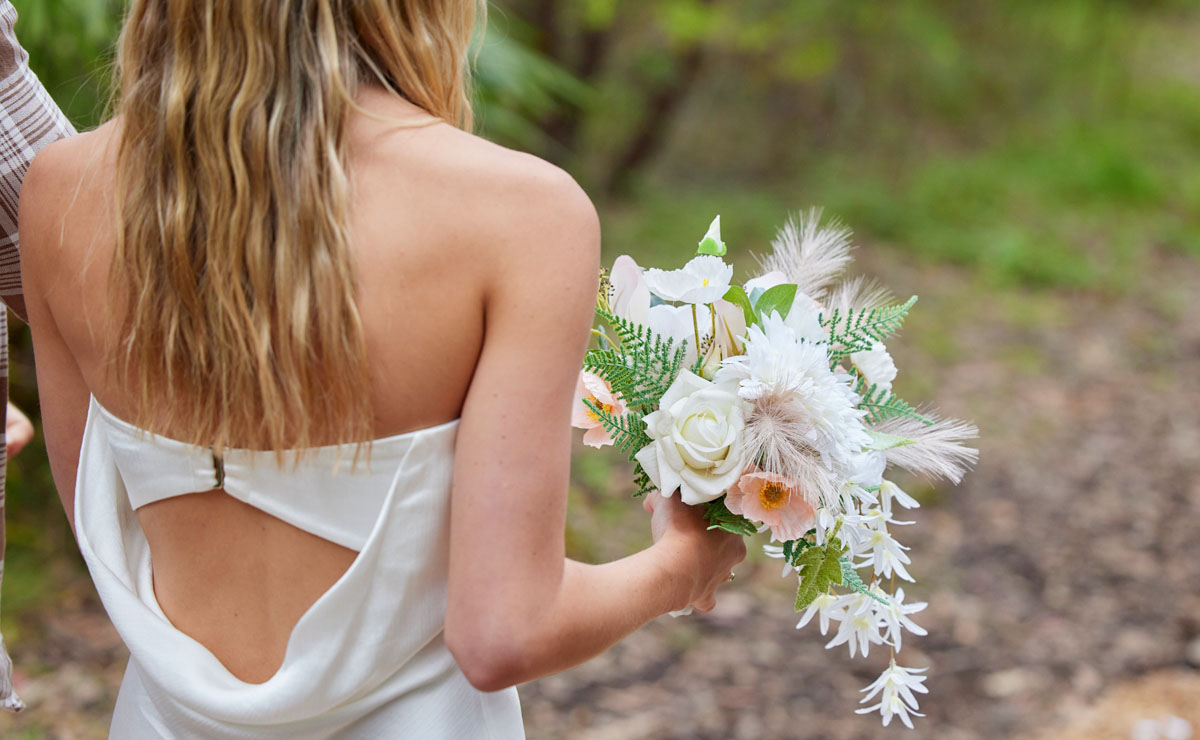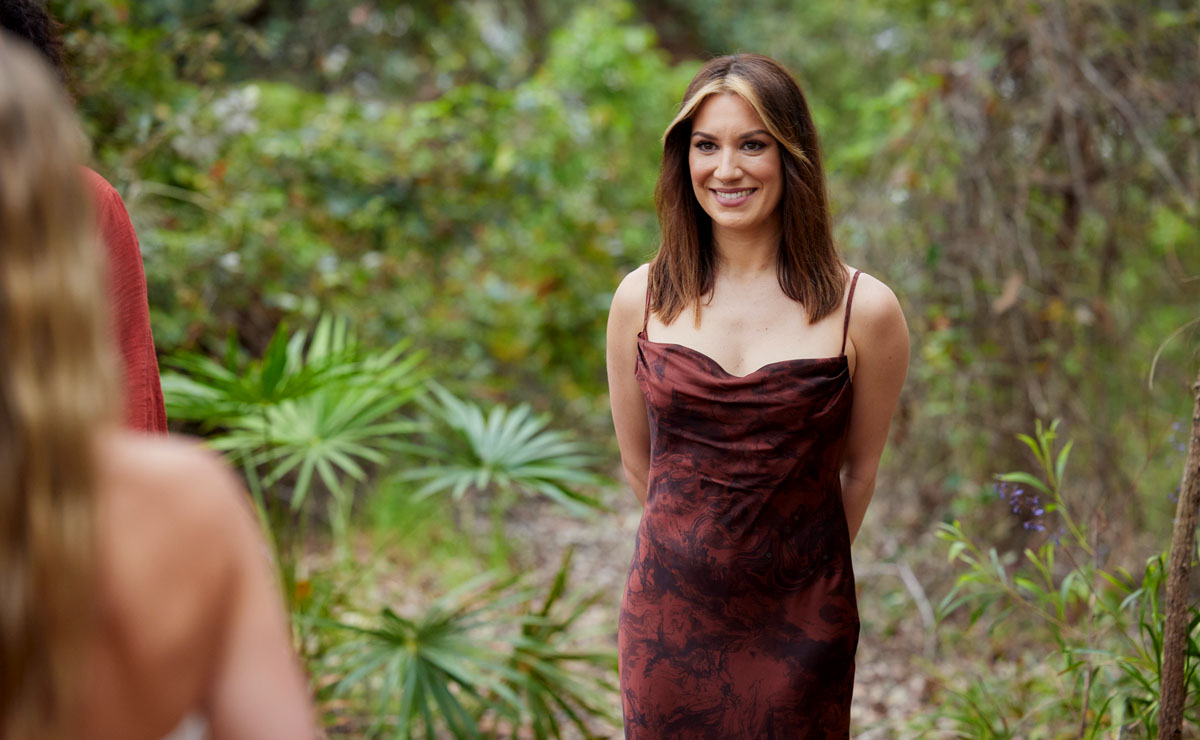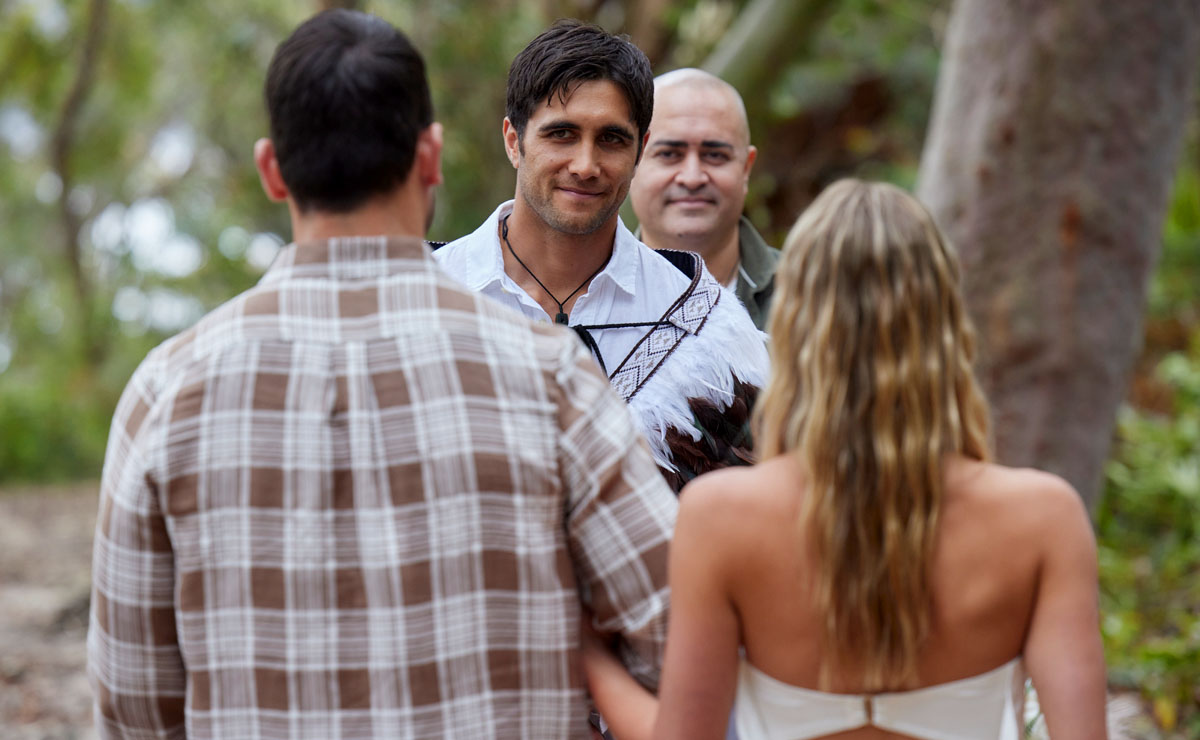 As Cash safely delivers Flick to Tane, the two men share a hongi (the Māori greeting) and the ceremony can begin.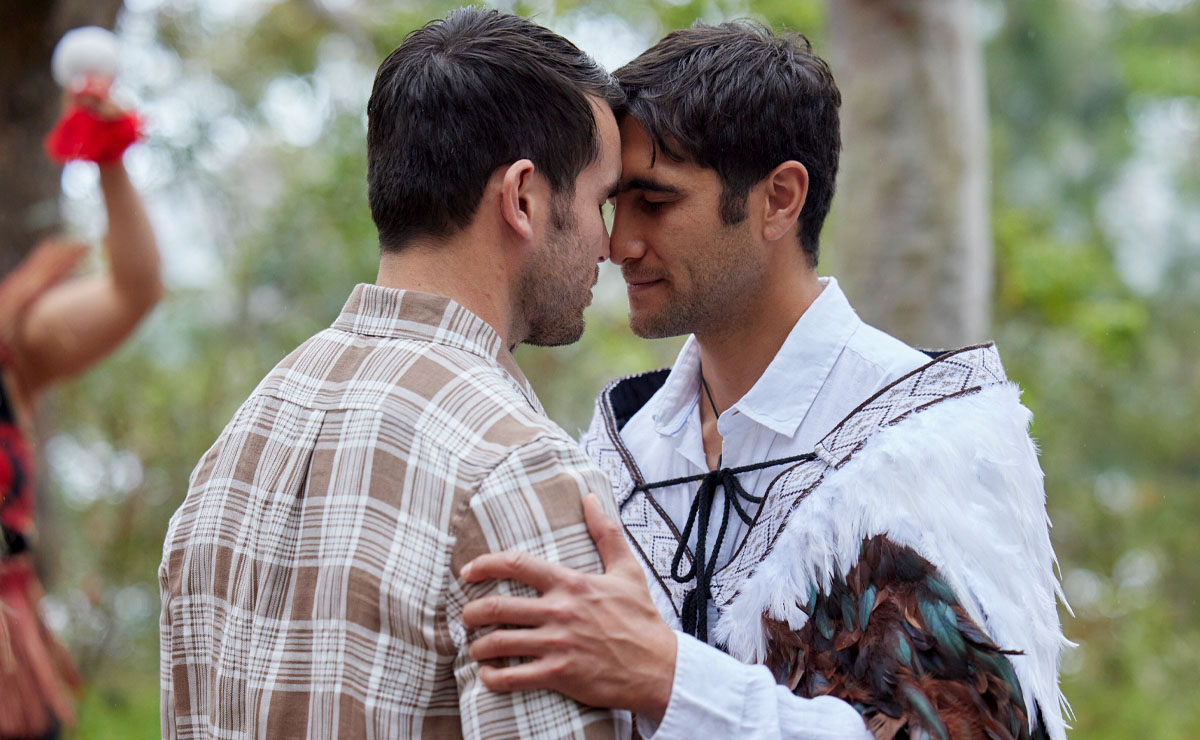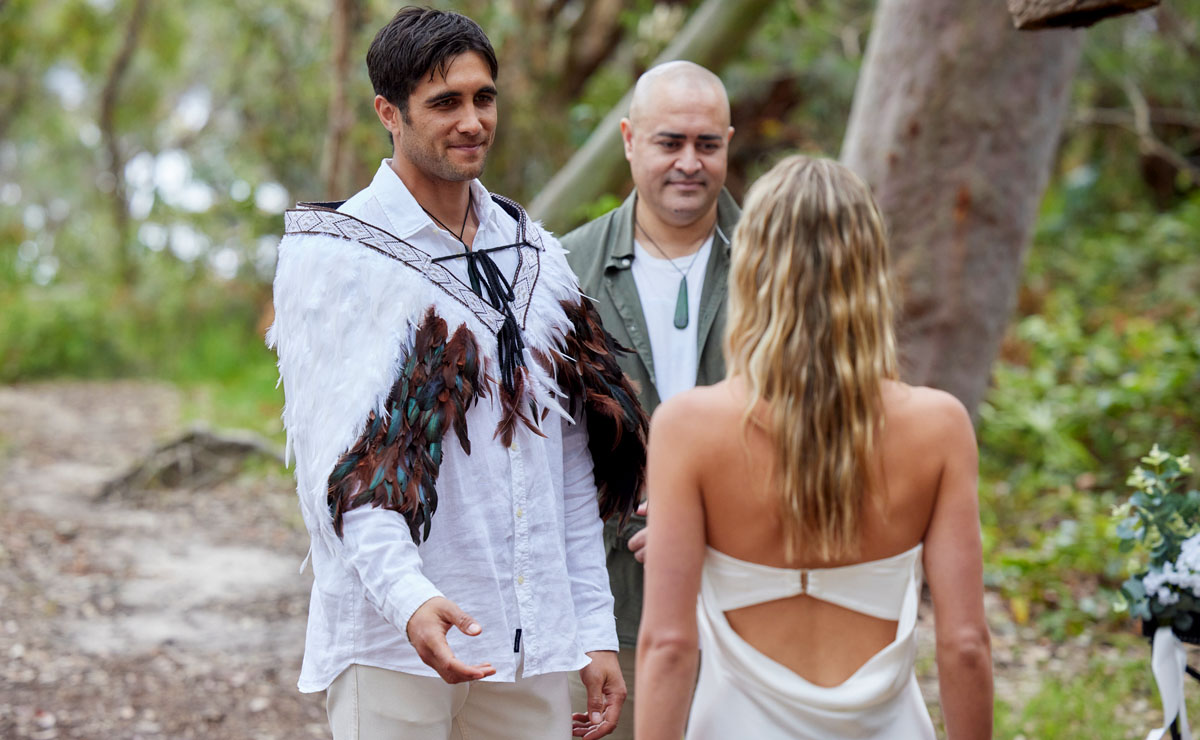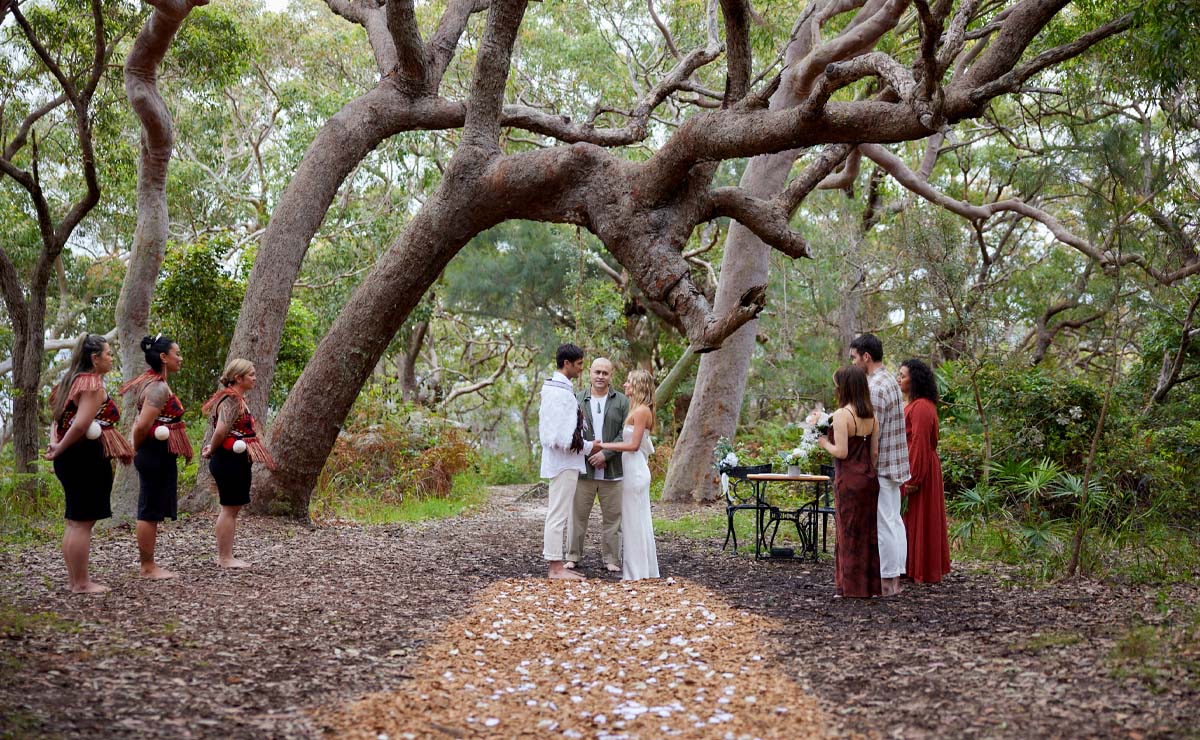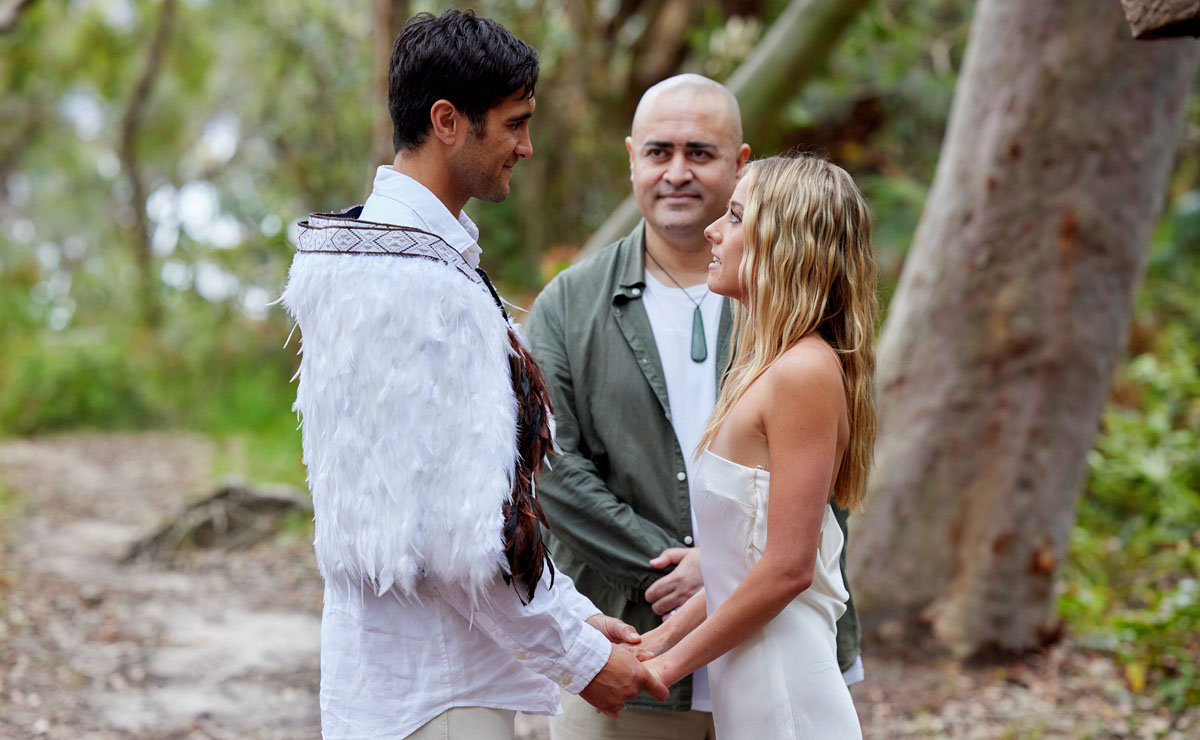 Flick is the first to deliver her vows, and Tane couldn't be prouder as she speaks them in the language of his homeland, which we can provide a translation of below…
"Tane, I love you so much. You are the most important thing to me, you make me feel whole and safe. And even though I have no idea what the future holds for us, there's one thing I do know for sure. I want you in it every single day."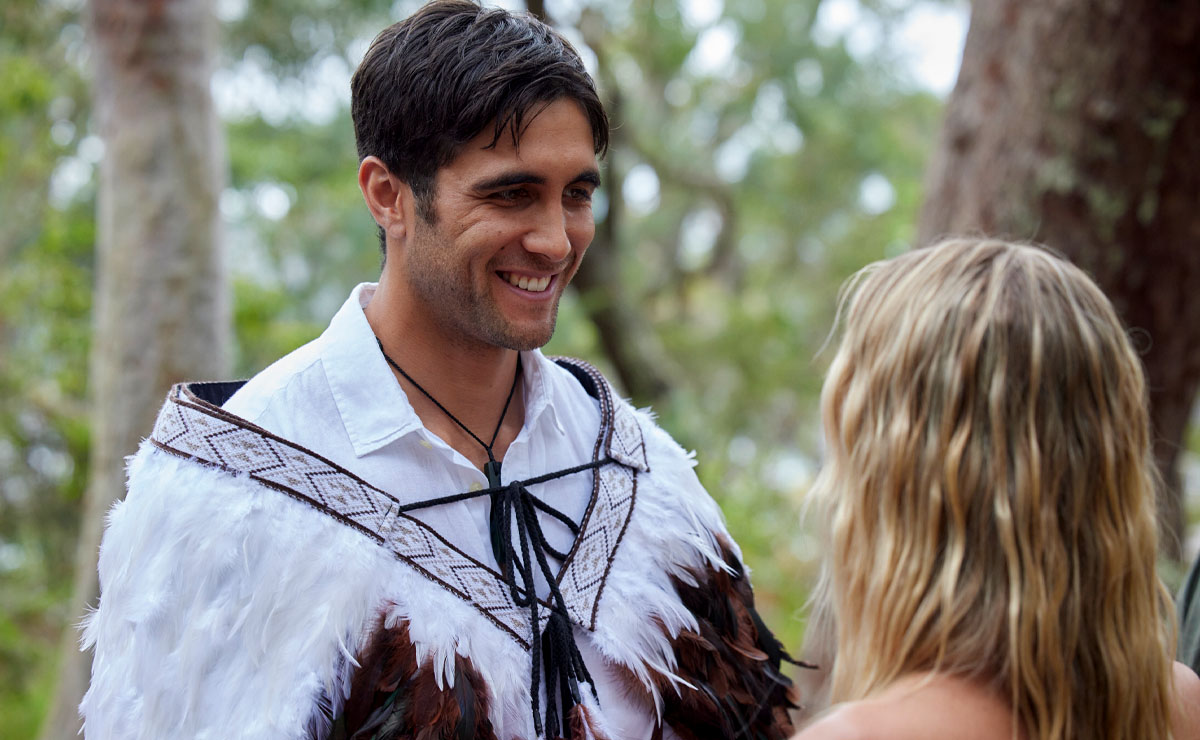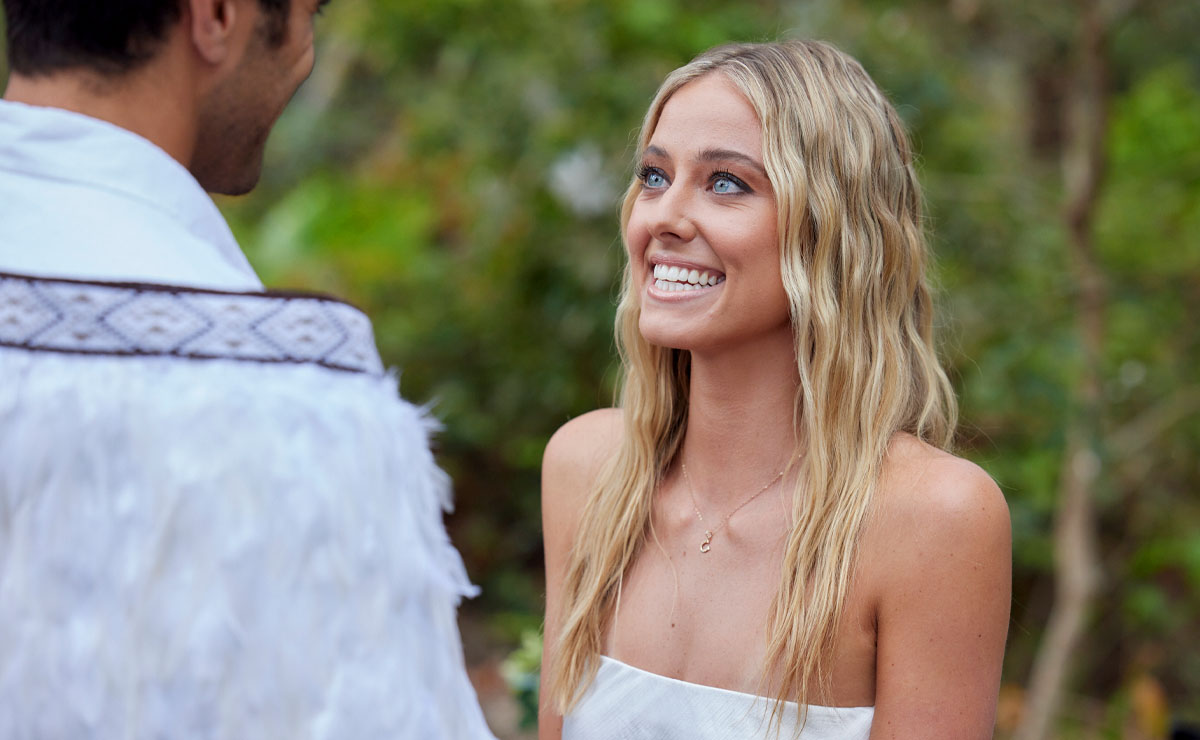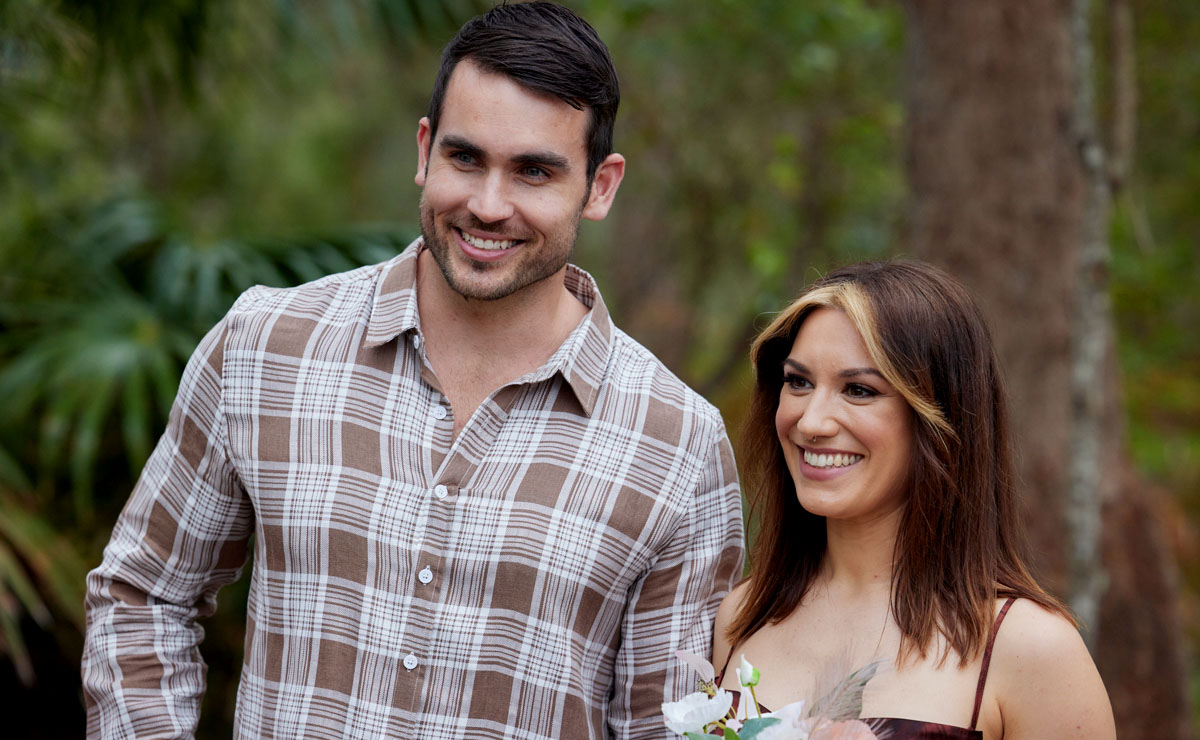 "I was so lucky to see it firsthand," Jacqui told TV Week of the Maori customs. "I was truly touched."
"To learn from Ethan what the traditions are has been really moving. I also had to say my vows in te reo Maori, so I felt the pressure! I hope I did the beautiful language justice."
Tane sticks with English as he makes Flick a simple promise in his own vows.
"I love you Felicity, and I promise I'll spend the rest of my life making you as happy as you make me."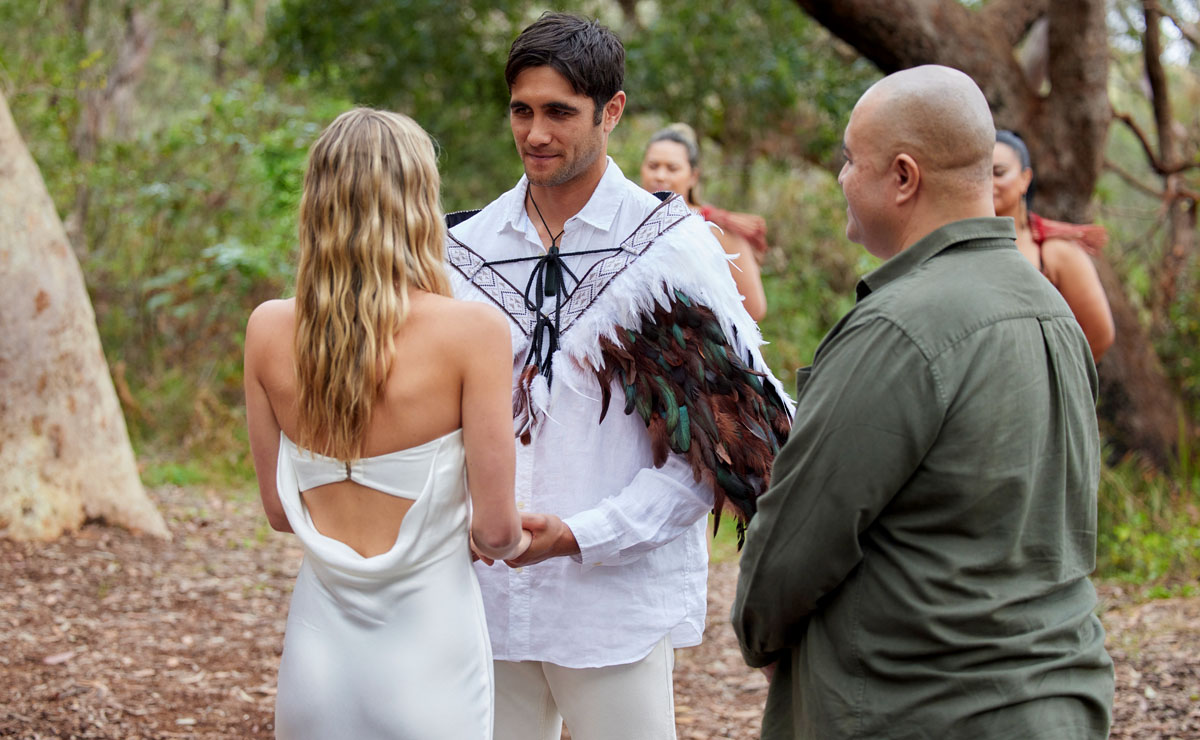 Tane then goes on to remove his outer korowai, the ceremonial feathered cape that he's wearing.
He explains to Flick that the korawai holds the stories of his whanau (family), and placing it on her symbolises how his love will surround and protect her for the rest of their lives.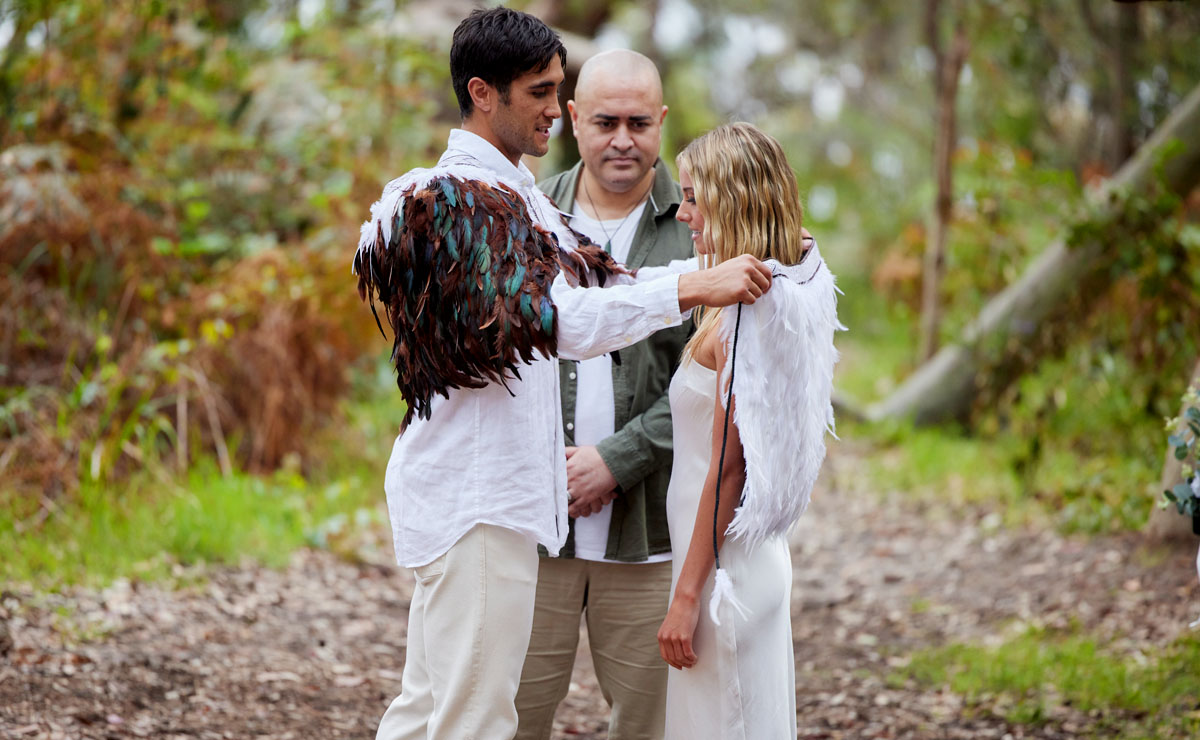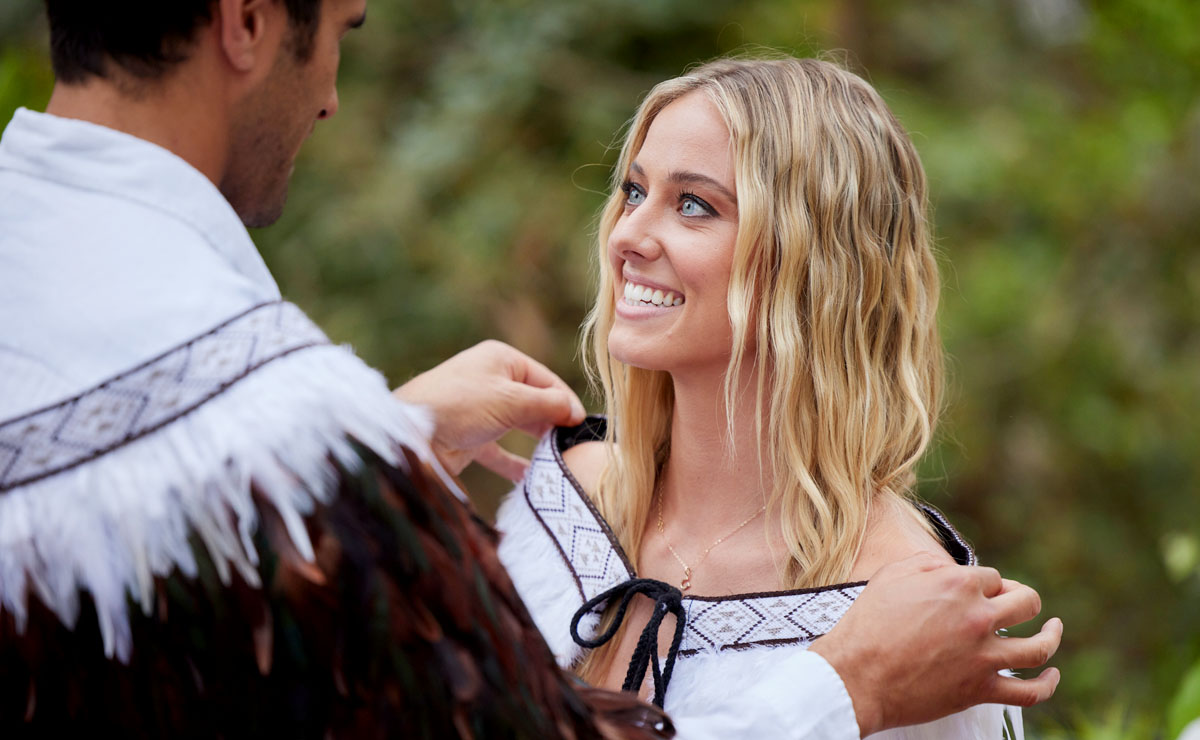 All that's left to do is for the exchange of rings, and with a few final words from Tui, he pronounces Tane and Flick to be husband and wife.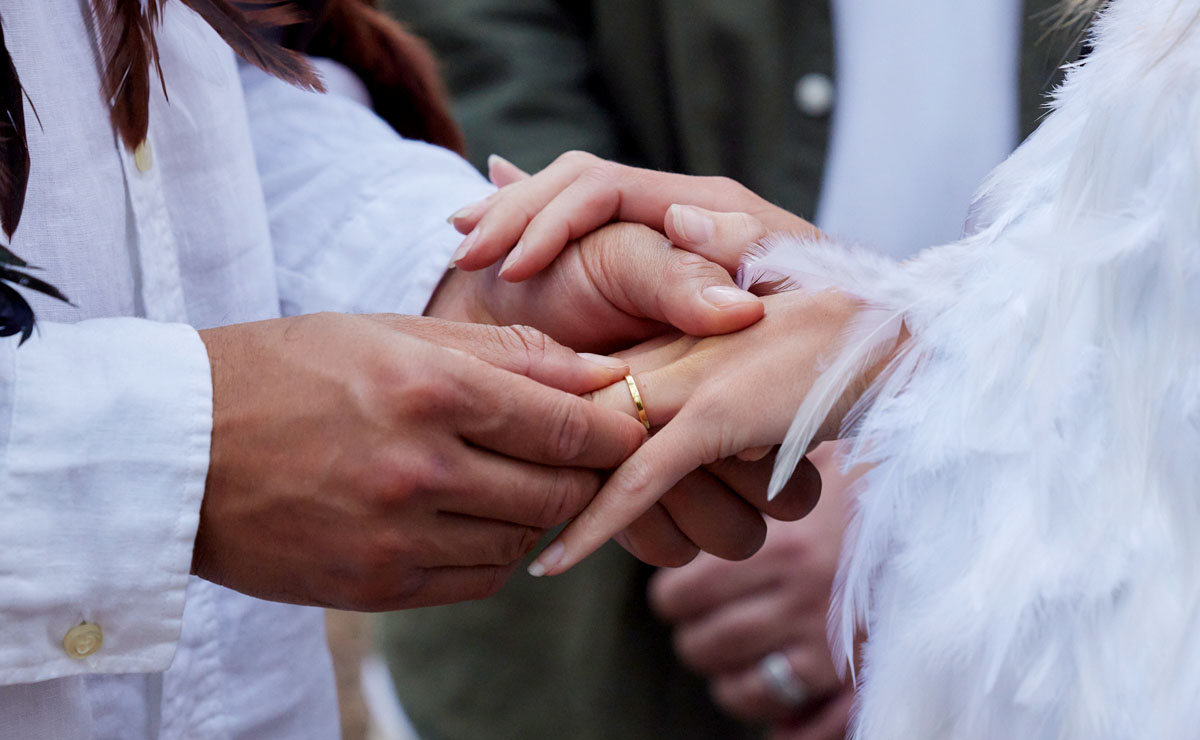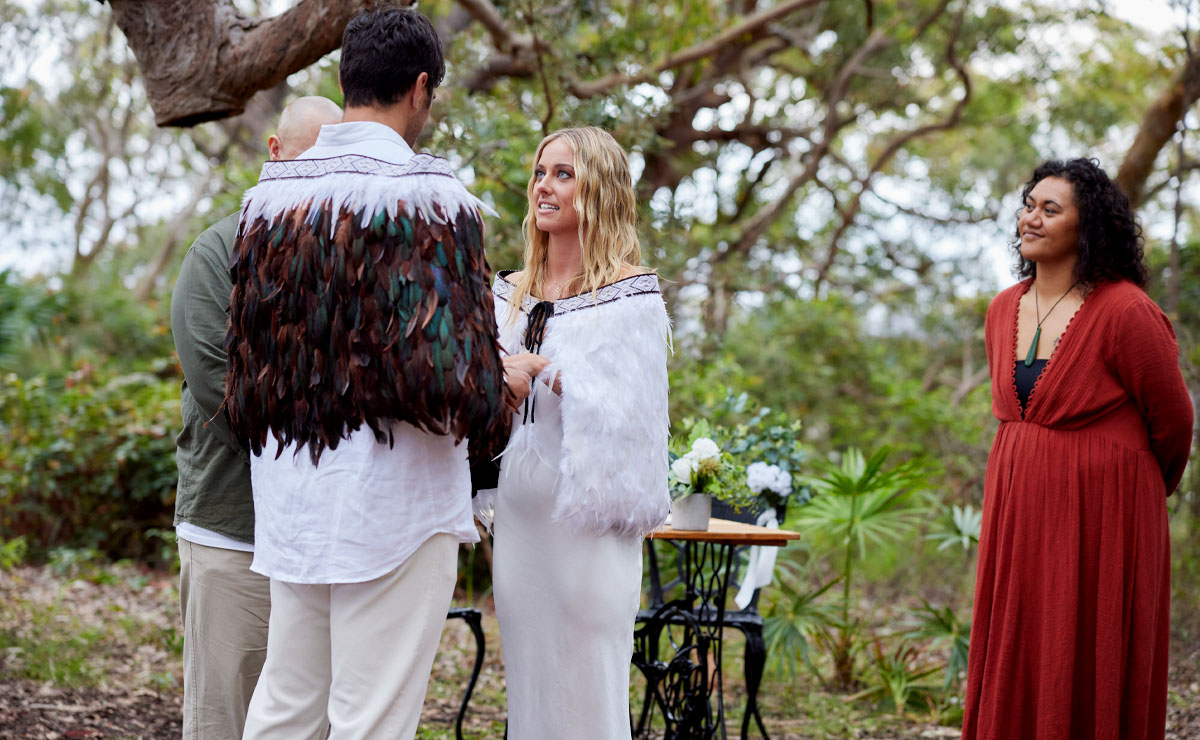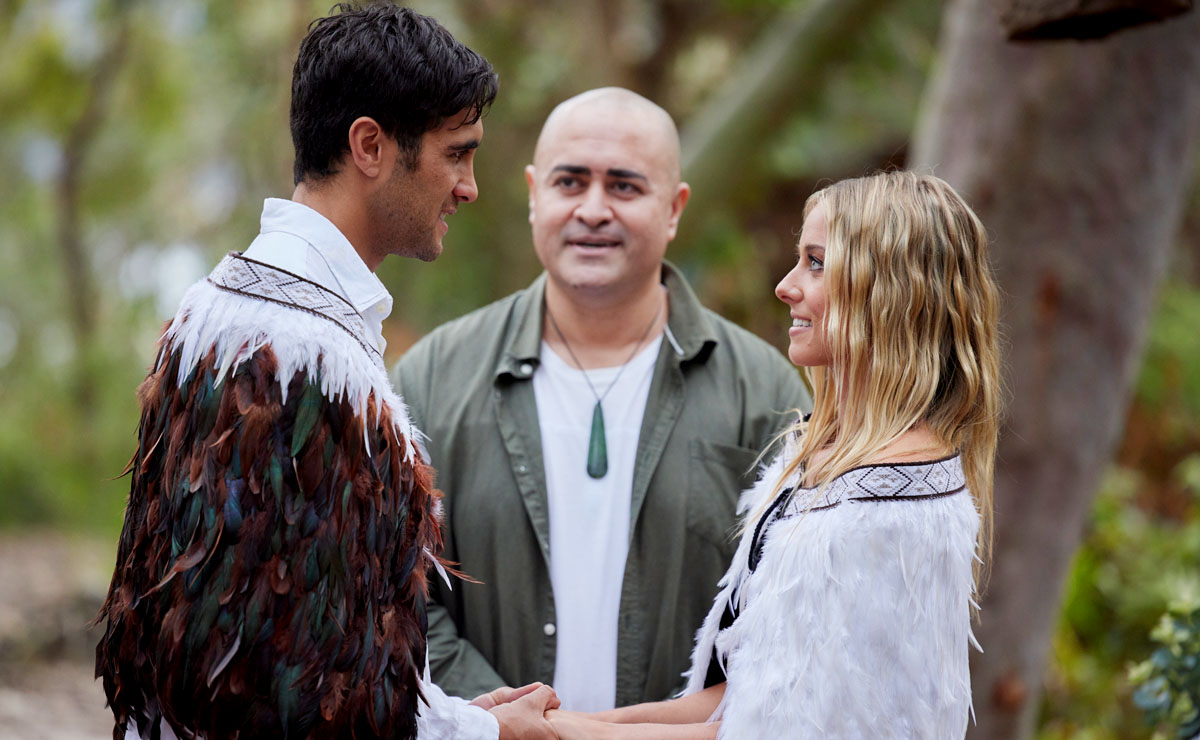 There's cheers from Cash and Eden as the newlyweds kiss and the pui dancers resume their performance.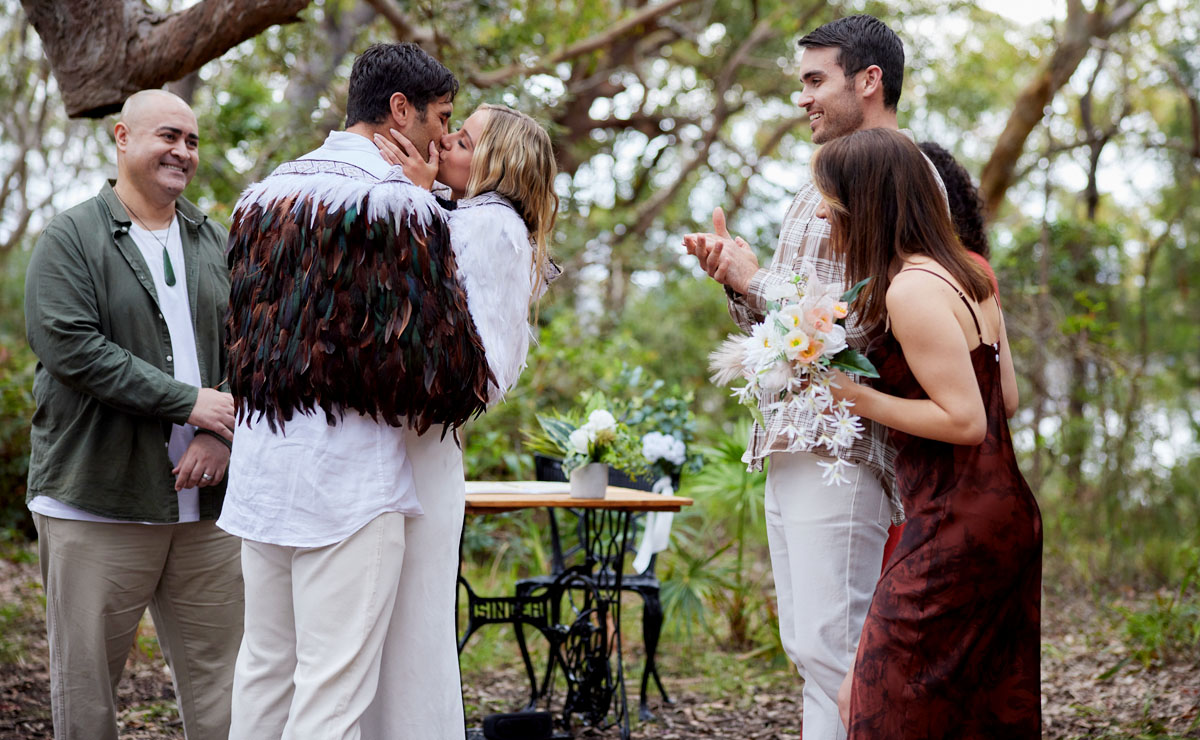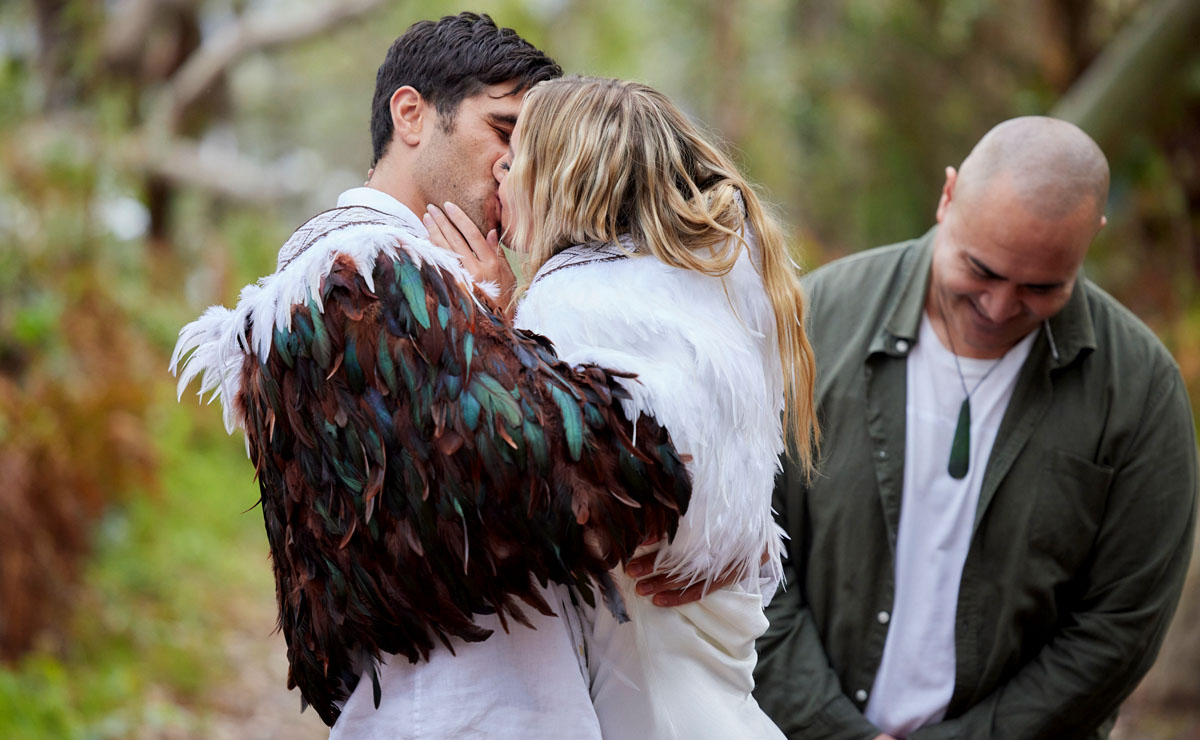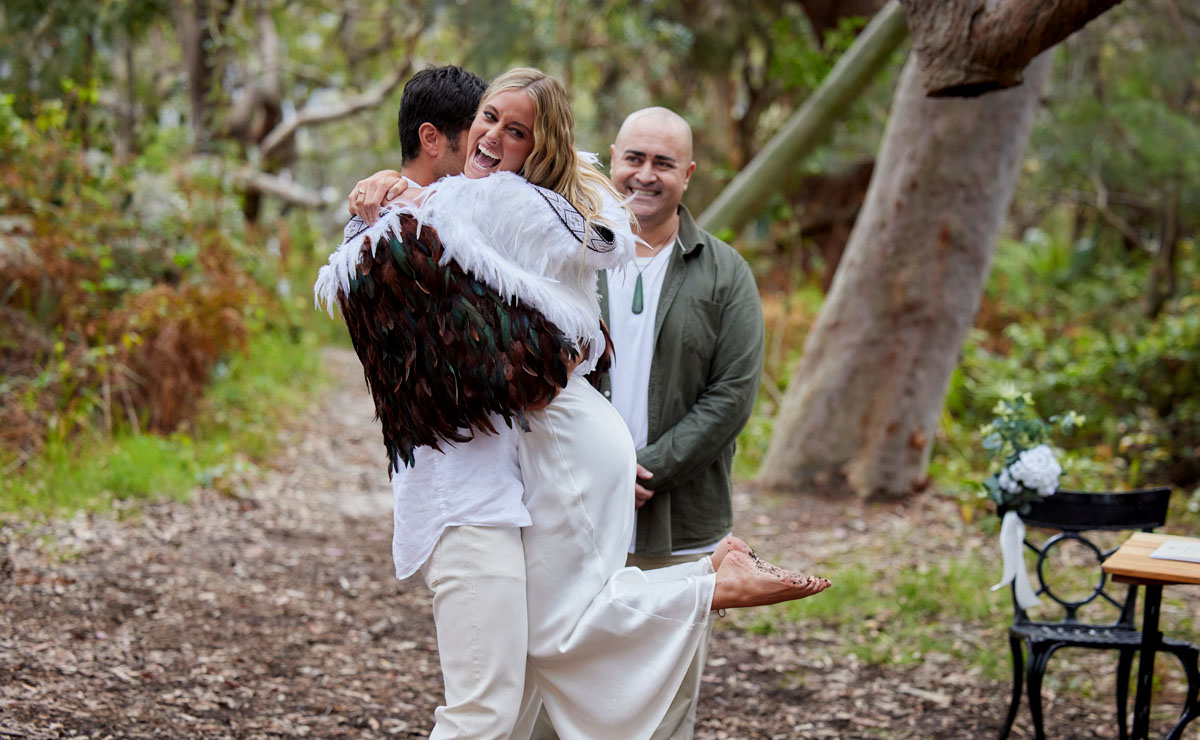 The group decamp to Salt where Lyrik and their friends await them, and Tane is able to pull one more surprise out of the bag.
Congratulations Tane and Felicity! Here's a few more bonus pics from their special day…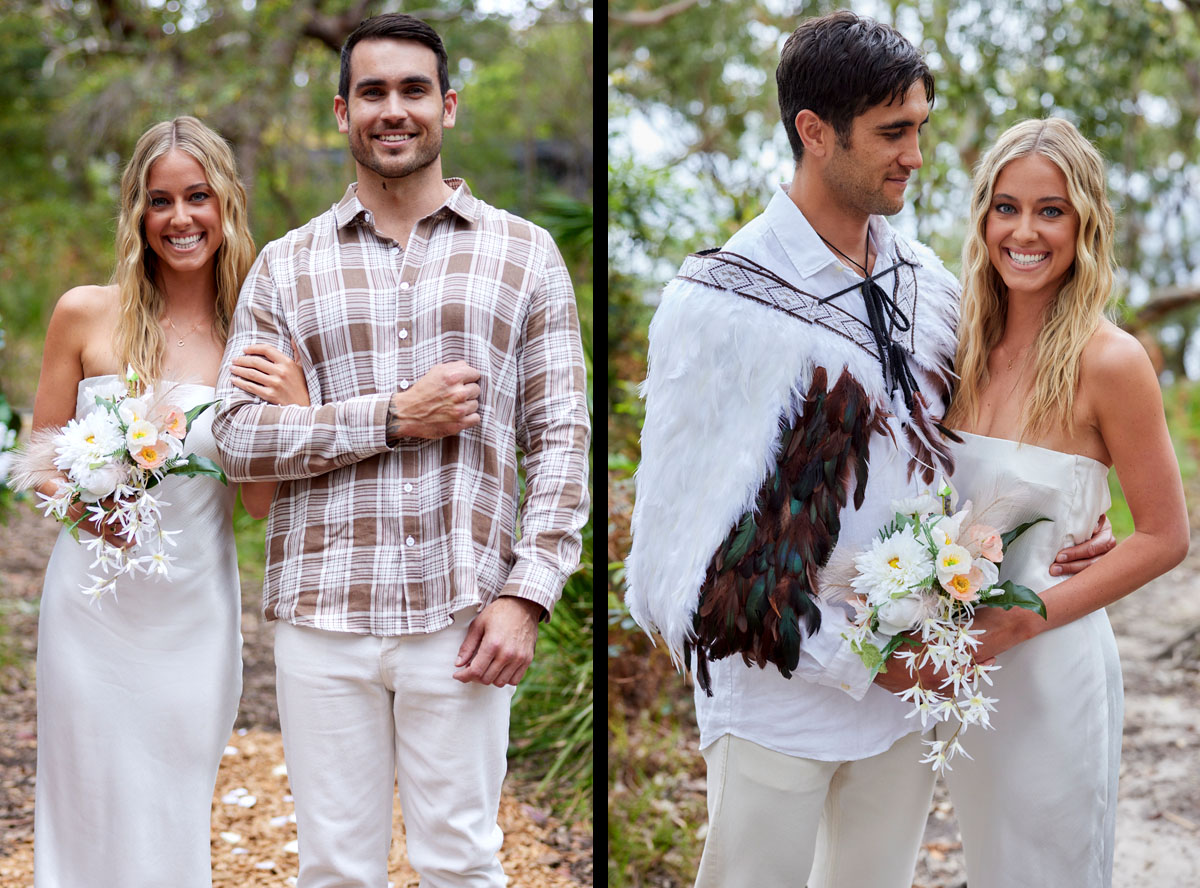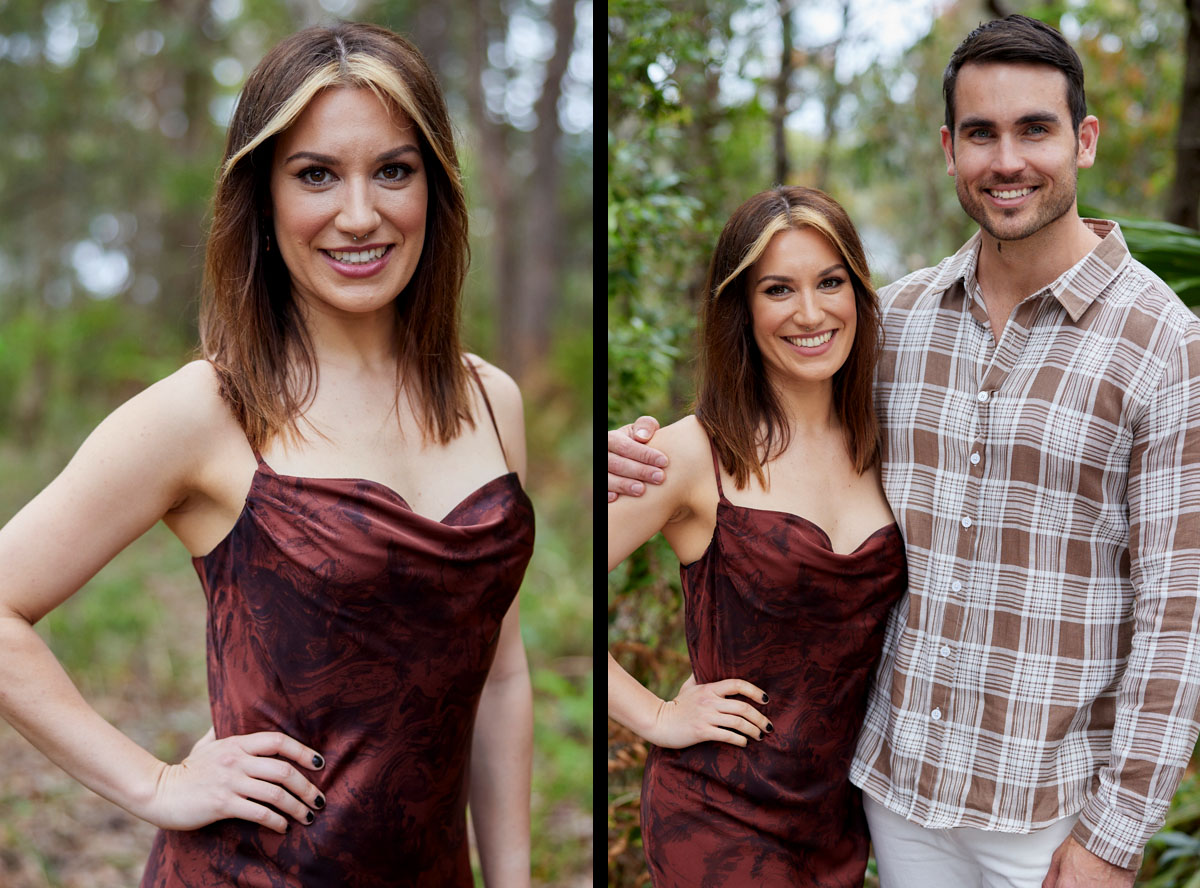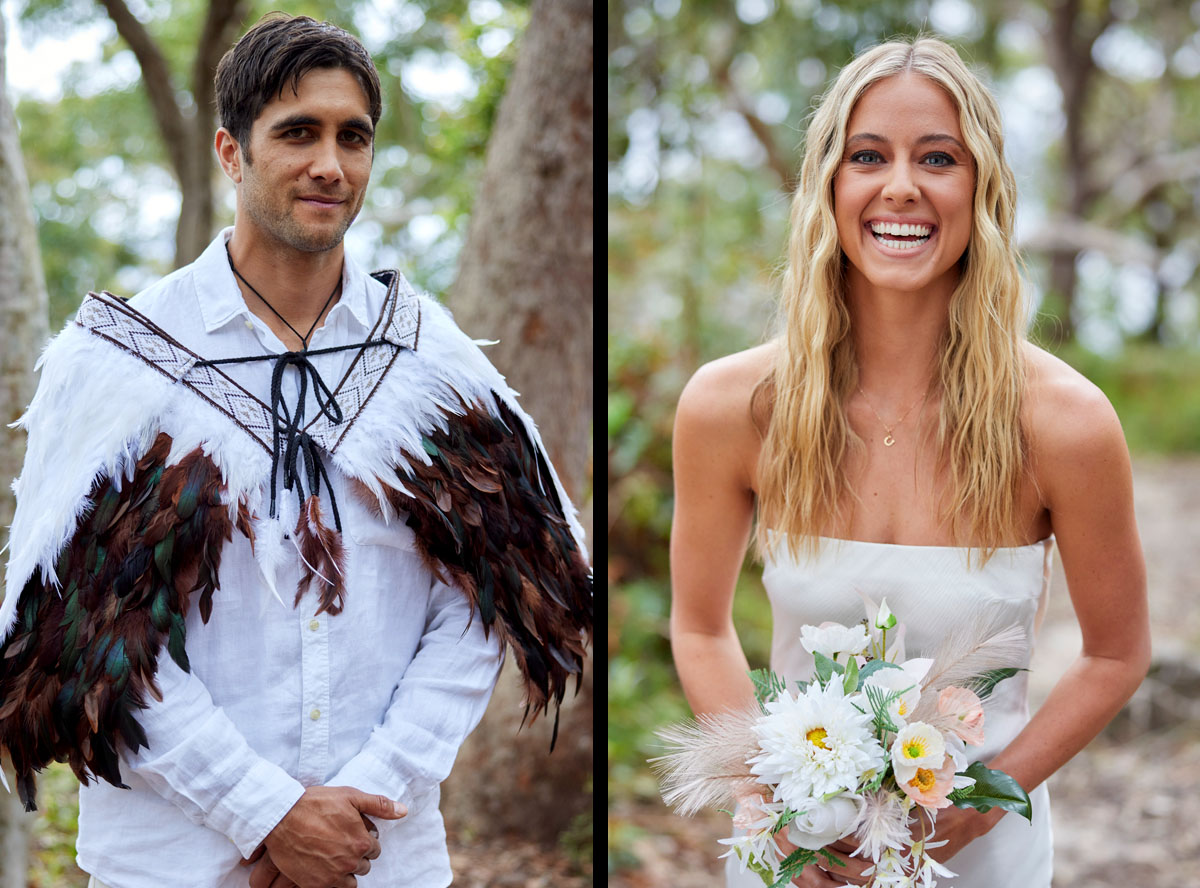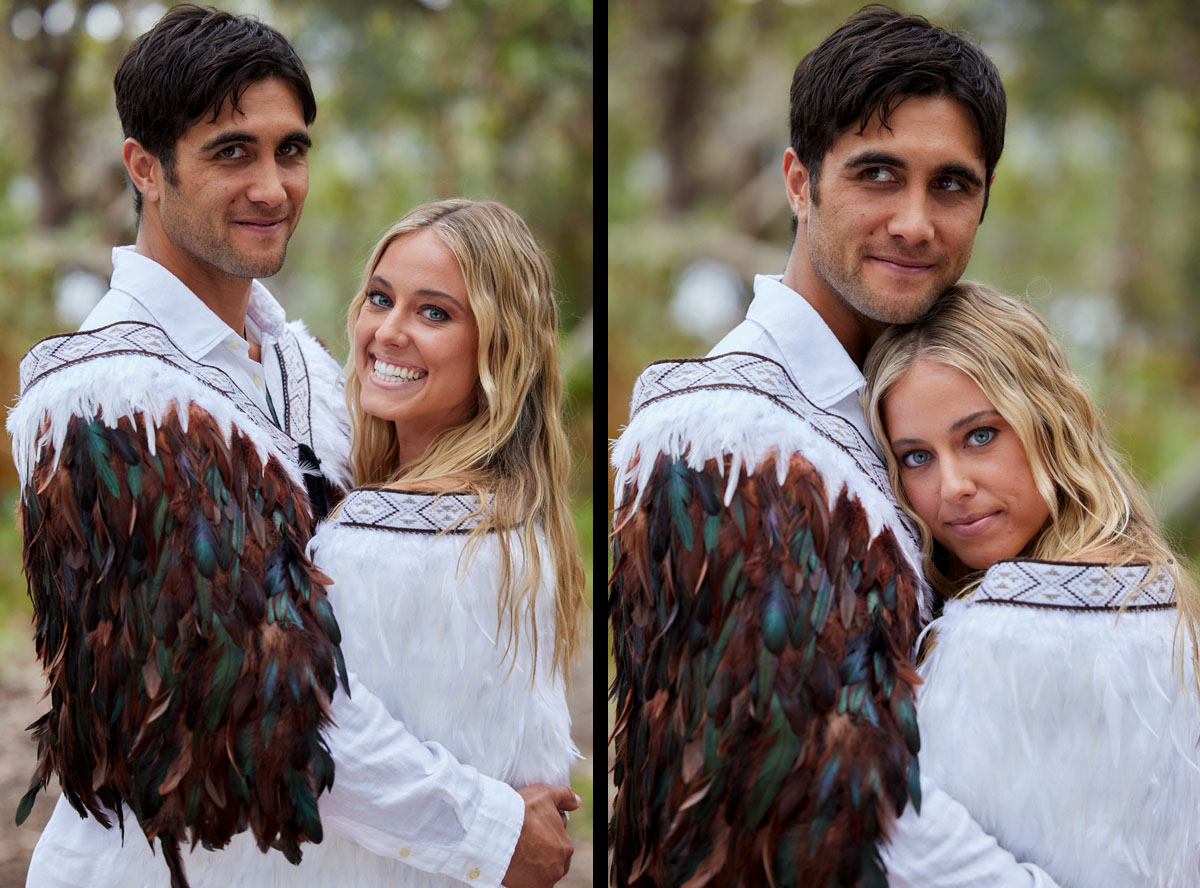 ---
Monday 15th May (Episode 7996)
Justin goes into protective father mode. Theo makes a desperate play to get a hold of Ava. John turns his ire on Mali.
Tuesday 16th May (Episode 7997)
Justin faces the consequences of his actions. Leah returns to the Bay. Can Mali bring John around?
Wednesday 17th May (Episode 7998)
Can Ava and Justin reconcile? Will Bree tell Remi the truth? Cash and Felicity settle on a wedding date.
Thursday 18th May (Episode 7999)
Tane and Felicity prepare for their big day. Eden pushes Remi to be with Bree.
Friday 19th May (Episode 8000)
Felicity and Tane's wedding day has arrived. Bree is grateful for Remi's support. Has Cash made a life-long commitment to Eden?
Spoilers in your inbox every weekend!