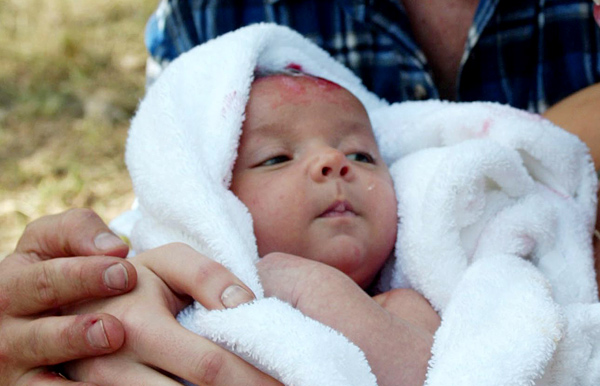 Noah Jonathan Hyde (2005)
Zane Rugless, Tahlah Dempsey, Jessica Wong, Audrey Hawkins, Ella Hammer-McIver, Marco de Marco Weber
Episodes: 4077–4100
Parents: Scott Hunter & Hayley Lawson
---
Noah was born in an isolated caravan where his mother Hayley had been staying. His father Scott was in attendance but at the time most people, including Scott and Hayley, believed Kim Hyde to be his father, as a result of a paternity test result being tampered with by Eve Jacobsen. Alf and Kim arrived on the scene soon afterwards and, with Hayley needing to be rushed to hospital because of a heart condition, Kim took charge of looking after their assumed son. After Hayley recovered, Kim brought the child to see her and, as previously agreed, they named him Noah Jonathan Hyde, after Hayley's late husband and Kim's late brother.
Not long after, Scott and Hayley decided to move to Paris and take Noah with them. Kim was deeply opposed to the idea and started legal proceedings to stop them taking Noah out of the country. In the aftermath of the initial hearing, Kim was hit by a car. Although his injuries were relatively minor, it was while he was in hospital that Nurse Ryan noticed that Kim's blood group meant he couldn't possibly be Noah's father. Flynn broke the news and a devastated Kim surrendered Noah to Scott and Hayley. With the revelation Scott was the father, he and Hayley took Noah to the city to introduce him to Scott's absent siblings Kit and Henry.
When they returned, Kim found it awkward continuing to live in the same house as Noah but, when Hayley asked him to look after the boy while she was out, he rose to the challenge and successfully settled him. Hayley felt they should get Noah christened before leaving and she and Scott asked Robbie and Tasha to be godparents. Robbie happily accepted but Tasha felt it didn't fit her standing with the Believers and declined. Matilda was quickly drafted in as godmother and, shortly after the ceremony, the trio shared a farewell party at the beach house before leaving town together.