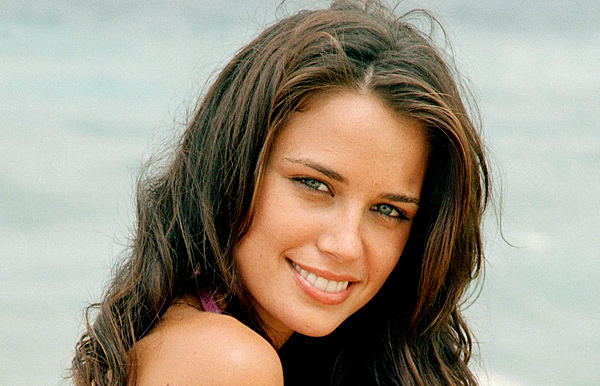 Martha Jane MacKenzie (1988; 2005-2010)
Burkin Capkin (1988); Jodi Gordon (2005-2010)
Episodes: 169–182; 3928–5093
Date of Birth: 8th September 1988
Parents: Brett Macklin & Roo Stewart
Adoptive Parents: Mr & Mrs MacKenzie
Adoptive Siblings: Michael MacKenzie & 2 other brothers
Marital Status: Jack Holden (2006-2007; 2008-2009, deceased)
---
Sent to boarding school in the city, Roo fell pregnant to Brett Macklin, son of successful businessman Gordon Macklin. With Brett wanting nothing to do with the baby, he was happy to play along with pretending that the child was Frank's, but when he caught the mumps and became sterile, a custody battle started between the two. After Martha was born, Brett blackmailed Roo into handing Martha over, but he then abducted Martha and despite Stacey and Phil's best efforts to stop him, he got away from Summer Bay. However Martha's condition deteriorated and he had to take her to a hospital. Deciding that neither she nor Brett could give Martha the stable family environment that Martha needed, Roo gave her up for adoption to a family called the McKenzies. Martha grew up on the McKenzie's farm, until her adoptive parents tragically died. Leaving behind the farm and her adoptive brothers, Martha went in search of her biological parents.
Unfortunately, her father didn't want to know her. Luckily, she was able to form a relationship with Roo and went to live with her in America. When Granpa Alf and Great Auntie Morag came to visit, Martha made the big decision to leave her mother and return to Australia to live with her relatives.
A self confessed tomboy Martha seemed to be outspoken and fun when she arrived in the Bay, hooking up with older man Jesse and forming a strong friendship with Tasha. She was actively involved in the protest against the Macklin Corporation, headed by her father Brett Macklin, even being arrested for chaining herself to a caravan. Involved in a car crash in episode 4000 she lost the use of her legs only to regain them after a few weeks.
For better or for worse Martha's life was to be changed when constable Jack Holden arrived in town, initially winding her up the wrong way, responding to a complaint that the noise was too loud at Tasha and Robbie's house party and then pulling her over for speeding. Martha was further infuriated when he moved in next door to the Hunter's and after realising he was hiding a secret. Determinedly set about unearthing it. When Harry Chambers came to town with the news that Jack was responsible for the death of his daughter, the locals, led by Martha reacted with fury. A town meeting allowed both sides of the story to be heard as it was revealed Jack shot the girl in self-defence as she carried out an armed robbery, the Summer Bay community accepted Jack's innocence.
Though Martha apologised she still refused to be friends with him, retaining her resentful attitude. Jack however liked her and pursued her with some serious flirting eventually asking her out only to be met with the response: "I'd rather listen to 'my heart will go on', on repeat than go on a date with you." Jack refused to give up though and it quickly became obvious that despite her protests Martha liked him too. A series of practical jokes ensued, a game of pool where Jack pretended to play badly, staking a nude run on the outcome, only to win the final game leaving Martha to accept the dare, which she did and a drinking competition followed which Jack won. In an attempt to even the stakes Martha found out from Tony that Jack was terrified of spiders so planted one in his room but it backfired spectacularly when he found it, coming out of the shower, fell and hit his head and was found with blood pouring from his ear.
After surgery it became apparent that Jack had a problem with his hearing and when more surgery failed to solve the problem he was told that potentially he may have lost his hearing for good, spelling the end of his career. He quickly cheered up though when Martha came to visit him but failed to tell him she was responsible. She was busted later though when Jack found the fake spider and realising what had happened, reacted furiously to her eventual confession. After a pep talk from Tony he decided to forgive her but refused to be friends but this time Martha wasn't taking no for an answer. She returned with beer and Jack finally caved on the condition she did something for him. The condition turned out to be jumping off a cliff, Martha's phobia but Jack never thought she would go through with it so as she prepared to jump, he stopped her and they finally shared a kiss.
Their relationship was soon to be threatened again when Jack returned to work, lying about his hearing and Martha found out, insisting he told his superior. When Jack failed to do so, Martha and Lucas told Tony sparking more fury from Jack who admitted he still hadn't forgiven her for the spider prank and they split up.
Refusing to admit that she wasn't over Jack, Martha persuaded Tasha to go to a party at the club but just as she prepared to leave the Diner she began flirting with Corey Henderson who was embarrassed to realise he was chatting up his police partner Jack's ex. When Jack arrived on the scene he quickly claimed he wasn't interested declaring that Martha could date who she liked. Later at the club Martha accepted a lift from a stranger but instead of taking her home he parked up at a secluded area and started to get heavy until Jack saved her with his sudden appearance. Refusing to admit that she had been out of her depth Martha refused to get a lift with Jack leading Corey to offer her a lift instead. Serious flirting followed and the next day Corey asked Jack's permission to ask Martha out, to which Jack agreed and Martha agreed to go out with him.
Following Irene's declaration that Corey was poisoning her Jack started investigating and tried to warn Martha off but she thought he was just jealous and accepted Corey's invitation to move to the City with him. On the day she was due to leave Jack finally found the evidence that Corey had been drugging Irene and after saving her went looking for Corey only to find he'd already left with Martha. Meanwhile, as they stopped for a picnic Martha found the mercury in Corey's bag and came to the conclusion that he had been poisoning Irene so she phoned Jack only to be caught out by Corey. Managing to tie him with barb wire to a tree she escaped in the direction of sirens to be reunited with Jack but on leading them back to Corey found he was no longer there. Seconds later he jumped out from behind Martha, who hit him with a bottle opener leaving Jack to tackle him and bring him down.
Afterwards Jack found Martha in Noah's and tried to comfort her but Martha remained terrified until Jack forced her to confront Corey and cured her fear. At this point the two went back to being friends but they continued to flirt until at Baby Noah's christening a comment from Matilda and Lucas suggesting that they were meant to be together led to Jack and Martha doing just that, sharing a kiss and reuniting.
Following Martha's revelation that she wanted to marry Jack planned a prank whereby he convinced her he was against marriage in order to stop her guessing that he was about to propose. It backfired though when Martha failed to show for the dinner after considering ending things but after an explanation from Tasha, Martha surprised a disappointed Jack with rose petals all over the front room and proposing to him.
A near death experience for Jack at the hands of Zoe convinced Martha to bring their wedding forward and the perfect wedding was planned until Zoe crashed the reception by exploding the venue. Jack was seriously injured and rushed to hospital where it was revealed his liver was damaged and he underwent a liver transplant. Martha meanwhile was part of a group of burn victims who Rachel arranged to go to the city for plastic surgery, except that the helicopter crashed in a storm and Martha was missing, presumed dead. In her absence Jack grew closer to Tasha who, with Robbie missing, was feeling the same as him but both were relieved when Martha and Robbie were found alive and JM were reunited. Martha went through terror on her honeymoon, when Jack couldn't go so Tasha went along instead and they became embroiled in Mamma Rose's twisted plan to get Tasha's baby. With the help of Jack and Robbie they managed to escape but the writing was on the wall for Jack and Martha and after a series of rows about Jack working too and not putting enough effort into their marriage, Martha moved out.
The split became permanent when Jack, on realising that Peter Baker was still alive, was badly bashed and ended up in hospital. Martha donated blood to help him through surgery but confided in Alf that she no longer loved him. Whilst Jack was in hospital Martha met and spent the night with a man who introduced himself as Ash Nader, he was later revealed to be Jack's old friend. After much agonising Martha and Ash finally told Jack about their night together and Jack finally realised that his marriage was over.
In the meantime Jack started dating his physiotherapist Sam and Martha and Ash became closer, except that Ash was hiding a secret from her. After some digging from her Aunty Morag it was revealed that Ash was actually married with two children but Martha, despite everyones warnings continued to stay with Ash believing he would leave his wife and kids for her. Eventually finding out the truth, at a time when her family was going through hell with her cousin Ric's false imprisonment following Sally's stabbing, Martha also realised she was pregnant. Taking the decision to terminate her pregnancy she turned to Jack for support planting a kiss on him and despite her protests that she was dealing with her termination, dreams of an empty pram and a subsequent spiral into alcohol suggested that she hadn't dealt with the termination at all.
Falling for older man Cam Reynolds, quitting her job and Noah's to work in Cam's strip club Martha began to alienate all those around her. Moving out of Sally's into the Doiner flat, Martha was vulnerable and easy prey for Cam to manipulate into pole dancing at his club. Despite being busted by her family at Peter's stag do, Martha refused to see she was doing anything wrong, pushing her loved ones further away.
An attempt by Jack to have Cam done for drugs backfired when Cam planted them on Martha and she was arrested. Jack disposed of the evidence and so the charges were dropped but still Martha refused to see through Cam. With Jack's drug bust public news, Cam's business started to fail and in need of further investment to keep the loan sharks at bay, Cam turned to wealthy business man Lou Baines. Problem was that Lou wanted Martha. Initially rejecting his advances, Martha eventually agreed to help Cam out but when Lou went too far and tried to attack her, Cam left it to the very last minute before coming to her rescue.
With his business handed over to his creditors and Martha refusing to forgive him, Cam got drunk and phoned Martha. Racing to the club to help him, Martha was locked in the office as she hid from the new owners and Cam then torched the place, not knowing Martha was inside. Fortunately Jack was around to recuse her and Martha returned to the loving fold of her family.
Finally admitting that she had made a mistake over her abortion Martha and Jack grew closer only for her to tell Jack she only wanted friendship. Opting to stay in the Diner flat, she took on a flatmate in the form of new Doctor in town Hugh. They became close and at one point it seemed like they might be more but Hugh admitted he was in love with someone else and Martha told him she wasn't ready for anything new.
She continued to be friends with Jack and both did a good job of convincing the other that they were interested in other people. They eventually agreed to try a date and went on a picnic in the country but when a farmer started shooting at them Jack went into police mode and chased after him. With it starting to rain, a furious Martha began walking back and when Jack returned for her she was nowhere to be seen. He returned to her flat and shouted an apology to her but Martha wasn't there, she had crashed down in a barn.
She was discovered by Annie and Geoff Campbell and Geoff gave her a lift back into town. She treated them to milkshakes and had a shouting match with Jack, causing Geoff to intervene on her side. Jack tried to make up for it with flowers and chocolate but Martha gave them to Geoff telling him that despite being married Jack still managed to get her flowers she was allergic to and chocolates she hated.
Deciding to stay friends they spent a day skinny dipping before being caught by Lara. They arranged a dvd session together but whilst in Noah's Jack accidentally found the divorce papers that Martha had received weeks before. Angry with her, he made her believe he really wanted a divorce when the opposite was the case. Convinced that Jack really was over her Martha convinced him that she too wanted a divorce and they both reluctantly signed the papers.
A few days later Jack was assumed missing in a boat in a storm and a frantic Martha destroyed the papers. The occupants of the boat later turned up safe and well but Jack wasn't with them, he had never been on the boat. Martha went round to his house to tell him she didn't want a divorce but found him with his ex girlfriend Sam installed in the front room.
She gained a new flatmate in Matilda but it quickly became clear that they were too different to really live together. Meanwhile Jack began confiding in her about his problems with work, infuriating Sam whom Jack had failed to tell. Sam insisted Jack break off his friendship with Martha which, much to her disgust, he did.
Martha began to get close to Henk when he arrived in the bay, despite Rachel warning her off. He eventually got with Cassie, leaving Martha, who had kissed him, feeling like a fool.
With Jack proposing to Sam, Martha was forced to admit that she had never sent the divorce papers and after a few days of leaving Jack dangling he finally admitted that he cared for her but that his future was with Sam. Martha agreed to press ahead with the divorce but they were told they needed marriage counselling. Dan had a session with them but decided that in his opinion divorce was not the way forward and Jack was left with some explaining to do when Sam found out.
To get away from things Martha took off in Alf's Ute but it ran out of petrol and the car she flagged down for help was driven by Jonah Abrahams, Tasha's rapist. She attempted to call Jack for help but he blocked her call so she called Irene who came to get her but at that point Jonah had already left her a can of petrol and departed. He later grabbed her outside the Diner but Martha was more surprised that he seemed more scared of her.
When he was revealed as Bruce Campbell's new farm hand Martha set on a crusade to force him out of town and graffitti'd his van but Jonah caught her and gave chase. They both fell into a disused mineshaft which collapsed trapping them in. They were eventually found and rescued but not before Jonah, now called Michael, had saved her life and comforted her as she slept. She began having dreams of kissing him and he pursued her, convinced she felt something for him.
She took Michael's side when he informed her that Jack was helping a crooked colleague and pressed Jack to tell the truth or she would. She and Michael later shared a kiss and then slept together but were seen by a disgusted Annie who made their relationship public. Despite disapproval and her still having feelings for Jack, Martha continued to see Michael and when he was kicked off the farm he moved in with her.
She attempted her help the Campbell kids keep the farm and appealed to the bank manager on their behalf but whilst there she was caught up in an armed robbery and was witness to Jack's dodgy colleague's involvement. With Jack shot in the robbery Martha refused to visit him, not feeling it was her place. When she did eventually go in Jack woke up and told her that he had been waiting for her and still loved her.
Michael told her that he loved her to which she replied that she cared for him. Jack had a nightmare and raced round to see Martha who sent him away. The next day she confronted him and told him she didn't think he should be marrying Sam. Unfortunately Rory overheard and Jack was forced to explain to Sam, who banned Martha from the wedding.
When Martha ended up taking delivery of Sam's dress she couldn't help try it on but was caught by Sam who reacted furiously. Martha was later attacked by the hospital stalker after Sam failed to escort her to her car and Jack took Martha's side causing Michael to hit him. He and Martha decided to take a trip up the coast to get away for a while but before they leave she shared a kiss with Jack.
The next day he asked her to meet him but he was held up by Rory and by the time he arrived she had given up and headed off. She and Michael held farewell drinks, which Jack, thanks to Sam and Michael, failed to attend and they left the bay. As they travelled up the coast it quickly became clear that Martha's heart wasn't in it and whilst she was asleep he returned her to the Bay and tearfully left her, telling her to sort things out with Jack. After a heart to heart with Cassie, she raced to the church to tell Jack how she felt but left it too late and witnessed them pronounced husband and wife.
After some time away from the bay she returned and continued with her old tricks of getting drunk and chatting up random men but eventully broke down to Lucas and Matilda, admitting she was still hung up on Jack. She conspired with Henk to get Cassie to take a blood test but was there to support her when she was diagnosed with HIV.
She then took a shine to new guy Roman and decided to ask him out. Despite the presence of Morag, their first date went very well. But their relationship progressed much quicker than planned when Martha was forced to move in with Roman following the Diner's collapse. However, this worked out well for them and they grew closer.
However, their happiness was shortlived when Sam implicated Martha in her death. She set it up to look like Martha had killed her when really she had commited suicide. Martha was arrested by police on suspicion of murder but Morag fought to be given 24 hours to prove her innocence. Luckily Morag's theory was proved right and Martha was released without charge. During the ordeal Martha and Jack grew closer and couldn't keep away from each other, despite knowing that it could harm Martha's case. When Roman realised that Martha was still in love with Jack he broke off their relationship. Martha and Jack then both realised that they were meant to be together and decided to reconcile. However, this did not down too well with Tony and Morag who thought it was too soon after Sam's death to get back together. Because of this Martha and Jack left the bay for a while to let the dust settle. When they returned, Morag still felt very strongly about them getting back together and this rejection hurt Martha. Following some pressure from Alf, Morag eventually accepted them, much to Martha's relief.
Their relationship continued to grow and, following Martha urging Jack to go back into the police force, she suggested they get married again. Jack agreed but they decided to keep it a secret so they didn't take the limelight away from Tony and Rachel. However the secret was soon out and they had a big party at the surf club to celebrate.
Soon after Martha discovered she was pregnant but she didn't know if Jack or Roman was the father. She didn't tell Jack initially but Roman figured it out for himself. When she did eventually tell Jack he was over the moon and assumed the baby was his. However, when Jack found out that Roman had a DNA testing kit he put two and two together. Jack was devastated that he might not be the father and went missing temporarily, which upset Martha. When he returned they decided that they wouldn't find out who the father was until the baby was born.
Just as things seemed like they were back on track, Martha found a lump in her breast which turned out to be cancer. Martha was totally devastated but remained focused on her baby rather than her own health. She then decided to have a mastectomy to increase her chances of survival. Following the operation Martha decided to have a DNA test to find out who the father of the baby was once and for all. When it turned out to be Roman, Jack was upset but vowed to stand by Martha. Despite needing chemo to help fight her cancer, Martha refused to terminate the pregnancy to have the treatment. Jack tried to pursuade her but Martha was adamant that having the baby was too important to her. When Martha returned home she tried to push Jack away as she didn't want him to see her scars. After a while Martha felt comfortable enough to show him her body and their relationship got back on track.
When Rachel went missing before her wedding, Martha helped try and find out what happened to her. However, Martha felt ill and Jack took her to the hospital immediately. She was then diagnosed with a blood clot on her lung and Martha struggled to deal with yet another blow. Jack and Martha then decided to get married straight away in the hospital grounds. Following the ceremony, Martha collapsed and she was rushed straight into the hospital. Jack and her family watched as the doctors attempted to revive her. Just as everyone thought all hope was lost, Martha heart started beating again. Unfortunately the ordeal proved too much for the baby and she didn't survive. This devastated Martha and caused her to struggle to focus on her own recovery. Colleen suggested a memorial ceremony to say goodbye to baby Lindsay and this seemed to help Martha move on.
Martha then decided to go ahead with the chemo, much to Jack's relief. Before her first session Martha bumped into Bridget Simmons on the beach who she quickly struck up a friendship with when Bridget told her of her own battle against cancer. Following her first chemo treatment, Martha wanted to try and keep working at the bar. However during her first shift back, her hair started to fall out and she was found crying in the storeroom. Martha decided that she should take it easy and concentrated her mind on matchmaking Alf and Bridget.
Following further chemo sessions, Martha began to suffer really badly and collapsed on a number of occasions. Just before the last round of chemo, Martha said she didn't want it as after that there was nothing left to protect her from cancer. Rachel explained that she needed it to move on to the next stage of her recovery. Jack also talked to her and said that she needed to do it to give her the best chance of survival. Martha went ahead with the treatment but was dealt a further blow when she found out the development site could have been the cause of her cancer. She wanted to get as far away from the Bay as possible and went to a retreat for a few weeks to recover properly.
When she returned to the Bay, she seemed to have a spring in her step and she bought Jack a boat to show him how much she loved him and appreciated his support. They also slept together for the first time since Martha's operation and their relationship seemed stronger than ever.
Tragedy struck though when Jack failed to return home one night and after hearing about the formal disaster, Martha became convinced he was trapped inside. She went in looking for him and collapsed. She was rescued by who she thought was Jack but turned out to be Angelo and she was devastated when Alf later told her that Jack was dead. She spent all night sitting with him in the hospital, talking to him but was still unable to come to terms with him being dead.
She pushed everyone away but when Angelo broke down on her, she comforted him and opened up to him slightly. Just before Jack's funeral she found his notebook in which he detailed his suspicions about Angelo and she confronted Charlie with it. She was devastated to hear from Charlie that Angelo was a suspect for Jack's death but Charlie swore her to silence. She kept her silence through the service despite Angelo doing a reading but she broke down when he arrived at the wake and confided in Tony. Tony promptly confronted Angelo and he admitted his guilt.
She became close to Jack's cousin Hugo and asked him and Xavier to move in with her but Xavier continued to play up and Hugo was unable to deal with him, causing Martha headaches. She was devastated to find out from Hugo that Roman was in love with her and pushed him away but Charlie helped get their friendship back on track and he was able to support her through her breast reconstruction surgery. She helped Tony launch Jack's boat but after finding out that Angelo was being released she took the boat out alone and was caught in a storm. Hugo found her washed up on the beach and took her to hospital where she seemed upset to be alive. Rachel was worried about her state of mind but when confronted by Roman she admitted that on the water she felt close to Jack.
She received Jack's life insurance money and used it to buy the Campbell's old farm, returning to her roots. For a few months things ticked along happily, she grew closer to Hugo, getting to know him and helping him with his brothers Xavier and Hugo. Her world was shattered though when Tony told her that Angelo was back in the bay and he later came to the farm to see her. Martha broke down crying and when Tony found her she admitted she was furious with herself for not saying anything. Later when she ran into him at the hospital she told him exactly what she thought of him.
She was hurt when Hugo started avoiding her and shocked when admitted he had feelings for her. She confided in Rachel that she had feelings for him too.**She was disappointed when Hugo left town rather than talking things over and then proceeded to vent her anger at Tony and Angelo over their apparent friendship. She admitted to Rachel that she had feelings for Hugo as well and, when he returned, she chose to move out to the farm rather than deal with it. She was very concerned when she heard Hugo had been involved in a clash with Gardy and hurried to the police station to check he was all right. She was furious when she heard Tony was taking Angelo on a fishing trip on Jack's birthday but, when Alf and Hugo checked out the spot and found no sign of them, she became more concerned and alerted Charlie. They arrived at the cliff top where Jack had been buried to find Tony attacking Angelo and Martha helped talking Tony out of killing him. Afterwards, she spoke to Angelo and told him that having seen the effect holding onto hate had on Tony she didn't want to hate him anymore.
That night, Martha and Hugo shared a kiss but as they headed to the bedroom they knocked down her and Jack's wedding photo, which caused Martha to back off. She agreed to have dinner with Hugo that evening but ended up cancelling, afraid of what might happen. They shared an uncomfortable dinner at Tony and Rachel's, during which Tony asked them to be godparents. As they headed back to the house, Hugo kissed Martha again just as Tony appeared to return Hugo's jacket. He was left feeling foolish but then told the couple he was happy for them. However, Martha told Hugo she still wasn't sure about the relationship.
A few days later, however, Martha was disturbed by rumours that Hugo was dating Charlie and, after he assured her that wasn't the case, told Hugo that she did want a relationship with him. They met in secret on his boat for a while until they were disturbed when Angelo and the police raided the boat, thinking Hugo was involved in abalone poaching. They told Alf and Tony, who were surprised but supportive, as were Xavier and Leah, but when Martha shared the news with Colleen she reacted badly, thinking it was too soon after Jack. Martha retorted that Jack would want her to be happy and she and Hugo decided to go to the city to tell his family and to get away from everyone. When they dropped by the school trek to inform Xavier, they instead found the party trapped on their bus with a bomb underneath it set up by Trey. Martha joined Hugo under the bus to help defuse the bomb and they succeeded but she was devastated when a secondary timer caused the bomb to go off, injuring Hugo, and spent a traumatic few hours at the hospital waiting for news until he was revealed to be all right. She was given further encouragement when Colleen gave the pair her blessing.
At Belle's hen party, Charlie approached Martha to discuss her romance with Angelo but Martha told her that although it was Charlie's choice she would never understand or forgive her. She and Hugo showed Morag and Ross around the farm only to spring Xavier and Ruby in bed together. It wasn't enough to put them off spending the night there themselves, however. When Ruby found out Charlie was her mother, Martha agreed to let her stay with them. Charlie accused her of wanting revenge for her dating Angelo and even Morag opposed the decision. Hugo told her she shouldn't have agreed to let Ruby stay without talking to Charlie and she withdrew the invitation.
Hugo confided in Martha when he realised Gibbsey was behind the abalone poaching and she tried to persuade him to talk to the police. She was none too happy when Angelo arrested him and after he was proved innocent made certain Angelo knew her opinion of him. When Gina was invited on holiday, Martha and Hugo offered to let Brendan stay with them and became friends with his new "girlfriend", Ruby Leeds. When Gina returned sooner than expected, Martha helped persuade her to let Brendan live with Ruby in a community house.
When John Palmer objected to one of Hugo's business ideas, to sink a schooner in the bay to form a dive attraction, and made it an issue in his council election campaign, Martha interrupted one of his anti-Hugo rallies to defend her boyfriend, saying that his plans would benefit everyone in the Bay. She invited Tony and Rachel out to the farm when they were tired looking after Harry and ended up looking after him while they fell asleep on the couch. When someone threw a brick through the window while she was in the house, she felt it was connected with John's hate campaign against Hugo and decided to stand against him. Posters about her past as an exotic dancer began to appear around town but instead of being embarrassed, Martha put up similar posters herself declaring she had nothing to hide. She acquitted herself well in a public debate but ended up losing the election anyway.
When Xavier and Romeo found Bambang hiding out in an abandoned house, they brought him to Martha who quickly bonded with the boy. She offered to let him stay overnight with her until Social Services could be called in and later offered to look after him full-time. Hugo persuaded her Bambang belonged with his own culture and she reluctantly agreed to let him stay with a foster family but was told he was unhappy there. Then Hugo's estranged wife Suzy turned up and Martha was angry that Hugo had kept her existence from her, despite his insistence it was purely a marriage of convenience. She moved out to the farm and agreed to have Bambang come and stay with her. Hugo then turned up and persuaded her to give their relationship another go.
The three soon settled into being a family unit, despite a few problems when first Derrick Quaid tried to kidnap Bambang and then they learned they were under police surveillance. She was given a rare opportunity to put her electrian's skills to good use when she checked out the wiring at Liam's house and confirmed it wasn't fit for habitation. She was shocked to find a ticket to Indonesia left by Suzy in Hugo's drawer but he assured her he had only taken it so she would leave. Martha was delighted when she found a ring in Hugo's bag, thinking he was about to propose, but instead he broke up with her. When she showed him the invoice for the ring, which he had claimed was Suzy's, he admitted he had planned to propose but couldn't be the man she wanted.
When she took Bambang for a guitar lesson at Liam's place, she was shocked to find drugs in the cupboard and quickly made her excuses but softened when she found out he had recently broken up with Nicole and invited him to spend time with them on the farm to clear his head. On the night of the Christmas party, Hugo came to the house to collect some things and he and Martha slept together. Martha suspected he was hiding something from her but only realised the full extent of the problem when she was kidnapped by Suzy.
She was taken to Chinatown by Derrick and overheard him phoning Hugo and telling him to meet him with the money he owed Suzy. She was then rescued by Angelo and shocked to hear of Hugo's involvement in the people smuggling. Angelo was then injured protecting her from Derrick and together they managed to overcome him, after which she told Angelo she forgave him for Jack's death. She watched as Hugo was taken into custody and Bambang was reunited with his father and, despite everything that had happened and her feeling that she didn't know him anymore, went to the police station to say goodbye to Hugo, only to witness him being shot and apparently killed.
Martha did her best to accept what had happened and remained at the farm, insisting she was grieving in her own way. She ran into Liam at the hospital after he had had a drugs relapse and they renewed their friendship. She also helped encourage Alf to involve himself again in town life after the race riot, reminding him she'd had to carry on after Jack and Hugo's deaths, and counselled Geoff over his injuries. After talking with Liam about how he was uncomfortable being around Aden and Nicole's new relationship and spending a day working on the farm with him, she invited him to move in there with her and then slept with him. She refused to discuss it the following day but reiterated she wanted him to stay there and continued sleeping with him when he moved in. She insisted it was a casual relationship and she was just having fun but sent him mixed messages, coldly rejecting his offer of a takeaway to have dinner with Alf but trying to act as if everything was fine afterwards. When Leah had a panic attack at the Diner opening, it was Martha who helped her through it along with Charlie.
After spending the day feeling ill, she told Liam she might be pregnant and didn't know if he or Hugo was the father, but quickly discovered she wasn't. She also persuaded Annie to return to Summer Bay when she realised Irene missed her. She tried to fix Liam's broken down car, and after giving him a lift home in her ute, had sex with him in it then rejected him, resulting in him accusing her of being cold and her admitting she hadn't treated him well. She talked things over with Alf, who suggested she just try being friends with Liam, and she offered to help him choose a new car. She managed to help wise him up to the salesman's banter but afterwards Liam announced he was moving out at the earliest opportunity, since he felt their friendship would suffer if they continued living together.
With Xavier having troubles with Gina, Martha discovered him and Ruby skipping school to avoid her and made them work on the farm as punishment. Xavier asked if he could stay with her and after a talk with Gina she agreed but was worried by his secretive behaviour, especially when Liam suggested he might be into drugs. When she found a box of money that Xavier had hidden in the loft, she correctly guessed that Hugo had left it and asked Charlie some hypothetical questions about how much trouble he could be in. After the talk, she started wearing the ring Hugo had bought for her as a necklace. She eventually revealed the truth to Liam after he failed to be convinced by her denial that drugs were involved. By now, the after effects of Hugo's death were beginning to catch up with her and after she threw herself at Liam he decided his presence wasn't helping her and moved out, finding her in tears the next day. She also admitted to Tony that she'd messed up, prompting him to recommend Xavier stay elsewhere. She told Alf she didn't want to lose Liam but touched Hugo's ring as she did so and showed insight into the fact Miles hadn't got over losing Kirsty and their family. After this, she started wearing the ring on her finger instead of the necklace.
She hid the box of money when Xavier came looking for it, hoping he would confide in her about it, then returned it to him later, understanding it was his link to Hugo and promising not to tell anyone. When she missed a breakfast date with Liam, Alf came to check on her and she admitted that she hadn't coped with Hugo's death as well as she thought. A visit to Gina brought her no comfort, as she simply told her to try harder not to miss him. Talking her feelings over with Colleen and a visit from Angelo seemed to help for a while but she became suspicious when she saw Alf and Angelo arguing until Angelo claimed they were looking for some money Hugo had left behind, prompting her to warn Xavier. When Gina found out about the money, Martha told her where it came from and defended Xavier's right to choose what to do with it, being upset by Gina's continued insistence on painting Hugo as an evil person. She was further thrown when Xavier told her about the army battery and his theory Hugo was in witness protection. When Alf found her collapsed in tears on the beach, he admitted that Hugo was alive.
Martha angrily confronted Charlie and Angelo but a visit from Angelo, where he found that she had trashed the house and cut her arm on a photo of herself and Hugo, convinced her that people would be in danger if it was common knowledge. She agreed to keep quiet, then ended up telling Xavier anyway and went with him when he told Tony, Rachel and Gina. After being questioned about Hugo's disappearance, she fainted dead away on seeing him at Gina's. She eagerly sneaked him back to the farm, hiding him both from the police and his former associates as they renewed their relationship, unaware she was being followed by two mysterious men. She ended up telling Alf about Hugo when he realised they were being watched. When he made it clear he would have to leave town eventually, she asked to go with him, deciding to sell the farm.
When Xavier went missing, Martha went looking for him only to be abducted by 'Killer' as well. The two of them, plus Gina, were left tied up in a water barrel as it filled with rain water but Xavier managed to free them. She began making plans to leave town with Hugo and insisted she would leave town whatever happened, signing the farm over to Alf. She endured a grilling from Detective Eaves, only for Hugo to reveal he was part of the people smuggling ring. She sent Angelo a message both warning him about Eaves and admitting she was in contact with Hugo. She encouraged Hugo to surrender to Charlie but when Eaves arrived Martha was left taking cover in the farmhouse during the gun battle outside. After Eaves was overcome, Angelo arrested both Martha and Hugo but let them go a few miles down the road, telling them their best chance of a life together was to go on the run. Martha gave him a grateful hug goodbye before she and Hugo left together.