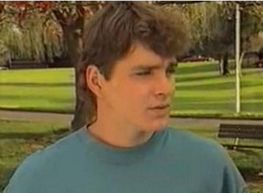 Gary Samuels (1988)
Darius Perkins
Episodes: 188-213
Siblings: Jeff Samuels
---
Gary's first appearance in the bay was not a good one when he was accused by Carly of being her rapist. Gary's brother Jeff gave him an alibi but Carly remained convinced he was her attacker and attempted to get a taped confession from him. He threatened her on tape but when she took it to the poilce she was told that taping was illegal. Nethertheless, local policeman Bob Barnett took Gary in for questioning and at the same time in the city a man who very much resembled Gary was arrested for rape. With Carly viewing the photo and admitting that Gary might not have attacked her, he got an apology and acceptance from the town.
A telephone conversation revealed that though not the rapist, he had been doing dodgy business in the city and planned to continue it in Summer Bay. Heading to Stacey's office to ask for a job, he wais left alone when Alison, Stacey's secretary headed out for sugar and he took a copy of the safe key and hid it before asking Alison out for dinner. Telling Alison he was psycic and guessing her phone number after looking at it earlier he attempted to guess the safe combination in order to trick Alison into telling him it. His plan worked and he was able to break into the safe and steal Stacey's cheque book and a copy of her signature before sending it to his friend in the city.
Stacey became suspicious of him and began her own detective work but Gary continued his dodgy plans, organising a spate of burglaries but he felt guilty when he learnt that Bobby had been injured and Celia's wedding ring from her dead fiance taken. He anonymously sent a note of apology to Bobby and returned Celia's engagement ring. Stacey and Phil continued investigating him and found evidence that suggested he was responsible for a car accident in which his parents were killed. When they confronted him he admitted that it was an accident and met them on a high cliff before jumping off. It was quickly revealed that he hadn't actually jumped but was merely playing games. He went to the papers with the truth about his parents, making Stacey and Phil look bad.
He dumped Carly and attempted to scam Lance but was found out and the residents of the bay banded together to try and reveal his true character. Later that day Alf was up fishing and saw Gary up on the cliffs and then somebody dropping from the cliff side onto the rocks below. The police confirmed that Gary was dead and a number of people were confronted about his death. As each person was confronted, a flashback of them pushing Gary was shown to viewers. It was later revealed that Carly was on the cliff with Gary when he died and that he committed suicide and tried to frame her for pushing him. His plan failed when his old friend Brad came to light and admitted everything Gary had done and his scheme to frame Carly.