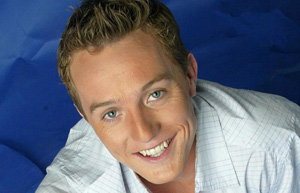 Dylan Matthew Russell (2002-2003; 2004)
Brett Hicks-Maitland
Episodes: 3382-3510; 3792-3803
Date of Birth: 15th May 1985
Parents: Angie Russell
Siblings: Tasha Andrews (half)
Occupation: Student
---
Dylan arrived after his mother Angie became Deputy Principal of Summer Bay High. He soon formed a relationship with local girl Kirsty Sutherland, which attracted much negative attention from his mother. However, it was only when she revealed that Kirsty was in fact his half-sister – her father, Rhys, was also his father – that he put an end to their relationship, much to Kirsty's confusion.
After several weeks of angst, Dylan eventually grew closer to his newfound family – even Kirsty – and so, when Angie turned the Sutherlands against her, Dylan was faced with some tough choices about where his loyalties lay. However, things were made a little bit easier by Angie's horrid behaviour which eventually succeeded in turning her own son against her.
Eventually, Dylan was as much a Sutherland as Kirsty and her sisters, but all that was thrown into jeapordy after Dylan had an accident with a boat engine. He needed a blood transfusion and the ensuing tests revealed Rhys wan't his father after all! DYlan felt like an outsider – he wasn't a part of Rhys' family and he didn't particularly want to be part of his mother's family. However, the Sutherlands made sure that he knew he would always be welcome in their home.
Now that they knew they WEREN'T related after all, Dylan and Kirsty thought of giving their relationship another go, but they realised they definitely felt more like brother and sister.
When it became evident that Angie's behaviour was being caiused by some sort of mild mental illness, Dylan made the difficult decision to leave town with her, which would mean saying goodbye to his not-quite-family.
Shortly before they were supposed to leave, Angie's behaviour got so unbearable that and argument ensued between her and Dylan, which ended in tragedy as he pushed her and she hit her head on a coffee table, killing her!
Dylan was only considered a minor suspect in his mother's 'murder' but he realised he had to admit the truth when it looked like Rhys was going to be convicted of killing her. He did however, take the blame for moving her body after she died, even though that had actually been Kirsty and her sister Jade.
Branded a murderer by some residents he considered friends, Dylan decided he couldn't stay in Summer Bay and went to spend the rest of the time before his trial in the city. Thankfully, he was not charged with murder, but decided not to return to the Bay, and stayed with his grandmother in the city instead.
He briefly returned to the Bay to meet his long-lost half-sister Tasha Andrews and they became friends after he got over the initial shock of how much she looked like their mother. He also helped Irene track down Angie's lookalike cousin, Josie, in the city and got himself into a sticky situation at her brothel!
Dylan still currently lives in the city but is mentioned by Irene or Tasha every so often, and could always pop back up in the future….