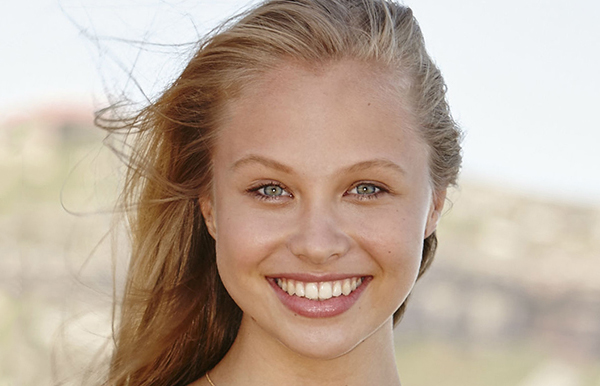 Raffaela Morrison (2016-2019)
Olivia Deeble
Episodes: 6506–7210
Date of Birth: 5th June 2003
Parents: Atticus Decker & Kate Lee (both deceased)
Adoptive Parents: Ali Morrison (deceased)
Siblings: Justin, Tori, Brody & Mason Morgan (all half)
Adoptive Siblings: Hope Morrison (biological cousin)
Occupation: Student
---
Raffy was first seen when Justin Morgan went to an address given to him by the Morgans' witness protection contact, Atticus Decker. There, he found Raffy and her older sister Hope, Decker's nieces. Justin's arrival was followed by that of Ash and Kat and, even less welcome, by a group of thugs working for Spike Lowe, who attempted to kidnap the sisters. Justin and Ash stopped them taking Raffy but weren't able to save Hope. With Decker in a coma, Raffy tearfully revealed she had no family so the trio took her back to Summer Bay, where she began staying with Kat and Phoebe at the farmhouse.
Hope was rapidly found and, with Decker in hospital nearby, Raffy insisted they stick around. She soon got to know Justin's siblings Tori, Brody and Mason, often spending time with them and their dog Buddy, and decided to enrol at Summer Bay High after first making use of their library. She had an awkward start with Ellie Page when she innocently pointed out a number of mistakes in her school project but they soon became friends and Raffy helped Ellie with a plan to set her brother Matt up with Evelyn. She told Hope they should stay in Summer Bay whatever happened to Decker, who had slipped back into a coma after an attempt to get him off life support failed, eager to keep Hope away from the dodgy characters she was in debt to.
When Decker came round, he told Hope and Raffy to stay in Summer Bay. Hope was then arrested for credit card fraud and, upset with Kat who had been the arresting officer, Raffy moved in with the Morgans. However, when Hope was let out on bail, she suddenly grabbed Raffy and dragged her off into the bush, where she fell down an embankment. Raffy flagged down Nate, who got Hope to hospital. There, Hope told her not to trust the Morgans. As a result, Raffy was cold towards them when they turned up and went round Ellie's, where she asked Roo and Matt if she could move in. Roo took her back to Justin and Brody, but since she still didn't trust them Justin arranged for her to move back in with Phoebe.
Kat told her she was wrong about the Morgans and when she went to see Hope, Hope claimed she'd been off her head on painkillers at the time and had no idea why she said it. Raffy went to hang out with Justin and Tori but then found DNA results indicating she was related to them. They explained to her that they had the same mother, Kate, and that Decker was her father, who gave her to his sister to raise. Upset, Raffy ran to Hope and told her she wanted to leave. However, when Hope stole money from Salt to fund their escape, she was arrested and remanded in custody. Raffy was allowed to spend time with her at the farm before sentencing. There, Hope told Justin to look after her and Raffy moved back in with the Morgans.
However, Raffy didn't feel like she belonged, as the Morgans had secretive discussions and failed to answer her questions. After a visit from Ellie, she stole $200 from Justin's wallet and ran off to the city to look for Decker, leaving behind a note simply saying "Sorry". She returned a week later and admitted to Ellie that she hadn't found him. Despite both Ellie and Irene trying to convince her the Morgans cared about her, she tried to bluff Justin and Brody by claiming she'd met Decker and he'd told her everything. They quickly saw through the deception and did their best to make her feel like part of the family: Brody taught her how to cook some of their mother's old recipes and, when she pointed out none of the family photos showed Kate clearly, Justin gave her a framed photo. However, she was suspicious when she realised it was a print-out rather than a proper photo and, checking Justin's laptop, she found it had been taken from an old news article which said that the Morgans' parents had been killed in a drive-by shooting, not in a car crash as they'd claimed, and that their surname was Lee. When she confronted Mason, he tried to claim they'd changed their name to avoid press attention but eventually the Morgans admitted that their parents had been murdered by a drug syndicate and they were in witness protection. She ran away again and nearly told Kat but Phoebe stopped her and took her back to her family, angrily telling her she was putting them in danger by spreading the story around.
When Decker returned, Raffy was upset that he hadn't come back to see her but with prompting from Justin and Phoebe they finally spent time together as father and daughter and he told her how hard it was to let someone else raise her. When Kat, whose interest had been piqued by Raffy's visit, turned up and tried to interrogate Justin about his history, Raffy put a stop to it by walking into the room and acting innocent. However, not long after, Decker was shot while meeting with Kat and died of his injuries. Raffy hid at the farmhouse with the rest of the family while Justin and Kat delivered the evidence against the syndicate that he'd gathered. When the news arrive that the syndicate had been convicted, Raffy was left with mixed feelings, still too busy mourning her father to feel happy, and worried that, with her new siblings talking about going their separate ways, she would be left behind. However, when an unflattering newspaper report on the trial resulted in Salt being vandalised, Raffy defended her family to a group of locals trying to stir up ill feeling against them. Her family supported her when she delivered the eulogy at Decker's funeral, after which she told Nate that Tori had gone away to a conference when he came round looking for her.
She went to the hospital to check on Justin after he was stabbed and later found him collapsed at home after he developed an infection. She and Ellie were paid by Justin to tidy up the house and she helped Tori get ready for her date with Riley, although she wasn't happy when Tori considered moving to the city with him. She was the most enthusiastic about Phoebe moving in. When Matt and Evelyn wanted Ellie to move to Vietnam, Raffy told her that since they weren't her legal guardians they couldn't make her go. She was left out when the family discussed Mason bringing home drugs he'd confiscated from a punter at Salt. She spent Ellie's last full day in Summer Bay with her after she decided to go to Vietnam after all and had her stay the night to give Matt and Evelyn space after their symbolic wedding.
She asked Brody to give her a lift to Yabbie Creek and was shocked when he sped away from a police spot check with her in the car, convincing him to pull over. When Tori told her not to give Brody any money, she realised he was doing drugs. After Buddy was hospitalised, she found a drugs wrapper which Brody insisted was an old one. She remained suspicious, especially when she saw him trying to take the Xbox. She was delighted to meet her niece Ava and helped Justin and Phoebe take her to the beach. She hid Brody's new credit cards, worried he was lying about not still being on drugs, but Mason told her he had passed a cocaine test. She insisted on organising a farewell party for Phoebe and Justin, although her façade of inviting Justin to Salt for a family meal was soon seen through, and she and Tori arranged for Ava to be there, which contributed to Justin deciding to stay.
She was sent to stay with her friend Michelle when Brody got worse again, unaware he had tried to pawn her necklace. She and Mason found Brody when he ran away from Scarlett Snow's place and she later receive a personally-made birthday card from Hope. She was initially unimpressed when Justin, Tori and Mason surprised her with a belated birthday dinner, feeling it wouldn't change anything, but after some straight talking from Justin she ended up enjoying herself. She convinced Lena to help them look for Brody when he went missing after robbing Scarlett. She wanted to help when Brody was released on bail but the rest of the family felt she shouldn't be around him so she went to stay with Ash and Kat. She tipped Kat off when Ziggy Astoni stole her wallet and befriended Ziggy's sister Coco when Alf introduced them to each other.
Although Ash was happy for her to continue living in the flat after he and Kat broke up, Raffy was convinced to move in with John and Marilyn instead. However, she failed to keep them informed when she stayed out late going to a movie with Ziggy and Coco on their last night in town. She went to see Coco at the caravan park, delighted to learn she was sticking around, but felt John and Marilyn would just leave her like everyone else. She tried to match make between VJ and Coco by having Coco pose as her French tutor but it ended in Coco being hurt and Raffy receiving a stern reminder that it was VJ's first date since Billie's death. On learning John and Marilyn were hoping to foster, she wrote them a reference.
She was upset at being sent back to school when Mason was in hospital after a car accident and suspected John and Marilyn were lying about him having an infection so went in to hospital only to find out it was true. She then tried to cheer up Coco, defending her from bully Jennifer Dutton. When Mason came round but was unable to move, Raffy thought Brody, who was in rehab, needed to be told. She tried to go there herself and hitched a ride with Mackenzie, a River Boy who had been a few years ahead of her at school. However, when he put his hand on her leg and refused to let her out, she had to be rescued by Robbo. When Roo accidentally gave her a Year 12 paper, she did well at it and overheard Roo suggesting she move up a grade. She deliberately messed up her next test, then told Roo, John and Marilyn not to make her do things she didn't want to. She ran away but was found by Scarlett who, along with Maggie and Coco, managed to convince her to consider the idea.
On starting Year 10, she found herself virtually ignored by Coco and targeted by Jennifer, although VJ and Hunter did cheer her up by taking her out for lunch. However, she then found herself snubbed by Coco who began spending time with Jennifer. Isolated, she asked Maggie if she could move back down but VJ gave her a pep-talk and helped her sort things out with Coco. However, she was again left on her own at Olivia's launch party and let Jennifer get her drunk in an attempt to fit in. Brody took her home and after a chat with Roo she decided to stay in Year 10 anyway. To make things up to Olivia, she helped her cut up material for her dresses but a lack of clear instructions saw her use the wrong pattern and get blasted by her. Olivia later apologised and promised to make her a dress.
Raffy threw a stone at a can and accidentally smashed Roo's car window. She was seen by Ben and Maggie who told John and Marilyn, who refused to believe it was an accident. When she got into a fight with Jennifer at school and got disciplined by Maggie, she went back after school and smashed a window. She went inside to retrieve the brick so they wouldn't find her fingerprints and was shocked to find Maggie, who she didn't know was there, having a panic attack. She stayed with Maggie until her family arrived and later apologised to her. She admitted to Justin that she was lonely and he decided it was time for her to move back in.
She sent flowers to the funeral of Mason's girlfriend Beth and, when Mason admitted he'd been seeing Beth's ghost, seemed quite open to the idea of her being real. She was flirted with by Ryder who invited himself along to watch movies with her and Coco. She told Coco she liked Ryder which Coco claimed she didn't. However, when Coco revealed she was bulimic and admitted she liked Ryder as well, Raffy stepped aside and agreed to help Coco organise a glow day to celebrate being girls, partnering her in the event's obstacle course. Ryder later came to her and told her he was leaving town after running over Roo. She hid him in the house for the night and tried to talk him out of it, then accompanied him when he stole a boat and went out to a cove, where they found Dennis Novak's body. She wanted to call the police but Ryder was worried about getting into trouble for stealing the boat and convinced her to keep quiet. However, she was plagued by nightmares and eventually told Justin and Mason. They thought she was mistaken but agreed to go there with her, resulting in the truth coming out.
She helped Coco drum up support for her complaints about the Diner's lack of recycling and advised Ryder to stop trying so hard to impress her. After Robbo had kidnapped Tori and Kat had come to stay with the Morgans, Raffy went to stay with John and Marilyn again. At the Salt reopening, she got Coco and Ryder dancing.
John took her to the surf club to keep an eye on her where she spent time with Willow and tried to get her and Justin back together. She helped Ryder look for a job. In order to cheer Coco up while her mother was in hospital, she faked an ankle injury so Ryder could get into the office and play music over the PA. She and Ryder ended up on detention but slipped away, shortly before there was a gas explosion at the school. They then took Coco out at Ziggy's request to take her mind off Maggie's test results. After Maggie was diagnosed with cancer, Raffy told Ziggy and Coco about how, when her mother was dying, it was better when they faced the truth. Although an angry Ben ordered her out, she later dropped round with some biscuits for them. She also worked to keep Ryder and Coco's relationship on track and helped Coco get ready for their first official date. However, she then found Ryder and Coco chose to sit together in class instead of with her and partner each other, forgetting to meet her after school. In the end, Coco twigged and invited her to play basketball with them.
She acted as the official photographer at Ziggy's 20th birthday party. When Ava was kidnapped, Raffy insisted on staying with her family instead of going with Marilyn and was there when Mason found a ransom note. When Justin planned to pay the ransom, Raffy felt he was going to get himself killed and went to the police. Both Justin and Mason lost their temper with her when the kidnapper, Hazel Easton, ran from a clumsy police surveillance although Mason later went after her and apologised. When Ava was returned safely, Raffy began making plans to move back home but instead John and Marilyn asked her to move in with them permanently and she agreed. Soon after, John and Marilyn were asked to foster a boy her age, Ty Anderson. Raffy quickly agreed.
Raffy did her best to make Ty feel welcome, but when he showed no interest and told her he was going home as soon as he turned sixteen, she accused him of being ungrateful and told him to leave. Marilyn reminded her he didn't ask to come stay with them and Raffy agreed to make an effort but ended up in an argument with him at the Diner. When Ty threw away the lunch Marilyn gave him, Raffy slapped him in front of Roo. However, when she learned John and Marilyn were considering cancelling the fostering arrangement, meaning they probably wouldn't be allowed to foster again, Raffy apologised to him and promised to try better. They hit another stumbling block when Raffy asked to listen to some of Ty's songs and he flew off the handle but he later played them to her and kissed her, just as John and Justin walked in. Justin dragged her back home and Brody suggested no-one would care about her dating Ty if she stayed there, but she said the Palmers' felt like home now. She met Ty in secret and kissed him again but agreed to keep things platonic in return for being allowed to continue to live with John and Marilyn. She helped Justin pick out a birthday present for Ava.
She and Ty helped Ryder surprise Coco at Salt with some friend time, causing John and Marilyn to mistakenly assume they were plotting to spend time together. Nevertheless, she did try and spend time alone with Ty when Marilyn was out, only for him to be too busy spending time with Ryder to reply to her texts. However, they did then get to spend time alone together on the beach, where they confirmed they were a couple. When John and Marilyn relaxed their restrictions, Raffy kissed Ty at school only to find him unnerved at her wanting them to spend all their time together. Ryder asked them both to help him pick music for Brody and Ziggy's wedding. However, she continued to be let down by Ty's underwhelmed reaction to her outfit for the wedding and the realisation he had played his songs for Ryder. She was further confused the following day when Ty got into a fight with Ryder and then ran away. She was shocked when, after Ty was hospitalised following an accident in the bush, John and Marilyn told her he'd kissed Ryder and Ty admitted he was gay. She was unhappy that everyone had lied to her and, while she promised not to make things hard for Ty, she moved back in with the Morgans for a few days to help with the wedding, where she acted as usher.
Marilyn convinced her to go back to the house, but after a run-in with Ty she announced she was going to move back in with the Morgans. John and Marilyn convinced her to stay the night but Ty's social worker, Catherine, walked in on her arguing with him, leaving her worried she could ruin things. She talked to Justin about moving back in but he told her not to do it just because she was angry, and after John and Marilyn challenged her about what she considered home, she agreed to carry on living with them and Ty. She was bullied by classmate Abbi Simmonds about Ty dumping her, prompting Ty to accidentally announce he was gay to the school. Raffy joined with Ryder and Coco in supporting him, refusing to go back to school without him. She helped arrange a birthday party for him where she encouraged Ryder and Coco to get back together. She also smoothed over the confusion when Ty thought John and Marilyn didn't want him then tried to advise him when his mother Jodi wanted to meet him, learning he was worried how she'd react to him being gay. She supported him when Jodi turned up anyway and said goodbye to him when he decided to go back to live with her. She ended up having to act as a go-between for John and Marilyn when they fell out as a result and worked with Ryder and Coco to trick them into having dinner together.
It was then revealed that hers and Coco's grades had dropped and they were both assigned extra tutoring with Maggie. However, she was annoyed when Coco ignored Ryder and stood him up in order to concentrate on the studying, telling her she didn't deserve him. Ryder refused to criticise Coco, resulting in Coco accusing Raffy of causing trouble between them and ending their friendship. When John and Marilyn saw her upset, Marilyn spoke to Ben and Maggie about it, but Coco merely pretended to make up with her for their sake while making it clear that it wouldn't last while other people were around. Coco eventually made up for real after Ryder told the truth and the three teens ended up back on good terms.
Raffy attended a meal with the Astonis to celebrate Maggie being given the cancer all clear where she encouraged Brody over his guitar playing. Seeing that Ryder was feeling isolated, she and Coco offered to let him choose something for the three of them to do and he chose to spend the night together in an old River Boys hideout. Coco and Raffy went along with it but were somewhat bored by the night. Feeling sorry for Ryder that it had fallen flat, Raffy suggested they exit via the River Boys' secret tunnel but, when she went first, she managed to bring it down on herself and was left confused with a head injury. Chelsea Campbell managed to guide her to safety and she was admitted to hospital with concussion. She talked Ryder into accompanying her to exams when he nearly missed it out of guilt but then began to show signs of being confused, forgetting their conversation and suffering painful headaches during the exams. Afterwards, she suffered a fit on the wharf and was rushed to hospital where it was found she had a bleed on the brain. Tori had to drill a burr hole and there was a possibility of her being brain damaged. She was diagnosed with small brain damage and instantly had another fit when she came round. She was diagnosed with post-traumatic epilepsy and accepted the decision for her to move back in with the Morgans.
Raffy was upset to learn Ryder had been kept away from her and insisted on going to see him, only to find him planning to leave town. She went out without her medication to look for him and had to be talked by Justin into looking after herself. She was horrified when Brody announced her epilepsy on Leah's vlog, resulting in the entire school finding out. She tried to take back control by live streaming a speech in which she asked people not to treat her differently only to have a seizure in the middle of it. She soon recovered in hospital but was devastated to learn that everyone had seen her fitting and wetting herself. She shut herself away at home, refusing Marilyn's attempts to get her to go out and taking her anger out on Brody. When Ryder visited, she was disappointed to learn he had seen the video but he convinced her to go to the Diner with him. She initially reacted badly to Brody buying her a medical bracelet identifying her as epileptic but, after a chat from Justin, accepted it and forgave him.
She was allowed into Year 12 thanks to Maggie arranging special dispensation for her and was assured that her friends would be there to help her. However, she was upset when she learned Ryder had lied about being allowed into Year 12, having failed his exams and had to retake them. She decided not to go back to school but Ryder was given permission to join her at the last minute and convinced her to come. However, she felt distracted and forgetful all day and ended up attacking Abbi when she made fun of her. On returning home, she witnessed Tori, who was undergoing IVF, having stomach cramps. Fearing her medication was making her hurt people, she refused to appeal when she was suspended from school and Marilyn had to talk her into continuing to take her medication, although it turned out the cramps were because Tori was pregnant. Coco and Ryder convinced her to attend the cancer fundraiser; she was upset when Coco seemed scared of her but Marilyn convinced her to come back. On her first day back at school, she overreacted to Justin coming home drunk and Tori moving one of her books, then nearly kissed Ryder. She initially tried pretending it didn't happen before saying they should just be friends.
She asked to spend the night at Marilyn's, thinking there was too much drama at home, then kept coming up with excuses to stay there rather than support Tori through her miscarriage, claiming her things were there. She relied on Coco to help her in class so was horrified when Coco was offered a place at a science camp, trying to stop her going and also losing her temper with Justin. She relented, telling Coco to go on the trip, and accepted Justin's offer to move back in with John and Marilyn, saying she felt more happy and relaxed there.
She quickly found trouble when she couldn't think of how to write an assignment so Ryder suggested she embrace the fact her brain was different now and do a slide show instead. Afterwards, she kissed him then ran off. She backed out of a celebratory dinner John and Marilyn were organising over the assignment when they invited Ryder, having pizza with Justin instead, and confided in him before kissing Ryder again. They decided to keep their new relationship a secret although she soon confided in Marilyn. After having their first date together at the juice bar, she worried about telling Coco. She went to Canberra with John and Marilyn for Jett's graduation and told Ryder not to talk to Coco until she got back, but their good intentions failed when Coco walked in on them kissing. After taking time out to think, Coco agreed they could still be friends if the couple weren't too affectionate around her. She started working at the Diner again and was disappointed when Coco and Ryder decided to go for their driving licenses, since she wouldn't be able to learn unless her epilepsy was under control, but accepted it after Mason pointed out the advantages of having a boyfriend who drove.
She helped convince Maggie to let Coco go to boarding school and was annoyed to find Mason had half-seriously warned Ryder off. Maggie gave her some study materials to do before school restarted but it resulted in her becoming stressed that she couldn't remember anything and having a seizure, which she initially tried to hide from Ryder. She was encouraged when Mason suggested she use medicinal cannabis, although Justin and Tori rejected the idea. She was sent home from school after having a panic attack. Since she was unable to convince anyone to let her try the cannabis, Ryder got her a joint. However, hiding it was just another source of stress and, after Mason took it off her, she promised not to do it again. She then learned during an argument in the Diner that Tori was pregnant after using a second embryo behind Robbo's back.
She panicked when she couldn't think of a biology project and, when John, Marilyn and Ryder staged an intervention, decided she wanted to quit school. John, Marilyn, Justin and Mason convinced her to talk to Simone Bedford, the new support teacher, who calmed her by telling her to break the assignment down into chunks. Mason suggested doing a project extracting chlorophyll from leaves…while using the equipment to extract cannabis oil. She was initially uncertain but, after having another seizure at school but refusing to go home, she agreed. She went to stay with the Morgans after John and Marilyn had to fly to Germany when Jett was injured, which led to her finding out that Brody and Ziggy had broken up after Brody two-timed her with Simone, who she blasted at school. Mason prescribed her one drop of oil each day. She told Simone she didn't want her help but Mason convinced her to accept it, since it would provide an explanation if her marks improved as a result of the oil. She was happy to stay on with the Morgans when John and Marilyn returned with Jett, since it gave her easy access to the oil. Feeling stressed before an exam, Raffy took a double dose. However, this just left her feeling ill and she had to call Mason and admit what she'd done. Mason nearly cancelled the trial and Raffy enlisted Ryder's help to talk him round. She was also allowed to do the exam once she felt better.
Like most of the family, she was uncomfortable with Simone staying the night. Colby encouraged her and Ryder to spend time with Bella. After coming home with Ryder to find Justin with Leah and not getting a proper explanation, she realised Justin and Leah were secretly sleeping together. She soon reverted to refusing Simone's help and wasn't very supportive about Bella working with her, especially when Bella lied that she was going shopping to avoid admitting she was working with Simone. She was pleased when someone graffited "HOMEWRECKER" on Simone's office door and when Bella joined her in winding her up about it, although this resulted in Maggie suspecting her of being responsible. Ryder explained Bella had done it to impress her. Although she initially accused Bella of getting her into trouble, Raffy, together with Ryder, ended up joining her in cleaning up the graffiti.
She was upset when Brody decided to leave town with Simone but assured Bella she didn't blame her. She was also pleased when Leah and Justin went public but not so much when Bella set off the fire alarm at school, causing her to miss an important meeting about an assignment. She admitted that, although she liked Bella, it was difficult to get work done around her so Ryder helped her get alone time. Mason was then caught with cannabis by the police, meaning not only was he charged but Raffy was no longer getting the oil. She insisted to Tori and Justin that she wasn't a victim and was sent home from school ill, then suffered a seizure and ended up in hospital. The incident prompted Tori to agree to put Mason's findings to her medical team.
With everything up in the air, Raffy didn't feel like celebrating her 16th but after a makeover from Leah and Marilyn, she was convinced by Marilyn and Tori to attend her party at Salt. There, she was delighted to receive a visit from Coco, arranged by Ryder, and wasn't even too bothered when Coco argued with Brody and Simone. She convinced Tori to look over Mason's research which prompted Tori to write a letter of support for his sentencing. She was delighted when Mason avoided jail, only for Brody to immediately announce that he and Simone were moving to the Yarra Valley. Raffy had a go at Simone but eventually accepted it and joined his farewell dinner.
Distracted by the lack of news on the trial, she forgot Tori was having a scan and ended up having a seizure from the worry when she heard Tori could go into premature labour. She stayed the night with Marilyn and next day heard she's been accepted for the trial, beginning to be given pills. She planned a family dinner to cheer Tori up but when she saw how lonely Marilyn was with John spending most of his time in the city with Jett, she decided to move back in with her. She found herself interrogated by Willow about a friend that had advised Bella not to move back in with Colby. Bella explained the friend was Tommy, a boy she had met online. Raffy was concerned about how much information Bella was giving away and tried to warn her about online dangers. Bella told her she wouldn't speak to Tommy anymore.
Ryder taking a job at Salt meant Raffy struggled to spend time with him: He turned her away from the bar for being too young and was late meeting her for breakfast. She increasingly found herself at a loss with Ryder working, Tori having been taken into protective custody and John and Marilyn often visiting Jett. She asked John to let her take over Ryder's shifts at the juice bar but was left devastated when Ryder broke up with her. He tried to soften the blow by suggesting they could still be friends and they arranged to work together on an assignment but things became awkward when she tried to kiss him and he pulled away, prompting her to declare they couldn't be friends. She attempted to do a project on her own but realised she needed Ryder's help, although she refused to renew their friendship.
Raffy did well on her first HSC trial only to be left devastated to hear her CBD treatment was being discontinued through lack of funds. Mason reminded her she still had CBD oil in her system but she fell to pieces in her next exam. It was arranged for her to take them in private but she still did poorly and was left dispirited when Ryder didn't invite her to a party to celebrate the end of the trials. She considered quitting school but Marilyn and Mason convinced her to stick it out while they tried to get her on another trial. She told them not to bother and went swimming on her own, only to get into trouble and have to be rescued by Justin. At the hospital, she met Doctor Alex Neilson, who told her she had epilepsy as well and that Raffy needed to take control. She decided to take her medication with complimentary therapies. She continued to give Ryder the cold shoulder but Mason told her he still cared about her: They cleared the air and worked together to convince Bella to go back to school. Raffy then had a seizure but determined to carry on as normal afterwards.
Alex told Raffy about a trial in Victoria and she convinced Justin to let her apply. When she was accepted, she had to be there the next day and it was arranged for her to live with Brody and Simone. She said her goodbyes to Ryder and Mason and left a farewell note for John and Marilyn thanking them for taking her in before Justin drove her to the airport. Soon after, it was mentioned that, with the trial going well, she was back at school repeating Year 12.