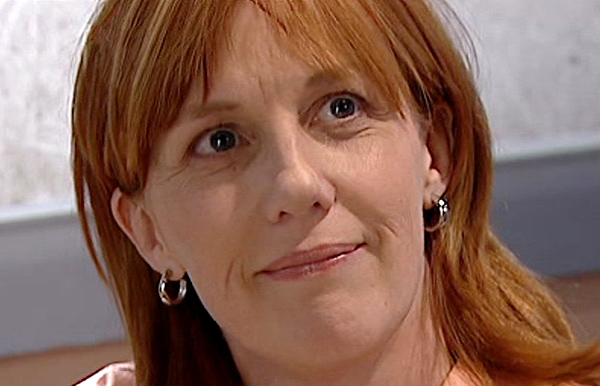 Maureen Evans (2003)
Sally Cahill
Episodes: 3490–3525
Date of Birth: 17th March 1955
Parent: Colleen Smart
Siblings: Lance Smart (half-brother)
Children: Avril & Mike Evans
Occupation: Youth Worker
---
Maureen was the illegitimate daughter that Colleen had given away for adoption when she was fifteen: Colleen had named her Rosemary but she had been renamed Maureen by her adoptive parents. She arrived in town shortly after Colleen had decided to look for her, revealing that she had been married and had two grown-up children, as well as a granddaughter. She decided to stay in town for a while to get to know Colleen.
She quickly got on well with Alf and they went on a date together before she joined him fishing. She moved into the Diner flat with him and Seb and began working at the Drop-In Centre. Colleen was horrified at the idea of her daughter cohabiting, and tried to convince herself and everyone else that Maureen was sleeping in the spare room—but Maureen made no secret of the fact that she was sleeping in Alf's bed, and didn't think it was anything to be ashamed of. She was, however, shocked to learn Alf was planning to propose and when the two of them were due to go out on the Blaxland together she invited Scott and Dani along, causing Alf to rethink his plan.
Maureen was on hand to support Colleen when her mobile home was demolished by Josh West. Alf committed a faux pas when he addressed Maureen as Ailsa while they were working together in the Diner kitchen but Maureen laughed it off. However, it was becoming increasingly clear to everyone that Alf was taking the relationship more seriously than Maureen, and Maureen was forced to gently explain to him that, while she liked him, she didn't see their relationship as anything long term. Maureen left town soon after, promising Colleen she would stay in touch.
---
Long-term viewers would later realise the controversy Alf & Maureen's relationship could have caused had it continued, when it was revealed in 2008 that Colleen was Alf's half-sister (and thus Maureen was Alf's half-niece). This was originally mentioned in the script as a nod to those viewers, but sadly the scene was cut for timing.